We have officially returned to the real world after two weeks of exploring some of the most breathtaking places we've ever seen. I spent months creating our Iceland campervan road trip itinerary and drooling over pictures. But nothing could have prepared me for what we experienced while we were there.
Since returning, I struggle with answering one seemingly simple and inevitable question: "How was your trip?"
Iceland Ring Road Itinerary 10 Days Road Trip Overview
On our epic Iceland road trip, we saw some of the best places along Iceland's Ring Road, spent so much time hiking, soaked in natural hot springs, saw a ton of evidence of geothermal and volcanic activity, walked behind a waterfall, and strolled along moody black sand beaches.
We almost got lost on a haunted mountain path, drove on terrifying dirt roads with steep inclines, almost got blown away by insane wind, saw where a troll-man used to live, experienced Reykjavik on a Saturday night, and laughed hysterically while being herded by a sheepdog … plus so much more!
So, when I blurt out "great" or "amazing" when I'm posed with the deceptively difficult question about how our trip was, I feel extremely guilty – like all the Icelanders in the world are collectively shaking their heads at my verbal inadequacy.
As much as I'd like to, I'm really not sure if I'll ever be able to give a concise answer that truly describes how wonderful, amazing, crazy, and intense our Iceland trip was. But, in an effort to communicate the indescribably awesome everything-land of Iceland, I'll be going into detail about the places we explored and the wonderful memories we made.
Iceland Highlights Video
For a quick preview of our favorite places and top things to do in Iceland, check out this video:
Planning an Iceland Ring Road Itinerary: 10 Days (or More!)
There is so much to share, but first, I'll start with the basics…When planning our trip, I wanted to keep it flexible so we didn't have to rush through any areas we were enjoying. And since we would be living in an awesome Iceland campervan during our stay, we didn't have anything booked that we had to get to except the ferry from the West Fjords. And, of course, our flight home. This plan worked perfectly for us!
I had a list of what I wanted to do most, plus an "in case we have extra time" list. And from that, I made a rough estimate of how long we could stay in each area of the country in order to make it all the way around in time. I added at least a half-day of extra time to each major part of the trip so we would have plenty of flex-time, too!
My estimates ended up being pretty right-on and we never felt rushed, which was fantastic. We also always had plenty of options for our next stop, so we weren't wasting a ton of down time researching.
Planning to visit Iceland in September also worked out wonderfully! We saved on prices because it was the shoulder season in Iceland – even though we hit the very start of it on September 2nd! And it gave us a chance to see the northern lights (which we saw three times).
While there isn't a "best time" to visit Iceland, since it is always stunning, we highly recommend autumn. Summer is peak season and can be very busy, then winter through spring brings unpredictable winter conditions, so driving around the entire island on the Ring Road may not be possible.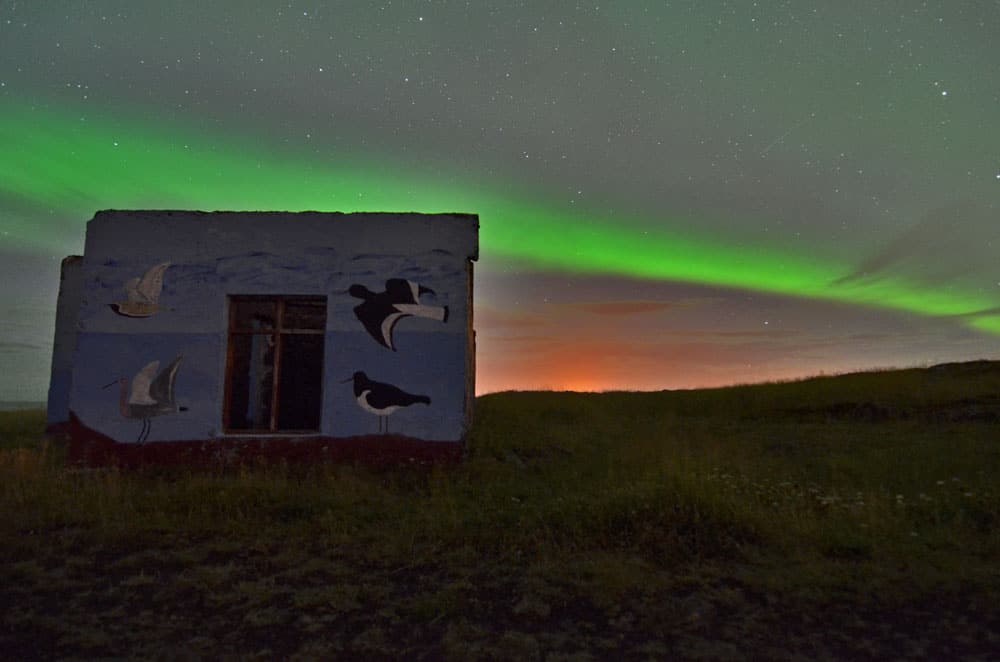 While a lot can be packed into a short trip, there is a ton to do around the entire island, so having more than a week to really explore on and off the iconic Ring Road is ideal!
The road conditions are always well maintained in the summer months, and there is usually a big parking lot near all the major attractions. You should be able to find gas stations regularly also, but just be sure to fuel up before the more remote sections on the east and west of the country.
Read more about why we suggest visiting Iceland in September (or close to it) in this article: Four Reasons to Visit Iceland this Fall.
Break Down of our Two-Week Iceland Campervan Trip: Self-Drive Itinerary
We broke down this trip into sections of the country, based on all the great places and things to do in Iceland that interested us most! Luckily, most of the top attractions were conveniently located off of the main road – the Ring Road or Route 1.
While we were in Iceland for two weeks, we spent about 10 days actually driving on the Ring Road (plus going up to the Westfjords) and then had some extra time at the end in Reykjavik.
Here is a snapshot of what we planned:
2 Days to get supplies in Reykjavik & explore the Golden Circle
3 Days on the South Coast of Iceland (with the most to do!)
1 Day to go through the more remote East Fjords.
2 Days in North Iceland
3 Days in Western Iceland and the West Fjords
2.5 Days in Reykjavik to Explore & Relax
Since we didn't have data usage on this trip, we also planned out places to camp in each general area and had their address for our GPS. (Update: I recently read that wild camping is no longer allowed in Iceland, be sure to follow current rules!) However, I would suggest getting sim cards or another option for data to just have more info available when you want it.
Want more details of things to do in Iceland and where we camped? Click on the links below to read more and check out more photos from each portion of the trip.
Want more details of things to do in Iceland and where we camped? Here's the detailed break down. (Click on links below to read more details & check out more photos from each portion of the trip).
Day 1: Getting to the Golden Circle
Arrive at Keflavik Airport & Get Iceland campervan
Since the company we rented our Iceland camper van from (Happy Campers) offered airport pickup, we decided to go straight into the road trip portion of our trip.
After getting a tour of our van, we collected some essentials from the nearest grocery store and were on our way. If you want, this is a good time to go by the visitor center in town to ask any questions or get maps and pamphlets. Doing these errands in Reykjavik is a good idea since it is the largest city with the most options – even a Costco!
Visit the famed Golden Circle (Geysir & Gullfoss)
The Golden Circle is a short drive from Reykjavik, so we decided to head there on our first day to keep ourselves awake and dive right into some of the best things about Iceland – waterfalls and geothermal activity!
Gulfoss waterfall is an amazing natural attraction that allows you to get up close to the powerful falls by taking just a short walk down a paved trail. We loved feeling the mist on our faces and admiring the rainbows!
Geysir is also a great stop to see the reliable and iconic hot water blow out of the ground! There is more to the Golden Circle, but we only hit up these two on our first day because we were exhausted!
Camp in random place because we got too tired
We tried to stay awake, but ended up pulling into a parking lot and falling asleep before the sun went down. Luckily, that set us up for an early start – which is always ideal when visiting such a major touristy area!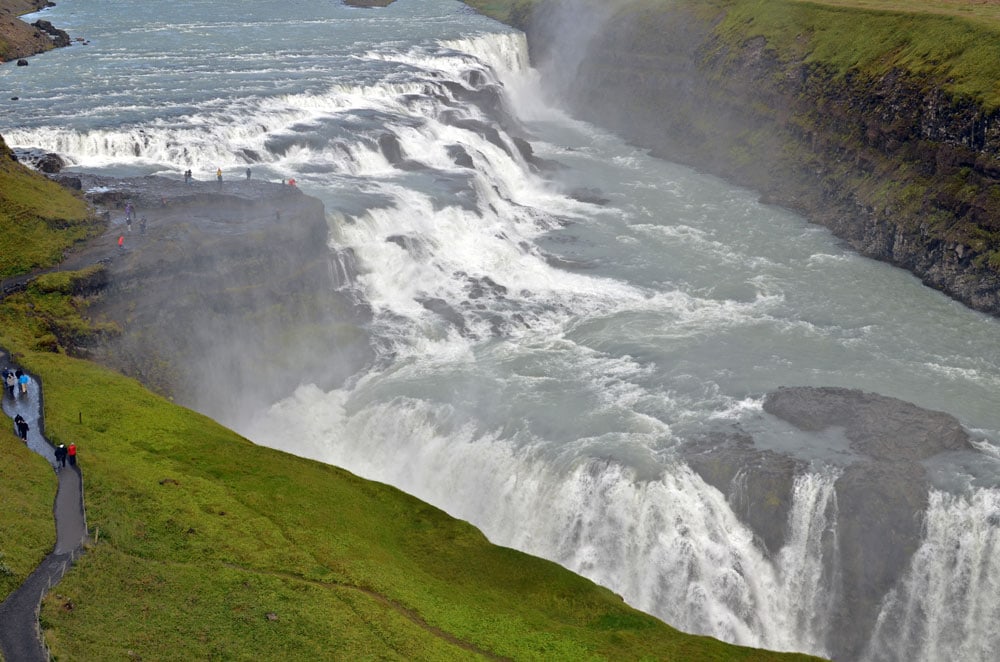 Read more about our adventures in South Iceland.
Day 2: Golden Circle & South Iceland Waterfalls
Explore Þingvellir National Park in Golden Circle
Thingvellir National Park can certainly take an entire day – especially if you want to take part in the epic SCUBA diving between tectonic plates activity. We chose to wander around to see the evidence of tectonic movement on land – which was sill very amazing! Plus, there's a stunning waterfall as well.
Eat at Friðheimar Greenhouse (great tomato soup!)
Be sure to stop at the amazing Fridheimar Greenhouse while exploring the Golden Circle for an amazingly unique and yummy lunch experience. (Learn all about why we love the Friðheimar Greenhouse here.)
Hike around Seljalandsfoss (waterfall)
No matter what, make sure you have enough time for a long, leisurely stop at the iconic Seljalandsfoss waterfall. This can be a super busy spot in high season, but the natural beauty here can not be beat! If you are a photographer, you'll be wanting to capture this one from all sorts of different angles – it is just so stunning!
Be sure to also go over to Gljúfrabúi next to Seljalandsfoss for another unique waterfall experience – in a cave!
Quick stop at Skógafoss (waterfall)
If you don't have time for a trip around the entire Ring Road, at least going down to the South Coast is well worth it. It isn't a long drive from Reykjavik in a rental car and there are SO MANY waterfalls and beautiful views.
Skogafoss is another epic South Iceland waterfall worth a stop with a walkway up to see great views of the top of the falls, the nearby ocean, and the surrounding area.
Camp in the town of Vik (first Northern Lights sighting)
Since we had big plans to see more of the amazing South Coast of Iceland, we camped at a convenient little campground in Vik. That night, we saw our first glimpse of the aurora borealis and took off quickly to follow it and get an even better view – it was amazing!
Read more about our adventures in South Iceland.
Day 3: Black Sand Beach & Explorations Near Vik
Dyrhólaey & Reynishverfisvegur Black Sand Beaches
We loved going into the large cave (quickly since it is unstable!), watching the large waves crashing, and admiring the adorable puffins flying from their cliff-side homes to the sea for fish.
Hjörleifshöfði Haunted Hiking Trail
I can't event tell you how I found this place, but it came up in my research and taking a few hours to hike up this lush mountain path and back down was a highlight of our trip.
It was SO WINDY and more effortful than we expected, but absolutely worth it! There was even a fun little log book to sign at the top.
Camp in the small town of Kirkjubæjarklaustur
Kirkjubæjarklaustur was our favorite Iceland camping site – so scenic and right near some great South Coast hikes that we did the next morning.
Read more about our adventures around Vik.
Day 4: Canyon, Hikes & Glaciers
Exploring the amazing Fjaðrárgljúfur Canyon
After a great sleep, we ventured out early to our first stop of the day: Fjaðrárgljúfur Canyon. A short walk along the top of the canyon takes you to a great place to admire the twisty canyon walls and river below.
It's so lush in the summer months and early fall, and just unlike any other place we had ever been!
Hiking up to Systravatn (mountain lake)
From our camp site, we could see people on top of a mountain and decided to look it up on Google Maps while we had Wi-Fi. Sure enough, Systravatn was a popular place to go admire a gorgeous mountain lake.
The hike up was STEEP, but the views were spectacular and it wasn't busy at all (unlike our other stops this day).
Skaftafellsjökull Glacier & Svartifoss (waterfall)
Skaftafellsjökull Glacier is definitely worth walking over to and you can also take a tour to walk on top of it. Svartifoss is another must in the national park, with the iconic waterfall with large black basalt columns on either side. However, it is a bit of a trek at about 45 minutes one way.
Taking in the stunning Jökulsárlón Glacier Lagoon
When we caught sight of Iceland's Glacier Lagoon, we were in absolute awe. We had seen photos, but it was just way more amazing than we thought it would be.
Camping in the town of Höfn
We loved staying in Hofn – one of Iceland's iconic small fishing villages on the south east coast of Iceland. Getting there is a very scenic drive and we loved just sitting down to enjoy a meal and chat with the friendly locals before going to a quiet campground for the night.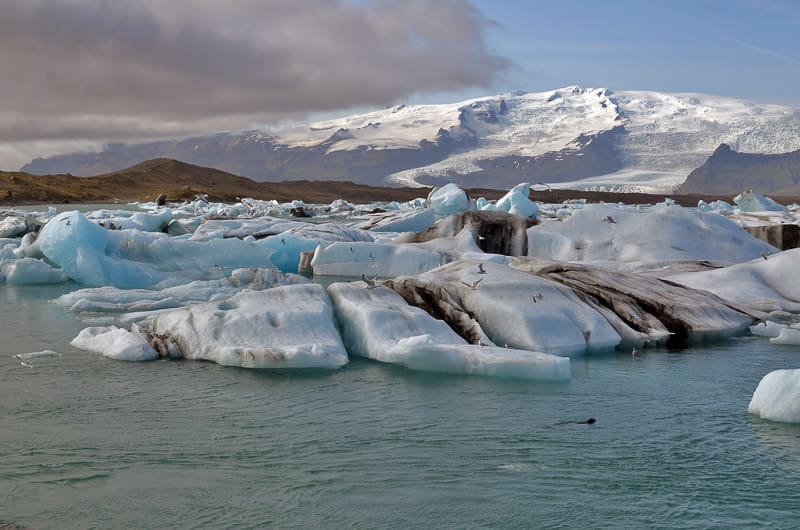 Read more about this part of our trip through South Iceland.
Day 5: More Glacier Lagoon & East Iceland
Back to Jökulsárlón Glacier Lagoon (it is that awesome!)
Since we loved it so much, we went back to wander around the glacier lagoon for a few more hours before heading east to continue on our Ring Road route – it was a main reason for our trip, after all!
Driving through the Eastern Fjords of Iceland
East Iceland doesn't have much to it, but the drive is other-worldly. The landscape changes from dramatic ocean cliffs to a barren mountaintop with extreme wind! Definitely beware of bad weather when traveling this part of the route, since it is pretty remote.
Camping in the small town of Egilsstaðir
After a long day of driving, we were happy to settle into our campsite and rest for another big day of exploring.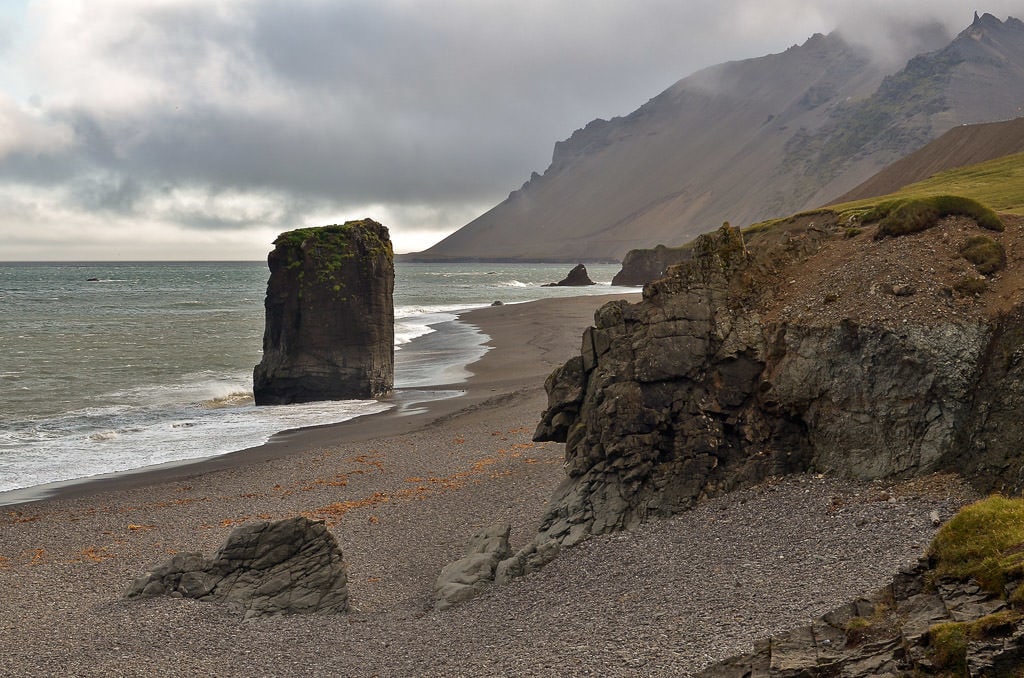 Read more about our journey to North Iceland.
Day 6: Myvatn Geothermal Explorations in North Iceland
Bumpy ride to Dettifoss (enormous waterfall)
First thing in the morning, we headed out on the bumpy gravel road to Dettifoss – the most powerful water in Europe and a sight to behold! You can apparently go down another easier road to the official viewpoint instead, but we had printed directions for the harder route. Haha!
Visiting Hverir mudpots & steam vents in Myvatn geothermal area
Myvatn is such a unique place known for its geothermal activity. While not as pretty as the south coast waterfalls and views, it is very interesting to wander around the mudpots and steam vents.
Taking in Myvatn's Grjotagja cave & Myvatn Lake
This small lava cave is so cool! You can peek in and imagine stories of Icelandic folklore playing out here. Strolling around Lake Myvatn is also a nice way to spend a few hours.
Soaking in the Myvatn Nature Baths
After all that exploring and a drive ahead of us, we loved getting to soak in Myvatn Nature baths. These natural large geothermal pools really do a lot to help with sore muscles!
Camping in the bigger city of Akureyri in North Iceland
Since our seventh day would be based in Akureyri (the largest town outside of Reykjavik), we decided to get there the night before to be able to have a slower start to the day.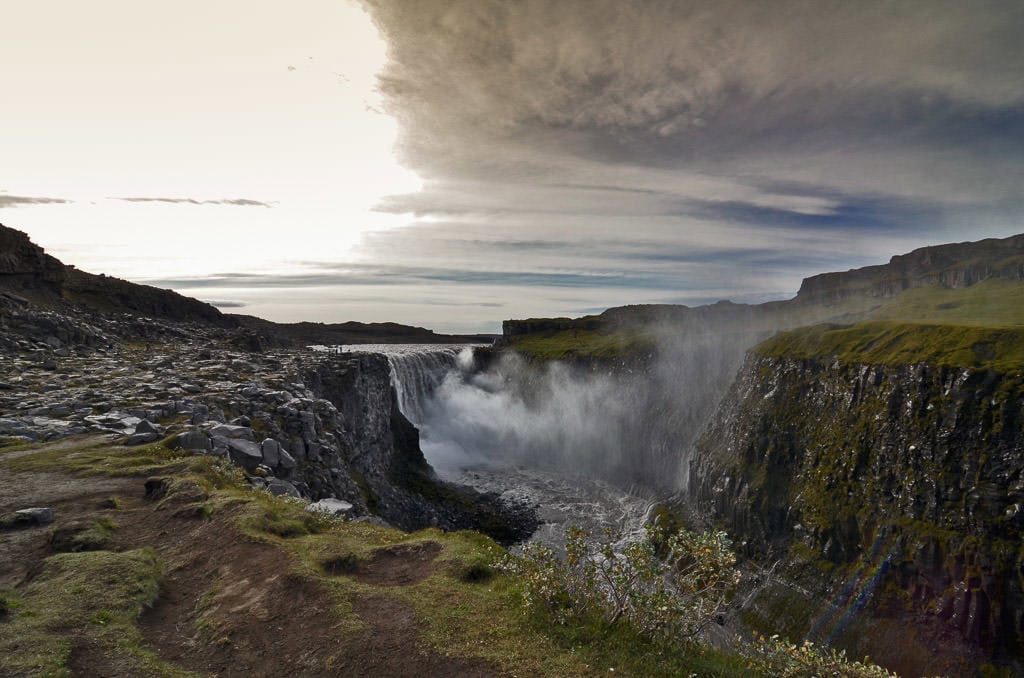 Read more about the Myvatn geothermal area and North Iceland.
Day 7: Christmas Time in Akureyri
Akureyri Botanical Gardens
While nothing ground-breaking, we always love a good garden stroll and this one did not disappoint.
The Christmas Garden in Akureyri (aka Jólagarðurinn)
Oh my goodness, I loved this place! I'm such a sucker for quirky, unique stops like this – especially if it is Christmas related.
Víðimýri Turf Church
This is a short stop, but great for anyone interested in checking out some natural Viking history sites!
Camping in the small seaside town of Sæburg
This quiet coastal campground was amazing – complete with a hot soaking tub.
Read more about Akureyri and North Iceland.
Day 8: Intro to Iceland's Westfjords
Stopping at Laugar Natural Bath (Viking hot tub)
We didn't have a ton of time for spontaneity during our Iceland Ring Road Trip, but we couldn't resist when we stumbled upon this amazing spot for a private soak in a natural geothermal pool.
Látrabjarg Cliffs hiking
Although we didn't get to see puffins at Látrabjarg Cliffs, as we had hoped, it was still a stunning place for a walk. You could just go a short distance or explore for hours.
Camping in the very small Westfjords town of Breiðavík
At this point in our 10-day Iceland itinerary, we were getting pretty tired, so we crashed hard as the windy west fjord weather rocked us to sleep.
Read more about the Westfjords.
Day 9: Leaving the Rugged Westfjords
Rauðisandur (Iceland's Red Sand Beach)
First thing in the morning, we headed down to an iconic Red Sand Beach, but I wouldn't recommend it since the drive was really scary and the beach wasn't all that amazing.
Natural Bath near Flókalundur
After getting a taste for the Viking baths, we were excited to hop in one more before leaving the area!
Stykkishólmur ferry (and camping in random place)
We had originally booked the ferry for a break in driving, but it ended up being a super scenic route from the Westfjords to the Snæfellsnes Peninsula. I'm so happy we did it!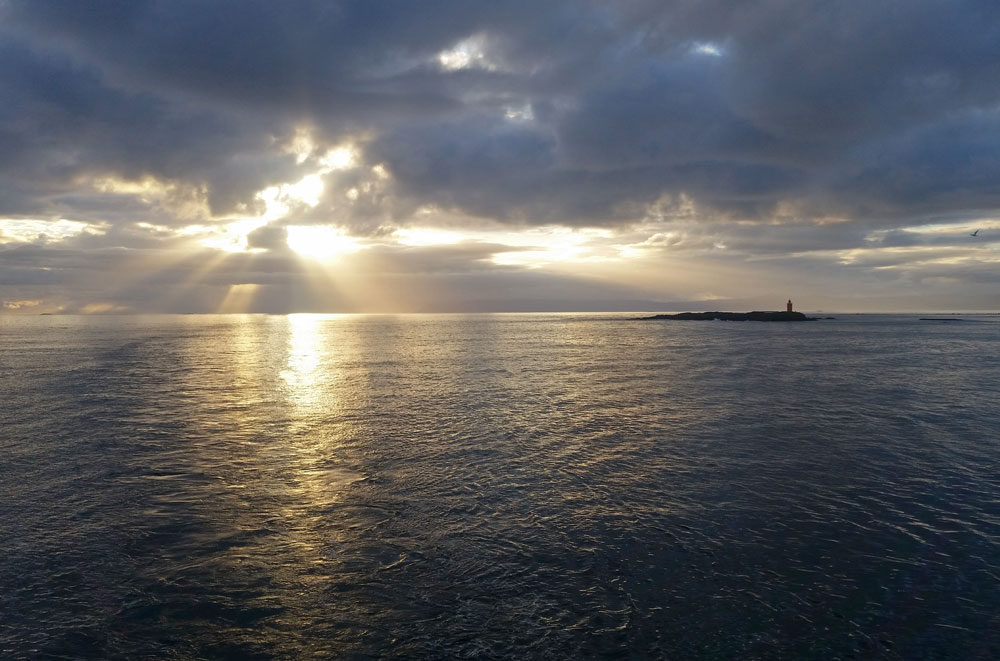 Read more about the Westfjords and Stykkishólmur ferry.
Day 10: Exploring the Snaefellsnes Peninsula
Snæfellsjökull National Park hiking
We spent a few hours hiking into Rauðfeldsgjá Gorge in Snæfellsjökull National Park. It was so unique and beautiful as we climbed into this little crack in the mountains to explore another world! The Kirkjufell mountain hike is another hike in this area that is extremely popular, but unfortunately, we totally missed it.
Vatnshellir Cave tour
This was an epic tour into a lava tunnel underground. It was unlike anything we had ever tried before and was unique to Iceland since it included folklore about giants who may have lived there.
Exploring & Camping in Reykjavik
As our Ring Road adventure came to an end, we decided to spend a night city camping in Reykjavik while we were still van lifers. This is such a fun city and we really love how beautiful all the buildings are. (Going to Reykjavik in winter? Read our tips!)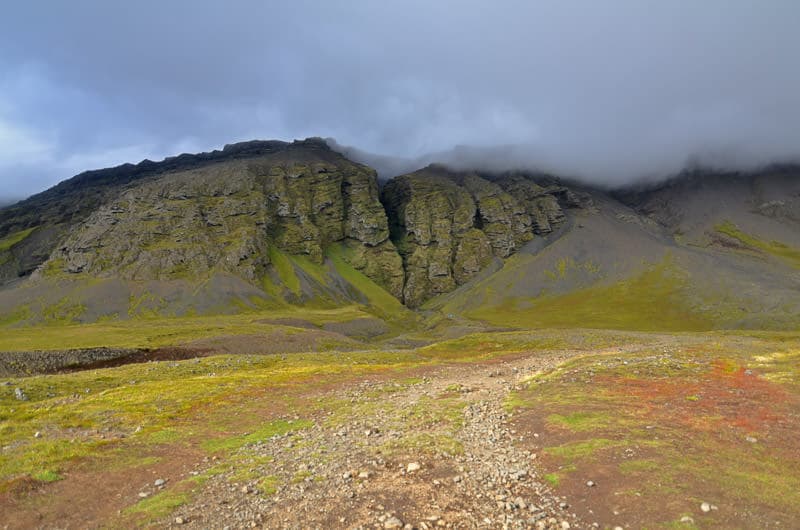 Read more about our explorations in and around Reykjavik.
Day 11: Blue Lagoon & Northern Lights
Soaking at the Blue Lagoon
After all that driving, there really wasn't enough soaking we could do. So, a trip to the famous Blue Lagoon for a romantic evening of relaxing and having a great meal was much needed!
Reykjanes Peninsula (lighthouse & northern lights!)
With plans to spend our final days in the city, we decided to stay out in the more remote Reykjanes Peninsula to star gaze and look for the elusive northern lights one more time (which we saw!).
Last night in our Happy Campers Iceland van
We curled up in an empty lot and talked about how much we would miss our little trusty van as the wind rocked us to sleep once more.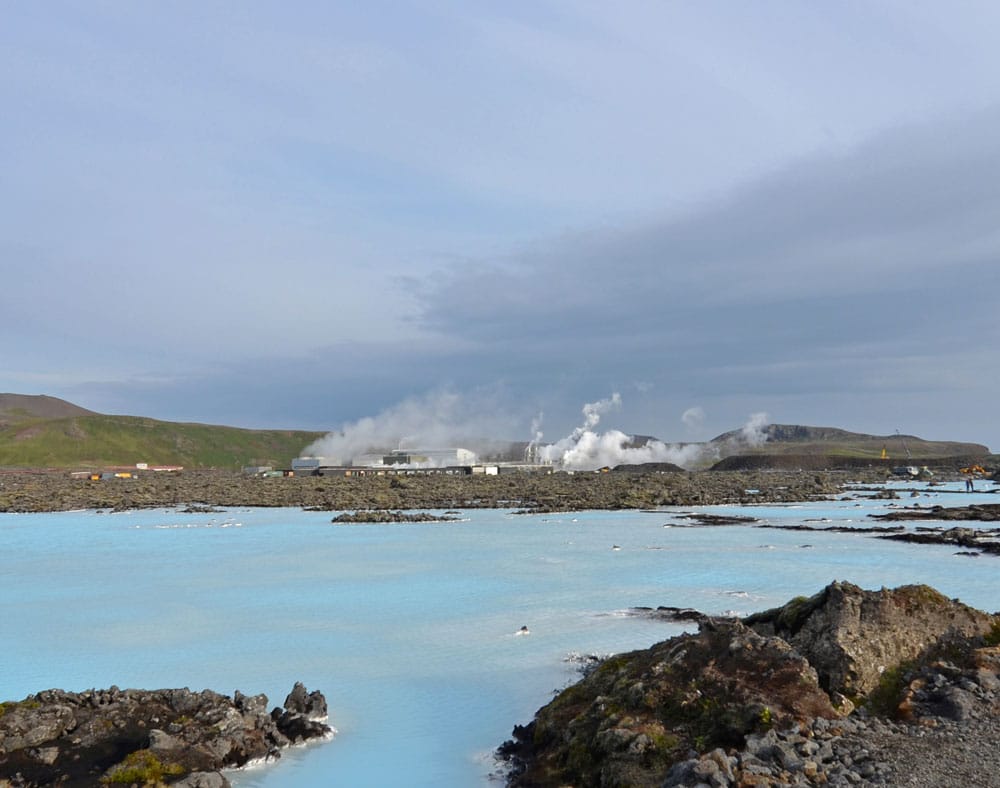 Read more about the area near the Blue Lagoon.
Day 12: More Reykjavik Explorations
Visiting Hallgrímskirkja Church & Downtown Reykjavik
Before having to return our camper van, we did some exploring in Reykjavik that would necessitate a little more driving. We were staying out near the Perlan, so we made sure to go into town to walk around and go to the well-known church.
Árbær Open Air Museum
We also went to the Árbær Open Air Museum since it was a unique way to get a realistic view of what the Viking settlements would have looked like and learn more about that culture.
Dropping off our Iceland campervan to Happy Campers Iceland
Sadly, we did eventually have to drop off the van. We gave it a good pat and said a heartfelt "Takk" to our trusty little home on wheels before turning in the keys.
Sleeping at the Icelandair Reykjavik Natura Hotel
That night, we had planned to go out and have a long night of celebrating a successful trip. Instead, we ended up laying in bed for hours in the cozy bed and going to sleep early. Twelve days of non-stop exploring had caught up with us!
Read more about our explorations in and around Reykjavik.
Day 13: Goodbye Iceland!
Walking up to the Perlan
Before we had to leave, we decided to go on one last short hike over to and up to the top of the Perlan. This is touted as one of the best views of Reykjavik, and we were not disappointed. (Visiting during New Year's Eve? Be sure to get a ticket to see the fireworks from the Perlan! Read about our experience.)
Going to Keflavik Airport for our journey home!
After an amazing trip, we did finally have to get on a plane back to our non-rolling home. But, our hearts with absolutely full from a trip that really couldn't have gone any better!
Read more about our final days in Iceland.
Going on a shorter trip? Check out these articles:
4-Day Southern Iceland Road Trip Itinerary
East to West Iceland Road Trip Itinerary
Getting to Iceland: Flying with Icelandair
We trusted Icelandair to get us to our much-anticipated vacation spot. I'd highly recommend this airline, especially if coming from Denver since they offer an affordable nonstop flight. They handed out Icelandic Glacial water as we got on board, and had complimentary movies, tv shows, and music at each seat. Plus, the usual coffee, tea, and sodas. (This is when our addiction to Appelsin began). Food was also available for purchase.
I also really liked that the pilot announced when the northern lights made an appearance. Otherwise, we would have totally missed it! Overall, Icelandair truly gave a great first impression of Iceland. They also offer stopovers to Iceland on your way to other European countries, which we plan to take advantage of next time!
Iceland Transportation AND Accommodation: Our Campervan
In order to be able to have an extremely flexible vacation in Iceland, we opted to rent a campervan from Happy Campers Iceland. The freedom from time restrictions was amazing! And, the campsites in Iceland that we stayed at were all very well maintained and beautiful! The van truly became our home-away-from-home.
That little van really was the perfect way to see Iceland. And we were so grateful that it was such a reliable ride! (Read how this van trip led to us trying out full-time RV life in North America for a year, here!)
(Update: I recently read that wild camping is no longer allowed in Iceland, be sure to follow current rules! Luckily, the campgrounds are awesome – as we mentioned!)
Read more about campervanning in Iceland and the top campsites!
Our Happy Campers Iceland Review
We loved our experience with this company! The Happy Campers Iceland team nicely answered all of my questions via email before the trip and provided us with all the supplies and Iceland campervan knowledge we needed once we got there.
Each employee that we interacted with was great, too! From the guy driving the shuttle (who gets bonus points for having Gangster's Paradise playing from his iPod). To the girl who gave us words of encouragement that we could indeed navigate the country with just a map (which we did!). And who can forget the guy who explained the ins & outs of the van with a smile on his face despite the fact that he was getting rained on.
Included in our rental price was a ride back to the hotel (in addition to the airport pickup at the start), which was convenient and fun! I loved picking the driver's brain about where he liked to travel (ironically the U.S.). And the worst shape a van had come back in (one guy rolled it going too fast on a curve). I really enjoyed every person I met on the Happy Campers Iceland team and was pleasantly surprised at their stellar customer service!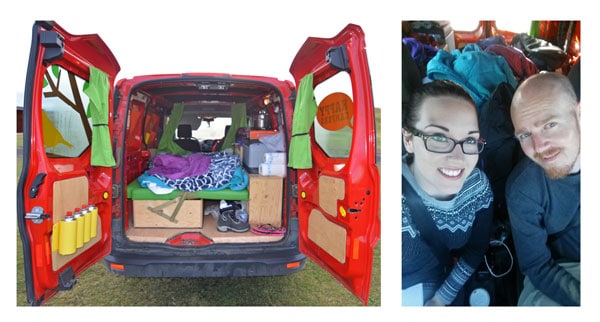 Here's what is included in this Iceland campervan rental price that sealed the deal for us:
unlimited kilometers (a super important thing for me, since we planned to do a ton of driving)
basic insurance (and just a little extra if you want gravel protection)
sleeping & cooking supplies (plenty of blankets, plates, etc.)
a ride from the airport to pick up our van and to our hotel in Reykjavik after dropping the van off
roadside assistance, if needed (luckily, we didn't use it!)
a Happy Campers Iceland map that doubles as a souvenir!
I also loved that other people in Happy Campers Iceland vans waved to us on the road and chatted with us at campsites and points of interest. It was like being part of a little family!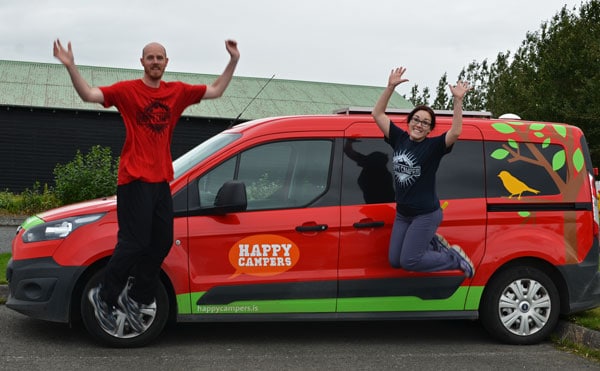 Staying at Icelandair Reykjavik Natura Hotel
For the last night of our trip, we decided to stay in the city, take really long showers, lounge in bed a lot, and eat lots of yummy food.
We were sad to finally turn in our van. But were psyched to sleep in a bed that actually fit both of us – with room to spare – for the first time in almost two weeks! And we really enjoyed our room at Icelandair Reykjavik Natura – with a view of the iconic Perlan across the street.
After getting settled in, we had a wonderful meal at the restaurant on site. And then we spent the rest of the night drinking Appelsin and watching TV in bed. It clearly wasn't an extravagant last night in Iceland celebration. But it was perfect for us after days of driving around and exploring our little hearts out!
Taking FlyBus to the Airport
Since we no longer had our own wheels, we had to rely on public transport to get us to the airport. The company is supposedly one of the most reliable (as of our trip to Iceland in September 2015). But it was very hectic and rushed when it came to getting on and off the bus.
He hurried us in the van, dropped us off at the bus station while hurling our luggage out of the back and then we got on the big bus to the airport after being rushed along by that driver.
However, I heard a local on the bus telling someone that was the only company that was reliable when it came to getting you to the airport on time. I see why! And that's all that really mattered to us. Definitely good to know though.
---
FAQ About Going on an Iceland Ring Road Trip
Do you have more questions when planning an Iceland Ring Road Itinerary 10 days tour (or maybe you just have a week, or even a month)? Here are some of the top questions we get asked:
Do I need a tour guide when visiting Iceland?
No, not for general explorations! Iceland is a good place for a self-guided road trip since most people speak English, it is easy to drive around, and there is A TON to see.
Can you do the Ring Road in 10 days?
Yes, you can drive the Ring Road in 10 days! It is less than 850 miles, so technically you could drive it in about 24 hours, but spreading it out as much as possible is definitely best! Ten days felt like plenty of time, but I'd never say no to more time exploring Iceland.
When is the best month to do the Iceland Ring Road?
In order to be able to see as much as possible, driving Iceland's Ring Road in summer or early fall is ideal. Summer does have the perk of having all-day daylight, so you could see way more in one day – but it is also much busier then. We think autumn is the best time of year for a road trip!
When is the best time for whale watching in Iceland?
The best time to see whales off Iceland's coast is from April to late September, but June through August is peak season for whale watching. We didn't see any whales on our trip, but that wasn't the main focus of our trip.
Now that we've shared the logistics of our Iceland road trip itinerary, read on for the next more-detailed part of this series: South Iceland Waterfalls Road Trip – which includes the epic Golden Circle! And for more Iceland road trip stories from our fall Iceland campervan visit, check out our Iceland page!