We have officially returned to the real world after two weeks of exploring some of the most breathtaking places we've ever seen. I spent months creating our Iceland campervan road trip itinerary and drooling over pictures. But nothing could have prepared me for what we experienced while we were there.
Since returning, I struggle with answering one seemingly simple and inevitable question: "How was your trip?"
Iceland Campervan Road Trip Overview
We saw waterfalls, canyons, glaciers, and cliffs. We hiked a haunted mountain path, drove on terrifying dirt roads with steep inclines, almost got blown away by insane wind, saw where a troll-man used to live, experienced Reykjavik on a Saturday night, and laughed hysterically while being herded by a sheepdog … plus so much more!
So, when I blurt out "great" or "amazing" when I'm posed with this deceptively difficult question I feel extremely guilty, like all the Icelanders in the world are collectively shaking their heads at my verbal inadequacy.
As much as I'd like to, I'm really not sure if I'll ever be able to give a concise answer that truly describes how wonderful, amazing, crazy, and intense our Iceland trip was. But, in an effort to communicate the indescribably awesome everything-land of Iceland, I'll be going into detail about the places we explored and the wonderful memories we made.
There is so much to share, but first, I'll start with the basics…
Planning Our Iceland Road Trip Itinerary
When planning our trip, I wanted to keep it flexible so we didn't have to rush through any areas we were enjoying. And since we would be living in an awesome Iceland campervan during our stay, we didn't have anything booked that we had to get to except the ferry from the West Fjords. And, of course, our flight home. This plan worked perfectly for us!
I had a list of what I wanted to do most, plus an "in case we have extra time" list. And from that, I made a rough estimate of how long we could stay in each area of the country in order to make it all the way around in time. I added at least a half-day of extra time to each major part of the trip so we would have plenty of flex-time, too! My estimates ended up being pretty right-on and we never felt rushed, which was fantastic.
Planning to visit Iceland in September also worked out wonderfully! We saved on prices because it was the shoulder season in Iceland – even though we hit the very start of it on September 2nd! And it gave us a chance to see the northern lights (which we saw three times)!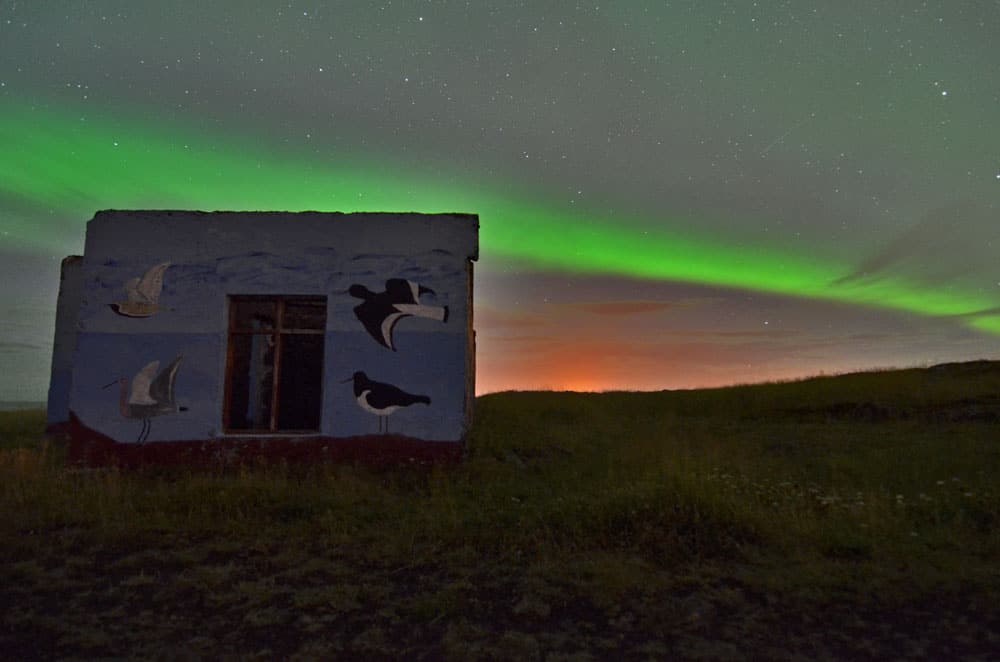 Read more about why we suggest visiting Iceland in September (or close to it) in this article: Four Reasons to Visit Iceland this Fall.
Break Down of our Two-Week Iceland Campervan Trip
We broke down this trip into sections of the country, based on all the things to do in Iceland that interested us most!
Here is a snapshot of what we planned:
2 days to get supplies in Reykjavik & explore Golden Circle
4.5 days in South Iceland Coast (with the most to do!)
1 day to go through the more remote East Fjords.
Since we didn't have data usage on this trip, we also planned out places to camp in each general area and had their address for our GPS. (2019 Update: I recently read that wild camping is no longer allowed in Iceland, be sure to follow current rules!)
Want more details of things to do in Iceland and where we camped? Here's the detailed break down. (Click on links below to read more details & check out more photos from each portion of the trip).
Getting to the Golden Circle: Day 1
Arrive at Keflavik Airport & Get Iceland campervan
Visit the famed Golden Circle (Geysir & Gullfoss)
Camp in random place because we got too tired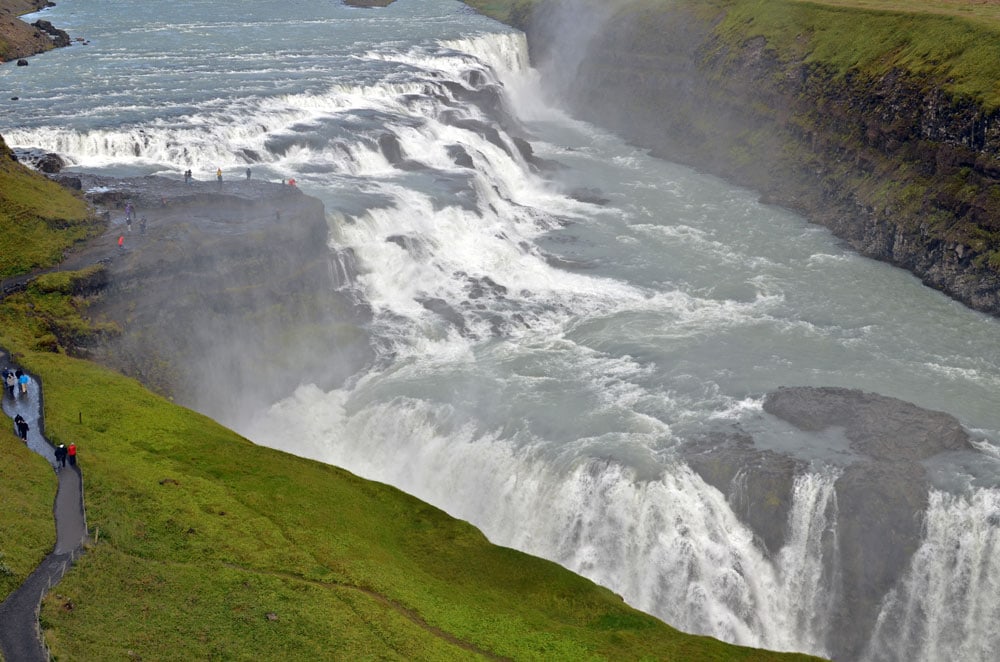 Read more about our adventures in South Iceland.
Golden Circle & South Iceland: Day 2
Explore Þingvellir National Park in Golden Circle
Eat at Friðheimar Greenhouse (great tomato soup!)
Hike around Seljalandsfoss (waterfall)
Quick stop at Skógafoss (waterfall)
Camp in the town of Vik (first Northern Lights sighting)
Read more about our adventures in South Iceland.
Explorations Near Vik: Day 3
Dyrhólaey Black Sand Beach
Reynishverfisvegur Black Sand Beach
Hjörleifshöfði Haunted Hiking Trail
Camp in the small town of Kirkjubæjarklaustur
Read more about our adventures around Vik.
Canyon, Hikes & Glaciers: Day 4
Exploring the amazing Fjaðrárgljúfur Canyon
Hiking up to Systravatn (mountain lake)
Skaftafellsjökull Glacier & Svartifoss (waterfall)
Taking in the stunning Jökulsárlón Glacier Lagoon
Camping in the town of Höfn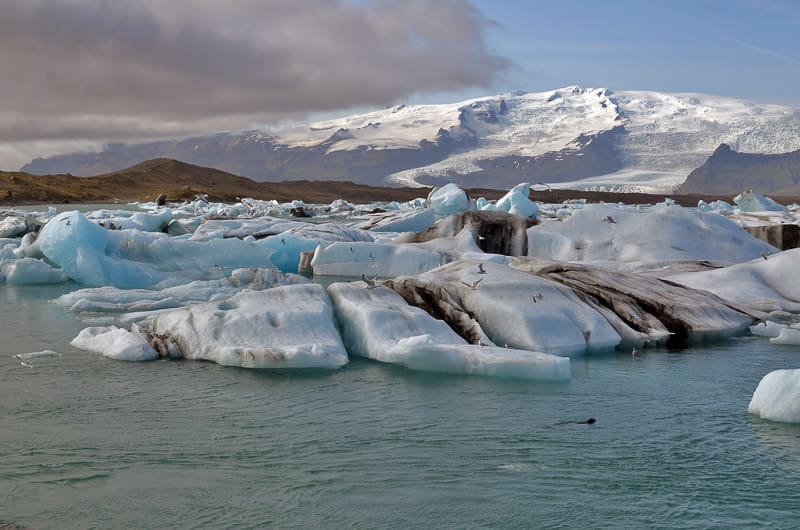 Read more about this part of our trip through South Iceland.
More Glacier Lagoon & East Iceland: Day 5
Back to Jökulsárlón Glacier Lagoon (it is that awesome!)
Driving through East Iceland
Camping in the small town of Egilsstaðir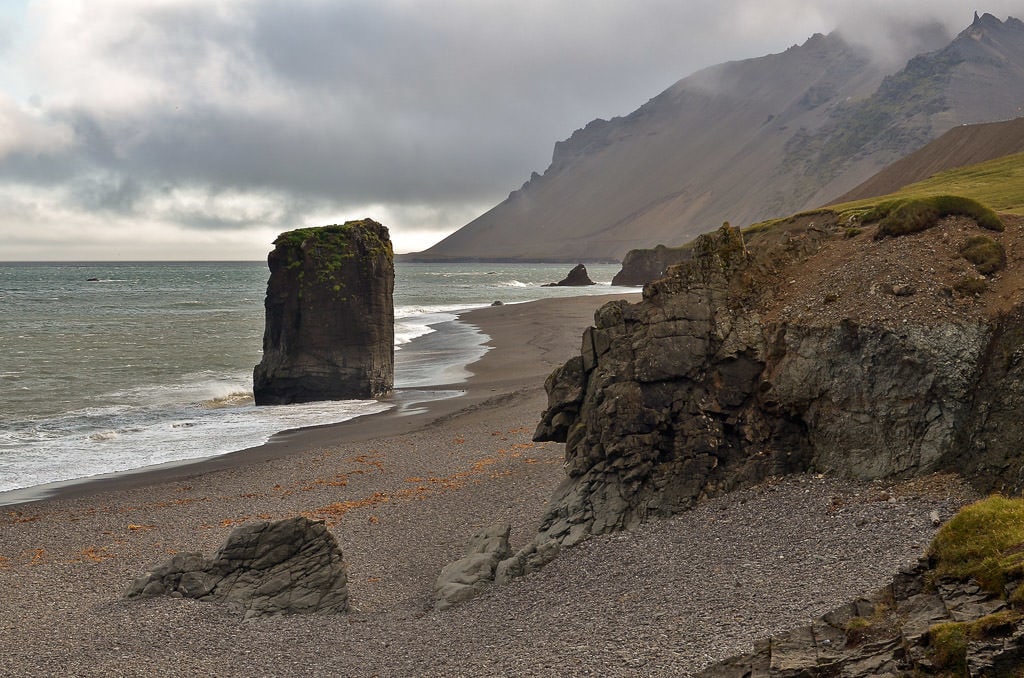 Read more about our journey to North Iceland.
Myvatn Geothermal Explorations in North Iceland: Day 6
Bumpy ride to Dettifoss (enormous waterfall)
Visiting Hverir mudpots & steam vents in Myvatn geothermal area
Taking in Myvatn's Grjotagja cave & Myvatn Lake
Soaking in the Myvatn Nature Baths
Camping in the bigger city of Akureyri in North Iceland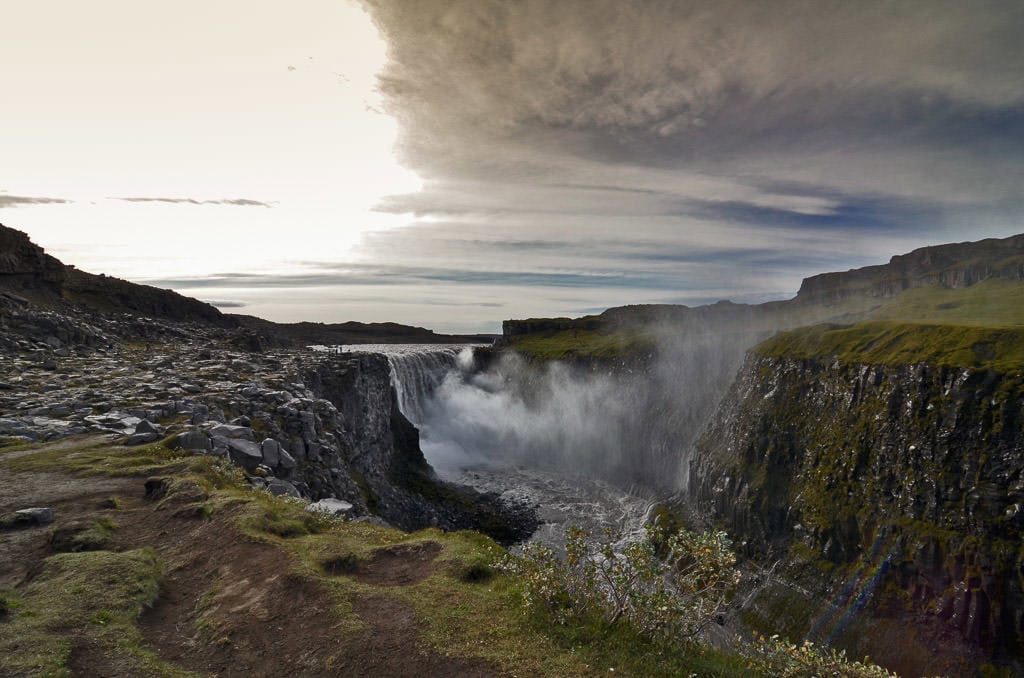 Read more about the Myvatn geothermal area and North Iceland.
Christmas Time in Akureyri: Day 7
Akureyri Botanical Gardens
The Christmas Garden in Akureyri (aka Jólagarðurinn)
Víðimýri Turf Church
Camping in the small seaside town of Sæburg
Read more about Akureyri and North Iceland.
Intro to Iceland's Westfjords: Day 8
Stopping at Laugar Natural Bath (Viking hot tub)
Látrabjarg Cliffs hiking
Camping in the very small Westfjords town of Breiðavík
Read more about the Westfjords.
Leaving the Rugged Westfjords: Day 9
Rauðisandur (Iceland's Red Sand Beach)
Natural Bath near Flókalundur
Stykkishólmur ferry (and camping in random place)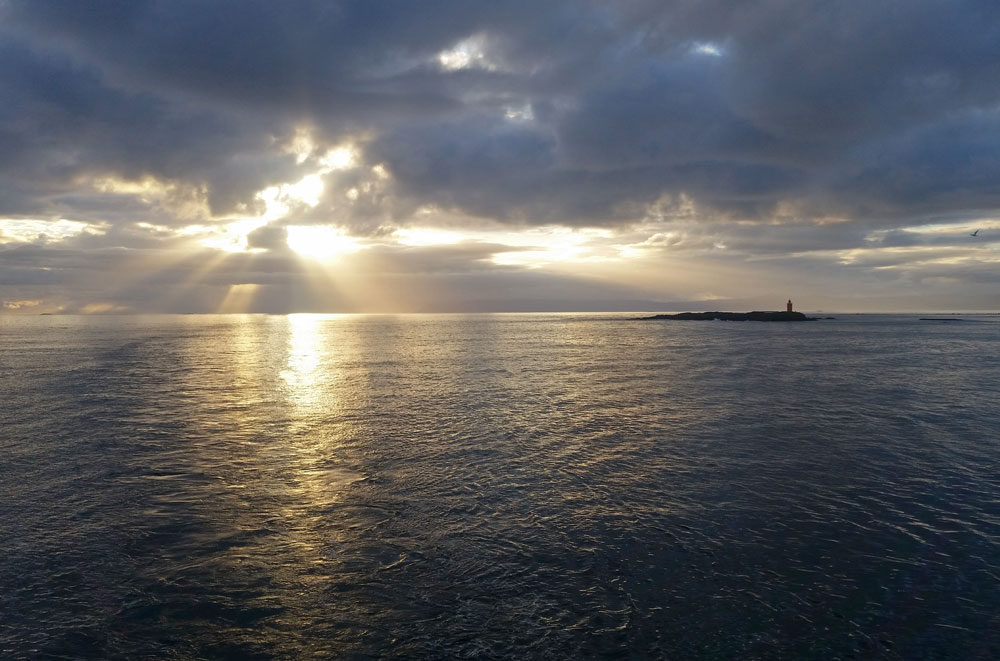 Read more about the Westfjords and Stykkishólmur ferry.
Exploring the Snaefellsnes Peninsula: Day 10
Snæfellsjökull National Park hiking
Vatnshellir Cave tour
Exploring & Camping in Reykjavik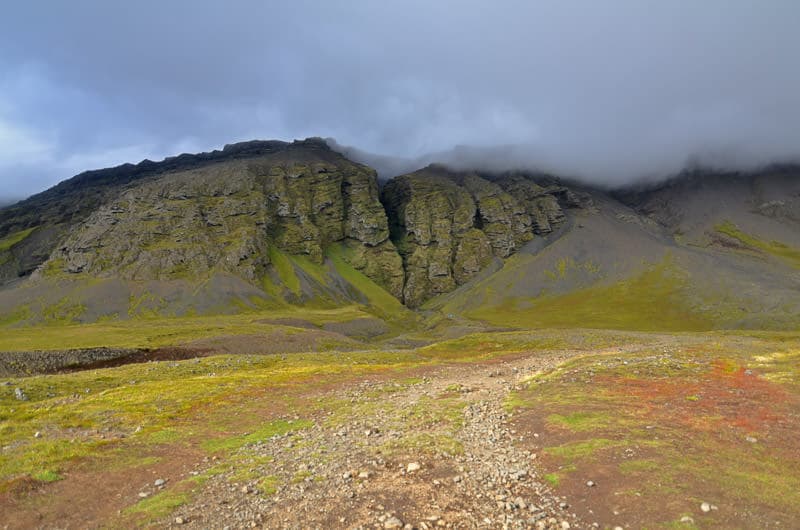 Read more about our explorations in and around Reykjavik.
Blue Lagoon & Northern Lights: Day 11
Soaking at the Blue Lagoon
Reykjanes Peninsula (lighthouse & northern lights!)
Last night in our Happy Campers Iceland van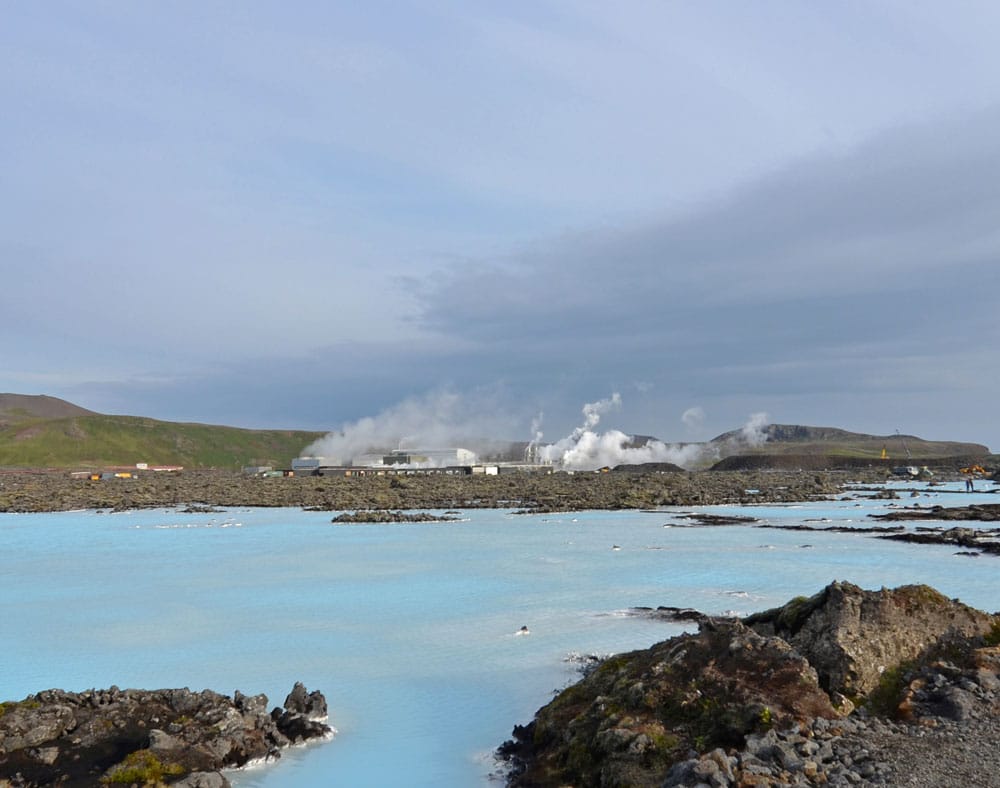 Read more about the area near the Blue Lagoon.
More Reykjavik Explorations: Day 12
Visiting Hallgrímskirkja Church & Downtown Reykjavik
Árbær Open Air Museum
Dropping off our Iceland campervan to Happy Campers Iceland
Sleeping at the Icelandair Reykjavik Natura Hotel
Read more about our explorations in and around Reykjavik.
Goodbye Iceland!: Day 13
Walking up to the Perlan
Going to Keflavik Airport for our journey home!
Read more about our final days in Iceland.
Going on a shorter trip? Check out these articles:
4-Day Southern Iceland Road Trip Itinerary
East to West Iceland Road Trip Itinerary
Iceland Highlights Video
For a quick preview of our favorite places and top things to do in Iceland, check out this video:
Getting to Iceland: Flying with Icelandair
We trusted Icelandair to get us to our much-anticipated vacation spot. I'd highly recommend this airline, especially if coming from Denver since they offer an affordable nonstop flight. They handed out Icelandic Glacial water as we got on board, and had complimentary movies, tv shows, and music at each seat. Plus, the usual coffee, tea, and sodas. (This is when our addiction to Appelsin began). Food was also available for purchase.
I also really liked that the pilot announced when the northern lights made an appearance. Otherwise, we would have totally missed it! Overall, Icelandair truly gave a great first impression of Iceland. They also offer free stopovers to Iceland on your way to other European countries, which we plan to take advantage of next time!
Transportation & Accommodations: Our Iceland Campervan
In order to be able to have an extremely flexible vacation in Iceland, we opted to rent a campervan from Happy Campers Iceland. The freedom from time restrictions was amazing! And, the campsites in Iceland that we stayed at were all very well maintained and beautiful! The van truly became our home-away-from-home. (2019 Update: I recently read that wild camping is no longer allowed in Iceland, be sure to follow current rules! Luckily, the campgrounds are awesome – as we mentioned!)
Our Happy Campers Iceland Review
We loved our experience with this company! The Happy Campers Iceland team nicely answered all of my questions via email before the trip and provided us with all the supplies and Iceland campervan knowledge we needed once we got there.
Each employee that we interacted with was great, too! From the guy driving the shuttle (who gets bonus points for having Gangster's Paradise playing from his iPod). To the girl who gave us words of encouragement that we could indeed navigate the country with just a map (which we did!). And who can forget the guy who explained the ins & outs of the van with a smile on his face despite the fact that he was getting rained on.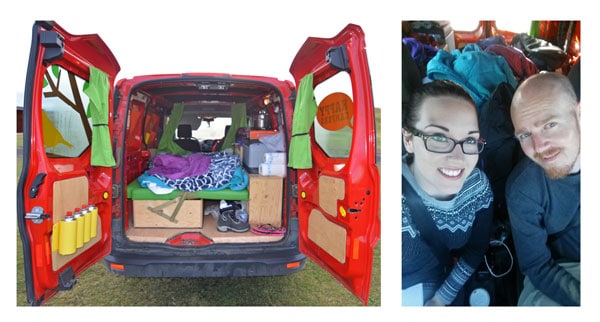 Here's what is included in this Iceland campervan rental price that sealed the deal for us:
unlimited kilometers (a super important thing for me, since we planned to do a ton of driving)
basic insurance (and just a little extra if you want gravel protection)
sleeping & cooking supplies (plenty of blankets, plates, etc.)
a ride from the airport to pick up our van and to our hotel in Reykjavik after dropping the van off
roadside assistance, if needed (luckily, we didn't use it!)
a Happy Campers Iceland map that doubles as a souvenir!
I also loved that other people in Happy Campers Iceland vans waved to us on the road and chatted with us at campsites and points of interest. It was like being part of a little family!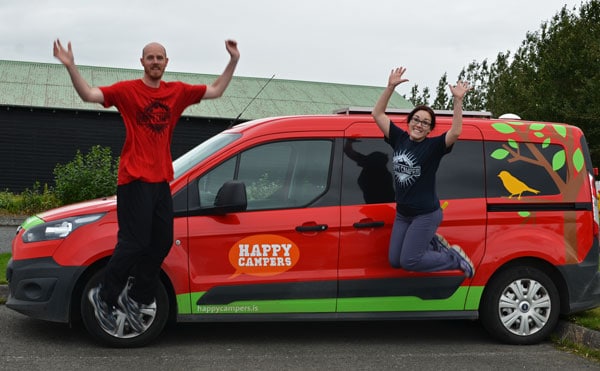 Staying at Icelandair Reykjavik Natura Hotel
For the last night of our trip, we decided to stay in the city, take really long showers, lounge in bed a lot, and eat lots of yummy food.
We were sad to finally turn in our van. But were psyched to sleep in a bed that actually fit both of us – with room to spare – for the first time in almost two weeks! And we really enjoyed our room at Icelandair Reykjavik Natura – with a view of the iconic Perlan across the street. We also really enjoyed the on-site restaurant.
Taking FlyBus to the Airport
Since we no longer had our own wheels, we had to rely on public transport to get us to the airport. The company is supposedly one of the most reliable (as of our trip to Iceland in September 2015), but it was very hectic and rushed when it came to getting on and off the bus. However, that's probably how they get you there on time! And that's all that really mattered to us.
---
Now that we've shared the logistics of our Iceland road trip itinerary, read on for the next more-detailed part of this series: South Iceland Waterfalls Road Trip – which includes the epic Golden Circle! And for more Iceland road trip stories from our fall Iceland campervan visit, check out our Iceland page!