Pet and house sitting is an amazing way to travel that we are excited to tell others about. So, we've compiled all our tips and stories here. Enjoy!
And please contact us with any questions you may have about house & pet sitting. We are open books! -Brooke & Buddy
In early 2018, we were in need of a change and stumbled upon house and pet sitting through
TrustedHousesitters
and it honestly changed everything for us. We are finally
traveling to places we only dreamed of, saving a ton of money
by not needing our own home base, and – our favorite part – having fluffy pals to hang with
at each new home we temporarily live in. We're often even given a car to use during our visit as well as great insider tips on the area.
One of the biggest benefits is getting to truly live like a local when you travel.
While we've chosen to make house and pet sitting our full-time lifestyle, it is also a great way to travel part-time. If you aren't ready to jump in head first, we recommend getting your toes wet in a nearby city!
How Do You Find House Sits?
We primarily use TrustedHousesitters.com to find all of our sits
because it seems like the easiest to use and we've never had a problem getting a sit through the site.
However, there are DOZENS of other options – including Nomador, HouseCarers, HouseSitMatch, and MindMyHouse. Plus, lots of country-specific sites, like HouseSittersAmerica, HouesSittersUK, and AussieHousesitters. Of course, word of mouth goes a long way as well. So a little shameless self-promotion on your social channels may just lead to that dream sit you've been hoping for!
How Does House Sitting Work?
If using a site like TrustedHousesitters, the sit is set up as a mutually beneficial trade.
You get a free place to stay and they don't have to pay to have someone watch their home and pets.
There is a review process and you are encouraged to interview each other before locking in a sit commitment.
However, do note that you are responsible for your transportation to and from the sit, any food, etc. Also, remember the pets and home should always be your top priority. So, if you want to explore the area, be sure to ask how long it is okay to leave them alone and be mindful of that when making any plans. It's important to ask the right questions to make sure you are a right fit for the sit and vice versa.
Want more resources for house sitting success?
Our friends over at House Sitting Magazine have some great video content and we're excited to be affiliates to promote their great courses – including more than 10 hours of video from the educational and inspirational House & Pet Sitting Conference we had the pleasure of speaking at. Plus, a great free course for dog training!
What are the Benefits of House & Pet Sitting?
House and pet sitting is a fantastic way to travel, test out new lifestyles, and get tons of love from sweet pets
– all while helping out other travelers (who, more often than not, end up being good friends). Win-win-win-win-win!
You can also save a ton of money by having a free place to stay, a kitchen to use, and even a car to drive (in some cases)! It's a pretty sweet deal. It is also a kind of genius way to scope out a new area you may want to live. Getting to see what the area is like as a local gives a genuine, realistic view.
Where Can House Sitting Take You?
In short … EVERYWHERE!
Since beginning our full-time house sitting journey, we have house sat on multiple Hawaiian islands and all throughout Europe
– with plans to expand our house sitting travels to other countries (Australia is next!)
Since we use TrustedHousesitters and it is an international site, we are always seeing new opportunities pop up in interesting places we've never even heard of. One of our biggest challenges is just having the self-control to not take on a sit that would cost an arm and a leg to get to. Trust me, there are some amazing places – and it is so tempting to just throw our budget out the window and go!
Pet and House Sitting Articles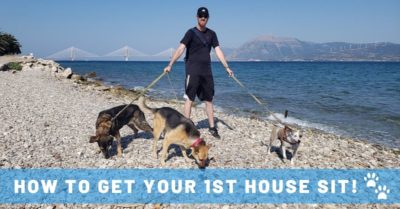 Wanting to get started house sitting and wondering how to get your first house sit through TrustedHousesitters? We have all the tips you'll need to get going!