I remember when I first heard about international house sitting, we were still in a home of our own and I couldn't imagine ever being comfortable staying at a stranger's place – especially in a foreign country!
Maybe that's because, at the time, I would have never been comfortable having a house and pet sitter in my own house. Maybe it was because I still had some giant personal fears to work past.
But, the amazing thing about going for your dreams is that it has a way of expanding your comfort zone at a rapid pace. You just can't get to where you want to be without making some changes along the way – and that often starts with yourself!
(Interested in more house sitting stories and insights? Check out Brooke's book: Home Flexible: Stories from Life as a Nomadic Traveling House Sitter. Available in print and ebook.)
Now, after two years of full-time international house sitting through TrustedHousesitters, it feels really normal to make ourselves at home in a stranger's place. (Although, they usually aren't considered strangers for long!) It even feels completely normal to grocery shop and have no idea what the packaging says or walk a dog in a landscape we've never seen before.
Truth be told, it now feels weird to NOT be in an unfamiliar place! And if we ever have a home of our own again, we would be so excited to invite sitters to hang out at our place while we're away – especially if they were coming from a faraway land for a first-time visit!
What is International House Sitting REALLY Like?
Whether curious about house sitting as an option to travel or just because it is such a unique lifestyle choice, we are constantly being asked about it! Yes, on paper, it seems really strange to go live in someone else's house and take care of their life (for the most part) while they are away. But, in general, house sitting really isn't as crazy as most people imagine.
The reality is that house and pet sitting – even in some foreign land – often looks like a normal day of home life. We cook and clean and scoop up pet poop. There are lazy days cuddling on the couch and time spent out and about.
However, the big difference between a traditional life and traveling as an international house sitter is that we get to live out this well-known routine in amazing, exciting, new-to-us places. And that's pretty dang spectacular.
A Typical Day of International House Sitting with Pets
While every house sit is different, we often end up with a similar routine at each one:
We wake up, feed the pets and ourselves.
Walk the dogs and/or give the cats attention.
Spend the precious daylight hours out exploring the area or running errands (or stay inside if we're feeling a rest day!).
Feed and walk the pets in the afternoon.
Then get some work done at night – usually with a movie or music on and a pet snuggled up close by.
It really is a simple life and that's why we love it!
However, being in a foreign country makes the tasks we used to think of as boring in our traditional life really exciting and fun. Going to the grocery store is a joy – even if it can take double the time with all the Googling we have to do!
Things like driving or taking the bus or meeting a neighbor are all adventures. And, of course, we adore our walks with the dogs we sit for. Getting to explore a new place with a pup is such a memorable and special way to take in a new environment. Often, we'll seek out trails we'd have never otherwise found if we didn't have a dog to care for!
While there are obviously responsibilities and must-do daily tasks involved with our international house sitting gigs, we always have time – and are even encouraged by the homeowner – to go explore the area. Often, they will even let us use their car or it will be an easy bus ride or walk to some unique cultural places or natural wonders we can't wait to see!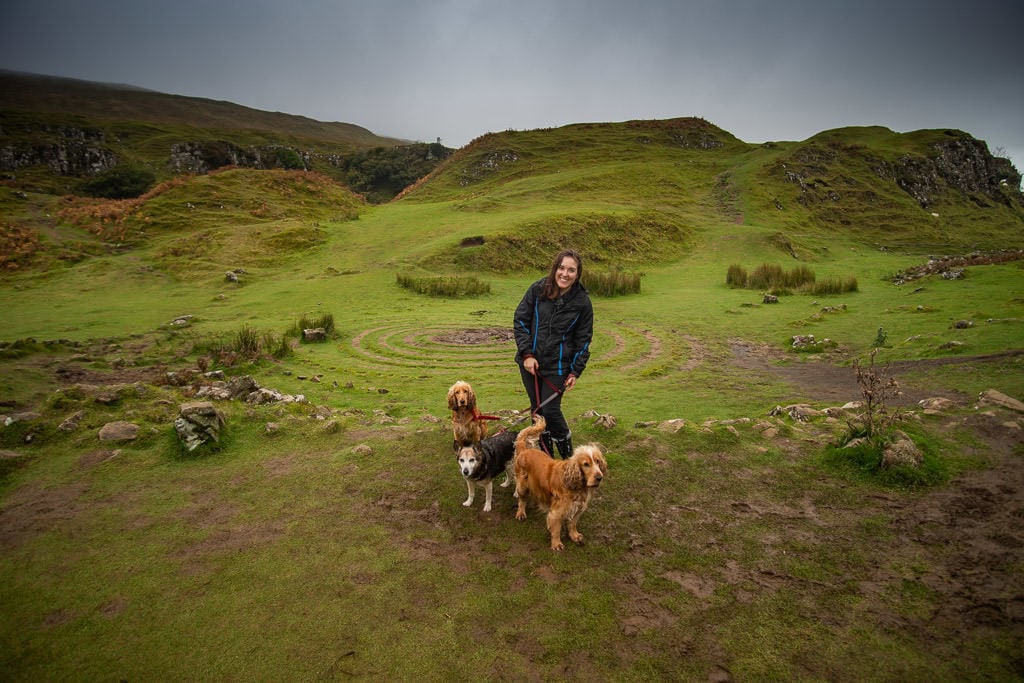 However, we also love all the couch cuddles we get from our sweet furry friends after a day of exploring. It makes working online much more enjoyable with a happy pet by our sides!
Read our other house and pet sitting tips here!
See What Pet Sitting Looks Like! (Our TrustedHousesitters Video)
While I could write all day about house sitting and why I love it, we recently had an amazing opportunity to share an authentic glimpse of our life as housesitters. A few months back, we got to meet some of the lovely TrustedHousesitters team who shared some of their goals with us.
They really wanted to show genuine sitter stories through on-location video projects. Of course, we loved the idea, half-joked that they should meet us in Montenegro a few weeks later to shoot some content there, and the amazing video below is the result of them making that happen!
We're always very picky about what companies we are willing to promote and work with. But, we have had only amazing experiences with TrustedHousesitters – from interactions with other sitters and homeowners to the team members we've had the pleasure of chatting with. (The two-person team we worked with on the video project actually became quick friends and hanging with them while collecting content made our time in Montenegro extra fun. Definitely an unexpected surprise perk!)
It is a joy to help promote this wonderful company and while we initially thought we were doing them a favor, this beautiful, realistic depiction of what our life looks like as international house sitters is one of the best gifts we could ever receive.
We hope you enjoy this look into a typical day in our life as international house sitters and consider giving it a try. Seriously, it really is this good!
---
Consider joining TrustedHousesitters today to make your own unique travel memories! Happy travels!