Welcome! We're Brooke & Buddy!
Previous Digital Nomads | Traveling Pet Sitters | Experts at Just Winging It
In 2017, we quit our office jobs and set off on an often-challenging, always-interesting adventure to find a new life path. After some trial and error (including a year in an RV), we enjoyed international pet sitting for about three years as digital nomads. Now we live in Hawaii where we volunteer, plan future travels, and pet sit locally.
We're pretty transparent around here and enjoy sharing our lessons learned when it comes to travel logistics, the nomad life, and house sitting. Of course, we share about all the awesome destinations we visit and unique experiences we have had as well.
Come trail away (and likely get lost) with us!
As I look back on many years of travel, the quiet and remote island of Newfoundland always stands out as one of the most unexpectedly amazing places we've ever visited. If you are planning to visit, congrats – it is truly one of the best places for outdoor lovers in...
Traveling Pet Sitter Insights
When we joined TrustedHousesitters in early 2018, we had no idea how far the house/pet sitting journey would take us. Thirty countries and dozens of furry friends later, I decided to share our favorite pet sitting stories that are inspiring, entertaining, and highly...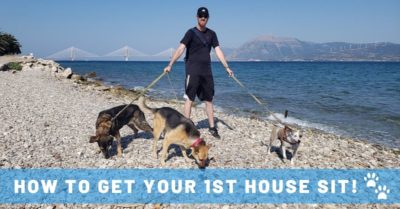 Wanting to get started house sitting and wondering how to get your first house sit through TrustedHousesitters? We have all the tips you'll need to get going!
Interested in what a typical day of international house sitting looks like? Read about our experiences so far and check out a fun video to learn more!
Subscribe to our newsletter
Lessons Learned & Travel Tips