Welcome! We're Brooke & Buddy!
Sharing Extraordinary Outdoor Experiences for Ordinary Adventurers.
In 2017, we quit our office jobs and set off on an often-challenging, always-interesting adventure to find a new life path. After some trial and error (including a year in an RV), we enjoyed international pet sitting for about three years as digital nomads. Now we plan our future travels out of our home base in Hawaii!
We LOVE nature and wildlife, and we are passionate about sharing extraordinary outdoor experiences for ordinary people like us (who won't be base jumping or hiking across a country in the near future). Come trail away (and likely get lost) with us!
Traveling Pet Sitter Insights
When we joined TrustedHousesitters in early 2018, we had no idea how far the house/pet sitting journey would take us. Thirty countries and dozens of furry friends later, I decided to share our favorite pet sitting stories that are inspiring, entertaining, and highly...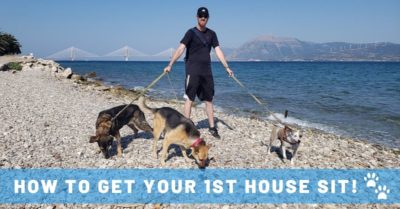 Wanting to get started house sitting and wondering how to get your first house sit through TrustedHousesitters? We have all the tips you'll need to get going!
Interested in what a typical day of international house sitting looks like? Read about our experiences so far and check out a fun video to learn more!
Subscribe to our newsletter
Lessons Learned & Travel Tips