The best thing about travel, to us, is the places that completely take us by surprise. When we realized we'd be going near Page, Arizona, on our Texas to Utah road trip for our first housesit, we set aside extra time to finally see Horseshoe Bend and tour Antelope Canyon.
Although we aren't really bucket-list people, these were two places we had been dreaming of visiting for years. (Thanks, Instagram). But, just before we arrived, we read that there was actually an option to kayak or paddleboard Lake Powell and see this amazing area by paddling into Antelope Canyon. Umm … yes, please?!?!
Although, we were excited to take in the views of this unique body of water, we had no plans to spend an entire day of our already short trip exploring Lake Powell. But, it turned out to be the best decision we could have made. And the experience rivaled all the others that made Page, AZ, a can't-miss stop on our road trip in the first place.
Paddling into Antelope Canyon from Lake Powell
While we still highly suggest the guided tour (more on that later), this is just one of those experiences that is too unique and special to pass up. Trust us, when you begin paddling into Antelope Canyon where it meets Lake Powell, and those giant rock walls start to tighten up around you as you glide around each curve … you'll feel that sense of wonder fill you to the brim. And you're just getting started! Did I mention there's a hike at the end? Ohhhh yeaaa …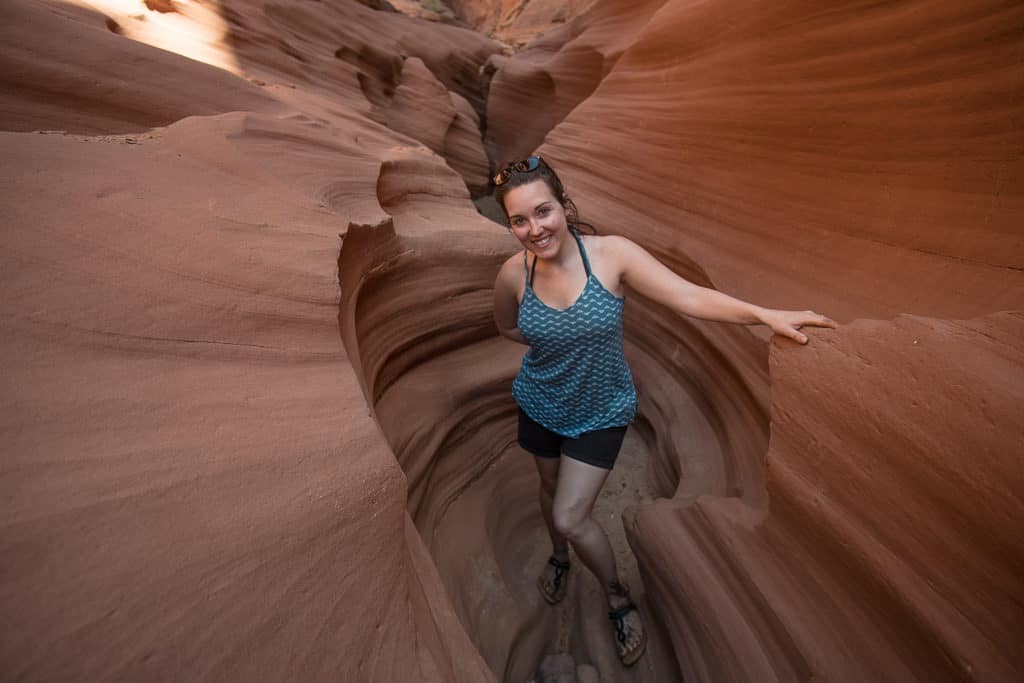 Getting setup with Lake Powell Paddleboards
But before you can feel the magic of the canyon, you are going to need a way to get there. Unless you have your own paddleboard or kayak, you'll have to rent one in town. We had a great experience with Lake Powell Paddleboards.
First of all, their day rate for paddleboard rentals is surprisingly affordable – only $40! We've paid $20 each per hour for these things before, so were psyched a full-day rental was in our budget. If you'd rather go for a kayak, they rent singles for $20 and doubles for $45. However, one of the employees had a great point – you get to see into the clear, deep water of the lake so much better on a SUP board. And we agree! (We've loooved SUPing ever since our very first time on the water together).
Another reason we loved this company was how easy they made pick-up and drop-off. None of the rental companies are allowed to deliver the vessels to Lake Powell due to park service regulations. So, you have to bring the boards or kayaks to the put-in point on your own. However, they have this process down and got us out the door very quickly.
Plus, it made it feel a bit more adventurous to not have the hand-holding we've received in the past. We felt kind of like bad-asses with these big boards strapped to the top of the Subaru!
The route to paddle into Antelope Canyon
Before leaving the rental shop, make sure to get instructions for how to get to your much-anticipated destination: Antelope Canyon. It is pretty simple though. Just put in at the Antelope Point Marina, then paddle along until you can take a left into a canyon, then paddle till you hit land.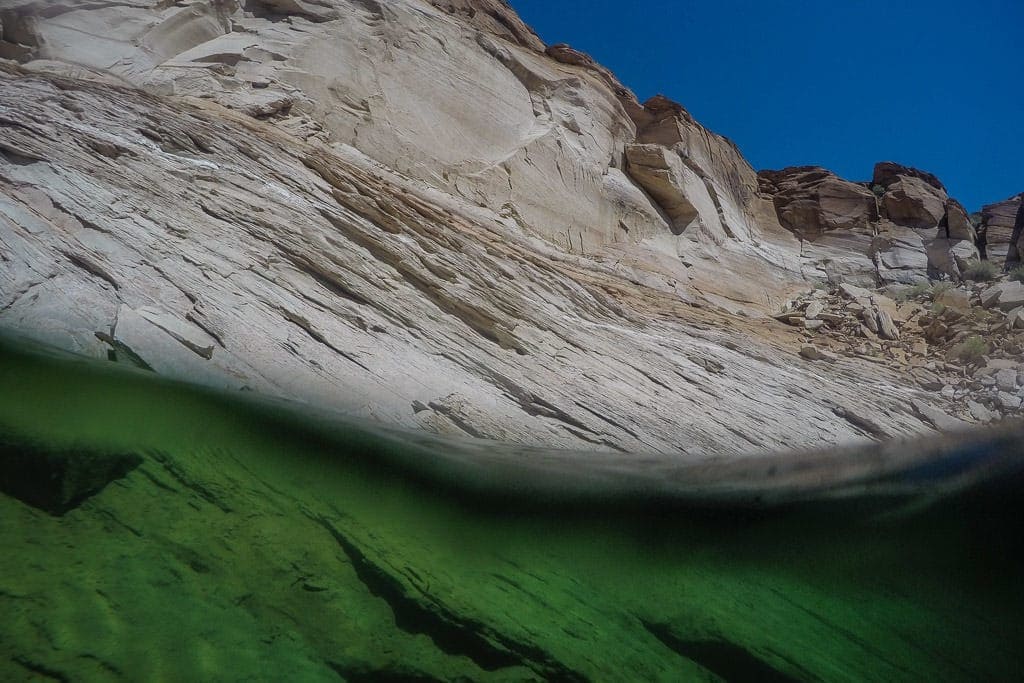 However, floating above that crystal blue water of Lake Powell on a paddleboard with the giant rock walls around you is anything but simple. It feels immense. Like you are a legit explorer, not just some tourist checking off the must-see list. This is what we all really want, right?
You'll paddle along for about a mile while admiring your surroundings and spotting fish below you. If the weather is nice and the water is flat, it should be almost effortless. However, the occasional boat will speed by, and when it does – definitely brace yourself for some small waves.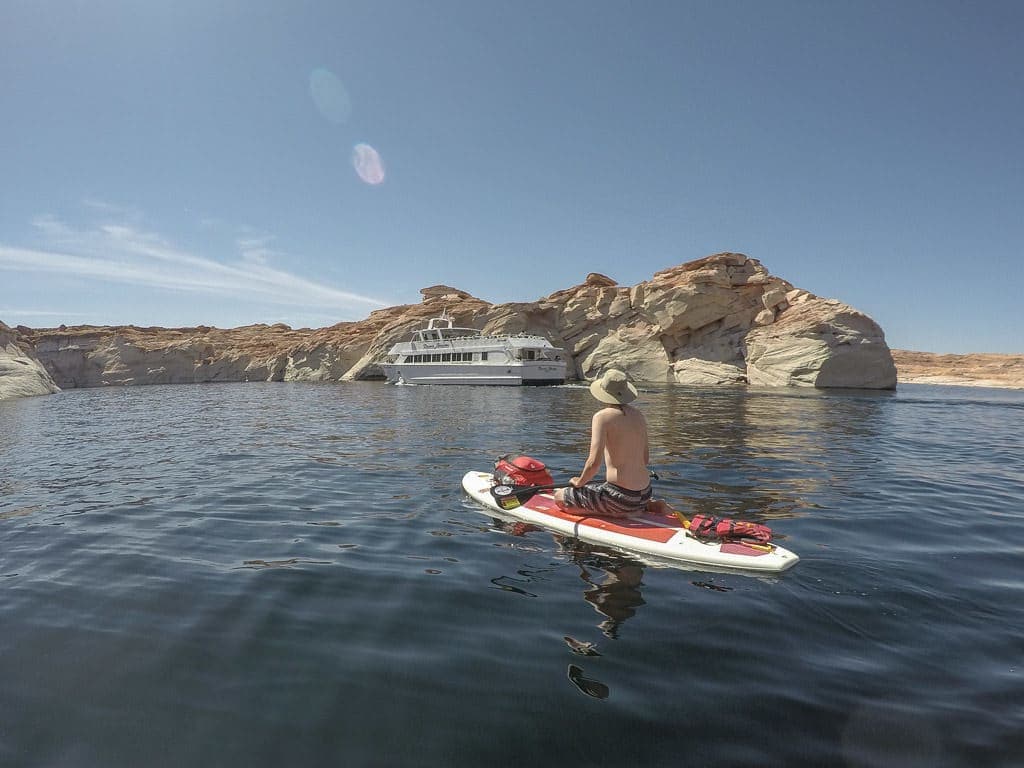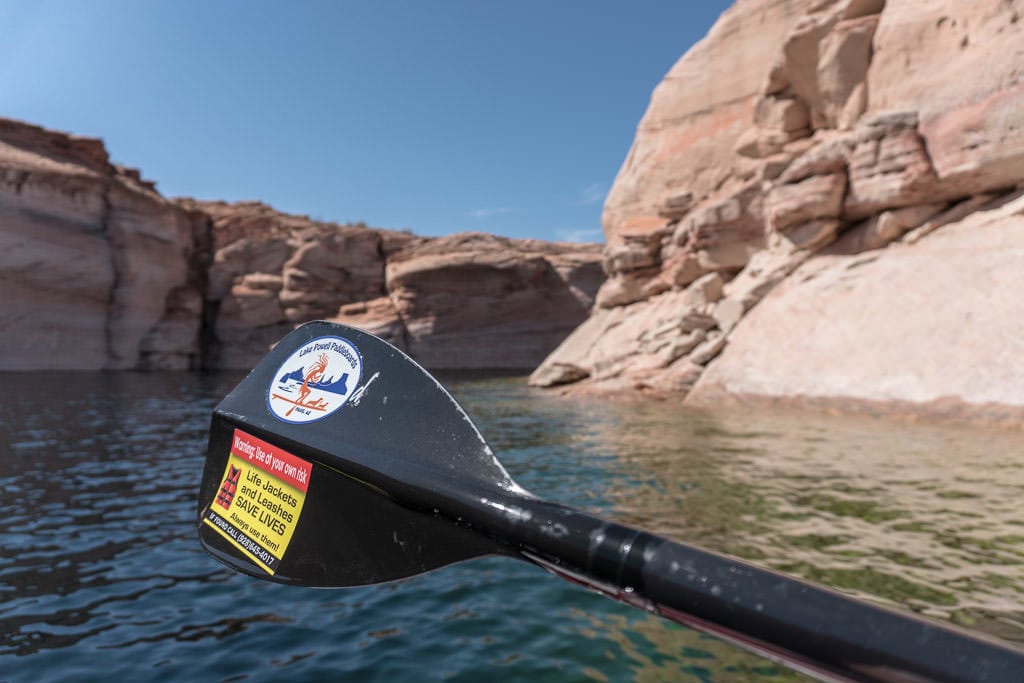 Although, you'll probably be anxiously awaiting the turn into the flooded portion of Antelope Canyon, try to be patient and enjoy the beauty along the way. You'll know your there when you see the wide mouth of the canyon to your left and a no wake zone sign. You may even see a tour boat or smaller rental boat entering or leaving.
Now it is only about two more miles of gawking in amazement before the water ends and you continue by foot.
Hiking into a portion of lower Antelope Canyon
Slowly the walls around you will get more and more narrow, until eventually you will see some land ahead. This area is too tight for boats, so you'll only see other kayakers and paddleboarders here.
We couldn't wait to get our hiking shoes on and go exploring as soon as our boards touched land. Then we saw another couple returning with mud up to their mid-calves from a giant mud pit they had to walk through. We quickly realized our flip flops would have to do (sandals are ideal). And the mud pit wasn't bad. It just made some not-flattering noises as your feet squished in. But, soon enough we were winding through Antelope Canyon.
Since the wind was supposed to pick up in the next few hours, we didn't hike very far. But, we couldn't help but wander until we found some of those epic slot canyons we came for. We turned around just before the trail splits, about a mile in. However, you could go further, if time allows.
While you likely won't be alone here, or on your way to this epic spot, it is way less crowded than a guided tour through the more popular area of Antelope Canyon. So, take it in and enjoy. It is a bit of a hidden gem!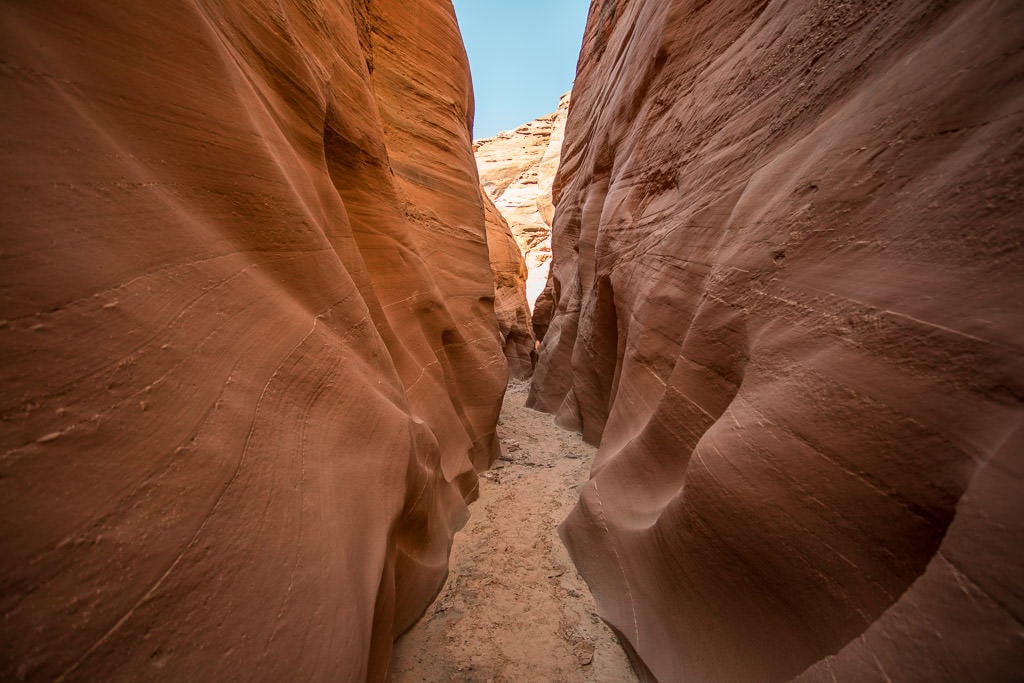 A Windy Lake Powell Paddleboard Return
We were warned about the wind before leaving, but thought "how bad can it be?" Well, let's just say we were definitely sit-down paddling most of the way back with how choppy it got. Strangely, it didn't feel very windy, but the water told another story.
However, the extra effort we had to put forth on the paddle back was totally worth it. Although, we'd advise others not to go out if there are high wind warnings because we only experienced a light wind – so anything more would likely be really unenjoyable.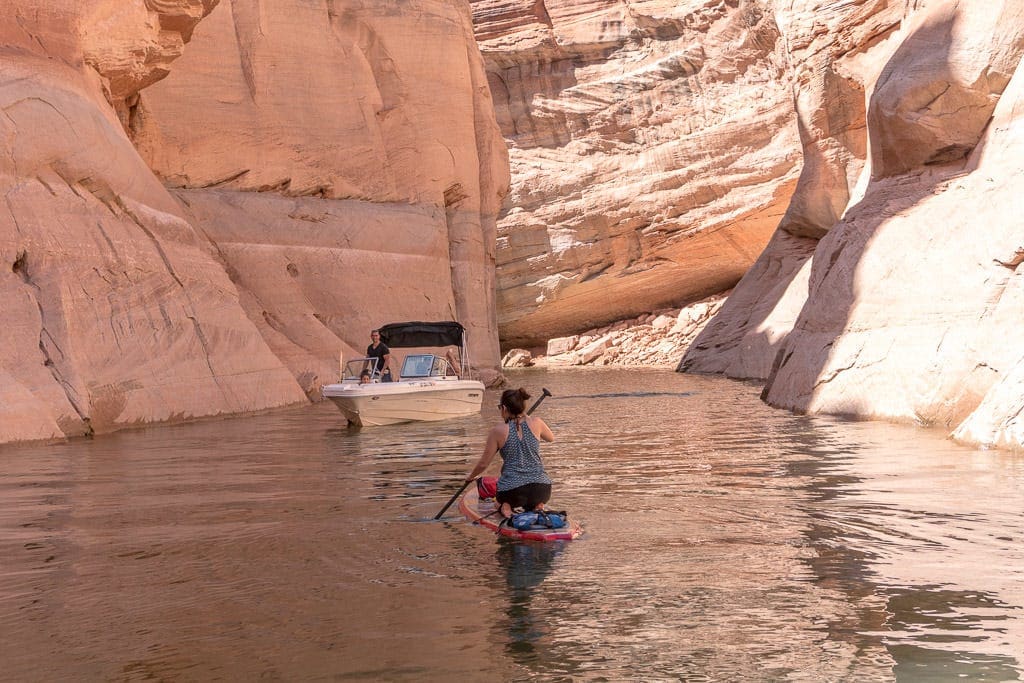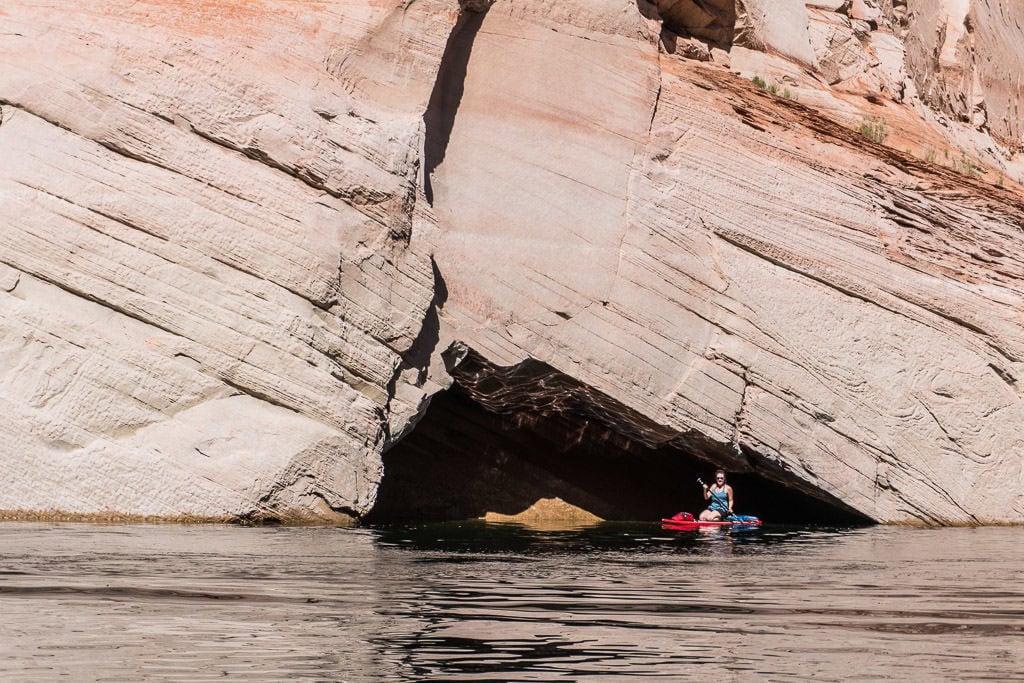 But luckily, the sun stayed shining despite the change in weather and the views were just as awe-inspiring on the return. After about five hours on Lake Powell and exploring the Antelope Canyon, we were exhausted but elated. We got the boards on the car and strapped in with big smiles and couldn't thank Lake Powell Paddleboards enough when we got back. What a wonderful experience to be facilitating! And there is so much more of this 186-mile long lake to explore.
Tips for a great Antelope Canyon paddle board adventure
Bring a dry bag if you have anything that can't get wet. We bought one from the rental company and it was definitely worth it to keep our camera safe. Everything you put on the board gets soaked when boats go by.
Pack plenty of water, food and sunscreen. You'll also want a good pair of sandals. As we mentioned, hiking shoes will likely only get ruined if it is muddy.
If you don't wear your life vest, strap it onto the board, so not to lose it. There may or may not have been a harrowing rescue of mine because I didn't listen to Buddy when he suggested this. The fee for losing it isn't cheap!
Stay to the sides of the canyon while paddling. Boats are in there as well and you don't want one to hit you. Although, they are supposed to go slow, not everyone in a rental/personal boat cares to do so.
Watch for sand spurs and snakes. When hiking, we suggest not going barefoot due to sand spurs. Also, watch for rattlesnakes. I read this article by our friends the Holcombes about their trip, the morning of ours. (Kathy comes really close to getting bitten!) So, I was definitely on high alert the entire time. Luckily, the only surprise visitors we had were some curious lizards.
Leave as early as possible if you are planning to do the hike. There is a late return fee if you aren't back before closing time and we cut it pretty close to this.
Bring your National Park Pass. A fee wasn't needed where we put in, but if you are exploring other areas of Lake Powell, you may have to pay the fee or use your parks pass. (Which we think everyone should have because our parks rock!)
Heed weather warnings. High winds can make paddling an overly exhausting pursuit. And during heavy rains, there is a risk of flash flood. Just make sure to check the conditions before you go and be smart.
Guided Lower Antelope Canyon Tour
As amazing as the paddling experience is, it isn't the same as walking through this protected, tour-only area of the canyon. The swirling shapes and colors of the walls are pure magic. Although, our all-day paddling experience was an unexpected highlight of our trip, we honestly couldn't pick which version of the canyon we liked more. So, if you can, do both.
Why We Chose Ken's Tours for our Visit
As you may know, there are tours to both upper and lower Antelope Canyon. We chose lower because we heard it was less crowded. However, there are also lesser-known canyon tours in the area where you can really avoid the tourists. It just depends on what you want to see. Of course, we were there for those iconic Antelope Canyon views!
We went with Ken's Tours for this part of our Page adventure. And the experience really stood up to all the rave reviews we read. Our guide Zach was funny, informative and so amazingly helpful, we couldn't believe it. We definitely expected far less from such a busy tour operator. It was 100% worth the $50 each we spent on tickets.
Walking through Lower Antelope Canyon
As we wandered through the famed slot canyon on our hour-long tour, Zach pointed out many of the iconic places, offered to snap our photo multiple times, and even changed our camera settings for us. He made it so easy to just enjoy the experience.
It may have helped that we took the first tour of the day, so he was still fresh, and we didn't even have a full group. (Apparently, later in the day it can get really crazy and crowded in the canyon.) But, I have a feeling he is still awesome.
The pictures speak for themselves on this one. It is amazing and indescribable. Our only big suggestions are to listen carefully and abide by the rules, book early if going at prime time, and bring something to cover your eyes, mouth and camera. The sand gets everywhere – especially if it is windy. Definitely don't change lenses while down there!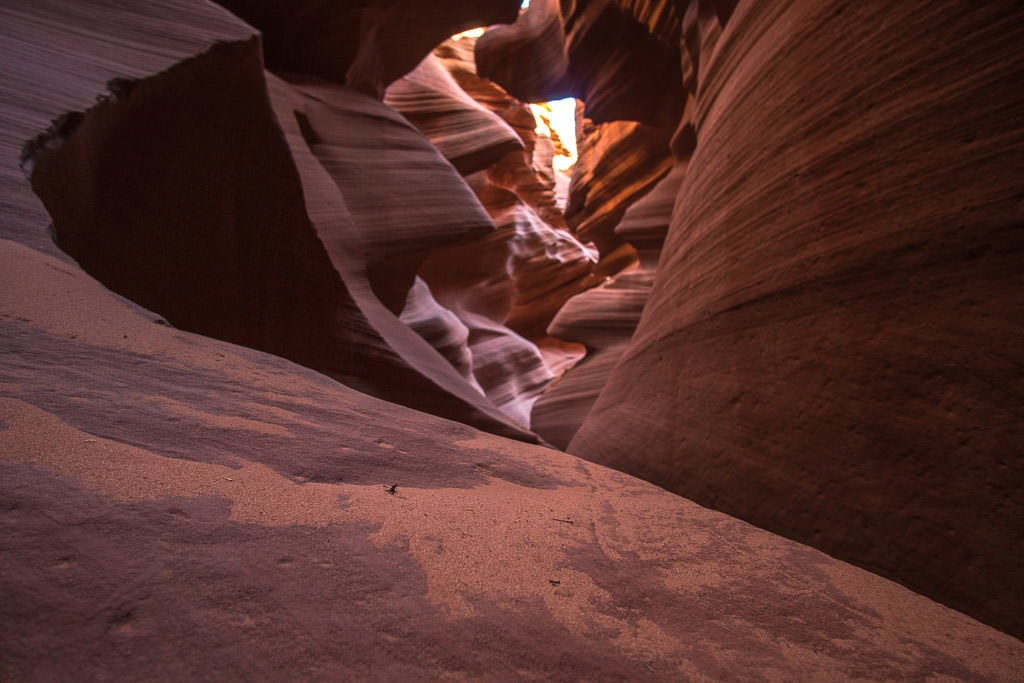 Other tips for Visiting Lake Powell, Antelope Canyon & Page, Arizona
There is SO MUCH to do in this area. We only visited for a few days, but a few weeks would have been ideal. Here are our best suggestions for your visit:
Stop by Horseshoe Bend
Sunset at Horseshoe Bend was beautiful, filled with tourists and extremely buggy. It wasn't even close to as serene as we had imagined. But, it is extremely easy to get to and there's just no good reason to not take a few moments to enjoy its splendor. Just be prepared for lots of selfie sticks and screaming kids. I'm really glad we saw it, but also really glad we didn't drive all the way there just to do so.
Stay on Lake Powell
We stayed at Lake Powell Resort where there were amazing views of the lake right outside our door. And, if you aren't being cheap like us, you can pay a little extra for those views outside your window! There are also tent and RV camping sites right on the beach nearby. However, if you are just going to do the tours and see the sights, the hotels in town are actually much closer to Antelope Canyon.
Admire the Glen Canyon Dam
If you are staying at Lake Powell Resort, you'll drive across Glen Canyon Dam multiple times as you venture to and from Page. But, if you want to know a bit more about this impressive man-made structure, take the tour.
Eat at State 48 Tavern
We aren't foodies by any means, but we've gotten a little spoiled with finding great restaurants during our travels. Unfortunately, Page doesn't have much to offer in that department from what we saw – except this gem! They don't even have a website (just a Facebook page right now). So, we had to trust reviews about menu items and – like usual – they didn't steer us wrong. Our meals were fresh and delicious. I got one of the best salads I've ever had – strawberry, coconut, basil! Who would have thought? And Buddy loved his burger. Plus, lots of beer choices. This was the perfect treat after our all-day adventure paddleboarding in Lake Powell.
Use Page as a jumping-off point
The Page, AZ, and Lake Powell area is a destination in itself for water lovers and hikers. But, it is also the perfect place to base your adventures to other epic destinations you may have heard of, like THE GRAND CANYON (only about two hours away)!
Here are some other places we recommend if you have time:
Marble Canyon: This beautiful place is about 45 minutes outside of Page. It was a "wonder what that is" stop for us and totally worth it.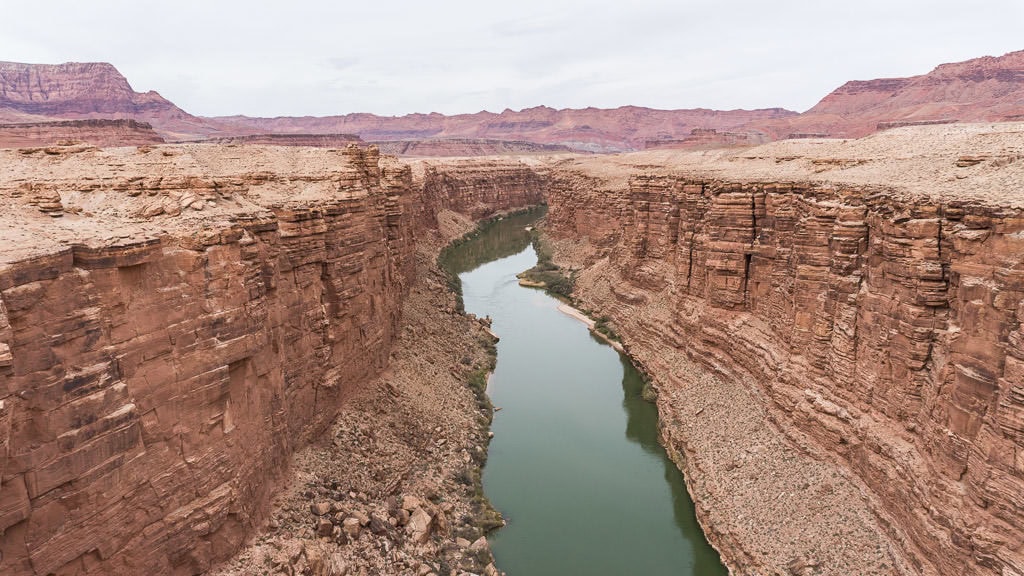 Grand Staircase-Escalante National Monument: Within 30 minutes of heading into Utah from Page, you'll start to see some of this. With no official visitor centers, it is more of a back-country hiking place. But definitely worth looking into if you are an avid hiker.
Best Friends Animal Society in Kanab: This place is heaven for animal lovers and only 1.5-hours from Page. Plan ahead so you can enjoy one of their tours or spend a day volunteering at the largest no-kill sanctuary in the country. Snuggles included.
Zion National Park: Only about two hours from Page, this is one of the most popular of the national parks. With only a few hours to spare, we chose to come back on a dedicated trip. But, if you have time, make a point to spend a few days here.
Bryce Canyon National Park: This is a bit further from Page – at about 2.5 hours. But, this is a gorgeous park with lots of hiking options. It actually snowed on us during our short visit, making it all the more magical.
Other Best Places to Paddle Board in Arizona:
Around Pheonix: There are tons of places to paddleboard, including Tempe Town Lake, Canyon Lake, and Saguaro Lake.
Grand Canyon paddleboarding is of course very epic as well. However, places like Havasu Creek and the Colorado River can be more dangerous to SUP on. Read more here.
Lake Mohave: for a secluded calm paddle along the Hoover Dam.
Paddle-friendly section of the Verde River: The 7-mile section of this 170-mile river preferred for paddling is between Tuzigoot Bridge down to Haydorn Lane.
Special thanks to Lake Powell Paddleboards for providing us with a media rate for this awesome trip. All opinions are our own.
Want more epic outdoor adventures? Read more: