Let's face it, the only reason many non-Californians know Catalina Island even exists is because of the scene in the movie Step Brothers where they are at the "Catalina freaking Wine Mixer." (Yes, I PG-13ed that quote. And yes, that is a real event, which was actually inspired by the made-up event in the movie).
But, this gorgeous island off the southern California coast isn't even on the radar of many travelers. If it is, they usually have no idea that a getaway to Catalina Island has so much more to offer than the small, historic city of Avalon and a movie-inspired wine event.
It is a nature-lover's paradise, with a unique history and special way of doing things. And it may be more in your budget than you realize. Plus, there are plenty of amazing things to do in Santa Catalina Island that make it worthy of more than just a day trip.
We'll make sure to explain the logistics of getting to the island, as well as some suggested itineraries. But first, we can't wait to share some of the fun activities we enjoyed!
Best Things to Do in Santa Catalina Island
1. Catalina Island Tour of the Interior
On our way to the ferry, our Lyft driver actually told us the island is flat and he doesn't think we will find enough to entertain us for three days. Ha! This guy was really misinformed.
During our research, we found some great tour options that led into the mountainous "interior" of the island. And we were psyched to go on one almost as soon as we arrived. Especially because we had somehow managed to come to the island during the area's spring break week AND on a "cruise ship" day. Although still beautiful, Avalon was a bit of a zoo. So, we were happy to be putting some space between us and the masses.
Unfortunately for them, many people only see Catalina as a day trip. So, they don't have time to go on the longer tours that take them on half or full-day adventures into the interior of Catalina Island.
Lucky for us, that means we got to spend some one-on-one time with our awesome tour guide, Scotty, and the creator of Catalina Outdoor Adventures [As of 2019, it seems that Catalina Outdoor Adventures is no longer in business, but there are other tours that will take you to the interior of Catalina Island.].
There are many options to get into the interior of the island. But we chose this one for its small group size and flexibility. For $95 each, this half-day trip is really a great deal for everything you get!
We also quickly realized that not only was Scotty extremely knowledgeable, he was a strong advocate for the welfare of the flora and fauna on the island – which made us even happier that we chose his tour. (There are full-day tours available as well, for $134 each).
After climbing up above Avalon, we entered through a gate into the protected interior area of the island where an entry permit is required.
Then, we made a stop at the Airport in the Sky for a quick lunch. The weather wasn't working with us. But even in the gloom, it was a beautiful – albeit a bit bumpy – ride. Many people choose to get dropped off here, then bicycle back into town for a fun downhill ride.
Exploring Little Harbor
Next, we moved on to the highlight of the tour: Little Harbor. In more ideal conditions, we could have used some of the fun gear Scotty had waiting for us. Paddleboarding, surfing, snorkeling and mountain biking are all options.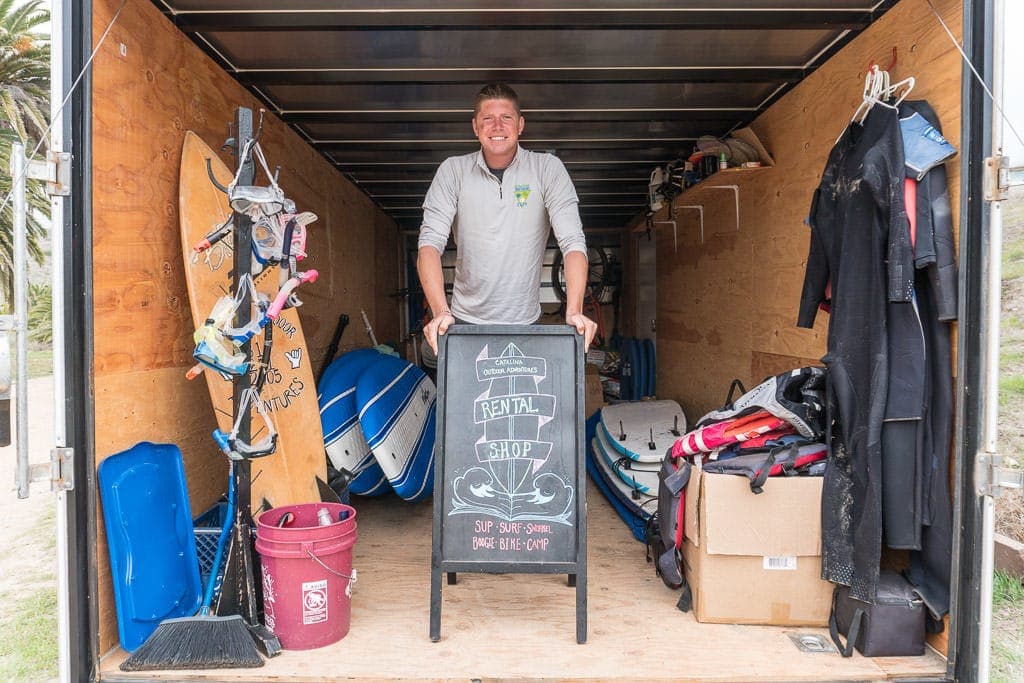 But since it was cold and windy, we decided to hike around the area during our time there. And we loved every minute of exploring this remote area of Catalina Island. Taking a tour into the interior is definitely one of the best things you can do with your time on this beautiful island!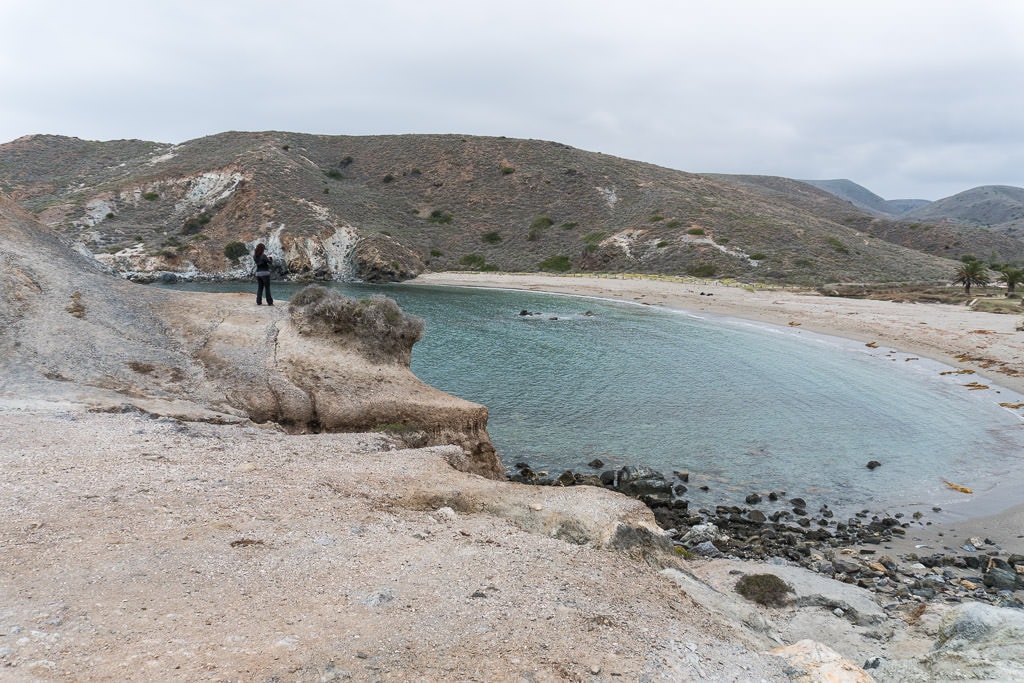 On better weather days, the "whale tale" rock that splits the harbor in two makes one side perfect for paddleboarding, while the other is a win for surfers. It is one of the best places on the island for water activities minus the crowds!
You can also camp here, if you'd like to spend even more time getting to know the interior of Catalina Island. (Catalina Outdoor Adventures can set you up for camping, too!)
2. Look Out For Catalina Island Wildlife
With the Catalina Island Conservancy protecting 88% of Catalina Island's 76 square miles, there is a lot of undeveloped land to see, filled with many unique plants and animals. While we only got a taste of this area, we did get to see some of its wildlife.
After spending some time exploring the harbor, we drove back another way that took us by an eagle sanctuary, bison herd and many more gorgeous views of the interior's rolling hills. There is even a vineyard out away from the city (winery to come next).
You may be as surprised as we were to find out there are bison on the island! They actually came to the island in 1924 to be featured in a film. But ironically, they never even made it into any scenes. What started as a herd of 14, is now 150. To manage the population, some were shot with darts filled with birth control meds (also surprised to know this was a thing).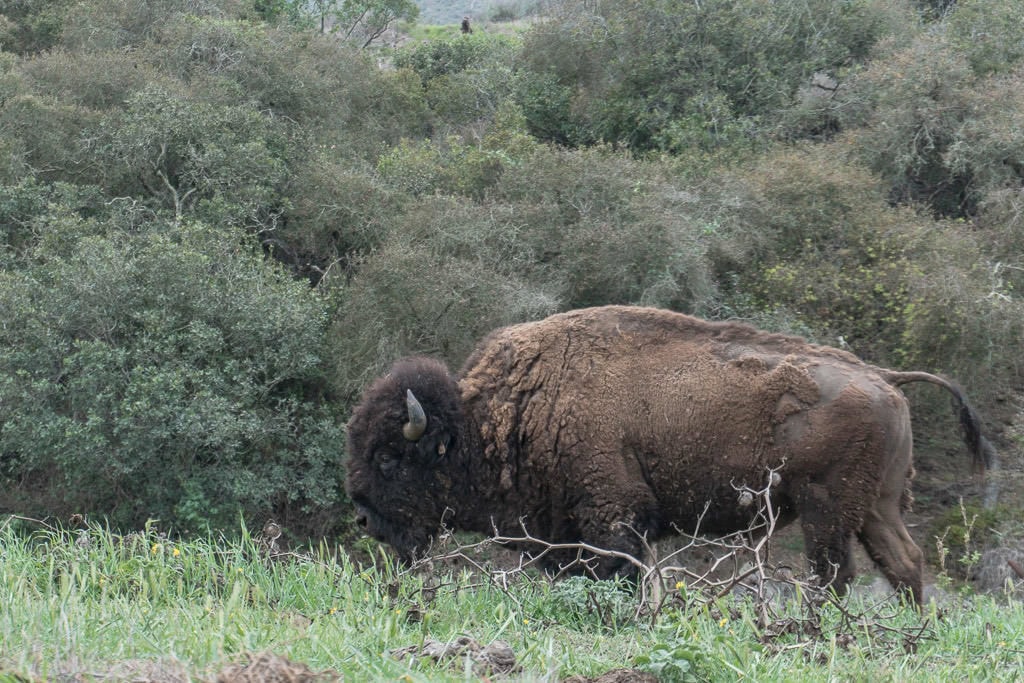 Apparently, there are also adorable foxes that are specific to the island, but we weren't lucky enough to see them. In 1999, they almost became extinct due to an outbreak of distemper. But have since rebounded, due to measures taken to stop the spread of the disease. Catalina Island is truly an amazing place!
3. Plan for a Tour with Catalina Island Golf Cart Rentals
Although we highly suggest getting out of the city and experiencing the wonder of the interior, Avalon alone makes the trip worthwhile.
When the ferry first pulls into the city's harbor, it feels like you've entered another country. A local even told us that many people coming from cruise ships ask what language is spoken on the island!
If the colorful homes stacked along the hillside, turquoise water dotted with bright orange fish, and quaint city with unique shops doesn't make you feel a world away from the hustle of the mainland, the stark lack of conventional transportation should.
Why golf carts?
There is currently about a 20-year waiting list to own a car on the island, which means ferries won't be bringing your vehicle over either. So, although Avalon is very walkable and hiking and biking are both popular, many locals use golf carts to get around!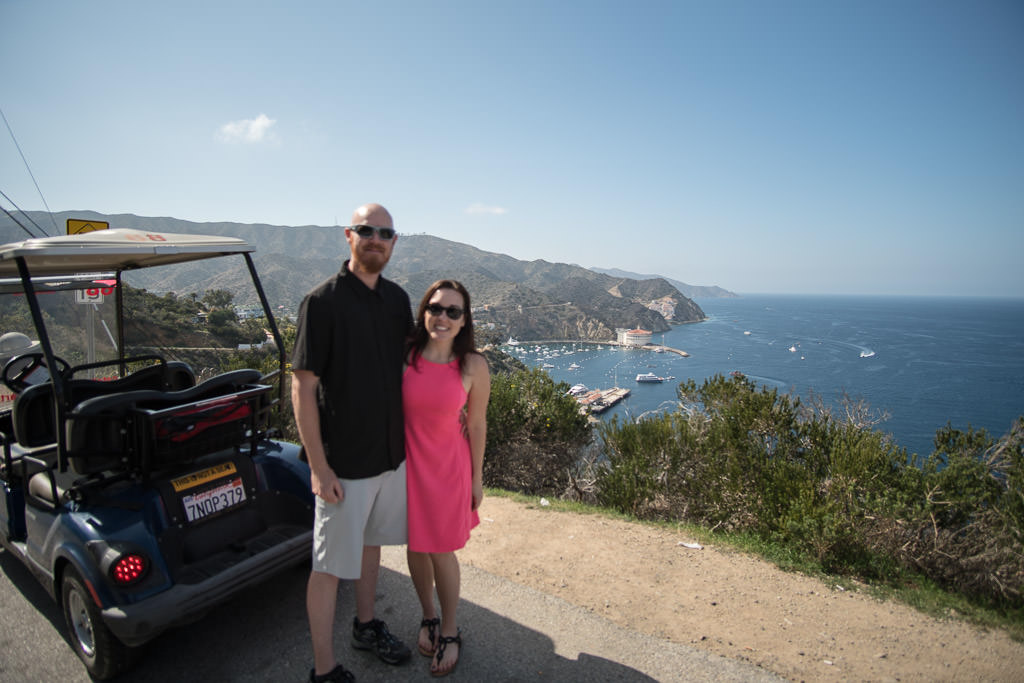 And since we like to really immerse ourselves in the places we visit, we couldn't leave the island without renting a golf cart for a few hours. And driving up and down those hilly roads with sweeping views at every turn was the most fun things we did on our entire trip.
The Avalon Golf Cart Tour Route
We picked up the keys from Catalina Island Golf Cart during the absolute best weather of our entire trip. We chose to set out at 3 p.m., as the cruise shippers were headed back to the boat and the roads were less congested.
To our surprise, circling the entire city of Avalon would only take about 45 minutes of our two-hour rental, so we took our time and lots of photos!
Our self-guided tour began with a quick stop for $1 happy hour tacos at The Sandtrap. Then we cruised along the coast, before rising up to take in amazing views of the harbor, iconic casino and blue water. We watched scuba divers and spear fishers in the water below us, while the massive cruise ship that had been docked for two days slowly pulled away and out of view.
As we made our way to the other side of the island, we stopped to watch zipliners fly above the trees. And we admired the white-umbrella paradise of Descanso Beach Club before making a quick stop to check out the circular Casino building (no gambling here though). Here is a link to the entire Avalon route map.
Golf Cart Rental Prices
In a pinch, we could have seen everything we wanted to in one hour. But having the extra time to stop for snacks, pictures and to admire the gorgeous vistas made the adventure extra memorable.
Catalina Island Golf Cart offers rentals at a rate of $120 per two hours for a four-seater (as of 2023). We did see one family get pulled over because they had tried to cram five people into a four-seater. So, don't try it, as you will be ticketed!
We suggest taking the route around the outskirts of the city, and make sure to add a stop at the botanic gardens as well if you haven't been yet. It is also home to the Wrigley Memorial, which is a beautiful structure amidst the greenery that honors a man who worked passionately to keep Catalina protected for many future generations to enjoy.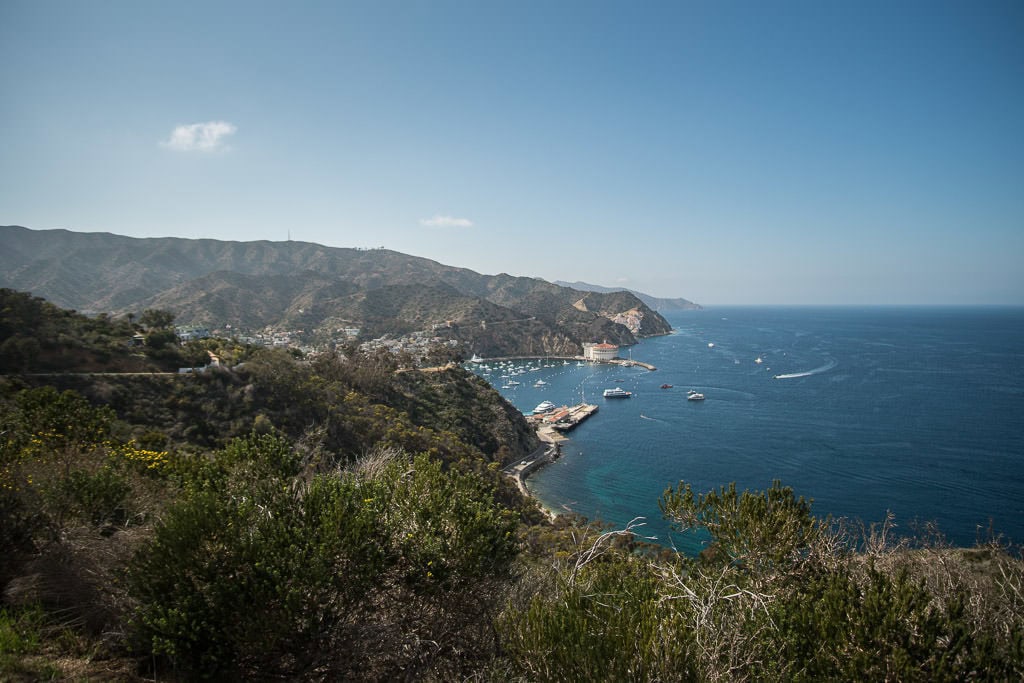 4. Wrigley Memorial & Botanic Gardens
After two plane rides, two Lyft rides, and a 1.5-hour ferry ride, we couldn't wait to stretch our legs on our first full day on the island. So, we took the 1.5-mile, 30-minute walk up the hill to the botanical gardens from our hotel.
We had snagged a LivingSocial.com deal for the Hermosa Hotel that actually included tickets to the garden as well as our ferry rides. But, usually, there is an entry fee for each adult. (However, if you hike up the Hermit Gulch Trail and down into the gardens, it is free!)
Although it is walking distance, if you don't want to walk to the gardens, you can drive up in your golf cart or take an inexpensive bus from town.
There isn't much to the gardens, and it is mainly a short walk around desert plants as well as those that are endemic to California islands, but it is worth a stop. The monument to William Wrigley Jr. is especially striking though. It reminded me a bit of King Louie's place from the Jungle Book movie. And the great view of Avalon from the iconic structure is amazing.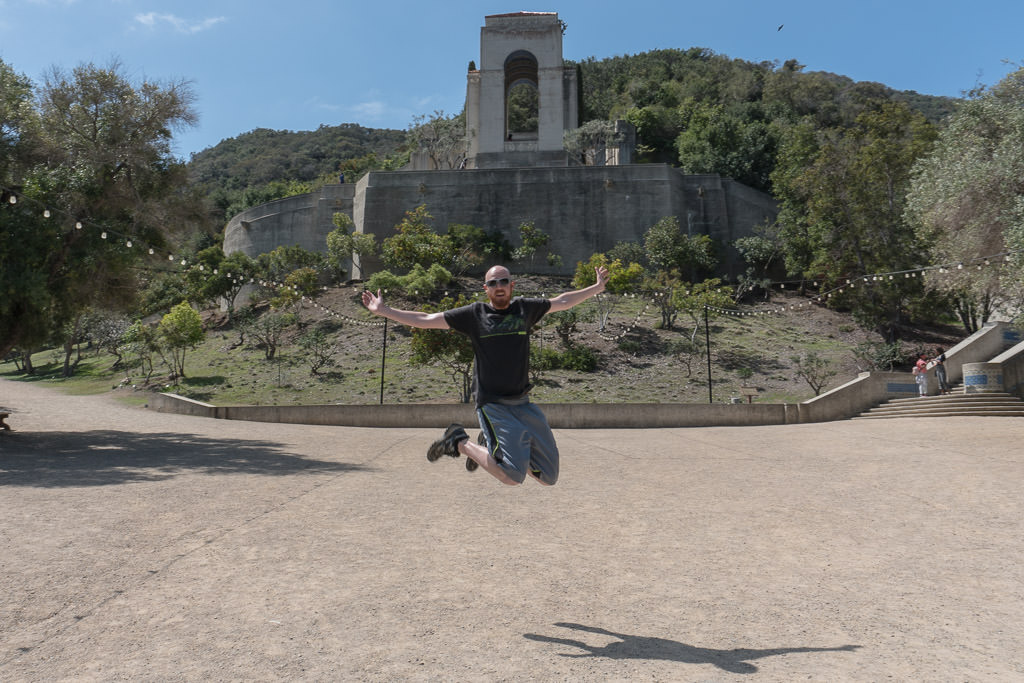 5. Garden to Sky Trail
However, for even better views of both sides of Catalina Island, we highly suggest continuing on to the Garden to Sky trail.
Leaving from a small gate next to the base of the memorial, this 1.2-mile trail winds up above the gardens to some amazing vantage points. It is a steep incline up, up, up to the top, but totally worth it.
You can see both sides of the island – bustling Avalon and the remote windward side. Plus, you can admire all of the many trails scattered all over the hills around you.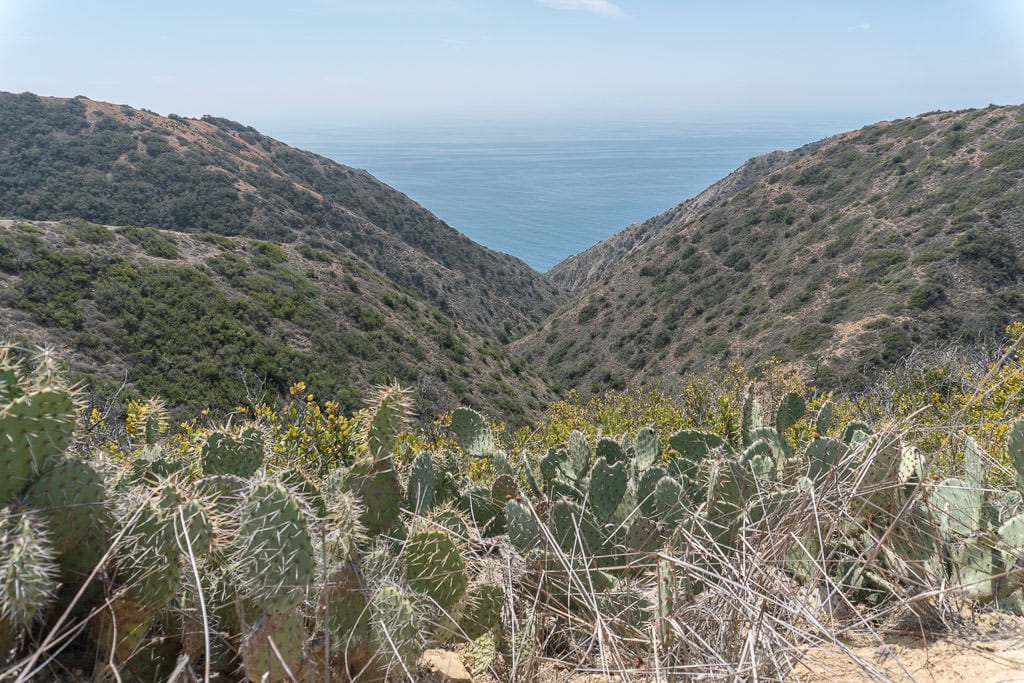 If you are up for it, take another way back to the city! (Check here for more hiking options).
6. Catalina Island Undersea Expedition
If you don't have the opportunity to snorkel or take on scuba diving during your trip to Catalina Island, we'd highly suggest going on the Undersea Expedition tour.
This semi-submersible submarine takes you on a 45-minute tour, including a trip to Lover's Cove marine preserve – a beautiful conservation area in Avalon Bay.
Here you will see dozens of fish species, including the Girabaldi – California's state fish and a protected species. If you are lucky, you may even see a seal or sea lion as well.
We loved that we got our very own window to look out of during our Undersea Expedition and they even fed the fish in some places to make sure we got to see plenty.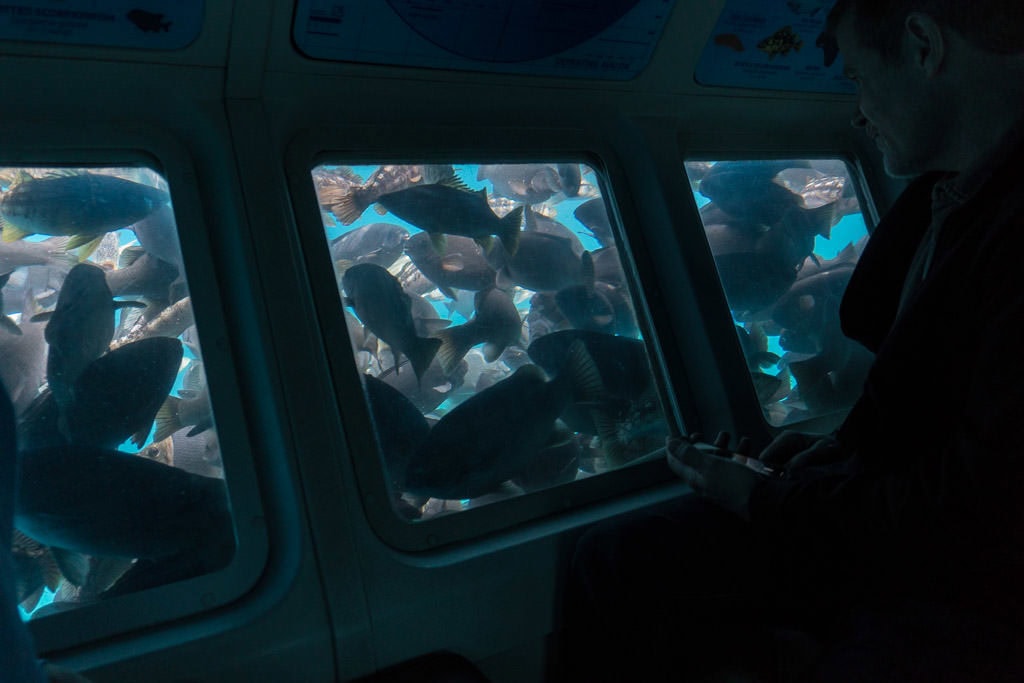 On the way back, we were invited to the top of the deck to enjoy the views of Avalon Harbor from the ocean.
It is beautiful and peaceful, but if you usually get sick on boats, do take some meds before. Even though you are underwater, you can still feel the rocking motion.
More Avalon Explorations
There is SO MUCH more to do in this little ocean-side city than we have even touched on. Here are some other things to do in Santa Catalina Island that we recommend:
lounging on the beach at Descanso Beach Club,
parasailing or jet skiing
visit the nature center
play a round at the Catalina Island Golf Course
take a historic tour of the island
tour the famed circular Catalina casino – which also doubles as a movie theatre
take the zip line eco tour
hike part of the 38.5-mile Trans-Catalina Trail spanning the entire island
snorkel or scuba dive to see marine life
This part of the Channel Islands is stunning and a fun place to spend a vacation!
Food & Drinks in Avalon
While vacation activities differ for everyone, we all have to eat, right? Although, there is a Von's grocery store close to city center, it is always fun to treat yourself to a special local meal while on a vacay.
Bluewater Grill Restaurant
For us, this treat came in the form of fresh-caught fish at Bluewater Grill in Avalon. Growing up in Florida, I'm pretty picky about where I'll get fish. If it isn't fresh, I'm really reluctant to give it a try. So, when we are in a coastal city with access to fresh, locally caught fish, I can't resist.
Bluewater Grill came highly recommended to us. Plus, their perfectly located deck with amazing ocean views made it the perfect place to hang out as the sun went down. Bluewater Grill even had outdoor heaters to make it even more relaxing since it got a little chilly at night. So lovely!
After trying some tasty apps and the signature "Bluewater Punch" drink, our entrees arrived and even Buddy – who never eats fish – agreed that my Cajun swordfish dish was amazing. Even better than his chicken, which he was pretty excited about. We don't really consider ourselves foodies, but we still rave about how good this meal at Bluewater Grill was.
Catalina Island Brew House
Another place we highly recommend, that is more of a lunch option than dinner, is the Catalina Island Brew House. We have gotten in the habit of checking breweries for affordable, tasty lunch options and the trend continued even way out on Catalina! Our flatbread pizzas were amazing, and the beer was some of the best we ever had.
Catalina Island Brew House is the only brewery on the island and it is GOOD. Even if you just go to try a flight, definitely add this to your list if you are a lover of craft beer. Our favorite was the Buffalo Milk Stout. With a slight hint of banana, we were surprised to claim it as the best beer we've ever tasted.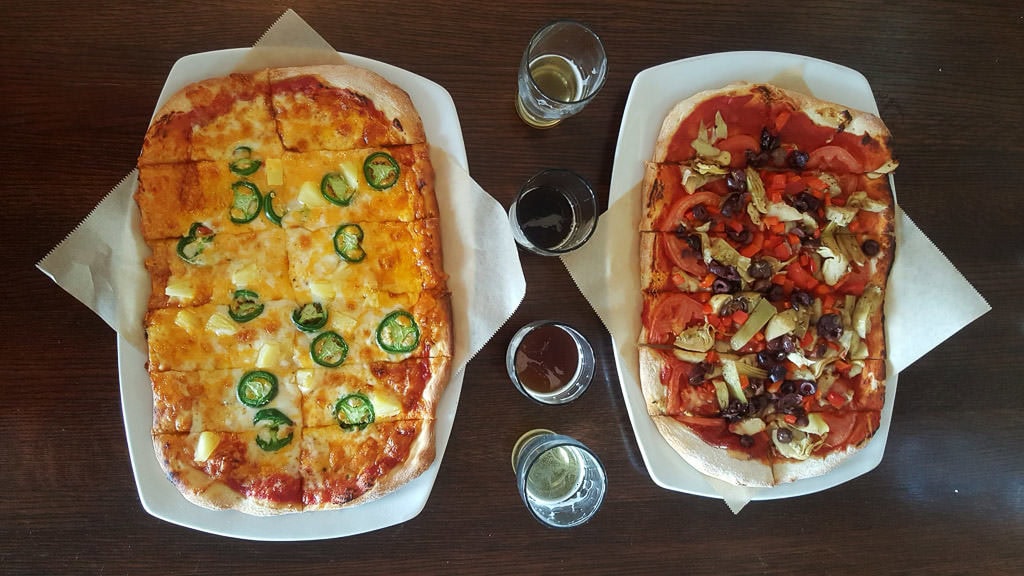 Local Bars in Avalon
While the brewery closes in the afternoon most nights, there are plenty of other places to grab an alcoholic beverage on the island. The Marlin Club looks super divey at first, but we were surprised by how clean and inviting it was.
Our comedian of a bartender kept our glasses full and our faces smiling. The Locker Room is another hopping local hangout and El Galleon has karaoke some nights. There is even a club, called Chi Chi, if you like to dance!
Walking the streets of Avalon late at night never felt unsafe and we loved how walkable the town is. We could go to the end of the Green Pier to admire the city lights, then be back in our hotel room within 10 minutes.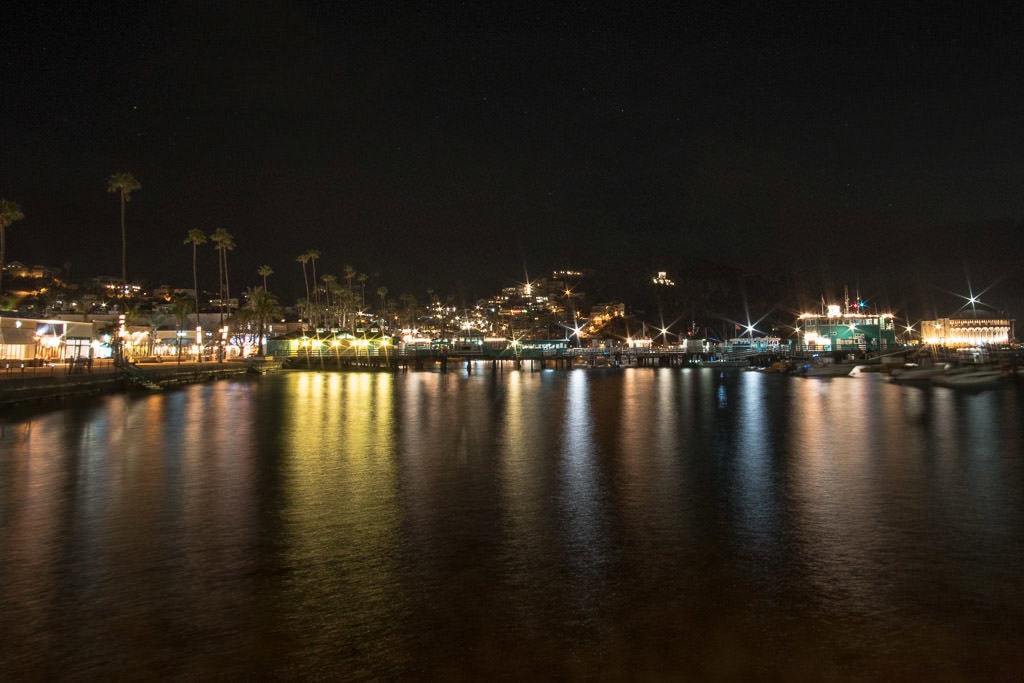 Where to Stay in Catalina Island
There is a huge range of options on the island. We stayed at The Hermosa Hotel in Avalon because we got a good deal on LivingSocial.com. It wasn't fancy, but the bed was cozy, and it put us right where we needed to be without breaking the bank. And the staff was fantastic! They even held our bags for us while we explored before leaving on the ferry.
Getting a package deal that also included the ferry ride and botanic garden passes was also a budget win we just couldn't pass up. But if you have a chance, definitely go with one of the ocean view accommodation options. There are plenty of Catalina Island hotels to choose from!
No matter where you stay, make sure to get out and see beautiful Catalina Island. It was a truly lovely place that we were sad to leave and definitely plan to return to!
Getting to Catalina & Back
Speaking of getting there, it can feel like quite a trek. But that is just part of the adventure! Coming from Texas, this meant a long day of flying to the John Wayne Airport in Santa Ana for us. Thanks to our awesome Southwest Companion Pass for making this part super cheap!
Then a 15-minute, $14 Lyft ride to Newport Beach where we stayed for one night before getting another 5-minute, $6 Lyft ride to the ferry dock early the next morning. (We walked it the afternoon before to test it out. But decided it would suck with bags, so opted to hire a driver).
New to Lyft? Use our link to get $5 off your first ride. Uber is also available in this area, we just happened to grab a Lyft. If you use this link, you'll get $5 off your first four rides.
Newport Beach Tips
If staying in Newport Beach, we highly suggest Bay Shores Peninsula Hotel. Great customer service, fresh-baked cookies, borrowable beach gear, a roof-top deck, cozy rooms, and a yummy breakfast are all included. It turned out to be a great spot to crash before our ferry ride@
Definitely take a long walk along the beach boardwalk and through the streets lined with gorgeous houses. And check out the famous "wedge" surfing spot if the weather is right. Plus, you can't go wrong with a Cali sunset before bed.
Tips for the Catalina Flyer Ferry
Get there early to make sure you get a good seat indoors! Even if the weather is perfect when leaving Newport Beach or Catalina, the ocean can have completely different conditions.
Trust us and snag an indoor seat on the Catalina Express ferry, then take turns walking to the back to look for whales. If the weather turns, you don't want to be stuck in the elements for the 75-minute trip. (We know from experience and it feels much longer).
The Catalina Flyer ferry costs $70 per adult and leaves at 9 a.m. every morning from Newport Beach, and picks up from Catalina at 4:30 p.m. There are also ferries that leave from Long Beach, San Pedro and Dana Point, with varying schedules. So pick whichever one makes the most sense to you. And don't forget some motion sickness meds if you need them!
Suggested Itineraries for Catalina Island
While we really think this is a trip worthy of at least three full days, which we've outlined above, you can still see a lot in a short amount of time. And while you certainly won't have a problem spending money, it can also work for most budgets.
Here are our suggestions for this great hidden gem destination, depending on what kind of trip you're looking for …
Easy Day Trip to Catalina Island
If you aren't planning to stay overnight, we highly suggest pre-booking a golf cart rental for at least an hour to really explore the island. But two hours would give you enough time to pop into the botanic gardens as well, and take your time driving around.
For lunch, don't miss out on the fresh fish! Swing by Bluewater Grill for a meal with views. However, The Lobster Trap and Avalon Grille have great reviews as well (Avalon Grille also has a dinner and a movie deal). Not into fish, we highly recommend the Catalina Island Brew House for pizza!
With your additional time, try to get a look underwater on a submarine tour or by snorkeling for an hour or so. Kayaking or paddleboarding is another fun option if the weather is right! Just remember your reef-safe sunscreen.
Plenty of Time
If you love nature like us, maybe plan to hike the Trans-Catalina Trail during your trip. This multi-day trek takes you across some of the gorgeous interior across almost 40 miles of the island. It isn't easy, but it is supposed to be very rewarding! Just remember you will need a permit.
Budget Trip to Catalina Island
Although you could spend a ton on all the amazing tours, food and luxurious accommodations in Avalon, you certainly can still visit while on a budget. Go in shoulder season (spring or fall) to beat the big crowds and higher prices, while still avoiding the coldest weather. You may even luck out with a good deal like we did! (We always check LivingSocial.com and local tourism sites when looking for travel deals).
If you are on a super tight budget, you may choose to just do a day trip. But there are also plenty of budget options in Avalon. Or you could plan to tent camp for further savings.
Rumor has it, that if you visit on your birthday, you can even get a round-trip ride on the ferry for free! Plus, many other places in town seemed to have birthday specials.
For outdoor enthusiasts, staying on a budget will be extra easy with all the great hiking trails. Bring a good pair of hiking boots, and take off on the Hermit Gulch Trail to hike down into the Wrigley botanic gardens & memorial for free. Then hit up The Sandtrap on your way back into town (across from the golf course) for $1 tacos and $2 beers during happy hour. For other meals, stock up at the local grocery store, Von's.
There are tons of other hiking and biking opportunities on the island as well. And if you bring your own snorkel and mask, you can even go checkout the underwater life right from the beautiful beaches!
Go All-Out
Money not a problem? Why not take a helicopter ride over to the Catalina Island! Then sign yourself up for every tour that tickles your fancy. Plus, make sure to eat fresh fish for breakfast, lunch, and dinner.
Of course, you'll have to stay at the fanciest hotel on the island. So, the Inn on Mt. Ada should do, with a golf cart included for your stay. Add in a cabana rental at the Descanso Beach Club for a luxurious private beach day! Just make sure to give yourself plenty of time to enjoy it all.
No matter what you decide to do on your trip to Catalina Island, just make sure you go! It is such a unique and special place that will make you feel like you truly got away.
---
We would like to thank Catalina Outdoor Adventures, Catalina Island Golf Cart, Undersea Expedition, and Bluewater Grill for hosting us on this trip. Special thanks to the Catalina Island Company and the Catalina Island Conservancy for their help and suggestions. As always, all opinions are our own.