We have quickly fallen in love with the gorgeous and always-surprising state of New Mexico. There is a certain, undeniable energy here that wakes you up and fills you to the brim with excitement. Between the uniquely beautiful landscapes and the rich history meeting you at every turn, it is hard not to feel inspired by this magical place. And the slot canyon hike at Tent Rocks National Monument seemed to exemplify everything we have grown to appreciate about "The Land of Enchantment."
Note: Unfortunately, Tent Rocks National Monument is currently closed to the public. We hope they are able to re-open this wonderfully unique natural space again, but be sure to look for updates on this page before planning a trip.
Getting to Kasha-Katuwe Tent Rocks
Just south of Santa Fe, NM, the Kasha-Katuwe Tent Rocks National Monument is hidden from view down a winding road and a 1.5-mile trail. If it weren't for the signs on the highway, it could easily be missed all together. Luckily, this little geological treasure had been on our radar since we first set off on our month-long New Mexico road trip. And it was high on our list of must-see places.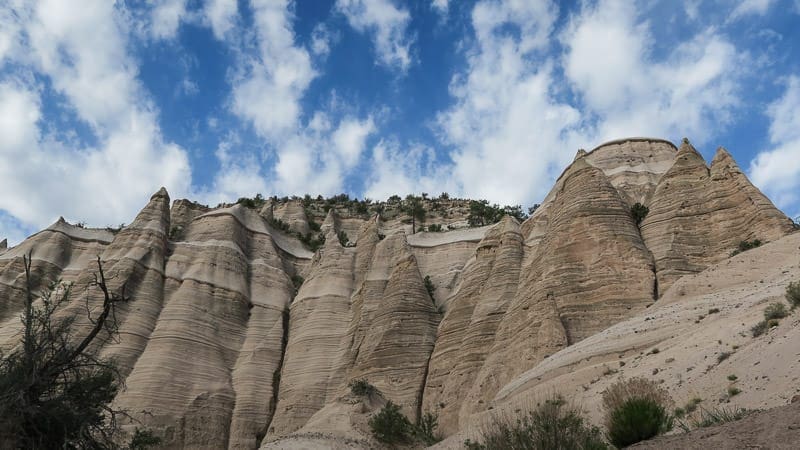 One of the best things about this area, in our opinion, is that you must hike to really enjoy it. There is something about having to pay for beautiful vistas with sweat and sore muscles that makes the experience even more worth it. Hopping out of our cozy RV seats to snap a few shots always feels so lack-luster. We like to earn our views!
From our little bit of research, we knew the views above the Tent Rocks would be more than worthy of the 3.2-mile round-trip hike. However, we had no idea we were going to be treated with our first-ever slot canyon hike as well.
The Tent Rocks Slot Canyon Hike
To our surprise, the trail to the Tent Rocks overlook actually winds between these unique, geological wonders. Almost alone on a Sunday morning, we wandered along the Slot Canyon Trail slowly, stopping often to look up at the blue sky above us. While not the beautiful red rocks you get in Antelope Canyon, still amazing against the blue sky.
We felt like true adventurers as we squeezed through close canyon walls and climbed over rocks. It was amazing to know we were at the base of these strangely-shaped rock formations and we stopped to admire the giant structures around every turn.
The textured walls looked so smooth, but were rough to the touch. And the sun played tricks on our eyes by casting shadows on the walls at one moment and lighting up every detail the next.
How the Kasha-Katuwe Tent Rocks Were Formed
More than 6 million years ago, volcanic eruptions created the uniquely shaped Kasha-Katuwe Tent Rocks. And the distinct bands of color were the result of layering of volcanic material.
Then, ever-so-slowly, the canyons and arroyos we walked through were created by wind and water. After millions of years of destruction and change, the most amazing thing is that these unique formations are still around for us to admire. We don't take that blessing lightly.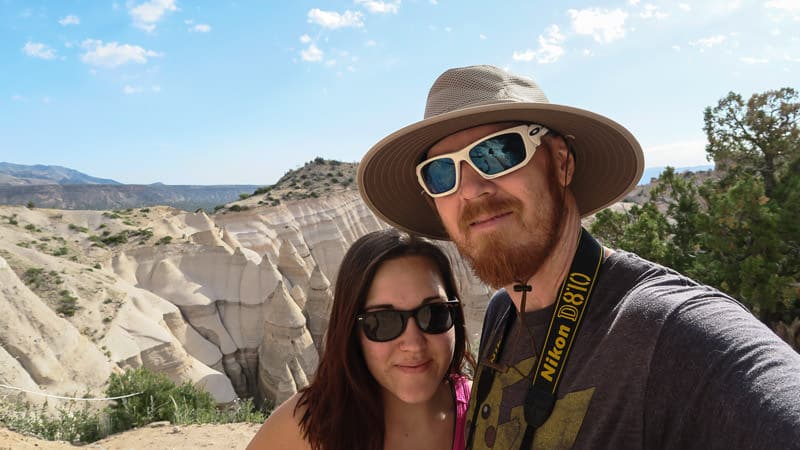 New Mexico Views for Days
After making our way through the slot canyon portion of the tent rocks trail, we began to climb in elevation. By the time we reached the top of the overlook area, we were a bit out of breath and much warmer than at the beginning of the hike. But the wind was quick to cool us and the views instantly rewarded our effort.
Far above the tips of the Tent Rocks, we could see for miles in each direction. Surrounded by lush mountains and strange desert landscapes, we were overwhelmed with gratitude. How lucky are we to be able to have experiences like this? How amazing it is that God created places like this to explore!
From up above it seems almost impossible that we were once wandering between the giant structures below. It made us admire these iconic rocks even more. What did the original inhabitants of this area believe they were? Did they stand on the same rocks, looking down, wondering how such things are possible – like we are now?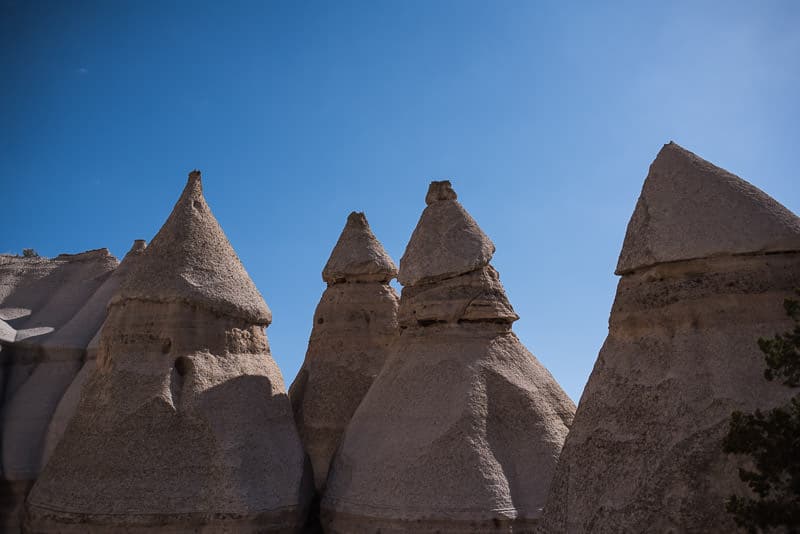 Apache Tears in Kasha-Katuwe Tent Rocks
On our way back down the trail, we remembered that this area was supposed to have translucent obsidian fragments called "Apache Tears." As the result of rapid cooling, this "volcanic glass" is a unique and beautiful reminder of the natural history of this area. And we were determined to find one!
The Apache Tears can be hard to find. And although there are rules against it, many people take them as souvenirs – making the search more difficult. After wandering back through the slot canyon and half-way down the Cave Trail, we had almost given up. Then I noticed something glisten on the trail next to me. I picked up a black rock, wiped off the sand and cheered! I had finally found an Apache Tear!
Once I knew what I was looking for, it became easy to spot them. I had found about six Apache Tears before we reached the end of the trail. And, of course, I tossed each one back for others to enjoy.
We believe strongly in leaving no trace and taking nothing but pictures. Plus, another visitor warned us that removing them from their home may bring us some bad luck. On the way back, we were extra glad we heeded that warning.
A Sobering Reminder
Riding the high that only comes from fresh air and beautiful places, we were all smiles on the way back to the RV. Then all-of-a-sudden, Buddy stopped abruptly and put his arms out so I couldn't pass him. I knew exactly what was happening before he even opened his mouth.
I was bound to see a rattlesnake at some point in our New Mexico travels. And the time had finally come. Now he was curled up in the bushes, not rattling, but watching us closely. Luckily, Buddy saw him in plenty of time. So, we simply went the long way to the RV to give him space. However, this encounter was an important reminder that although we feel so at home in these beautiful places – they don't really belong to us. We are just visitors.
In the unexpected way we have become accustomed to, New Mexico gave us an important lesson. We must respect the natural inhabitants in addition to the amazing area they call home.
I left feeling inspired by the views, excited for the adventure and grateful for the lesson. New Mexico continues to surprise us around every corner. And gradually, like water erodes rocks, I feel this place changing me. Sometimes with fear. But mostly with beauty and wonder.
---
Helpful Info for Your Trip to Kasha-Katuwe Tent Rocks
Location: 35 miles south of Santa Fe. Or 52 miles north of Albuquerque. (Important Note: A portion of the access-road to Tent Rocks is Cochiti de Pueblo tribal land. Make sure to respect their property. And pay attention to any restrictions that are posted.)
Fee: $5 per vehicle. Or free with an America the Beautiful Parks Pass.
Hours: In the summer, the National Monument is open from 7a.m. to 7p.m. Winter hours are 8a.m. to 5p.m.
What to Bring: Sunglasses, sunscreen, a hat and water. It gets hot on these trails! And definitely don't forget your camera.
Trails: The 1.2-mile Cave Loop Trail is easy and fairly flat. It is good for seeing "Apache Tears" and a few of the Tent Rock formations. However, the 1.5-mile Slot Canyon Trail (which includes a portion of the Cave Loop Trail) has much better views. Plus, a very up-close view of the formations. We suggest doing both by taking a 3.2-mile loop.
RV Camping Nearby: We loved staying at the Cochiti Lake Campground. There are electric hook-ups ($20) or dry camping ($12) available for RVs, as well as tent camping. It was some of the BEST RV camping in New Mexico of our entire trip!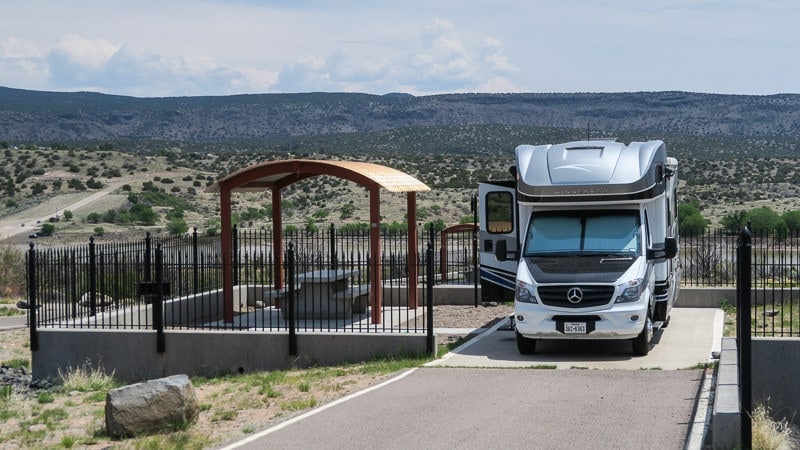 There are great hiking options around the lake also. We really enjoyed hiking up to the dam to look down over the lake.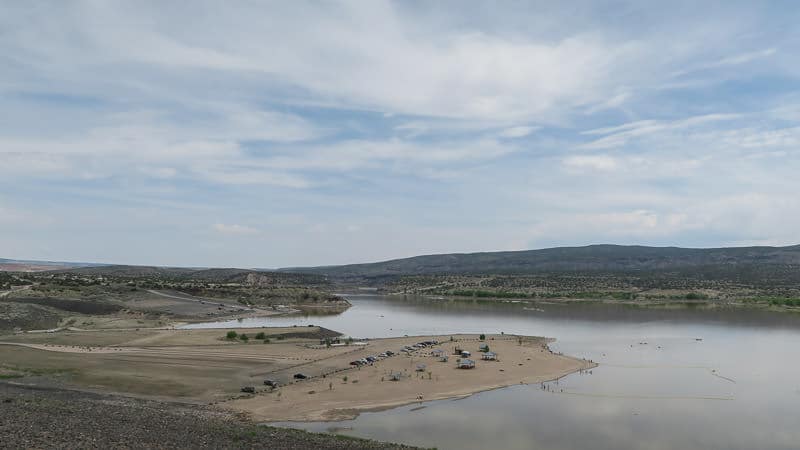 ---
For more stories and tips, check out our other New Mexico blog posts. And for a list of where we stayed overnight during our trip, take a look at our RV Camping Reviews page.