Sitting in our private cliff-side pool with a fire warming the cool evening air and the warm water soothing our tired bodies, we stared deeply into each other's eyes. And with quiet minds and happy hearts, we let our love fill us completely – washing over every worry and thought that usually distracts us. We didn't have to come to such a special place to remember why we married each other six years ago. But the healing waters and beautiful scenery we enjoyed during our romantic getaway in New Mexico at Ojo Caliente Mineral Springs Resort & Spa definitely helped.
Why We Craved Relaxation & A Romantic Getaway in New Mexico
Although the end-result has been amazing, becoming full-time RVers was much more exhausting than we ever could have anticipated. After months of intense talks, unexpected mishaps, lots of driving and big life lessons, our minds and bodies were in need of some intense TLC. And with our sixth wedding anniversary coming up, it was the perfect excuse for a spa getaway. So we opted for a romantic getaway in New Mexico during our visit.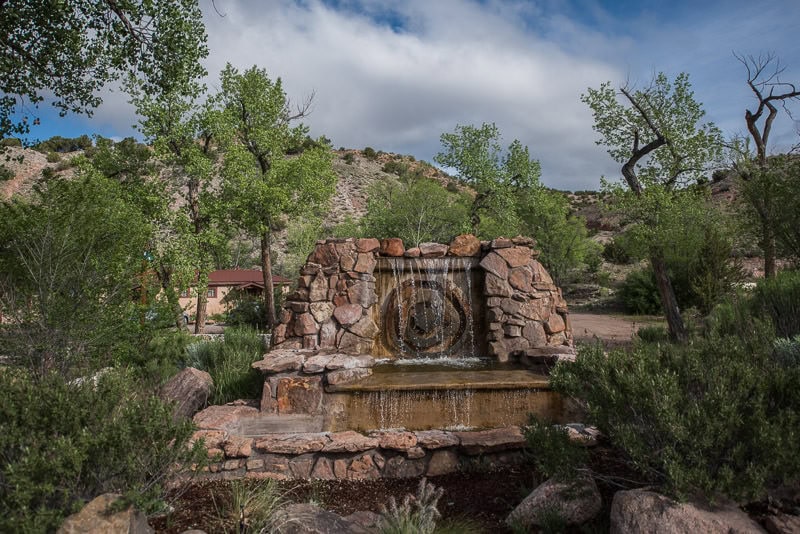 We rarely book anything in advance, but this unique hot spring spa seemed like the perfect anniversary present for each other. And when I realized Ojo Caliente Mineral Springs & Spa had an on-site RV park, I was quick to make a reservation. Every once in a while, even happy couples that are together 24/7 need some time to remove all of life's distractions and just be in love.
Getting to Our Romantic Spa Getaway in New Mexico
The weeks after making our reservation passed by quickly as we explored some of New Mexico's other treasures. And when it was finally time to head north out of Santa Fe for our romantic getaway, our excitement grew with each mountain-lined mile. Then, tucked away between red cliffs, we saw our much-anticipated destination.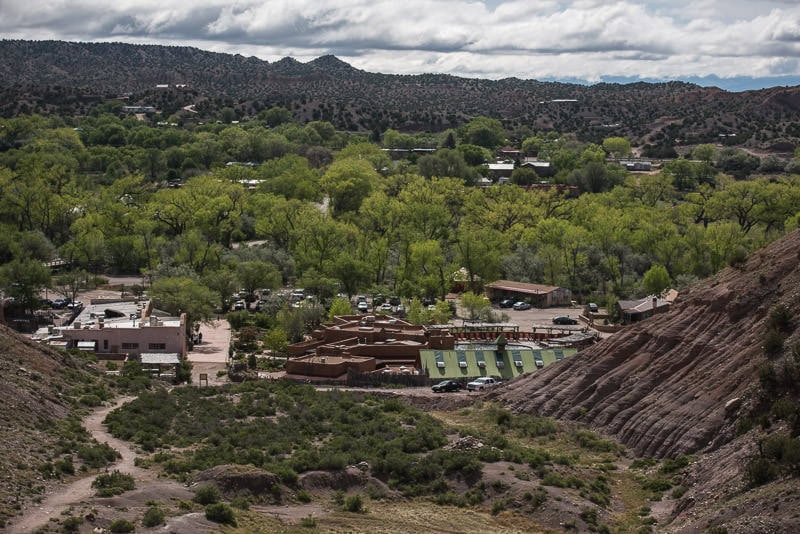 After checking in at the front desk, we quickly parked our RV and took the short walk over to the pools. As full-time RVers we don't ever get to take baths. And long, hot showers are a luxury we can't afford while boondocking with a limited water supply. But here there is plenty of hot water and multiple beautiful places for us weary travelers to soak our tired bodies. Better yet, these waters even have healing minerals in them. Bring on the restoration!
Finding Peace & Quiet in New Mexico's Nature at Ojo Caliente
One of our favorite things about Ojo Caliente is that cell phones have to be off and the entire pool area is a "whisper zone." Leaving our phones behind is one of my favorite things to do! It is strangely freeing to not be tethered to that pesky little device. And being in an area where no one else is able to create a distraction with theirs is even better.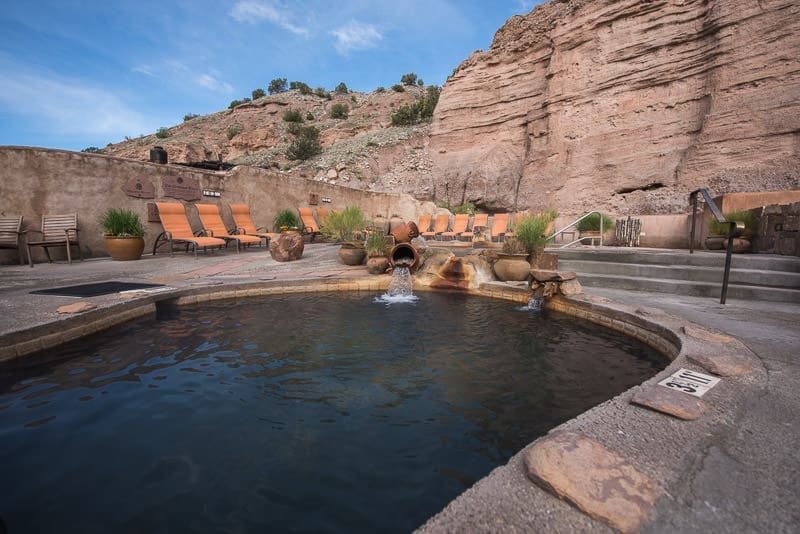 It was a cool, overcast afternoon when we got to the pool, which ended up being perfect for soaking in the hot waters. For more than three hours, we happily tested each pool – spending ample time in each to soak up all those good minerals. And because the water felt so amazing!
Each pool at Ojo Caliente Mineral Springs & Spa offers different benefits for the body and mind. And the temperatures range from 80-109 degrees. The Iron Pool has a natural pebble floor and its waters help the blood and immune system. While the Lithia Pool helps relieve depression and aid in digestion.
The Soda Pool is inside a small shelter and is a completely quiet zone. The hot water creates a relaxing steam inside and it is the perfect temperature to soak in for hours. This cozy pool helps relieve digestive problems.
One of the hottest pools – and our personal favorite – is the Arsenic Pool which is beneficial for arthritis, stomach ulcers and skin conditions. As we slowly dipped ourselves into the hot water, our skin stung initially. But then the soothing began as tiny little bubbles covered our bodies. When we got too hot we lounged in the cool air in one of the cozy hammocks. Perfection!
Private Pools at Ojo Caliente
The outdoor pools are all lovely and everyone there was very respectful of the whisper rule. But, if you are looking for a little more romance and seclusion, the private pools at Ojo Caliente are a great option. We spent two hours lounging alone in a cliff-view pool as the sun slowly set.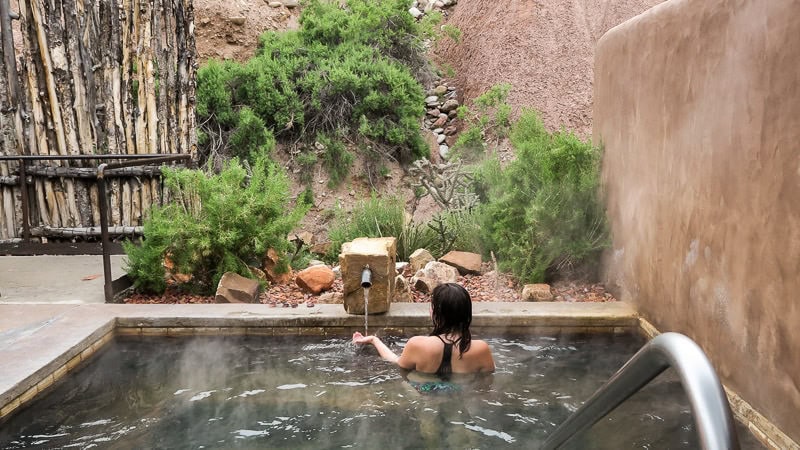 We talked about how blessed we are to have such a wonderful life together. And we reminisced on where the last six years have taken us. But mostly we just snuggled up together while we enjoyed the scenery, the silence and each other's company on this great romantic getaway in New Mexico.
Initially, I thought two hours would be far too long to soak in a tub. But it ended up being just long enough. We emerged with wrinkled skin, giant smiles, and feeling more relaxed than we ever had before.
After drying off, we hurried over to the on-site restaurant for a delicious meal. Then we wandered by flashlight through the quiet wooded trail to our RV, feeling completely blissed-out and in love.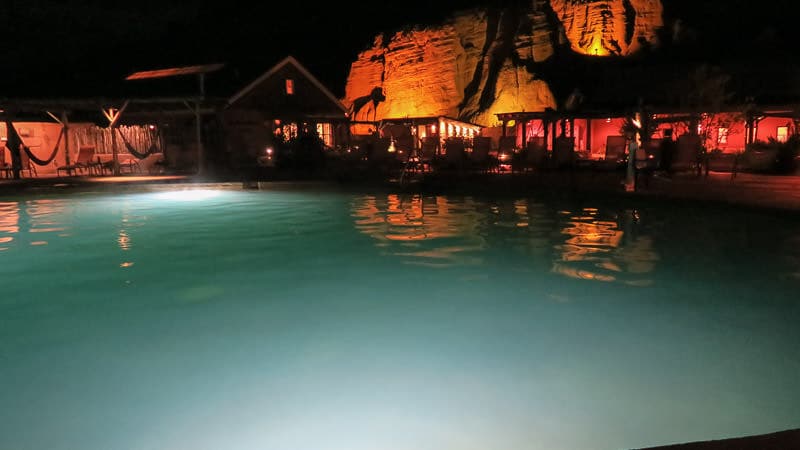 Enjoying the New Mexico Views
The next day we awoke feeling amazing. Our skin felt smooth, our muscles were at ease and our brains were recharged. The dark clouds from the day before had passed and we were greeted with a blue-sky day. Perfect hiking weather!
We set out early to get a hike in before spending a few more hours at the spa. We headed up the Posi Pueblo Ruins Trail which – after a somewhat steep incline – led to beautiful views.
We could see the spa below us, the nearby river and gorgeous mountain landscapes all around. And there were also tiny pieces of pottery scattered around from the village that used to be in this area. It was a beautiful mix of scenery and history. Something that seems to be common in the enchanting state of New Mexico.
Playing in the Mud
After a few hours of hiking, we showered off and headed back to those magical pools. But this time we had a specific one in mind: The Mud Bath!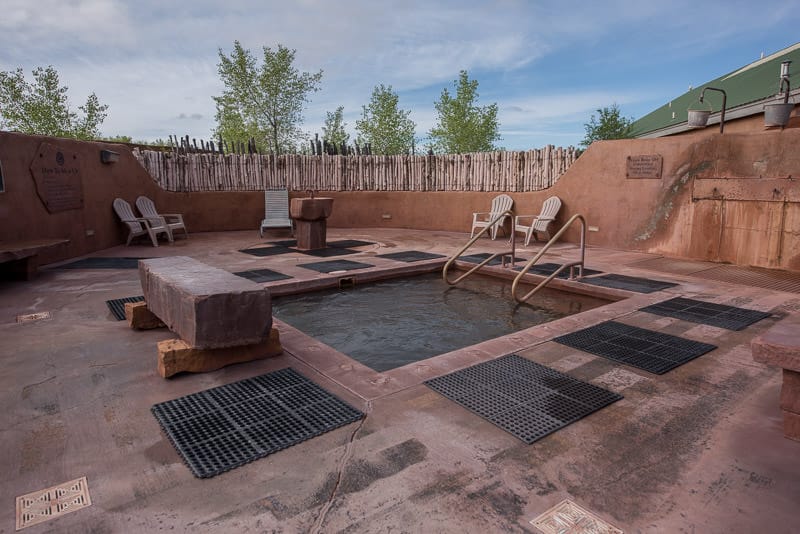 It had been a bit too chilly the day before to enjoy it. But the sun was shining and it was the perfect time to give it a try. We laughed as we lathered up with mud. And after taking some silly pictures, we soaked in the sun until we were nice and crunchy.
Of course, there were more giggles as we tried to bend our stiff skin and make our way to the pool to rinse off.
But after emerging mud-free, our skin felt amazing! We are so glad we didn't miss out on that experience.
Before we reluctantly left, we took a final dip in our favorite pool. Then we spent some time sweating out any left-over toxins in the steam and sauna rooms.
Lasting Results from Ojo Caliente
As we drove away, we smiled at each other and said for the 100th time how nice this little spa getaway had been. I'm not sure if our bodies will remain affliction-free or if our minds will be forever guarded against stress. But, the time we spent there had an amazing, permanent impact on our hearts.
We felt our love grow stronger in those quiet moments alone. And it was an important reminder that no matter how much time we spend together, setting moments aside to really focus on each other is one of the best things we can do for our marriage. Also, we definitely need to plan way more spa days! ?
---
Key Information for Planning Your Visit to Ojo Caliente Near Santa Fe
Location: 50 Los Banos Drive, Ojo Caliente, New Mexico 87549. (About an hour north of Santa Fe and south of Taos).
Hot Spring Hours: 8a.m.-10p.m.
Springs Entry Fee: This rate includes access to the mineral spring pools, mud pool, steam room and sauna. Monday-Thursday it is $20 per person, while Friday-Sunday and holidays it is $32. There is also a special sunset rate after 6p.m. ($18 Monday-Thursday, $28 Friday-Sunday and holidays).
Optional Add-Ons: Private outdoor pools are available during the day for $45 for 50 minutes, or $55 after 6p.m. Spa services (massages, facials, etc.) are also available.
Accommodation Options: The simple and convenient RV Park on the property was $40 per night, plus a dump fee. There are also cottages and hotel rooms available.

On-Site Restaurant: The food at the Artesian Restaurant was fantastic! They offer breakfast, lunch and dinner. There is also a wine bar with great options.
Trails Nearby: There are more than 12 miles of mapped hiking and biking trails accessible from the property. They lead to great views and one even goes to an old mica mine.
*Important Note: Make sure to drink LOTS of water and avoid alcohol before soaking. Avoiding dehydration as you sweat your worries away is really important. We suggest bringing your own bottle so you can have a lot with you at all times.
Ojo Caliente Mineral Springs Resort & Spa kindly provided us with pool passes for this spa getaway, but all opinions are our own.
---
For more stories and tips, check out our other New Mexico blog posts. And for a list of where we stayed overnight during our trip, take a look at our RV Camping Reviews page.