Hiking to one of the many beautiful waterfalls in the Columbia River Gorge area is definitely a rewarding experience. However, rafting over one of them is something else entirely. Check this epic experience off your bucket list by going on a whitewater rafting trip down the White Salmon River with Zoller's Outdoor Odysseys.
Not only does this Columbia River Gorge rafting adventure take you over Husam Falls, but you also get to enjoy the stunning mossy, canyon views along the river while getting your adrenaline fix – a truly unique activity that is sure to be a favorite!
(Pssst… Don't miss the awesome video of our trip, toward the end of this article).
Getting to Zoller's Outdoor Odysseys
If you are planning a trip to the Columbia River Gorge area, this is a must-try activity. It is conveniently located less than 30 minutes from Hood River, OR, on the Washington side of the Gorge in a town called BZ Corner. Simply put "Zoller's Outdoor Odysseys" in Google Maps and it will set you on your way. Or check here for more detailed directions.
If it is a clear day, you can see Mt. Adams in the distance as you drive down HWY 141 towards Zoller's. The glacier on this mountain actually produces the cold river water you will be rafting in!
Preparing for Your Columbia River Gorge Whitewater Rafting Adventure
Lucky for you, Zoller's rafting provides everything you need for your rafting trip (including the most stylish of attire). Once everyone is checked in, you will be given all the gear you need in a surprisingly organized manner. Then you will have plenty of time to change and lock up your belongings in your car.
Note: don't wear cotton under your wetsuit, only synthetic materials or your birthday suit. And you may want to bring some cheap-o sunglasses like we did. Or invest in a strap to keep your glasses around your neck, so you don't lose them to the While Salmon River.
After you change into your sexy "Farmer John" wetsuit, booties and optional jacket, you will pick out a life jacket and helmet to complete your rafting look. They even have helmets with GoPro mounts if you want to add a trendy, yet practical accessory to your get-up!
Once you are all suited up and have taken a few silly pics, you will gather around to learn how to row correctly, and – most importantly – stay safe while on and off of the raft (in case you fall out).
PAY ATTENTION! It is unlikely that you will be in a dangerous situation, but not impossible. And you don't want to miss any of the valuable, life-saving info these experienced guides have to offer.
After you are well-educated in all the rafting rules, you will be assigned a guide who you will follow down to the river where the fun really begins!
Rafting the White Salmon River
As soon as you get on the water, you are put to work forward and back paddling around rocks and away from treacherous areas. But, don't worry, your guide will also yell "take a break" quite a bit. This provides you with plenty of time to look around at the breathtaking scenery of the canyon.
It also won't be long before you are splashed in the face with the ice-cold water of the White Salmon River. (Maybe the salmon are white because they are so cold?) But, eventually, you get used to the cold water, or are distracted enough by your surroundings that you stop caring.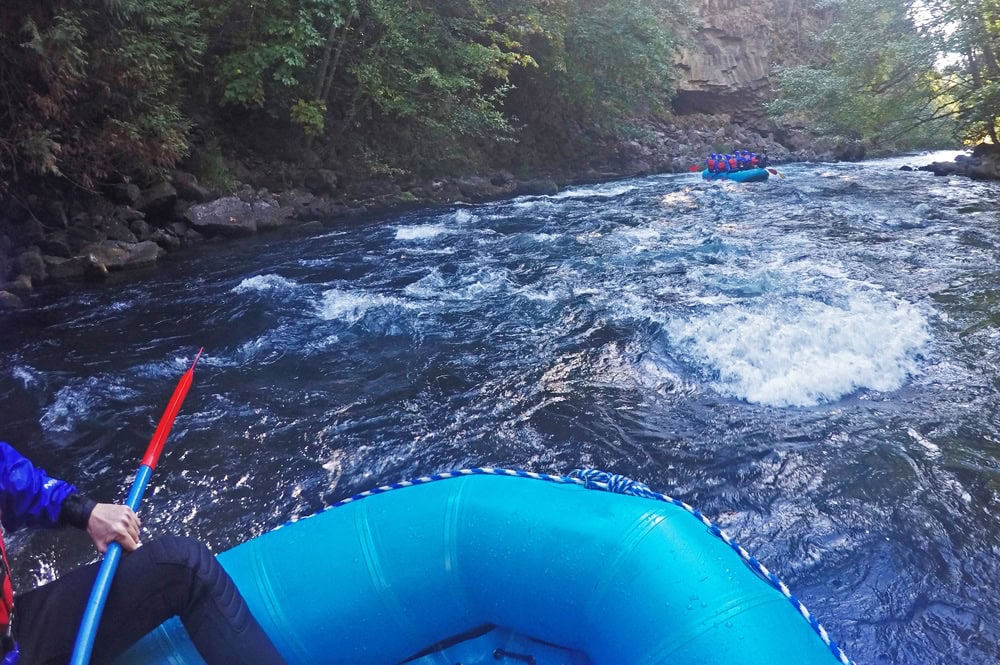 We decided to go on the 2.25-hour Middle Gorge trip – with a mix of Class II, III & IV rapids – but Zoller's Outdoor Odysseys has many options of varying difficulty. And many are even available year round.
Our guide, Seth, was awesome and made sure we were having fun every minute of our trip! We got to experience a pop-out (where we rowed into the rapids until it popped us back out), spinning over rapids, drinking fresh spring water and more! All while laughing and learning interesting facts about the area from our knowledgeable guide.
Rafting Over the 14-Foot Husum Falls
Our trip was packed with fun at every turn, however, the highlight was definitely taking the plunge over Husum Falls! Although there is an option to skip this part of the trip and walk around it instead, you won't want to miss out on this adrenaline rush!
With a 14-foot drop, Husum Falls is the tallest commercially raftable waterfall in the U.S. And 9 feet of that is a vertical drop. Needless to say, the idea of going for a most-likely violent swim here can make you a bit nervous.
After practicing our "hang on and get down" technique and learning what to do if we got stuck in the churning water at the bottom of the falls, we set out to conquer Husum Falls.
As we paddled up to the falls the butterflies in my stomach seemed to multiply. I started to wonder if this was a bad idea. But it was too late to change my mind. Seconds before going over, Seth yelled "hang on and get down."
I frantically shoved myself into the front of the raft, took a big gulp of air and held on for dear life as we dove into the freezing water below.
After being engulfed by the waterfall, we emerged from the frigid white water with loud woohoos and giant smiles of achievement having made it out with all of our rafting group still on board. And I came to a decision quite instantly: Hell YES, that was a GREAT idea!
After navigating through the rocks at the base of Husam Falls we took a short break to celebrate and watch the other rafts plummet over the falls. Luckily, no one fell in. Apparently, it is more common to take a swim earlier in the season when the waterfall is much more dangerous. So, I'm glad we went when we did toward season's end.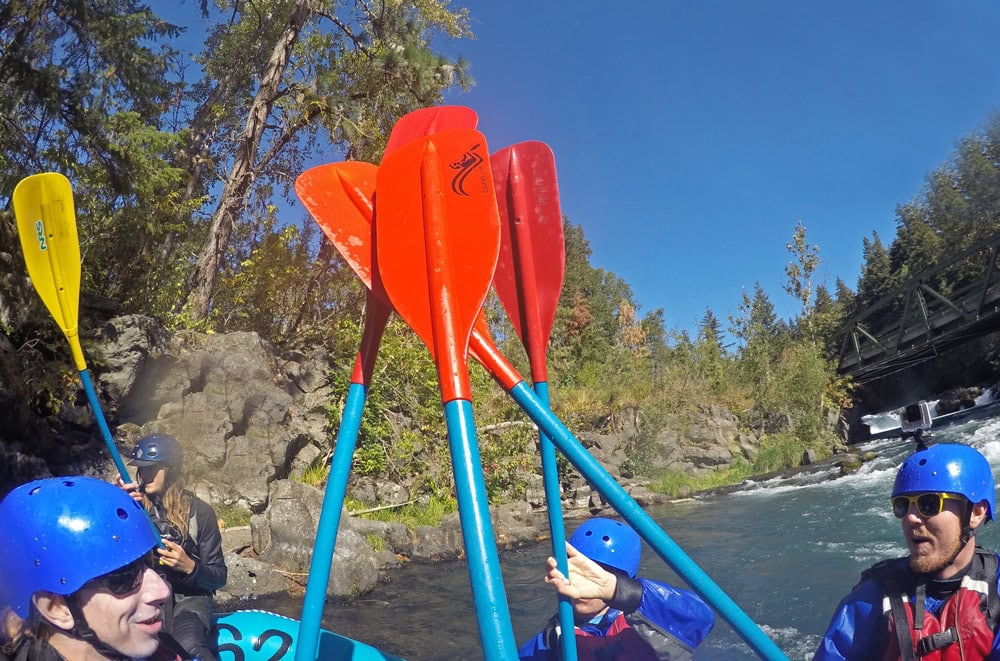 "Riding the Bull" on the White Salmon River
I was so psyched I didn't fall out of the raft at the falls, I felt like I was up for anything. But if you think the adrenaline rush is finished after going over the falls, you are way wrong. There are still many twists and turns to navigate, and way more fun to be had – including a truly unique experience called "Riding the Bull."
Shortly after Husum Falls, we pulled to the side of the river and Seth said: "Now it's time to ride the bull!" He then instructed us to sit on the front of the raft with our feet over the edge and hold on to the rope that is attached along the outside.
Before I could really process what we were about to do, we went over some rapids and I was launched into the water… or maybe my sneaky hubby pushed me. Either way, I channeled my inner Flipper as I flew through the air and into the rapids while the rest of my group laughed from the raft.
After realizing what just happened, I quickly swam back to the boat where my raft-mate pulled me in. I came dangerously close to face planting right into his crotch, but managed to redirect just in time. Luck was definitely on my side this day. (Note: my dear husband was not the one to save me – probably because he was still laughing).
After a few more laughs and countless gorgeous views, our trip sadly came to an end. We headed back to Zoller's headquarters with giant smiles on our faces and lots of new memories to share.
Check out the full video of our trip highlights:
Making the Most of Your Whitewater Trip
Pick the right trip for you. Knowing how much time you want to spend on the water, which river you want to explore and how difficult you want your trip to be will help you decide which trip is right for you.
Our Middle Gorge White Salmon River trip took about 4 hours total and had mostly Class III rapids. This was the perfect choice for us! However, an extended trip all the way to the Columbia River Gorge definitely sounds like a blast!
Buy the pictures. The value you get from your rafting adventure far exceeds what you will pay for the trip. The same goes for the pictures documenting it. These priceless mementos (some of which are featured in this blog post) are well worth the $38 you will spend on the thumb drive containing all of them. I know we will cherish the photos Zoller's photographer captured of us!
Check out Husum Falls from Above
On your way back to town, make sure to stop by the bridge overlooking Husum Falls to admire the powerful waterfall you plunged over (there is a parking area right before it). Just make sure to do this AFTER your trip. A kayaker got stuck in the churning water for about a minute when we went. So, this may have made us want to chicken out, had we seen it before our rafting trip. But checking the waterfall out after was a great idea!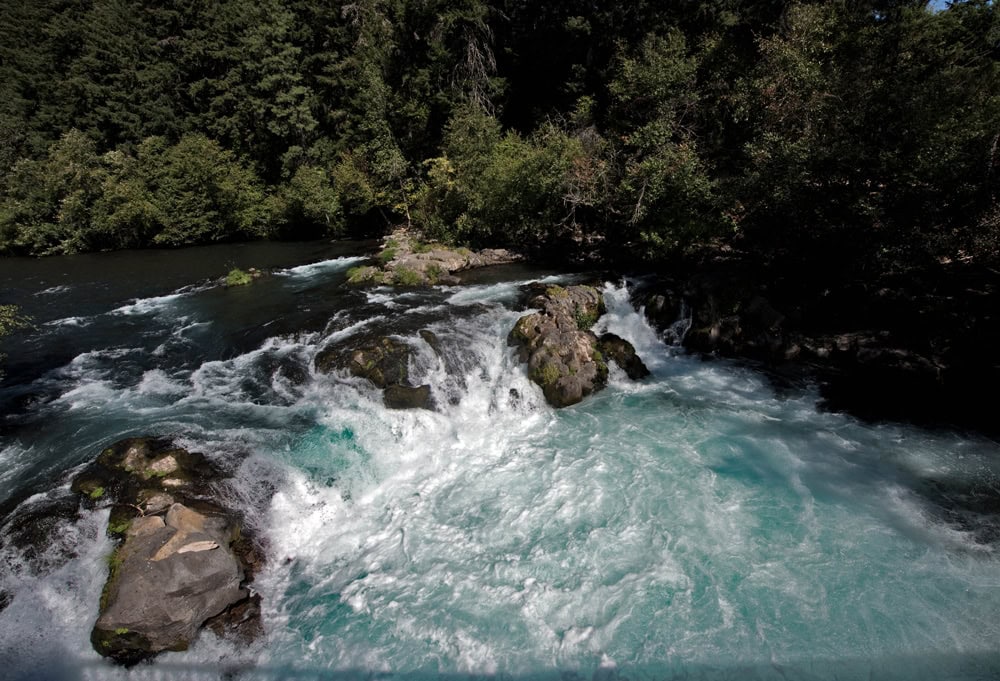 ---
Zoller's Outdoor Odysseys was kind enough to host us on this epic adventure, but all opinions are our own.
Want more tips for the Oregon & Washington area? Read more:
See more outdoor adventures and tips for visiting Oregon.