A trip to Oregon is just not complete without experiencing the vast beauty of the Columbia River Gorge. This can't-miss area is packed with fun, romantic and adrenaline-pumping experiences that could keep you entertained for weeks. But, if you are only visiting for a day or two, here are our top 5 things to do in the Columbia River Gorge that are sure to make it a trip to remember:
Things to Do in the Columbia River Gorge
1. Visit Multnomah Falls
Checking out Multnomah Falls during your trip to the Columbia River Gorge is a no-brainer! This is by far the #1 thing to do in the Columbia River Gorge. This iconic waterfall is the second highest in the U.S. And, it is a well-known symbol of Oregon's beauty and a bucket list item for many locals and visitors alike. According to the U.S. Department of Agriculture, it is actually the most visited recreation site in the Pacific Northwest! So, yes, it will be packed if you go during peak hours. Try getting there around sunrise for a more enjoyable experience with far less crowds.
There are three main places for viewing the Multnomah Falls. After a short walk from the parking lot, the first viewing area gives you a great shot of the entire waterfall. However, if you want to see the falls up close, walk up to the historic Benson Bridge – only a short walk up a small hill. And, to see the top of the falls, take the 1.2-mile trek up a steep trail of 11 switchbacks!
2. Hike to a Waterfall (or a few dozen)
Next up on our list of things to do in the Columbia River Gorge is to hike to a waterfall…any waterfall! There are enough waterfalls on the Oregon-side of the Gorge to provide hiking options for a month, but even just visiting a few will give you a great taste of the epic beauty of the area. Many of the waterfalls are an easy walk from your car, but some of the best ones require a bit of hiking. And, although a waterfall is a pretty great reward, the lush green trails that lead to these waterfalls are worth the trek alone. Definitely plan a hike!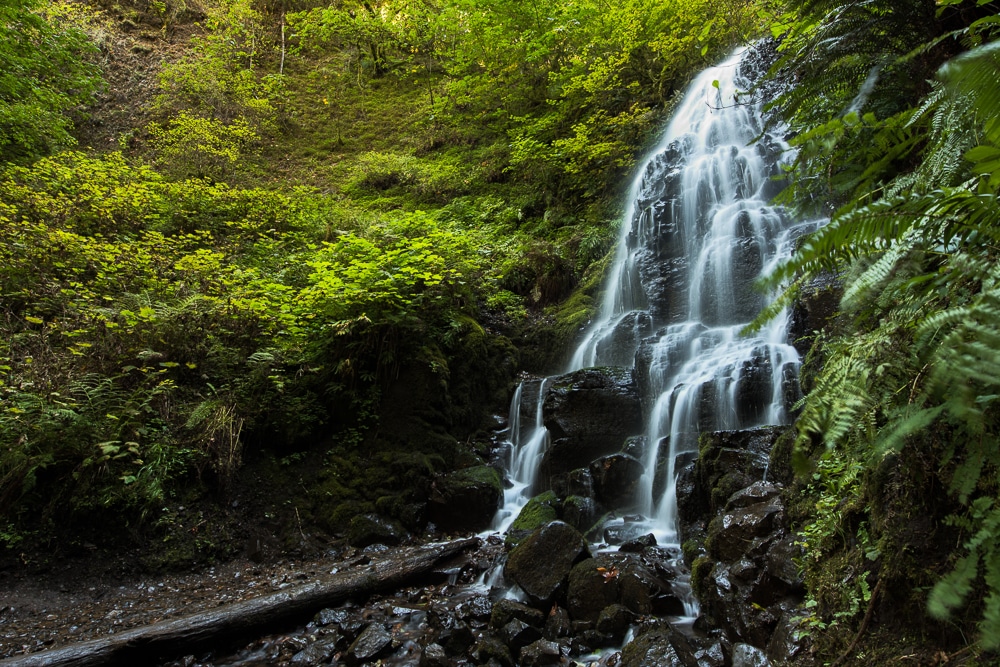 One of our favorites was the Multnomah Falls to Wahkeena Falls Loop. It takes you by 8 waterfalls (!!!) – starting at Multnomah Falls and ending with Wahkeena Falls. It is about 5 miles round trip, but can easily take 1/2 a day with how often you will want to stop to admire your surroundings!
Another must-try hike is the 0.6-mile trail to the Lower Oneonta Falls. Short, yet challenging, this hike takes you over a log jam, through ice-cold water and to a majestic waterfall in the beautiful Oneonta Gorge.
3. Watch the Kiteboarders & Windsurfers
Did you know the Columbia River Gorge is one of the top places to enjoy these sports in America? Even if you aren't ready to hop on your own board, watching these athletes do their thing is thoroughly entertaining! This is one of the things to do in the Columbia River Gorge that you could spend hours just watching and relaxing.
On the Oregon-side of Hood River, stop by the Hood River Event Site and walk out onto the sandbar to watch the kiteboarders & windsurfers catch some mad air, do tricks and wipe out. On the Washington-side, Kite Beach & Bob's Beach in Stevenson are the places to go! Just watch your surroundings wherever you end up, you don't want to be clothes-lined by someone's kite!
4. Raft Over Husam Falls
Is hiking and kiteboarding not enough to get your adrenaline pumping? Then take a trip to raft over Husum Falls on the White Salmon River! Getting splashed in the face with ice-cold water after plunging over a 14-foot drop is sure to get your heart racing.
Zoller's Outdoor Odysseys treated us to this epic rafting trip and we would highly suggest trusting these whitewater-lovers to show you a great time, too! Their office is located about 30-minutes from the Columbia River Gorge in BZ Corner, Washington.
5. Take in the GORGEous Views
Last, and easiest on our list of things to do in the Columbia River Gorge is to just relax and enjoy the amazing views! With so many action-packed adventures available, it is easy to forget to plan time to chill and simply enjoy your surroundings. But, don't do it! The Columbia River Gorge is the perfect place to sit back with a locally-brewed beer or glass of wine while you soak up the beauty all around you.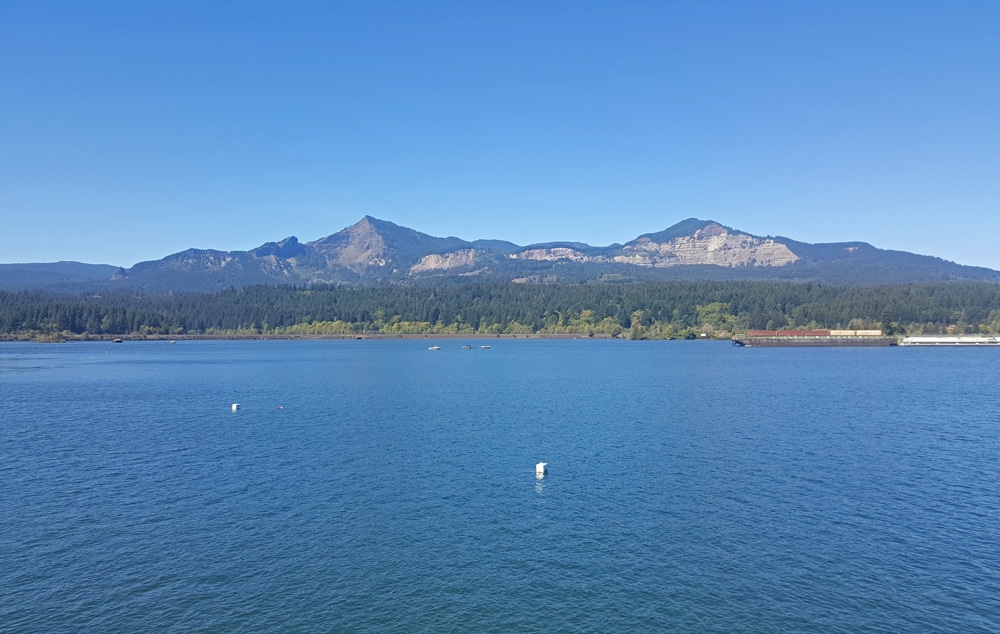 After chasing waterfalls on the Oregon-side of the CRG, check out one of the many river-side dining options that show off the great views of the Gorge! The cities of Cascade Locks and Hood River both have many options. And, don't miss the beautiful sunrise from the Washington-side. We had the pleasure of watching this colorful show from the wonderful Skamania Lodge. It is the perfect romantic start to an adventure-packed day!