As soon as we started planning our time in Scotland, I had one thing on my mind: exploring Isle of Skye. I had seen photos of this magical place for over a decade and it looked like our own personal heaven. Waterfalls, lush hikes, and possible fairy sightings? There were so many things to do in the Isle of Skye we couldn't get there soon enough!
This led to our first visit being a hectic day trip from Inverness with the three dogs we were watching. Because we just couldn't wait another day to see the Isle of Skye, and they were good on a road trip!
But with stops every hour to stretch our legs and potty breaks, bad weather, and road detours (we had to wait an hour for a train, then were led over the tracks!), we only got to see a portion of this majestic place.
However, we did get to see a lot of truly beautiful places during our three(ish) hours on Isle of Skye. And getting to experience it with this hilarious crew made it all the more memorable! (Plus, we went back a second time alone!)
Best Things to Do – Isle of Skye, Scotland
For a small area, there is hours of amazing activities to experience in Skye. We'd definitely recommend a few days here. And don't forget your hiking boots and rain gear!
1. Hiking to Old Man of Storr
Top of our list of things to do in the Isle of Skye was seeing Old Man of Storr. It is part of the Quirang rock formations in the northern Trotternish Peninsula of the Isle of Skye.
I had read it was a walk, but failed to realize it was almost all uphill. Oh well, up we go! Even though it was cold and windy, the pups had no complaints (other than having to stay on their leads) and loved the exercise!
However, we decided to turn back before getting to the epic spires of the Old Man of Storr because it became abundantly clear that we weren't going to see the views we were hoping for. One lady even showed me the fog-filled view on her phone as proof.
There was also a slick-looking set of steep, switch-backing stairs we would need to climb, and we thought that may be a little too much for our old lady. She was okay going slow and steady on the gradual climb, but we didn't want to overdo it. So, we waved bye to the Old Man of Storr through the dense fog and headed back to the car.
While I'd be lying if I said we weren't disappointed, the views from the Old Man of Storr walk were still well worth the effort and we loved seeing the dogs enjoy the wind in their fur. Plus, the rest of our trip more than made up for missing this iconic spot.
2. Seeing Kilt Rock & Mealt Falls
Not wanting to unload everyone right after getting back in the car, we took turns at the quick viewpoint for Kilt Rock and Mealt Falls. Buddy went first and went about five minutes in the wrong direction.
Then he turned back just in time to see a tour bus unload with cameras aimed at the Mealt Falls. Classic oblivious husband move, amiright?
While busy, Kilt Rock and Mealt Falls was worth the stop. However, we definitely liked the solitude we found driving the rest of the northern peninsula loop in the Isle of Skye, away from the more common must-see places. It was just us and a bunch of sheep the boys begged to chase.
3. Fairy Glen
It had been a long day with the pups, and we were getting tired by the end of our Isle of Skye loop. But there was one last stop we couldn't miss – the Fairy Glen. Luckily, the parking lot wasn't very full and we had it almost all to ourselves.
If a local wonder has the word 'fairy' in it, you should definitely make a point to see it. Just trust us on this.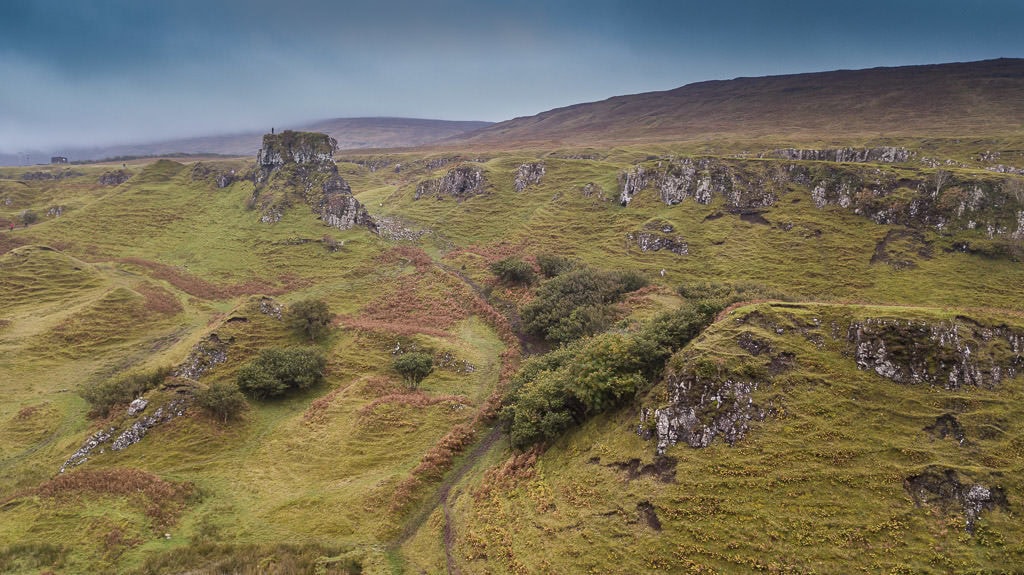 Part of me struggles to even post photos of this gem of a place. They just don't do the dramatic landscape justice. There is this peaceful presence there that makes you believe anything is possible.
The fact that places like this still exist – where time stands still, and you are enveloped by nature – makes me hopeful and filled to the brim with joy.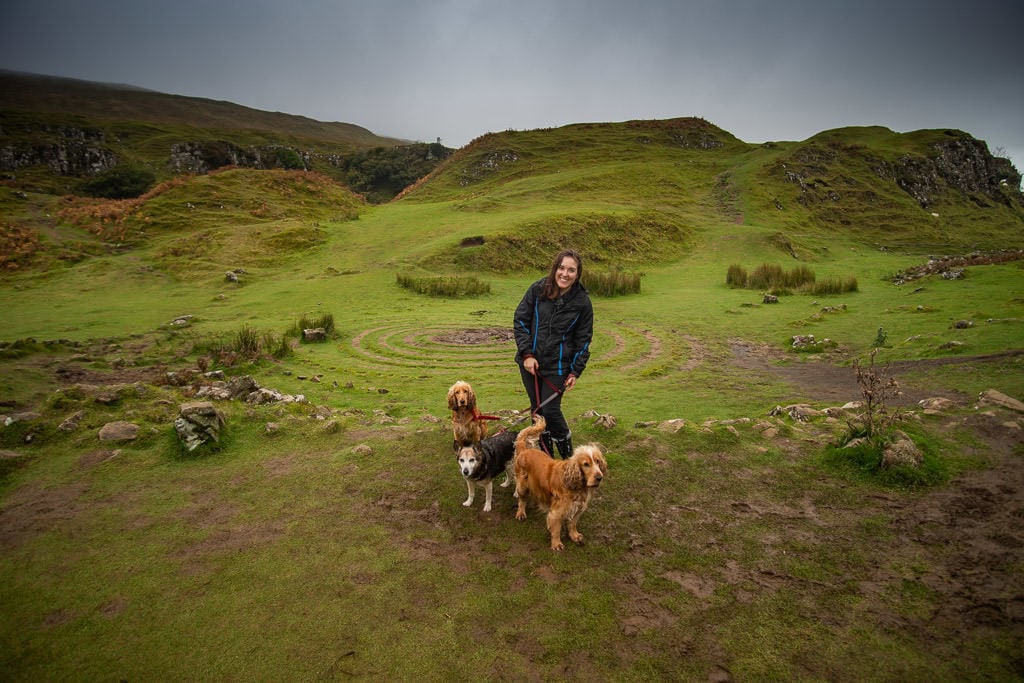 After pulling ourselves from the Fairy Glen, we drove the three hours back home with tired dogs and hundreds of photos to go through. While Inverness is gorgeous, this was the Scotland we had been imagining. What a place!
4. Eilean Donan Castle
While our first trip out to Isle of Skye was an amazing day – made even more special with our furry friends. We just didn't feel like we saw everything we wanted to. So, we decided to plan one more trip after our housesit ended, in hopes of better weather and more time to hike.
We were already renting a car one way from Inverness to Edinburgh. Why not make a few-hour detour to taste that magic again? A decision we'll be thankful we made for years to come.
First up on our list of things to do in Isle of Skye was the iconic Eilean Donan Castle. Since we couldn't wander these historic halls with the pups on our first trip, we made sure to go inside for round two.
While beautiful and fun to wander the narrow halls, the outside views with the epic backdrop are what we enjoyed most. No wonder Eilean Donan Castle is the most photographed in Scotland!
5. Fairy Pools in Isle of Skye
After our first visit to Isle of Skye, these pools were what we were most bummed to have missed. And, while not our initial plan, we ended up spending almost our entire second visit at the Fairy Pools. It is that wonderful. Again, don't miss the fairy things!
My eyes well up with happy tears even thinking about this place. The photos of Fairy Pools in Isle of Skye still overwhelm me.
We were there!!! I had the opportunity to experience this stunning landscape with the love of my life. And it filled our hearts with more joy than we ever thought possible.
While we weren't alone, it certainly felt that way. The further we walked, the fewer people we saw. And everyone seemed to seek out their own place to enjoy the stunning scenery of the Fairy Pools in Scotland.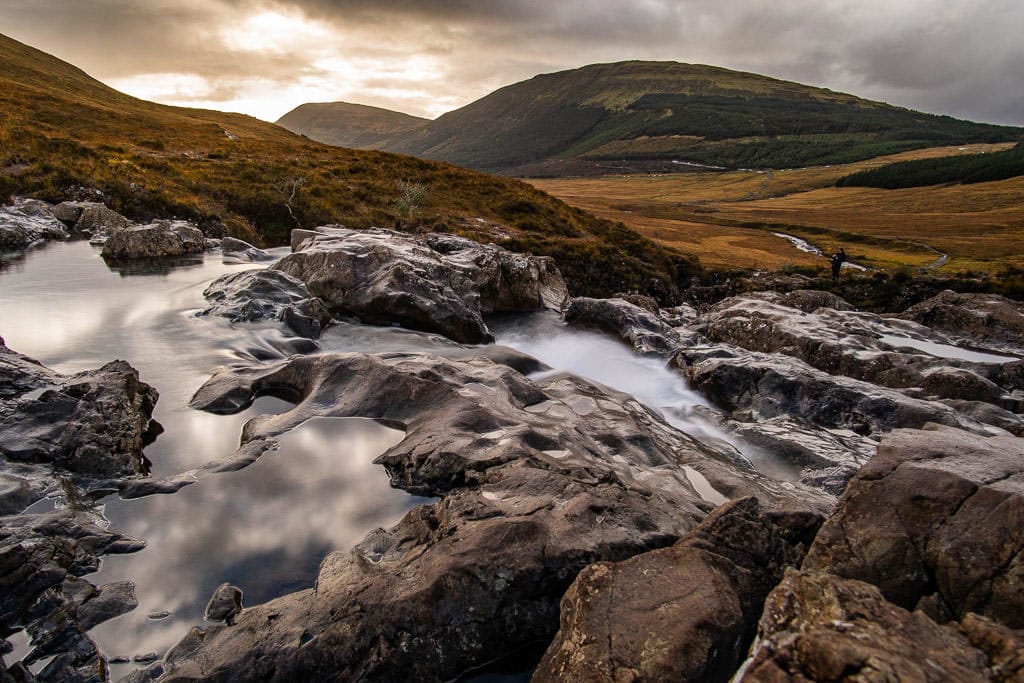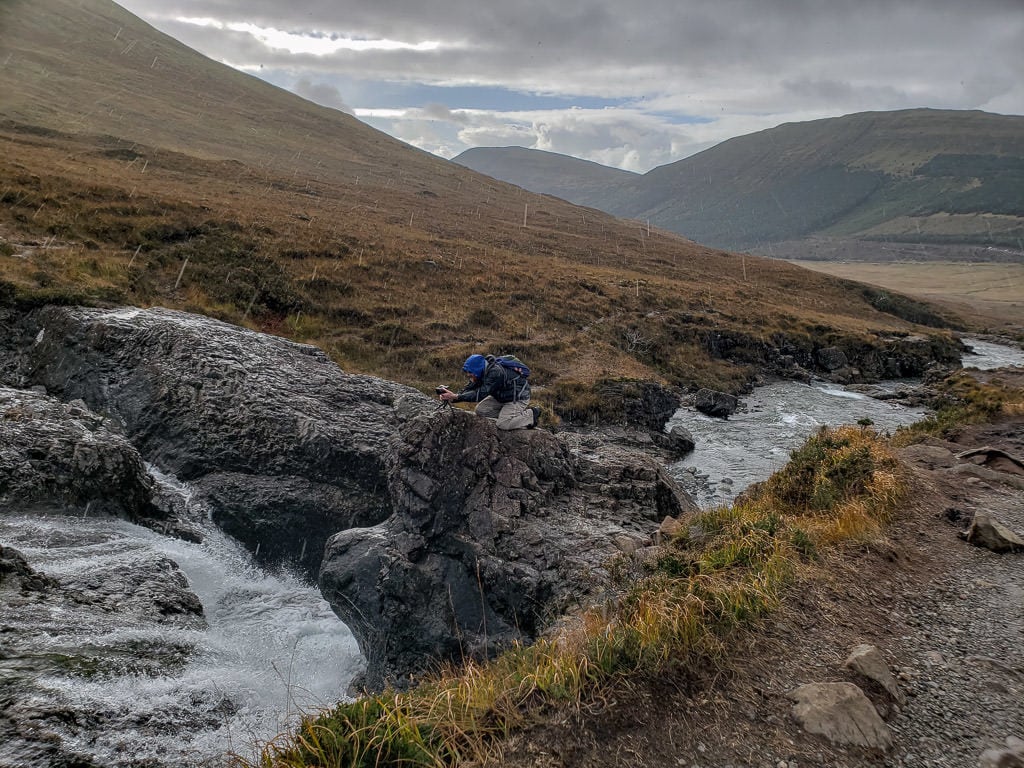 The rain and gloom clouds that kept passing through probably helped keep the crowds at bay and made for a more dramatic landscape. But we didn't mind the weather.
We strolled along the Fairy Pools with painfully big smiles and stopped to take photos every 3.5 seconds. The spell had been cast. We stayed for hours longer than we needed to – until the sun was on the verge of setting. Because we just couldn't let the feeling go.
While we did take ALL the photos, we also made sure to stop often to just be present and take it all in. The air felt different. The cold mist that would usually make us uncomfortable, seemed to kiss our cheeks and add to the other-worldly atmosphere. I'll never forget it.
Other Things to Do in Isle of Skye
Even though we spent two long days exploring Isle of Skye and even more time in the natural beauty of the Scottish Highlands, it wasn't nearly enough. There are multiple other activities and tours we'd love to do on our return trip! Here is a list of some of our top activities we'd love to do on our return trip:
Go on a boat trip to tour Isle of Skye by water. It looks amazing to take in the sea cliffs and look for wildlife while zipping around in the waters of Skye. (This tour looks particularly great!)
Go to Talisker Distillery for a tour and single-malt Scotch whisky tasting.
Check out the Sligachan Old Bridge – a great place for photos!
See the fossilized dinosaur footprints at Corran Beach. (Low tide is best for viewing.)
Go to the Skye Museum of Island Life to learn more about this interesting area.
Near Skye, there is also the Outer Hebrides area with the Cullin mountains, chances to see golden eagles, beautiful Loch Coruisk, and more! You can go on a tour with a local guide of this area, but we would definitely opt for self-guided. We hope to spend a few weeks exploring this part of West Coast of Scotland next time.
Best Places to Stay in Skye Scotland
This area has some amazing bed and breakfasts! When planning a trip, I'd highly recommend staying at one of these quiet and quaint, locally run places. There are a dozen or so options actually on the peninsula of Skye as well as some within a short drive. You may not find any luxury hotels, but there are certainly some lovely accommodations!
Since we were headed to Edinburgh the next day, we opted to hit the road and stay somewhere on mainland Scotland. Fort William is another popular base for touring Skye.
As we drove away from Isle of Skye with the sun slowly dimming, we realized we had never booked that hotel we meant to. With the sun fading fast, we tried to pull up options on our phones with no luck. Even when we did have signal, the places we found had already closed for the night.
Then finally, we drove by Corriegour Lodge. Its well-lit dining room shined like a welcome beacon, and we knew this was the spot.
Staying in this cozy, family-owned B&B was exactly what we needed after a long day of exploring the Isle of Skye. The owner's nephew who greeted us was lovely and got us all set with a room and drinks from the bar.
The breakfast the next morning was also wonderful. But the biggest treat was the views we didn't even know we had until we saw the property in the daylight. A true hidden gem that allowed for quiet reflection of all the wonders of Scotland we had experienced (so far). It was the perfect place to stay!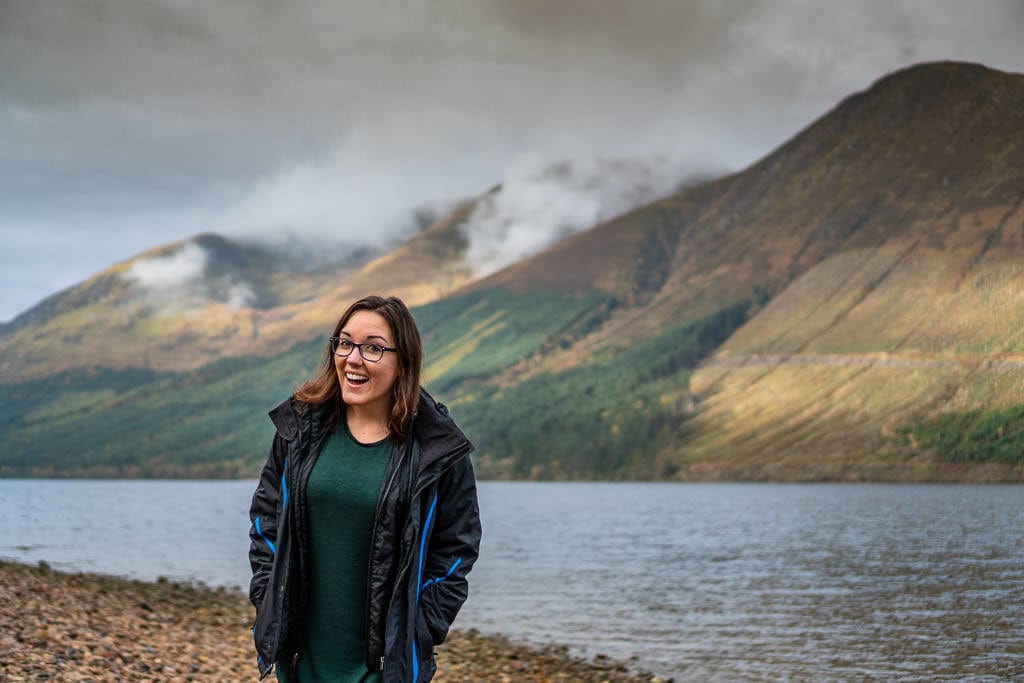 FAQ for Things to Do in Isle of Skye
When is the best month to visit Isle of Skye Scotland?
We visited Isle of Skye in late September, and it was pretty chilly but also had beautiful shades of oranges and golds beginning. Summer months are best for boat trips and hiking, but spring and autumn are also nice. Those shoulder season times are also great for less crowds and lower lodging prices. Most blogs suggest visiting between May and September, but we usually avoid the high season. I'm sure the winter months are very cold but also gorgeous as well!
What not to miss on the Isle of Skye?
The Fairy Pools are the most beautiful place I've ever been. So, I'd say prioritize that. It is a popular tourist destination for a reason though, so be sure to get there early to enjoy the walking path in peace. It is an ideal place to start the day. The Fairy Glen is another must-see with spectacular views.
How many days do you need in Isle of Skye?
I'd say at least two days in Isle of Skye is needed to really see it. That's also if you are up for really full days. You could easily spend a week leisurely hiking and exploring. This area of Scotland is stunning, so another week to drive around to explore more of the Inner Hebrides and Scottish Highland landscape.
Special thanks to Visit Scotland, which provided us with complimentary entry to Eileen Donan Castle – one of their many ASVA visitor attractions. As always, all opinions are our own.
Read our other articles about our Scotland explorations here! And to learn how we traveled in Europe for five months on a budget by house sitting, read this guide.