When we saw a long house sit for Scotland in autumn, we just couldn't resist applying. Once we were chosen, this sit actually kicked off our plans for our multi-month European adventure. We were so thankful for so much time to really see the best things to do in Inverness, Scotland, and the surrounding areas!
Our amazing five-week visit to this stunning part of the United Kingdom was the perfect intro to Europe. It was lovely to be only a short drive to the city center. Plus, there were dozens of great day trip opportunities.
The beauty of this part of the UK is well known. And we couldn't wait to see it for ourselves. While the weather was chilly and gloomy most days, it didn't stop us from getting out to see as much of this wonderful area of the Scottish Highlands as we could.
Of course, we also had some sweet furry pals to accompany us on walks and keep us warm on the really cold days with their top-notch cuddles. And the lovely homeowners were sweet enough to let us use their car. That allowed is to explore to our hearts' content while sticking to a limited budget.
P.S. Want to travel like us? Check out TrustedHousesitters and all of our tips for per sitting.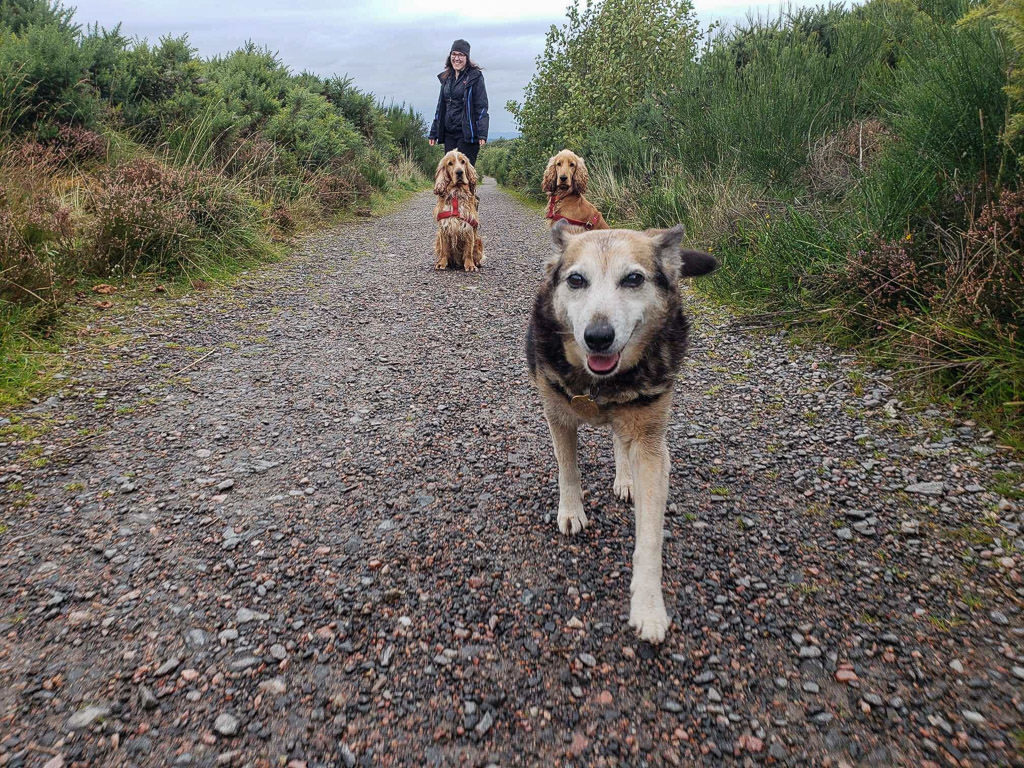 Best Things to Do in Inverness Scotland
From wandering the city streets to strolling along trails and exploring castles, to going to the beach and taking beautiful highland drives. Inverness – the Capital of the Scottish Highlands – has so much to offer!
Downtown Inverness Explorations
With our proximity to downtown Inverness, many of our days were spent wandering the cobblestone streets and popping in and out of stores, pubs, and restaurants. There was live music many nights and lots of delicious options to choose from. Plus, some truly beautiful places to pop into – like the bookstore. There are plenty of things to do in Inverness' bustling downtown.
We loved how walkable the city is and put lots of miles on our shoes just wandering around, enjoying the fresh air, and people watching. Plus, it felt totally safe no matter what hour we were exploring! Parking can be a challenge, but we had good luck just using the garages or pay-to-park lots.
Here are our favorite downtown memories:
1. Getting a Coffee and Wandering the Shops
There is something just so rewarding about sipping a delicious hot coffee while wandering through local stores. As mentioned, the bookstore was our favorite place to explore! There is also a Victorian Market built in the 19th-century that has mutlipel shops. You could also plan to pop by the Inverness Museum and Art Gallery a well!
2 . Wandering Around 'The Islands'
One of the places the homeowners we were sitting for highly suggested was 'The Islands.' We would have probably never even found this gem of a place had they not told us!
To get to this beautiful area of the city, you use a network of suspension bridges (the ones that bounce when you walk).
Once on the other side, you are on a pretty tree-lined path surrounded by water. At night, the trees have lights in them, and the bridges light up, too! The Ness Islands are definitely a must-see!
3. Our Go-To Hangout: Black Isle Bar
Our time in Colorado made us brewery addicts. This is one of the first things we look up when we get to a new place because the atmosphere is usually fun (but not overwhelming, like a bar), the food is decent, and we like to try their unique beer creations.
Not only did Black Isle have some of the best brick-oven pizzas we ever tasted, but they also had a huge beer selection AND a roof-top 'secret garden.' So, of course, we went here at least once a week. (If you are in need of lodging in Inverness, they even have rooms for rent).
4. Inverness Botanic Gardens
Another thing we always seek out is a local garden! And, while not in the main downtown area, the Inverness Botanic Garden is definitely worth a stop. It is one of the great free things to do in Inverness (donations welcome). It is also just a beautiful place to spend an hour or two.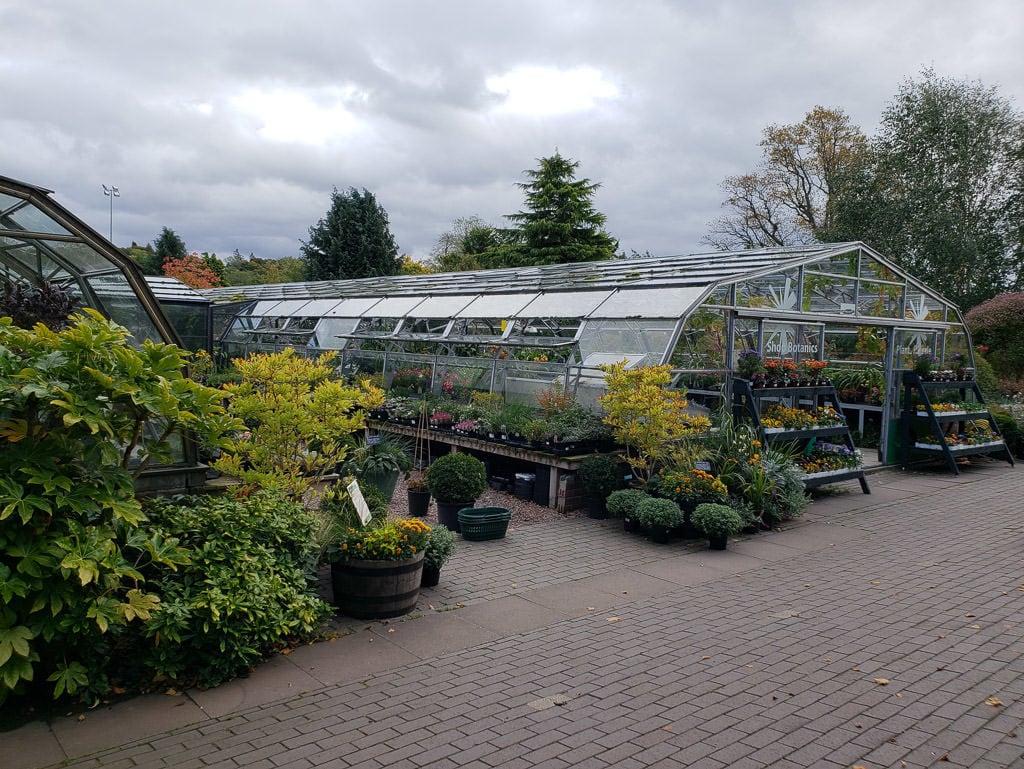 And if it is a particularly cold day, the greenhouse is a great place to warm up and enjoy a huge variety of colorful flowers and other plants.
Bonus: Making Friends
Buddy really enjoys the Pokemon Go game, so this took us on some hilarious adventures as well. I only went to two outings, since standing around in a random place in the cold with a bunch of people tapping their phones wasn't my jam. But, Buddy has a blast playing 'PoGo' and I love that it allowed him to make some fast friends.
Speaking of friends, we also got to meet up with another full-time house sitting couple and their three cute kiddos who were also in Scotland! What a treat to chat with them for a few hours over breakfast.
Meeting people is one of the best parts of travel – especially people you know you'll make a point to see again because of how awesome they are! (Check out @letsadventuresomemore on Instagram and read this CNBC story about them to learn more about their epic year-long trip).
Historic Locations & Castles Near Inverness
While history seems to be spilling out around every corner in most European cities, Inverness had a few places that stood out – and had some pretty gorgeous views, too. In addition to th list below, you can also visit Inverness Cathedral,
1. Inverness Castle
Inverness Castle is hard to miss when checking out the other things to do in Inverness. Perched on top of a hill, it is a great place to walk up to for the surrounding views, even if you don't go inside.
The site of the castle was established by King Malcolm III in 1057 as a stronghold, after destroying Macbeth's Castle at Crown Hill. But, the current structure is from the 1830s and is used as the Inverness Sheriff's Court today.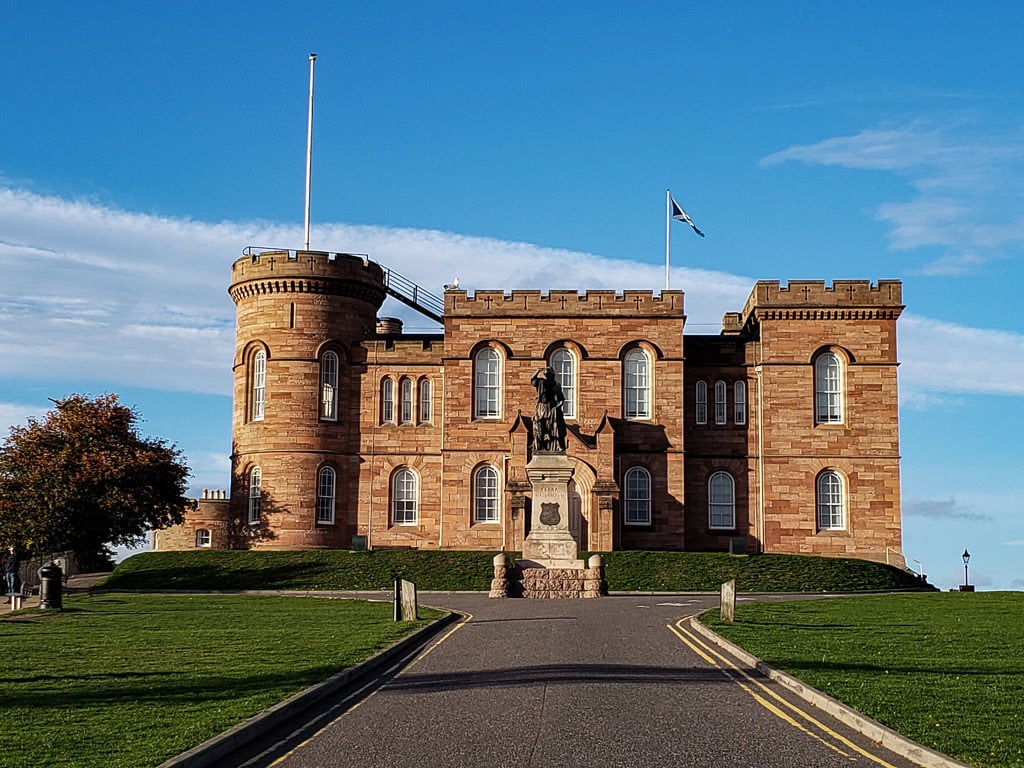 2. Culloden Battlefield
The Battle of Culloden was the final confrontation of the Jacobite risings of 1745 where they were defeated by the Hanoverian forces. We had a lovely, albeit rainy, walk on the trails of the historic Culloden Battlefield.
It was easy to feel the somber nature of the place of the last battle as we passed memorials with flowers set on top. It has very rich history and meaning.
3. Fort George
Another place with meaningful British history (and amazing views) is Fort George. It is just a short drive from downtown. You could even spot dolphins, whales, and seals from the top of the fort while learning about its history.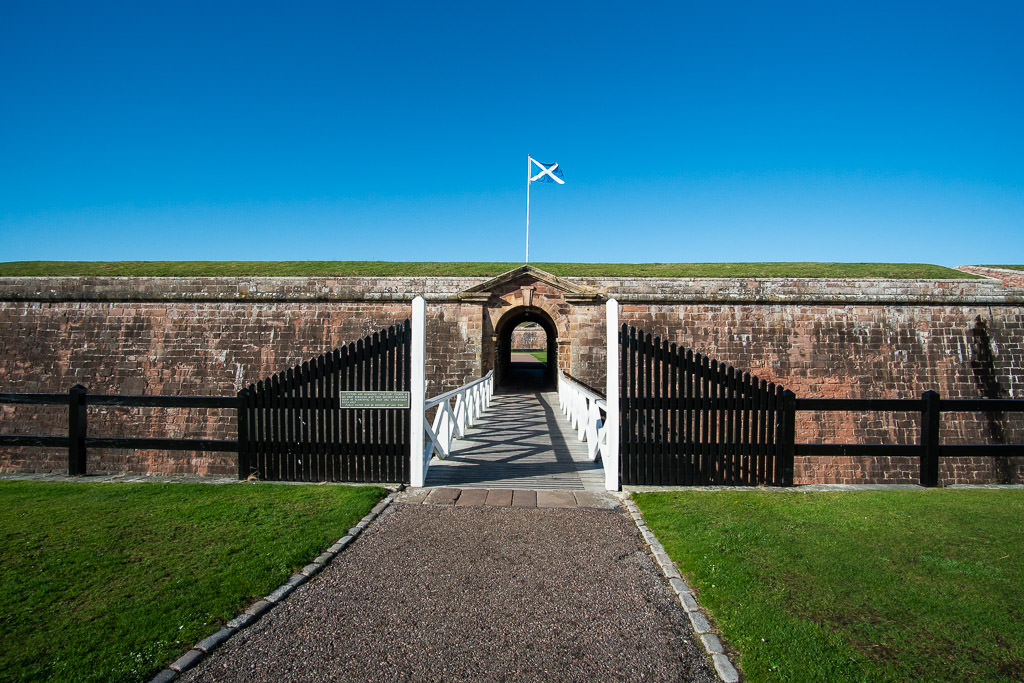 The fort was built after the Battle of Culloden as a secure base for King George II's army. While it has remained in continuous use as a garrison, it has never been attacked.
For visitors interested in history, a stop at the Clava Cairns Bronze-age cemetary may be of interest as well.
4. Cawdor Castle
Just outside the city, surrounded by rolling hills and farmlands, is a beautiful property complete with a walled garden, maze, and miles of forest trails. Cawdor Castle in Inverness was our first castle visit to Scotland, and it certainly made a grand impact.
After exploring a few castles in Ireland, we learned what to look for in future castle visits. 1. They had to have a garden – this was our favorite part! 2. If we were going to pay to see inside the castle, there had to be at least a dozen or so rooms to wander through. Cawdor checked both of these boxes. So, we waited for our first sun-shiney day and sped over to explore this beautiful historic home.
After an hour or so of admiring the exquisite gardens, we went inside to see what royal life in Scotland is like. The earliest documented date for the castle is 1454, and it has been owned by multiple families since its creation.
In Shakespeare's tragedy Macbeth, there is a character who is made "Thane of Cawdor," so many people think there is a connection. However, the castle was built many years after King Macbeth had died.
5. Dunrobin Castle
This French-inspired castle an hour north of Inverness is our favorite we've seen so far. It just has that fairy-tale vibe and its water-side location is luxuriously scenic.
Plus, the manicured gardens and falconry demonstration really put it over the top. Read more about our visit here.
6. Dunrobin Falconry Demonstration
One of the things we were most excited for when we looked at visiting Dunrobin was the Falconry Demonstration. It was so amazing to get to see these gorgeous, intelligent creatures soar just above us and we'd highly recommend planning a visit during the show.
Nearby Inverness Trails
Wanting some options of things to do in Inverness in the great outdoors? Scotland is a gorgeous place for a walk! Here are some of our favorite trails.
1. South Loch Ness Trail
The 58-km long South Loch Ness Trail meanders through this area, with great options to take in a portion for a short walk. We loved the area near Loch Tarff off B862 on our way back to Inverness from Loch Ness.
2. Daviot Woods Walk
Since we were close to this area, we spent a lot of time taking in the views and freshness of the forest air with the three dogs. You could spend hours wandering around this peaceful place.
3. Rogie Falls
A quick search on Google Maps will provide you with tons of great options for waterfall hikes in Inverness. One of our favorites was Rogie Falls. It's just enormous, very easy to walk to, and gorgeous!
4. Falls of Foyers
Another beautiful waterfall hike is Falls of Foyers. However, this one takes the most effort and isn't quite as beautiful as the others. There are also a lot more people, so that may have something to do with it. Still gorgeous, but not the same magical vibe.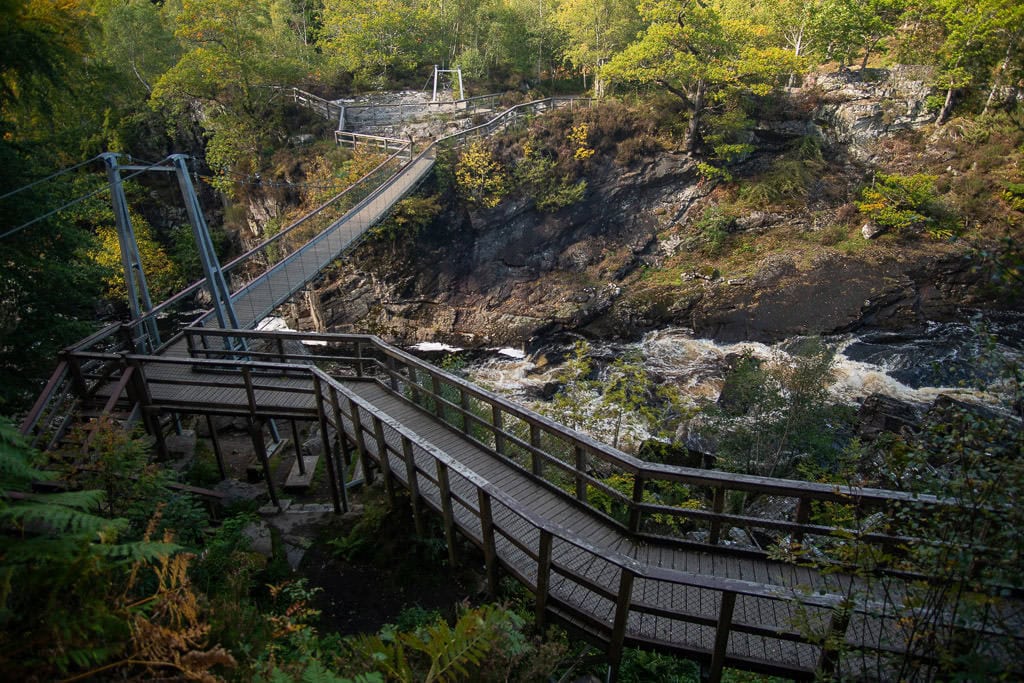 5. Fairy Glen Falls
The most magical hike on this list is definitely Fairy Glen Falls. The majestic green moss everywhere, a delicate waterfall, and crisp forest air to sip in.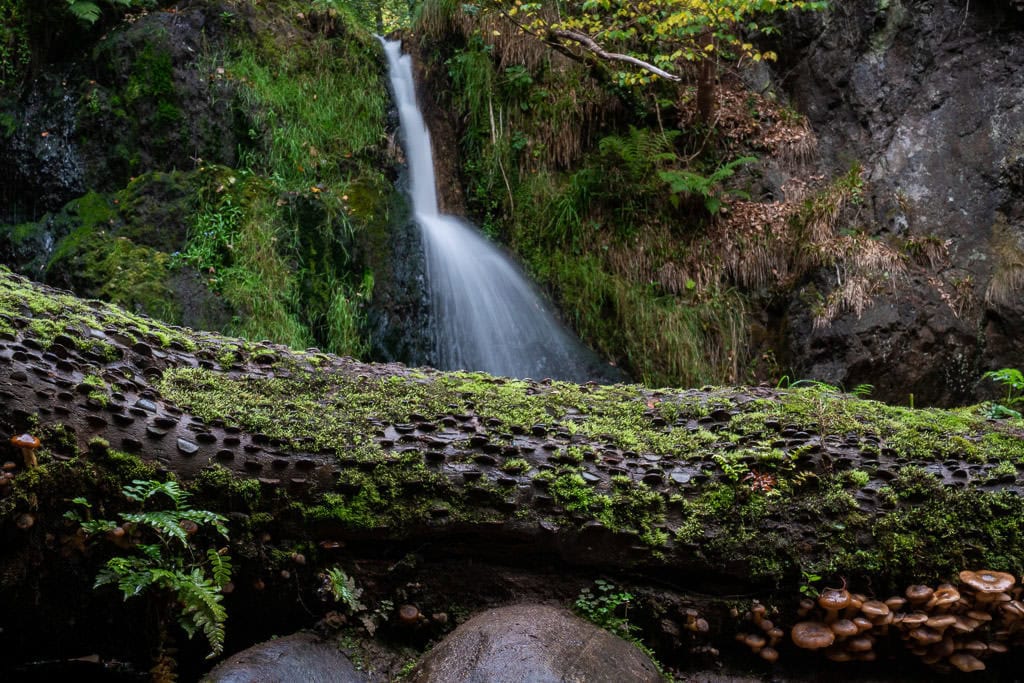 6. Reelig Glen
This isn't a waterfall hike, but it is so stunning it really didn't matter that there wasn't an epic waterfall to hike to. It's just SO LUSH here, it feels like walking through a dense rainforest.
While we absolutely love the city of Inverness, we'll always prefer these quiet natural places. Scotland has some truly magical ones!
All of these Inverness waterfall hikes were detailed in this blog post.
Exploring Loch Ness
Probably the most famous of the things to do in Inverness Scotland is a visit to Loch Ness. This is where the infamous Loch Ness monster supposedly lives. While there are boats that will take you through the water, a drive does the trick as well.
1. Look for Nessie
Our first impression of this giant lake is how surprisingly long it is. There could definitely be an enormous, long sea snake living in its deep waters. I won't lie, my eyes were deadlocked on that water at all times, hoping to see a head pop up.
However, after our visit to the Loch Ness Centre, we learned its existence is unlikely – although, not completely ruled out. (We'll still choose to believe!) While this exhibit wasn't as interactive as ones we would normally attend, getting to watch the videos and hear about all of the ways they tried to find out what exactly is in the Loch was really interesting.
Their gift shop would be the perfect place to find a Nessie souvenir. They had dozens of versions!
2. Urquhart Castle
As much as we love a good fairy-tale castle, ruins are almost just as beautiful. Ideally, we would have gone on a day that wasn't pouring rain, but we still enjoyed wandering the grounds in the middle of the River Ness.
There is also a boat trip that takes you from Inverness to the castle for a pretty affordable price that we would love to try out next time! Being on the river is an ideal way to take it in, we've heard!
Urquhart Castle was once one of Scotland's largest, but it saw a lot of conflict during its 500 years as a medieval fortress. Control passed back and forth between the Scots and English during the Wars of Independence. In 1692, a portion of it was deliberately blown up, so it could never be used as a military stronghold again.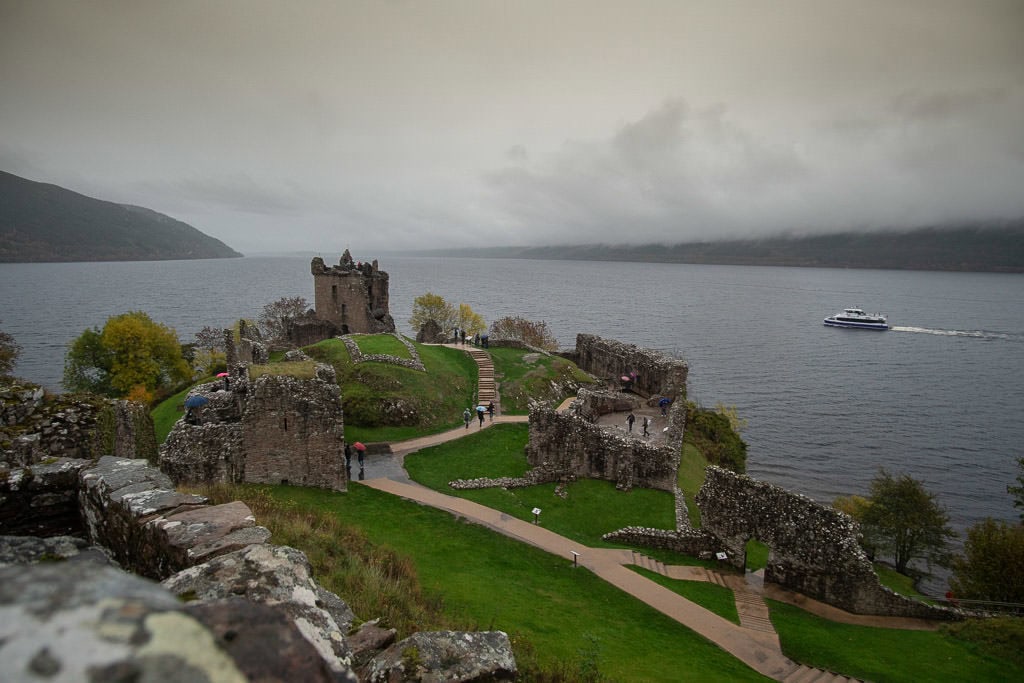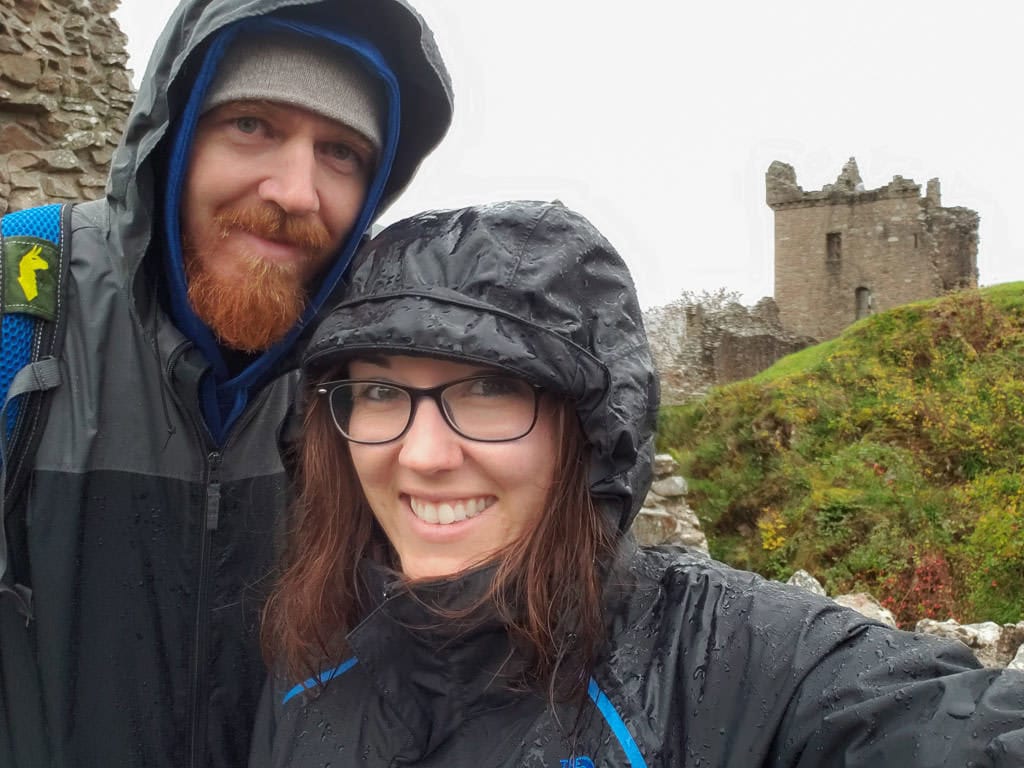 Fun story: We actually dropped some hitchhikers off here on our way out of town, once we had finished our house sit. (Take a breath Mom, it's normal to do in Europe. They even gave us a little thank-you gift.) This couple traveled all the way to Scotland from Ukraine and this was on their list! Kind of cool. Hope they enjoyed it as much as we did.
3. The Epic Highlands Drive
While getting out to explore Loch Ness up close is great, the drive is stunning in itself. And there are lots of great options for detours if you want to explore further.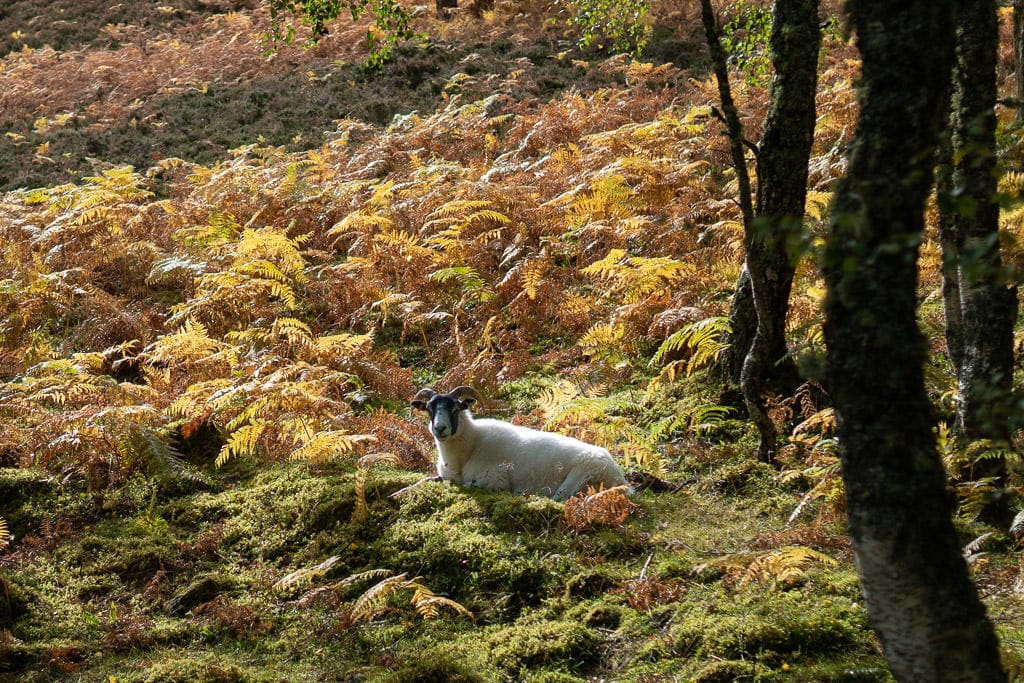 We really enjoyed taking the B862 back to Inverness for the epic mountain views and to pass by other lochs (some with great hikes, mentioned above). One day, we also stopped by Loch Ruthven (a great spot for bird watching) and passed tons of sheep and cows on the way. Such a great place to go for a drive!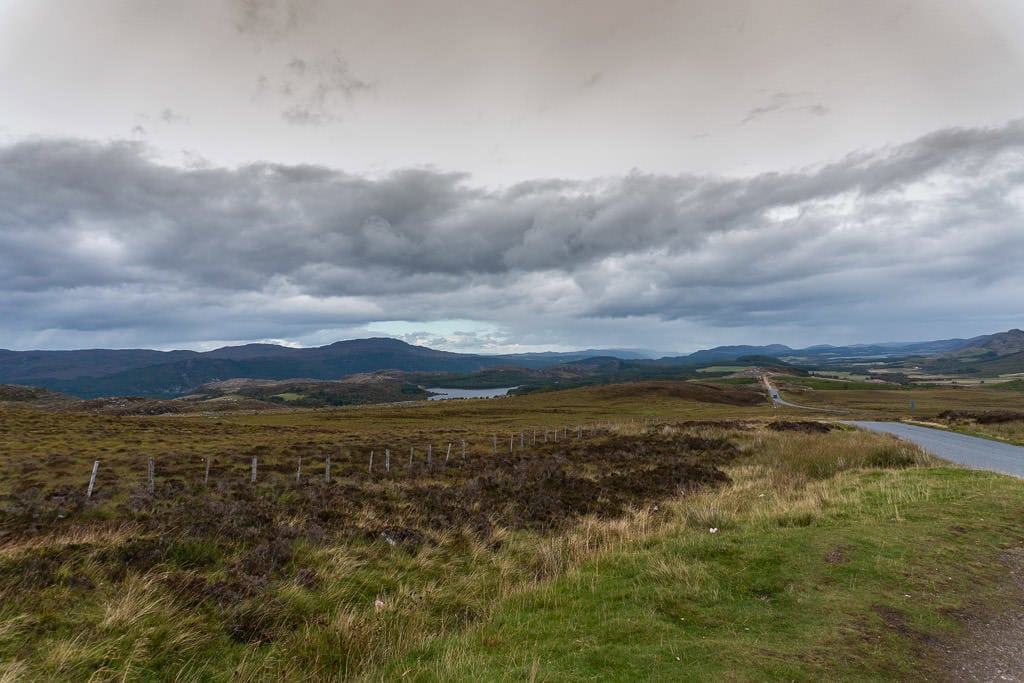 Top Day Trips from Inverness
While you could technically get all the way over to Skye and back in one day, we did it and don't recommend it (set aside a few days for that trip). However, there are tons of great places within an hour or two from the city worth the trip!
1. Cairngorms National Park
The Cairngorms are huge with multiple castles, trails, and other great stops. So, plan for a few days here, if you can. However, most of our time was spent on the west side. Since we didn't want to leave the pups for too long, we limited our exploring.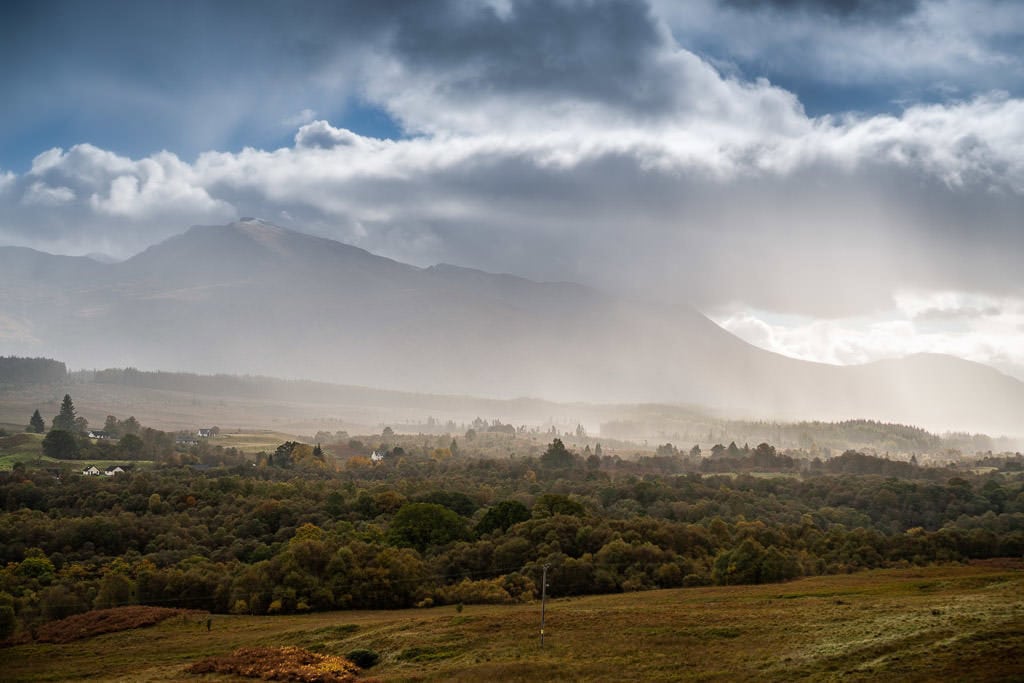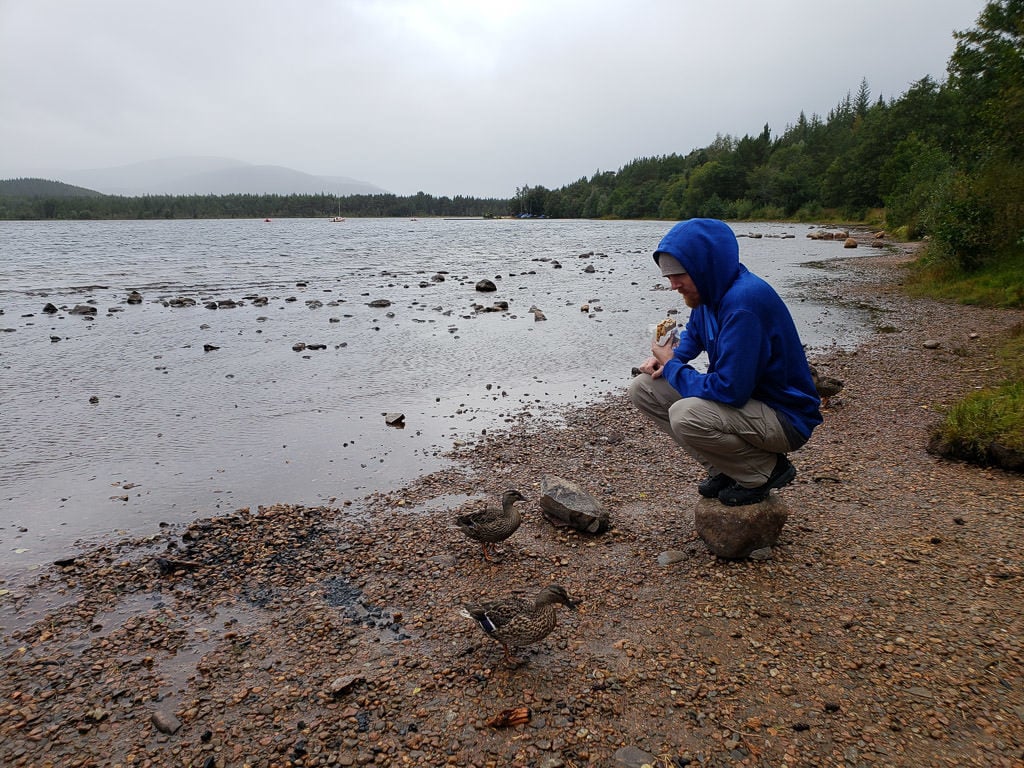 We drove down to Pattack Falls from Inverness – stopping along the way at lakes and lookouts. Then took the A86 west on our way back, which had some stunning landscapes. The perfect excuse to take the drone out! If time allows, a stop down to Fort William would be worth the detour for views of the Ben Nevis mountain range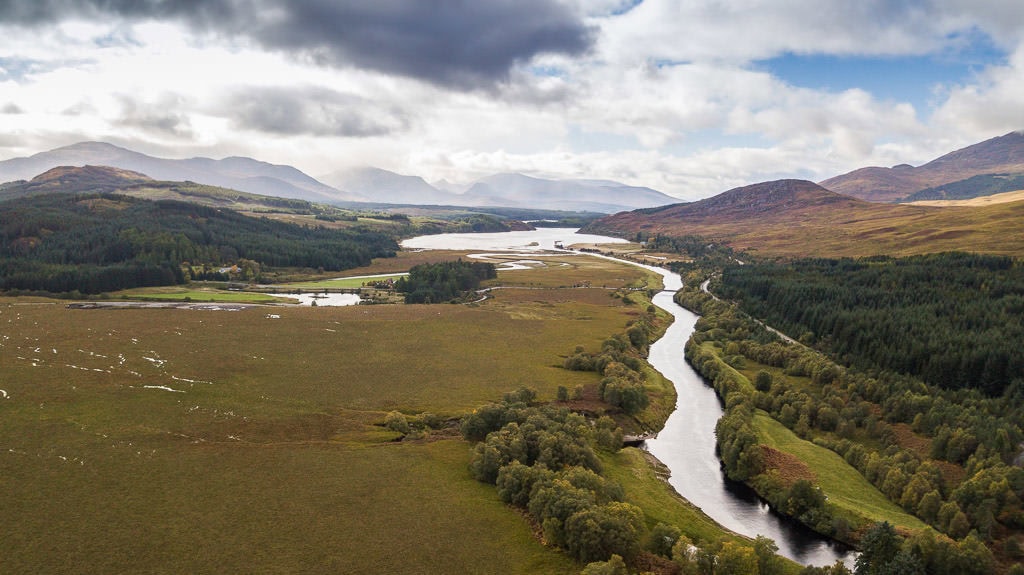 2. Elgin Cathedral
We thought that this would just be a short stop, but ended up spending hours at what is left of this Medieval cathedral about an hour east of Inverness.
While it doesn't look like there is much to it, entry to the Elgin Cathedral also includes access to two towers filled with interesting artifacts. Plus, some amazing views from the top. Just be warned – it is a tight squeeze up those narrow and short tower stairs!
This place – which dates back to the 13th century – was truly stunning. We really enjoyed getting to spend some time admiring the remaining architecture and intricate gravestones. Oddly enough, the destruction makes it even more unique and beautiful.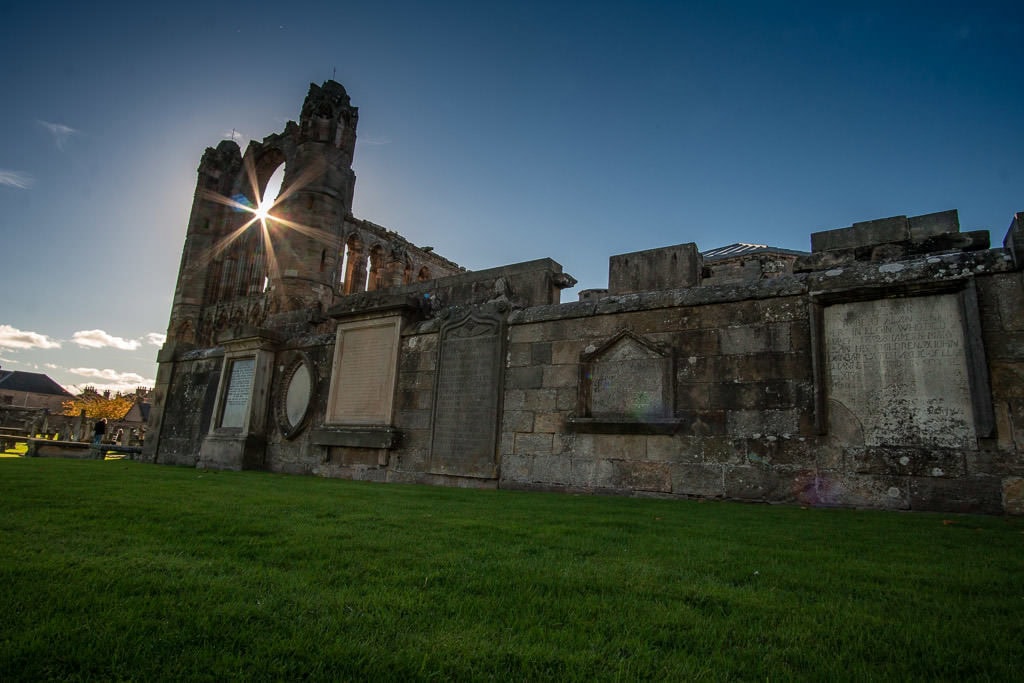 3. Lossiemouth Beach
About 15 minutes from Elgin Cathedral, there is a beautiful white sand beach. We had a fantastic day here with the dogs. It was one of only a handful during our stay that we actually had lots of sunshine!
We'll cherish this day as one of our best as pet sitters. Getting to see all of the pups so happy was definitely worth the mandatory bath time and car clean up when we returned. The old lady (she's 16!) even got a little spring in her step. She seemed to really love it – which about melted me into a giant pile of emotional mush. What a special treat for all of us to have such a perfect beach day!
One of the biggest benefits of house and pet sitting is the opportunity to get a look into what life would be like in another place. In Inverness, it looked like long walks through lush forests, meals with friends, and more beautiful places than you could ever see in one lifetime. Cheers, Inverness! I'm sure we'll see you again someday.
We also highly recommend a trip to Isle of Skye, but this would be best done with at least two full days since the drive is about three hours. Read all about our visit to this stunning area, with its mysterious stone circles and other-worldly landscape!
FAQ for Visiting Inverness, Scotland
What is Inverness best known for?
When planning your trip to Scotland, you may not have Inverness on your radar. However, you may have seen the famous Loch Ness on your list! Inverness is the city right next to the river and the best place to base from. However, it has SO MUCH more to offer than just the famous river monster.
How many days do you need in Inverness Scotland?
While you can see the main sights of Inverness in a couple of days, we recommend at least four days here to really just take it in. Plus, two more for the Isle of Skye! And, if you could swing it, another four days to just wander around the Highlands of Northern Scotland. It has a very unique beauty!
Where should you stay in Inverness, Scotland?
There are so many great little B&Bs as well as a variety of hotels in and around Inverness. Many pubs in the UK even have rooms above them! However, this castle-looking mansion is high on our list to stay at on our next trip to Inverness!
Click here to browse accommodation options in Inverness. (Pro Tip: Make a free account on Booking to start earning points toward discounted stays!)
How do you spend a day in Inverness Scotland?
If you only had one day to fit in all th best things to do in Inverness Scotland, I'd recommend an early Scottish breakfast in time – complete with neeps and tatties. Drive up to Dunrobin castle for a few hours of exploring. Or go to the closer Cawdor Castle if short on time.
Then, make your way over to Loch Ness or take the boat ride to Uqurt Castle. If time, drive around the Highlands area to take in the scenery. Or go for a walk to one of the many stunning waterfalls, Rogie Falls or Fairy Glen Falls are my top recommendations.
End the night in town at one of the pubs, ideally on a night with live music! Stroll through the Ness Islands after for a serene end to the day. (Skip this if you got drunk at the pub since there is a lot of water and possibly slippery spots!)
What is the easiest way to get to Inverness?
The Inverness airport makes getting to Inverness easy. We went to Ireland first and flew in from Belfast. There are multiple other flights into Inverness as well. Otherwise, Edinburgh and London are great options for International flights that may have better deals since they are bigger airports. You could then hop on another flight, take a train, or drive to Inverness. I'd personally love to take the train journey one day!
Is it difficult to drive in the Scottish Highlands?
We felt this area of Scotland was very road trip friendly! The Scottish Highlands is a stunning place and doing a driving tour is a great way to really let the beauty soak in. You will likely be driving slower than you are used to, but just enjoy the scenery, try to spot some Highland Cows, and take in the fresh mountain air.
Does Inverness have public transport?
Yes! Inverness has a local bus system as well as a train that can take you into Edinburgh, Loch Ness, or the Highlands. There are also boats from the city that go through the Caledonian Canal and Great Glen into the world-famous Loch Ness. Learn more.
What is the best month to visit Inverness?
We visited the Inverness area in September. It was chilly and rained most days, but it was still stunningly beautiful! While the warm days of summer make it peak season, the beauty of this place doesn't go ever go away. If wanting to hike, summer may be best, but the months just prior to and after the summer season are lovely as well!
Read our other articles about our Scotland explorations and other things to do in Inverness here! And to learn how we traveled in Europe for five months on a budget by house sitting, read this guide.
Special thanks to Visit Scotland, who provided us with complimentary entry to their ASVA visitor attractions. That was a huge help in compiling this list of best things to do in Inverness Scotland. As always, all opinions are our own.