When we told people we were going on an Ireland road trip that would take us from Belfast in the north, all the way down to Killarney and Kilkenny in the south and back up again – in just five days, we weren't surprised it was seen as a ridiculous endeavor (by both our U.S. friends and new U.K. acquaintances). It totally was, and we needed a lot of sleep to recover. But it was also amazing and totally worth it.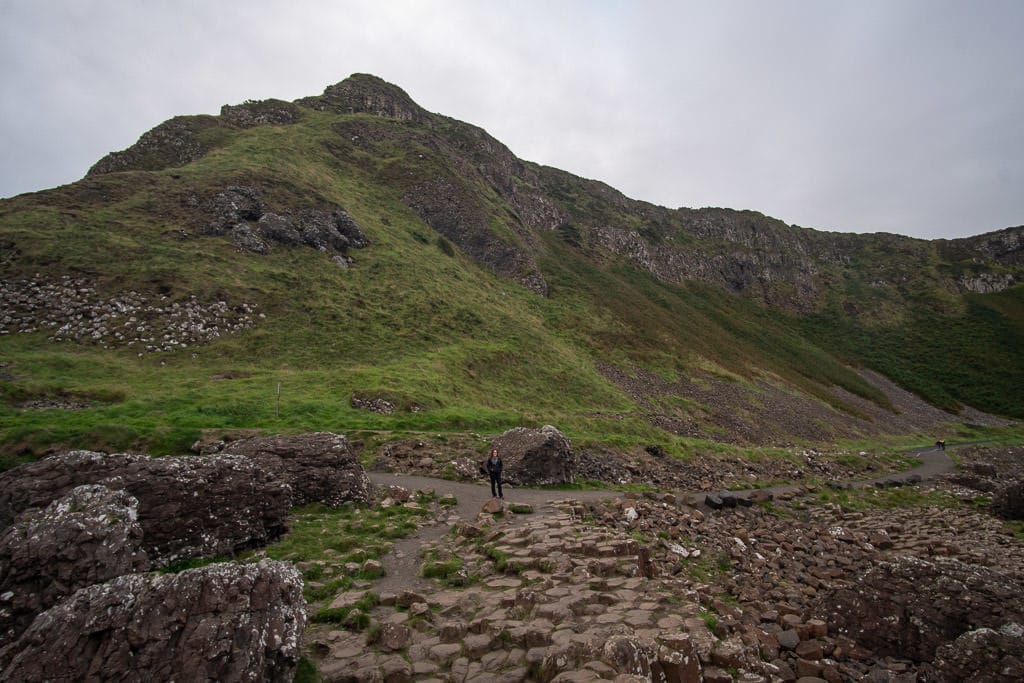 Aside from wanting to see as much of this gorgeous area of the world as possible in a short amount of time, we also had a really realistic reason for this type of whirlwind trip. We wanted to find out where we should come back for an extended trip. You see, our flexible lifestyle allows for slow travel and we love it.
We were about to spend more than a month in Scotland, and this trip to Ireland was just a last-minute "why not?" decision based on some free time and cheap tickets to Belfast from the US. So, ideally, we'll go back one day and base a much longer trip out of one of the multiple places we fell in love with.
So, while we did our Ireland Road Trip in just 5 days, you could of course take our itinerary and expand it out over multiple days or weeks, and even add some of the locations we missed to it.
Day 1: Diving into Top Northern Ireland Sights
After a red-eye flight from Rhode Island via Norwegian Airlines (which surprised us with their yummy dinner and comfy seats), we arrived around 9 a.m. in Northern Ireland's infamous city, Belfast.
While known for political unrest in past years, now it is as safe as any other major city and a great starting point for travels in Ireland. However, it is advised that you don't bring up politics.
While excited to explore, we were way too tired to drive into the city on our first day. Buddy was going on zero hours of sleep in 24 hours and learning how to drive on the other side of the car as well as on the other side of the road, and in a big city just seemed like way too much.
Stop by Carrickfergus
So, we did the only logical thing – got out of the city and headed for the first castle we could find. After a short stop admiring Carrickfergus, we went on our way to find a place to stretch our legs.
Admire the Northern Ireland Scenery
From beautiful rolling green hills, to coastal drives, Ireland is a road-trip lover's dream. And with how tired we were, we often felt like we were dreaming. But, our SAT-NAV's obsession with putting us on winding, one-way roads kept Buddy very alert. We saw so many tractors. So many.
Glenariff Forest Park
At this point it was early afternoon and we were dragging. (Full disclosure: I was falling asleep in the passenger seat while trying to be our navigator). So, we stopped at this gorgeous trail at Glenariff Forest Park that happened to have a nearby cafe with some life-sustaining coffee for me and caffeine-free, sugar-filled soda for Buddy who valiantly gave up caffeine over a year ago but needed something to keep him going.
Just the overlook from the parking lot was exquisite – rolling hills, farms, ocean, sheep. Oh, Ireland! We were in love. Then we wandered along the short trail to a lush waterfall wonderland and found our second wind. This beautiful stop mid-way between Belfast and Giant's Causeway is the perfect place for a break.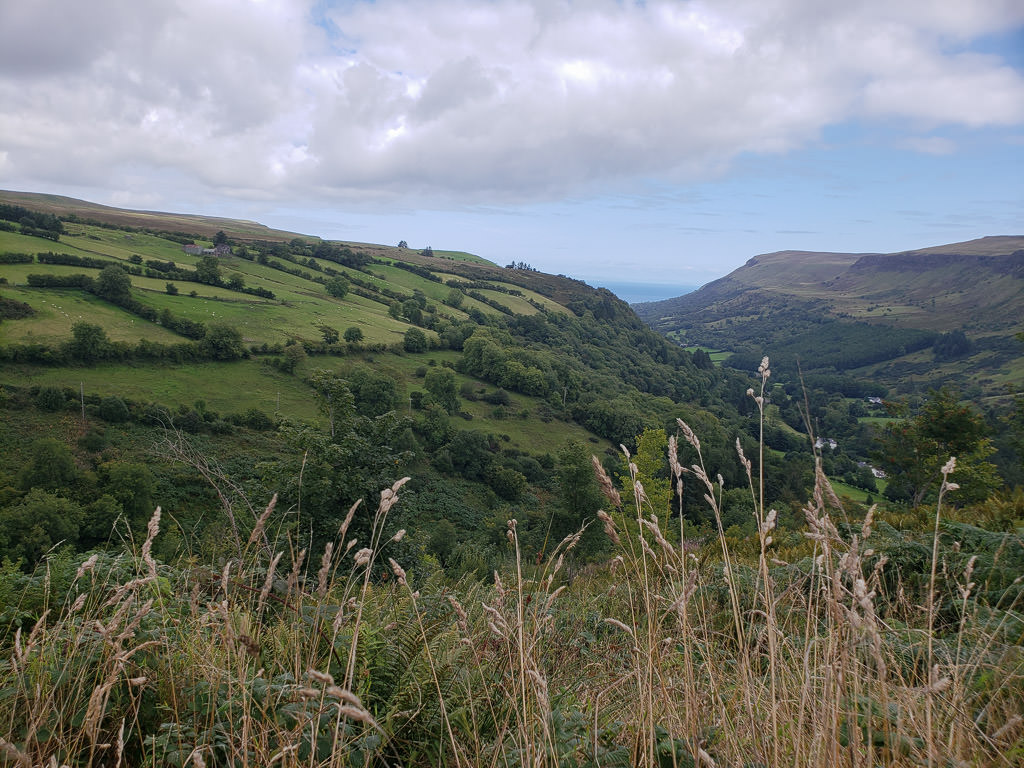 Dark Hedges Game of Thrones Movie-Filming Site
Confession: We only watched the first season of Game of Thrones when it was free on TV for some promotion week. But, when I saw photos of the Dark Hedges, I had to see this gorgeous road in person. It is very majestic here. However, GoT has made this place stupid popular, so going at an off time is key!
Staying (aka Crashing Hard) at California Lodge in Portstewart
The California Lodge in Portstewart was our favorite stay of our trip. It had adorable, fun decor and was convenient to Giant's Causeway which we planned to see the next day.
We were exhausted when we got there after flying in, hiking, and driving about 3.5 hours total. How exhausted you may ask? So exhausted that Buddy fell asleep – like, out cold – while waiting in the car for me to check us in. Poor guy. He really is a trooper on our crazy whirlwind trips.
We got upstairs, chugged our complimentary Prosecco (they love that stuff in the UK), and tossed the mini brownie bites in our mouths as we stumbled toward the bed.
After sleeping for a few hours, we showered, set alarms and went back to sleep. The next day we woke early, enjoyed a few hours at the famed Giant's Causeway (the main reason our trip included Northern Ireland), then came back to the California Lodge in Portstewart for breakfast and checkout.
And the breakfast spread did not disappoint. It was one of the best we ever had – and included, you guessed it, more Prosecco. I love these hosts.
Didn't Check These Off Our Northern Ireland List (But Will Next Time!):
Gobbins Trail
Carrick-a-Rede Rope Bridge
Bushmills Distillery
Day 2: Giant's Causeway to Galway
Since one of our must-sees of this trip was the Giant's Causeway, we decided to go there first. We usually prioritize our travels this way to see the most popular site, or one we are most excited for, as early as possible to beat the crowds!
Giant's Causeway
We were still tired when we dragged ourselves out of bed to go see Giant's Causeway on day 2 of our Ireland road trip. But, our anticipation woke us up as we drove the 20ish minutes to the parking lot. Turns out, if you get to Giant's Causeway shortly after sunrise, you'll have it almost all to yourself while also getting to skip the fees. Deal!
This area is amazingly stunning, especially with no tour buses or shuttles to ruin it. We were so excited, our zombified bodies somehow even mustered up enough energy to jog portions of the short walk in the light rain.
Once down next to these strange volcanic rock formations steeped in folklore, we spent about an hour just taking it all in. The cool breeze brushed by us and we watched as the waves crashed along the stepping stones, slowly turning more of them from brown to black.
There's just something so special about standing in a place you've dreamed of visiting for years. It makes you proud and humble and kind of sad all at once. On our walk back to the car, we held hands and laughed about how insane it was to be there.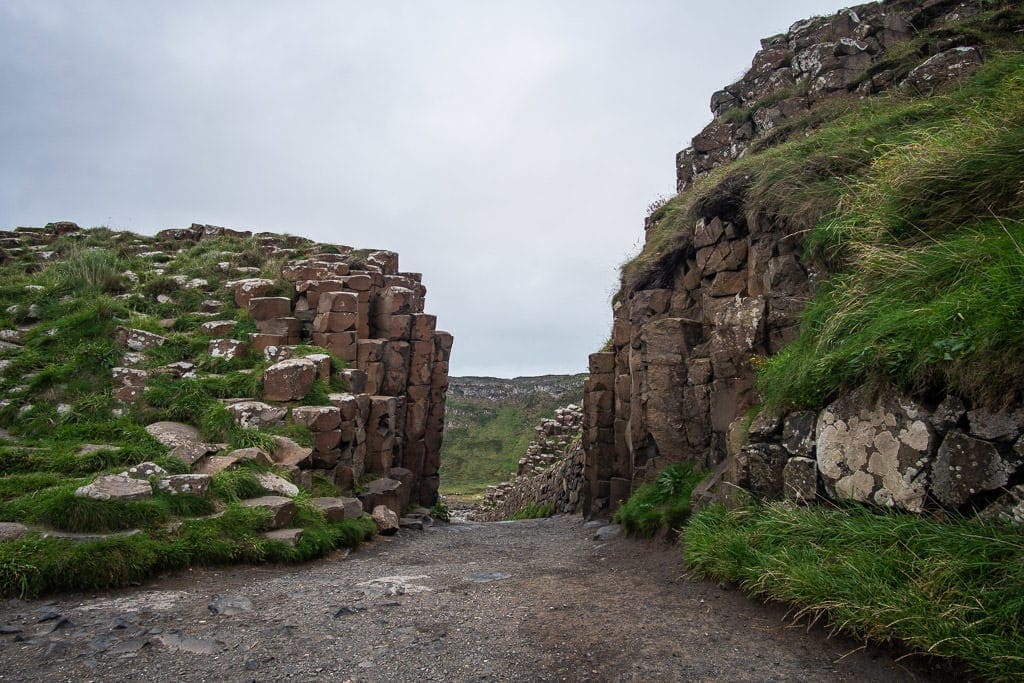 Wild Atlantic Way
Our trip was very cloudy and rainy, but even so, the Wild Atlantic Way was stunning. And there are so many cute towns and great stops along the way. Not to mention, casual roadside waterfalls and lots of sheep.
Kylemore Abbey & Victorian Walled Garden
This was one of our favorite places we visited in Ireland. We made it to Kylemore Abbey about 1.5 hours before they closed, happily paid the €13 and hustled to see it all in time. First up was a quick walk through of the inside of the Abbey.
You really don't get to see much, but it is very pretty and has lots of history to share. But, we actually enjoyed wandering inside the nearby neo-Gothic church much more. We are suckers for a beautiful place of worship.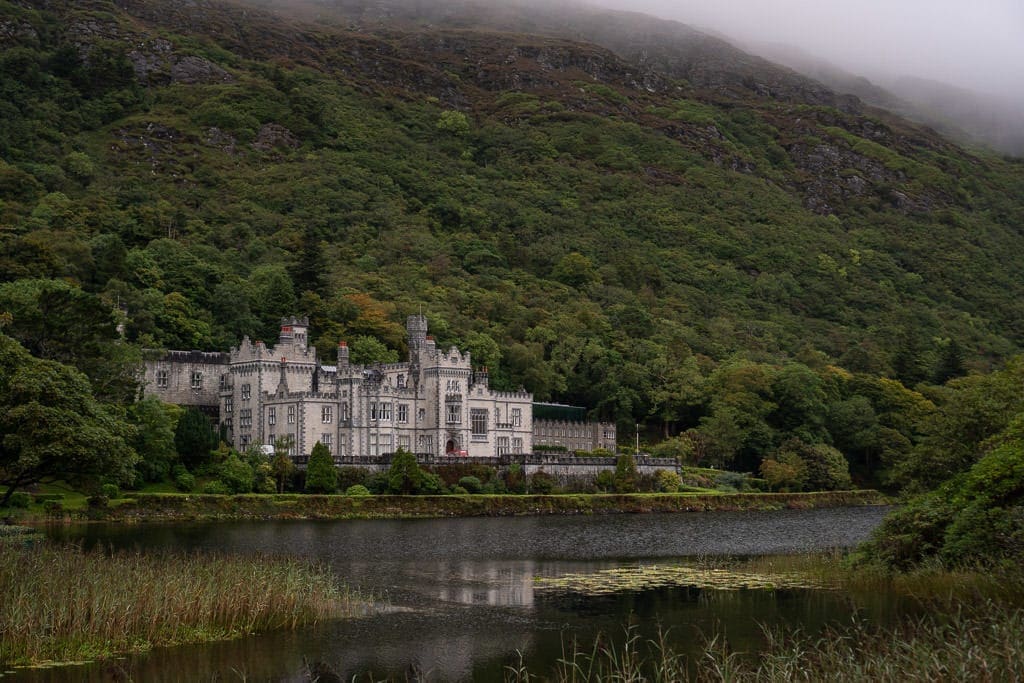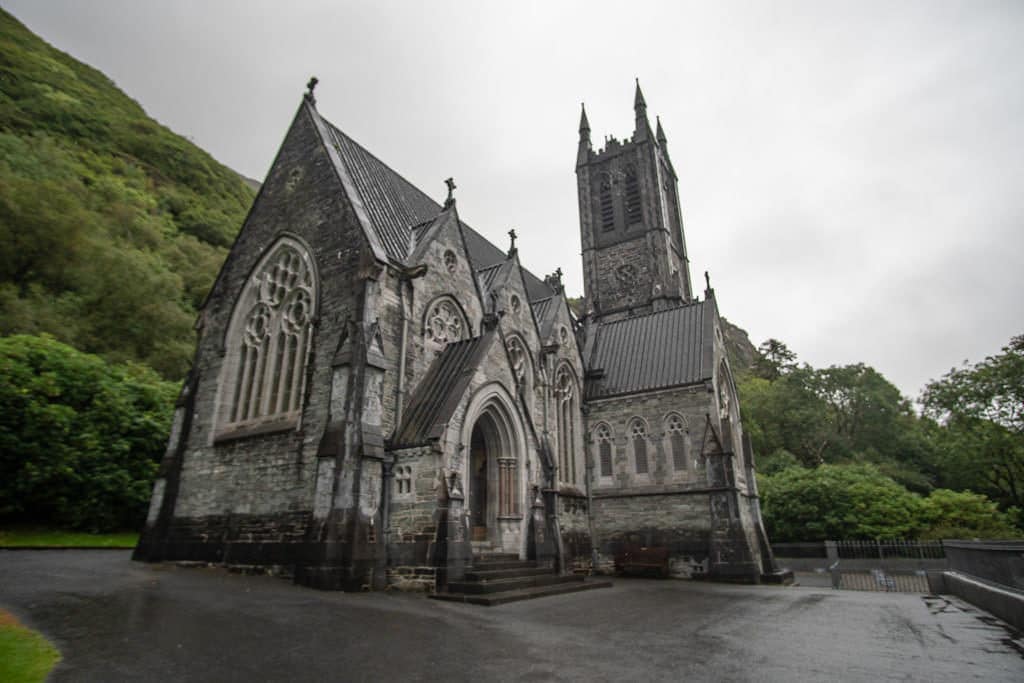 However, the most impressive place on this property is the Victorian walled garden. Wow! First of all, we were surprised how many colorful flowers were still in bloom in early September. And second, this place felt like walking into a story book. We were unmistakably giddy.
We stayed right up until the last shuttle to the main Abbey area left. It is one of those places we'll go back to often when we reminisce on our travels.
Downtown Galway
After checking into our AirBnB outside of Galway just before nightfall, we headed right back out to track down food – particular a gorgeous vegetarian pot pie from the Pie Maker in Galway. But, when we got parked downtown, Buddy's face went all serious and he announce he forgot his wallet. I mean who could blame him.
We were fighting hard against jet lag and he just drove us about eight hours. Luckily, we had enough cash on us for a take-out pie with sides for me (about €5 less than eating in), and a few slices of pizza for Buddy, plus our parking fee.
Even though our night was cut a little short, we loved walking around the beautiful light-strewn streets. And, our AirBnB host had a few beers in the fridge waiting for us, so we enjoyed our delicious meals before passing out. I loved the mushy peas, mashed potatoes, and braised red cabbage almost as much as the flaky bowl of heaven. Seriously, I still dream of that meal – perfection!
Didn't Check These Off Our List (But Will Next Time!):
Dunluce Castle
Mussenden Temple
Menlo Castle
Castlegar Castle
Day 3: Galway to Killarney
Cliffs of Moher
Once again, on day 3 of our Ireland road trip, we got going early on a Thursday morning to check off our top destination of the day: the Cliffs of Moher. This was only about 1.5 hours from Galway, and took us up, up, up to a parking lot surrounded by fog … thick, cold wet fog.
When we pulled up to the gate (it's €8 each for entry), we were told that he can't guarantee we'll see anything and can't give a refund. Perfect! Our kind of gamble. Since this was our one chance to see the cliffs, we bought the tickets and went for it. And it was the most memorable part of our trip for sure.
Let's start with the hurricane-like winds and pelting rain that we had to fight against just to get to the view. It just looked like a nice, soft fog before we got out of the car. But, that was not the case.
Our Ridiculous Experience at Cliffs of Moher
The lot of us who were determined enough to take this adventure to see the Cliffs of Moher on in such poor weather (surprisingly a decent amount), felt like we went through a war with mother nature just to get there. It was hard not to laugh as you fought against the strong wind just to keep moving forward, while the rain flung itself sideways at your face.
The short walk to the visitor center felt like a mile once we finally entered the warm lobby, admiring all the other sopping wet, wind-blown looks the other tourists were sporting.
After wandering around the visitor center to catch our breath and debate if it was worth waiting to see if the weather improved, we decided to just go the rest of the way to the cliffs as we had other places to visit on our Ireland road trip. So, we carefully pulled ourselves up the stone steps with the handrails to the overlooks, laughing together and with everyone around us.
Fog. Sometimes fog with dark shapes beyond it. Then more fog would roll in. I was praying for just one glimpse of these epic cliffs during our entire walk. Then it happened. A gust of wind blew the fog away long enough for everyone to cheer, snap a billion photos, take selfies, help each other get group shots, and admire this elusive view – just before it dissapeared again.
Embracing (or Being Embraced By) the Weather
After getting "the shot", we wandered around the overlook area, played in the wind, and watched other people play in the wind (even an older couple laughed hysterically as they took the classic "it's so windy I can lean into it" photo). Everyone that made it up there had giant smiles, laughter could be heard between the sound of whirling wind, and there was just so much happiness.
As we walked back down, we could hear people around the visitor center griping about the weather and lack of view. Some even said things like, "Well, I'm not walking any further if there's nothing to see." What?!?! You came all this way and you won't even try?
We actually felt bad for them. They were missing it. They missed a great memory and this amazing bonding experience between travelers – the ones who make the most of it because they are lucky enough to be in a spectacular place.
We knew it when we looked at each other. This is why you travel. Not for the picture-perfect photos, but for the "remember when?" stories. Thank God the weather was crap that day.
Killarney National Park
Our drive to Killarney from the Cliffs of Moher took close to four hours, since our SAT-NAV kept insisting we go through one-lane farming towns. After checking into our AirBnB (a house with three other guests and no locking room doors – but whatever, everyone was nice), we grabbed a quick bite at a cafe then took off to explore in the dwindling daylight.
Not too far from the city was the gorgeous Killarney National Park. Out of our entire trip, this is the area we want to go back to the most. An hour driving around this place was not nearly enough. And we still want to see a majestic red stag.
We also fell in love with downtown Killarney. Even with our ever-mounting exhaustion, we stayed out late drinking pints and listening to live music at Courtney's. The music was SO good. And we even got to hang out with a French mother and daughter who were staying at the AirBnB with us for a little while. It was a memorable end to an unforgettable day.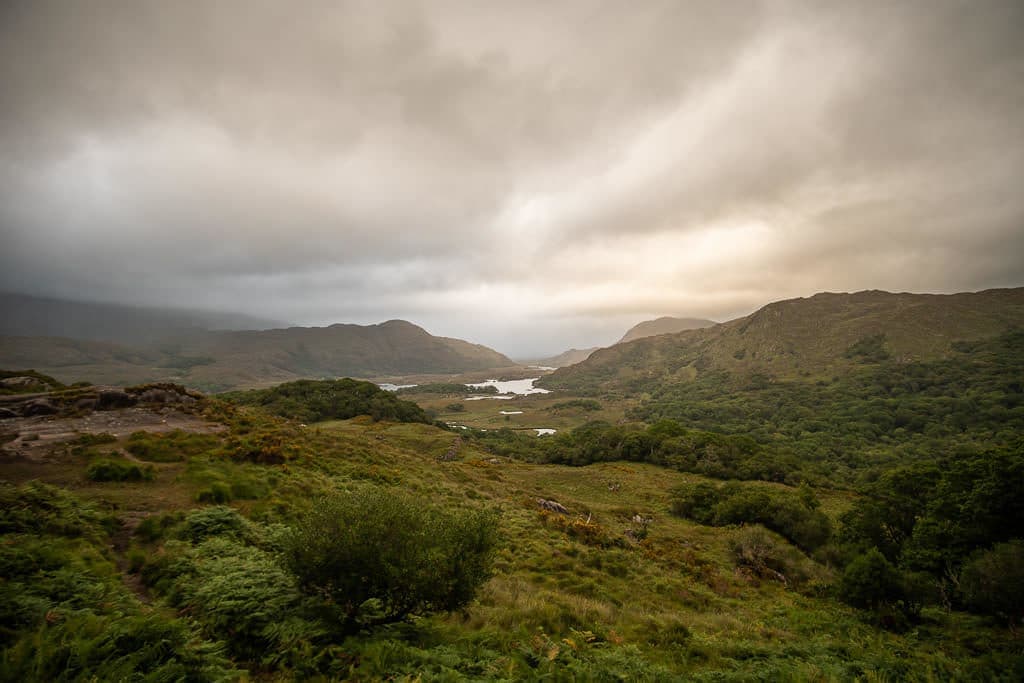 Didn't Check These Off Our List (But Will Next Time!):
Matchmaking Museum near Cliffs of Moher
Dingle Peninsula
Ross Castle
Torc Waterfall
Muckross House
Day 4: Killarney to Outside Dublin
After three full days of non-stop going, day four of our Ireland road trip is when we finally started feeling it. We had told our bodies they had to get over it, and that they could wait to have jet lag until we got to Scotland for our longer stay.
We were fighting harder and harder not to just sleep for an entire day. However, we had about a five-hour drive until our next AirBnB outside Dublin. So, we rallied and hopped back in the car.
Kilkenny Castle & Town
After scrapping things on our list left and right (did we really need to spend a whopping €16 each to kiss that germ-infested Blarney Stone? Nope!), we found ourselves near Kilkenny around lunch time.
After devouring our lunch and enjoying another pint, we wandered around town and over to Kilkenny Castle. Having skipped the Blarney Castle in Cork, we decided to pay the entry fee to tour the Kilkenny Castle (€8). We appreciated that we would be allowed to walk through so many rooms and really get our money's worth. And, it was stunning inside!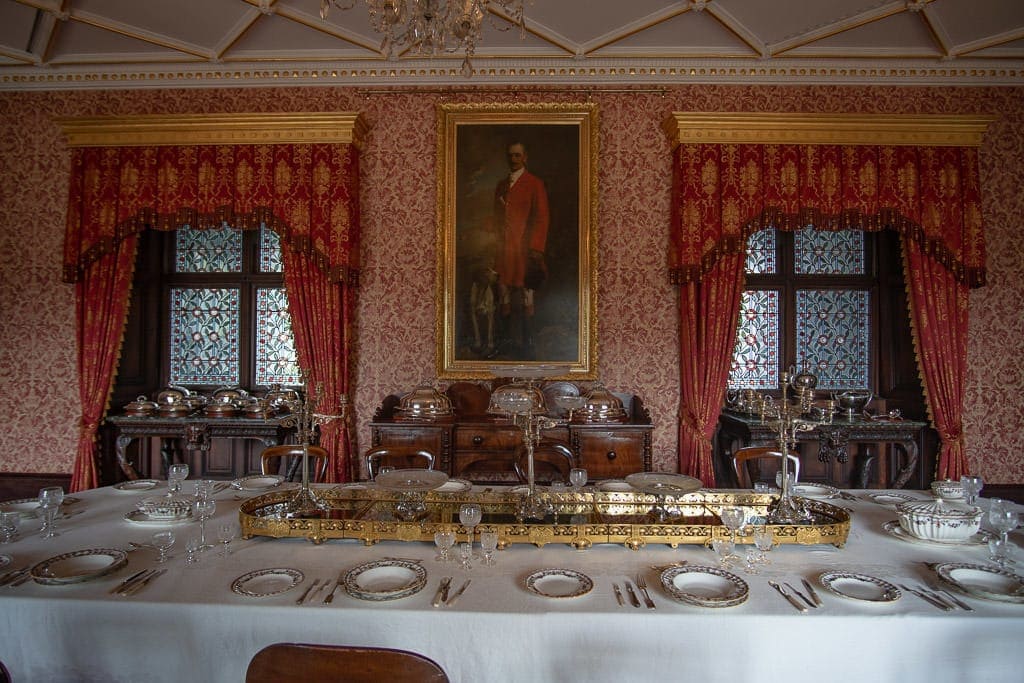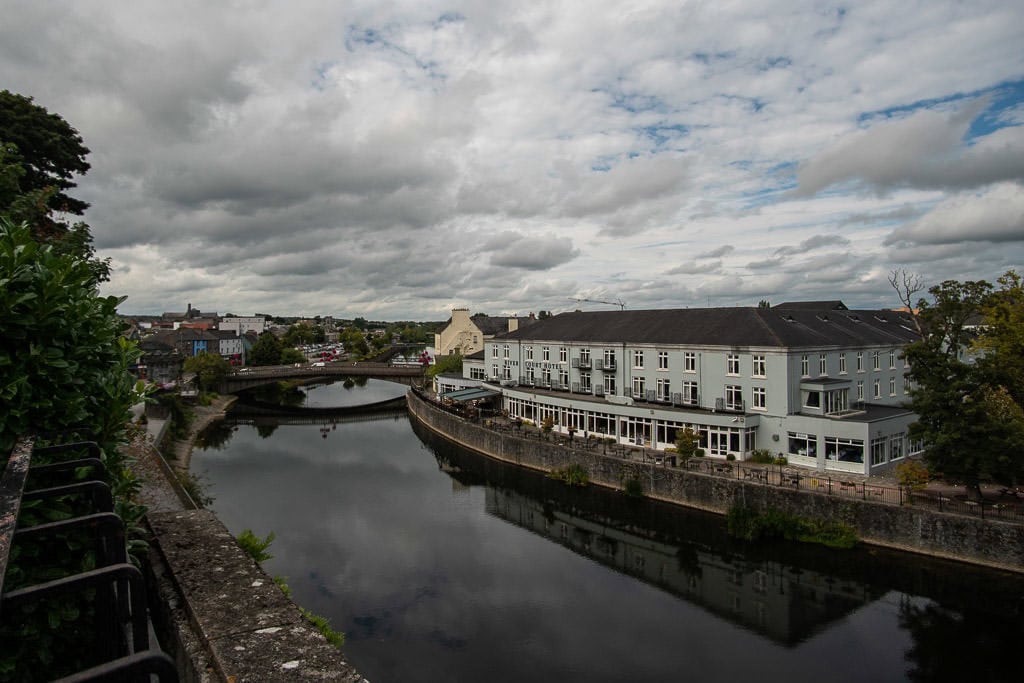 (Not) Going to Dublin
With spirits renewed, we set off to our AirBnB right outside Dublin (after stopping on the way to buy much-needed coffee and pastries from a man that looked exactly like Geppetto from Pinocchio).
The plan was to go into town for some drinks via the bus, since driving and parking in Dublin on a Friday night would be a nightmare. And then we'd go back the next morning for the Guinness tour and a few other top spots that would be closed at night.
Sounded great until we got to the house and decided we just really didn't feel like doing any of that. We were so tired, we just wanted to get food and sleep forever. So, we did (except forever was just 8ish hours).
After a lovely water-front drive, we had a wonderful meal in nearby Howth at an adorable restaurant called The Dog House Blue's Tea Room Restaurant. Then we grabbed some giant beers from the grocery store and lounged in our room for a bit before crashing hard.
Didn't Check These Off Our List (But Will Next Time!):
Garnish Island (read about this a day late!)
Blarney Stone & Castle
Dublin with Jameson Tour
Day 5: Outside Dublin to Belfast
We awoke on our last full day of our Ireland road trip relieved we had decided to skip Dublin. We were hitting a wall and we knew we wouldn't enjoy being in a big city on a weekend, with all the noises and people. So, we had a nice chat and cuppa with our hosts before moving on to Belfast – another city we would decide to basically skip (shocker, right?).
Giant's Lair Story Trail at Slieve Gullion Forest Park
While still tired, I just can't resist a good fairy tale themed anything. So, about an hour into our drive (just over the Northern Ireland – unmarked – border), I dragged Buddy out of the car and onto a wonderfully adorable trail, The Giant's Lair.
Let's be clear, The Giant's Lair was obviously made for kids and I give exactly zero shits about that. I was ecstatic. This place was seriously one of my favorites of our trip, it was just so much fun to explore. I think Buddy liked it too, but at this point in the trip he was a bit delirious, so not sure if he even remembers going. Luckily, I took dozens of photos to remind him.
I LOVED THIS TRAIL. There were so many cute little fairy houses and unique sculptures and art installations. They did such a great job. And it was a beautiful, longer-than-expected walk through the forest.
At the end, there is this amazing little tree house area. Surprisingly for a Saturday, we were the only people (all the kiddos were at the park's playground, I suppose). So, we walked in the first little – and I mean little – house. We squeezed our way round and around the dark (almost kind of creepy) maze inside, using our phone flashlights.
Then we went up a flight of stairs and crawled back out into daylight (not an easy feat). The fact that Buddy did this with me – having to duck the entire time, made me love him even more.
I was squealing with joy, I'm sure. Getting to just fully immerse myself in these childish, magical places is one of my favorite things to do. It is just good for your soul. And, I'm pretty sure I skipped the whole way back to the car.
C.S. Lewis Square
About an hour later, we were nearing Belfast in the early afternoon … on a Saturday, which we soon realized was also game day. Oh, the traffic! We really aren't fans of cities.
After trying and failing to visit the botanic gardens I found on the map, we did a quick drive by of the Titanic Museum and SS Nomadic (a small-scale replica), and wandered around C.S. Lewis Square. When I realized my favorite writer was from Belfast, we had to visit this spot. And since, it was away from all the game-day craziness, it worked out perfectly for a place to kill time before check in.
While the statues of the characters were fun, I really loved the one of Lewis looking in the wardrobe. On the back were quotes about from the famous author. While The Chronicles of Narnia is wonderful, I fell in love with his writing on Christianity.
I haven't read it all, but The Screwtape Letters, Mere Christianity, and The Great Divorce are all top of my favorite books list. His writing is just so powerful and insightful. He was a master at his craft and really paints a clear picture. While a quick stop, I enjoyed taking a moment to appreciate him in his birth city.
Afterward, we checked into our AirBnB, chatted with our sweet host and fellow house guest, then grabbed dinner outside of the city at the Rabbit Rooms in Bangor. We walked around this cute, sleepy town for a few hours before heading back to catch some sleep before our early flight. We were so thankful for some quiet reflection on such a great trip, and were excited for our next adventure in Scotland!
Didn't Check These Off Our List (But Will Next Time!):
Botanic Gardens
Albert Memorial Clock
Belfast Castle
St George's Market
Crumlin Road Prison Tour
5-Day Ireland Road Trip Recap
This Ireland road trip was crazy. It was actually hard to recall what we even did, because it went by so fast and we packed so much in. But we had a great time and have no regrets. Although we did lose a bit of steam there at the end, we are fine with not exploring Dublin and Belfast.
We will make sure to do that next time, but honestly we just aren't city people. We were there for the natural beauty and casual pub experiences – not crazy, jam-packed bars and streets.
It was important to us that Giant's Causeway and Cliffs of Moher (the two places we wanted to see most) were early on our trip. Because we knew the exhaustion would hit eventually, and we wanted to see those while we were still fully coherent. We are also really glad we went in early September for cheaper prices and less crowds.
When we go back, we'd love to spend more time exploring the many beautiful trails in Northern Ireland and around Kilarney. I was also really bummed to learn too late about the gorgeous Garnish Island and ferry ride there by a seal island, so that is top of the list for next time as well. And way more live music in small pubs! Also, much more sleep and less driving.
Tips for Visiting Ireland
Northern Ireland vs. The Republic of Ireland
So, here's the thing: Ireland is split into two different areas. As in, one is part of the EU and one is part of the UK. In Northern Ireland (part of the UK), you will need to use British Pounds for currency, while in The Republic of Ireland, you'll use Euros. That's the biggest thing to remember.
Although, funny story: Buddy's cousin told us you switched which side of the road you drove on when crossing the border. So, we waited for this for an entire day before we realized she was screwing with us. Thanks, Traci! There was also no defined border.
Ireland Rental Car
We went with Syxt because it was a great deal. They were really nice to work with, too. However, we didn't realize they had a mandatory loss damage waiver with a high deductible, so that basically doubled our rental cost – making the good deal disappear.
Since we have car rental insurance included with our Chase Sapphire Reserve credit card, we are better off booking a slightly more expensive rental without this rule in the future, or validating we could waive the CDW coverage. You live. You learn. Amiright?
Oh yea, and be prepared for roundabouts, one-lane roads, and street parking. If you are lucky like us, your SAT-NAV you were so excited about will always, without fail, take you the most ridiculous, farm-road-only route possible. And there's the whole opposite side of the car, opposite side of the road thing.
But really, you can handle it. However, if you are doing a long road trip like this an automatic car may be worth the extra money. Our French friend told us her left shoulder was killing her from so much shifting!
Phone Data in Ireland
We were struggling like mad when we first got to Belfast. We forgot to get SIM cards or a free map while in the airport and just wandered through parking lots and across streets to the right-outside-the-airport Syxt office. Luckily, the guy checking us in felt sorry for our pathetic lack of sense and gave us a SAT-NAV at no charge, which allowed us to find a grocery store to get a SIM card to have some much needed data to use. Later, we found out Vodafone would be less expensive and also work all across Europe, so we switched! We've been really happy with coverage so far, it is good even in some remote areas. Just make sure you have a plug adapter to make sure you can charge your phone!
Lodging in Ireland
We used AirBnB exclusively for this trip – all under $100 per night total. Our favorite place was definitely California Lodge near Giant's Causeway, which we mentioned above. But we also really enjoyed our private guest house near Galway, and room near Belfast.
The room we stayed in near Killarney was nice as well, but we didn't like that it was a shared space without locking room doors. This may just be us being weird, but we like to lock our stuff up. Our room in Malahide was also okay, but we felt a little in the way during our stay. Also, same deal with the non-locking bedroom door.
But, we're still new to AirBnb and are learning what to ask about, so this is partially our fault for not checking these things beforehand. (Also, ask for any special instructions on the showers there. Some have these pull strings to start the hot water that aren't clear).
Money-Saving Tips for Ireland
We did our best to spend as little as possible. Early on, we realized that we would pay to go in very few things, especially because the part that impressed us the most was the outside (some castle entry was super pricey, but we got the views for free!). We also learned that looking up waterfall, trail, castle, and forest park on Google Maps made for some fun – and usually free – side trips!
Plus, if you go early enough you may be able to skip the fee for things like Giant's Causeway. And if you get 'take away' food instead of ordering at a table, you can usually save some money as well. Ireland has a ton of natural beauty and can definitely be done on a budget!
Flying to Ireland
We used Norwegian Airlines to fly in from the U.S. because they had a great deal on flights to Belfast. We really enjoyed the on-flight meals (I got a vegetarian option and Buddy had chicken). It was filling and surprisingly flavorful, and also came with an alcoholic beverage. There is no entertainment at the seats though, so download some movies.
On the way from Belfast to Inverness, Scotland, we used FlyBe which was very basic, but fine for a short flight. Funny enough, our fellow AirBnBer the night before was a pilot for the company and made us very confidant in their safety measures.
Do note that the Belfast airport is small, so no need to get there hella early like us. Also, flying between UK destinations seemed pretty chill, but maybe we just got lucky.
Well, that's the whole story of our crazy 5 day Ireland road trip! We hope you enjoy Ireland as much as we did. Please leave us some comments with places we should add to our return trip itinerary!
Read more about our Europe travels here. And to learn how we traveled in Europe for five months on a budget by house sitting, read this guide.