There is just something so breathtaking about watching water rush over a cliffside, down a mountain, or through a canyon. We have been long-time waterfall lovers and seek them out wherever we go. Usually, a quick Google search leads us to many local favorites that we get to enjoy all by ourselves. During our time in Scotland, we found three stunning waterfalls near Inverness that are well worth the short drive from the city.
Fairy Glen Falls
Fairy Glen Falls was the first waterfall we visited in Scotland and it was as magical as the name eludes to. The short trail is tucked away outside the city of Rosemarkie on the road to Cromarty – making it the perfect, lesser-known spot for a stroll. And it is just SO LUSH! This area gave us that Pacific Northwest vibe we love so much as we wandered along the fern and moss-filled path.
Then there are the two waterfalls at Fairy Glen Falls. The first one has multiple drops, but the second is much more scenic. For some reason, people have put pennies into the fallen tree branches, and it gives a really artsy feel to an already naturally beautiful place.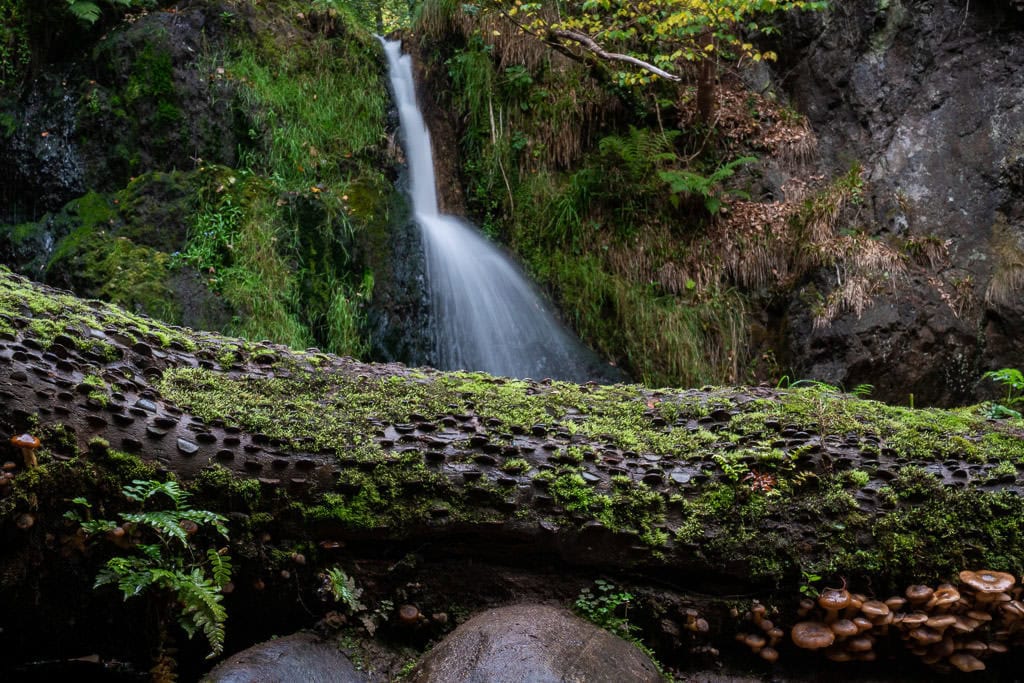 We didn't have time to explore longer on our trip, but the trail does go on past the Fairy Glen Falls, which we'd love to wander along further one day.
Location of Fairy Glen Falls: In Rosemarkie, less than 30 minutes from downtown Inverness.
Trail length: Two miles round trip.
Difficulty: Fairly easy with a slight incline and can be muddy.
Rogie Falls
I'm sure Rogie Falls is beautiful in every season, but it was a real stunner in fall – with the changing leaves framing the thundering falls. The bridge provides a great vantage point and access to even more great trails through the forest.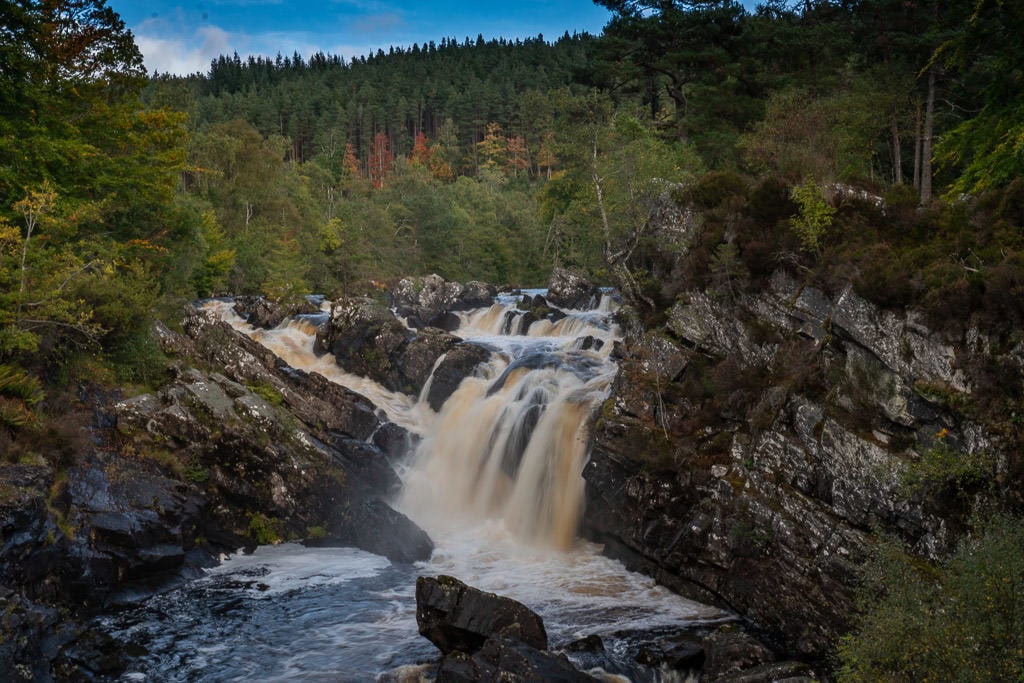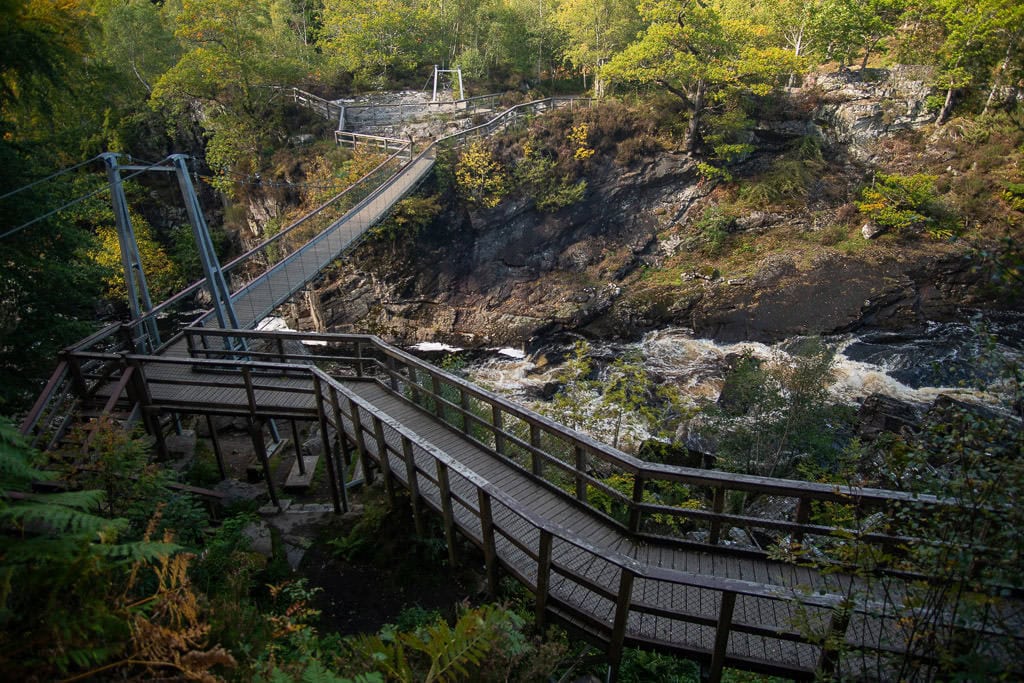 The short walk to Rogie Falls along the beautiful wooded path is a gorgeous, peaceful area as well. And although this is a short drive from the city, it has never been very busy the couple of times we've gone.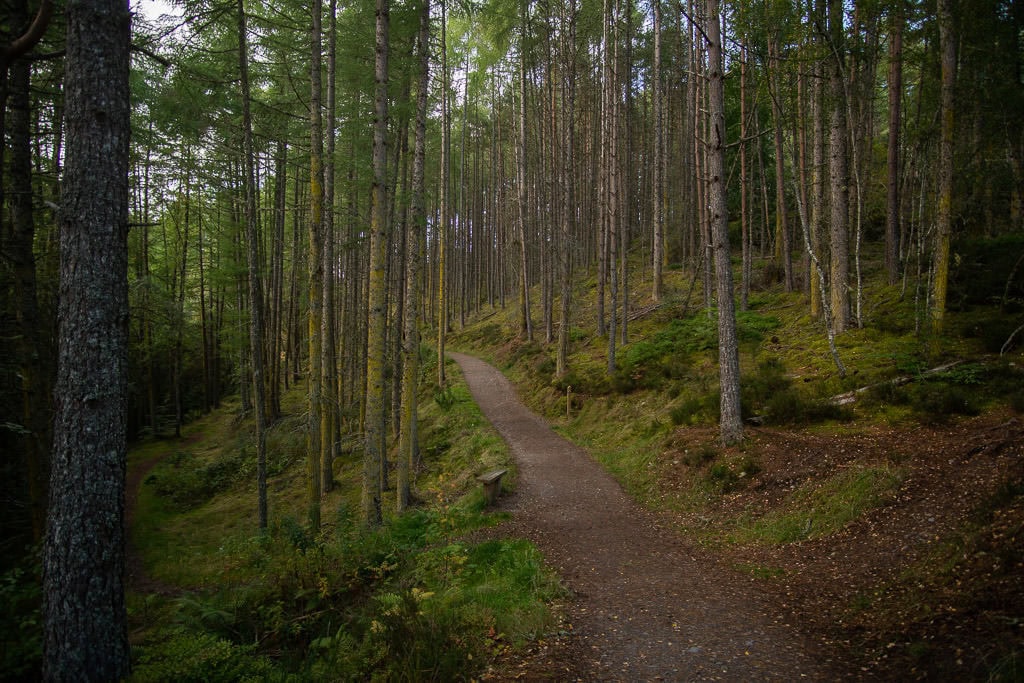 Location of Rogie Falls: West of Contin, about 30 minutes outside of downtown Inverness.
Trail length: About one mile.
Difficulty: Some steep areas, as well as stairs. But mostly easy.
Falls of Foyers
While wonderfully tall, Falls of Foyers was the least impressive of the three waterfalls near Inverness we visited. However, this was by far our favorite trail and we only explored a portion of it.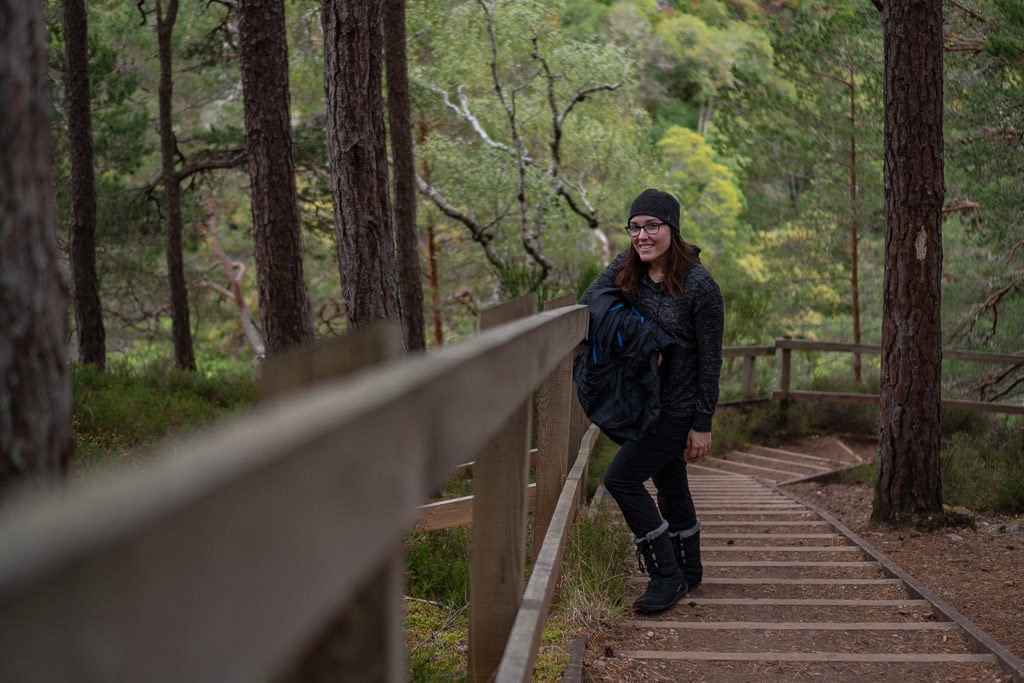 From the car park, we followed the rock steps down to the first viewpoint – enjoying the verses carved into rocks along the way.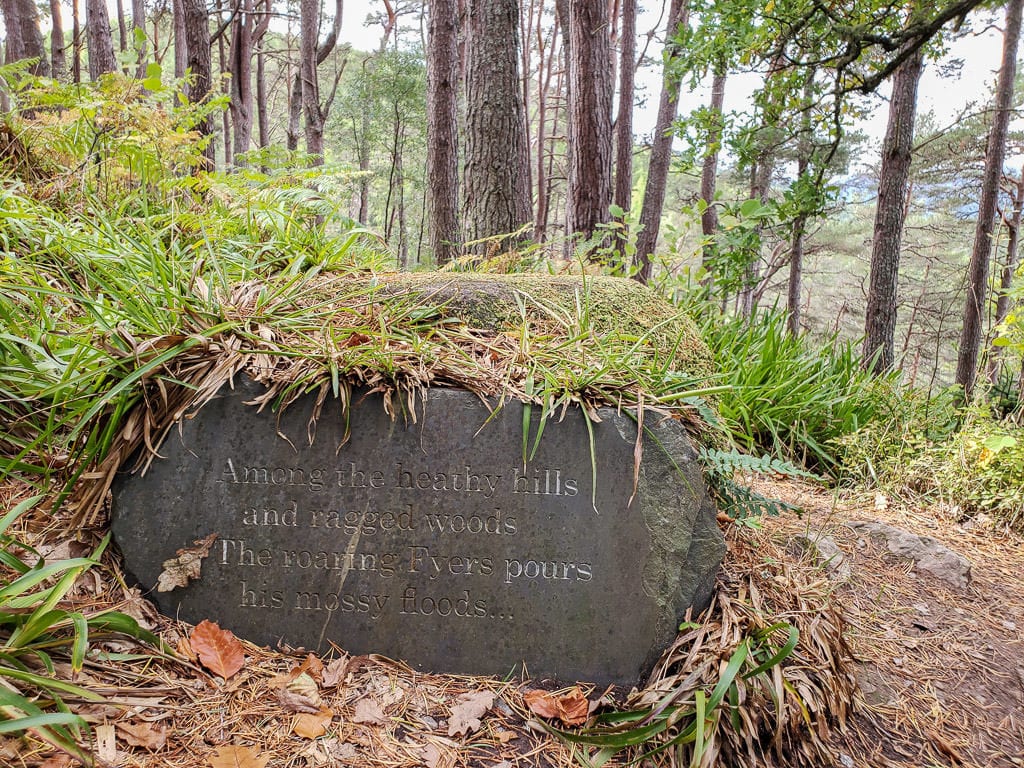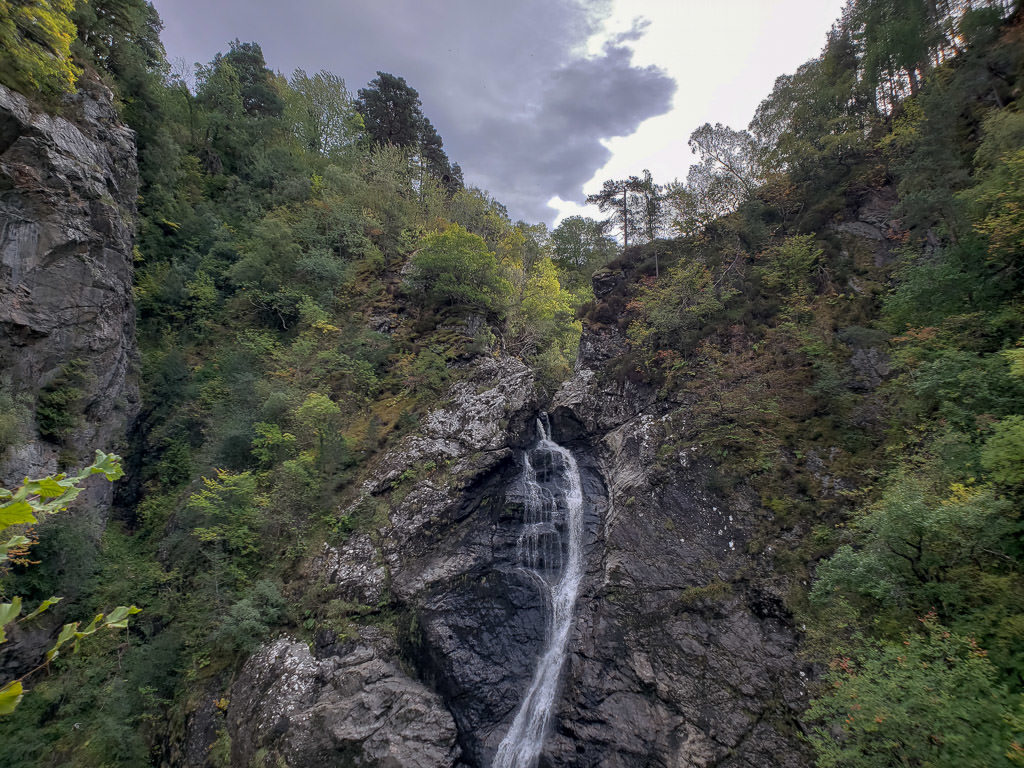 After enjoying both the up-close and further away views of Falls of Foyers, we wandered through the forest for a little while, looking for red squirrels and taking in the fresh air. And on the way back to the car, we couldn't resist a snack from the quaint cafe overlooking the canyon.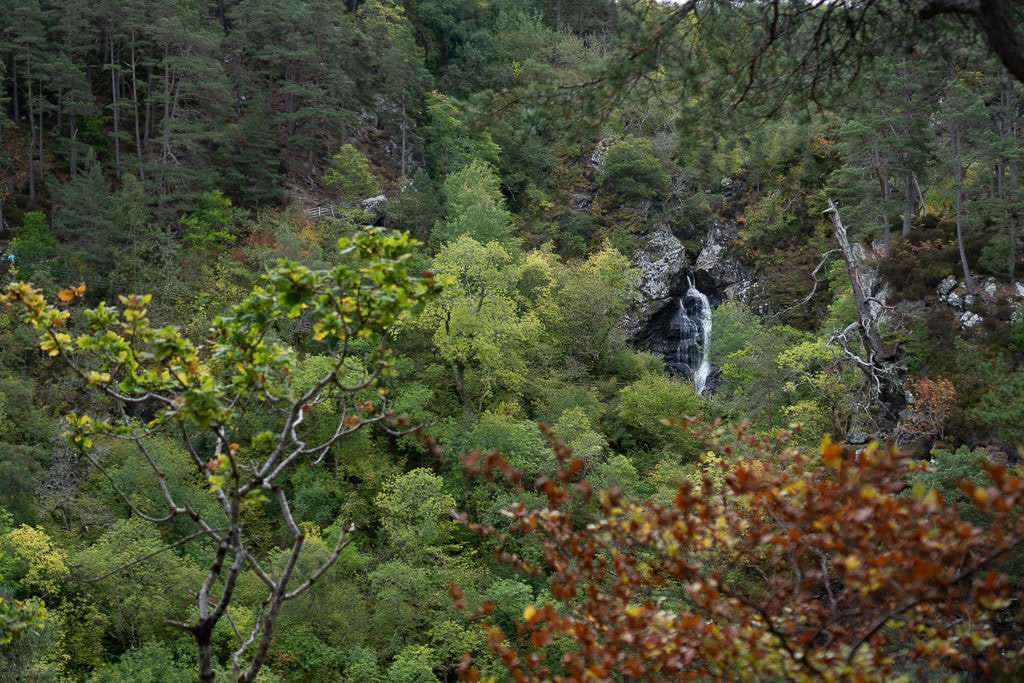 Location of Falls of Foyers: About 40 minutes west of downtown Inverness.
Trail length: Two to three miles.
Difficulty: Moderate with lots of stairs up and down.
Bonus: Reelig Glen
While not a waterfall walk, the Reelig Glen trail is a beautiful stop for a quick stroll through some of the most lush scenery you will ever see. It ends at a bridge covered in moss with an idyllic stream flowing below it. When we went, the trail was closed past that point, but when not being worked on it loops and takes you along the other side of the river.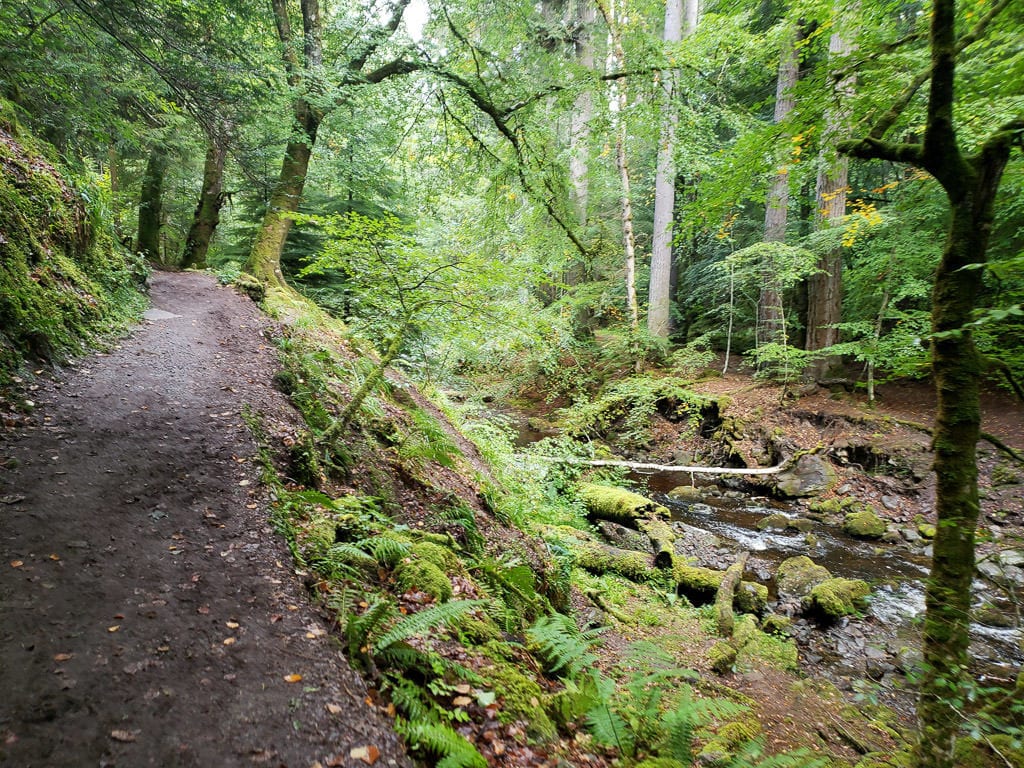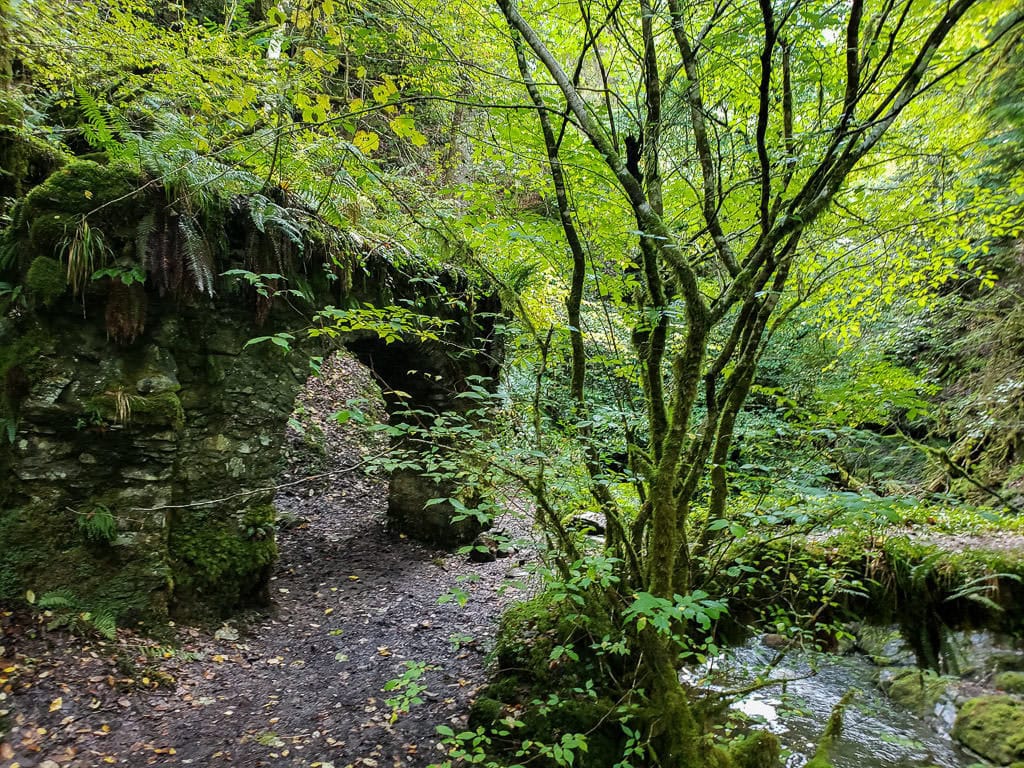 Reelig Glen was a perfect place to take the dogs we were watching, and we saw a lot of locals who seem to frequent this great trail with their furry friends as well. In general, everywhere we've wandered in Scotland seems to be dog-friendly. Occasionally, they will just be required to stay on their lead – especially if livestock is nearby.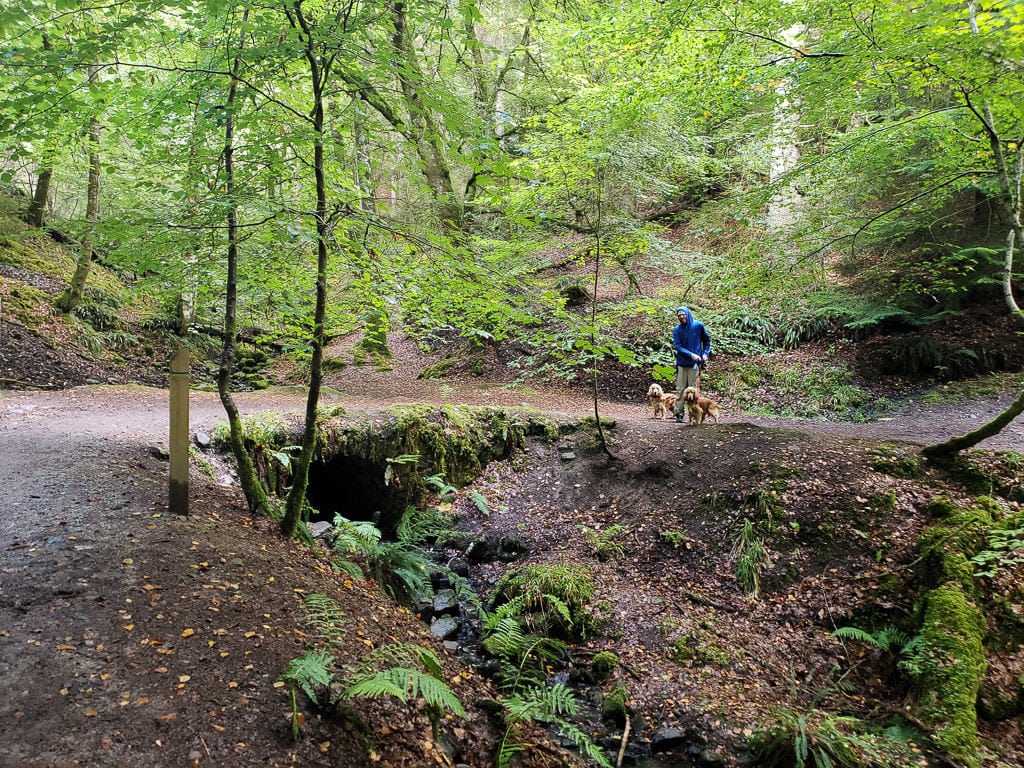 Location of Reelig Glen: About 20 minutes west of downtown Inverness.
Trail length: One mile round trip.
Difficulty: Very easy flat trail.
Scotland Waterfall Tip
With Scotland's freedom to roam law, there are limitless trails to explore on public land. Try looking up waterfalls, lochs, forest trails, and glens during your trip and you'll likely find some surprising hidden gems not mentioned in the go-to guidebooks. Who knows, maybe you'll even spot some fairies!
Read our other articles about our Scotland explorations here! And to learn how we traveled in Europe for five months on a budget by house sitting, read this guide.