When you drive into beautiful Rocky Mountain National Park it can be a bit overwhelming, especially for first-timers. With scenic vistas at every turn and wildlife galore, there are so many amazing options! Where should you begin? These easy hikes in Rocky Mountain National Park are a great place to start!
Since the park is less than a two-hour drive from Denver, you could even plan to do a few short hikes on a day trip!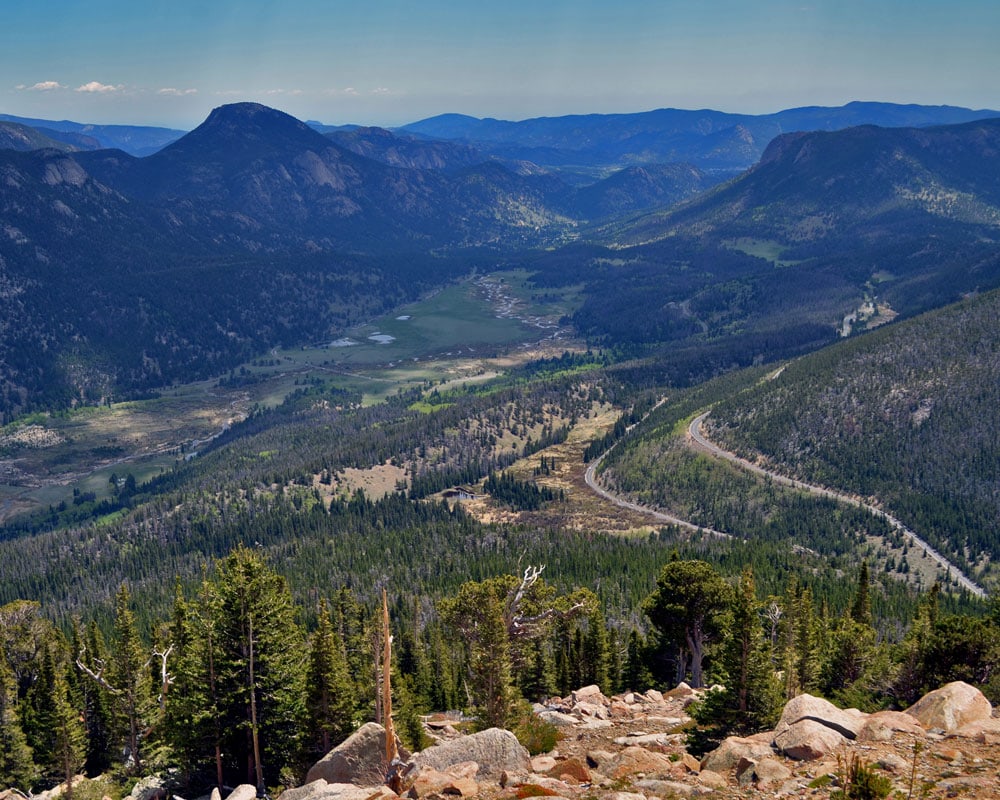 These awesome hikes are some of our favorites because they are easily accessible and provide great views without too much effort. Even though we have seen them countless times, we still find ourselves stopping at these places on our way to longer hikes just because they are that great. And for those visiting the park with limited time or who aren't ready for a more strenuous commitment, these easy hikes are perfect!
Planning an extended trip to this park? Read our in-depth guide to Rocky Mountain National Park – including tips for visiting the entry towns of Estes Park and Grand Lake.
Three Easy Hikes in Rocky Mountain National Park
1. Alluvial Fan & Horseshoe Falls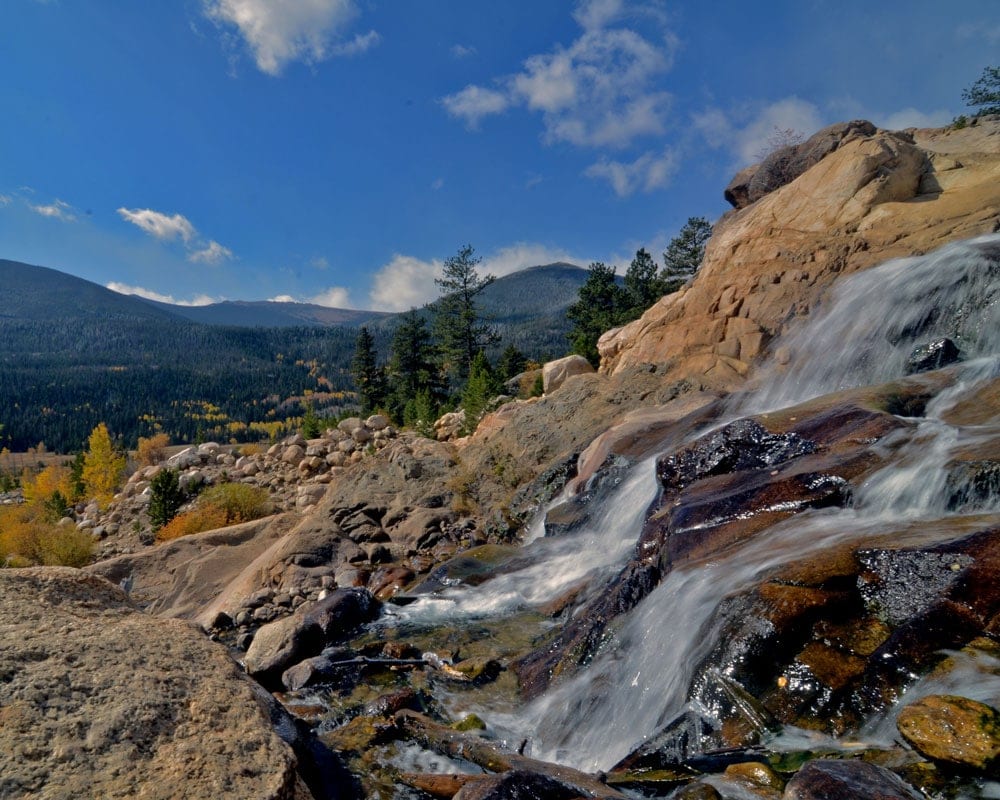 First on our list of easy hikes in Rocky Mountain National Park is the Alluvial Fan & Horseshoe Falls area. If you enter the park from the Fall River Entrance, Alluvial Fan & Horseshoe Falls are an easy first stop with a great reward – just shortly after entering. The waterfall is a quick walk from the parking area (less than half a mile round trip), with a slight incline up to the Horseshoe Falls viewing area.
The alluvial fan is a debris field caused by the lawn lake flood of 1982. In 2013 the Alluvial Fan area flooded again, changing the landscape further, and once again adjusting the flow and path of Horseshoe Falls. But it is still beautiful. You can even venture to the top of the falls too, just be careful!
2. Sprague Lake Loop Hike
The 2nd easy hike in Rocky Mountain National Park that we recommend is the Sprague Lake Loop Hike. Taking a stroll around this lake is the perfect way to spend a summer afternoon. In total, the Sprague Lake Loop Hike is only 0.5 miles to walk around and has little to no elevation gain. This is also a fantastic picnic spot with great mountain views!
In winter, Sprague Lake is generally frozen – which is still a stunning sight, while in summer you are very likely to see many fly fisherman in the lake. There's even a chance to see some moose, eagles, and other wildlife.
3. Short Bear Lake Hike
While the furthest away from the park entrance, The Bear Lake Hike is one of our all-time favorite easy hikes in Rocky Mountain National Park! No matter what time of year, this alpine lake is gorgeous. It is only 0.6 miles around the lake, with lots of shaded areas.
In the summer, it is perfect for a walk. And in the winter, it is a fun area for snowshoeing. Although the elevation of the lake is high, the trail around it is relatively flat. The Bear Lark area is also a great jumping-off point for many other longer hikes, including Dream Lake, Bierstadt Lake, and Flattop Mountain. The parking lot here fills up quickly though, so go early!
Here are some more easy hike ideas from another blogger as well!
More ideas for Rocky Mountain National Park
For additional great Colorado hikes and activities for every season, check out our Colorado travel page.