The Denver area is a wonderful place to live, however, sometimes you just need a break from the city life. And, a weekend getaway to Grand Lake – right outside of the gorgeous Rocky Mountain National Park – is the perfect escape! There are tons of things to do in Grand Lake, Colorado, but here is a great itinerary of some of our favorites.
Day 1 in Grand Lake, Colorado
Head out early to beat the other weekend warriors! I'd definitely suggest waking up with the sun to avoid traffic and crowds. And, don't forget to pack a picnic for lunch and some warm clothes for the mountains! From Denver, the drive to Grand Lake is about 2-3 hours depending on traffic and which route you take.
Exploring this gorgeous area of Colorado is always a wonderful time – whether it is your first trip or thirty-first! If Trail Ridge Road is open, driving through the park and stopping at all of the gorgeous vistas is always a nice time. However, hiking (or snowshoeing in winter) is where the real fun begins!
There are SO MANY hiking options in Rocky Mountain National Park. On the west side near Grand Lake, hike around one of the many mountain lakes, in an open field or around the continental divide area. For more ideas, check out this great list of some of the best options in this area. And, make sure to keep an eye out for elk and the more elusive moose!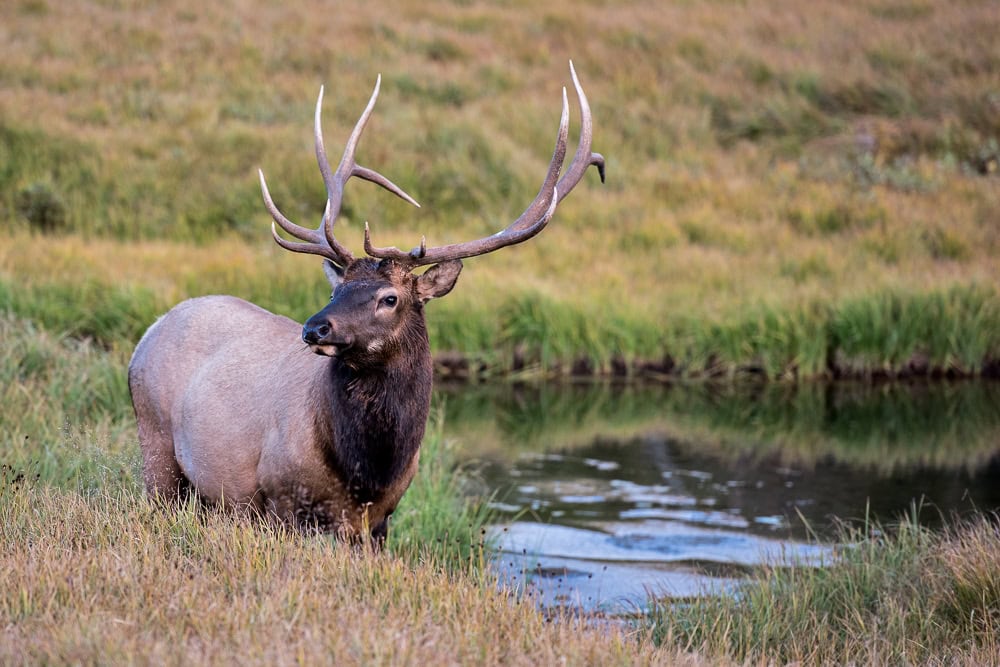 Grand Lake Cabin Rental
What mountain getaway is complete without a rustic cabin to relax in? Hopefully, you booked your Grand Lake Cabin rental early, but even if not you might be able to find a last minute place. After a long day of hiking and exploring Rocky Mountain National Park, check into your mountain cabin home for the weekend and unwind.
On our trip, we stayed at Colorado Cabin Adventures and it was a great cozy and convenient base for our Grand Lake explorations.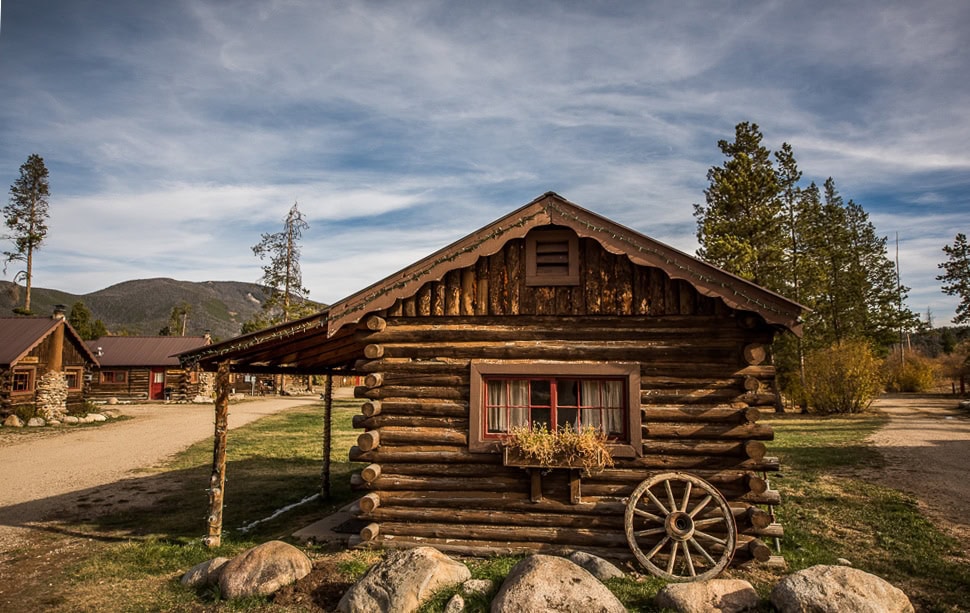 We loved sitting by the fire warming up with some tea or hot cocoa. And for dinner, it is definitely nice to take advantage of the kitchen and outdoor grill at the cabin to save some money. Or if you aren't a cook, there are a few of options in town.
Watch Sunset at Grand Lake
After dinner, head down to the lake to watch the gorgeous sunset. Our favorite spot is Gene Stover Lakefront Park, but the marina is also a great option!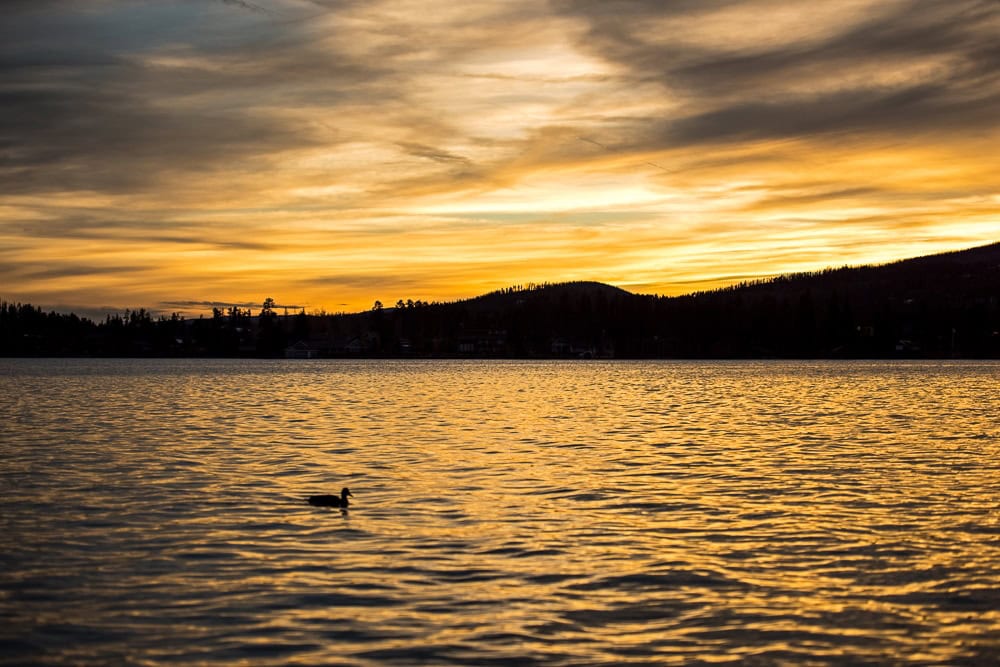 Stargazing in Rocky Mountain National Park
When the sun has set, you may be tempted to go crash in your cozy cabin rental in Grand Lake – but not too fast! You don't want to miss out on some amazing stargazing in Rocky Mountain National Park! If it is a new moon and a clear night you will have an even better chance at seeing the stars and even the Milky Way. However, it is a beautiful sight regardless!
Just grab some blankets and head out to a mountain lake or the top of Trail Ridge Road if it is open. Then just snuggle up and enjoy the show! You may even see a few shooting stars! Ok, now you can go crash in your Grand Lake Cabin.
Day 2 in Grand Lake, Colorado
After a long day of hiking and a late night of stargazing, you may want to have an easygoing Sunday. But, don't waste the day inside… there is still so much to explore!
Sunrise at Shadow Mountain Lake
Grand Lake is superb for the sunset, but the best sunrise spots are on the shores of nearby Shadow Mountain Lake. Pine Beach is a great spot to watch the sky wake up. Luckily, we were walking distance to this great spot from our cabin near Grand Lake. Otherwise, this is a fee area since it is part of Arapaho National Recreation Area – but definitely worth it.
Another great spot is near the marina. There is just something so majestic about watching the boats bob up and down with the gentle ripples in the lake as the sun rises. Such a peaceful way to start the day.
Hike to Adams Falls
This beautiful waterfall hike is a must-see while in Grand Lake. Just a short walk from the shores of the lake, the trail is only about one-mile round trip. The trail starts at the East Inlet Trailhead and takes you to a the beautiful Adams Falls waterfall and by a peaceful stream before looping back. Definitely a great addition to any trip to Grand Lake, and a fairly easy hike for most fitness levels.
Wander Around Downtown Grand Lake
Before heading back home, don't miss the chance to check out more of this cute mountain town. There are lots of quirky little shops with unique options for gifts and souvenirs. There is also a saloon if you want to grab a drink, and even an arcade if you want to brush up on your PacMan skills!
This is also a great place to grab lunch before your drive back. We really enjoyed our meal at Sagebrush BBQ. But, Grand Pizza and the Pine Restaurant are supposed to be great options, too! And, since it IS your vacation, maybe even grab some ice cream to enjoy while you walk along the lake one last time.
---
Where is your favorite weekend getaway in Colorado? Please comment below with your suggestions. We are always looking for new places to explore in our gorgeous state!
Want more tips for Rocky Mountain National Park? Read more:
For more great Colorado hikes and activities for every season, check out our Colorado travel page.