If you find yourself with a free weekend between ugly Christmas sweater parties & white elephant gift exchanges, an Estes Park getaway makes for a perfect, relaxing winter weekend. So, put the cookies down and start planning with this sample of things to do in Estes Park Colorado for a winter weekend getaway!
Only 35 miles from Fort Collins and 70 miles from Denver, the small town of Estes Park is the gateway to Rocky Mountain National Park. And it is a great home-base for a weekend of fun and adventure – no matter what time of year you visit! While the summer months are ideal for some activities (like horseback riding, rock climbing, and driving over the continental divide) there are still tons of Estes Park activities to keep you busy in winter.
Why Visit Estes Park in Winter?
There are always epic views of the Rocky Mountains to take in on the scenic drive, plus plenty of outdoor activities and hiking trails. It is the perfect place to spot wildlife – like bighorn sheep, moose, and mule deer. If visiting in the winter months puts you a little on edge, there are also trail rides and other tours you can go on with knowledgeable guides, including miles of trails for backcountry skiing adventures and hiking for all skill levels. The Historic Stanley Hotel is always a hit also!
Plus, winter has fewer crowds, so you can see some of the local wildlife, major attractions, and popular nature trails with less people! AND you get to benefit from off-season pricing (hello hotel with a hot tub at a lower cost!) and admire all of the Christmas lights as well as decorated local shops. (Check with the Estes Park Visitor Center to see what events and festive fun things are happening during your visit.) Visiting Estes Park during this time is really one of the best ways to embrace winter in Colorado.
Things to Do in Estes Park Colorado During Winter – Weekend Getaway Guide
Are you sold yet? Good! Here's our suggested itinerary for a fabulous winter weekend of things to do in Estes Park:
For the first day of your Estes Park getaway, you will need to get to Estes Park. So, leave Denver really early (around 6 a.m. – you can do it). It helps to have your car packed the night before. Or at least have everything ready to go. Don't forget to pack your hydration packs, waterproof boots, hiking poles, snowshoes, cold weather clothes, sled or snow tube, camera and/or GoPro, and snacks!
When you see the Estes Park sign, hop out to take a quick, obligatory thing to do in Estes Park, "we made it" pic. Then head straight to RMNP for some snowshoeing. (Unless you need to rent snowshoes, boots, or poles, then drop by HERE first and they will hook you up)!
There are two entrances to Rocky Mountain National Park from Estes Park that are open in winter, Fall River and Beaver Meadows. Depending on where you want to explore, you may want to choose one over the other (check out this map to decide). The ranger stations before the entrances are a great place to ask questions, buy souvenirs or find more detailed maps than those available online or at the gate.
The entrance fee is $25 for one day or $35 for seven, per car. You can also get the annual pass for $70, or go all-out like us and purchase the annual pass to all National Parks for $80. Learn more HERE.
IMPORTANT NOTE: Be extra nice to the rangers! They are awesome, hard-working, nature-loving people who deserve your kindness & respect. Thanks in advance for being extra smiley & sweet!
2. Spot the Majestic Wildlife (Easier with Snow on the Ground!)
Once in RMNP, you are going to want to drive around for a little bit while you 'ooh' and 'ahh' at all the beauty. From the comfort of your car, you can experience the majesty of the mountains and peace of winter. You may even see some of the park's residents – including elk, Gray Jays, Magpies, mule deer, coyotes, and even moose if you are lucky!
It is easy to act like a tourist when driving in the park (because you kind of are). But try your best to refrain from stopping in non-designated pull-offs and unsafe areas to take pictures. And make sure to drive cautiously since roads can be icy in the winter (we saw 3 accidents last time we were there)! Also, don't get too close to the animals. They deserve respect too!
3. Hike in the Snow
After a leisurely, picture-filled drive, it is time to take a hike and really experience the best of RMNP! Luckily, there are countless trails. For the first day of your weekend getaway in Estes Park I'd suggest a shorter one so you still have some energy for other activities! Hiking in Estes Park is very abundant and you can pretty much find a trail anywhere you look.
Depending on how much snow there has been you may not need snowshoes. But I think they are always a good idea. (Since I've ended up crawling through knee-deep snow more than a few times). Hiking poles also help!
The Alluvial Fan, the first few miles of Trail Ridge Road (closed to vehicles in winter) and Upper Beaver Meadows are all easy, relatively flat hikes with amazing views. Plus you can explore further along each of these trails if you'd like.
Related: 3 Easy Hikes in Rocky Mountain National Park in Winter
While on your hike, make sure to let your inner child out for a little while – have a snowball fight, make a snow angel, build a snowperson or be an over-achiever and make an igloo!
Also, don't forget to eat and stay hydrated while out on the trail! Forgetting to eat or drink can turn a lovely hike into a bad memory quickly. This is especially true for out-of-towners in order to avoid altitude sickness. The last thing you want on your Estes Park weekend getaway is to be sick.
4. Go Sledding at the Designated Hill
One of our favorite things to do in Estes Park, besides hiking, is to go sledding. Since playing in the snow is so much fun, go do it some more at the sledding hill! Grab your sled, snow saucer, snow tube, etc. and haul it up to the sledding hill at Hidden Valley for some ridiculous fun. I guarantee you won't be the only adult giggling like a toddler as you fly down the hill and smash into mounds of powder.
After just one trip down the hill, you are sure to forget all your work and real-life related worries! And isn't that just what you need on your winter weekend getaway? I sure think so.
5. Take in a Fantastic Sunset
By the time you wear yourself out it will probably be getting dark. Find a good spot to watch the sunset light up the mountains with purples and pinks before you head back into town to check into your hotel.
6. Stay at a Beautiful Resort or Quirky Hotel
Our absolute favorite place to stay in Estes Park is the Della Terra Mountain Chateau. It is a little pricier than some of the other places, but it is totally worth it. Each luxurious suite has a private patio Jacuzzi, fireplace, soaking tub and waterfall shower. Not to mention the delicious, freshly cooked breakfast included with each stay. Plus, it is right outside the Fall River Entrance of RMNP.
However, for a more budget-friendly option, we have really enjoyed staying at the Appenzell Inn on multiple occasions. They also offer a suite which includes an in-room Jacuzzi and fireplace, plus a complimentary breakfast of breads, cereal and pre-packaged bars (nothing fancy, but still a nice touch).
Regardless of where you stay in Estes Park, if you can afford it, find a room with a Jacuzzi or jetted tub. It does wonders after a day of hiking and playing in the snow. And besides, you are on vacation!
7. Ghost Tour at Stanley Hotel
Next you will want to find some food to make up for all those lost calories! Most options in the downtown area are pretty good. Although, after a day of snowventuring we are infamous for ordering pizza (Antonio's is the best!) and lounging in our PJs by the fire.
I do, however, LOVE Laura's Fine Candies for dessert. This place has all the goodies your little heart desires (ice cream, fudge, hot chocolate & more). Plus you can watch them make it. Yes, please!
Now that you have a good sugar buzz going, end the night right with a Night Ghost Tour at Stanley Hotel. This 90-minute spooky tour is just the right mix of scary, interesting and fun.
Many know that the Stanley Hotel inspired Stephen King's novel, The Shining. But there are lots of other eerie stories you may not know about. This is really one of the top things to do in Estes Park. Or are you too scared?
After the tour, drive around for a few minutes and look at the pretty Christmas lights to shake your case of the heebie-jeebies. Then head to the hotel for a nice Jacuzzi soak and a good night's sleep.
8. Sunrise in Rocky Mountain National Park
On the second day of your Estes Park weekend getaway, get up early to watch the sunrise at Many Parks Curve if you are up to it. Or enjoy a nice breakfast before checking out of your hotel and heading to the mountains for some more hiking! As we said before, there is plenty of hiking in Estes Park.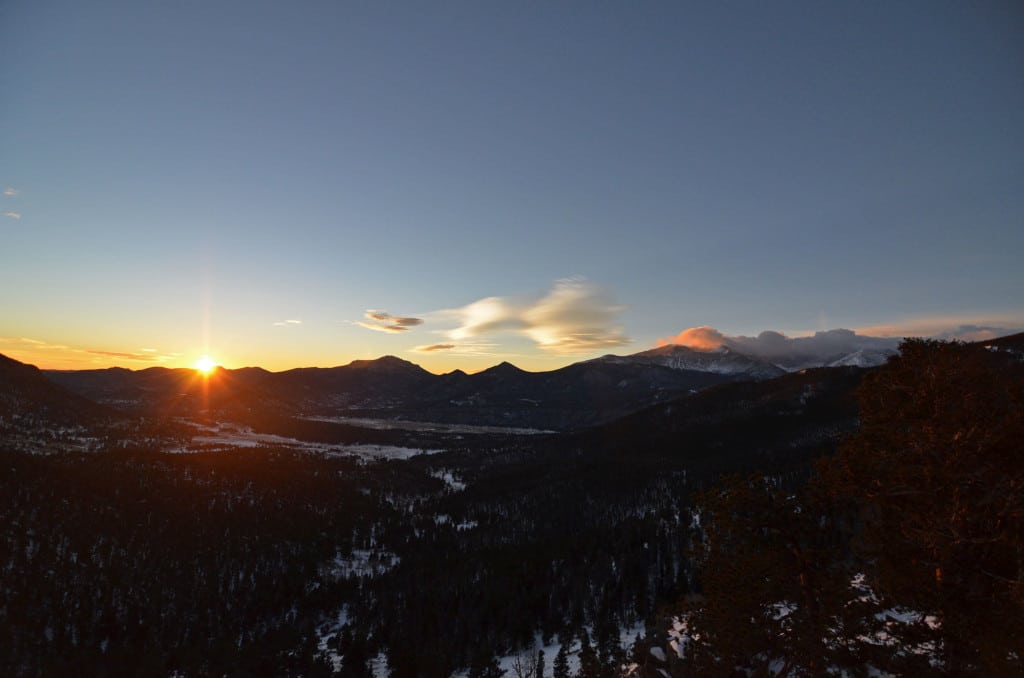 9. Snowshoe in the Deeper Snow Trails
Definitely make the drive to Bear Lake and wander around that area if the road isn't closed. There tends to be a lot of snow up there in the winter, which is perfect for snowshoeing!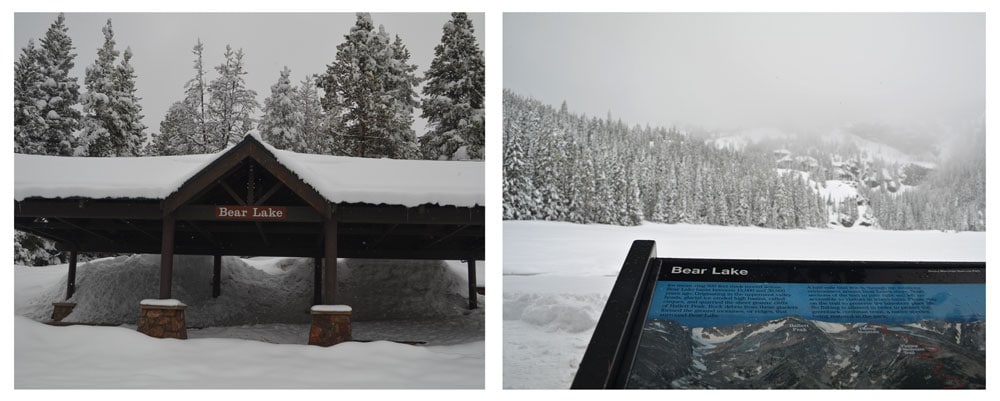 Maybe pick a longer hike today, just make sure to pick one that suits your fitness level to get the most smiles for your miles. You can walk up to Nymph and Dream Lake from Bear Lake for a 2.2 mile, somewhat uphill hike, or just take a stroll around Bear Lake if you want something more leisurely.
Sprague Lake (on the way to Bear Lake) is also an easy, short hike. Plus, there are plenty of more challenging hikes nearby (like the Lakes Loop) that you can try. Just make sure not to get lost since the trails are not as easy to follow in the winter.
Another fairly easy and visually stunning hike is Bierstadt Lake – one of my favorites so far. Just don't make my mistake and think snowshoes aren't necessary because the beginning of the trail doesn't look deep. You may end up swimming through snow at the top.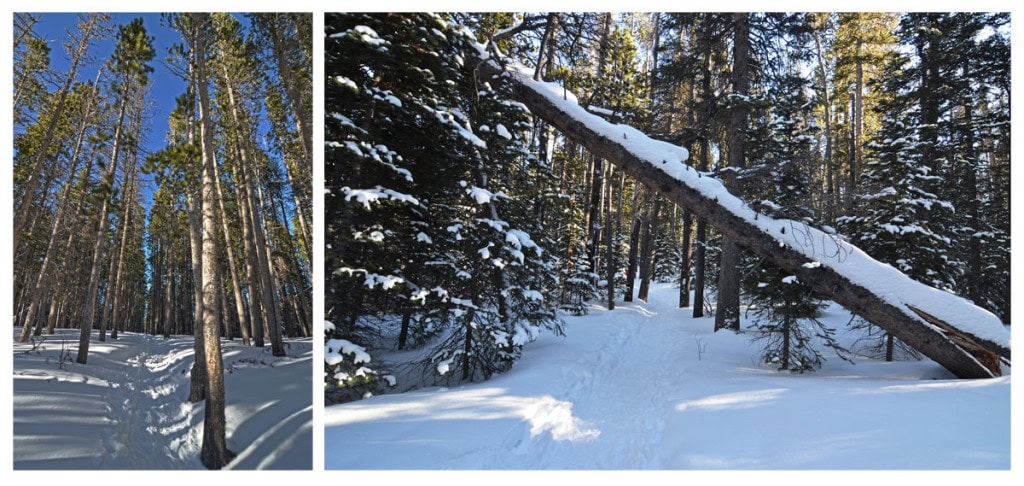 10. Wine Tasting in Downtown Estes Park
After hiking, head into town for some delicious, warm Wassail at Snowy Peaks Winery. They also have $5 tastings which even includes meads and alcohol-free cider. If you ask nicely, they may let you go downstairs to see their wonderful operation at work! And for those of you with kiddos, they even have a kids' area! Genius!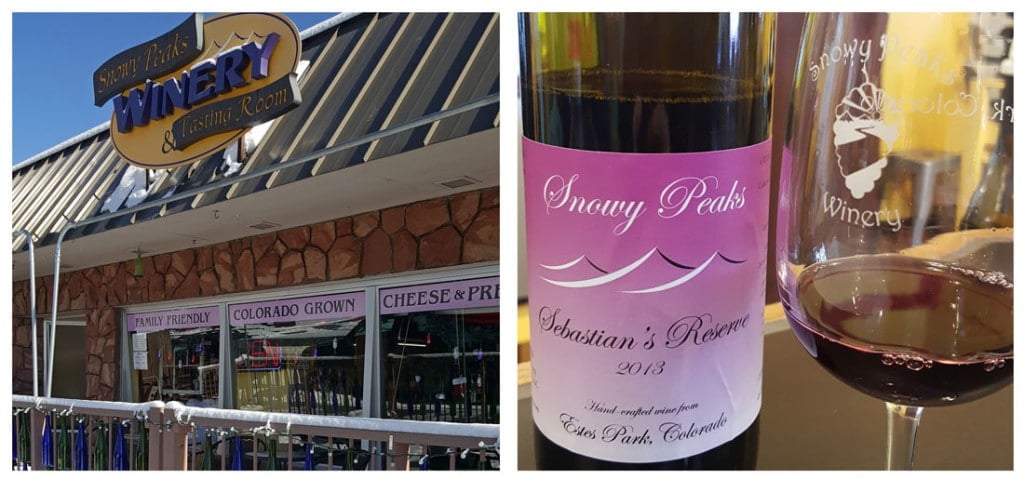 Before ending a wonderful weekend getaway in Estes Park, eat a nice lunch and check out some of the many cute shops in downtown Estes Park.
Bonus: if your drive back takes you through Lyons, have a beer at the original Oskar Blues Brewery. Their food is great too, if you would rather eat there. Get some baked cheesy mac, trust me.
Relax, Recharge & Post All the Photos!
Once you make it home safely, pat yourself on the back for a successful weekend escape of winter fun. You hiked, sled, played, got spooked, relaxed, and maybe even saw a sunset & sunrise! Look at you, being all adventurous!
Make sure to post all of your awesome photos on all of social media, because you know you want to make your Florida friends jealous of the snow (or is that just me?). And although you may be tempted to cry yourself to sleep because your vacation is over. Just focus on how lucky you are to have spent some amazing time in those snowy mountains and resolve to get back to them ASAP.
Happy Trailing, Friends!
---
For more great Colorado hikes and activities for every season, check out our Colorado travel page.
Want more tips for Rocky Mountain National Park? Read more:
For more great Colorado hikes and activities for every season, check out our Colorado travel page.