With the first real snow of the season making an appearance in the Denver area this week, I've been reminiscing on past snowventures and getting excited about our plans for this season! My favorite winter hike so far was definitely the Bierstadt Lake Hike in Rocky Mountain National Park.
Since we don't have family nearby in Colorado, we started a wonderful tradition of hiking on Christmas. And this hike made for a wonderful Christmas day adventure! (Related: Winter Weekend Getaway: Estes Park)
Getting to Bierstadt Lake
Armed with our snowshoes, boots, and hiking poles, we ventured into Rocky Mountain National Park. Both of us were very excited for the chilly adventures that awaited us. We arrived to the Bear Lake Trailhead, where we intended to hike, a bit later than planned. And to our surprise, the Bear Lake parking lot was already packed. So we had to change plans.
We ended up at a nearly empty parking lot nearby for the Bierstadt Lake hike. When we got out of the car, the snow didn't look very deep. We looked at the trail map at the trailhead and decided we would just hike to what should be a beautiful frozen lake. So we I decided to forgo the snowshoes on this Christmas adventure. Little did we know it wouldn't be long until we found WAY more snow!
The Trail to Bierstadt Lake
The trail to Bierstadt Lake is an easy-to-moderate 2.4 miles roundtrip. It goes up some gradual switchbacks before getting to the top of the moraine. The views on the way up are great! You can see Sprague Lake in the distance and the mountains of the Continental Divide. We were immersed in a magical winter wonderland once we reached the top. The sun glistened off the snow as it sprinkled down on us from the tall bright green trees above us.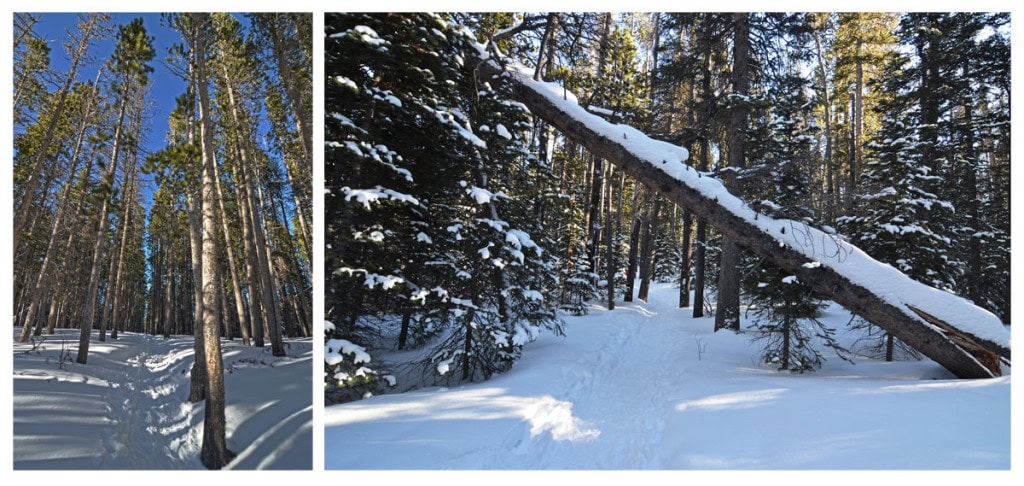 There was snow everywhere along the tree-lined path. And it was D-E-E-P. Like, "damn, we should have worn our snowshoes" deep. As we trudged through knee-high snow, we laughed at how naive we had been. And we just enjoyed the wonders of winter in the mountains. Just when we thought it wouldn't get better, we found the lake.
Bierstadt Lake
I could have sat at this frozen lake for hours. It was one of the most serene and peaceful moments of my life. With just us and a few adventurous birds to keep us company, it was like being in our own private snow globe. It appears that on this Christmas everyone else decided to explore near Bear Lake, leaving us all alone at Bierstadt Lake.
We sat there for a few hours and even enjoyed a picnic while sitting on the frozen lake. We made it back down to our car right before the sun disappeared, getting to see God paint the sky as we walked in the frigid air.
Want more tips for Rocky Mountain National Park? Read more:
For more great Colorado hikes and activities for every season, check out our Colorado travel page.