When we awoke to a beautiful, warm fall day we knew we had to get out and enjoy it or we would be kicking ourselves for wasting it inside. After a quick search for nearby trails, we decided to take a nice fall bike ride on the Coal Creek Trail & Rock Creek Loop. We were also itching to try out the bikes we recently purchased, so we HAD to get outside!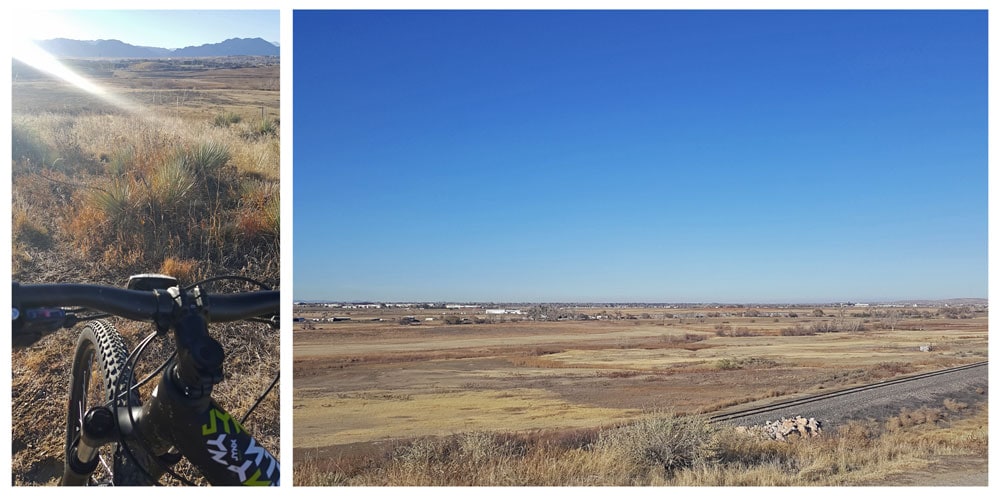 Getting to the Coal Creek Trail
There are multiple places available to gain access to the Coal Creek Trail, or Rock Creek Open Space, but we decided to start our loop at the Flatirons Mall so we could have a nice patio lunch after our fall bike ride. For more on these trails and other nearby options, there is a great list on the Boulder County site.
From the mall, we hopped on the US 36 Bikeway for a little bit before turning on 88th Street and riding until connecting with the Coal Creek Trail at Dillon Road.
Scenery Along the Trail
Even though many of the trees and shrubs have died, it still made for a beautiful, colorful fall bike ride – with the hot sun and the bright blue sky making everything seem much more alive.

The Coal Creek Trail portion included many streams, and even a little waterfall. There were some small shaded areas that had snow and ice, but for the most part the trail was dry and easy to ride.
Shortly after turning onto the Rock Creek Colorado portion of the trail, we went through the Rock Creek Open Space where we saw a coyote running around.
After crossing under 287, we rode next to the pumpkin patch and watched cows chow down on the remaining bits of that iconic symbol of fall while we admired the Rocky Mountains in the background.
After the pumpkin patch, we went over a dam and around Stearns Lake, which provided a great view too! Did I mention how BLUE the sky was?
We got a little turned around trying to find the way back to the mall, but eventually we got back on the right trail and were relieved to sit down for dinner after an 18.5 mile leisurely fall bike ride. We had no idea we would end up being out for 4 hours, but it was wonderful to spend so much of our day soaking in the sun.
There are probably only a few more of these beautiful fall days left this year, so make sure you take advantage of all of them before the cold comes (then go play in the snow, of course)!
Trail Summary
I am just getting into biking, and although long, I thought this loop was fairly easy and made for a great fall bike ride. The Coal Creek and Rock Creek Loop in Colorado is a great bike ride for any level of rider. It was gravel and flat, aside from a few hills. But you can always walk those if you have to… I won't tell if you won't!
There were a few construction areas that took away from the ambiance a bit. But we just rode by those areas a little quicker! Overall the views were great, the ride was relaxing and it made for a wonderful day!
Want more Colorado outdoor adventure ideas? Check out this page!