I'll never forget our first visit to Rocky Mountain National Park during our Colorado honeymoon. Those big, jagged, snow-capped mountains loomed over us and made us feel so very, very small in the best way.
The wildlife greeted us at every turn, and as it began to get dark, we saw our first snowfall together – and ALL the stars! It was magic. And it was the catalyst that triggered our cross-country move from Florida to Colorado.
However, it is a large park with so much to do in and around it, you can get overwhelmed by it quickly. There are waterfalls, mountain views, challenging hikes, scenic lakes, and so many opportunities to see wildlife – like elk, mule deer, bighorn sheep, and moose. Even after dozens of visits during our five years of living in Colorado, and annual visits after – we still find new areas to enjoy and unique perspectives of old favorites. Plus, it is one of those places that you can visit in each season and feel like you are in a brand-new place.
So, if you are a first-time visitor, we understand how difficult it is to choose what to do with your limited time. That's why we've compiled everything we know and love about this amazing national park to help ya out.
Rocky Mountain National Park Basics
Getting to the Park
There are three entry points to the park. You can access two of them coming from Estes Park – the Beaver Meadows entrance off of US-36 and the Fall River entrance off of US-34. The third entrance is on the west side of the park, across the Trail Ridge Road mountain pass, at Grand Lake.
This is usually the less busy side of the park, since going up to the park this way isn't as common. And if visiting in winter or when the pass is closed, you'd only have access to that one side of the park (which doesn't have as much to do – but is still worth a visit!) There are also some trailhead-specific entrances in other areas.
From Denver, it takes a little more than an hour and a half to get to the park – if planning to enter the park via one of the Estes Park entrances. On your way, you'll pass through Boulder and Lyons – both worth a stop, if you've never been. If going to the Grand Lake side of the park, it will take a little more than two hours and will be a much more mountainous drive through ski towns like Winter Park.
Either way, you are in for a real treat …
A Few Considerations Before Driving
Expect traffic either way – especially once you get to the winding, one-lane mountain roads. And, if you've never done mountain driving before, do some research so you stay safe – especially in winter. Here are some good tips from the park. Just take your time and be safe. Trust us, if these kids from Florida can survive winter driving and temps, so can you!
Read our tips for surviving your first time in winter conditions!
Also, be sure to check the park website or Facebook page for any updates before heading out – especially if driving on Trail Ridge Road (which closes due to any snow or freezing conditions due to it's 11,000+ elevation). This year, it even closed in mid-June!
Park Fees
Entry to Rocky Mountain National Park is $25 for a one-day pass or $35 for a seven-day pass per automobile with 16 or fewer passengers, they also have a per person pass for $15 for one day or $20 for seven if you aren't bringing a vehicle, and a motorcycle pass for $25 for one day or $30 for seven. Check here for updated prices and to purchase online. (Note that the seven-day pass is for consecutive days and if you purchase online, you should plan a month or more before your visit to receive it). There is also a $70 annual pass for this park.
However, we feel like the best bang for your buck is the America the Beautiful National Parks and Federal Recreational Lands Pass because it gets you into more than 2,000 federal recreation sites across the United States for $80. If you plan to visit two or more parks for multiple days, this is totally worth it – and it gives you the option to pop into any parks or other included sites you may happen to be near. One pass covers "the driver and all passengers in a personal vehicle at per-vehicle fee areas or up to four adults at sites that charge per person." Seniors (age 62+) can get an annual pass for $20 or a lifetime pass for $80.
There are also free annual park passes available for U.S. residents who are active members of the military or their dependents, fourth graders, have a permanent disability, or volunteers with 250 service hours with federal agencies that participate in the Interagency Pass Program. Be sure to take advantage of these free passes, if you're eligible!
Seasonal Considerations for RMNP
Summer (June-August)
Usually, by Memorial Day weekend, the famed Trail Ridge Road is open, waterfalls are gushing, wildflowers are in bloom in the alpine tundra, hiking is prime, and wildlife is in abundance. BUT, this issss Colorado. As I'm typing this in late June, the road is actually closed due to late-season snow. So, always check first.
Also, don't be surprised to find snow on the higher-altitude hikes. We tried to go to Sky Pond in July one year and turned around due to the snow and ice!
Note that summer sun here is harsh, so protect your skin.
Beware of afternoon thunderstorms. In summer, the rule is to be off mountain peaks by noon!
It can also still be a bit chilly at night and at higher elevations.
And, of course, summer means crowds! Get there early if you want to avoid some of the craziness.
Fall (September-November)
One of our favorite times of year to visit!
Expect clear skies, less crowds, and crisp air.
The aspens are changing color (but don't expect this to last long, since the color goes fast!)
It is a wonderful time for hiking and stargazing.
And it is also elk mating season, so you can see them out and about, fighting, bugling (the noise they make to call to each other) all over the park, and yes, they'll be doing the deed as well.
Plus, Trail Ridge Road is usually still open until mid-October. So, you get the best of everything!
Winter (December-March)
A magical time to visit with snow-covered mountains, fields, and lakes.
Plus, icy waterfalls and clear night skies filled with all the stars!
Of course, keep in mind days will be shorter as well.
Trail Ridge Road will definitely be closed, but there are still plenty of other things to do in the park.
Check out the sledding hill, go skiing, build a snowman, or rent some snowshoes and go for a hike.
Just beware when driving to and around the park, since winter conditions can mean dangerous roads.
There are also fun, festive events for the holidays in Estes Park and Grand Lake. Estes Park has a cute Christmas parade and Grand Lake has one of the biggest New Year's Eve firework celebrations in the country.
Spring (April-May)
Weather is very unpredictable this time of year. You may have a clear day or a blizzard.
Most trails will still have snow and Trail Ridge Road won't likely be open until mid-May at the earliest.
Some wildflowers may also be in bloom in lower elevations.
If you live driving distance away, this is a fun and less busy time to go. But, I wouldn't plan a trip around this time.
What to See & Do in Rocky Mountain National Park
Yay! We're finally to the fun part. No judgment if you just skipped straight here.
Drive Trail Ridge Road & Stop at all the Viewpoints
If you are planning a visit to the park, try to go when Trail Ridge Road is open all the way through. Although there is plenty of hiking and scenic vistas elsewhere in the park, many of the best viewpoints are on this amazingly scenic mountain pass that winds its way through most of the park.
Many Parks Curve Overlook
As you begin to climb into the mountains, this spot is a great opportunity to take in the park – and get some epic family photos. This portion of the road is usually open – even in winter. But, it closes right after this stop usually in mid-October.
Rainbow Curve
Toward the beginning of your ascent up Trail Ridge Road, this overlook is one of the most beautiful stops for a photo because you can see the wide-open fields and mountains. We love seeing how this view changes throughout the seasons as well.
Forest Canyon Overlook
This is our favorite spot to stop on the way over Trail Ridge Road. It is just an unbelievably picturesque look at the mountains of the Continental Divide – especially on a sunny day after some fresh snow. Plus, you can see marmots scurrying around the rocks!
Alpine Visitor Center
At the top of Trail Ridge Road, before descending down toward Grand Lake, the Alpine Visitor Center is a great place to stop for bathrooms, a gift store, hiking information, and VIEWS!
Fairview Curve Viewpoint
On the way down into Grand Lake, this is a great place to stop and take in the west side of Rocky Mountain National Park. Keep an eye out for wildlife!
Best Hikes in RMNP (From 0.5 to 5 Miles Round-Trip)
Most of these hikes in RMNP are actually awesome to do year-round. Just do some research and take extra precautions if hiking in winter (be sure you don't walk over semi-frozen lakes, and bring necessities for emergencies like an avalanche, etc.).
Alluvial Fan to Horseshoe Falls
An easy must-do at less than a quarter-mile round-trip, just be careful on the rocky terrain. This waterfall has been the victim of two major floods in recent history. So, it's landscape has changed a lot over the years, but it is beautiful!
Alpine Ridge Trail
This hike leaves from the Alpine Ridge Visitor Center and is only a little more than a mile long, but offers stunning mountain views since you end up above the entire park! This area is also great for stargazing!
Other Trails off Trail Ridge Road
You can really do some long hikes in the mountains, but just wandering along portions of them as you pull off to take in the views is also nice. Ute Trail is gorgeous and has a section near the Alpine Visitor Center (the entire trail is four miles). Another, easier one, is the Tundra Communities Trail – at only 1.1 miles round-trip.
Sprague Lake
This easy loop trail is one of our favorites. It's under a mile and flat, plus it offers stunning mountain views as you get to the side opposite of the parking lot. We've even seen moose here!
Bear Lake
At an easy, flat 0.8-miles, the Bear Lake Loop is definitely worth a stroll. However, if you're short on time, a quick stop here will still give you stunning views. And if you have a lot of time, we highly recommend taking a longer multi-lake hike from here. You can even snowshoe it in winter – just be sure not to walk on the any lake if it isn't frozen solid!
Other Lake Hikes From Bear Lake
You can also use Bear Lake as a jumping off point to go to other gorgeous lakes like Nymph Lake (1.2-miles round-trip), Dream Lake (2.2-miles round trip), Emerald Lake (3.5-miles round-trip), and Lake Haiyaha (3.9-miles round-trip). Expect an incline for these hikes, but also amazing views!
Bierstadt Lake
The hike to Bierstadt Lake is 3.2-miles round-trip and gorgeous in any season. You are rewarded after climbing switchbacks with a dense forest trail that leads to a stunning lake! Definitely a bit more challenging with the incline.
Alberta Falls
This hike is only 1.6-miles round-trip and takes you to a huge waterfall! It's moderate in difficulty due to an incline. And is also on the way to longer hikes, like The Loch or Sky Pond.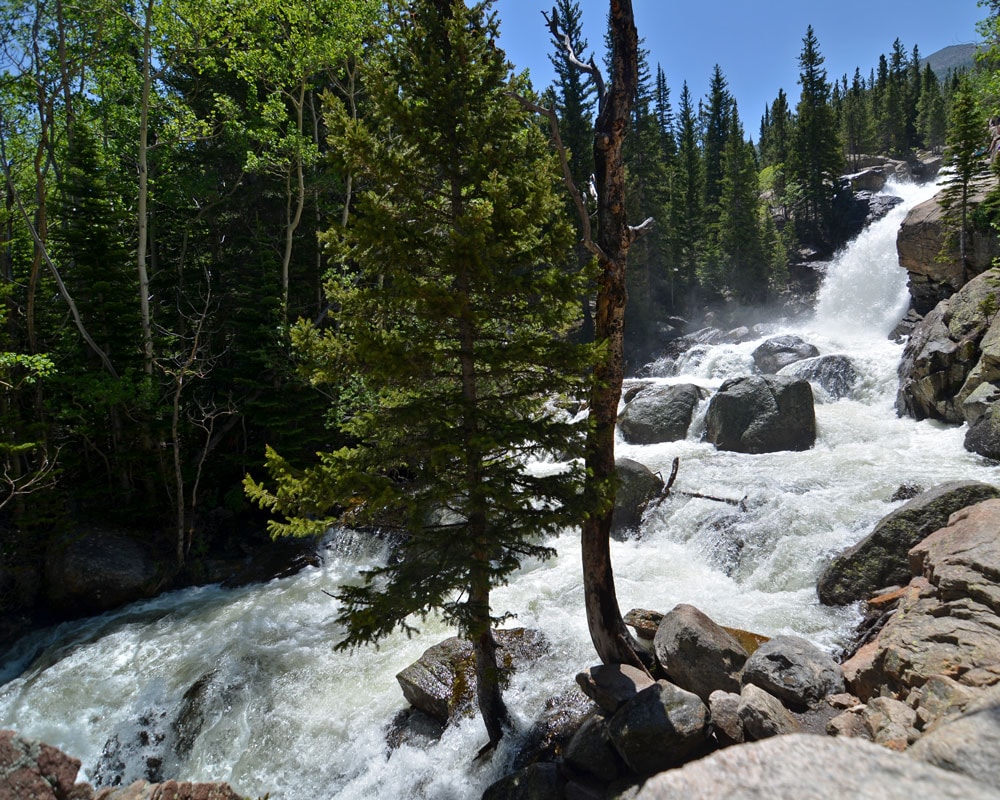 The Loch
Okay, this one is actually 5.5-miles round-trip (sorry, had to cheat a little on the 5-mile rule here). But it is a STUNNING mountain lake two miles past Alberta Falls! And if you want more of a challenge, you can keep going to Timberline Falls and Sky Pond. (For a total of 9.2 miles round-trip). Read more here. It's definitely one of our favorite hikes in RMNP!
Lake Irene
On the West Side of the park near Grand Lake, this short trail (0.9 miles round-trip) makes for a nice stop. You may even spot some moose, since they are usually more prevalent on this side of the park.
Adams Falls
Just outside the small town square of Grand Lake, you'll reach this 1.09-mile round-trip hike to a beautiful waterfall. The loop also takes you by a peaceful stream and is a fun trail with varied terrain.
Lily Lake
While this is technically still part of Rocky Mountain National Park, the 0.8-mile lake loop is outside the usual park boundary. When we were there, you could spot Tiger Salamanders in the water. Very alien-looking creatures with a mane-like face.
Bonus: Estes Park Viewpoint on Gem Lake Trail
Just outside the town center of Estes Park, is the gorgeous Gem Lake hike. It takes you up to a crystal-clear lake on a 3.5-mile round-trip hike. But, if you don't want to go that far, about one-third of the way through is an amazing viewpoint of Estes Park.
For longer, more challenging hikes, check out this list by the Outbound Collective. And for a complete list of hikes, this trail list from the park is a great resource.
Wildlife Viewing
When we had our nephew out to visit recently, we made it a point to try to see as many different kind of animals as possible. Use this list to see how many you can find. And stop by the visitor centers to see if there have been any sightings!
Mule deer – These are pretty much a guarantee.
Elk – Easily confused with mule deer, but are bigger with giant antlers, and also very prevalent.
Moose – Usually more prevalent on the east-side, Grand Lake area of the park.
Chipmunks – You can see these all over the park. People feed them, but DON'T DO IT! It's so bad for them.
Tiger Salamanders – As mentioned above, we saw a ton of these weird amphibians in Lily Lake. Give a look!
Mountain goats – These blend into the mountainside really well, but you can see them throughout the park.
Bighorn sheep – It's less likely to see these regal creatures, but if you do – they are usually in a group.
Marmots – These are easy to spot at the Top of Trail Ridge Road – especially at the Forest Canyon Overlook.
Fox – Easy to miss, but we've seen a few throughout our visits.
Coyotes – The only time we saw these was at night. But they are in the park.
SO MANY BIRDS! – Stellar Jays and Magpies are a few of our faves.
Stargazing
While you can see stars out in the mountains at any time there isn't a super overcast sky, the best time to go is a new moon. Getting to the top of Trail Ridge Road is ideal, but just any open place will work. Going during a new moon will make for an even more epic show. Read our entire guide for stargazing in Rocky Mountain National Park here.
Sledding & Other Winter Activities
As mentioned above multiple times, this is an all-season park. If you do go in winter or when there's snow, just plan to bring extra gear. And don't miss the sledding hill on the east side of the park. It's such a blast! Just bring something to ride down on.
Of course, you can also have impromptu snowball fights, make a snowman or snow angel, and just enjoy playing in it. However, we highly recommend going snowshoeing. It is such a wonderful way to explore and gives you a magical new perspective of trails. Plus, it gives you access to areas that are otherwise closed – like Trail Ridge Road. Read more about our favorite easy snow hikes in Rocky Mountain National Park here.
10 Helpful Tips for a Great Visit to Rocky Mountain National Park!
1. Go early (especially in summer and on weekends)!
The park fills up pretty quickly, so if you have your heart set on parking at a specific trailhead, definitely get there bright and early. There are shuttle buses, but on exceptionally busy days the bus parking lots fill up too! See the shuttle schedule here.
2. Get the pass.
If you plan to go to the park a few times a year, investing in the annual pass is well worth it, as we mentioned above.
3. Bring food.
Once you leave Estes Park, you don't really have many food options, so stock up before you go to the park. There is a Safeway grocery store in town as well as some restaurants. (Although, I no longer buy produce from the Safeway because I got food poisoning once – I think things can only be so 'fresh' with needing to transport them up there. If going to a place with a kitchen, we shop in the Boulder area before leaving.) There are tons of great stream-side picnic spots also!
4. Drink lots of water.
Staying hydrated is key at high elevations to avoid altitude sickness. Make sure you have plenty of water! Coconut water and Gatorade is also good to have to replenish electrolytes.
5. Know the warning signs of altitude sickness.
If you are not used to being in – or especially hiking in – a higher altitude, you may feel a little dizzy or winded. That's totally normal – just keep drinking water, take a break when needed, and drive down to a lower altitude if possible. However, while rare, some people have more extreme symptoms known as altitude sickness that you shouldn't push through. This article has more information that can be helpful to know.
6. Watch out for randomly stopped cars. Also, don't randomly stop.
When you see an elk or bighorn sheep, don't just slam on your breaks to take a picture. Pull over in an area meant for parking as to not cause accidents or traffic jams. But be aware that not everyone will do this … unfortunately.
7. Don't approach the animals.
This should be obvious, but it is important to note that the animals are WILD! Elk may try to attack if they feel threatened. Chipmunks and squirrels could have rabies or other diseases. And of course, bears and moose are super dangerous. Take pictures from a safe distance. And don't feed them, for the love of God! It really messes up the natural order of things. Just get a zoom lens and you are all set!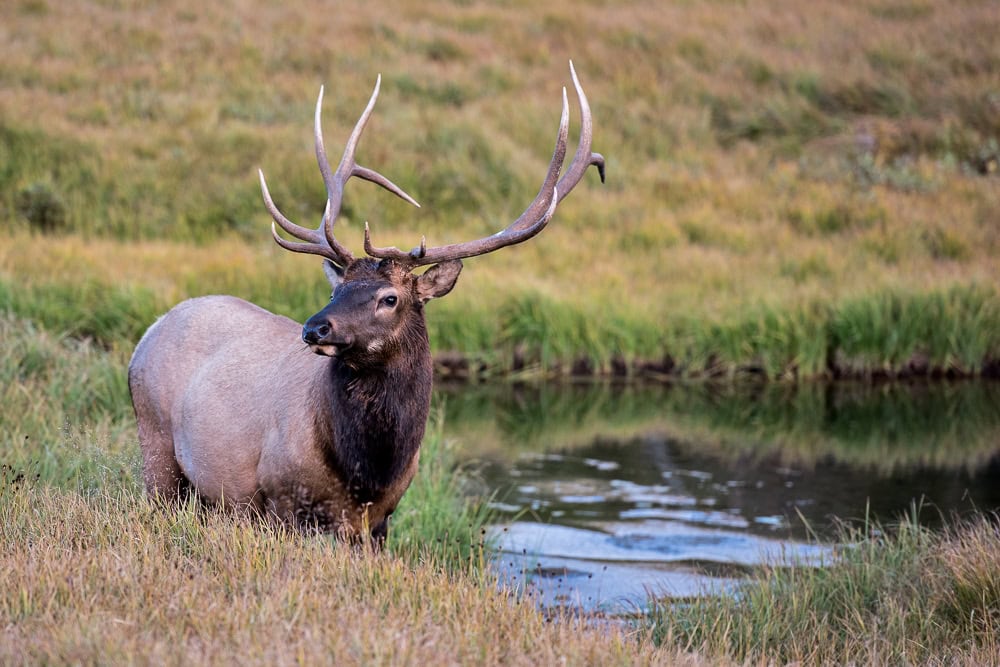 8. Always bring a jacket!
Colorado is known for its crazy weather changes. This is especially true in the mountains. The air can be very cold depending on where you end up, so be prepared. It snowed on us in June on Trail Ridge Road! Layers are key.
9. Be prepared to hike.
Of course, you can see a lot just driving around and hopping out at the viewpoints, but hiking is where the real magic happens. Be sure to bring hiking boots, trekking poles, and snowshoes or yaktraks (if needed). There is also a store in town where you can rent.
10. Stay for sunset & stars, if you can!
If you are staying nearby and don't have to drive back, definitely stay for sunset and then wait (or come back) for some stargazing! It really is a special time in the park and makes for some great photo opps.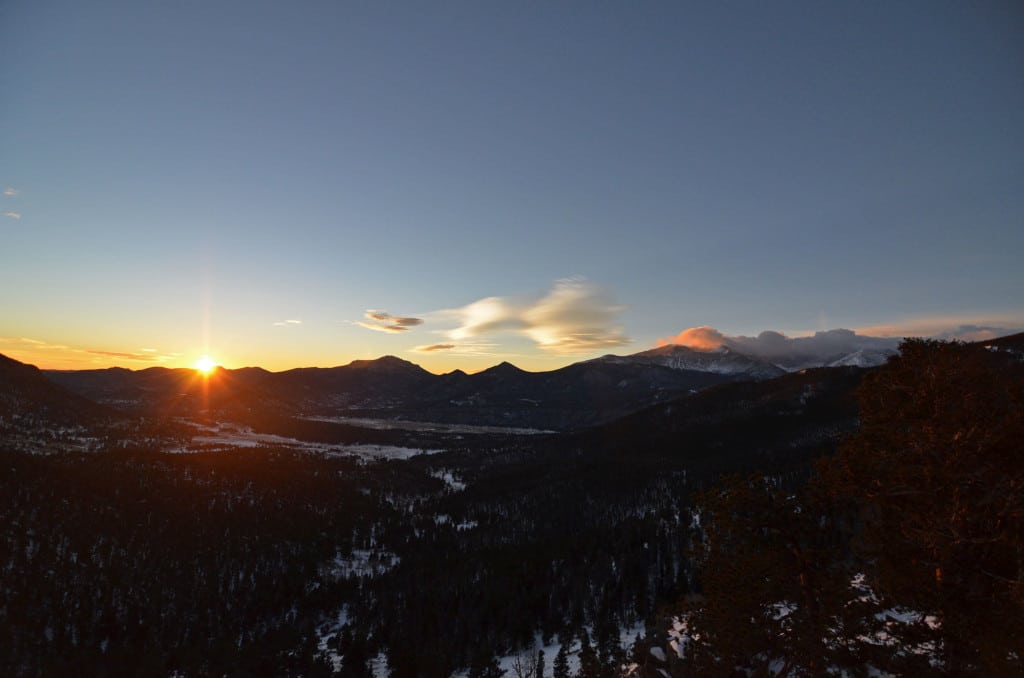 Where to Stay near Rocky Mountain National Park
In-Park Camping
There are five campgrounds in the park – three reservable and two non-reservable. Some are RV-friendly and some are tents only. None offer electric hookups. Learn more here. Note there are no grocery stores or restaurants in the park. You need to bring your own food and have a way to prepare it, as well as any other no-hookup camping considerations.
Staying in Estes Park
Estes Park is a quaint, scenic town with plenty of lodging options, dining, and activities. And of course, the playground of Rocky Mountain National Park right up the road! Stating in Estes Park is the perfect base.
There are tons of options in Estes Park at all different price points. Our go-to cheaper option is the Appenzell Inn. It's still comfortable for a lower rate, but has amenities like Jacuzzi-style baths and kitchenettes in some rooms. Looking into rental condos is another great option – especially for families or people wanting to have a full kitchen and more room. Just use Google maps to see what is nearby. We found Fawn Valley Inn on a recent weekday trip, and thought it was well worth the $150 per night, with its stream-side views and easy access to the park.
However, our favorite option (and total budget buster) is Della Terra Mountain Chateau. Holy wow! This place is romantic – with a private outdoor hot tub, amazing rooms, and delicious breakfast included. Of course, for Stephen King fans, Stanley Hotel is a popular choice since that is where he wrote The Shining. While summer rates are high, a winter trip can be much cheaper and still as enjoyable. (Read our guide to a winter visit to Estes Park here).
What to Do & Eat in Estes Park
Of course, the park should be your main priority, but if you have time, the Stanley Hotel tours are fun, there's an aerial tram ride up a nearby mountain, and lots of shops in town. Check the city calendar for events as well, they have some unique and festive offerings all throughout the year.
For a unique experience, consider taking a tour. We once went horseback riding with Elkhorn Stables and although the hubby was not a fan of the uncomfortable ride, it was an awesome way to see a new perspective of the area!
There are tons of restaurants, candy shops, a winery, and even a fairly new distillery in town. While the main strip has the majority of restaurants, don't forget to venture off it. Our favorite spot (that we found while celebrating an anniversary in Estes) is called Bird & Jim and is located a few minutes from downtown. It is one of the healthier, more unique options and we love it.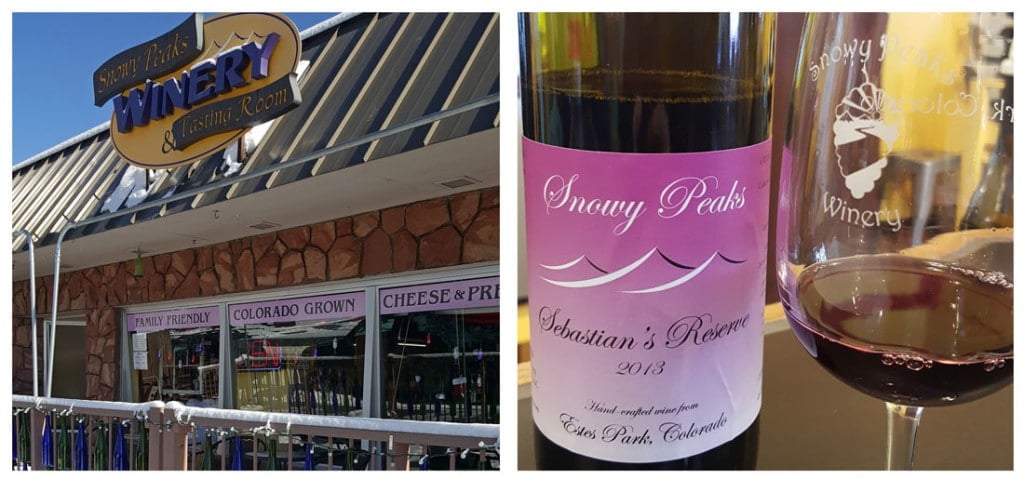 Staying in Grand Lake
Keep in mind that if you stay in Grand Lake when Trail Ridge Road is closed, you won't be able to access the east side of the park without going on a multi-hour detour. That being said, we love this area! It is really quaint and far less busy than Estes Park. There are less lodging options, but still some really nice and unique ones to choose from.
Staying at the Grand Lake Lodge is a lovely experience that gives you great views of the small town below. However, there are also great cabins with small kitchens, fireplaces, and more space than a hotel room. We stayed in Colorado Cabin Adventures one year and loved it! (Read our full guide to staying Grand Lake here).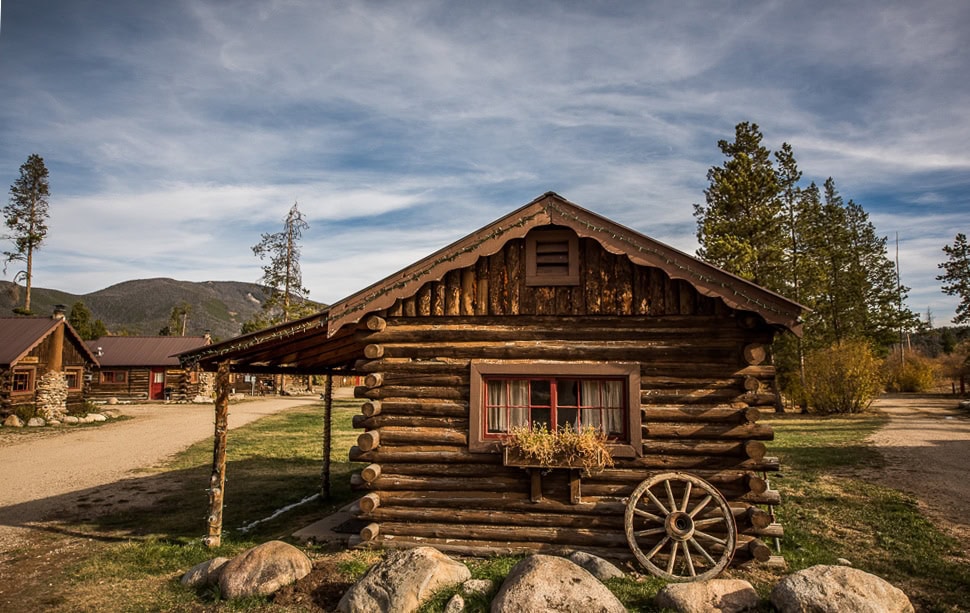 What to Do & Eat in Grand Lake
Regardless of whether you stay there, Grand Lake Lodge is a great place to have a meal. In town, they also have Sagebrush BBQ., Grand Pizza, and the Pine Restaurant – which all have great reviews. But our favorite is the lake-side snack bar that has ice cream and great grilled cheese sandwiches!
The lake also offers an opportunity to rent a boat or kayak to go exploring. Plus, there is Adams Falls hike mentioned above and some cute shops, as well as an arcade in town. In winter, there is a Nordic Ski area offering various activities, too!
Final Tips for Planning Your Rocky Mountain National Park Visit
How you plan your trip will really depend on how much time you have and what season you're visiting.
If you are going for a week and Trail Ridge Road is open, I'd highly suggest splitting your time between Estes Park and Grand Lake – around 80/20. You could spend three or four days really exploring the east side of the park, then spend an entire day taking your time driving over TRR before spending your final night or two in Grand Lake and exploring the west side of the park for a day or so. You could always drive back to Denver from there as well, for a new perspective.
However, if you just have a short, couple of day visit, definitely just base yourself in Estes Park. Then, plan a day to drive over Trail Ridge Road to Grand Lake and back. It will be a bit more exhausting, but worth seeing!
And now for you day trippers … if this is your first time visiting RMNP, you'll likely do a ton of just driving around exploring. But just make sure to hop out at places like the Alluvial Fan to stretch your legs and soak in the mountain air!
Want more to do? Check out our other Colorado insights and favorite places!
P.S. If you found this helpful, we'd love it if you shared it with your friends!