The Boulder Flatirons hikes have always been a huge, pointy reminder of some of our favorite Colorado memories. From hiking to the first Flatiron on our anniversary one spring to watching the sun set behind them on my way home from work daily. And, of course, walking up to that scenic range to say goodbye – when it was time to leave the state we had grown to call home for a new adventure.
The Boulder Flatirons really stir something in me. Which is why hiking to them is such a wonderful experience. And we wanted to share that with our nephew on his recent trip. (In addition to lots of explorations in Rocky Mountain National Park, of course!)
Note: This article was updated from the original March 2016 version.
Hiking to the Boulder Flatirons
Our first hike to this well-known and beautiful symbol of the Boulder area was more than five years ago. But we still remember it vividly … since it is even more impressive when you get up close and personal with those peaks! Hiking to it should definitely be on every Coloradan's bucket list.
While the 1st Flatiron is the most impressive to hike to (and most popular), stopping to admire the 2nd and hiking to the 3rd are worth it as well! Just be sure to check trail conditions before heading out – especially in the shoulder seasons, since you can get late season snow!
You should also be aware of the local wildlife of Boulder County, which includes mountain lions, bears, and rattlesnakes. Of course, always bring plenty of water!
1st & 2nd Flatirons Hikes Overview
The out-and-back trail is 2.6 miles round-trip with a 1,400-ft elevation gain – a pretty moderate, yet still challenging hike! It begins at Chautauqua Trailhead, with a parking lot just off of Baseline Road.
The hike to the 1st Flatiron is a little over a mile and passes by the 2nd Flatiron along the way. Although short, the steep incline of the trail and scrambling over rocks can really wear you out.
However, the views are definitely worth it, including lots of impressive overlooks of Boulder, the other Flatirons, and surrounding rocky mountains. It's especially gorgeous with a bit of snow leftover from winter!
Directions to the 1st Flatiron from Chautauqua Park
After parking at Chautauqua Park (best on a weekday to avoid crowds), head up the Chautauqua Trail at the base of the Flatirons to the Bluebell-Baird Trail to make your way up to the Flatirons. Don't forget to take a moment to admire the stunning open space around you! Plus, it is a great place to get some amazing views of Boulder!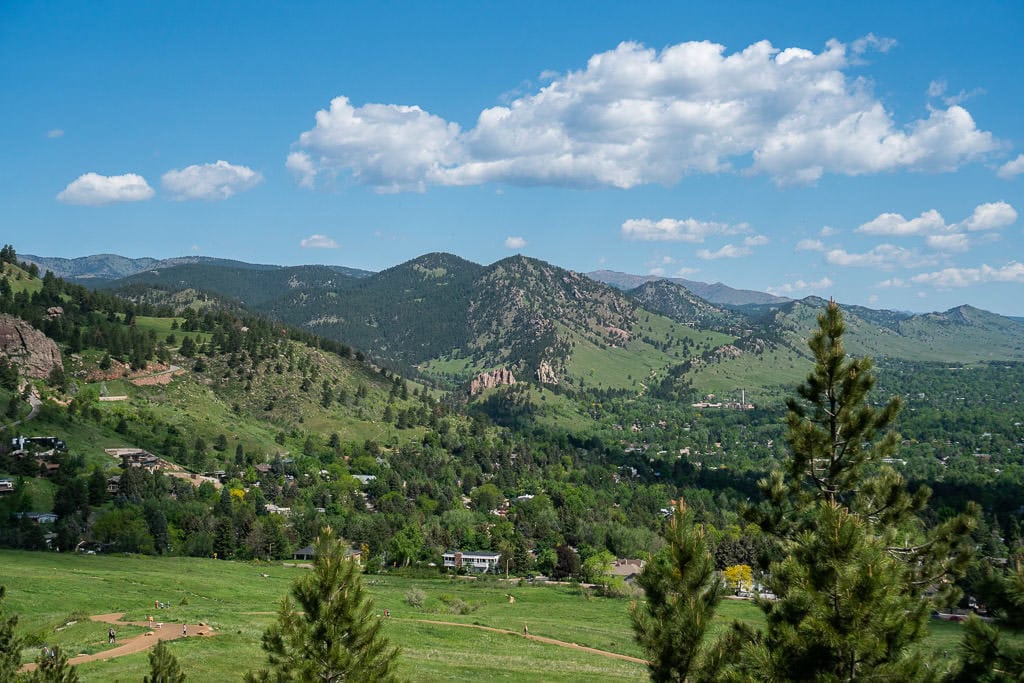 The trail will pass through a meadow, wooded areas, rocky areas, and switchbacks. You will even need to scramble over some larger rocks (our first time experiencing this)! Be careful of the loose rocks, because it can be dangerous.
Once you reach the top, if you are brave and agile, climb to the alcove for truly amazing views. We could have stayed here for hours during our visit. It's perfect for a picnic!
Once you've seen the first two Boulder Flatirons, you may as well hike over to the last one. Or you could split this up into two hikes. The second flatiron trail is not much further though!
3rd Flatiron Hike Overview
This 2.1-mile third Flatirons loop trail is slightly easier than the 1st Flatiron hike, and is slightly less in elevation gain – at 902 feet. You still go through the beautiful pine forest and get up-close to the iconic Flatirons! It is one of the best day hikes in the area.
We originally had no plans to go to the 3rd Flatiron, but the trail to the other two was closed on our recent trip, so we just went for it! And we're so glad we got to explore more of this area. This was during our nephew's visit and getting into these foothills was a must.
The trail to the 3rd Flatiron is still challenging, with lots of inclines and rocky portions. However, our ten-year-old nephew loved it! He especially thought the area with all the climbers was extra impressive.
Directions: The trail begins at the same trailhead as the 1st Flatiron, but when you get to the split on the Flatirons Loop Trail, you go left instead of right (which would take you to the 1st Flatiron).
So, if you wanted to do this hike as an add-on to the first hike we mentioned to the other Boulder Flatirons, you would just go back a longer way than you came.
P.S. To make your visit easier, check out the Chautauqua free shuttle, since parking can fill up! Also, be sure to check for any trail updates or closures.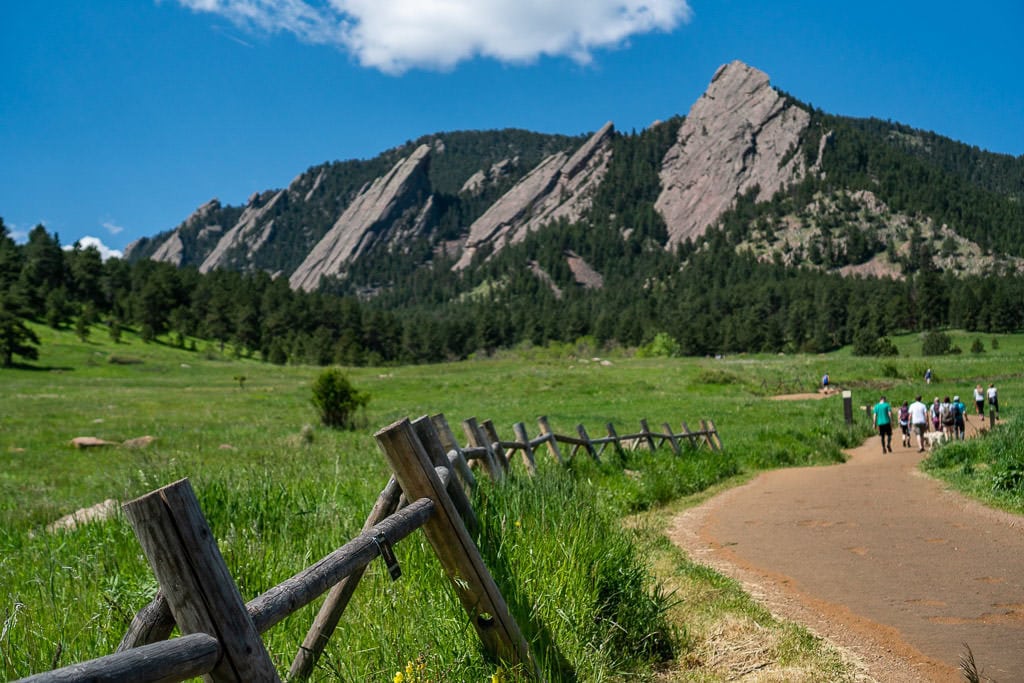 ---
After hiking to the Flatirons, if you aren't ready to head indoors, there are plenty of other great trails in the Chautauqua area, including the popular Royal Arch Trail. Or you could wander along Boulder Creek or go shopping downtown on Pearl Street. Boulder is a quirky, beautiful, and unique area – so, definitely check it out if you have extra time!
If you aren't up for the Flatirons hikes, Chautauqua Park is a great place to enjoy summer weekends and take in the views of the Flatirons. You may even be able to spot some rock climbers! It's the perfect spot for a picnic!
If you are happy hiking out in the mountains, there are plenty of trails in the Boulder area, from easy hikes to climbing up the highest mountain! We hope you enjoy your time in Colorado!
Want more to do? Check out our other Colorado insights and favorite places!