After skipping Dublin and Belfast during our whirlwind trip to Ireland (we just ran out of time and energy!), we couldn't wait to explore our first major European city. While we only had a weekend trip to Edinburgh Scotland, we made sure to pack it all in with miles of on-foot explorations, lots of tours, and about a dozen pints.
(P.S. – In the U.S., we have Pittsburgh, which can set you up for failure when pronouncing Scotland's capital city because it is spelled similarly, but pronounced differently. It sounds more like "Edinburra.")
8 Best Tours & Activities a Trip to Edinburgh Scotland
From fantastic views of Edinburgh at the castle and Calton Hill to the creepy Edinburgh Dungeon and unique Camera Obscura experience. These are some must-do tours and activities during your weekend in Edinburgh.
Did you know the old town and new town of Edinburgh are Unesco World Heritage Sites? There is so much history awaiting you in this amazing area of the UK, you could easily spend weeks there!
1. Edinburgh Castle
This was our first stop during our 48 hours in Edinburgh. We literally got off the tram which we had taken from the airport (long story that we'll share later), and walked straight up, up, up the hill to Edinburgh Castle.
You really can't miss it on top of the big rock and we had no idea how enormous it is! If this is on your list (and it should be), plan at least two hours. There is a ton to see – including the crown jewels!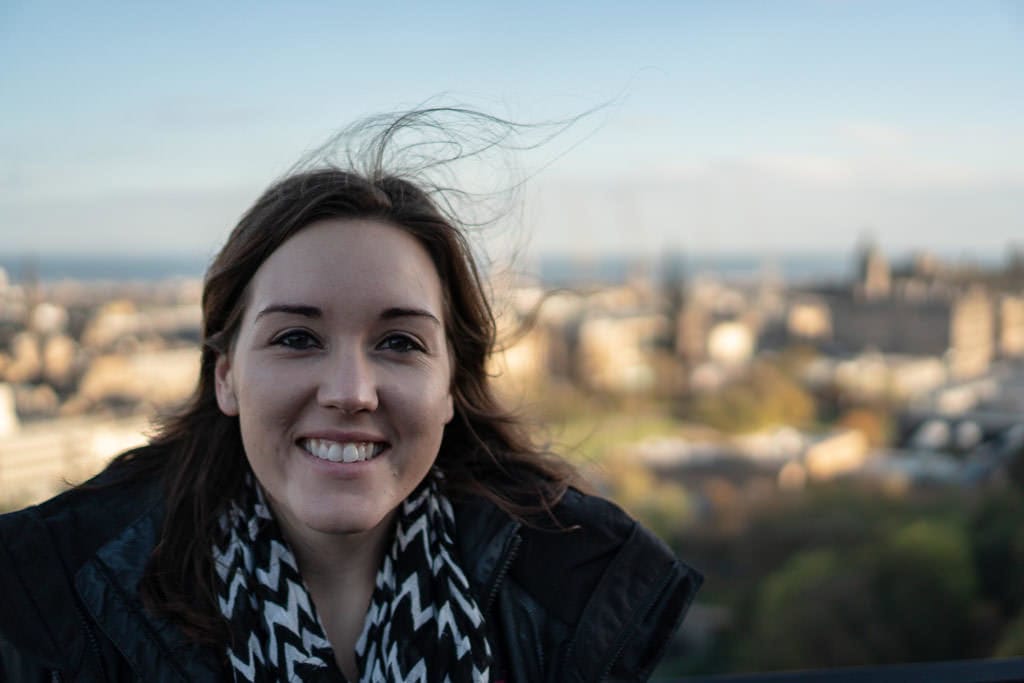 Even before getting our tickets for Edinburgh Castle, we were rewarded for our efforts by enjoying the surrounding views of the city on the windy, but clear day we were blessed with. We looked down at beautiful Edinburgh and our excitement grew exponentially for all the explorations we would have over the next 48 hours.
While Edinburgh Castle itself was busy with tour groups and other tourists, we loved that most people were intently listening to their audio tours and keeping quiet – and often just standing to the side taking it all in. Perfect for people like us, who want to go our own way and avoid the crowds!
Edinburgh Castle History
We loved wandering through this beautiful, large castle built in the 12th century. And were amazed by how much it played a role in Scotland's history. It was at the center of numerous wars and changed hands many times.
Of course, the well-known and beloved Mary Queen of Scots lived here at one point as well, giving birth to her son James VI in 1566 – in one of the rooms we were allowed to visit.
Our first taste of Edinburgh was fantastic and we couldn't wait to take in more!
2. Scotch Whisky Tour in Edinburgh
Speaking of taste, we couldn't wait to experience this well-known Scotch Whisky tour in Edinburgh. And an experience it was. My future BFF-in-law loovvves him some whisky, so I felt a little guilty for not being able to teleport him here for this. But, that's just a good reason to take a return trip with friends! This really is the best way to learn to appreciate the art of whisky making!
After riding in a whisky barrel and learning all about the history of this drink known and loved around the world, we moved on to our other senses. Next up, we smelled the different ingredients of the variances with a handy scratch-and-sniff card. Then it was the part we were all waiting for … the taste!
While standing in an exquisite collection of hundreds of beautifully displayed whisky bottles, we finally got our first sips of our chosen Whisky. There were five choices, all made in different areas of Scotland.
While the whisky was good, the collection was what impressed us the most. Each bottle was so unique. And it was fun to inspect each to see how much the angels were taking. Each bottle ends up having a little disappear, which they call the 'angel's share.'
We'd highly recommend this Scotch Whisky Experience in Edinburgh to anyone who loves a good dram – even if you only have a weekend in Edinburgh to fit it in!
3. Edinburgh Dungeon Creepy Tunnel Tour
Little did we know until we arrived at the Edinburgh Dungeon, there are creepy tunnels and even creepier tales leftover from Scotland's dark past. To learn more about the latter, we picked up our tickets for the very popular and scarier-than-we-anticipated Edinburgh Dungeon.
This experience is part well-acted play, part haunted house, and part comedy show. Throw in a boat ride and death fall, and we were too curious not to go. However, we would not suggest this one for little kids – or almost-30 adults who still have a hatred of being in the dark (me).
Despite my being super freaked out more than a few times in the Edinburgh Dungeon, we laughed often at the witty jokes, learned some eery stories from the past, and had an overall good time. They really do put on a fantastic show!
Although I did leave afraid I'd have nightmares about possessed witches and cannibals attacking in the dark, seeing the lady next to Buddy scream her head off and grab his arm in one of the rooms after a guy jumped out at here, was totally worth the fear. Even if I only saw a glimpse of the scene, as I bravely hid behind my husband's arm.
4. Real Mary King's Close Underground Edinburgh Tour
This is the kid-friendly version of the Edinburgh Dungeon. It is still in an underground-esque area, but shares way more history and didn't scare us at all. However, Real Mary King's Close is a bit long with little interaction with what is around you, so little kids or adults who get antsy easily would probably skip it.
However, getting to see this close, was really interesting. Our guide told us all about how these areas came to be, who lived there, and why it is part of Scotland's dark past. Turns out, the tight quarters of this low-income area led to a lot of poor hygiene, which helped the plague to run rampant. And apparently, the smell could be detected before even entering the city in the olden days.
5. Camera Obscura in Edinburgh
Camera Obscura is not an Edinburgh-only attraction, but it was a ton of fun and a great way to kill some time while we waited for our ticket time for one of the other attractions. We thought we'd just wander through quickly, but ended up spending hours inside. Camera Obscura is like a mini wonderland with mesmerizing exhibits and perfect for a weekend trip to Edinburgh Scotland!
The strange exhibits play tricks on your eyes and camera, hence the name – Camera Obscura. For example, to get the photo above, I couldn't even walk into that tunnel with swirling dots with my eyes open because it gave me instant vertigo. I had to back in with my eyes closed for Buddy to snap this photo, which looked nothing like the reality. Weird!
Needless to say, we let our inner children run free as we played and wondered at all the exhibits at Camera Obscura. If you have actual kids, this is a can't-miss. And they exist in other major cities around the world as well, so keep your eye out.
7. Night Explorations During Our Weekend in Edinburgh
From visiting fun theme pubs (Frankenstein and the Banshee Labyrinth), to walking hand-in-hand down dark alleys and by gorgeous monuments – Edinburgh shines at night.
We loved wandering around aimlessly, popping in for a bite or a pint, talking to fellow travelers or locals who were a few pints in. The spirit of this city is truly something you'll just have to experience to understand. And we always felt safe.
8. Calton Hill for Views of Edinburgh
Calton Hill is a must-see area of the city and is a short walk up a steep hill. But like castle rock, the views of Edinburgh and other sites at the top are well worth it. From here you can see many of the famous landmarks of the city, as well as the surrounding coastline and the famous trail to Arthur's Seat.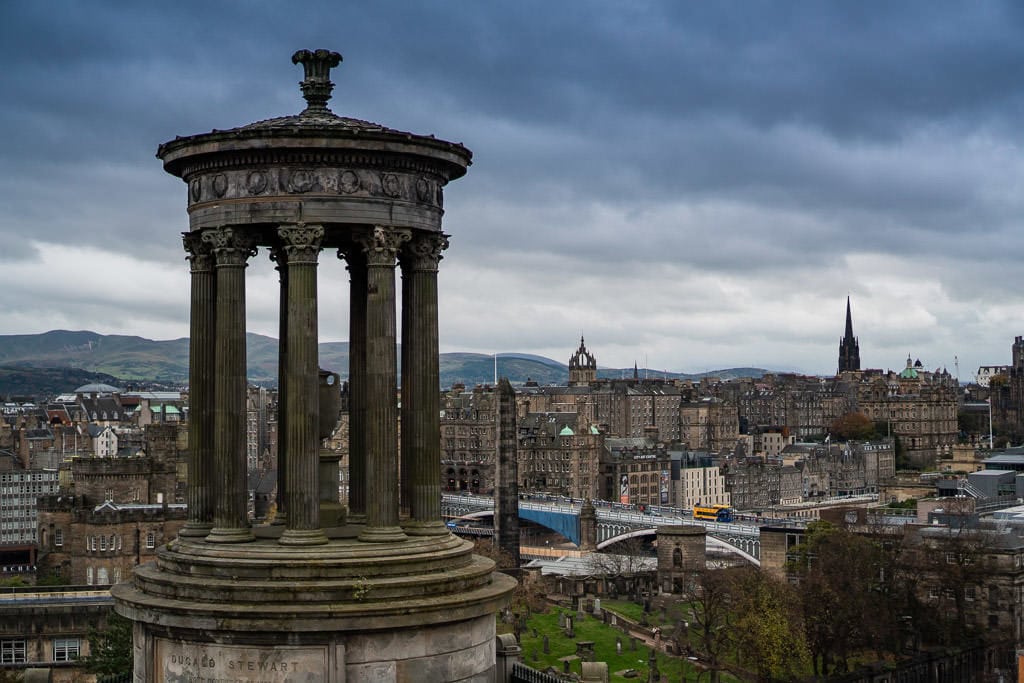 Atop Calton Hill, you can see other monuments as well, including the National Monument, Nelson's Monument, Robert Burns Monument, Political Martyrs' Monument, plus the City Observatory.
Other Things to Do on a Trip to Edinburgh Scotland:
Wander the Royal Mile – the main area of Old Town Edinburgh
Explore the Princes Street Gardens
Go to the National Museum of Scotland
Attend Edinburgh Fringe Festival (an iconic annual event!)
See the Scottish National Gallery
​Stop at one of Edinburgh's Many Pubs
Go to the Scott Monument
Learn about Scottish History on a Free Walking Tour or Paid Day Tour
Visit Holyrood Palace
Go to Harry Potter Fan Sites – like Tom Riddle's Grave!
Try Black Pudding
Go to Rosslyn Chapel
Day Trips from Edinburgh
Day trips to other areas of the United Kingdom are also very possible from Edinburgh. Here are some top picks:
Scottish Highlands (great for hiking lovers!)
Loch Lomond & the Trossachs National Park
Visit Stirling Castle
London is also a short train ride away!
48 Hours in Edinburgh Trip Logistics
Where We Stayed in Edinburgh: Hub by Premiere Inn
While researching where to base our Edinburgh travels from, we wanted a place where we would be comfortable and central to the main attractions of the city. We ended up choosing Hub by Premiere Inn and loved how easy it was to check in, the modern feel of our room and the great staff.
How to Get Around Edinburgh
Trams, buses, and walking are highly recommended when touring Edinburgh. There really isn't any need for a car here. Get some good walking shoes and prepare for lots of hills! It is really a lovely city for a stroll, so don't miss this great way to take in the sights and culture.
Edinburgh Airport, Trams, and Buses throughout the City
As mentioned before, we ended up dropping off the rental car we had been driving since leaving Inverness at the airport then taking the tram into town. We left all our bags safely in the car while off exploring, then came back for them and returned the car before taking the tram back into town to check into our hotel.
If we had thought this through better, we would have just used the free bag drop off at the hotel and returned the car before going into town (saving two trips and 1.5 hours of time on the tram). However, using the tram was really easy since we just got a 24-hour pass.
When it was time to leave, we had to get to the airport before the tram even began running, so we had to take the bus. But, this was also extremely easy and we just paid with exact change when we boarded.
Hop-on-Hop-Off Edinburgh Tour
While in town, the Hop-On-Hop-Off City Sightseeing Bus was fantastic. We opted for the Majestic Edinburgh Bus Tour and used this to see areas of the city we wouldn't have otherwise gotten out to. And just sitting on top taking in all the views was really enjoyable after two full days of wandering around on foot.
Special thanks to Visit Scotland, who provided us with complimentary entry to their ASVA visitor attractions in the stunning Scottish Capital. As always, all opinions are our own.
Read our other articles about our Scotland explorations here! And to learn how we traveled in Europe for five months on a budget by house sitting, read this guide.