A famous rock, views of Africa, cheeky monkeys, and an airstrip with a sidewalk going through it. That's about all we knew of Gibraltar before our visit. And that was more than enough to pique our interest. I mean, the monkeys alone would have been enough to get us to take a quick day trip from spain to check out all the things to do in Gibraltar from Spain.
As we researched our trip, we realized this small area (only about three-miles long) on the southern tip of the Iberian Peninsula in Southern Spain was actually a British Overseas Territory. We'd have to cross a border out off Spain to get to Gibraltar and, once on British land, we could expect everything we had come to love about the United Kingdom – including those fantastic accents and English mustard to put on our chips. But, with MUCH warmer and (usually) sunny weather.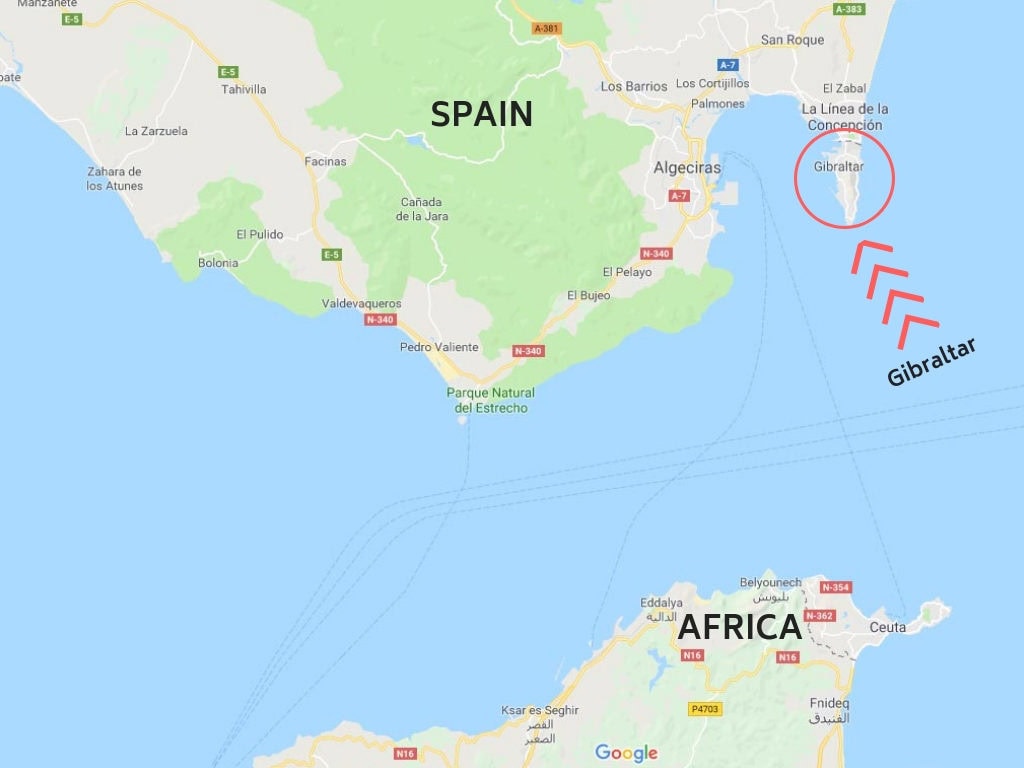 Although we were thoroughly enjoying Spain's food, culture, and architecture, we couldn't resist popping into Gibraltar for a few hours to get a taste of this unique place and see some Gibraltar monkeys in person. Little did we know that while the monkeys seem to get all the attention there are plenty more main attractions in Gibraltar.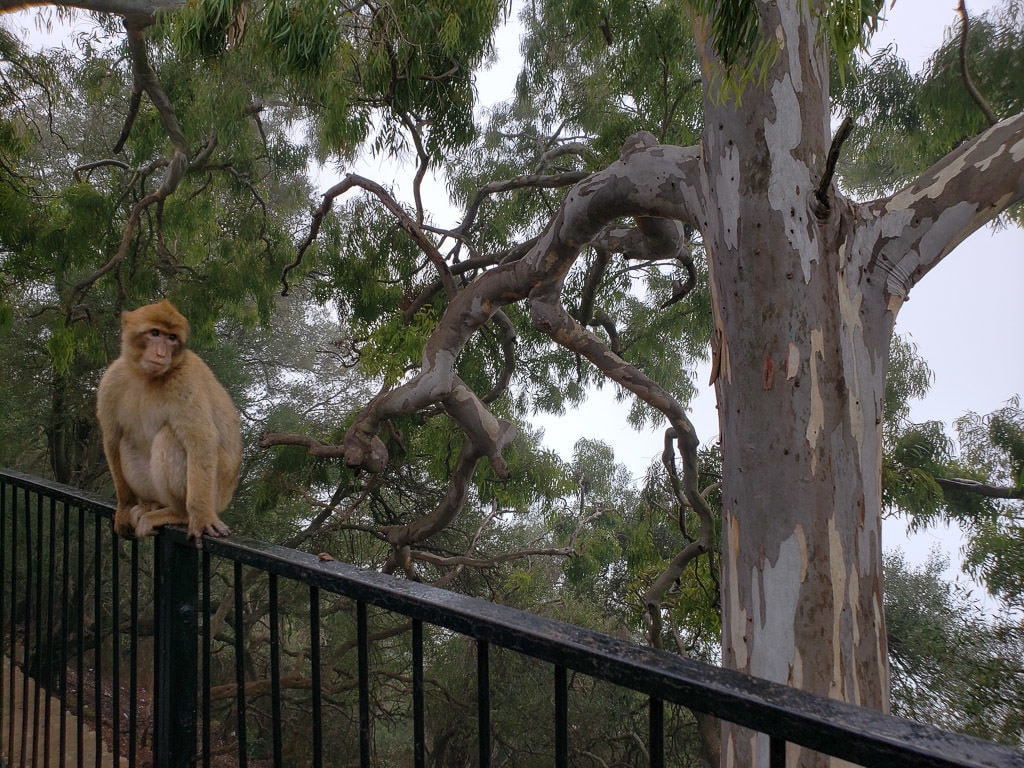 Getting to Gibraltar from Spain
We followed the suggestions of visitors before us, and parked our rental car in the pay-to-park garage in La Linea, just before the border. The short walk through the small border town was really quick and easy to navigate – only about 5 minutes. Since there isn't much else there, we just followed everyone that looked like they had a plan.
After an easy border crossing (with just a quick glance at our Passports), we were back in the UK! This saved us the hassle of driving the car through the border and finding parking in this small city – which can be a challenge depending on season and time of day.
Having reached out to the Gibraltar Tourist Board for tips before our trip, we were lucky enough to have a member of their team offer to give us a guided tour on our short day trip to Gibraltar from Spain. So, we met our guide, Jonathan, right after entering through border control. He was excited to show us around his city, despite the poor weather we were experiencing that day. With quick introductions and a rundown of what he would be showing us, we were off to our first sight – in their official touring vehicle, no less.
Life Around the Rock of Gibraltar
On the way to Europa Point, we chatted about life in "Gib" – as Jonathan called it. Having lived there all of his life, this 20-something was probably one of the best people to share with us about Gibraltar's past, present, and what the future may hold.
He shared interesting facts about life in Gibraltar and how they have their own way of doing things, separate from both their British motherland and neighboring Spain. For example, since many people there speak both English and Spanish, Gibraltarian's pretty much have their own language due to switching between the two so often. This can prove interesting when speaking to someone not from their small area of the world, but just another reason Gibraltar is such a special place.
Gibraltar government also provides full rides to University for residents, I'm assuming this is because they would have to travel all the way to the UK to go. While a wonderful perk to growing up in Gib, life in the big city can often be daunting for these kids who grew up knowing everyone in this safe and tight-knit community. It seems similar to living on an island. However, many people visit Spain and England often – some even have homes there as well.
As tourism in Gib increases, the land is reclaimed from the water and expensive hotels and vacation condos are built. But, they can only make so much room for housing and other infrastructure in such a small place. This, coupled with hold-ups at the border, is why the roads can get packed in Gibraltar – especially during tourist season. Just another reason to not bother with a car when visiting this awesome place.
8 Things To Do in Gibraltar from Spain on a Day Trip
As we made our way up the big limestone rock on our day trip to Gibraltar, we were thankful we had a local pro driving and weren't taking our own car. The roads are narrow and the drop-offs steep. We'd highly suggest taking a tour, hiring a taxi, going up via the Gibraltar cable car or walking – if you are up for the challenge!
Here is what we did on our one-day Gibraltar itinerary:
1. Europa Point Lighthouse
Had the dark clouds not shrouded our view, we would have been able to see Northern Africa from our first stop – Europa Point. It is only about 15 miles across the Strait of Gibraltar to this exotic land, and the view over to Morocco is one of the top highlights of things to do in Gibraltar. There really are spectacular views of the Mediterranean Sea here!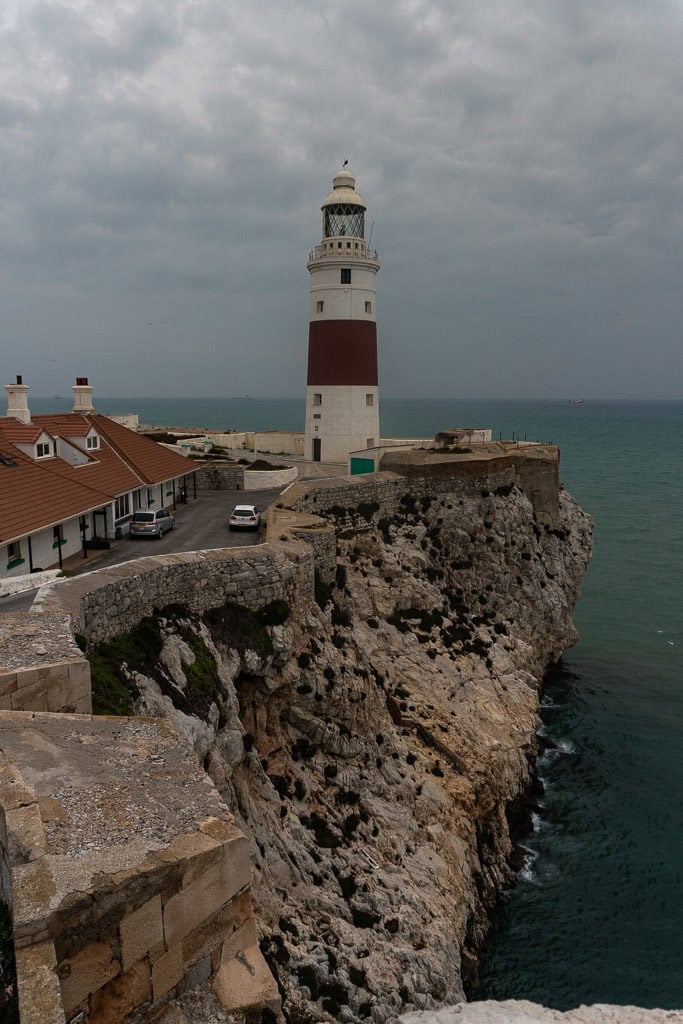 There is also a well-used automated lighthouse at Europa Point – which dates back to 1841, and the Ibrahim al Ibrahim Mosque. Both beautiful buildings are made even more so with their stunning backdrops – the rock to one side, and the Atlantic ocean, Spain, and Africa on the others.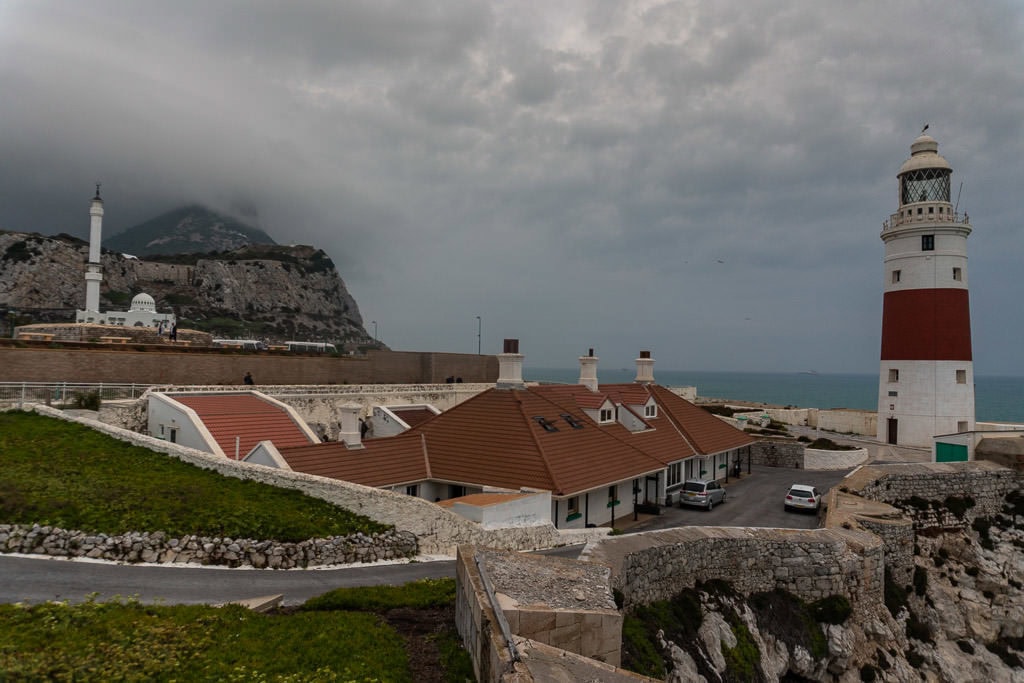 While bummed we didn't get those views everyone raves about, it was still fun to take in the closer scenery – including parts of Spain and the giant Rock of Gibraltar towering above us. However, to get an idea of what a clear day can look like, here is a photo courtesy of the Gibraltar Tourist Board.
2. Catalan Bay
The nearby beach of Catalan Bay is popular with tourists, as well as locals. On Gibraltar National Day, Gibraltarians have a tradition of spending the day together on the small beach. Making for a packed, but fun day of celebrating their choice to live under British sovereignty instead of Spanish.
3. Meet the Gibraltar Monkeys
On our way up the rock, Jonathan asked if we wanted to go visit the cave or the monkeys first. I could be patient no longer, it was all I could do not to scream "TAKE ME TO THE MONKEYS!" I've always wanted to watch these silly, smart creatures interact in the wild and couldn't contain my excitement. (There is also an Upper Rock Nature Reserve you can check out!)
While Gibraltar isn't the deep jungle atmosphere I had always imagined having this experience in, watching the Barbary Macaques (which are usually found in North Africa) play, eat, and watch the tourists was the highlight of our day trip to Gibraltar.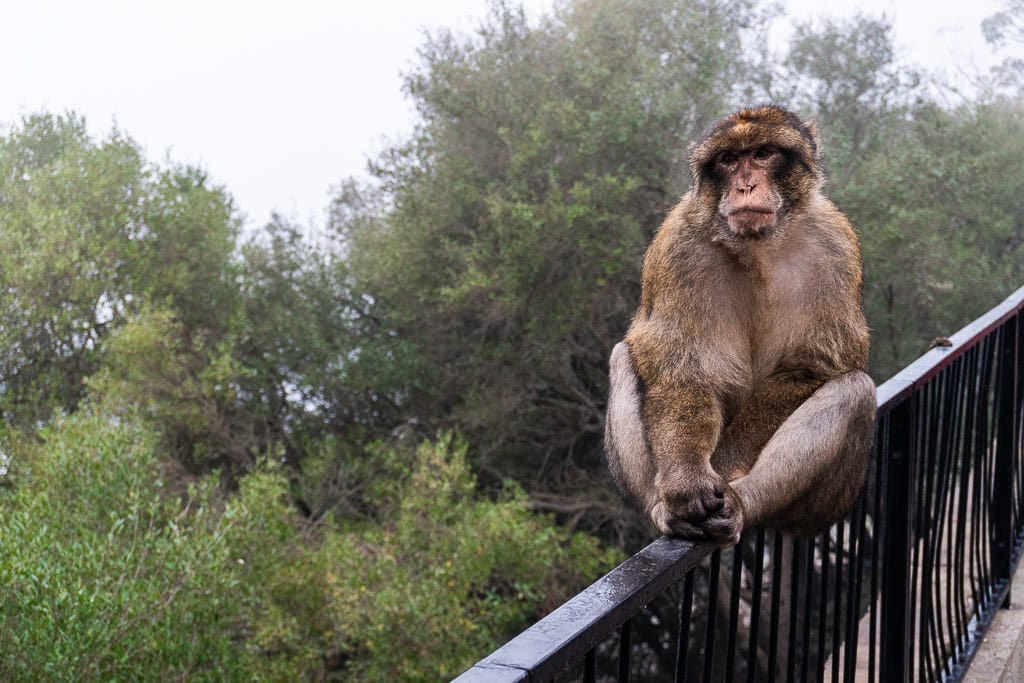 As soon as we arrived at one of the areas the wild Gibraltar monkeys are known to frequent, we saw a few hopping back and forth on top of tour buses. They tackled each other, flung themselves atop buses using the mirrors and sometimes fell to the ground, only to pop up and repeat their gymnastics act.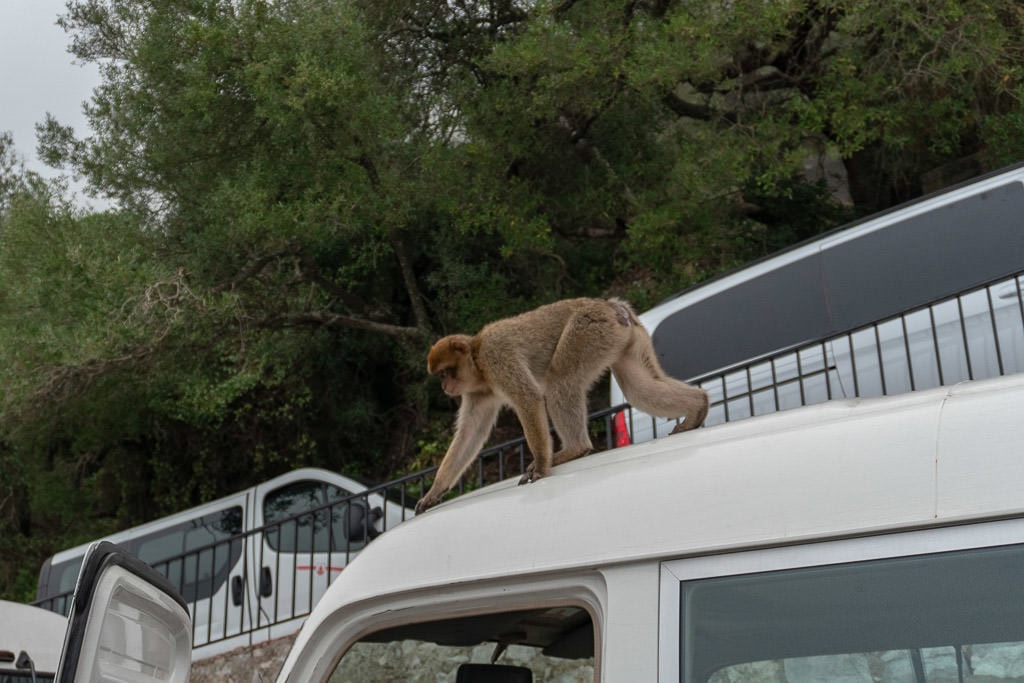 Luckily, we were able to wander away from the tours and crowds to enjoy these silly primates all by ourselves – the only wild monkey population in all of Europe. We watched a baby drink from, then dance around a puddle. Older, more somber looking macaques stared off into the forest or gave us looks that said they didn't care at all about our presence.
Gibraltar Monkey – Rules to Know
While fun to watch these primates, it is sad to know that these wild animals have become so comfortable with humans because they've associated them with food. However, strict laws are now in place to keep people from interacting with the monkeys of Gibraltar. You aren't supposed to feed them, pick them up, or otherwise bother them. It is smart to not have any food on you, or they may try to snatch it.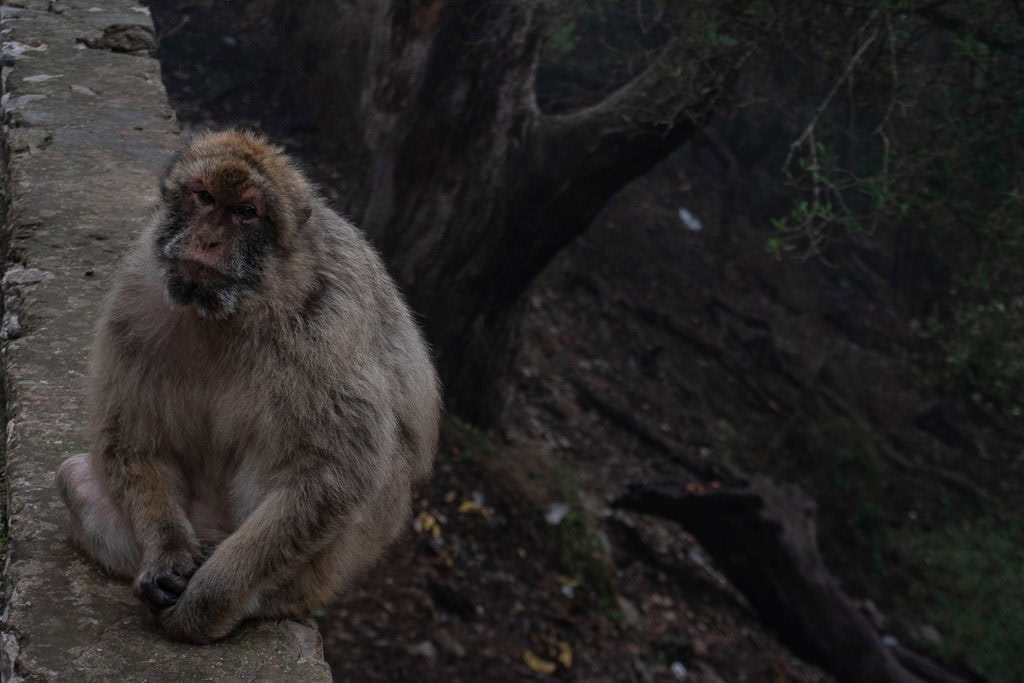 Sadly, people were breaking these rules left and right while we were there. And occasionally, this may lead to a visitor getting bitten or otherwise hurt. While cute, these animals can leave a wicked bite. So, we highly suggest keeping a respectful distance if you visit – for your benefit and theirs. It is also good to recognize the warning signs. A pouty mouth may look cute, but it is actually known as a "Round Mouth Threat" and means back off. (Read more about the Gibraltar monkeys and the guidelines for visiting them here.)
4. St. Michael's Cave
Rumored to be the home to a tunnel connecting Gibraltar to Morocco, St Michael's Cave is a great place to wander around, wonder about its mysteries, and even take in a show. They allow for weddings and other rentals here as well. Miss. Gibraltar was even crowned here one year.
It is lit up by multi-colored lights, making it easier to admire the many massive stalactites and stalagmites. We've seen a few caves during our explorations, and while the area we were allowed to walk through wasn't very long, it was one of the most beautiful caves we've seen. It was fun to imagine the monkeys possibly making their way through the depths of St. Michael's Cave from Morocco.
5. The Great Siege Tunnels
This historic area of Gibraltar was created in the 1780s when the British military troops stationed here had to protect the rock from being captured by the French and Spanish. By digging out the Great Siege Tunnels, this gave them a great vantage point. But, what was most impressive was the hard work that went into creating this area.
The men built the Great Siege Tunnels with sledgehammers, crowbars, and some gunpowder. In five weeks, 18 men had driven a tunnel 82 feet long, and by 1790 around 4,000 feet of tunnels had been dug out inside the rock. In addition to their strength, they bravely manned the tunnels to remain on the lookout for forces trying to reclaim the rock.
While the Great Siege Tunnels themselves are more impressive due to the military history than beautiful, some of the views are really stunning. We didn't have time to walk all the way through. But we enjoyed looking out at the city after getting a peek into the past. (The large plot below the airstrip in the photo below is the city cemetery).
The World War II Tunnels are another interesting historic attraction with a unique history that shows Gibraltar's strategic importance in wartime. The tunnels housed a 16,000-strong garrison with provisions, which basically amounted to an underground city.
In another cave, a famous Neanderthal skull was also found, leading to an even deeper historical significance in the area.
6. Queen's Lookout
A beautiful view, and famous as a place the Queen of England visited in 1954 Queen's Lookout is a must stop when headed to the top of the rock of Gibraltar!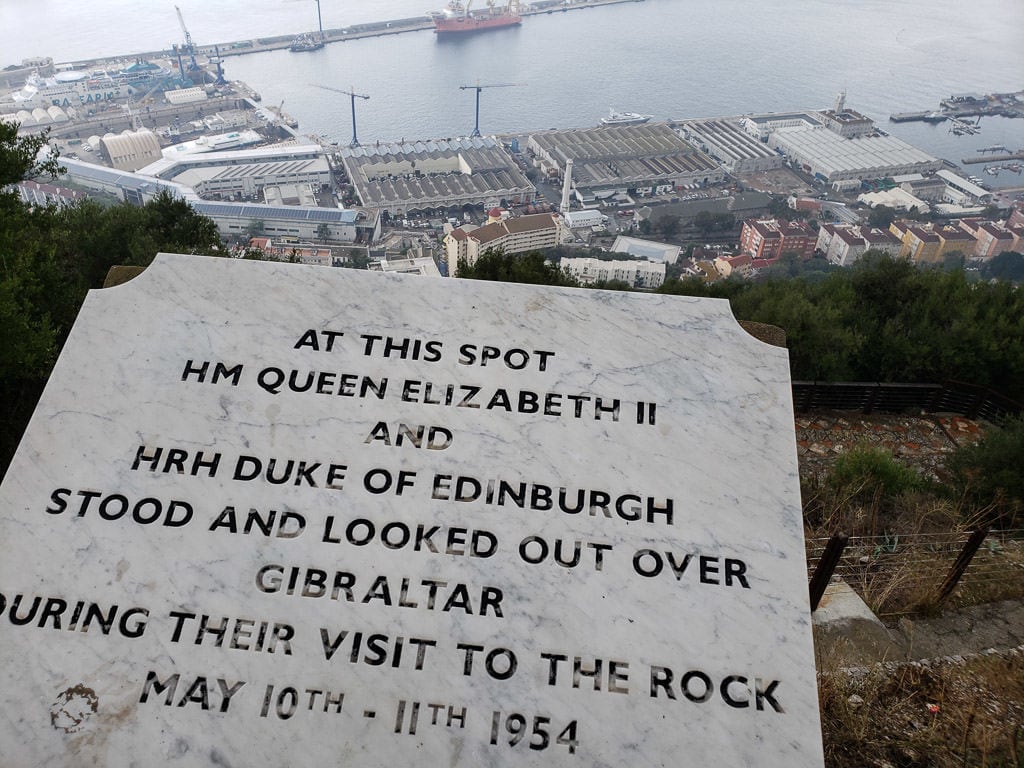 7. Moorish Castle
This iconic structure has fortifications on and around the site dating back to 1160, or earlier. It is a great photo opp and quick historic stop.
8. Lunch in Gibraltar
After our fantastic tour, we went into town for a nice lunch. There were a lot of options with many different influences on flavor. But, just hanging out and having a pint would be worth it in this fun little town. We took our time, not wanting to leave this interesting place before we absolutely had to.
As we walked across the airstrip, through the border, and to our car, it felt like we had just come out of a dream – or a secret passageway to an unknown land. Gibraltar is one of the most uniquely wonderful places we've been, with some of the most lovely, genuine and kind people we've met so far. We'll be praying it can hold its charm and natural beauty, despite the rapid growth and increasing popularity. Cheers, Gib!
Special thanks to the Gibraltar Tourist Board and our fantastic guide Jonathan for helping us to make the most of our day trip to Gibraltar. As always, all opinions are our own. We hope you find even more things to do in Gibraltar to love!
Read more about our Europe travels here. And to learn how we traveled in Europe for five months on a budget by house sitting, read this guide.