Multiple cities in the Andalusia area of Southern Spain are known for their amazing architecture and rich history. With only a few days to explore the area, and already committing to day trips to both Morocco and Gibraltar, we had to choose just one of these stunning places to explore. We decided to check out what to do in Seville Spain (actually spelled Sevilla) in just a short time.
It was a challenging choice – Granada is home to the famous Alhambra Palace while Cordoba has its Mezquita Mosque-Cathedral, but Seville won with both the Real Alcazar (UNESCO World Heritage Site) and the iconic Plaza de España. But really, we won. Because this amazing, vibrant city absolutely exceeded any expectations we had for this part of our trip and made for the perfect two days in Seville.
While the city itself is amazing to look at, I do have to say one of the best things of all was the delicious food and overall upbeat pace of life in this lovely area of the world. The outdoor tapas bars are so romantic I can barely stand it!
Getting to Seville
We knew we were nearing Seville by the noticeable increase in traffic. We had flown into Malaga two days earlier, and while that was a sizable city, this would be our first big – and touristy – Spanish city of our 5-month Europe trip. Big cities tend to give us a bit of anxiety. And the crazy traffic and confusing roads we were encountering as we neared our hotel weren't helping to lessen any of our stress.
(Note for future trips: Driving between destinations in Spain is easy and the roads are great. But, major cities will likely be hectic and hard to navigate. Maybe just use public transport for these).
Trying to Find Our Hotel in Seville
However, we couldn't help but admire the gorgeous city we were hopelessly confused in. The architecture was stunning and the weather was perfect. As we drove around, we tried to focus on the beauty of Seville and not get aggravated with each other as we looped not once, not twice, but about four times trying to find the road to our hotel.
And by road, I mean the "pedestrian walkway that is okay to drive on if you are a guest of the hotel." We were instructed to find it by turning by the palm trees, crossing the tram tracks, and driving up the cobblestone sidewalk. Eventually, we just paid to park in a garage and walked to find the entrance. Which we had, of course, almost passed multiple times.
Luckily, our frustrations were allayed by the extremely kind English-speaking host who gave us a warm welcome to the beautiful apartment-style hotel. (Sevilla Central Suites – Apartments Puerta Jerez around the corner from the Real Alcazar).
Plus, he shared lots of fantastic recommendations. He even helped guide Buddy into our space in the hotel's gated parking area – a marriage-saver for sure. That upgrade to a small SUV wasn't so awesome at that point. But my master driver/parker/navigator made it work with the help of our new friend.
Time for Tapas in Seville
While our cozy apartment was amazing (and had a great rooftop deck), we were excited to be without the burden of our car and ready to go find some delicious tapas in Seville.
We fell in love with the city almost instantly as we wandered around looking for food. And once we got our hands on those tapas we had heard so much about (including a perfect mini-Paella), we fell even harder for Seville – and Spain in general.
The city reminded me of the Spanish-settled city of St. Augustine in our home state of Florida. (But with much older, more stunning buildings and way better food. Sorry St. Augie, you know I do love you, but I shall not tell lies). When I was a little kid, my dad took me to see the King and Queen of Spain speak during their visit to the historic Florida coastal city.
Ten-year-old me would be excited to know I finally made good on a promise to myself to see Spain one day. It was better than I had always imagined.
Wandering Around Seville at Night
Since we arrived in late afternoon, it wasn't long until the sky started to darken and we got to enjoy some of the busiest attractions almost all to ourselves as we wandered around Seville at night.
Plaza de Espana After Dark
We wandered down dark, winding streets, through parks, and eventually ended up at the Plaza de España where we stopped to take photos for at least an hour. It was about 10 p.m. at night in Seville and we were some of the only people there, making it all the more beautiful and peaceful.
We also lucked out with there being an international food festival in the large park near the Plaza de España, where we tasted beers from places like Brazil and Russia. This great event was on our radar after a chat we had with another American couple in Tarifa. Such a fun find!
Is It Safe in Seville at Night?
Not once did we feel unsafe wandering alone late at night in the old, gorgeous city of Seville. I realized recently that this is a strange thing to mention to Europeans, since crime isn't as much of a worry in big cities like it is in the U.S.
But, I feel like it is important to note, because I was a little skeptical that the city was actually as safe as everyone said. While I'm sure crime happens and bad areas exist, we didn't come across anything worrisome in the more popular areas of town.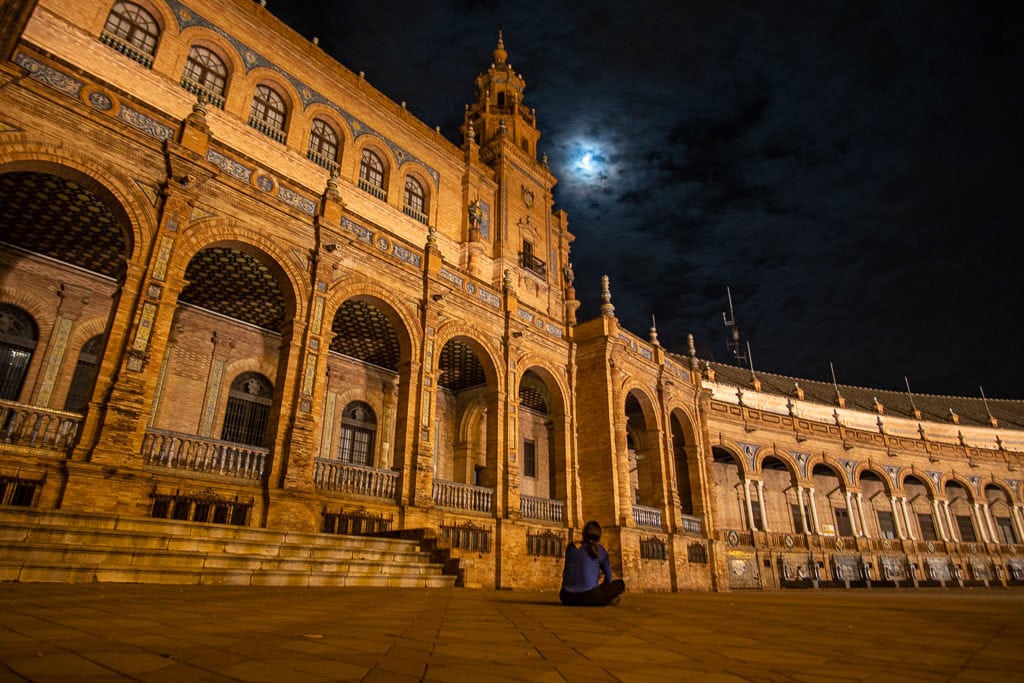 During our entire time in Seville, we were only semi-hassled twice. The first time was by some pushy older ladies trying to sell me some kind of herbs outside the large Catedral de Sevilla. And the second was by two adorable young men who came up and serenaded us at an outdoor café while we sipped our last beers of the trip.
Looking back, I probably should have said "No, thank you." But I was happy to give them a few Euros for their fantastic little show. However, I didn't realize we were flat out of cash until they stopped singing.
After some apologies, we gave them the one American dollar we for whatever reason still had on us. And I did some half-Spanish, half-English, mostly make-shift sign language to ask them if we could buy them a beer. They laughed, said it was okay (I think…), high-fived me for good measure, and tried to find the next target of their impromptu show.
The Real Alcazar Experience
Our only full day of our 2 days in Seville was dedicated to exploring the Real Alcazar – one of the most popular places in Spain. We hadn't been able to pre-book line tickets online like everyone tells you to (their site didn't like our card), so we were prepared for the giant queue and a long wait.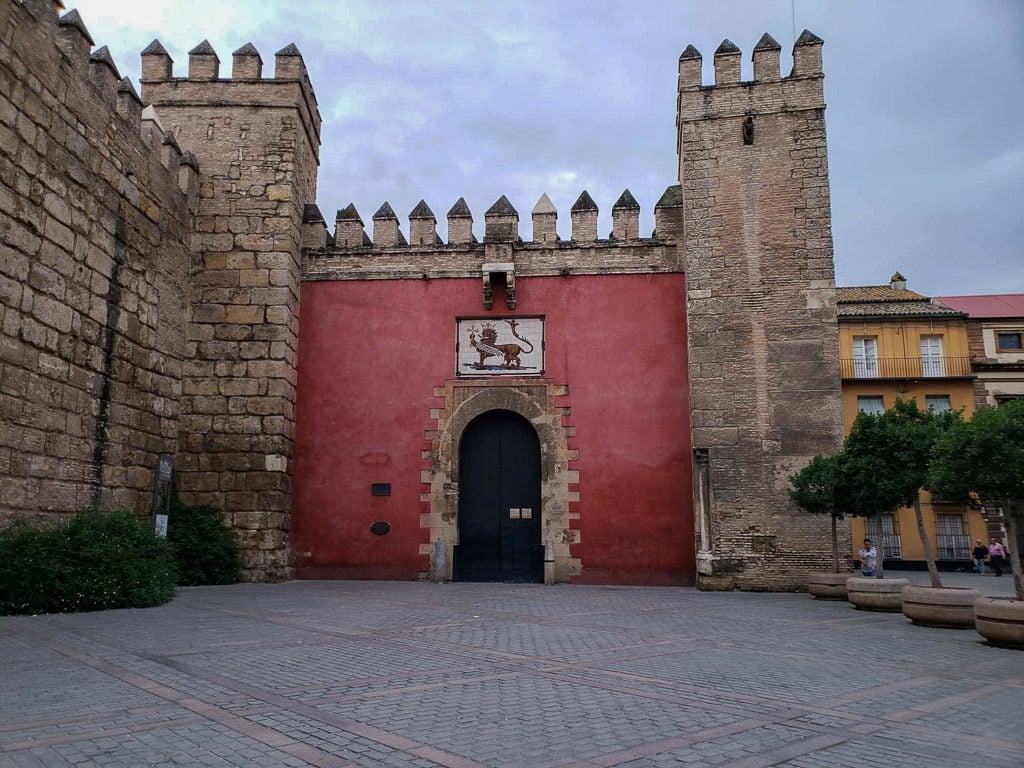 While not an extremely long line when we arrived, we did get there early. We ended up waiting about an hour total, but were able to get into the Real Alcazar shortly after they opened.
And it was a good thing we did, because the line was wrapped around the building before we went in, with another line next to it for people with tickets. Seems like you wait regardless for these types of popular European tourist attractions, pre-booking just makes it a little less painful.
Once inside the Real Alcazar, we were awestruck. It was so much more beautiful than we could have imagined. The intricacy of the architecture and all the colorful tiles and paintings made each room a new experience. No wonder it was chosen as a filming location for Game of Thrones!
And the beautiful gardens were amazing as well! However, while stunning in their own right, the Real Alcazar is the only place we've been where the gardens didn't impress us more than the interior decorations and architecture. We usually lean more towards natural beauty than man-made, but this was a strong exception. It was clear the palace was truly divinely-inspired.
Funny enough, I heard a tour guide mention that the purpose of the Real Alcazar was to give people a taste of heaven on earth – a place to renew their spirits and remind them of the wonders to come. They certainly achieved that goal.
Our Genius Real Alcazar Plan
While we didn't want to rush our experience at the Real Alcazar, we were aware of just how many people were going to be filling up all the gorgeous rooms and gardens in no time at all.
So, we tried to go through the entire palace somewhat quickly, to make sure we got a chance to see everything and take photos without the crowds. Then, after we had seen it all, we went back through and spent time really taking it all in and admiring the details with hoards of people.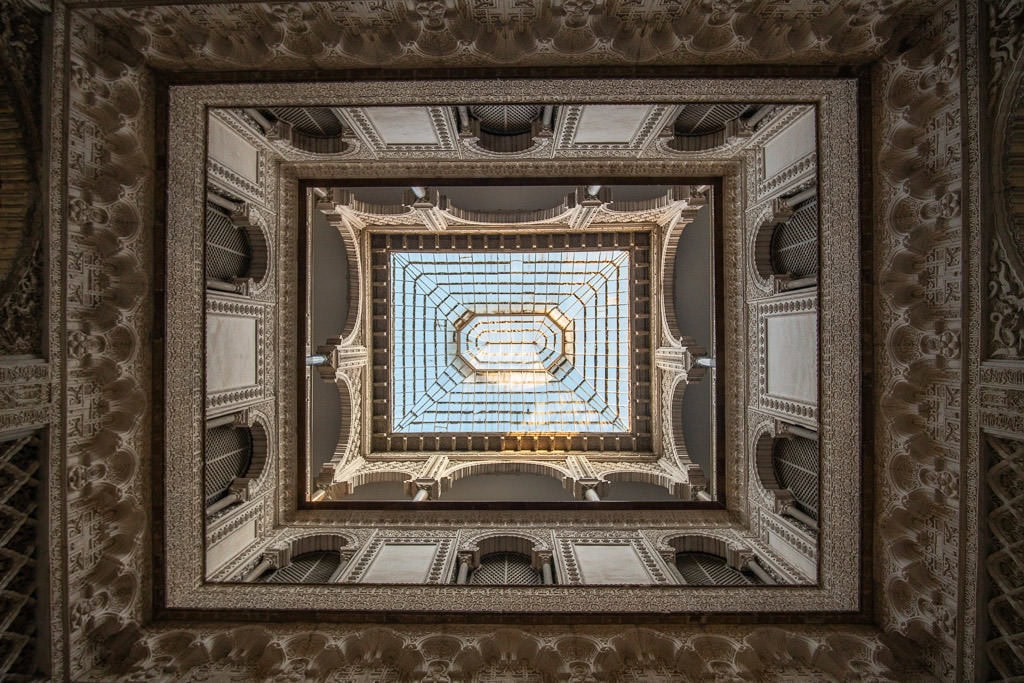 This method worked so great, it is now how we plan to see every major attraction we go to.
Yet, even with our great plan, we both agreed we would have loved a few more hours to enjoy all the artistic and architectural details. But, we had already been there for almost three hours and Seville's tapas were calling.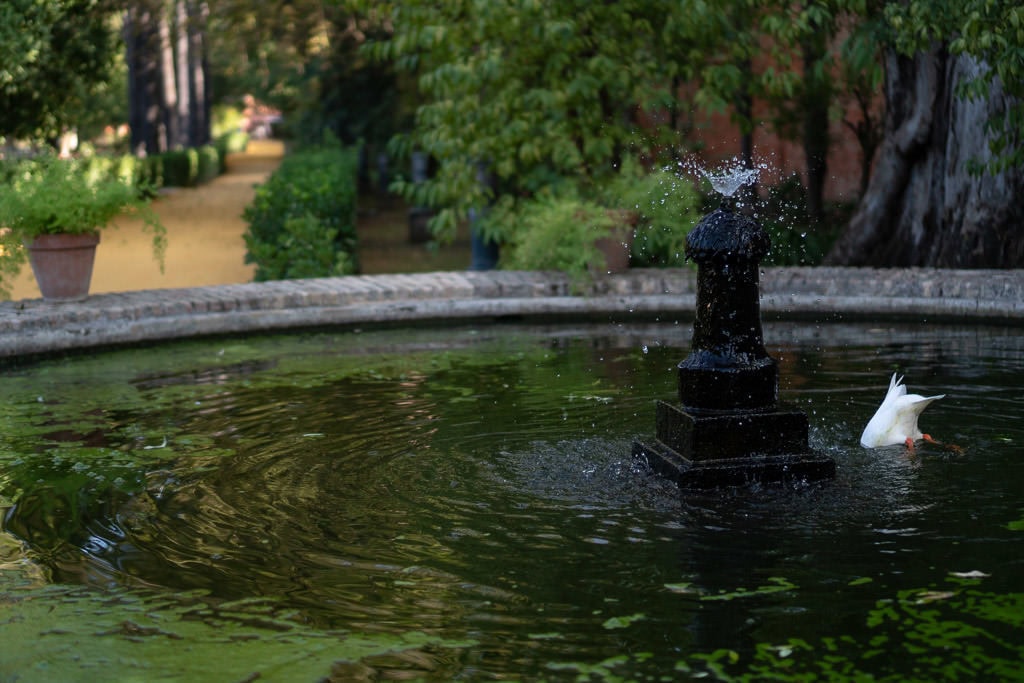 Open-Air Sightseeing Bus in Seville
After our tapas break, we walked around for a while in search of a hat for Buddy to protect his bald head from the sun. (Note to self: Spain is sunny. Duh). We hadn't expected such hot weather during our trip, so he only brought a beanie – which had become very impractical.
We scoured multiple stores looking for a plain cap, but eventually gave up and got one of those super touristy ones promoting the city of Seville. It does go well with the photos though!
Hat on head, we boarded the Hop-On-Hop-Off City Sightseeing Bus in Seville. We have really come to love these things as a way to tour parts of the city we wouldn't end up in on foot. While we prefer to walk, we can only get so far – especially when stopping for cerveza and tapas every few hours.
From the top of the big red bus, we got to see places like Plaza de América and Torre de los Perdigones while listening to fun facts about the city. For example, we learned that Plaza de España was included in Star Wars: Episode II – Attack of the Clones.
It was a nice break for our feet with great views of Guadalquivir River. But I have to say, watching all the brave motorbikers weave in and out of traffic and the big buses take tight turns was pretty entertaining in itself.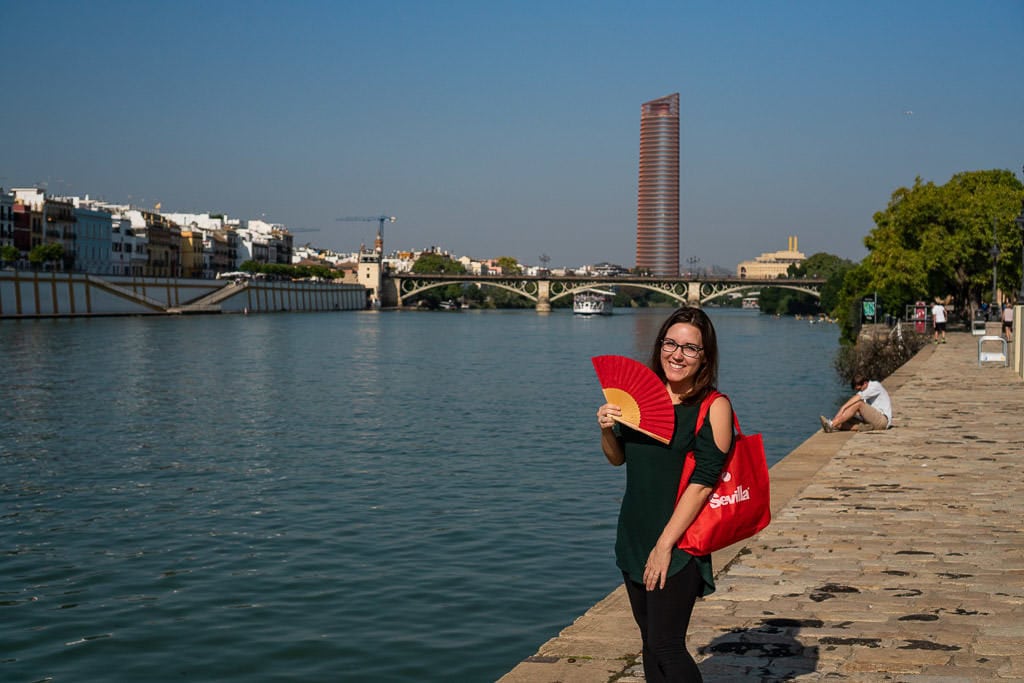 Wrapping Up Our Short Trip
We only had one more night to go – filled with more delicious food and wanderings. Then we would be back on the busy roads making our way out of town and on to our next adventure – hanging out with two of the snuggliest, cutest pups in a small village near Malaga, Spain.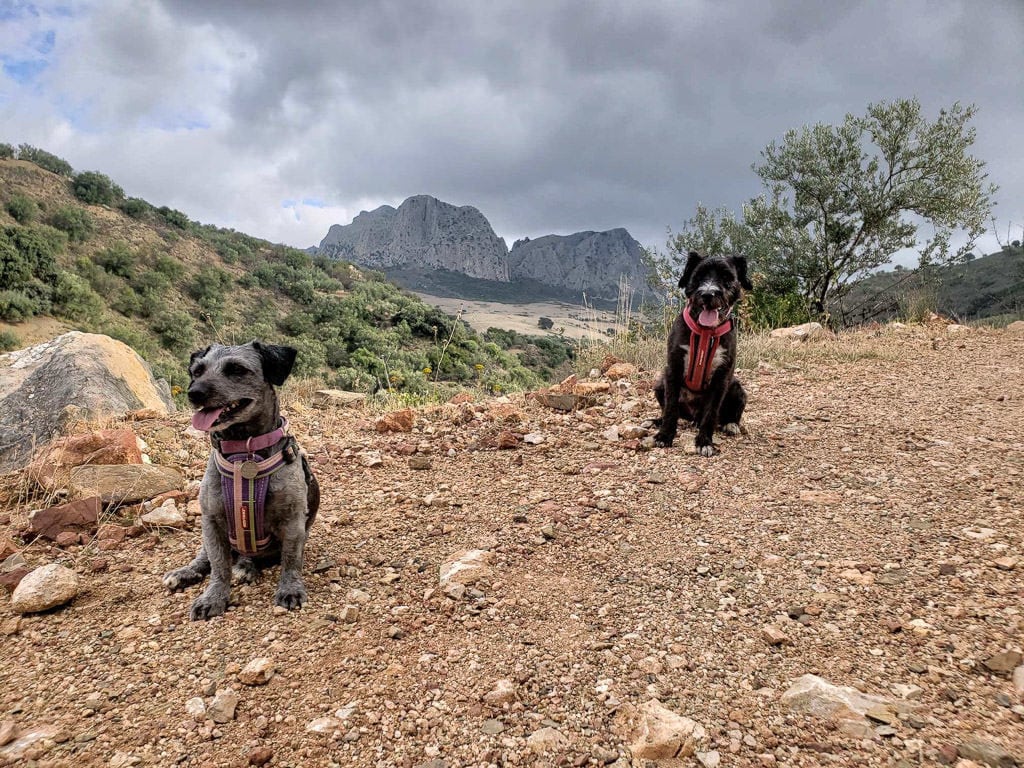 While much more touristy than anywhere else we went while visiting Spain, Seville gave us exactly what we were hoping for and so much more. We truly felt the magical, easy-going energy of the city. And, between that and living in rural Spain for two weeks, we fell in love with the Spanish way of life. I know it won't be long until we return; I made a promise to 28-year-old me that I plan on keeping.
Other Best Places to Visit & What to Do in Seville Spain
We'd love to go back to Sevilla with more time. Here's what's on our list:
Torre del Oro Watchtower
Seville Cathedral (Largest gothic cathedral in the world)
La Giralda (Bell Tower of Seville Cathedral)
Maritime Museum
General Archive of the Indies world heritage site
Have a picnic in one of the green spaces
Casa de Pilatos (Andalusian palace where the Dukes of Medinaceli reside)
Parque de María Luisa (Maria Luisa Park is a lush park along the river)
Watch a Flamenco Show
Metropol Parasol (aka Las Setas is a unique architectural modern building)
Museum of Fine Arts
Mercado de Triana (indoor bazaar in the Triana Neighborhood)
Archaeological Museum
Take a horse-drawn carriage down the narrow streets
Take a bike ride around the beautiful city
Take a guided tour – the best way to learn more about Sevilla and Spanish Culture
Special thanks to Sevilla Tourism for providing us with City Sightseeing Bus tickets. As always, all opinions are our own.
Read more about our Europe travels here. And to learn how we traveled in Europe for five months on a budget by house sitting, read this guide.