There's something so tempting about exotic places. For some, being out of their element sounds terrifying, but for others it is exhilarating. For us, we've come to almost crave it. We want to feel the enlightenment and joy that comes with leaving our comfort zones. Which is why we had to take a day trip to Morocco from Spain when we had the chance.
2022 Update: I have had a few people mention the website for Said Tours wasn't working and it does look like they've updated it to SaidPrivateTours.com. You can also check them out on Facebook. As always, do your own research before booking to make sure you are choosing a company you can personally trust and that will offer the experience you are looking for.
The idea of stepping foot in Africa made me excited and nervous all at the same time. And I've learned – over the last almost two years of nomad life – that in order to be the person I want to be, I have to do things that girl would do. That girl does things that scare her.
We knew from following along with another nomad couple (thanks, @mrandmrsadventure!), that we could take a ferry to Tangier from Spain. So, when we booked our trip to the Andalucía area of Spain, Morocco was instantly top of mind. Would we go for it or would we chicken out?
My Reasons Not To Visit Morocco
It took me a long time to realize that bravery isn't a lack of being afraid. Bravery is looking at your fear, taking a deep breath, and doing it anyway. Not because you get some weird joy out of discomfort (okay, maybe just a little). But really because you know the disappointment in yourself you will feel if you let that fear – which is often grounded in made-up beliefs – make you miss out on something really amazing.
For me, this is still a work in progress. I'll do the scary thing, but first I usually go through all the reasons not to until I have no more excuses left. Pretty brave, right? Haha Meanwhile, Buddy is replying, "Yes, I think it is still fine to go" over and over to all my questions, knowing I'll circle back in a day or two and decide to go for it. He really is a sweetheart for putting up with my nonsense. 🙂
Please enjoy a look into my mind for the next couple of paragraphs, and my top worries for this trip …
Is Tangier safe?
Is anywhere really safe these days? Nope. But, I did look into if there was anything specific to worry about. At least in the area of Morocco we were headed, it didn't have anything concerning pop up. The biggest thing that everyone noted wasn't so much a safety concern as an annoyance: If you don't have a guide, you will get hassled. So, we'd get a guide. That was a pretty easy fix, and I concluded that is appears that Tangier is safe!
Can we get sick in Tangier?
My first major worry was vaccines. Even non-travelers know going to Africa means getting all the shots. So, I assured myself, we wouldn't even be able to go to Morocco since we wouldn't have time to get the required immunizations. Then the search results came in: "No required vaccines." Oh.
While Hepatitis A and Typhoid are recommended, we didn't have to have them. But, of course, I didn't want to chance catching those scary-sounding diseases. So, the research continued. If we avoided the water and any food that could be contaminated, we should be fine according to the trusty advice of non-professionals who managed to return from their trip to Morocco without any unwelcome bugs.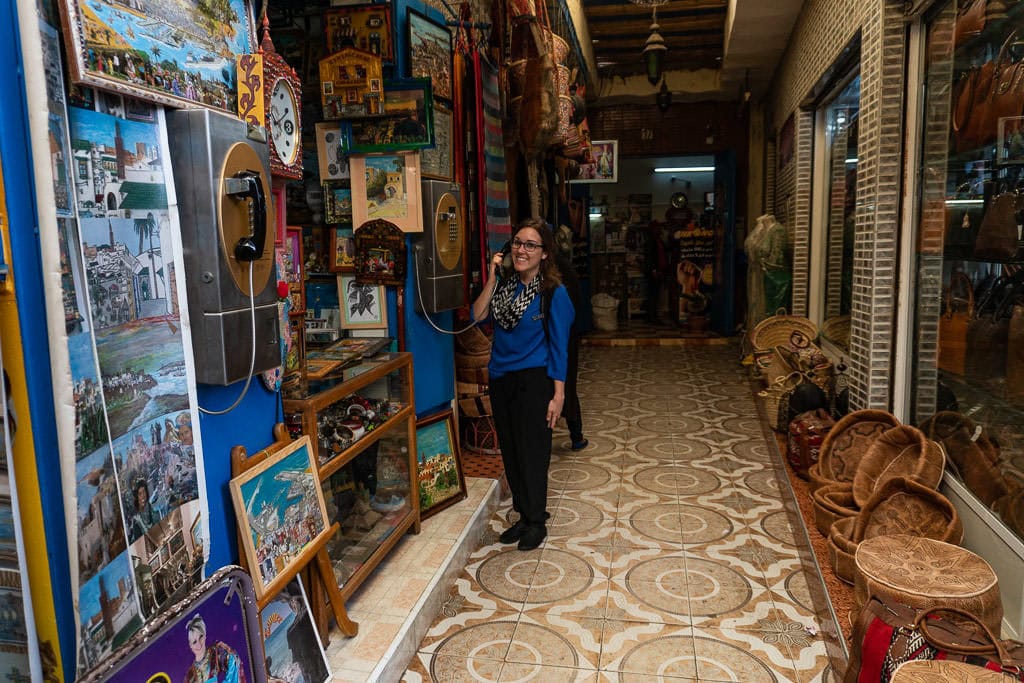 I also looked up what would happen if we did get either of these, just in case. Turns out, they are both curable. Okay, so I won't get sick in Tangier, so no more excuses. We have to go. We committed ourselves and told everyone we knew we were going to Africa!!! Just kidding, we only told a few fellow travelers because we didn't want anyone back home trying to talk us out of it or worrying themselves sick because of the misconceptions they may have.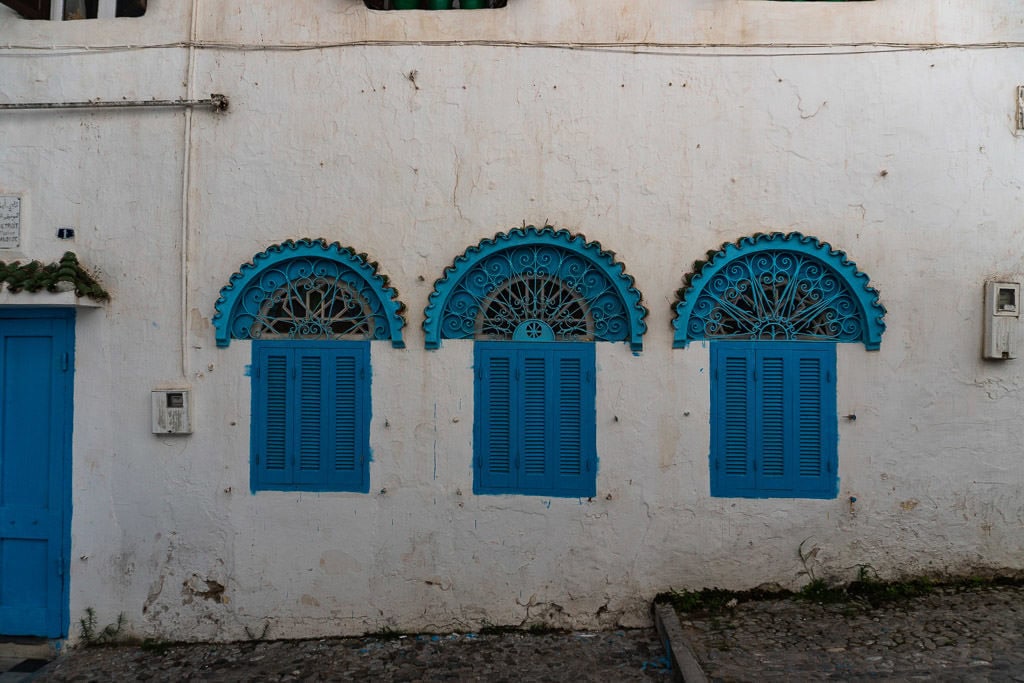 But wait, what's the toilet situation?
After booking our Tangier tour and committing ourselves, I had this realization that going to the bathroom in Morocco may be wildly different than I have experienced before. So, back to The Google I went. Oh no. I was right. I read that most of Morocco has "squat toilets" with no toilet paper, but instead a bucket to use to rinse yourself. Talk about going out of my comfort zone.
I hate public toilets – even the nice ones just look like germ buckets to me. So, I've purposefully avoided traveling to places with sketchy toilet situations … until now. Realizing this was a really stupid reason to cancel our whole Morocco trip, I started planning ahead. I practiced squat-peeing often, Googled diagrams and instructions for how the hell this new peeing situation would work. Then I prepped my supplies – toilet paper, wet wipes, hand sanitizer, and a "she-wee" I had brought from home for just-in-case emergencies on our trip. I was thinking more side-of-the-road pee breaks, but whatever. Ok, now we were ready!
We Are Going to Tangier, Morocco
Fast forward, and we had arrived in Malaga, Spain. After, picking up our hired car, we drove straight to Tarifa – which, by the way, is SO MUCH more than just a port town. It had great beach views with yummy restaurants, lots of windsurfers to watch and beautiful streets to wind through. Once settled into our gorgeous room, we walked down to the ferry office (after going to two wrong offices in town), to sort out our tickets.
We had booked our Tangier tour with Said Tours, which was pricier than some other options, but the rave reviews on TripAdvisor hooked us. Said arranged our ferry from Spain to Morocco for us, and we just had to pick up the tickets. However, we somehow missed the memo that we would be on the intershipping ferry, not the FRS ferry whose advertisements were plastered all over the city. Once we got that figured out, we enjoyed a wonderful night in Tarifa and admired the looming continent of Africa just across the water. We'd be there tomorrow…
Taking the Ferry from Spain to Morocco
Getting on the ferry from Tarifa, Spain to Tangier, Morocco early the next morning was a breeze for the most part. The only confusing part was the Passport-control card we had to fill out. A few of the questions weren't clear to us, but a helpful employee was kind enough to explain it.
While smooth, our anticipation made the one-hour ferry ride to Morocco feel like three. Once docked in Tangier, we quickly walked to the meeting area to find our guide. Here we were approached by at least three people offering their service in about two minutes, before seeing Said with our name on a paper. We were thankful to wave at him and have him save us from anyone else hassling us.
Said efficiently went over the plan for our Tangier tour for the day, including when we needed to be back to catch the ferry from Morocco to Spain, and introduced us to our guide and driver. Mohammed, our guide for the day, shook our hands with a big smile. I liked him already for his kind demeanor, and unmistakably great fashion sense. We already knew our day trip to Morocco from Spain was going to be great.
Our Whirlwind Tangier Tour
No time was wasted as we headed out to our first destination on our Tangier tour. Mohammed shared lots of interesting facts about the famous people who have lived in this area of Morocco – which is well loved by artists of all kinds, including Tennessee Williams and Jack Kerouac.
With wide eyes and open minds, we tried to take in everything we were seeing and soak up all of the knowledge he was giving us of this amazing place. Morocco was unlike anything I had ever seen before.
Strait of Gibraltar from Tangier
Our first Tangier tour stop was to check out the amazing views where the Atlantic Ocean and Mediterranean Sea meet. Across the way was Spain and the famous Rock of Gibraltar, which we had plans to visit the next day.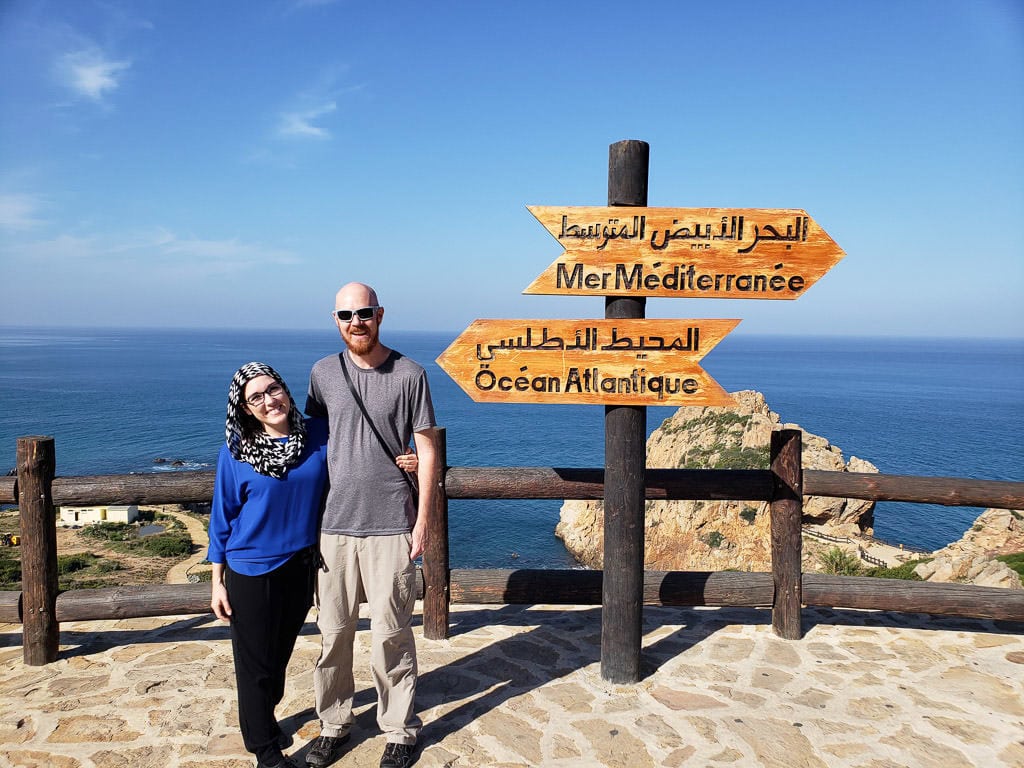 Mohammed took our photo, and encouraged Buddy to give me "something big." Which we realized after exchanging an awkward and confused hug that he meant a kiss. It was a beautiful day and we had the best guide to make sure we would enjoy this short day trip to Morocco. But there was so much more in store.
Tangier Camel Ride
I'm usually not into riding animals, because I'm just never sure how they are treated. But Mohammed insisted that a Tangier camel ride was a must-do thing, and the animals looked pretty content and happy when we pulled up.
Apparently, we are so light compared to what they normally hold that they don't even notice us up there. So, that made me feel a little better.
"Hold on tight," Mohammed told us as we all-of-a-sudden tilted forward, then backward in the seat as the camels stood up. After borrowing my phone for a mini-photo shoot, Mohammed let his camel-owning friend take us on a short loop to admire the beach below and gorgeous ocean. Then we kissed our camels goodbye and were on our way to the next stop of our whirlwind Tangier tour.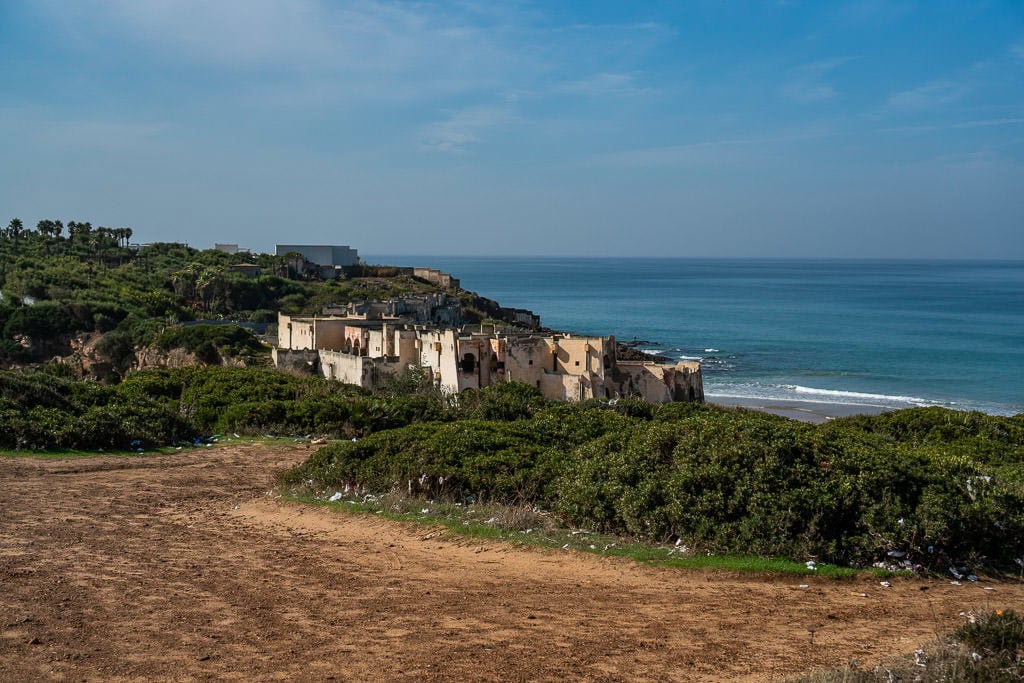 Hercules Cave
Our next stop was a short visit to the very popular Hercules Cave. This is where the Berber people cut stone wheels from the walls to make millstones – which gives it all the interesting circular shapes. There is also a "Map of Africa" opening, that is believed to be made by the Phoenicians. And the monkeys of Gibraltar are rumored to have entered from here and made it over to the other side in St. Michael's Cave.
While nowhere near as interesting as the Medina we would soon see, it was an interesting place to wander around and take in more of the amazing Morocco ocean views.
(Note: Shortly after this stop, Mohammed explained that many women just cover their heads to hide from the sun or maintain traditions – not because they have to. Having covered my head up until this point because I thought it was the respectful thing to do in a Muslim country, I decided I'd go without the scarf for the remainder of our trip since it seemed to be okay).
City Wanderings During Our Tour of Tangier
This next part of our visit to Tangier made us realize just how important it was to have a guide. We would have never left Morocco if it were up to us to navigate all the tiny, twisting streets between the homes. And what a pity it would have been to miss this – our favorite part of our trip.
We wandered through the colorfully painted streets during our tour of Tangier, with their bright doors and friendly inhabitants. As we walked, Mohammed shared so much about Morocco's beautiful culture. They are all very connected and look out for each other. There is little crime and everyone seemed to know each other – or at least they knew Mohammed.
He greeted each person we passed with a hug or kiss on the cheek. He patted kids on the head or goofed off with them. Everyone smiled at each other, and at us – because we were included by association to our popular new friend.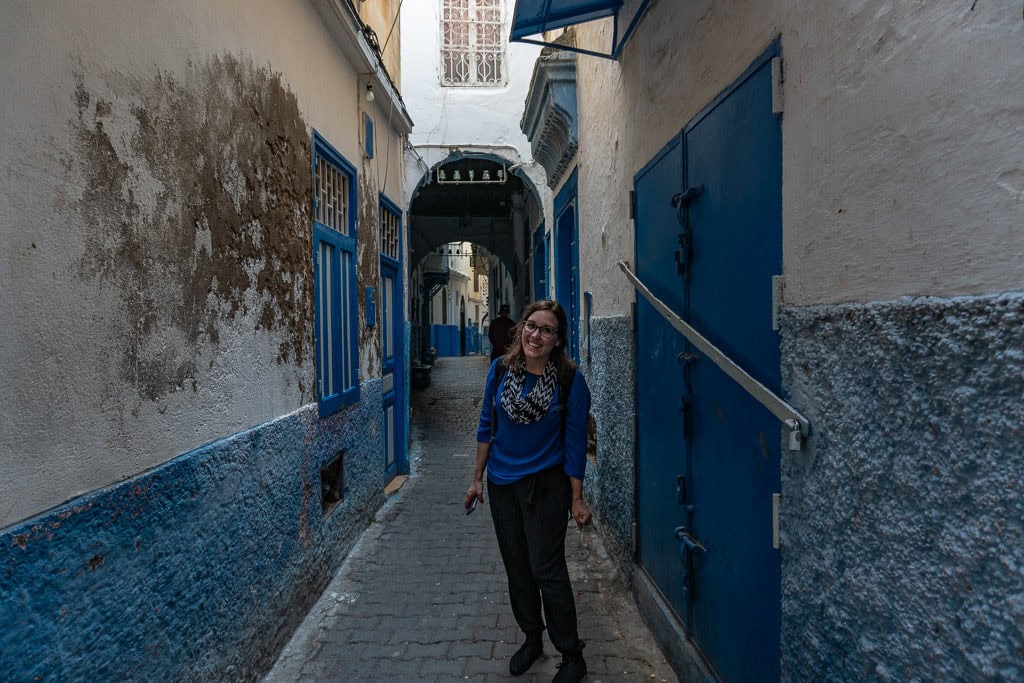 We also passed through a portion of the U.S. – the American Legation building and its property is the first American public property outside the United States.
A Special Look into Every-Day Life in Morocco
Mohammed explained that since they don't have running water in these areas, each street has a spicket and a long hose. The families take turns filling up a large bucket of water to use, then pass the hose next door. They also have community bakers on each street or so who they bring their dough to each day and he bakes it in a wood-powered oven for everyone to pick up later. Not to mention, the fresh markets everyone shops at each day to collect what their family would need to eat (more on that later).
The overwhelming sense of community and love we could feel radiating from the people of this city toward one another was unlike anything we had ever experienced. We didn't even know it was possible for life to go so smoothly and peacefully.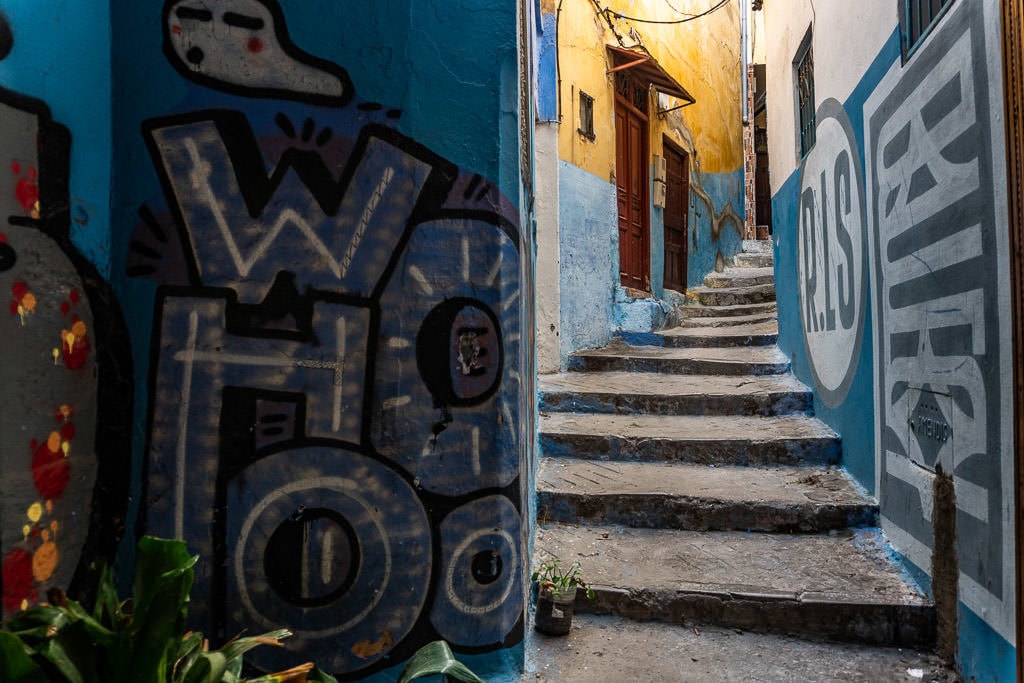 Morocco is beautiful, but I quickly realized it is probably just the result of the beautiful souls wanting their surroundings to reflect how they feel about this wonderful place they call home. I realize our guide wouldn't have shown us the bad parts of the city, if they do exist, but I felt what we saw was extremely genuine. And, I'm so thankful to have experienced it during our Tangier tour. I believe this is something you don't see on the big tour group tours, but only with a private tour like we took.
Great Lunch in Tangier with City Views
Before leaving for Morocco, I was becoming really nervous about the food. What if we were one of those unlucky people who get really sick? What if they don't have a vegetarian option for me? But, by the time lunch came around, I was ecstatic to get to dive further into this culture. And, since we had brought up my food preference to Said while booking our Tangier tour, before even arriving, it was all arranged perfectly.
The bathroom was even fantastic! It was beautifully tiled and had a western-style toilet that seemed to shine as I smiled at it in relief. No squat toilets for me on this trip! But the views were the biggest perk to this amazing Tangier lunch spot. What a stunning city!
The meal started with a yummy veggie soup, then Buddy had a delicious chicken tagine dish and I had vegetable couscous, which was enormous. I barely made a dent in it after eating more than I normally would.
Afterward, we were treated to a crunchy, honey-drenched version of baklava and the famous mint tea everyone raves about. Then we climbed to the top of the building to check out the 360-degree views. As we stood there all alone, the Muslim call to prayer began and echoed all around us. It was such a powerful and special thing to experience, and it couldn't have happened at a better time.
A Quick Trim in Morocco
After lunch, while walking through more of the beautiful city, we saw a barber and Buddy decided (with some encouragement from our guide) to shell out the €2 to get his unruly beard touched up. This was the first time he ever had someone other than me do this, and the guy even used a straight razor, another first. So brave!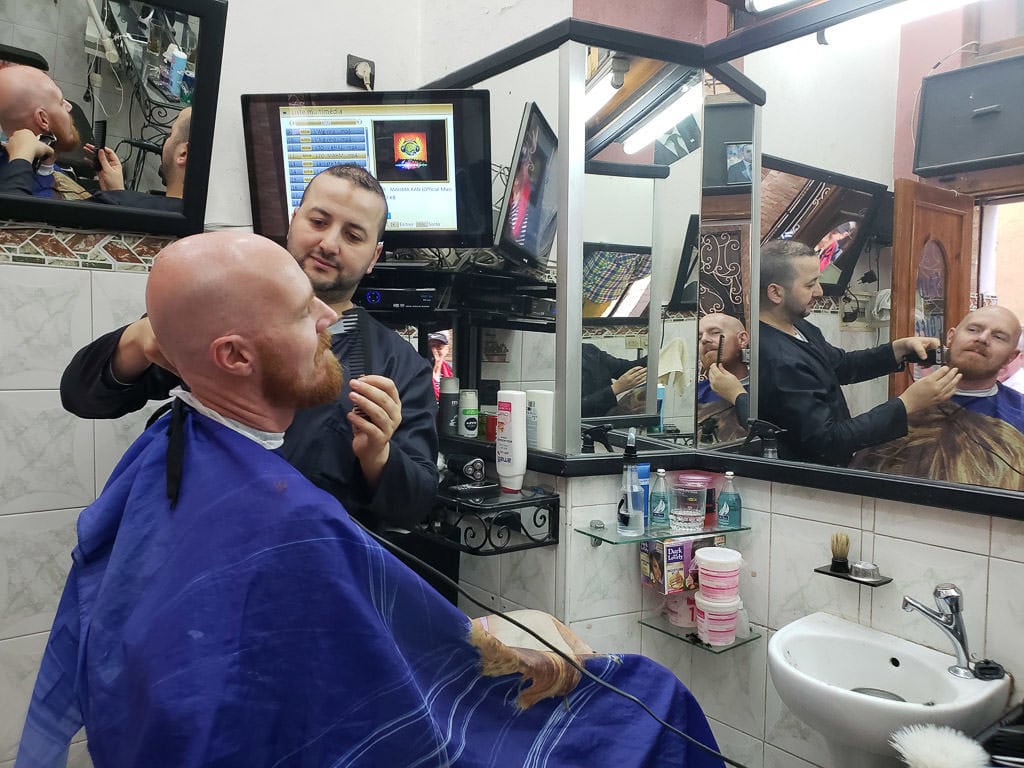 I tried not to laugh as I could tell he was a little nervous about the entire thing, but he came up unscathed and looking more handsome and pleased with himself than ever.
Walking Through the Medina in Tangier
Next, we walked the short distance to the famous souk or medina or bazaar – all common words to describe the marketplace that is the center of life in the city. Everything is brought in fresh each day and the entire city shops here – including the restaurants and hotels. They have every food imaginable (and some you don't want to imagine).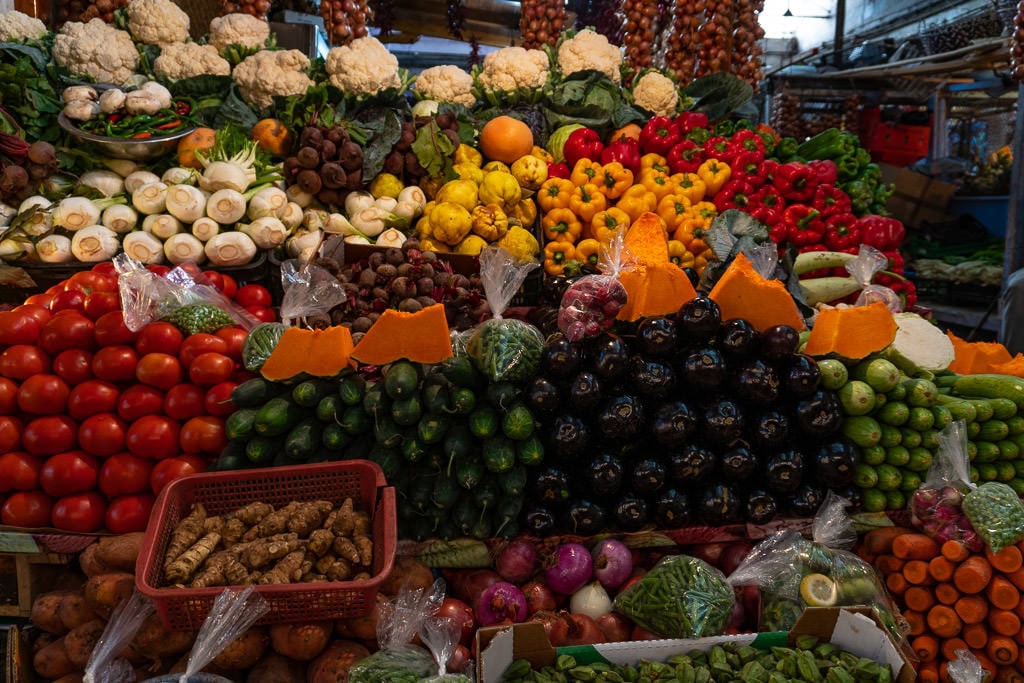 Of course, there were also people selling souvenirs for the benefit of tourists. While our nomadic life doesn't allow for shopping, it was really fun to see all of the offerings – candies and dried fruits and tons of olives (Morocco is the second largest producer in the world, behind Spain). Plus, all the spices you could imagine and argan oil and rugs and clothing and even these really interesting long pipes (while illegal, marijuana use is common there and they smoke it with these).
While walking through, Mohammed handed us things to try. Since he knew the owners, this was okay – but, I'd make sure to ask first if you ever go by yourself. However, my somewhat germaphobia and fear of stomach illness meant sticking to my guns on this. I'd overcome enough fears for the day, thank you very much.
But Buddy folded after the second offer. He likes to live on the edge when we travel, and he is pretty non-confrontational on things. I shook my head and gave him a "if you get sick, you're on your own" stare when he tried the first thing – a date, that he despised (serves him right). Of course, he was perfectly fine and not affected at all.
The Local Tangier Experience
If we hadn't been pulled out of our element enough, the next part of our trip really put what life looks like in a place like Morocco in perspective. Mohammed smiled and warned that the next part of our Tangier tour may be a lot to take in. We were entering the meat market. We'll spare you the photos, since they are a bit gruesome (one is of Mohammed's butcher friend holding a goat's head up behind us, while we unknowingly smile for a photo – that guy was a real jokester.)
While not something I really wanted to see as someone who chooses to eat mostly non-animal products, it was enlightening. I chose to be vegetarian a few years back because learning how meat and dairy was processed grossed me out. Here it is all fresh and they do not waste ANYTHING! Just trust me on this.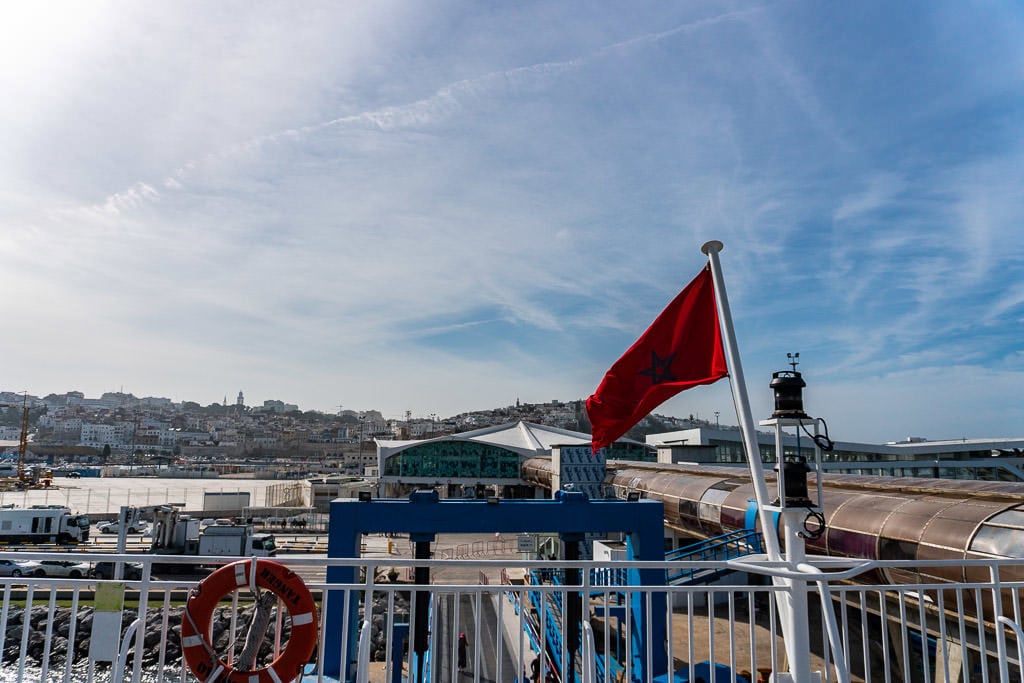 Shortly after this, we finished walking through the bazaar and headed back to the ferry where Said met us and took our payment. He wanted to wait until he was sure our Tangier tour went as planned and we were happy before we paid. If he only knew just how much.
Final Thoughts on our Day Trip to Morocco from Spain
Often travel exposes the stronger, more flexible version of ourselves. Sometimes it is a necessity, sometimes it is a choice. But each time, the benefits far outweigh the risks. On our ride back from Morocco, I knew I had changed. And my husband got to see that change in me, which is pretty cool. We both knew I had taken a big leap toward the type of person I want to be – who embraces differences instead of being afraid of them, and who reaches for her dreams instead of just wishing for them. The best places seem to have that kind of effect. And Morocco is definitely one of the best places.
Read more about our Europe travels here. And to learn how we traveled in Europe for five months on a budget by house sitting, read this guide.