We realize that public transportation is the way to go in Europe. And for good reason – it is usually reliable, generally inexpensive and widely available. However, we just can't shake our love for road trips. So, we decided to head out for a full day of exploring some of the great day trips from Amsterdam.
From Zaanse Schans to the internet-famous town of Giethoorn, we spent an entire day driving around this part of the Netherlands and would highly recommend it. Although, if you aren't pressed on time, a bus could get you to these places as well and would probably be way easier. But, we only had a day to see everything outside the city, and we never mind a little challenge.
After picking up our rental car, we got out of Amsterdam (with its one-way streets and half-a-million bicyclists) as soon as possible. Once we were safely headed north on the highway, it wasn't long before we were greeted with farmland views. And as we neared the first destination of our day trip from Amsterdam, there was a distinct smell of chocolate in the air.
3 Day Trips From Amsterdam
While Amsterdam is an amazing city, it is really nice to get out into the countryside. Below are 3 amazing day trips from Amsterdam, and while we did all of these in 1 day, we think they each deserve a full day.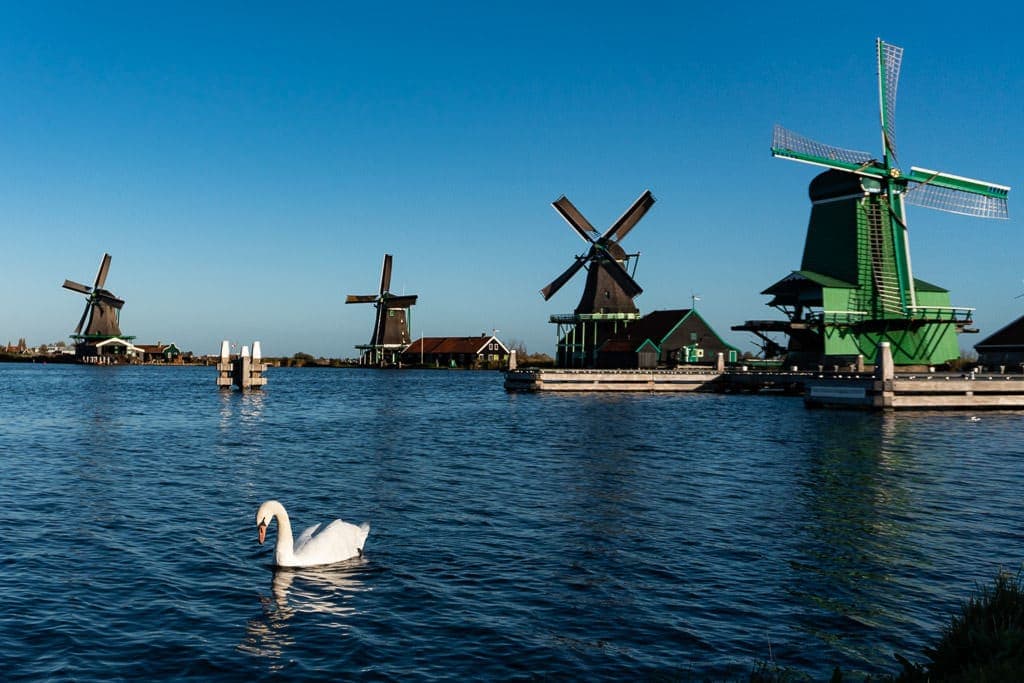 1. Day Trip to Zaanse Schans, Netherlands
The quaint windmill-lined town of Zaanse Schans was the top reason we wanted to explore outside the city. While Amsterdam has a ton to offer, I can't pass up these idyllic places. Even if they are filled with tourists … However, we made sure to get there early (before the first couple of tour buses) and left before it got too out of hand.
(Funny story: When we went to park the car, Buddy proceeded to back in as he usually does. Then he realized he couldn't get the rental car into reverse. He tried everything, but it just kept switching to first gear instead. So … being the team player I am, I PUSHED THE CAR into the spot while Buddy steered, since we were basically stuck otherwise. We must have looked like idiots. Two seconds of Googling later, he learned he had to push the shifter in to go into reverse. HA!)
This 30-minute drive makes for a great day trip from Amsterdam, just to see the iconic, colorful Zaanse Schans windmills against the classic Holland backdrop. It is no wonder why this scene has inspired many artists, including Monet.
However, the many unique museums and attractions impressed us just as much – which was such a pleasant surprise.
We wouldn't normally justify spending money on multiple admissions, but luckily our I amsterdam City Cards included access to about ten museums and attractions in the Zaanse Schans area. Plus, there were some great free and inexpensive options as well for those on a tight budget.
Dutch Wooden Shoes Workshop
A must-visit is the Dutch wooden shoes workshop where they are making wooden clog shoes right in front of you. The entry, demonstration, and mini-history lesson are all free. Spoiler: They have a machine that makes a wooden clog in about five minutes these days.
But, it is still fun to learn about the history and check out all the cutesy merchandise in the store. While our die-hard minimalism keeps us from making these kinds of purchases, we can definitely appreciate why others love it.
Zaanse Schans Windmills
There are eight windmills in Zaanse Schans – a tiny fraction compared to the hundreds there once were when using mills for industrial use was at its peak here in the 17th century. While our city card got us into a few of them, we were a little strapped on time and chose to tour just one.
In the "De Kat," we learned that the windmill was used to make dye – not something we expected at all. And we got to climb to the top to see the inner workings of the mill. If you make the day trip from Amsterdam to this town made famous by its windmills, checking one out is kind of a must. Entry is about €2-4 for each windmill, which are all slightly different – including an oil mill and sawmill.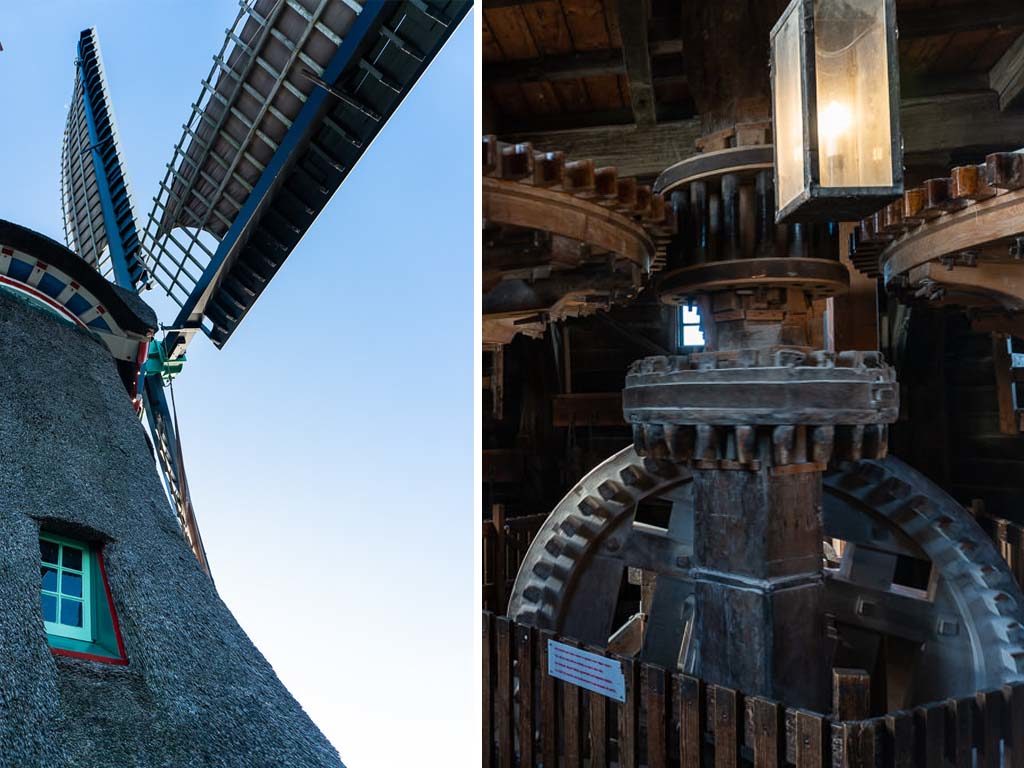 The Zaanse Time Museum
We have a thing for old clocks. They are just so artistic and interesting – like they have their own little heartbeat. So, we were psyched when we saw our pass could get us into a museum with dozens of different clocks.
Since many of the other tourists stayed toward the windmills, we were all alone as we wandered through the Zaanse Time Museum. Getting to look inside them to see how they ticked, and marveling at the intricate details was more fun than I thought it could be. But, this sincerely was one of our favorite places on our day trip to Zaanse Schans.
Bakery Museum & Treat Break
After trying to ignore the delicious smells for more than an hour, we finally caved and got some sweet treats. I tried my very first Stroopwaffle – two thin, crunchy, graham-cracker-like waffles with honey in between. And Buddy got a waffle covered in Nutella.
Both very pleased with our choices, we sat in the quaint little dining area of the bakery/shop/museum of baking goods while we devoured our treats. Then we hurried out before our noses convinced our tummies we should have more.
Weaver's House Museum
Another unique place for a quick stop and deep dive into the history of Zaanse Schans was the Weaver's House Museum. When we arrived, a young woman explained the long, tiring process of making sailcloth – an important trade since it was used to make ship sails.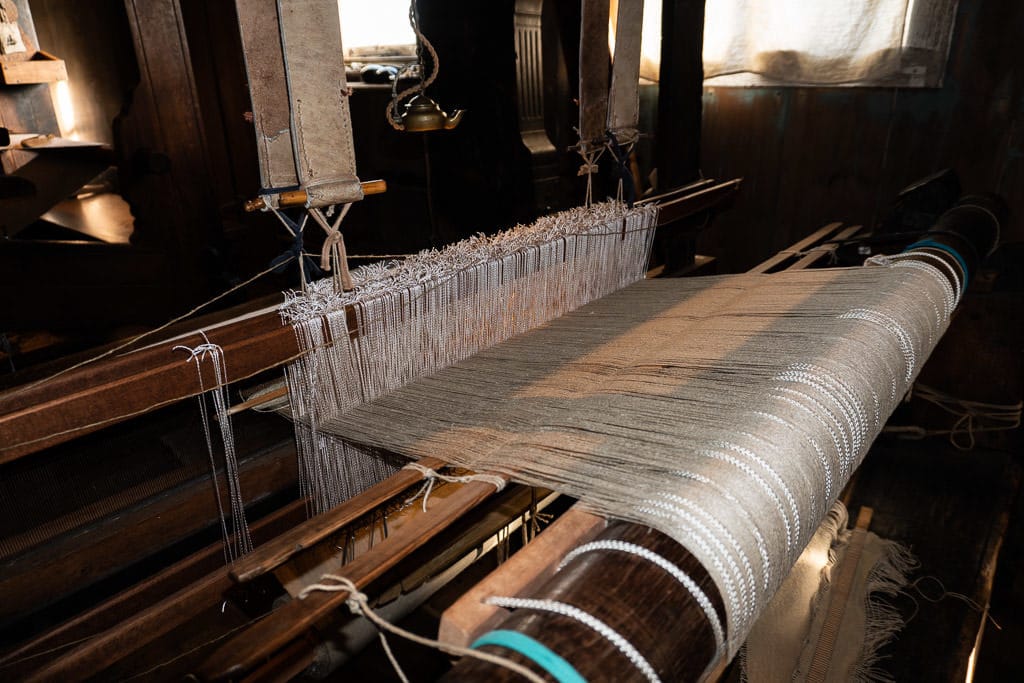 Afterward, we walked through the small living quarters of the family who worked their lives away for a meager income while the owner of the house made a fortune. Just another reminder to be grateful for what we have today – and an interesting look into this area's past.
Zaans Museum
Our final museum was probably the one we should have done first, since it gave us the most information about the area we just toured. Oops! As we wandered through the large building of the Zaans Museum, we were treated to art displays, a detailed run-down of the major industries of the area through the years, and even an example of what a working biscuit and chocolate factory would look like.
The Zaans Museum made learning easy (and encouraged quiet visitors) with a free audio guide. Plus, the upstairs window had some awesome views!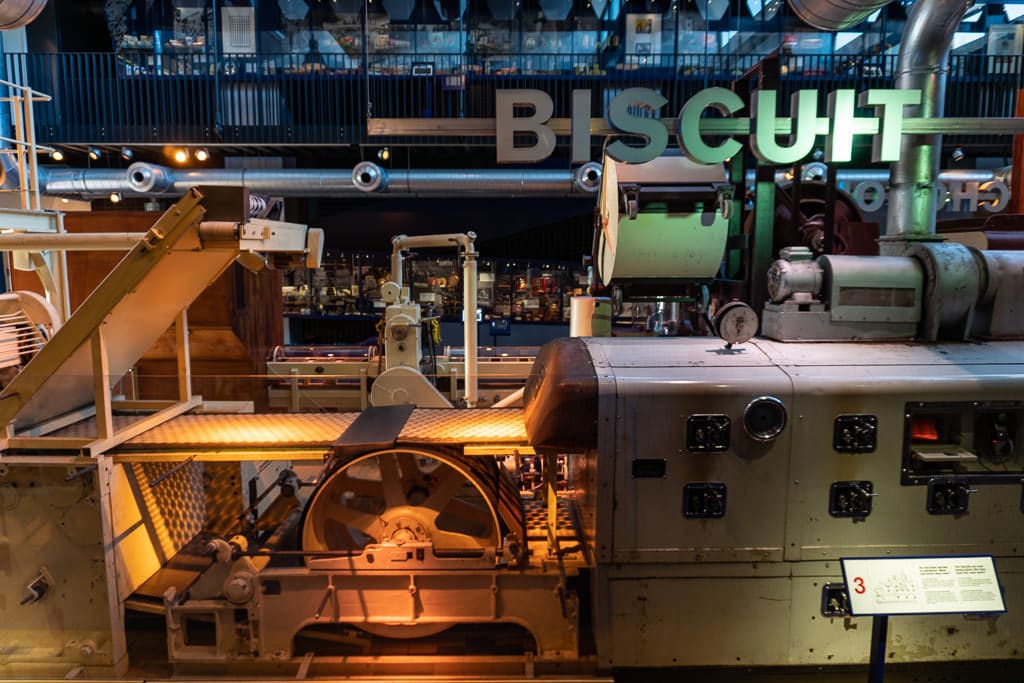 After becoming very acquainted with Zaanse Schans and what it may have been like to live here in the 18th and 19th centuries, we took the scenic route to our next eagerly anticipated destination! This included a fun stop on a long land bridge to take in the vast views.
2. Day Trip to Giethoorn, Netherlands
Next up on our list of day trips from Amsterdam is the beautiful Giethoorn. After a little less than two hours of driving, we were ready to stretch our legs again and Giethoorn was the perfect place. Known as the town with no roads, this beautiful place has been made famous for its beautiful way of life – getting everywhere by foot or boat.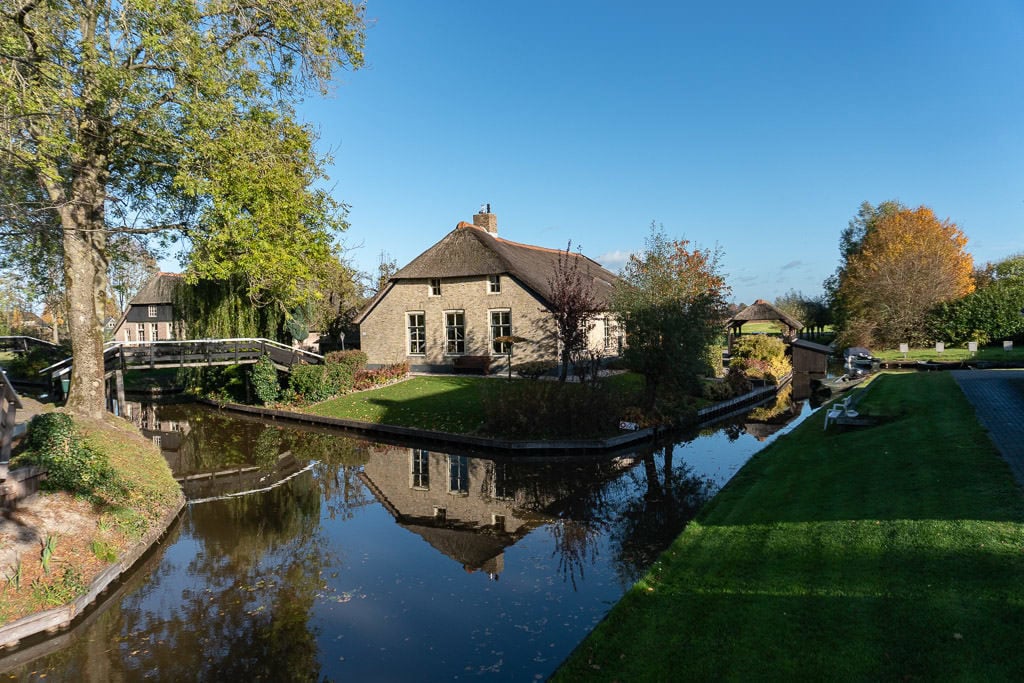 In the summer, this also means swarms of tourists (on boats none-the-less). Luckily, we arrived in the off-season. And although that meant fewer daylight hours for day trip to Giethoorn, it also meant more relaxing places to stroll all alone.
Since there were still a decent amount of people in boat rentals or tours, we decided to opt for exploring by foot. We could pretty much see as much as anyone on a boat, without having to worry quite as much about a distracted tourist running into us.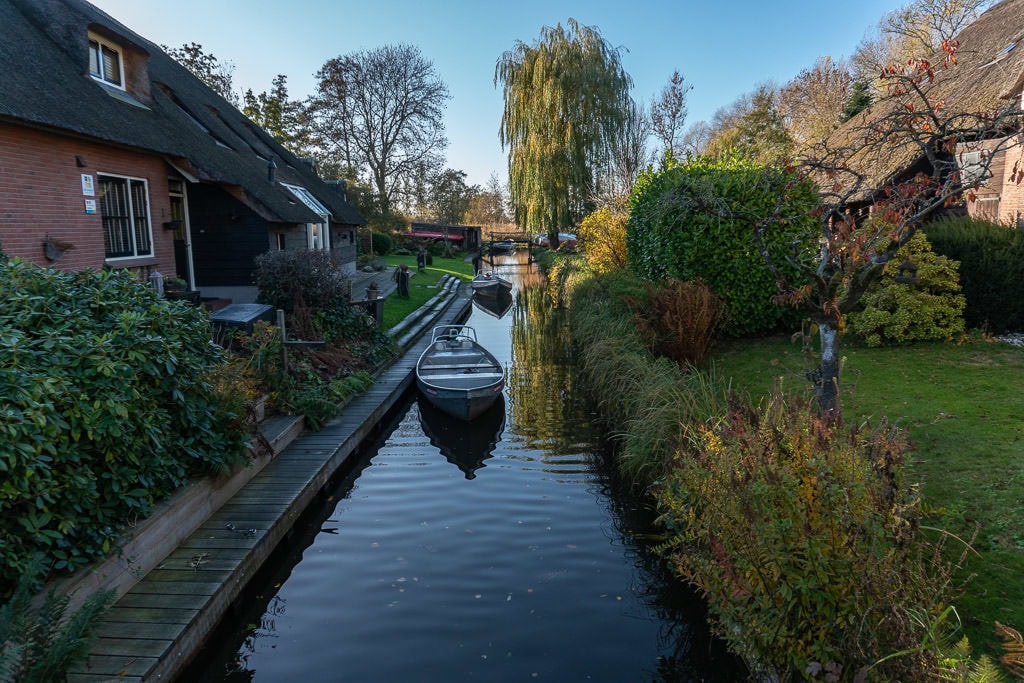 While there isn't much more to this area than a lovely stroll, some shops, and a few restaurants, I'm so glad we went. It was just a breathtaking place and so romantic to wander through. We also made a feline friend, so definitely worth the drive!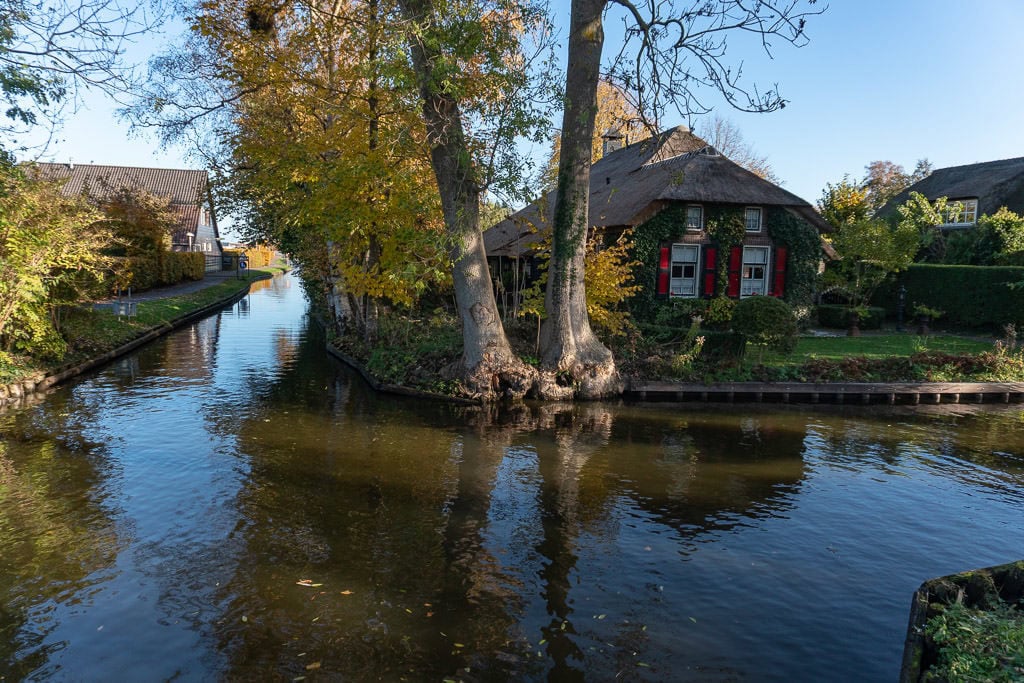 On our way back to our car, we made a really good life decision and stopped in the cheese shop to try about a dozen delicious samples (the lavender was my fave), and get some delicious gourmet cheese sandwiches to hold us over until dinner.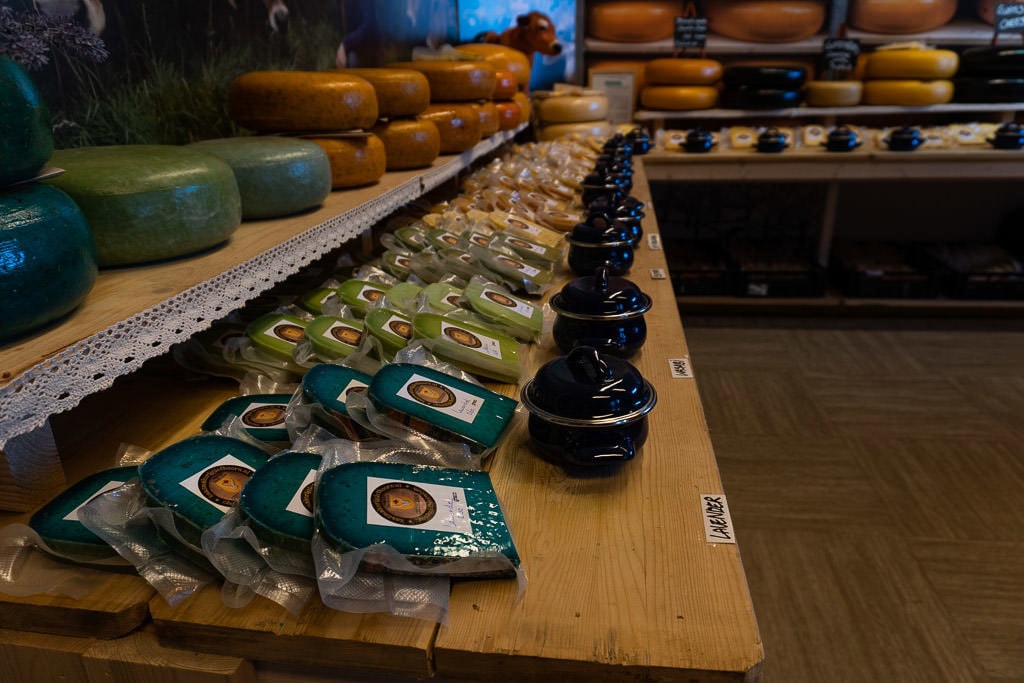 3. Muiderslot Castle & Gardens
By the time we left Giethoorn, our daylight was dwindling and we really wanted to return the car before it got too dark. Those Amsterdam streets were anxiety-inducing enough in the daylight! But, we decided to squeeze in one last stop because Buddy has really always wanted to see a castle with a proper moat.
We knew going into it that we wouldn't be able to go inside Muiderslot Castle. Their off-season hours didn't include weekdays and we had purposefully planned this day trip before the weekend madness. But since it was on our way back to Amsterdam, we figured it would be worth it to swing by. And it was!
This is such a unique castle with some gorgeous gardens. Although, ideally we'll be back to peek inside another time.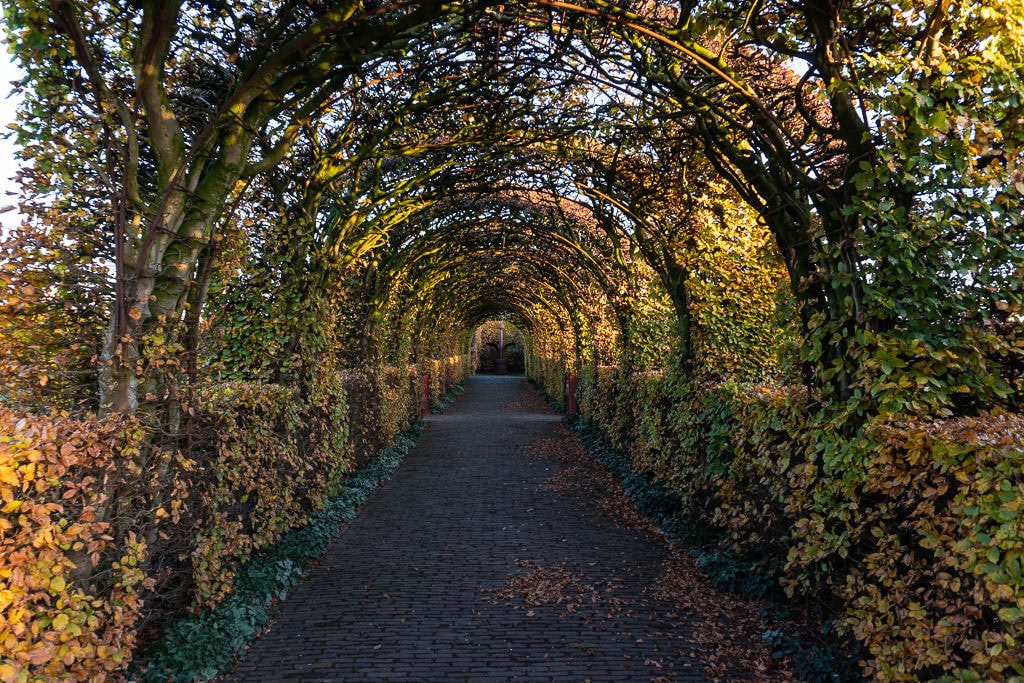 Special thanks to Amsterdam Marketing for providing us with I amsterdam City Cards for this trip. Having so many great museums and attraction options, as well as transportation within Amsterdam really made our trip. As always, all opinions are our own.
Read more about our Europe travels here. And to learn how we traveled in Europe for five months on a budget by house sitting, read this guide.