I'll come right out and say it, we had no idea what to do in Amsterdam when we decided to go. All we knew was that there were pretty canals, the infamous Red Light District, and cheap tickets from where we were currently staying in southern Spain. (Operation Amsterdam on a Budget was already off to a good start!!)
Unsurprisingly, a quick Google search revealed that there is a ton to do in and around this extremely popular European destination. But, we only had about two full days to squeeze in as much as we could while also trying to keep our visit to Amsterdam on a budget. With the help of the I amsterdam City Card we were able to stay on a budget while seeing some of the bst places in the city!
While this plan certainly meant some museum hopping, and even a day trip to the surrounding countryside, we are happy to note that we still managed to have some time to really experience the city.
There is a lot to Amsterdam, and it definitely deserves much more of our time. But we feel like we spent enough time wandering its many narrow streets in the local neighborhoods and interacting with its lovely locals to confidently say, it is one of our favorite places.
Misconceptions of Amsterdam
Let's get this over with and call out the giant, red, lingerie-clad, hazy-eyed elephant in the room. When most people think of the Netherlands' most well-known city, they think of people smoking marijuana in "coffee shops" and half-naked women dancing in windows.
I get it, before our visit, we had the same assumption. And sure, you can have those experiences. But that's not what makes Amsterdam so special.
If you look into the city at all, you'll find it is a stunningly beautiful place, rich with history, and home to some of the most famous pieces of art in the world. And if you visit for yourself, you'll probably fall in love with how kind the people are, how good the food is, and how peaceful, clean, and quiet the vast majority of the city is.
Even with its popularity and many things to do, it is possible to see Amsterdam on a budget. It is so easy to get lost in all this area has to offer. We certainly did.
The Red Light District is one small, very avoidable part of the city. If you do happen to end up there, you'll know almost immediately from the crowds and extremely immature groups of guys laughing.
We walked through after stumbling upon it one night, decided it was where all the really obnoxious tourists hung out, and left. No. Big. Deal. And if you go during the day, you may not even realize it.
Moving on …
Our First Taste of Amsterdam
After a plane ride from Malaga, Spain, a train from the Amsterdam airport, a tram to our area of town, and a short walk to our hotel, you would think we were too exhausted to even think of food on our first night in the Dutch capital of Amsterdam. But, that would make it clear that you really just don't know us at all.
We quickly dropped our things off at our hotel and went to the first place that looked quick, yummy, and reasonably priced. Since it was around 8 p.m., many things were closing soon, so our options were limited. But, as we walked the 15 minutes to Burgermeester, we quickly realized why our friends in Spain said to watch out for the bicyclists.
Bicyclists (aka People that Live in Amsterdam)
Whenever I think back on our visit to Amsterdam, the first thing that comes to mind is laughing hysterically while trying to cross the roads. "Okay, no cars or buses, let's go." "WAIT! There's a motorbike now." "Okay. Go!" "WAIT! There's like 17 bicyclists." "Quick … go now!"
Eventually, we ended up mastering this awkward dance of running across the street, stopping abruptly for a bicycle or motorbike, then giving a big sigh of relief when we got to the sidewalk safely, before dodging people on foot. Buddy even started humming that tune from Wizard of Oz when Miss. Gulch is on her bicycle – which made the whole thing just ridiculously funny.
There is supposedly one bike per person in Amsterdam – so about half a million. It is kind of overwhelming at first. But totally awesome that they embrace this environmentally-friendly and health-conscious way of transport!
However, it was a challenge enough to walk there. So, we never got the nerve to hop on a bike with these intimidating pros.
The locals would fly down the road, while playing on their phone or with a friend sitting side-saddle on the back. They'd look completely unbothered and like the bicycle was just an extra appendage. Because bicycling looked so natural to Amsterdamers, tourists stood out immediately.
They were the ones with terror written all over their faces, often cursing, dodging cars, and sweating. And I'm a total uncoordinated freak, so … hard pass. We stuck to exploring and bicycle-dodging on foot – which was lovely, once we got the hang of it.
(Oh yea … and our burgers that first night were divine. They even had a delicious falafel burger for us non-meat eaters.).
The I amsterdam City Card
Our first day in Amsterdam actually took us out of the city to Zaans Schans, Giethoorn, and Muiderslot Castle. (Read more about our road trip through Holland's countryside here). But day two was all about the museums and canals.
The best option we found for popping into as many of Amsterdam's top attractions as possible for a good price was the I amsterdam City Card. We were psyched for the opportunity to review this during our trip because we had done the math and knew it could be a huge money saver for people like us wanting to see as much of Amsterdam as possible, while on a budget. This is especially true because it includes access to the GVB bus, tram, and metro lines in the city.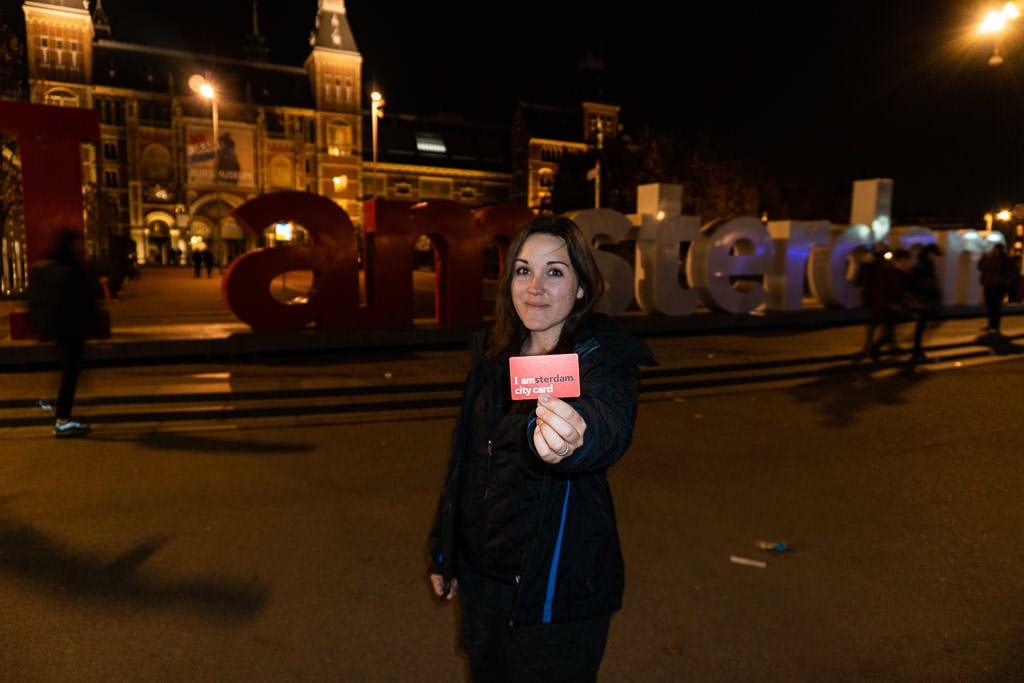 I amsterdam City Card Breakdown
For example, on our trip, we wanted to go to the Van Gogh Museum, Rijksmuseum, and on a canal cruise – as well as a few museums in nearby Zaans Schans. Plus, we'd want to use a bus a few times a day. To do all of that, we would have easily spent over €100 each. But a 48-hour card is only €80. (And yes, you can cram that all into two days. But going for the €95 72-hour or €105 96-hour card is more ideal. For short trips, they also have a €60 24-hour card).
Plus, you have a whole list of other unique places to fill your time that you would have otherwise passed on to save money or never even heard of. There are tons of other art and history museums, as well as interesting places like Rembrandt's House in Amsterdam. We loved getting to just pop into places we happened to pass that took our i Amsterdam City Card. And no biggie if it wasn't for us because we didn't pay to go there!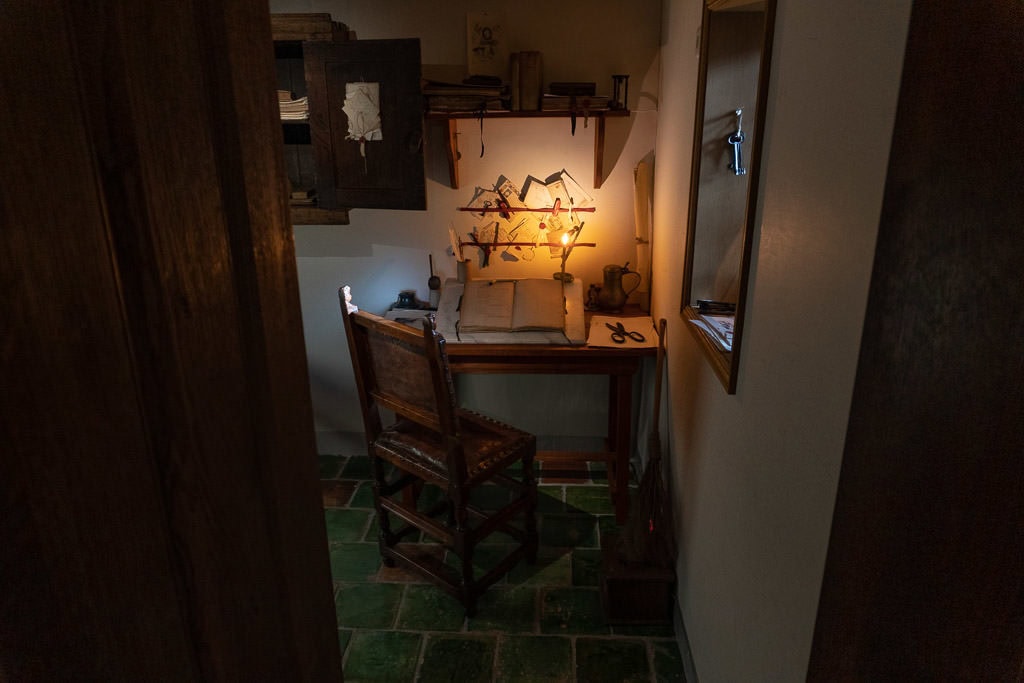 We also instantly appreciated that this card was done by hours and not days. The card even has a separate start time for transport. So, if we took a bus at 9 a.m., but we didn't go to our first museum until noon, we'd still have until noon the next day to fit in some activities. So smart!
Amsterdam Museum Hopping
The two most popular museums in the city celebrate two of the world's most well-known artists: the Van Gogh Museum and the Rijksmuseum (which holds the largest collection of Rembrandt's paintings). Both painters also happen to be from the Netherlands – you can even tour Rembrandt's home during your trip to Amsterdam.
Van Gogh Museum
As shocking as this may be, we aren't art history buffs. But we really enjoy wandering around art museums and do appreciate the many styles, as well as the talent needed to create the pieces.
However, like many, Van Gogh is one of those artists whose work we can actually recognize and we have both always enjoyed his creativity. Plus the Van Gogh Museum is included in our I amsterdam City Card, saving us €19 each.
With the Van Gogh Museum having the largest collection from this iconic painter, it was no surprise we took a while to walk around and take it all in. Photos aren't allowed in the main gallery. But we did see multiple famous works like 'Sunflowers' and 'Almond Blossom' – which was pretty amazing to stand in the presence of.
Although busy, it was completely silent which just proved how in awe everyone was. We also really enjoyed the interactive exhibit on the ground floor that took you into the mind of the artist.
Rijksmuseum
While Van Gogh's work was definitely our favorite, we loved the vast variety of pieces displayed in the Rijksmuseum (which was actually closed for 10 years for a multi-million Euro overhaul before reopening in 2013). This enormous, multi-story building displays 8,000 artistic and historical objects telling the story of the last 800 years of Dutch history and is also included with the I amsterdam City Card (Saving us €19 each).
But, the Rijksmuseum is probably most well known for housing the largest collection of Rembrandt's paintings in the world – including the impressive and massive 'Night Watch.'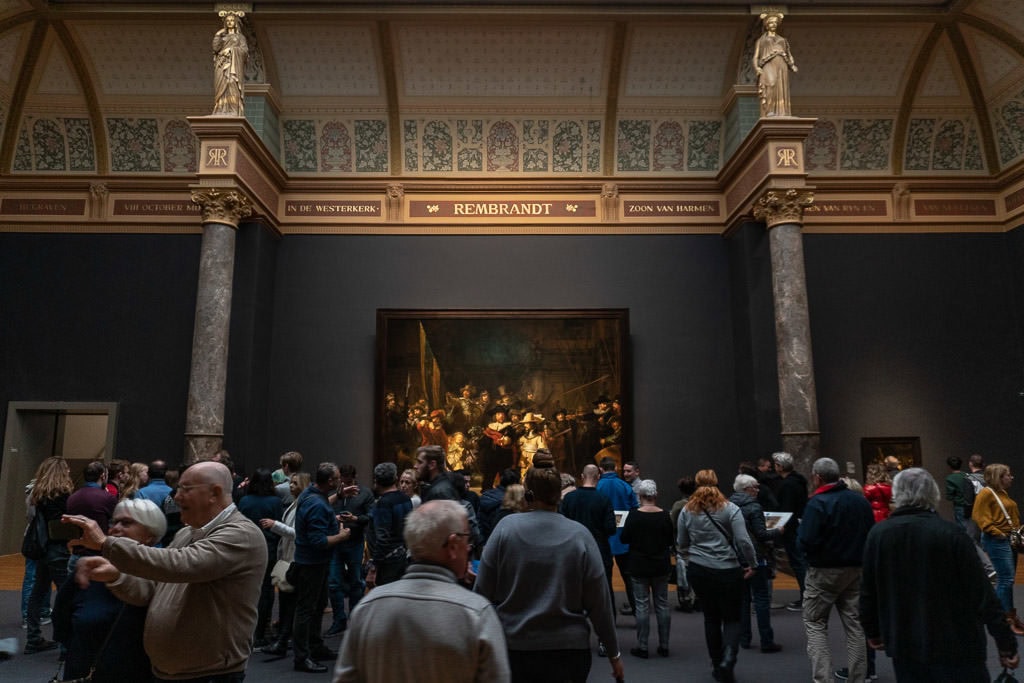 We were determined to see each room. And after about three hours of wandering, we are pretty sure we saw it all. Except for a portion of the top floor where they house the most modern pieces, which we just couldn't figure out how to get to!
But, if you are short on time, you can definitely look on their website to figure out what you want to see most and head straight there. However, wandering amongst all these amazing objects was kind of a magical step back in time. And the library in the Rijksmuseum is very Beauty-and-the-Beast-esque.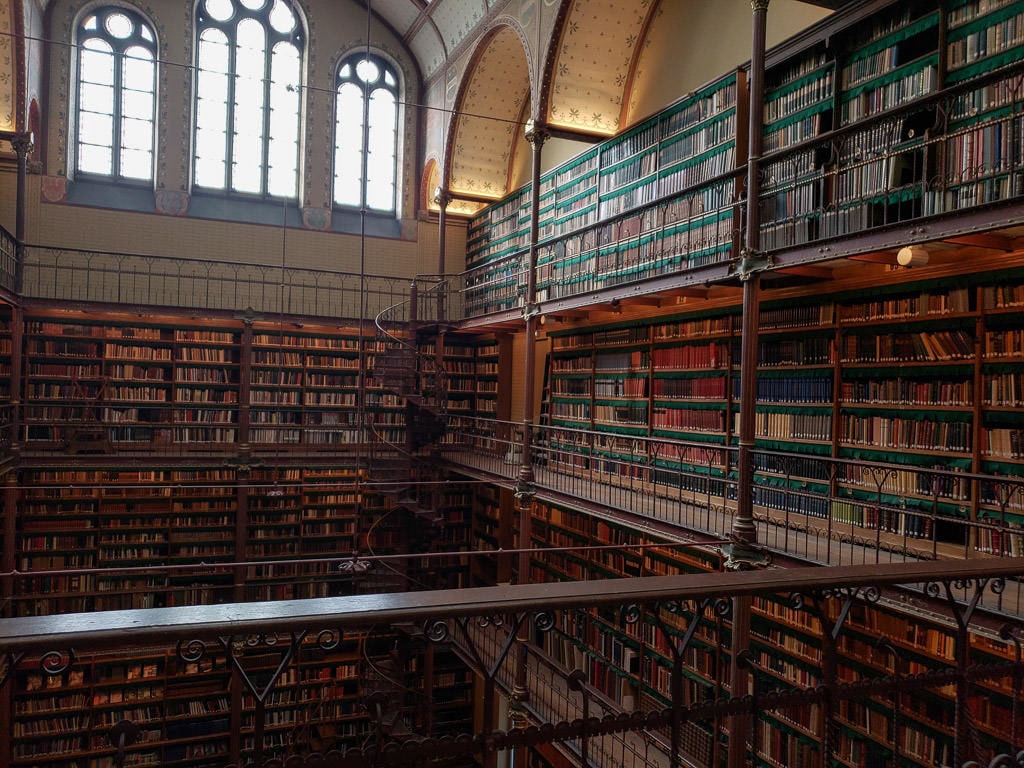 So, plan a chunk of your day at Rijksmuseum if you can! And they do allow non-flash photography, so enjoy some photos from the Rijksmuseum: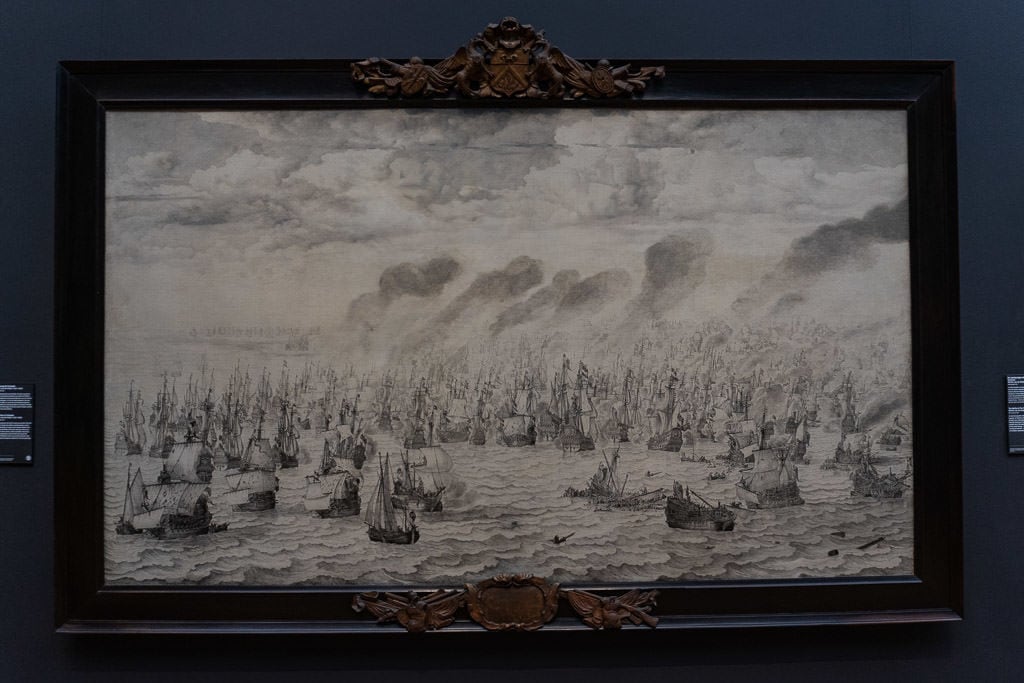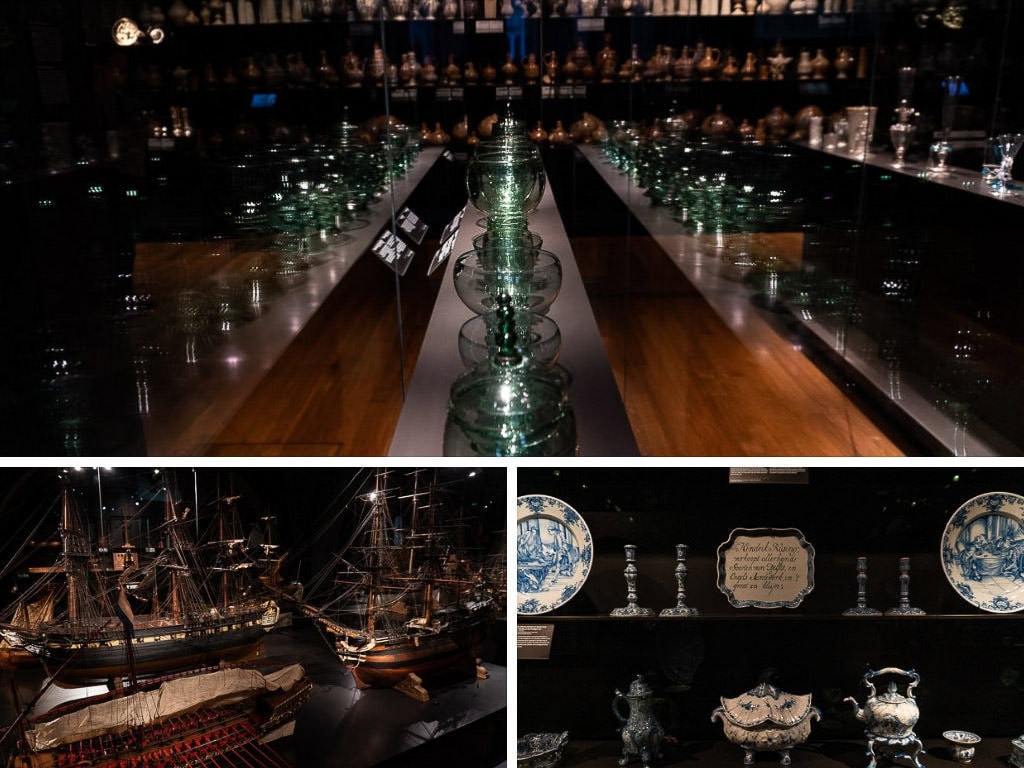 Rembrandt's House
While not somewhere I would have needed to go had we not had the I amsterdam City Cards, wandering through Rembrandt's house (€14 each) after admiring his artwork earlier in the day at the Rijksmuseum was a fun experience. There is something so humbling about just standing where such a beloved artist once created some of his work.
Anne Frank House
The only place not included on the card that you'll probably want to be sure to see is the Anne Frank House. Of course, this solemn and historic place was initially on our list. But we didn't realize how early tickets sold out. So, we missed out on it this time.
They ONLY sell tickets online and sales open exactly two months in advance. Some are also released day-of, but we had no luck getting those. Just plan ahead and you should be fine. Even though we were trying to see Amsterdam on a budget, we would have been happy to pay the €10.50 each to see the historical Anne Frank House.
Other Interesting Museums in Amsterdam
The Amsterdam City Cards gave us entrance to more than 60 museums and attractions. However, there is only so much time in the day! If we had one more day, here are a few of the other places we would have loved to go:
Foam Fotografiemuseum
Hortus Botanicus (Botanic Garden)
Dutch Costume Museum
Our Lord in the Attic (a church in the attic of a 17th-century house)
Museum of the Canals
Tropenmuseum (a museum about people all over the world)
Houseboat Museum
Tulip Museum (explains the history of the Netherlands' famous flower)
There are also days and museums with free entry available as well as a free walking tour (always a great way to learn more about history). Plus, plenty of opportunities for day trips! There is also a Heineken Experience that sounded fun, but we didn't have time for. And, of course, tons of other cool bars, farmers markets, and great restaurants to check out!
Amsterdam Canal Cruises
Getting out on the water was one of the things we were looking forward to the most in Amsterdam. While a one-hour cruise was included with our I amsterdam City Card, we also had the pleasure of trying out both the hop-on-hop-off boat and a night boat tour.
While we highly recommend the city card, it may not be worth it for you if you are just not into museums. However, getting out on Amsterdam's iconic canals during your trip is a really special way to see the city. You'll have the opportunity to learn more about the historic and modern buildings, plus the history of this gorgeous place, while going on a relaxing and romantic ride.
Amsterdam Hop-On Hop-Off Canal Cruise
We have a thing for those Hop-On-Hop-Off buses. So, when we saw that there was a hop-on hop-off canal cruise option in Amsterdam, we had to give it a try. This is a really fun way to get between destinations when your feet need a break, and one of the best places to get to see the city.
We loved getting to ride the Amsterdam Circleline Sightseeing boat between destinations. And, I think kiddos would definitely get a kick out of it also! Plus, the crew was really nice and made it a fun experience.
While learning about our surroundings and taking in the views was great, my favorite part was watching the captain navigate the boat. It was beyond impressive how they managed to not only turn under narrow bridges, but miss all the other boats out on the water. Getting to see a canal traffic jam is pretty unique! I can't imagine how crazy it gets in peak season!
Just make sure you check the boat schedule and plan your day around that, in order to get the most out of your day pass for the boat. Tickets are €20 and the boats leave every 30 minutes from their various ports. Times for first last and stop vary depending on season and day of the week.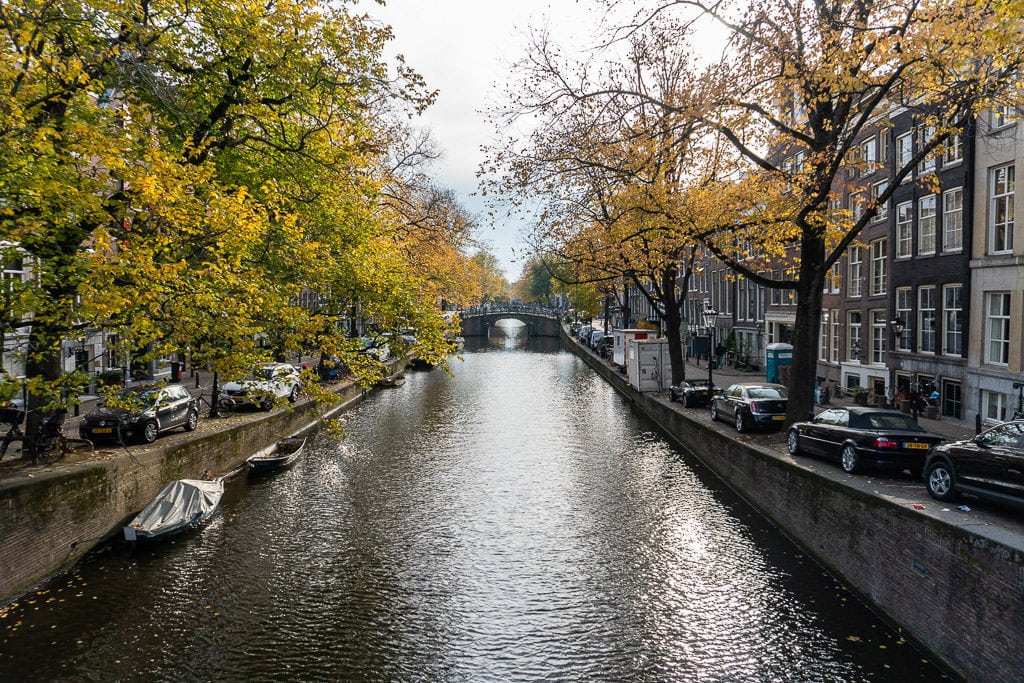 Blue Boat Amsterdam Evening Cruise
Even though we had plenty of time on the water during the day, we were curious to see what the "Venice of the North" looked like from the calm canals at night. And we are so glad we made time for this great date-night activity.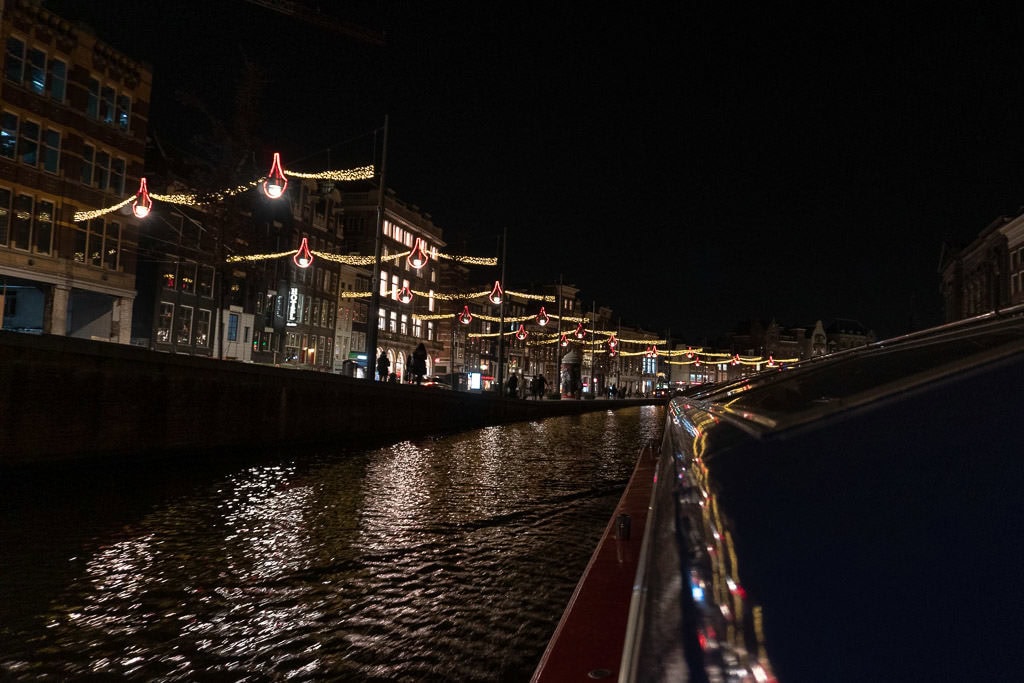 Our tickets with Blue Boat Amsterdam Canal Cruises included a drink with our 90-minute tour, so we got to start our romantic ride off with a mini toast to each other and beautiful Amsterdam. Tickets are €19.50 each and – with a beer or glass of wine included – that really isn't bad at all for a relaxing 90-minute tour.
It was really special to enjoy our last night in beautiful Amsterdam by floating along its famous waterways. And although we had spent many hours walking the streets of the city, it just looked a little extra magical from the water – with all the lights reflecting around us. Definitely a special treat we'd recommend adding to your trip!
Amazing and Cheap Accommodation in Amsterdam
It is always frustrating to have to shell out a huge chunk of money for a hotel room that you will probably only spend a small portion of your time in. As proven above, Amsterdam is one of those places with so much to do, we knew we'd rarely be in our room.
However, we do still have a few must-haves when booking:
Our own privacy. No shared rooms or doors that don't lock (looking at you weird AirBnB rooms). If we are ever super broke, we may revise this. But for now, we can afford a private room and are okay if that gets us kicked out of the cool nomads club.
A high standard of cleanliness. Call me unrealistic, but I feel like noticeably clean sheets and towels, plus a bathroom that looks like it is disinfected regularly really isn't much to ask for from a place offering accommodations.
Close proximity to the things we want to do. This one may seem like a reach and is often difficult to find while on a budget. But we don't see the point in staying somewhere if it means trekking an hour into town every day. Being close to city centre without high prices was key!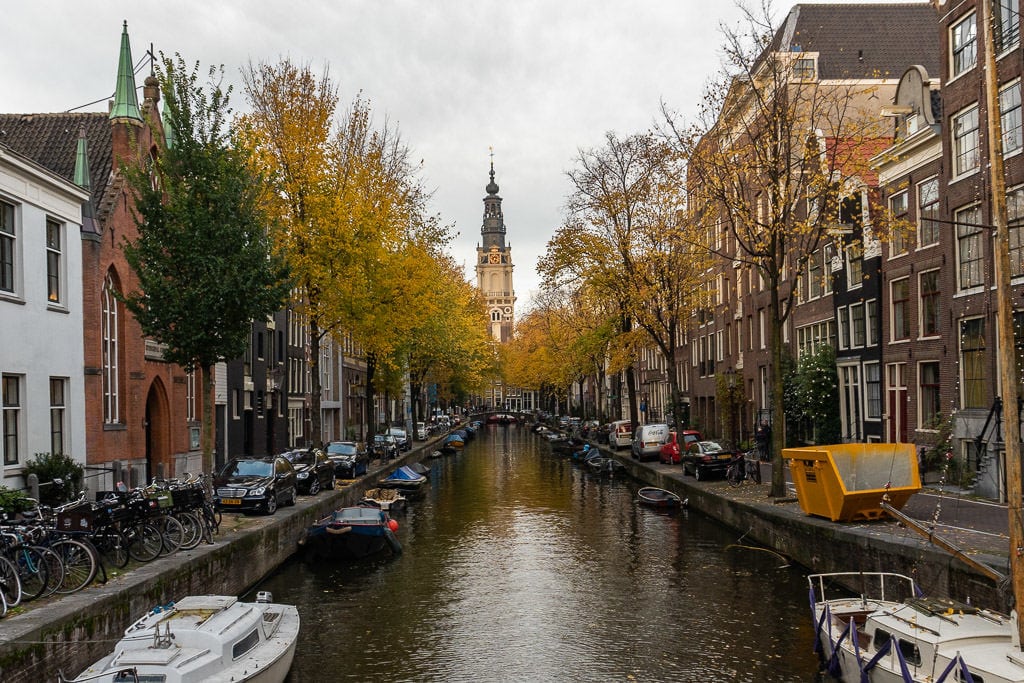 The Amazing CityHub Amsterdam
To be honest, we had low expectations for finding something that met all our needs in a popular city like Amsterdam. But then we came across CityHub Amsterdam in our search. It met all our must-haves and then some for only €60 per night for two adults! It was the best of the cheap places that popped up on our list and loved that it was in the central area!
These cool, modern little pods were cozy, clean, and just big enough. Plus, the bathrooms and shower rooms were immaculate. We were also close enough to walk into town easily and quickly. And we had plenty of great food and drink options nearby – including the trendy and yummy Foodhallen we fell in love with!
CityHub Amsterdam thought of everything. We had wristbands that gave us access to our rooms and everything else we may need, including snacks, toiletries, and cold-tapped beer. The bathrooms came stocked with luxurious soaps, fantastic water pressure and there was even a hair straightener. I basically hugged the thing, since having to leave mine has meant some awful hair days.
Our bed was one of the biggest we've had and was really comfortable. We also loved playing music through the Bluetooth in our room, as well as downloading their app to match the lighting to our mood.
My only complaint is that they haven't built one of these genius hostel-hotel hybrids in every city. They are so perfect for minimalists like us! Fingers crossed they take off. CityHub Amsterdam is really a great place to stay when visiting Amsterdam on a budget.
Great Places to Eat in Amsterdam
There is so much good food in Amsterdam and such a wide variety, you could spend your entire trip just eating at amazing places. However, that could get pretty pricey. We've learned that the best way to save on food is to eat a really good breakfast, have some snacks on hand, carry a refillable water bottle, and go cheap for dinner.
Breakfast – The Avocado Show
There is a place called The Avocado Show a short walk from the Rijksmuseum (perfect place for pre-museum breakfast) and they have an entirely avo-themed menu. Maybe not everyone's dream world. But, I was ecstatic when we found this place. I had been craving a heaping portion of avocado toast for weeks and they certainly delivered.
Buddy also loved his poached eggs served in ONE WHOLE AVOCADO! God bless that chef. We were so full after breakfast, we didn't need to eat again until dinner. But, if you are really on a tight budget, splitting one meal could definitely hold you over also.
Best Dinner Spot in Amsterdam – Foodhallen
We lucked out being right next door to this amazing gem of a place called the Foodhallen. As the name suggests, it's a hall of food. But not just any food, amazing dishes from all over the world, and great booze options as well. Our suggestion is getting a few small appetizers from a handful of places. DIY tapas! They even had vegan fast food!
Final Tips for Visiting Amsterdam
First of all, just leave any expectations at home for this trip. Amsterdam will be unlike anything you've ever experienced. Just embrace it and let yourself fall in love. But, it is extremely popular and there are some things you can do to have a great trip.
Book museums and attractions ahead of time. As we noted, we had to miss the amazing experience of seeing where Anne Frank lived because we booked this trip so last minute. And we even visited in off-season. If there is anything you really want to see, book early! If using the I amsterdam City Card, check their special instructions for booking ahead.
Use public transportation. From trains to trams to buses. You can really see all you would ever want to with public transport. The city card we used had an option that included buses and trams which we used constantly. And they make it so easy!
Get out of city center. There is SO MUCH to do in this area. If you have time, don't just base yourself in the most popular area of town. Get out and see as much as you can! We had a blast going exploring the many surrounding neighborhoods and in the nearby countryside.
Go early and on weekdays. If you can get to the more popular museums as soon as they open, you will probably have a much better experience. And, of course, avoiding weekends and school vacations is ideal.
We hope you enjoy Amsterdam as much as we did. We'd love to hear your tips for what we should do next time we visit! Because we know we'll definitely be back to visit Amsterdam and the rest of the Netherlands again soon…
Special thanks to Amsterdam Marketing for providing us with I amsterdam City Cards for this trip. We'd also like to thank Amsterdam Circleline Sightseeing for complimentary tickets to their hop-on-hop-off boat. As well as Blue Boat Amsterdam Canal Cruises for hosting us on their evening tour. As always, all opinions are our own.
Read more about our Europe travels here. And to learn how we traveled in Europe for five months on a budget by house sitting, read this guide.