There's a really good chance that 40 years from now, when I look back on my life, one of my favorite memories will be of us wandering around the dark streets of Bruges, half-drunk and wholly-joyful – kissing next to canals, dancing in empty streets, and laughing uncontrollably. (Buddy also may have convinced me to play Pokemon Go with him after a few too many – a sure highlight for him).
For the first time in a long time, we didn't plan anything. We didn't go to one tourist attraction during our weekend in Bruges. Instead, we lounged in our luxurious hotel, ate all the food, and drank as much delicious Belgian trappist beer as our light-weight selves could handle (read: about 3.5 glasses per day. Ha!) And it was perfect and romantic and exactly what we needed.
Why We Chose a Weekend in Bruges
More and more, our European travel plans are based on a whim, a chat with a fellow traveler, or – in all honesty – the cost of train or plane tickets. Aside from our house sits, we've rarely planned anything more than a few weeks out and it has led to some outstanding last-minute, thrown together plans.
Originally, we were going to go to Brussels after visiting Amsterdam, on our way to Paris. Because it would be fairly easy and inexpensive to arrange with the train schedule.
But then Bruges kept popping up – on internet searches, in conversations, in dreams (okay, not really that third one, but you get it). We felt like we were being pulled toward this gorgeous city, and like any good traveler, we gave in to a weekend in Bruges. It would mean taking a very long bus ride and walking across town, but why not?
A Rainy Arrival in Bruges
Of course, rain greeted us on our travel day. Almost expected at this point. We walked the 30ish minutes from our hotel in Amsterdam in the early morning hours, in the rain to the bus station. Then we zoned out for the entire four-hour bus ride, then walked in more rain for about 30ish minutes through Bruges – stopping to take in the sights whenever an overhang was available or the rain took a pause.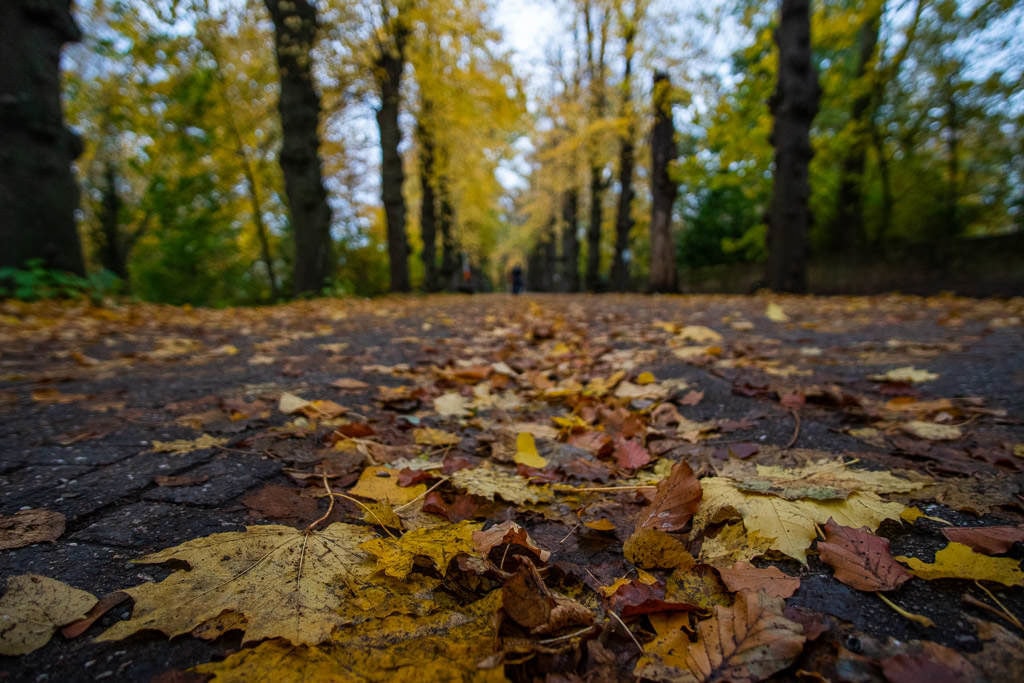 Once in town, the hunger hit as we crunched our way through the colorful leaves. It was lunchtime and everything smelled amazing. We desperately wanted to drop off our bags, but I couldn't wait. So, we popped into the first glorious Belgian chocolate store we saw to get a quick snack.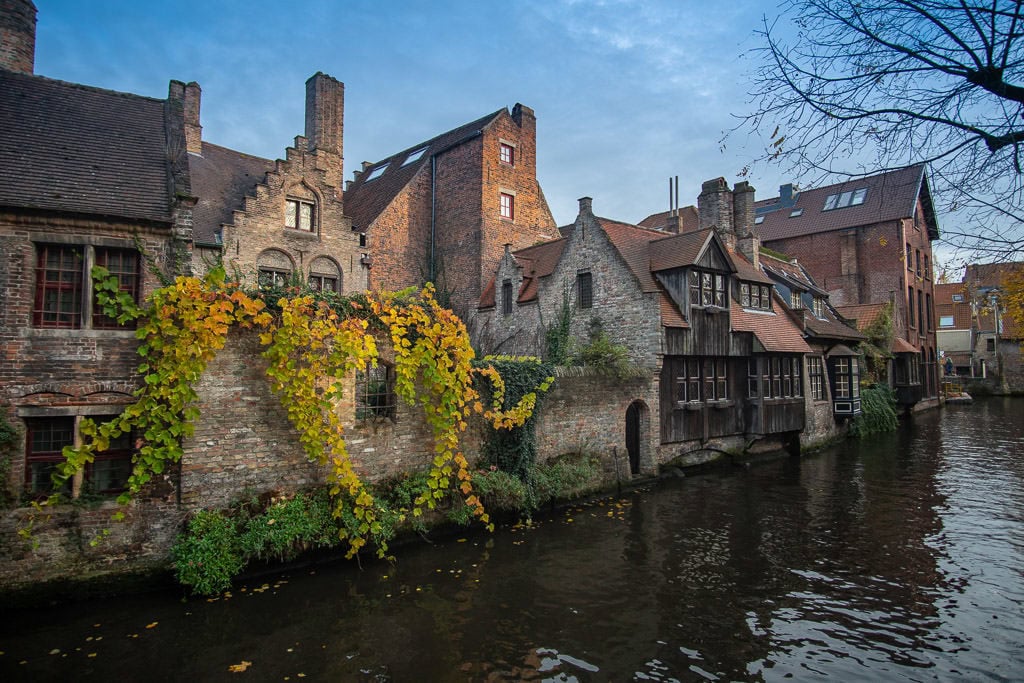 Ten minutes of trying not to knock everything down with my massive backpack later, we had a small box of a dozen or so chocolate treats we had collected from serve-yourself bins. With no idea what we had ended up with, I took turns feeding them to myself and Buddy as we walked the remainder of our wet trek to our hotel.
Less ravenous, but still hungry, we dropped off our bags at Hotel Heritage and found one of the only quick and inexpensive lunch spots in the area – Brazi's Sandwich Shop. This Brazilian quick-service spot was run by the sweetest couple. The husband manned the register and joyously welcomed us to their little shop.
He was one of those people with a smile so big you have to smile back. Then his wife lovingly made us the most delicious paninis we've probably ever had – complete with a homemade spicy sauce for bonus flavor. It was exactly the meal we were craving and the happy chat we got to have with them was a memorable extra.
Bruges Hotel Heritage – Relais & Chateaux
While not exactly budget travelers, we don't often splurge on fancy options. We have some standards of comfort we seek out, but we usually aren't in the hotel room enough to justify much more than US$100 per night. But, after going the cheap route for most of our trip, we decided to go for a nicer option for our weekend in Bruges.
While the entire hotel was stunning – including our regal-looking room – the special little touches and phenomenal service is what really made staying at the Hotel Heritage – Relais & Chateaux a fantastic experience.
When we arrived, it was a little before check-in, so they allowed us to leave our bags at reception. After returning from lunch, we were escorted to our room where our bags were neatly set out and a lovely bowl of fruit and a sweet note were awaiting us. I could almost see the points they were racking up burst into the air like in a video game. THIS should be the standard for any higher-priced hotel, or almost any hotel really.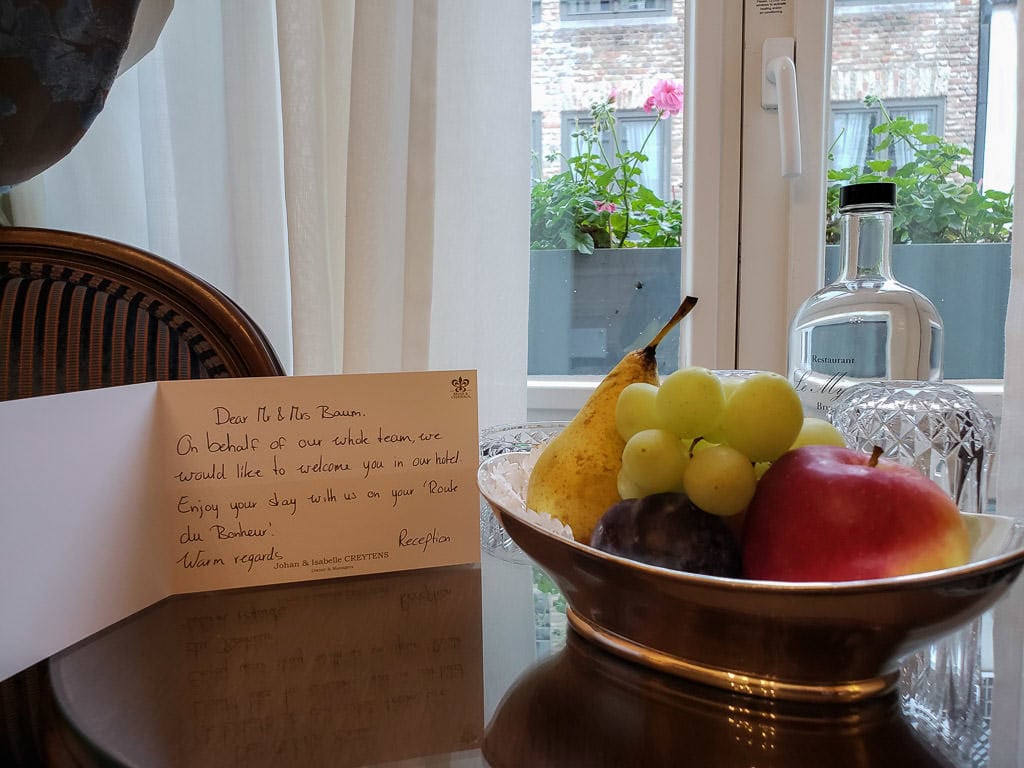 But the point accumulation for Hotel Heritage didn't stop there. Each night when we returned from our tipsy wanderings, the hotel elves (as I lovingly began to call them) had made our bed and left us two little chocolate treats each. I mean … come on?
Is there a better way to end your day than stuffing your face with chocolate? Why yes there is – shoving your face with world-famous, BELGIAN CHOCOLATE! (Is this the right time to mention we definitely gained some weight during our weekend in Bruges – when in Belgium, right?)
Champagne Breakfast at Hotel Heritage
In addition to wanting to sleep in, I also had been dreaming of an amazing breakfast. So, when they had a champagne breakfast option, we were definitely on board. If chocolate is the perfect way to end a day, champagne must be the best way to start – and also more chocolate, because it is Belgium.
This may just be the standard in beautiful Belgium, but the service really blew us away – especially at breakfast. We were greeted by a multi-lingual staff member – he'd say "Bonjour, Guten Morgen, Hola, Good Morning" pausing between each to assess if he had found your preferred language. Then, he'd ask if you would like coffee and offer a few additions to the fantastic breakfast buffet spread – like eggs or waffles (yes and yes, please).
He also brought over a little amuse'bouche to start and end our meal. It was so much more than the cheap hotel breakfasts we've become accustomed to at chain hotels. This was a special experience.
On our last morning, the owner had just returned back to town from a trip and was making her rounds to make sure everyone was enjoying their stay. Of course, we couldn't rave enough. All the points for Hotel Heritage! It was truly wonderful – and super close to all the top things to do in Bruges and lots of yummy beer.
Beer, Fries & Chocolate – The Belgium Trifecta
While not enjoying our lovely hotel, we were walking our way around Bruges – and making multiple stops for food and THE BEST BEER WE'VE EVER TASTED! We were told Belgium had the best beer by everyone we knew who had gone, but seriously it is just delicious.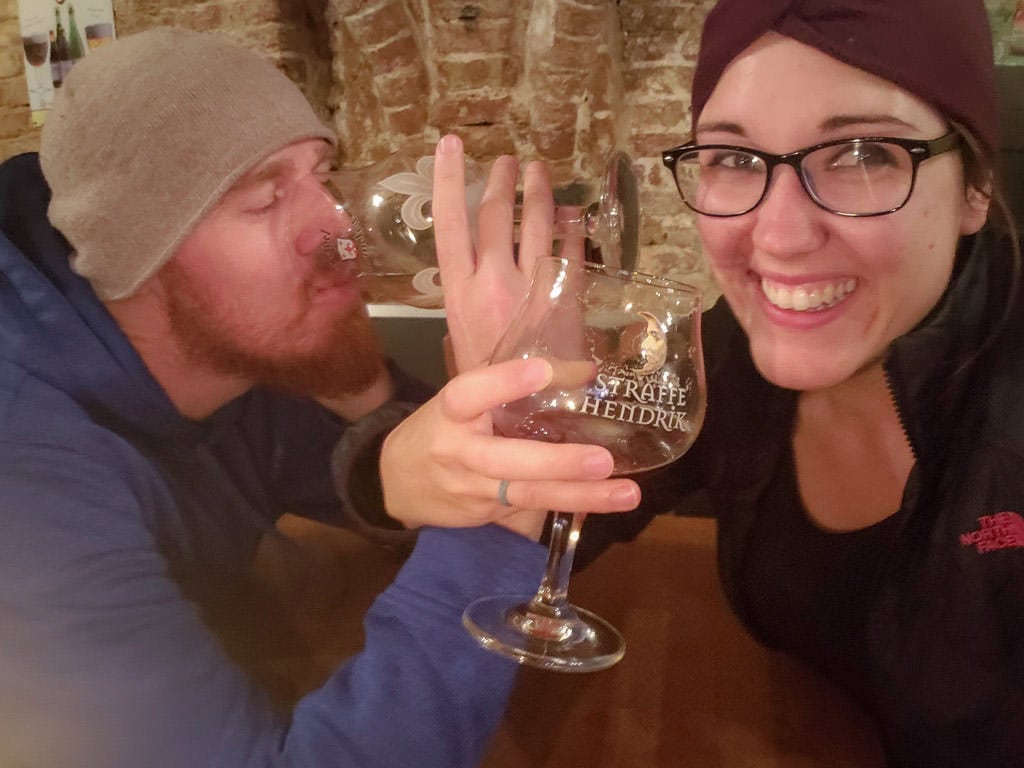 Pair that with the romantic beauty of this old, canal-filled city and you have the perfect recipe for starry-eyed explorations with lots of hand-holding. Each evening of our weekend in Bruges, we'd pop into a few bars to do a tasting – or just grab any beer because they were all fantastic.
Our Favorite Places to Eat & Drink in Bruges
Of all the breweries in Bruges we went to, we really enjoyed Le Trappiste, The Monk, Halve Maan Brewery, and De Garre. The first two are great for having a tasting tray, or two. If you are feeling adventurous (aka indecisive), have them choose for you, seriously you can't go wrong!
Halve Maan is a very unique and old brewery worth visiting – they even have a tour for anyone wanting to learn more about their process. But, De Garre was by far the most unique – hidden away in a dark alley and providing a few free bites of cheese with your brews! YES! A few of our favorite beers were the Straffe Hendrik Tripel and La Trappe Blonde.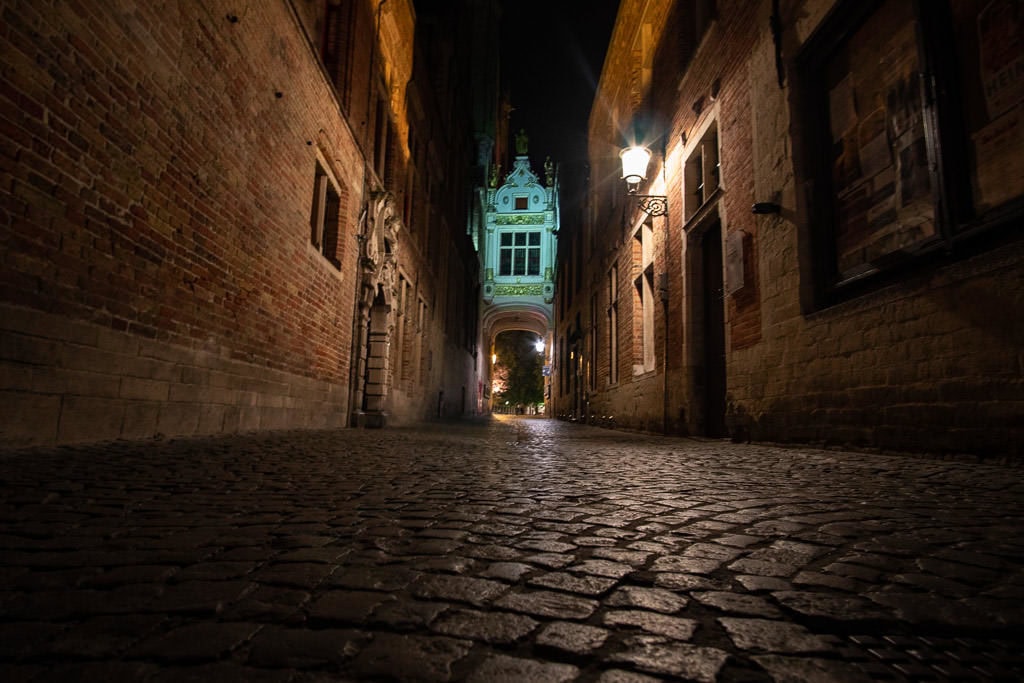 Before or after our boozy adventures, we would head out in search of food which usually took the form of French fries. I mean, we had to hit he Belgium trifecta, right? While not the best fries of our trip, our favorite experience was at the Brugsch Friethuys where we chatted with the employee for a while.
Obviously thankful to have a few people who were still functional at midnight, he told us about himself and gave us tips – all before topping off our fry order with more spuds and a special, delicious sauce. Love these encounters!
But our favorite potato-themed meal at The Potato Bar where we had potato croquettes with various fillings and more french fries. (Stop judging us, french fries are so a food group.)
Of course, we did also have to try a Belgian waffle along with their famous Belgian chocolate. And it did not disappoint. But, my favorite meal of the trip had to be the soul-warming soup from a place called Soup, yes that's correct. Places with amazing food don't need creative names. With so much eating and drinking of the non-health food variety, our bodies were thankful for some vegetable goodness.
Weekend in Bruges Takeaways
I'm not really sure how to recap our weekend in Bruges. Yes, it is beautiful. Yes, it is a blast. And yes, it was the best food and beer we've had in a while. But, there was something more to it – just this peaceful slowness that allowed us to be more carefree than we've been in a long time.
We'll always hold a special place in our hearts for the city because of that. But, if that's not a good enough description … if you still just don't have a good image of Bruges in your mind, well I guess that means you'll have to go see for yourself. And that's a pretty good idea. Cheers!
Special thanks to the beautiful Hotel Heritage – Relais & Chateaux for providing us with a media rate when we expressed interest in reviewing their offerings during this trip. As always, all opinions are our own.
Read more about our Europe travels here. And to learn how we traveled in Europe for five months on a budget by house sitting, read this guide.