I saw a photo of Oregon's famed Multnomah Falls a few years ago and it has been on my bucket list ever since. I knew it would be breathtaking, and it did not disappoint! However, if you want to sustain that feeling of awe over a few hours, the Multnomah-Wahkeena Loop hike provides just that.
Passing by EIGHT (!) named waterfalls and countless beautiful views, you will likely be sick of the word "wow" by the time this five-mile hike is over. This is by far one of the best waterfall hikes in Oregon.
Multnomah-Wahkeena Loop Hike Overview
Arrive at Multnomah Falls Parking Early
Even though our red eye flight was extra late the night before, and we only slept about 4 hours, we begrudgingly got up at 6 a.m. to make sure we got to Multnomah Falls before the crazy crowds got there. Luckily, we only had to drive about 10-minutes up the Historic Columbia River Highway to the falls.
Although there is a lot of parking, it will fill up fast (as we saw when we were leaving). So, plan accordingly.
When we arrived, there were only two other cars in the parking lot. "Yes! Waking up stupid early was worth it," I exclaimed as I ran to the falls. There was one other photographer there with us for about 5 minutes, then we had it all to ourselves for a good 15 minutes before more people started trickling in.
Explore Multnomah Falls
Multnomah Falls is insanely gorgeous. It is no wonder why people flock here. But, getting to admire this uniquely beautiful waterfall in peaceful silence made it all the more wonderful!
After some time at the base taking photos and staring up at the second-highest waterfall in the U.S., we headed to Benson Bridge. Getting to see the waterfall up close is definitely worth the short hike to this iconic bridge – regardless if you plan to do the entire loop or not.
The 11 Dreaded Switchbacks
There are two options for the loop hike. You can either go right before the Multnomah Lodge toward Wahkeena Falls or you can go to Multnomah Falls first and go up the ELEVEN SWITCHBACKS to the top of the falls.
Going to Wahkeena first is probably easier since you have more gradual inclines, but taking the Multnomah-first version takes you by the most tourist-y areas before they are overrun. Decisions… decisions…
Ever the loners, we wanted to avoid hordes of people and braved the dreaded switchbacks. At least they count them for you as you go. Seeing "Switchback 1 of 11" is not very encouraging, but once you get to 7 or 8 you start to feel like there may be an end to the madness.
Luckily, this zig-zagging portion of the trail is only about one mile. Once you reach the Upper Multnomah Falls Viewpoint, the trail has mostly gradual inclines and declines from then on.
Upper Multnomah Falls
I won't lie, for some reason I thought this would be more exciting than it was. You get to see where the mighty falls originate, but it is nowhere near as gorgeous as the lower portion. I definitely would not suggest going all the way up the switchbacks just to see Upper Multnomah Falls.
BUT it is a nice place to catch your breath and take in the Columbia River Gorge views before continuing on the stunning loop hike.
Larch Mountain Trail
After making it to the Upper Multnomah Falls Viewpoint, back track a bit to get back on Larch Mountain Trail which will soon lead you to the beautiful Multnomah Creek.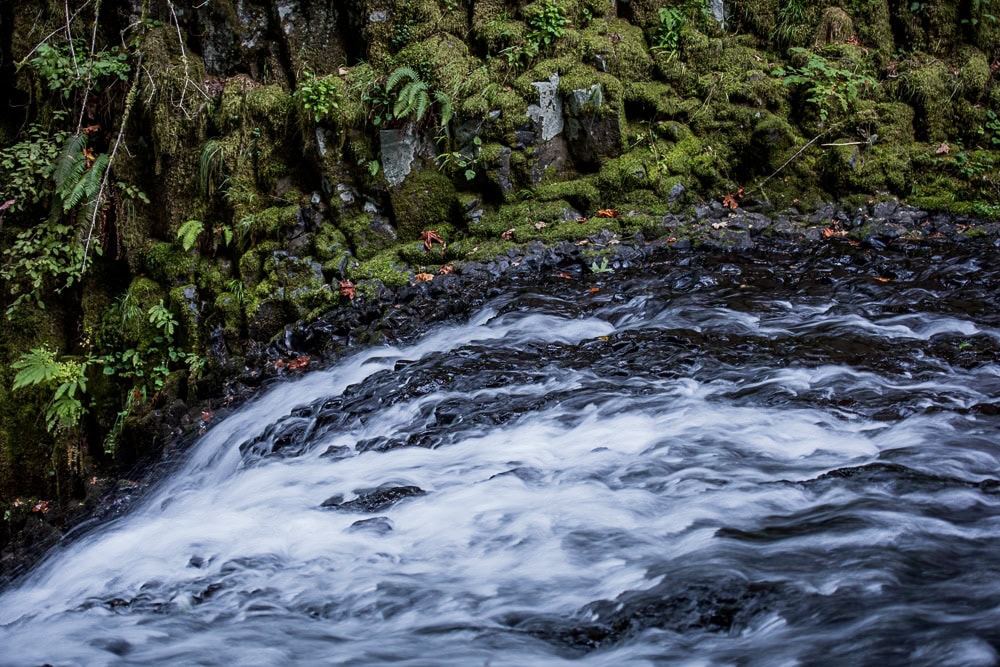 This part of the trail is insanely beautiful. I loved Multnomah, but the experience of hiking through the lush greenery and passing by the many waterfalls along this trail almost made me forget about the gorgeous Multnomah Falls entirely. Along this part of the trail, you will pass Dutchman Falls, Weisendanger Falls and Ecola Falls. Have I mentioned this might be the best waterfall hike in Oregon?
Plus, there are so many other gorgeous things to admire along your hike – like how the sun hits the moss and makes it glow, or the lush greenery against the dark canyon walls, and the various plant life and tiny animals hiding all around you.
A trail volunteer said he saw a pika, but we just missed it. So, definitely keep your eyes open for cute critters! This section of Larch Mountain Trail will be sure not to disappoint.
Wahkeena Trail
After making your way up the canyon for about a mile, you will go right onto Wahkeena Trail from Larch Mountain Trail.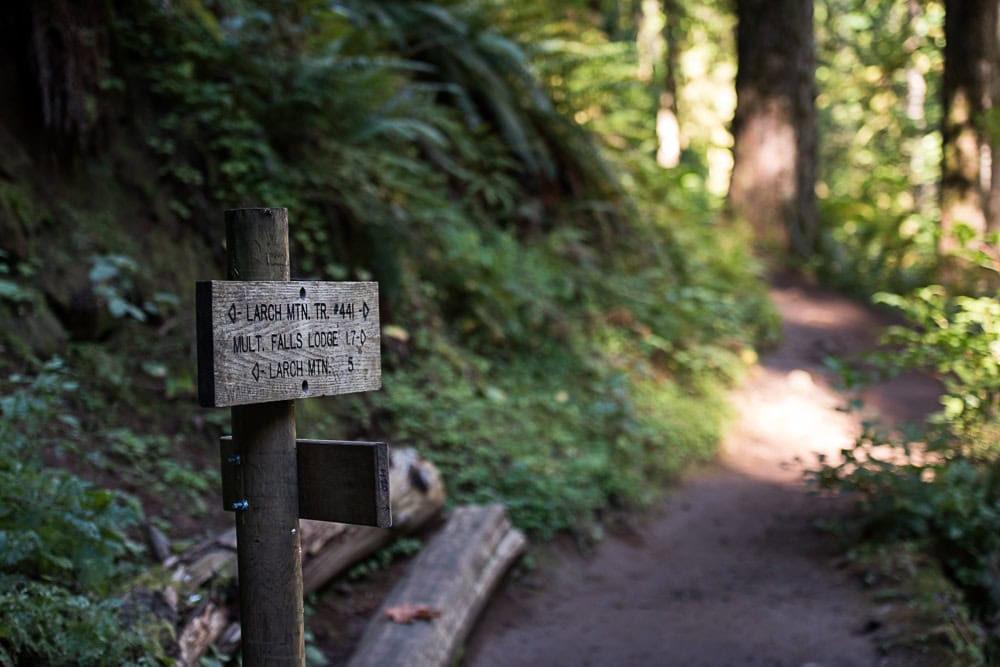 This portion of the hike takes you into a completely different area. Instead of lush shrubs and moss, you will be walking through tall trees and peaking between them to spot views of the Columbia River Gorge!
Along this section of the trail you will have the options to also go to Devlil's Rest (+3.5 miles RT), Angel's Rest (+3.6 miles RT) and the Wahkeena Spring (+200 yards RT). Or continue on the Wahkeena Trail, and stop by Lemmon's Viewpoint for a great place to take a break while taking in a perfect view of the Columbia River Gorge.
Not long after starting your descent, you will start to see more waterfalls! You will even have to cross over a small one that has taken over part of the trail.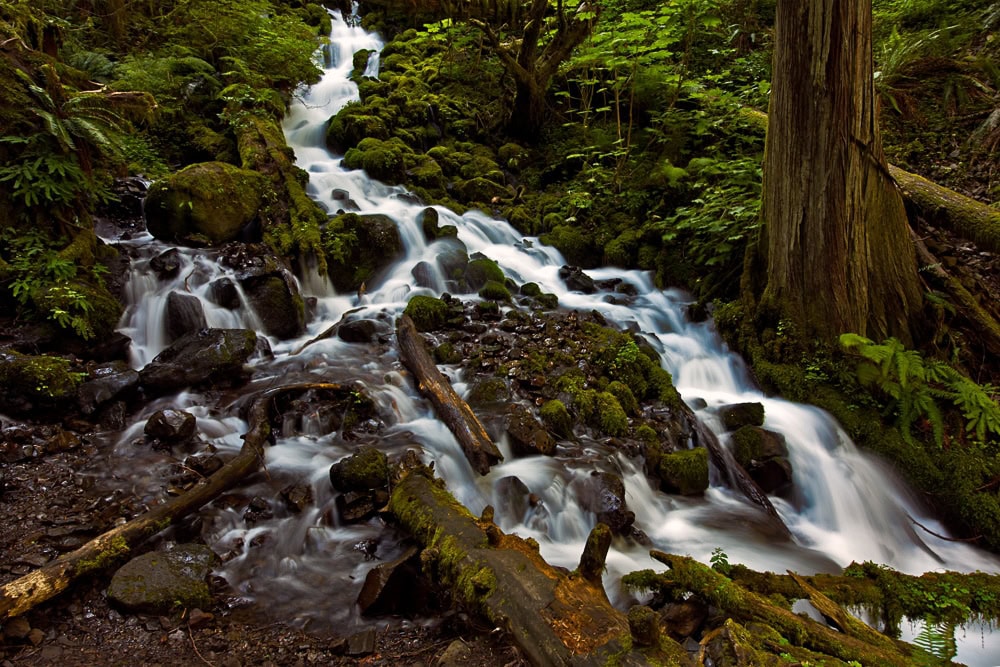 Fairy Falls
Fairy Falls was my favorite waterfall of the Multnomah-Wahkeena Loop hike. It just looked so wonderfully dainty and magical. Whoever named it, definitely captured its essence perfectly. We sat at the convenient bench nearby admiring it for a few minutes before heading on our way.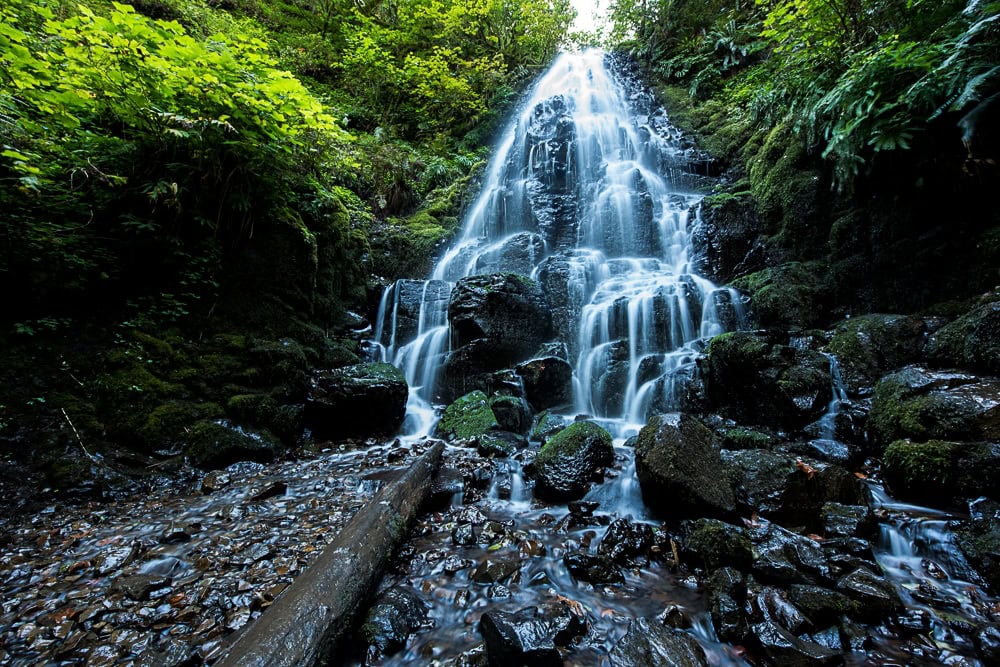 Wahkeena Falls
The last waterfall of the Multnomah-Wahkeena Loop Hike is, yep – you guessed it, Wahkeena Falls! And, the stone bridge in front of it adds to its majestic view. Feeling the mist hit your face as you walk by really intensifies the experience, especially on a nice warm day!
Once you have taken in the views at Wahkeena, take the Return Trail back to the Multnomah Falls parking lot. And, pat yourself on the back for getting there early when you see the packed parking lot and crowds of tourists.
Shorter Multnomah Waterfall Hike Option
Want to see some of this beauty but don't have the time or endurance for a 5+ mile hike? Here's my suggestion: get there early to check out Multnomah Falls before the crowds and walk to the bridge. Then, backtrack over to Wahkeena Falls and up to Fairy Falls before heading back to your car. This only adds up to about 3 miles and you still get to see many of the gorgeous falls!
See more outdoor adventures and tips for visiting Oregon.