If you are looking for a getaway you will not soon forget, consider breaking out your passport for a fun and exciting trip to Canada's beautiful Vancouver Island – just a few hours from Washington. Our Seattle to Vancouver Island Road Trip Itinerary will give you all the tips you need for an amazing extended weekend away that you can enjoy any time of year (and in any weather). Plus, the drive from Seattle to Vancouver is breathtaking!
But first, I have a confession to make. This trip almost didn't happen. It was planned for mid-October – before storm season was supposed to be in full swing. However, the day before we were supposed to leave, I started reading about this "typhoon-enhanced storm" that was due to hit Vancouver Island HARD! I even read on one site that there may be record flooding and other issues. Not exactly what we were hoping for.
After I had whipped myself up into a full-blown panic, I broke the news to Buddy. Ever the mellow one, my husband calmly said "Well, I'd rather deal with that than stay here and work." And, I agreed. So, we went – with all the rain gear we owned and an upgraded rental (from a sedan to a 4-wheel-drive truck).
Luckily, the weather wasn't so bad. It just rained the entire time, but we expected some rain anyway – it is the PNW! To get the most out of this trip, I would suggest giving yourself at least 4 days. But, an entire week would be ideal! Also, make sure you are realistic about the weather and come prepared (like we did).
Rain is common many times of the year, but this is still a fantastic trip regardless of how wet you get! And, splashing around or storm-watching may even be your favorite part.
Seattle to Vancouver Island Road Trip: How to Get to Vancouver Island
Make Your Escape from Seattle
Traffic in Seattle can get pretty crazy. So, learn from our mistake and don't leave right around rush hour. The drive from Seattle to Vancouver Island is already long enough, don't add time to it by sitting in traffic.
If you are flying in to Seattle, try to plan to get there in the middle of the day or late afternoon. And same goes for if you are just heading out from somewhere local. If you happen to hit a ton of traffic, you can always stop to check out a nearby restaurant or find a new trail to explore!
Once you escape the busy city, head to Port Angeles where the ferry to Victoria, BC, is located. This is a gorgeous 2.5-3 hour drive from the Seattle-Tacoma Airport. But, if you are planning to take the early-morning ferry to Victoria, I'd suggest staying overnight in Port Angeles rather than trying to drive early in the morning.
We loved our stay at Domaine Madeleine B&B – the views, the rooms, and the four-course breakfast were all outstanding!
(DID YOU KNOW?: Port Angeles is in a tsunami zone… it was news to me! I read a handy pamphlet that said we should feel an earthquake first which is the signal to book it to higher ground. It was strangely comforting that there should at least be a warning.)
Take the Ferry from Port Angeles to Victoria
Yes, you can drive to Vancouver Island – technically. But, you aren't going to make the drive from Seattle to Vancouver Island without taking a ferry.
The Black Ball Ferry Line in Port Angeles has a convenient 90-minute ferry ride that is offered multiple times a day throughout most of the year. The ride itself is very relaxing and offers chances to spot birds and sea life, plus some great views on a clear day. You can board the ferry as a walk-on, bike-on, or drive-on passenger.
A few things to note when taking the ferry to Vancouver Island:
A passport is required since you will be entering Canada. However, they won't stamp it (bummer, I know).
You can make reservations online. Although they aren't required, I highly suggest them if you are on a time-sensitive trip.
Drive-on passengers must get to the ferry terminal 60 minutes early when departing Port Angeles and 90 minutes when leaving Victoria.
The ferry line offers free round-trip tickets to passengers traveling on their birthday. You just have to be leaving on your actual birthday.
There is a duty-free store on the ship that opens about halfway through the trip and closes before reaching your destination.
When you get to Victoria/return to Port Angeles, the boarder patrol will drill you about why you are there/what you did. Have a good answer prepared. They don't seem to like it when you are vague, so try to give details.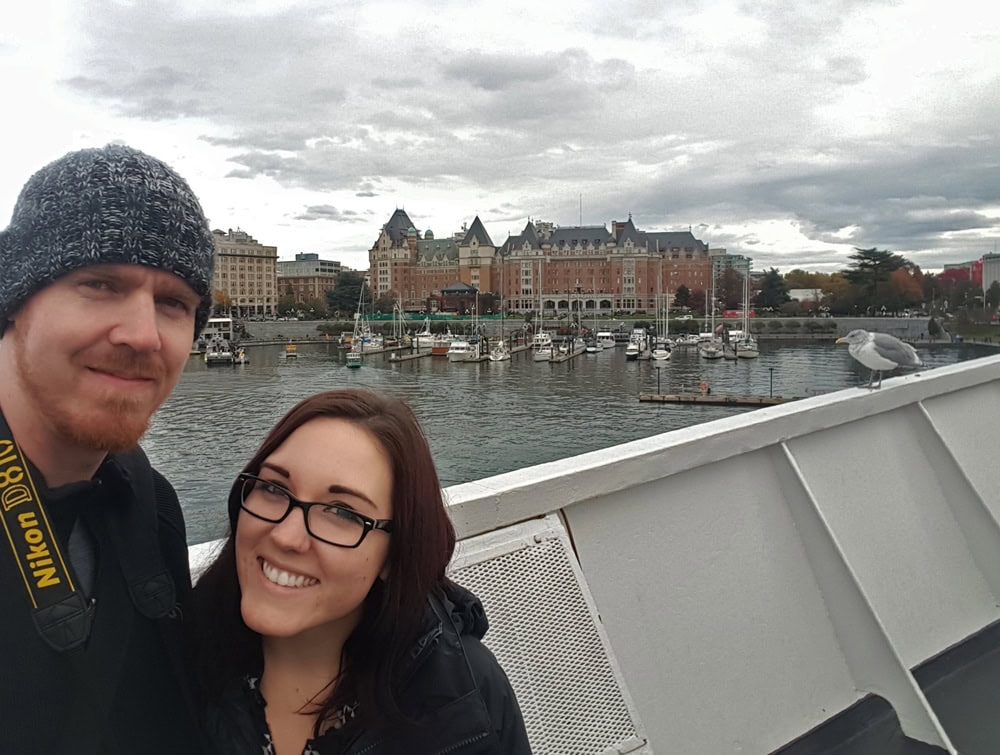 Explore Central Vancouver Island
Depending on your plans, you may choose to hang out in Victoria for a few hours first, but we couldn't wait to get out of the big city and get out onto some trails! Luckily, there are some stunning areas to explore in Central Vancouver Island – many of which are Provincial Parks!
We were initially supposed to head to Tofino with a few stops along the way. However they had just gotten hit hard by the first of three large storms, so our kind B&B hosts called to warn us that trees were down in the road and there was no power.
We decided to heed their warnings and stay on the eastern side of the island where the weather wasn't as severe – just constant drizzle and the occasional strong winds.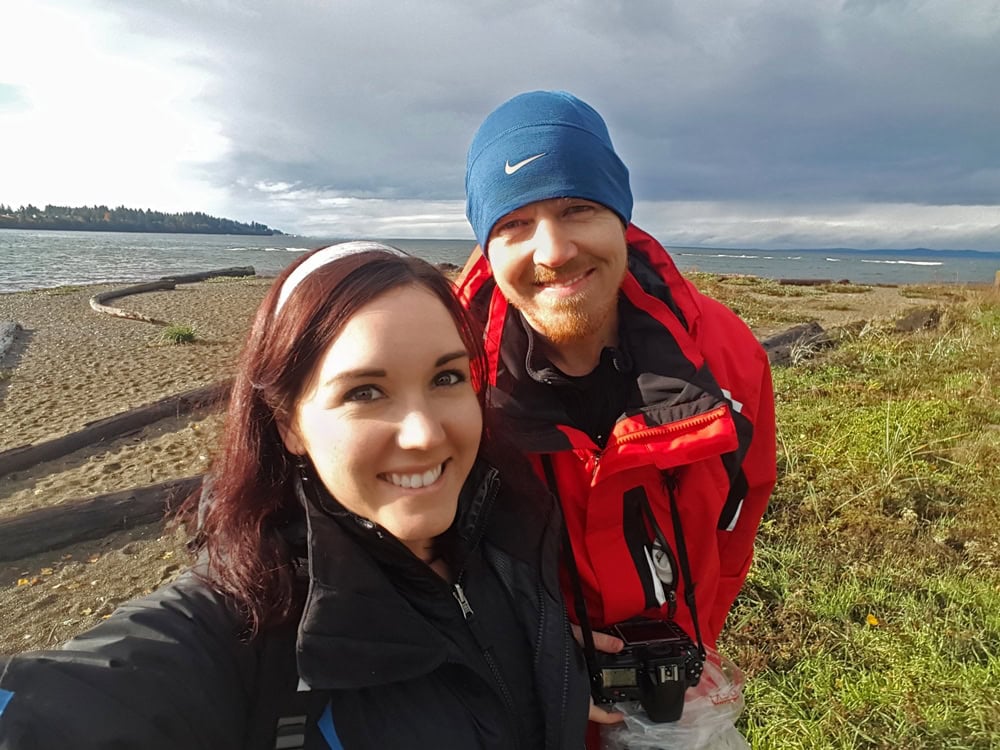 Staying in Parksville, BC
Lucky for us, we were able to tack on an extra night at the beautiful Beach Club Resort in Parksville. This turned out to be the perfect base for our explorations, and we were so excited to have a luxurious suite to warm up in after hours of getting drizzled on. Plus, the nearby boardwalk made for a great place to stroll and spot animals.
Other great places to check out nearby are Top Bridge Park and Rathtrevor Beach – you can even check out both on one long walk or bike ride. And Coombs is a great little town to grab dinner (Cuckoo Trattoria & Pizzeria is amazing) or some groceries. Even if you don't have a shopping list, check out the goats on the roof at the market. Definitely a unique experience!
Exploring Gorgeous Waterfalls in Vancouver Island
We love waterfalls. I mean, we have done some dumb things to see a beautiful waterfall. And I have to say, Vancouver Island waterfalls are some of the best I've seen. Plus, we didn't even have to work hard or put our lives in danger to see them!
Both the Englishman River Falls and Little Qualicum Falls trails loop around these two gorgeous falls and are only about 2 miles round trip. Although these two parks are about 15 minutes apart, the trails are very similar – taking you along the canyon and across bridges to view different points of the falls.
Free Spirit Spheres
When I discovered these gorgeous, insanely unique circular treehouses I was so excited to stay in one. Unfortunately, they did not have any availability during our trip – Free Spirit Spheres books out fast. But, Jamie did agree to give us a tour so we could check them out in person. And, I'm so glad we had the opportunity to meet with him! (Note: Tours are available by appointment only).
I still want to stay the night suspended in one of these amazing Free Spirit Spheres! However, climbing up ladders and across bridges to peak inside a few of these inspiring creations was a real treat, too. And, getting to learn about them from an insider was extra special. We loved chatting with Jamie and really appreciated the time he took to meet with us. We even got to visit the workshop where the mastermind himself was working on some new spheres. They are truly a work of art.

Cathedral Grove – A Favorite of Vancouver Island Hikes
Walking along the giant, ancient trees in McMillian Provincial Park's Cathedral Grove is a must on your drive from Seattle to Vancouver Island. There are plenty of short hike options with great rewards.
However, if it gets too windy definitely make a b-line back to your car. You don't want to get knocked out by one of these beauties!
Secret Roadside Trail Near Port Alberni
We had some relief from the rain for a few hours and decided to go driving. We knew it was probably still a bad idea to try to get all the way to Tofino since it is supposed to be a steep, winding road and we weren't sure if there were still downed trees. However, we drove about 30 minutes passed Port Alberni to enjoy the scenery. We eventually decided to turn around at what looked like a nice little overlook with parking.
Surprisingly, there was an unmarked trail that led to the shores of Sproat Lake, which we had been driving along. Here are the GPS coordinates: N 49° 16′ 43" / W 125° 6′ 49". Across the way there was a tall waterfall spilling into the lake, and we were surrounded by a foggy, peaceful silence that we were all-too-happy to soak in for as long as we could.
[BONUS] Spend a Day in Tofino: The weather didn't cooperate for our trip, but Tofino is a must-see on any road trip to Vancouver Island if you are able. Go on a whale watching, hot spring or bear spotting tour if you can! Or watch storms if it is the right time of year – this area is famous for it. And, usually, they aren't too disruptive.
Sip Cider at Merridale Cidery
Eventually, it will be time to head back to Victoria to catch the ferry to the U.S. But, don't miss out on visiting Merridale Cidery – a great little cidery and distillery about 45 minutes outside of Victoria. The drinks are delicious and exploring the apple orchard makes you feel like a kid – or a happily tipsy adult!
Self-guided tours are available during operating hours, as well as tastings. They even have a restaurant with some delicious options to pair with your cider or cocktail.
Visit Victoria
Spend a few hours or a whole day exploring beautiful, historic Victoria if time allows! If you have at least half a day, the Butchart Gardens are world-famous for their beauty! And, for those more interested in history or architecture, Craigdarroch Castle and Hatley Park National Historic Site are also nearby. Plus, there are many wonderful dining options!
Attractions within walking distance of the ferry terminal include:
This is your last stop before hopping back on the ferry to the U.S., so make the most of your last hours in British Columbia!
Vancouver Island to Seattle: Spend a Day Exploring the Olympic Peninsula on Your Way Back!
Just because you are back in the U.S. doesn't mean you have to end your trip. If you are able, spend a day exploring this beautiful area before heading home! In addition to having great beaches and other fun attractions, Port Angeles is the gateway to Olympic National Park.
Fair warning – trying to pick one or two options in beautiful ONP is going to be a struggle! This is an area you will have to revisit when you have a few days or a week to dedicate to exploring more of it's beauty.
BUT when you are so close, you have to at least get a taste, right? So, here are some suggestions of places to hit up if you have time: Lake Crescent, Hurricane Ridge (weather permitting) and/or the Hoh Rainforest (about ~2.5 hours away, so more of a day trip than the others).
---
So, are you ready to hit the road for a Vancouver Island getaway?
Don't forget to pack these essentials for rainy weather:
For more ideas on exciting outdoor-focused adventures, browse through our other destination guides.