The Grand Canyon is a bucket list item for many people. And although spending a few days there is the ideal way to visit, not everyone has that much time. So, how can you make the most of a visit to this iconic natural wonder when you are just passing by? Check out the sunrise at the Grand Canyon! Although, as we learned, it may be more challenging than you expect!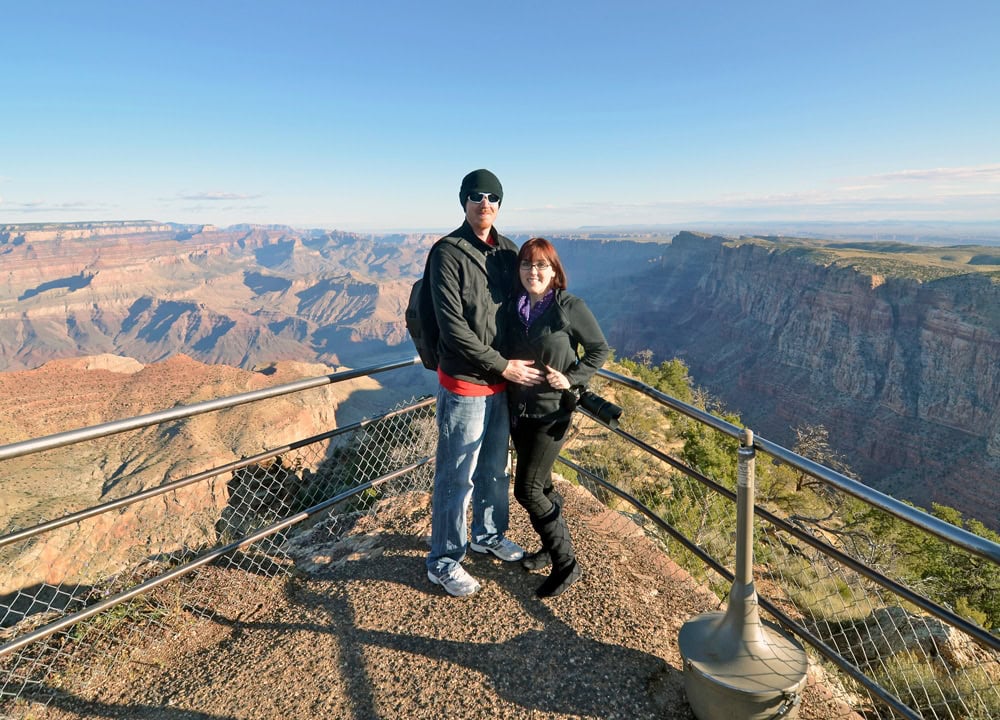 Why the Grand Canyon is a Must on a Southwest Road Trip
About five years ago, Buddy and I went on a Southwest road trip and knew we had to make a stop at Grand Canyon National Park. However, we only had a few days to cover a few hundred miles, so our time there was going to be short.
It is also worth noting that this was the part of our trip that I let Buddy plan. He kept telling me I was over-planning, so I let him decide what we would do between Las Vegas and Albuquerque on the trip.
Getting to the Grand Canyon from Vegas
The Grand Canyon is massive, so there are many options for vantage points depending on where you are coming from. From Las Vegas, where we set out from, the North Rim of the canyon in Arizona is about a 4.5-hour drive.
We left Vegas mid-day and got to the Grand Canyon at sunset – just in time to watch the sun dip. Although sunset was beautiful, it was very short-lived and we had our hearts set to come back for sunrise! Since it was his part of the trip to plan, I was letting my husband 'just wing it' because that's how he likes to vacation.
So, we literally had no plan before arriving. And we learned quickly that this was not the place for that nonsense. There were only a handful of rooms available nearby and those were more than $250 each – way out of our budget for the night.
Planning Ahead for Sunrise at the Grand Canyon
Definitely plan ahead for lodging if you want to be close by in the morning for sunrise. We ended up driving two hours out of town to find a reasonably-priced (albeit shady-as-hell) hotel. Plus, we had to drive in the pitch-black on roads with lots of wildlife.
We passed by a couple who had recently hit a deer, and we had a few near-misses of our own! We finally made it to our hotel (which looked like a place that rented rooms by the hour) after midnight. And we crashed hard for about 3 hours – but not before pushing the love seat against the door for bonus security.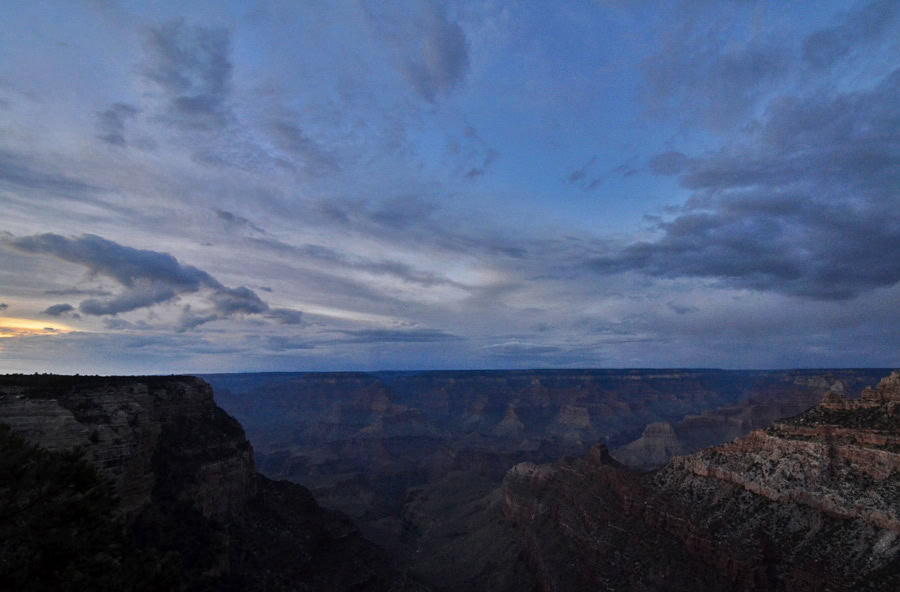 Why Waking Up Early is Worth It
When our alarms went off before 4 a.m. we were so relieved to leave that I don't think our brains even processed how stupid early it was. Our trip back to the Grand Canyon felt like we were driving through outer space. We were so delirious that we could barely function. And, only being able to see the reflection of the road paint for two hours about made us crazy.
Luckily, we were kept awake by the random animals in the road and eyes lighting up all around us. In one terrifying encounter we almost ran over an owl that was eating road-kill in the middle of the road. Initially, we thought it was a raccoon that would just scurry away – until this giant winged beast took flight and completely blocked our windshield as it barely made it over our car.
The Epic Sunrise at the Grand Canyon
Yet, somehow, we made it back to the North Rim safely. And we mustered enough energy to sit patiently as the sun lit up the amazing wonder before us. We were the only ones there as the Grand Canyon awoke with birds flying around and the sun hitting a new crevice with each passing moment.
Getting to experience this serene moment of beauty all alone in one of the most popular places in America was outstanding. We had time to take all the photos we wanted in peace and enjoy this natural work of art at what I think is its' finest hour. Definitely go early if you can for the sunrise at the Grand Canyon! And make sure to check the sunrise times to get there before the sun!
Seeing @GrandCanyonNPS at #sunrise just got added to my #bucketlist!
Click To Tweet
4 Other Exciting Southwest Road Trip Stops Along the Way
Depending on which direction you are driving from, these stops are a great addition to any Southwest road trip:
1. Hoover Dam Visit
I won't lie, I was extremely surprised that I enjoyed this. I thought it would be a boring, quick stop just to check off our list of nearby attractions. But, it is pretty DAM amazing (get it?)! Take the tour if you have time, but at the very least walk over this impressive structure.
2. Las Vegas
Whether or not you are a gambler, this city is a must-see. We didn't drink or gamble during our entire visit, and still had a blast. Walk through all the ornately decorated hotels, catch a Cirque du Soleil show, soak at a pool, watch the dancing fountains, ride in a gondola, and go to the top of the Eifel Tower.
You will feel like you are at an adult version of Disney World! If wanting adventure, head out to desert dune buggying!
3. Arches & Canyonlands National Parks
These beautiful parks are great to visit any time of year. We went on a separate road trip recently and loved them! Definitely plan for a full day of hiking at Arches and at least a few hours of exploring Canyonlands, if possible. Read more about these parks here.
4. Petrified Forest National Park
We were really disappointed when we got to this park because when we saw the sign for Petrified Forest we began picturing a forest in the middle of the desert. That is not the case at all. But, this ended up being one of our favorite road trip memories because we laughed so hard at our ignorance that we explored it for hours taking ironic pictures of our amazement.
In all seriousness, this is a very interesting place for anyone that loves geology or strange natural wonders. It is just not a forest.
On a U.S. road trip of your own? Check out our favorite places in this country, including many other national parks!