Looking for a sure thing on your trip to Vegas? Don't just be another gambling zombie locked inside all day and night, venture outside and off the strip to experience an adrenaline rush, unlike anything you will get at the casino with a Las Vegas dune buggy chase!
We are so glad we booked this awesome experience with SunBuggy Fun Rentals. It was definitely the highlight of our trip to Vegas and one of our favorite memories from our U.S. travels. From pick-up to drop-off, we were all smiles (although those smiles had a bit of sand in them after our ride).
Booking with SunBuggy & What's Included
The Mini Baja Chase is SunBuggy's most popular option. It is a fast-paced ride through the Las Vegas desert where you "chase" an experienced driver. Each chase has a max of seven cars per "dunie" (the driver you will be chasing). And, since you are following an expert, all you have to worry about is staying in their tracks and having a blast!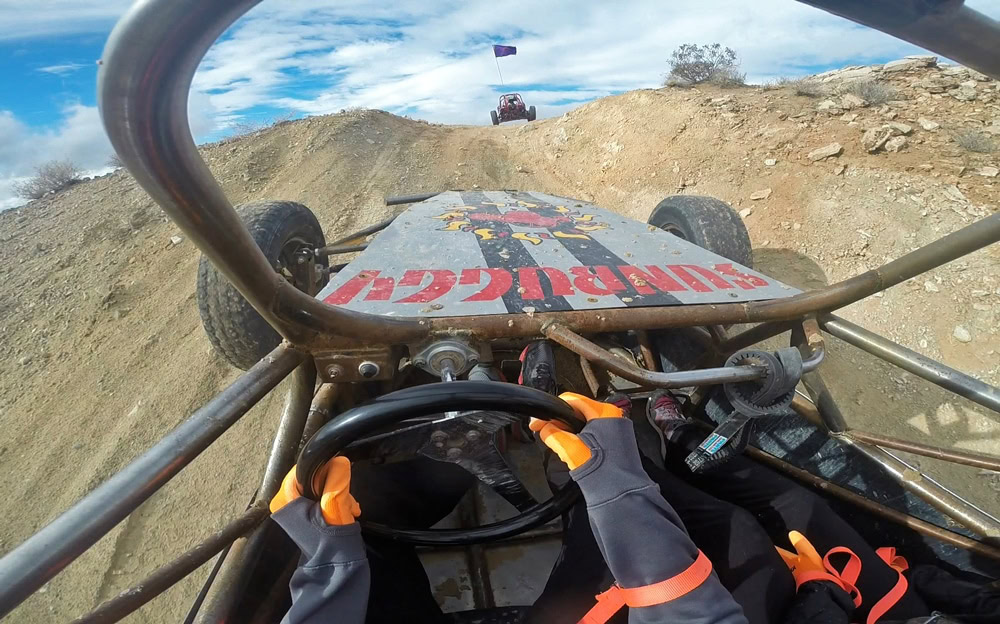 You can choose to go for 30 or 60 minutes depending on how much time you have and your budget. They also offer a night chase that looks really cool and some other more slow-paced tours.
Prices for this off the strip, Las Vegas desert adventure are about $200 per person depending on if you will be sharing a buggy. And, buggies are available for up to six people. Pick-up and drop-off from most local hotels (including on the strip) is included with the fee.
You are also provided with all the gear you need, bottles of water and lockers at no additional charge. Just make sure to tip the shuttle driver and dunie.
The Mini Baja Las Vegas Dune Buggy Chase Experience
As soon as we met our "dunie", Stephanie, we knew we were going to have a great time. This bad-ass chick was freaking awesome and super psyched about her job. She confirmed that we understood the rules – basically just follow her and all is well. Then she got us strapped in and we took off.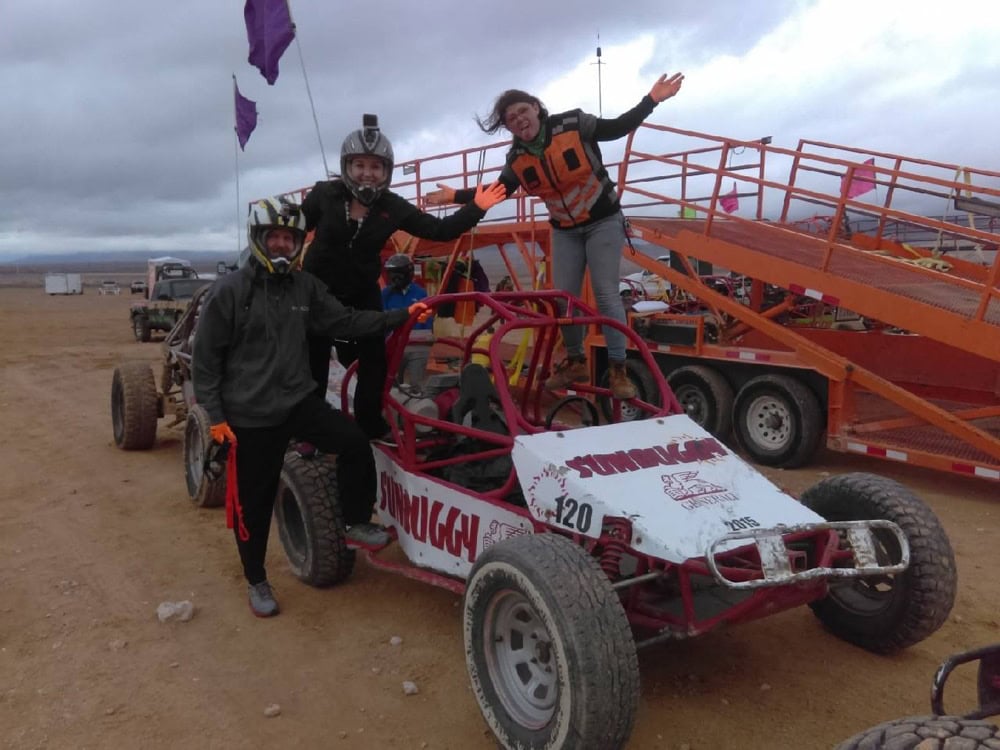 We totally lucked out by being the only ones during that time slot for our Las Vegas dune buggy adventure. It meant she only had to worry about us keeping up – which Buddy didn't seem to have too much trouble with. We sped over dunes, got jostled around while driving over rocks, kicked up dust as we did circles and screamed as we went down a steep wash-out area.

This experience was a total blast! A few people we met thought it was a bit scary. But, we just thought it was an awesome adrenaline rush that we would love to do again and again. I am usually overly cautious about getting hurt but between the role cage, seat belt, helmet and other safety precautions I felt pretty dang safe – even with my speed demon of a husband at the wheel. And, getting to see his eyes light up with pure joy would have been worth any bumps or bruises we ended up with!
Tips for an Extra-Awesome Time
We loved our dune buggy chase, but there are a few things to make it extra fun:
Bring a bandana. We were both laughing like kids for most of our trip which we quickly realized meant we were eating a lot of sand. Having a bandana over our mouths would have made the experience even more enjoyable. They even sell some in the main shop, but we didn't see them until after.
Choose better GoPro placement. It was awesome that they had some helmets with GoPro mounts for us to use, but instead of both of us wearing our GoPros we totally should have asked if the guide could wear one! That would have been an awesome vantage point of our sandy adventure.
Go for the full hour. We could have done this all damn day! Does dune buggying sound like something you are going to love too? Then, definitely book the entire hour to have as much heart-pumping fun as you can (if your budget allows)!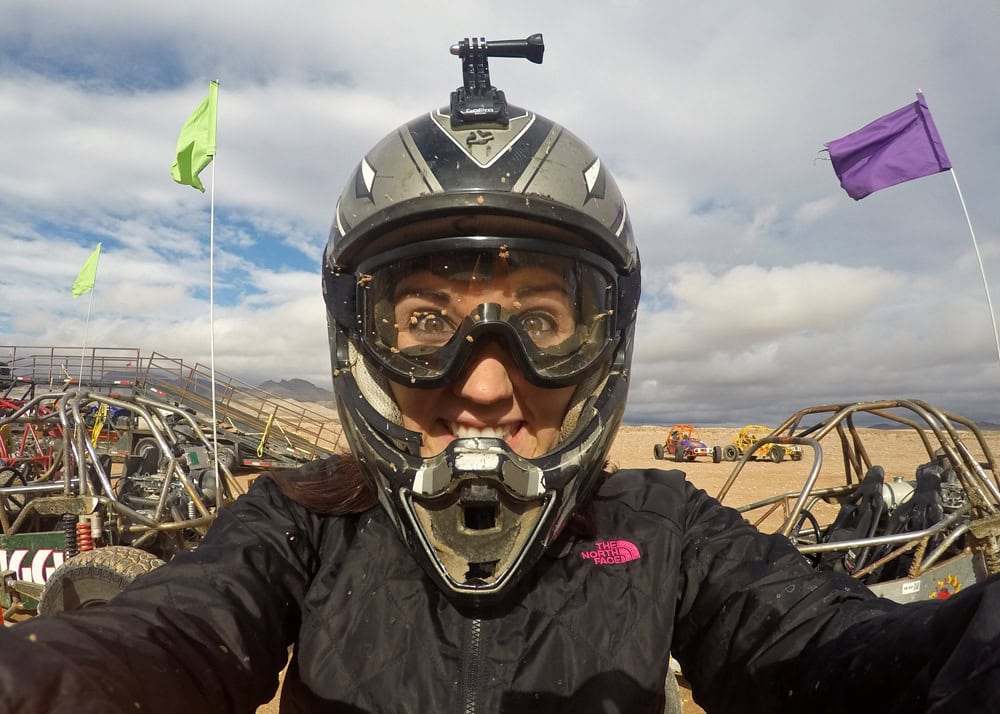 Want more off-the-strip Las Vegas tips, click here!
SunBuggy was kind enough to provide us with a media rate for this super-fun adventure. However, all opinions are our own as always.