If you aren't leaving the strip when you visit Vegas, you are missing out on some awesome experiences! To wrap up our Vegas coverage, I wanted to share our favorite Las Vegas off-strip activities to inspire you to venture out.
You don't have to drive very far to enjoy most of these unique experiences, and they will likely be the highlight of your trip! I've listed our top four in order of distance from the strip.
1. The Neon Museum
Distance from the Strip: ~15 minutes/6 miles. If you don't have a vehicle, this is a semi-cheap Uber or Lyft ride – especially if you can split it with other travelers.

Why the Neon Museum is Awesome
I've had the Neon Museum on my radar for a few years now and was so excited to check it out on our recent trip to Las Vegas! This is one of the most unique places we have ever been and it is overflowing with history. I don't think we stopped taking photos during the entire one-hour tour!
Not only are these old neon signs beautiful, they each have a fun story related to them. As you wander through the boneyard, your tour guide tells fun anecdotes about the previous owners of the signs. With the oldest sign dating back to the 1930s, there is a lot to tell! And, as I'm sure you can guess, there are some quirky characters and ridiculous tales in Las Vegas' past.
Day tours are $19 per adult, and night tours are $25. We took the last day tour, so we got to see the signs start to light up as we were leaving. It definitely looked like it would be gorgeous to see at night, too!
I highly suggest making a reservation online beforehand since this is a popular place and tours book up quickly. There are also many awesome special events throughout the year. It is important to note that there are strict rules about photography, so make sure you read through them before your visit to this great off-strip Vegas activity.

2. Vegas Desert Off-Road Course
Distance from the Strip: ~20 minutes/15 miles. However, some tour companies provide a shuttle.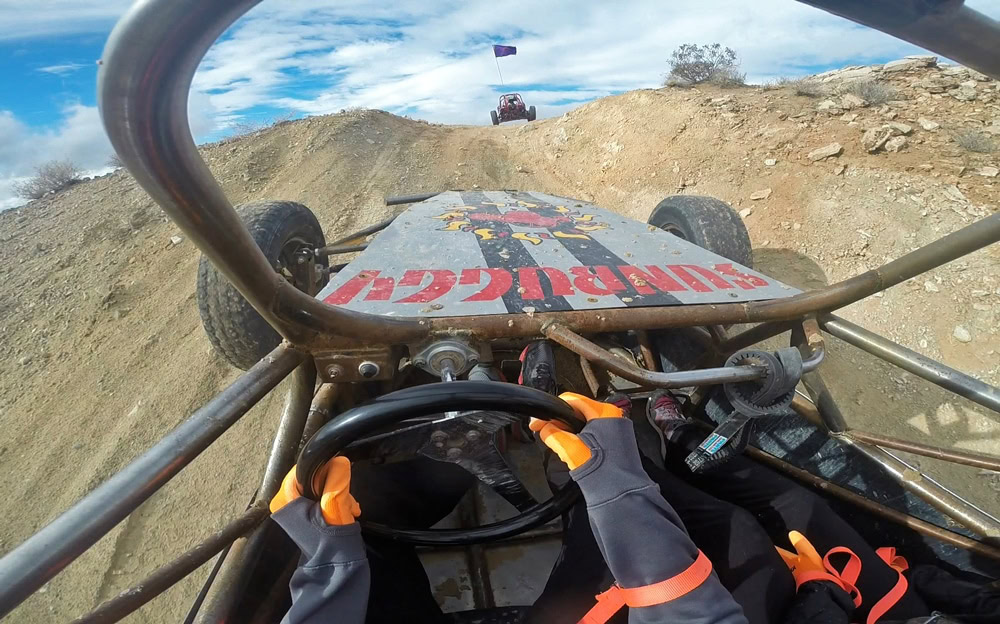 Why Off-Roading in the Vegas Desert is Epic
Who knew that there were sand dunes right outside of the strip perfect for off-road adventures? Our experience with SunBuggy was the MOST FUN we have ever had in Las Vegas! Getting to drive dune buggies through the desert is such an adrenaline rush and something we highly suggest!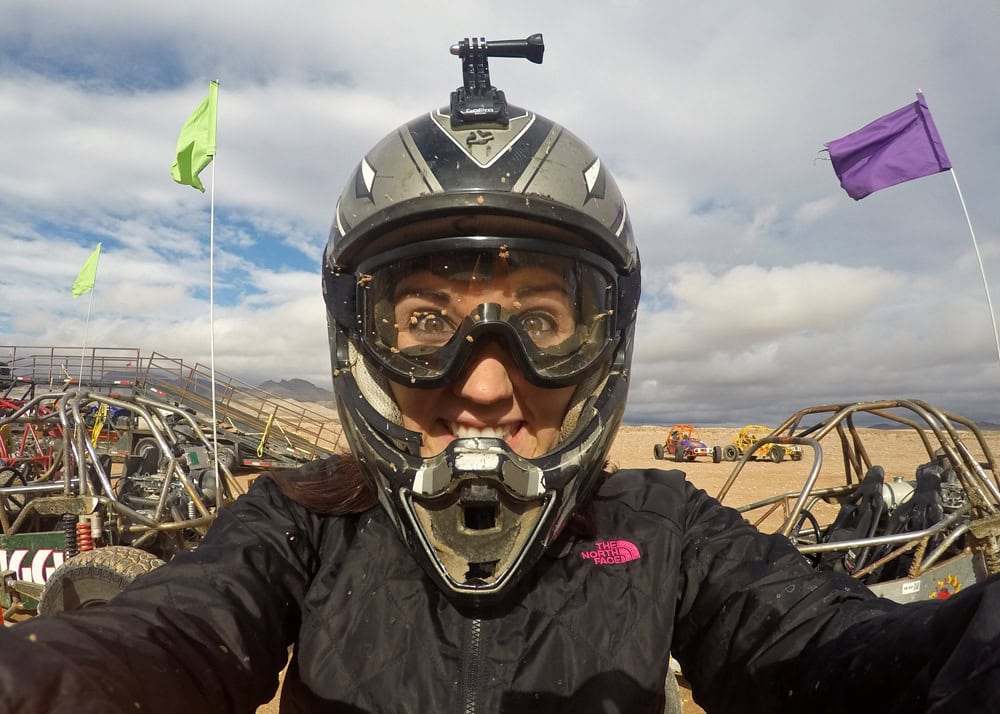 There are multiple ATV and off-roading companies that offer desert driving experiences. However, we chose SunBuggy because they let you go FAST in those Vegas desert dunes! We didn't want to just take in the sights, we wanted to get our hearts pumping. They also included our shuttle, gear, and a few pictures of our adventure at no additional cost! Prices are about $200 per person depending on which option you choose.
(Disclosure: SunBuggy provided us with a discounted rate for our experience, but all opinions are our own – as always).
3. Hoover Dam Visit
Distance from the Strip: ~45 minutes/30 miles. There are also many tours leaving from the strip if you don't have your own vehicle.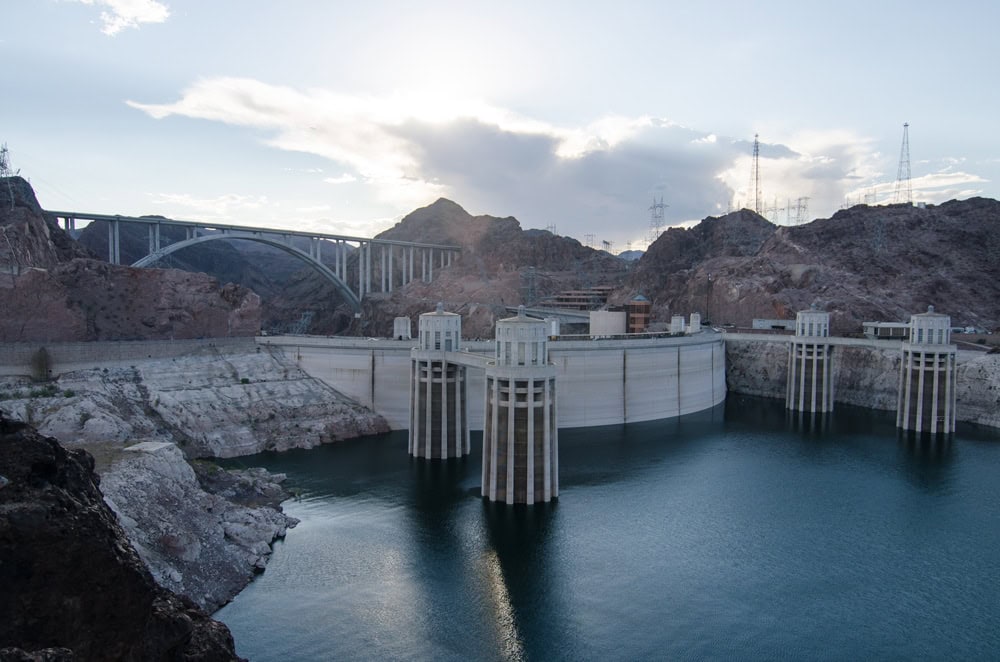 Why a Hoover Dam Visit is a Fantastic Day Trip from Vegas
Whether you are interested in architecture, nature or engineering, the Hoover Dam is sure to impress. This was supposed to be just a quick stop for us, but we ended up exploring for hours. We had no idea how much we would enjoy this man-made wonder.
Although we didn't have time for the Hoover Dam Tour, we heard it is totally worth the $30 fee to see the lesser-known parts of the Dam. There is also a $15 option to just tour the power plant.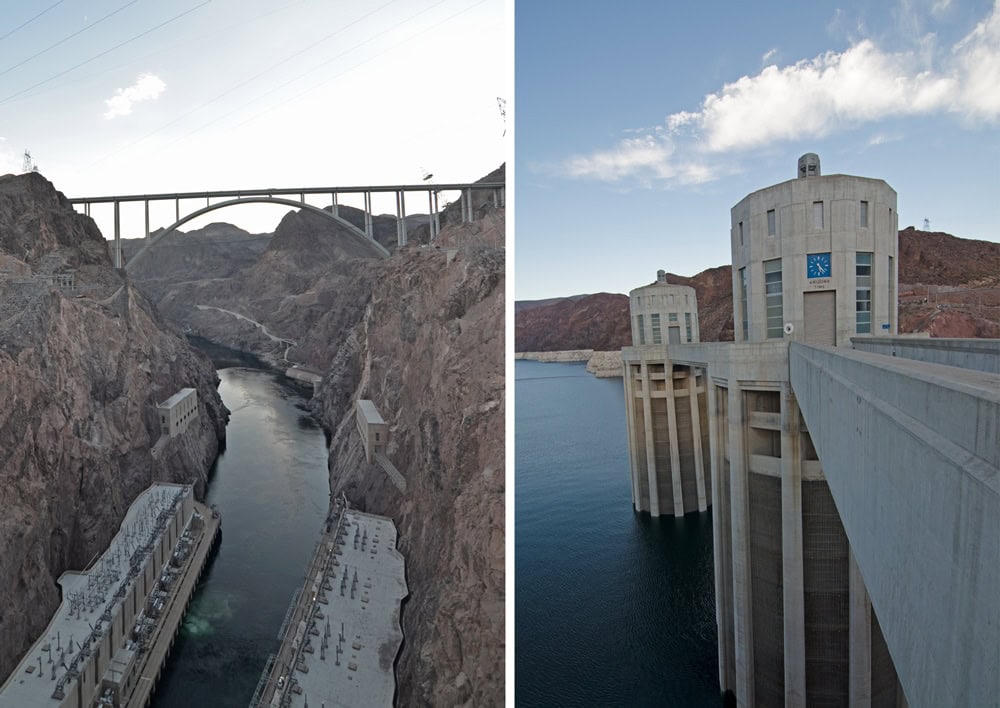 If you are short on time, spend an hour or so exploring the area – walk over the Memorial Bridge and take in the immensity of the dam. And, since the dam is located on the Nevada-Arizona border you can say you were in two states (and two time zones) at the same time!
4. Grand Canyon
Distance from the Strip: ~4.5 hours/290 miles. Yes, this is quite the trek! But totally worth a long day trip or overnight getaway if you have never been!
Why the Grand Canyon is an Awesome Day Trip from Vegas
If you don't want to make the drive to the Grand Canyon, there are tour buses that go daily. And, we haven't been able to splurge on this yet, but the helicopter tours to the Grand Canyon look amazing! If you can afford this adventure, it definitely looks like a great alternative to driving or taking a bus.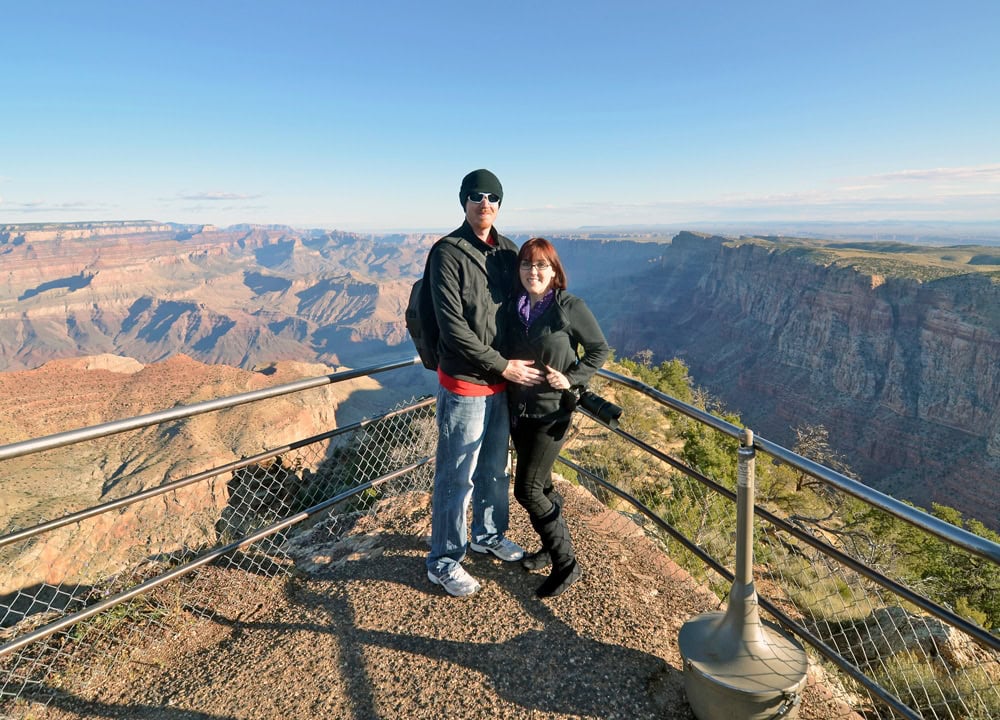 If you are driving and can stay overnight, I'd highly suggest waking up early to watch the sunrise at the Grand Canyon and do some exploring before you head back. The early and late hours in the day have way less people, so you really get to enjoy this enormous beauty even more! But, if you want to hike into the canyon, definitely plan a separate trip dedicated to this adventure!
Bonus Vegas Off-Strip Options
If you have extra time on your trip, here are some other fun options near the Las Vegas strip that we plan to try next time:
And, although there are dozens of fun off-strip activities, don't forget to take advantage of some of the only-in-Vegas on-strip activities too!