On a snowy winter day, we set out from Denver, CO, to Homestead Crater in Midway, UT, to complete our open water scuba certification. Since we had never been to Utah, we HAD to check out some of its amazing national parks on our way. Even though we were taking the extra long way to our destination, we knew the views of Arches & Canyonlands in winter would be worth it. And they were even better than we imagined!
Arches National Park in Winter
About six hours into our trip from Denver, and shortly after passing the "Welcome to Utah" sign, we started down the road to Arches National Park. This park had been on our bucket list for years and we were so excited to finally see it.
Why visit Arches in winter?
Arches can get PACKED in other seasons. But it isn't that popular in winter. This is probably because it is more challenging to hike – with slushy trails and ice. But it is still beautiful (in my opinion, even more so with snow). And most trails stay open year-round. Plus you will probably have them to yourself.
However, you will definitely want to bring some traction devices in winter. And be prepared to get sticky, wet red clay all over you (a small price to pay).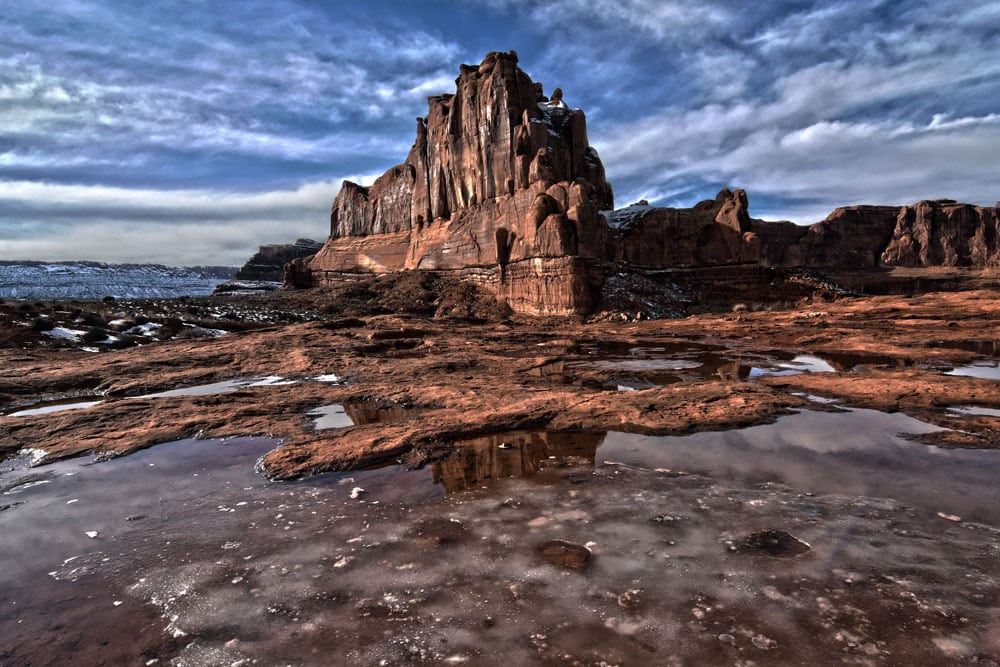 Arches Scenic Drive
After talking to the very helpful park ranger (these people are saints, I swear!), we learned that the 18-mile Arches Scenic Drive would take us by lots of great views and hiking options. Although we had already been driving for six hours, we decided to go for it!
Even if you don't want to get out of your car, the views are still spectacular from your window, and you can have lots of fun pointing out all the rocks that look like penises! If you can't find any, you're clearly too much of an adult. Go find your inner teenager, quick!
Hiking Tunnel Arch Trail & Pine Tree Arch Trail
I've been told the Delicate Arch hike is a must. But due to time constraints and some road flooding we will have to do that one next time. However, we did do a quick, but enjoyable hike to Pine Tree Arch & Tunnel Arch.
Tunnel Arch Trail is 0.7 mile out and back trail that is rated as easy. The Pine Tree Arch Trail is slightly longer at 0.9 miles, but also considered as easy. Lucky for you, you only need to do 0.9 miles, as you will pass Tunnel Arch Trail on the way to the Pine Tree Arch Trail. I'm sure you could spend days hiking here. And we definitely plan to next time!
After a few hours of exploring and falling in love with Arches, we decided to pop into Canyonlands quickly.
Canyonlands National Park in Winter
It didn't take us long to realize you don't just "pop into" Canyonlands National Park. After about a 30 minute drive to the entrance of Canyonlands National Park – and passing about 10 free-roaming cows that liked to chill in the road – we finally made it just before the sun started to go down. However, while only experiencing the drive so far, we were glad we made it to Canyonlands in winter.
Why visit Canyonlands in winter?
Just like with Arches in winter, Canyonlands was a ghost town when we arrived. It felt like we were the only ones in the whole park, with the exception of the cows that is. The fresh snow throughout the canyon set against the red rocks made for stunning photos.
Grand View Point – The perfect overlook
As we drove to the end of the winding road inside Canyonlands National Park, we spent a few minutes checking out all of the overlook options to assess which ones might be good for a sunset. I'd just like to say, this is another park that may be even better covered in snow! The landscapes you see in Canyonlands in winter are ones you will find nowhere else.
As the sun hid more and more, we began running through the snow to get some pictures before quickly moving on to the next stop. However, eventually we saw the sign for Grand View Point. And we knew by the name that would be our final destination.
After a total of 20-30 minutes of driving we FINALLY made it to the end of the road. We got to Grand View Point, right as the sun was beginning to set. But, the overlook was facing the wrong way! Then, like a miracle, we saw the sign for the one mile, one-way rim walk trail.
Sunset at the Rim-Walk Trail
We started running through snow, up stairs and around big red rocks to what we hoped was an epic viewpoint. All the while, we kept a keen eye on the sky.
As we rounded the last bend we could see the sky changing colors drastically. We saw purples, oranges, reds and blues. It was one of the best sunsets I've ever seen. We were out of breath (from running and from the awe-inspiring view). But that didn't stop us from quickly getting our cameras ready and snapping a bazillion photos.
We shared the cold silence with just a handful of other people that made the evening trek and we were all astonished by the beauty. We had been rewarded 10-fold for our efforts.
Once the sun officially went into hiding, we hustled back to the car in the ever dimming light. And by the time we got back it was completely dark and we still had four hours until our final destination for the night. But, we had no regrets… our day of adventuring at these two awesome parks was well worth the exhaustion we endured the next day.
Don't waste winter locked in your house, get out there and explore! There are plenty of places that are even more beautiful covered in snow, and Utah's national parks are no exception. I always feel so blessed and honored to have so many amazing national parks in this country. Find your park and tell your story!
Read more of our Utah travel adventures!