Before our month-long visit to New Mexico, it was just that state with the really cool balloon festival in the fall. But, now that we've explored much more of "the Land of Enchantment," we have fallen in love with its varied landscape, rich culture, yummy food, and unique activities (care to peruse alien history books anyone?). It is unforgettable and worth an extended trip. Here are our top picks for places to visit and things to do in New Mexico that will fill your heart with awe and wonder, too.
14 Places to Visit & Things To Do in New Mexico
1. Carlsbad Caverns National Park
If you are coming into New Mexico from the Southeast corner, like we did, this is one of the first "must-see" places you will encounter. Carlsbad Caverns is a massive underground park that you could easily spend hours exploring. While there is an elevator that takes you down, down down into this wonderland … we suggest walking down and elevatoring back up for the full experience.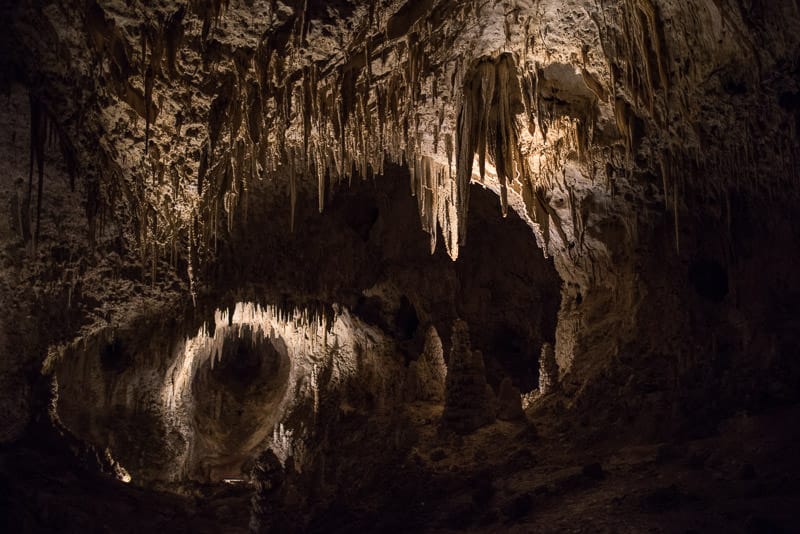 Tips for visiting: Plan to spend $15 per person. OR buy a National Parks annual pass for $80 (which we suggest if you are visiting multiple parks in one year). Wear cozy shoes, bring a jacket – it may be colder down there, and avoid wearing clothing or shoes you've worn in other caves. No biggie if you do – they will just need to do a quick disinfecting process to protect the bats from white nose syndrome.
Other activities: Speaking of bats, make sure to watch the bats fly out of the cave at dusk if visiting from May-October. If you have time, also look into taking a Ranger-led tour into other parts of the cave system. They are affordable and we heard people rave about them.
2. Camp Washington Ranch
Since most of our time in New Mexico has been in an RV, we were often seeking out cool places to spend the night. And Camp Washington Ranch still remains top of our list of most unexpectedly awesome overnight camping spots. But, even if you aren't looking for a camping site, this is definitely worth a stop.
This little oasis is a true hidden gem just up the road from Carlsbad Caverns. You can even see the park entrance from the highest point of the property. Stop in and walk around the lake, look for wildlife, and take in the views. Plus, if you do camp there, a portion of the fee goes to maintaining the ranch – which is owned by a non-profit that helps developmentally disabled individuals. (Read more about our experience at Camp Washington Ranch).
3. Roswell UFO Museum
If you are expecting alien-themed restaurants and bright-green buildings with alien statues lining the roads. That's not Roswell. It is really just a sleepy, small town with a few kitschy shops and a really unique museum. While we don't suggest going to New Mexico just for this, we highly recommend stopping in if you are in the area – because it is just so weird.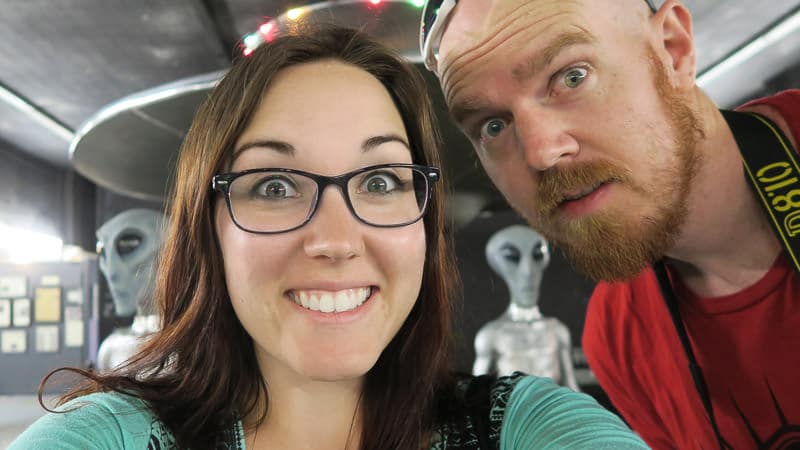 There aren't very many interactive exhibits going on in the International UFO Museum and Research Center and Gift Shop – except for one very over-the-top alien scene. The beings breathe and move and it is great. But the really impressive part of this museum is all the records they've collected.
Not only are there exhibits explaining the history of the area, there is an entire alien library! That's what impressed us the most. If you really like this stuff, plan a day to just go in and read. But, admission is only $5, so it isn't a huge investment if you just want to pop in.
Wanting even more alien awesomeness? Plan to go during the annual festival.
4. White Sands National Monument
This is just another example of the varied landscape of New Mexico. Caves, mountains, desert and … sand dunes. White Sands National Monument is known for epic sunset photos, but it is also a great place to spend the day hiking and exploring. And, of course, sliding down the dunes like a kid! (Entry is only $5 per adult, or free if you have an annual parks pass!)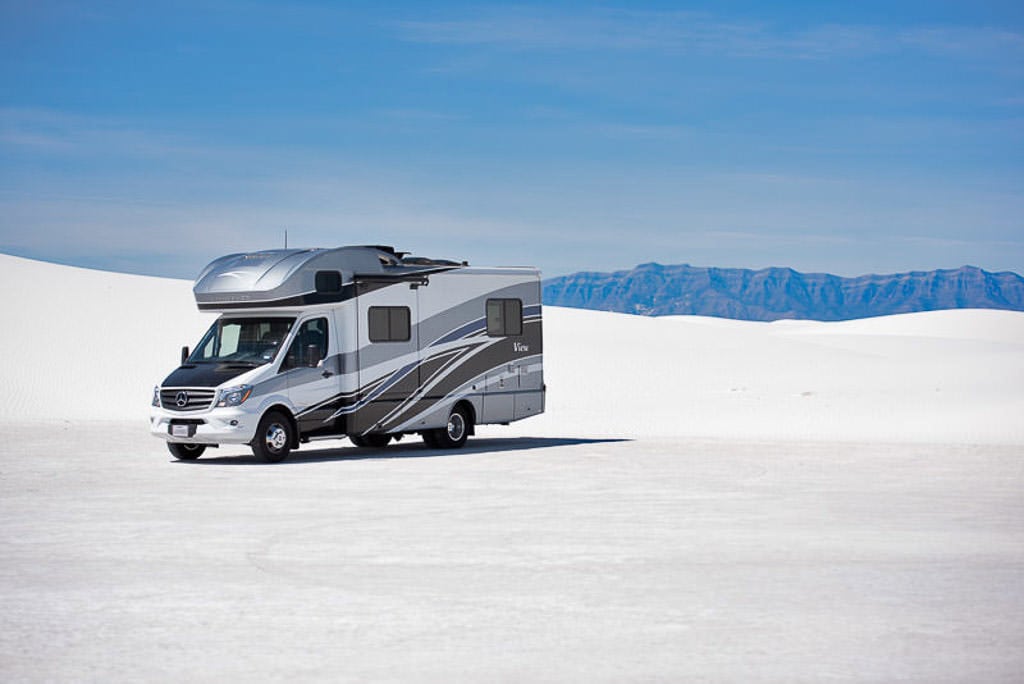 When we were there, we saw an old man climb up with a cane and the help of his daughter. Then he carefully got into a plastic saucer and whizzed down a dune with the biggest smile in the world. So, no … you are not too old to do this! The visitor center even has rentals you can borrow. The best time to go is when it isn't too hot though, since the sand can get scalding in summer months!
Optional add-on: The dunes are located outside of Alamagordo and are also close to a missile testing area. So, occasionally the road will be closed. But, if you don't visit on a testing day, you could drive down to the Missile Range & Park to learn more.
5. Fort Stanton Historic Site
Located in Billy-the-Kid country, near Ruidoso and Capitan, is an old military fort that we completely stumbled upon. We won't pretend to be history buffs. But, the Fort Stanton Historic Site really intrigued us. It was just this little abandoned village nestled in the mountains of New Mexico.
On further investigation, we found the museum and lots of historical explanations regarding its significance as a military fort, later turned hospital. It was fun wandering around in the old buildings while we learned about its past.
Optional add-on: We ended up camping nearby in the gorgeous Fort Stanton-Snowey River Cave National Forest. This is a great stop – even just for a hike or nice drive.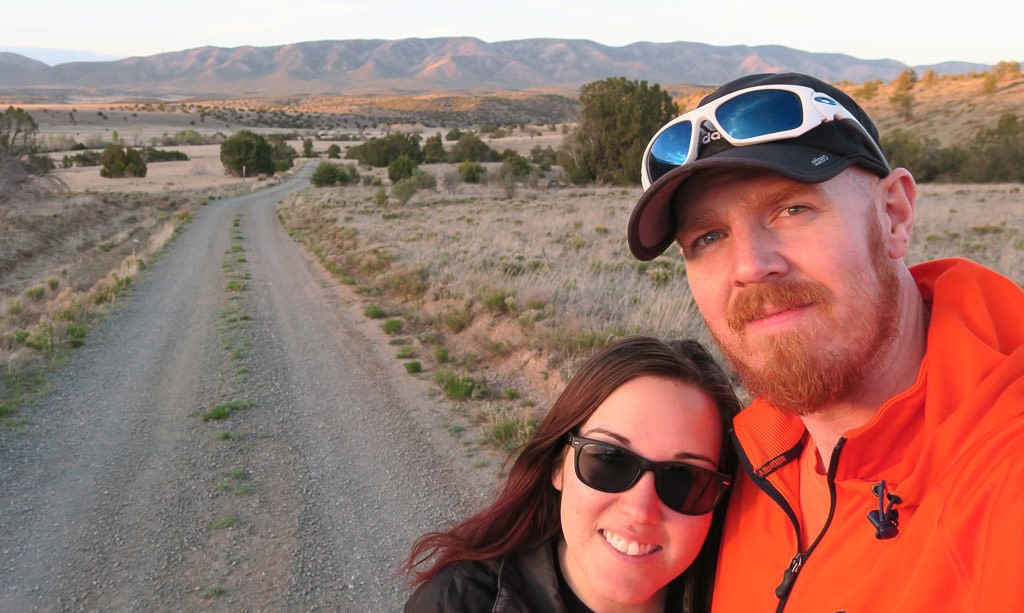 6. Smokey Bear Historical Park
Yep, there was a real life Smokey the Bear (technically Smokey Bear) that inspired the cartoon version. And he is buried in Capitan, NM, at the Smokey Bear Historical Park. There is also a museum that tells the sad, yet sweet story of Smokey – a bear cub found badly burned by a nearby wildfire. After being revived, he became the face of forest fire prevention.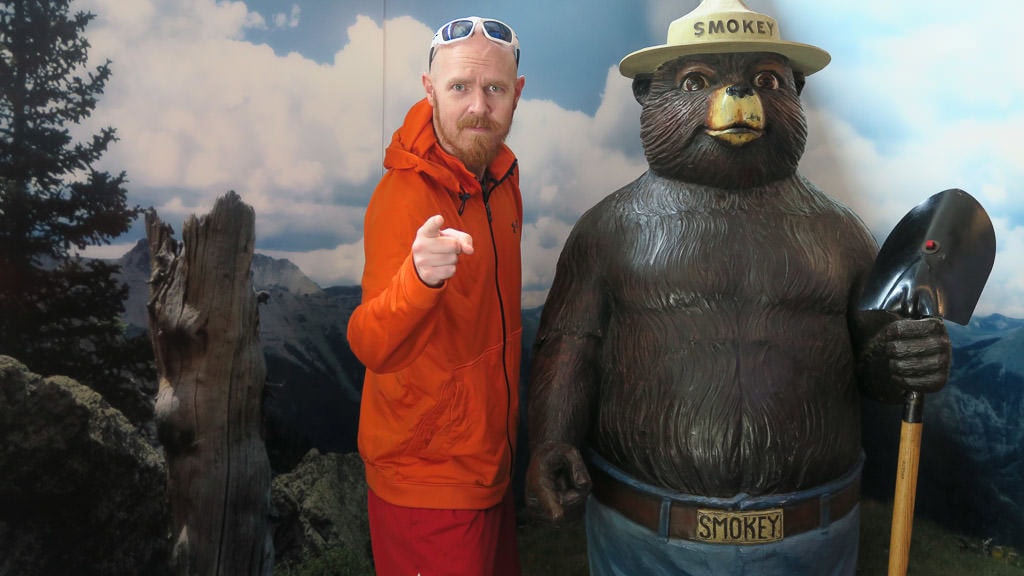 After living for 26 years in Washington D.C.'s zoo, he was brought back to his birth place to be buried. You can walk by his final resting place in the outdoor part of Smokey Bear Historical Park. Access to the museum and park is only $2 for adults. This makes for an interesting and memorable stop. You are sure to learn a lot, and will think differently next time you see old Smokey's fire danger sign.
7. Bosque Del Apache National Wildlife Refuge
New Mexico really surprised us around every turn. Just wandering around aimlessly for a month really led us to some great places that we never expected to find. While birding enthusiasts probably know of Bosque Del Apache National Wildlife Refuge because of its Sandhill Crane migration each year (a huge annual event), it wasn't on our radar.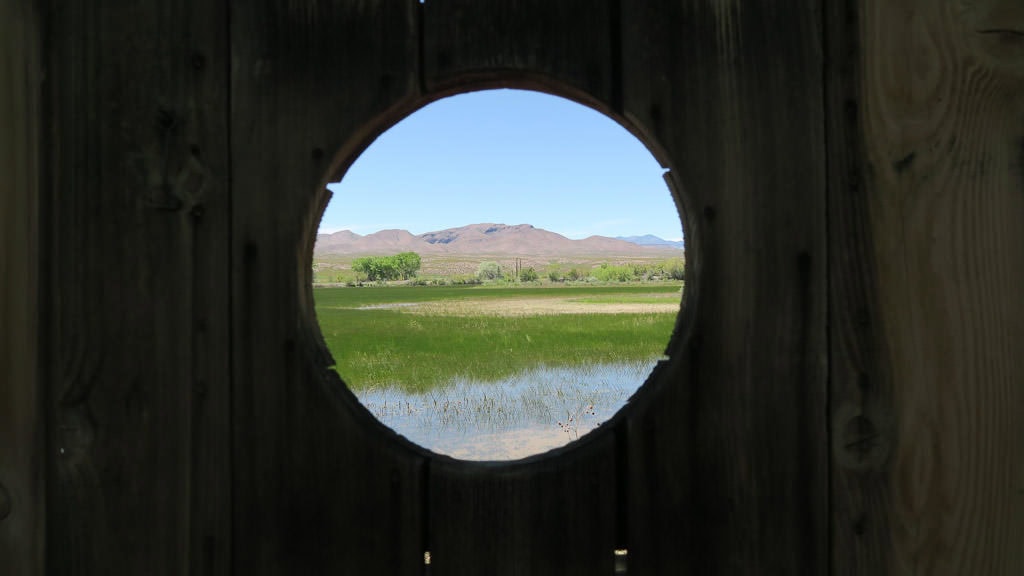 Driving through the desert, then turning into this little oasis with lakes and marshes and so much wildlife is breathtaking. It was like being transported to another world. We stayed for hours watching the birds and spotting other animals, like coyotes. It was beautiful and such an fun way to be immersed in nature.
8. The Desert at Sunset
There isn't a right place to do this. But, experiencing the sun set over the distant mountains while surrounded by the emptiness of the desert is an experience you won't soon forget. We did this while boondocking in our RV near Socorro.
Watching that iconic bright blue New Mexican sky turn to reds and oranges is amazing. We saw some of the best sunsets ever out in the desert of this enchanting land.
9. Very Large Array
This. Of all the places in New Mexico we visited, the Very Large Array blew us away the most. We were told we had to check it out by CJ, the owner of our favorite RV park ever – Caballo Lake RV Park. Her son used to work there and she raved about how amazing and unique it is.
So, we took the two-hour, round-trip detour off the main highway (I-25) and drove for what felt like double that to the VLA. And it was so worth it. Wandering around under those giant satellite dishes made us feel small. While imagining what they were finding way out there in space was awe-inspiring. They even used this setup to map the Milky Way.
We stayed until it got dark, admiring the strange formation in the middle of nowhere. And wondering what was happening far above us when they all turned in unison. (Read more about our experience at the Very Large Array).
10. Albuquerque Balloon Fiesta
This is how we were first introduced to New Mexico. Since Buddy's Grandpa lives there, we all met for a family reunion and attended this great event together. And while we've learned that New Mexico has so much more to offer since this first visit together, going to the Albuquerque International Balloon Fiesta should be high on everyone's bucket list. It is unlike anything we've ever experienced. Seeing all those colorful balloons getting ready to take off was stunning. Granted, the weather didn't work in our favor, so we never got to see them take off. But, that's just a good excuse to go back!
Tips for going: Plan early. Hotels and campsites book up early. And, make sure to get there as early as possible. I'm talking HOURS before you need to be. It is an insanely popular event and we've heard horror stories about traffic being so bad that people with tickets never actually went.
11. Kasha-Katuwe Tent Rocks National Monument
The photos really just don't do this place justice. It is amazing and one of the most unique hikes we've ever been on. During our visit, we decided to combine the Slot Canyon & Cave Loop Trails for about three miles of hiking.
Going through the slot canyons at Kasha-Katuwe Tent Rocks National Monument was one of the most magical experiences we've ever had. It was amazing to be surrounded by those tall, smooth rock walls. And once at the top of the trail, we were rewarded with gorgeous sweeping views of the entire area! (Read more about our visit to Tent Rocks).
12. Meow Wolf in Santa Fe
If you make it to beautiful Santa Fe, don't leave without experiencing this other-worldy, interactive art exhibit. Words really can't describe it. But, it is a beautiful, fun, confusing, crazy place you will love getting lost in for hours. (Read more about our experience at Meow Wolf – Santa Fe).
While in Santa Fe, make sure to also do a walking tour of all the historic buildings, art museums, and make sure to eat lots of the yummy food. There is even a free shuttle that goes to many of the top sights.
Nearby must-do: Since you can not visit New Mexico without trying a traditional sopapilla. Make sure to get one while you stroll through time. Get some honey to go with it. Then, bite off a corner of this delicious bread pillow, and pour in a few packs before stuffing it in your face. Trust us, this is the best way.
13. Bandelier National Monument
This was one of the all-day hikes for us during our stay at Bandelier National Monument. We hiked down into the canyon from the campground. And enjoyed new, gorgeous views at each twist and turn.
Then once we reached the bottom, we got to go explore the real highlight of this area: the cliff-side vacant homes of the ancestral pueblo people. Such a cool place! And, you can get to these on a much shorter trail from the visitor center, if you don't feel like working up as much of a sweat.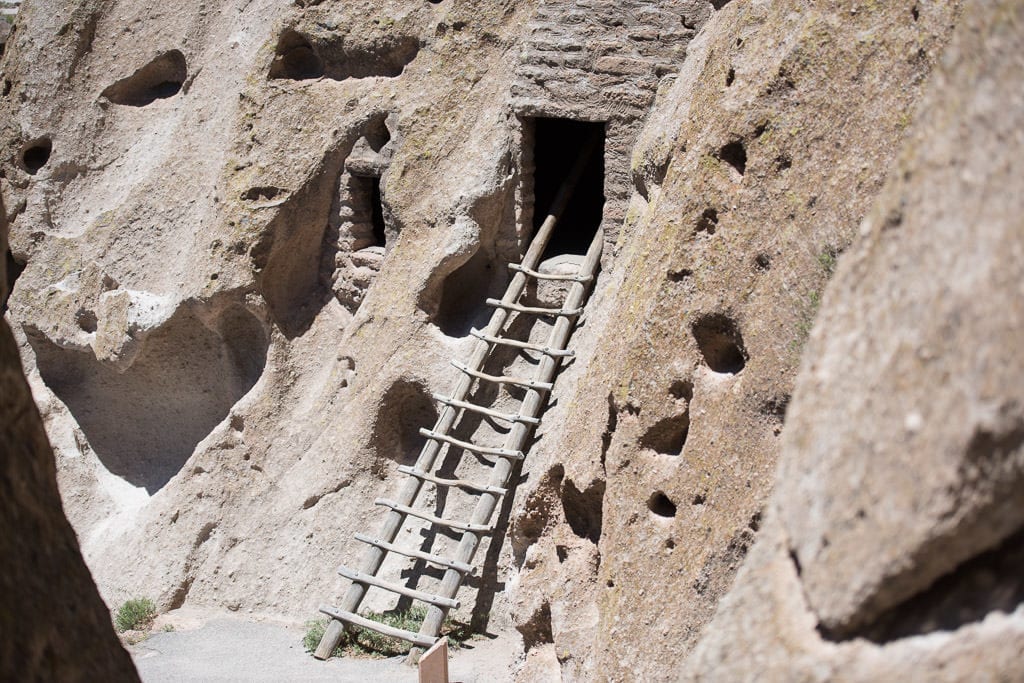 14. Ojo Caliente Mineral Springs & Spa
We are suckers for hot springs, so when we discovered this gem of a spa nestled in the mountains north of Santa Fe, we had to go spend a day in these therapeutic waters. This is one of the best things you can do in New Mexico if you are craving relaxation!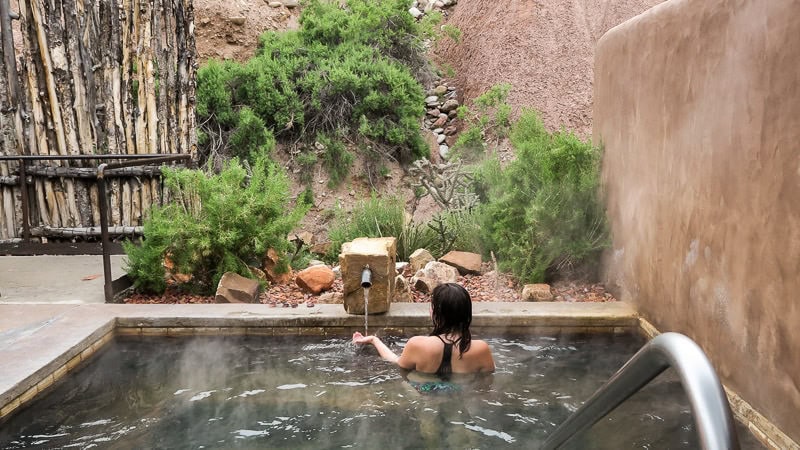 At $24 for a day pass during the week, it is extremely reasonable. Especially, because you get to enjoy multiple different minerally infused pools of varying temperatures, as well as a DIY mud bath. Plus, there are great hiking trails in the area, as well as yummy on-site dining and beautiful lodging. (Read more about our experience at Ojo Caliente).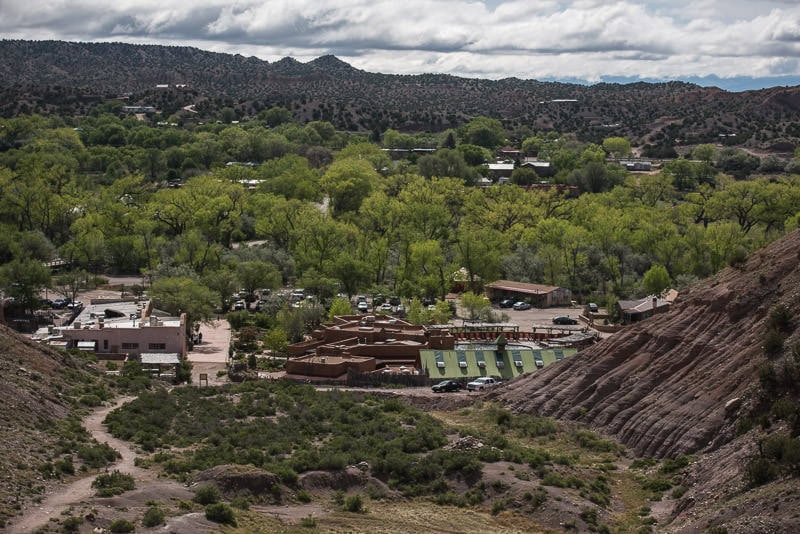 Well, that's our list of places that really made an impression on us during our New Mexico travels. The American Southwest is a stunning part of the United States filled with unique rock formations, rich history of Native American cultures, iconic adobe structures, natural hot springs, and tons of must-see attractions for art lovers. And we know there is so much more to see!
Other Things To Do in New Mexico & Best Places to Visit:
Of course, as we see friends post photos of their favorite places to visit in New Mexico and read about other iconic areas, we've added to our must-see list for our return road trip.
Hot Springs in Truth or Consequences
The Iconic Shiprock
Gila Cliff Dwellings National Monument
Tularosa Basin
Petroglyph National Monument
The Cumbres & Toltec Scenic Railroad
Pecos National Historical Park
Four Corners Monument
Browse Art Work & Folk Art in Taos and Santa Fe
Sandia Peak Tramway
Chaco Culture National Historical Park
Georgia O'Keeffe Museum & her beloved Abiquiu Area
Taos Pueblo (UNESCO World Heritage Site with only living community of Native Americans)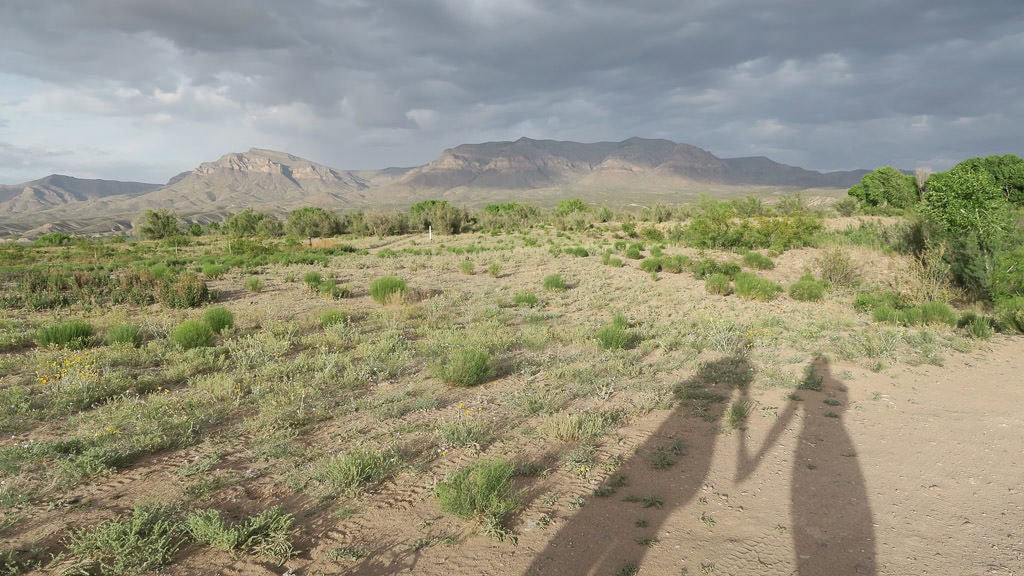 We hope you take our advice and add this stunning and surprising state to your must-visit list. It is so worth it!