We tend to be a silly, laid-back couple. But, there are a few things in this life we take very seriously, and one of those is our commitment to each other. The vows we wrote and said to each other on our wedding day are heavy. They mean something. Those words have guided us. Those promises have held us together. After our craziest year yet, we decided to take a day to recommit – to remember why we started this journey in the first place. So, we planned an intimate, simple Rocky Mountain vow renewal in Colorado and photo session – only us and our trusty tripod. As it has been so many times before.
So, Why Do a Vow Renewal Now?
All of a sudden, it just made so much sense to officially renew our vows after seven years of marriage. We are finally beginning to know who we really are and what we want out of this life, and taking strides to get there. The fact that we would be in one of our favorite places in the world – Colorado's Rocky Mountain National Park – for our anniversary, just made it even more of a good idea. Plus, this simple vow renewal idea would be easy to pull off with little planning.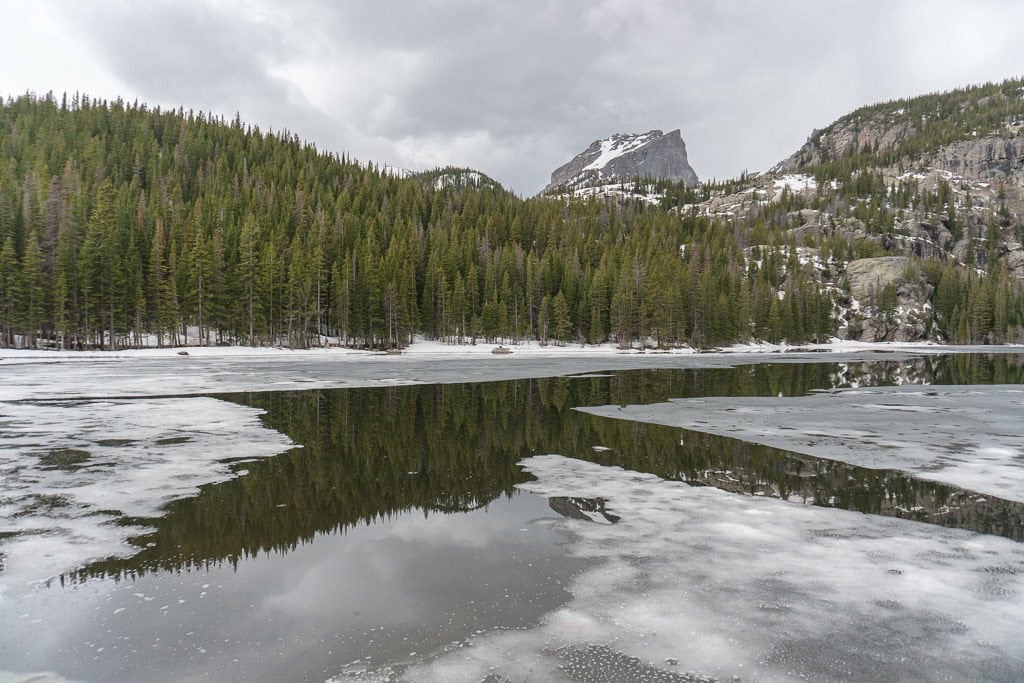 We spent our honeymoon in those majestic mountains, and it was during that trip that us Florida kids became Coloradans. It took us a year to finally move, but we knew it was where we were meant to be. And even now, after we've wandered through almost the entire country, it still is the only place that feels like home.
Those mountains hold five years of memories – of building our first snowman, hikes to waterfalls, snowshoeing on Christmas day to frozen lakes, and many peaceful moments alone staring at all of its splendor and feeling totally in love, with each other and life. RMNP is the most meaningful spot on Earth to us.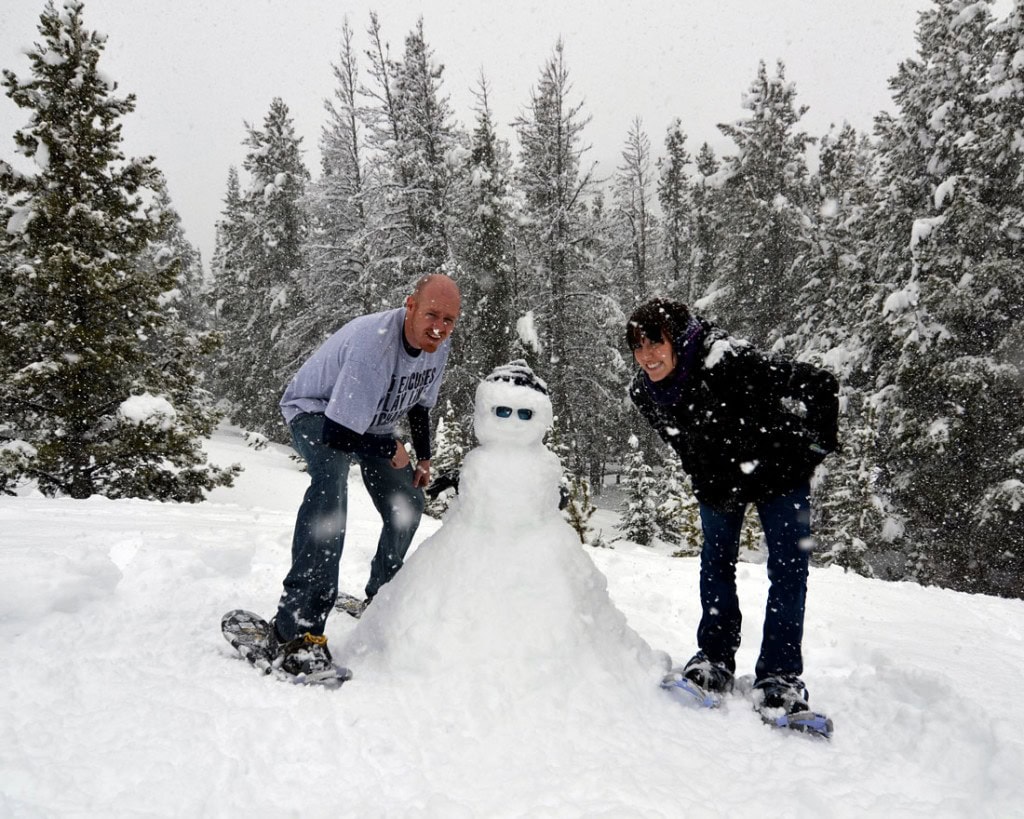 But there are a few other reasons we decided to renew our vows now.
The two most important reasons we chose this mountain vow renewal in Colorado:
1. We had a crappy year last year. There. I said it. It was the worst of our entire marriage. We had personal issues that came to a head and multiple very emotionally draining circumstances. Plus, we did this crazy thing and decided to live in a tiny rolling box together. It looked great in photos, but we were struggling from day one and are really excited we came out of it stronger now that we are done with that stage – as opposed to the alternative. But, it allowed us to really figure out who we are and what we want. So, for that, we'll always be grateful for the struggles. However, we're ecstatic to be on a new path and want to celebrate it!
2. Mountain. Wedding. Photos. As soon as we moved to Colorado, we wished we had gotten married there instead of Florida. We aren't beach people. Although we had a blast taking our wedding photos (two days after our actual wedding) on the beach and all over our home town. We are mountain people. We wanted mountain wedding photos. And we have some epic ones now in one of our favorite, most meaningful places!
The two most practical reasons:
3. Downsizing. We are living out of our car between house/pet sits, so I decided to get rid of my wedding dress. I have been holding onto it for one last hoorah on this mountain vow renewal in Colorado, and planned to get rid of it after.
4. Rubber bands. Our rings don't make sense for us anymore. We decided to get on the Qalo ring boat and are excited to switch out our expensive, metal ones for silicone ones we are fine to lose or break. With our plans for extensive travel and adventure, it just makes so much more sense. We'll still wear the fancy ones on special occasions, but already love how light the silicone ones feel for daily use.
How Our Mountain Vow Renewal in Colorado Played Out
Day of our Anniversary
What's that saying about best-laid plans? Well, after already booking our go-to hotel in Estes Park (the Appenzell Inn – hello, jetted tub!), we realized the weather was not looking like it would be in our favor.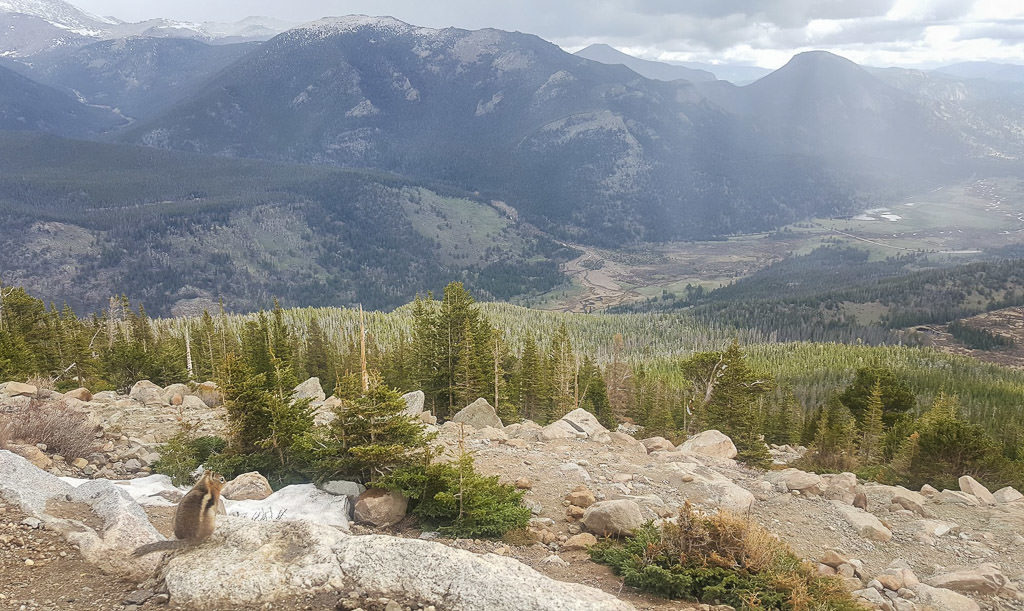 On the morning of our anniversary, our drive through Rocky Mountain National Park was foggy, drizzly, windy, and even snowy. Stuffing myself in that big dress just to get soaked and blown about didn't seem very appealing. So, we decided to just skip it if the weather didn't clear up. We could always try again another day.
After some great wildlife watching and enjoying the views from the warmth of the car, we headed back into town for an early anniversary dinner. Our fingers were crossed it would finally clear up around sunset once we were finished with our meal.
Dinner at Bird & Jim – a great Estes Park restaurant
Luckily, the delicious options and drinks at Bird & Jim (a great new restaurant in Estes Park), kept us distracted from the bad weather. We were given some yummy champagne, since we were celebrating our anniversary, and happily toasted ourselves before devouring our meal.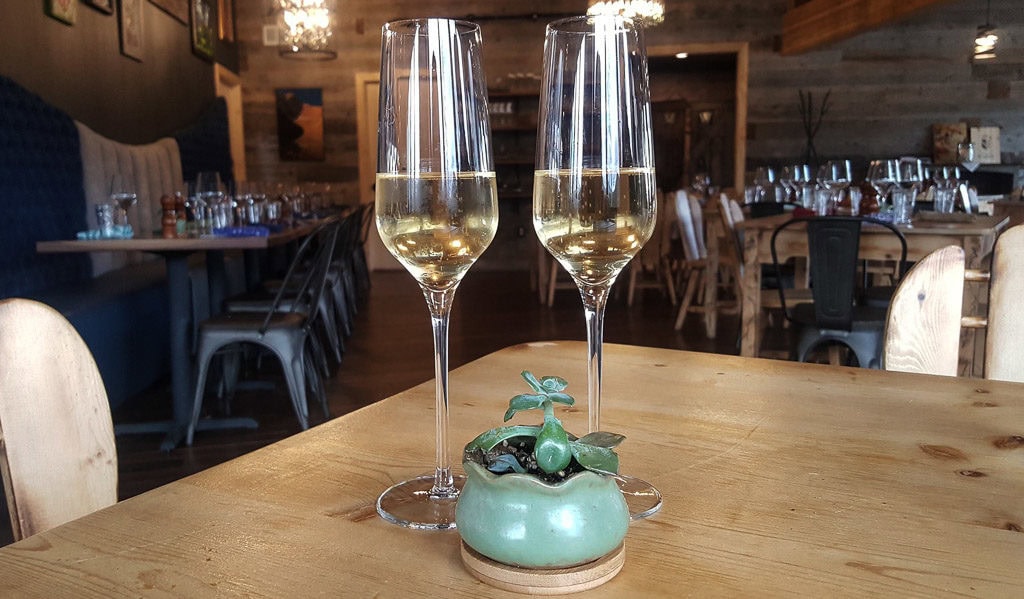 We ended with one of the BEST desserts we've ever had. It was a raw almond and chocolate brownie with cashew frosting, brittle, and fresh fruit. I had no idea vegan desserts could be so heavenly. (So happy Estes Park finally has some good vegan options!)
We had decided that if our wonderful meal together was the highlight of our day, we'd be fine with that. At least we took some time to do something special. And, we could always do photos another time. But, deep down we knew we'd be disappointed.
Go Time for Our Vow Renewal
You know how water doesn't seem to want to boil when you just watch the pot? Well, apparently the clouds don't like to pass by when being stared at all day either. After spending some time enjoying a meal instead of supervising the weather, we walked out to clear-enough skies. Hallelujah! Let's change and do this thing!
Back at the hotel, I put on my dress (which we had dug out of storage – aka our trunk). And Buddy did his best to lace up the corset back. As we laughed at his struggles, the memories flooded back to when we did our own wedding photos the first time.
You see, it rained on our wedding day and we really wanted some gorgeous outside shots. So two days after the big day, we got dressed up again and went out – trusty tripod in tow – and shot our own pics. It was just the two of us off on a photo adventure, and honestly, it was better than our wedding day.
Now and Then: Same Vows, Different Life
Seven years later, I still felt that same excitement fill me to the brim. When I looked in the mirror, I remembered exactly what it felt like to be a bride. They say you get cold feet right before your wedding, but not me. Although I was young, I was so very sure of my decision. I couldn't wait to be Mrs. Baum.
But this time, the same girl didn't stare back at me. This time, there was a woman under that poofy white dress. And she wasn't just filled with hope and faith, she was filled with memories. Seven years of memories that proved she made the right decision. Seven years of realizing the man she married is better than she ever knew possible, and a lifetime ahead to find even more reasons to love him. That's definitely something worth celebrating. And wearing that wedding dress again was pretty damn fun, too!
Finding THE Spot for Our Mountain Vow Renewal in Colorado
All dressed up and alone in the park at dusk, we hopped in and out of the car at some of our favorite spots to take pictures – all while trying to scope out the perfect spot to say our vows.
As the sun began to set, we discussed turning back to renew our vows at one of the beautiful spots we already took photos at. But then, as if a sign from God himself, the setting sun shined into the valley. That's it. We'd say them there.
The road ended at a trailhead with a nearby bridge and a calming stream babbling along under it. We pulled out the printed version of our vows and the notes we wrote for each other on our wedding day. The same paper we've unfolded each year since to repeat on this day. Not ever in this dramatic of a way before – but always a highlight of our anniversary, none-the-less.
Renewing our Vows
We stood on that bridge, with the perfect ray of sun shining above us, and the cold mountain air telling us that soon that light would fade. The tears streamed down as we were reminded in an intensely beautiful way why we made those promises to each other and continue to hold to them. Why marriage is so much more than a tax write-off and a big party. It is holding tight to each other and our commitment, even when it feels like there is nothing to hold onto.
These vows that we wrote ourselves, that we decided were how we wanted to live our life as a couple … we've failed at keeping them multiple times, but they bring us back. We promised to never get so serious that it keeps us from having fun together. We promised to put our marriage first, always. There was a time a few years ago that we weren't doing that. And when we realized it, we uprooted our entire lives to fix it.
That led to RVing and a whole year of tearing down the walls we didn't even know we had built and reconnecting with each other – in an extremely stressful environment. It was miserable at times. But it was worth it. Our love, our friendship, this beautiful life we've built together … it is so worth it. Standing in a white dress in the mountains wasn't the key to remembering that. But, it sure made for an amazingly romantic, unforgettable moment that we'll cherish always. And some epic freaking photos!
We still do. And always will.
Want more tips for Rocky Mountain National Park? Read more:
For more great Colorado hikes and activities for every season, check out our Colorado travel page.