Sometimes we just really want to stay somewhere extra fancy with a giant tub we both fit in and everything we need just a few steps away. So, when we were looking for a hotel to stay at near Denver, Ameristar Black Hawk stood out immediately.
I mean, there was a jetted tub in the room AND on the roof! Plus, we had a chance to win back some of the money we spent on our recent anniversary trip. No one had to twist our arms to book this trip.
About Black Hawk, Colorado
The small town of Black Hawk is located in the beautiful Rocky Mountains just a short, 45-minute drive from Denver. Known for gold mining, the main strip of this city definitely has an old-timey feel – with old saloons and a noticeable western theme in each building. It is fun to wander down the streets next to the river and think of what this place may have been like all those years ago during the gold-rush.
While history buffs may know this area from the gold rush, locals know it as the place to gamble near Denver. And with the addition of beautiful resorts and great dining options, it makes for the perfect quick getaway from Denver. Or a fun base for a ski vacation, in the winter months.
Staying at Ameristar Black Hawk
After deciding to visit this area and try out our luck, it didn't take us long to decide where we wanted to stay. As I mentioned, Ameristar Black Hawk has multiple soaking options, plus on-site dining, a spa, weekend entertainment, and a large gaming area.
Gorgeous Rooms at Ameristar Black Hawk
Pictures never quite do resort rooms justice. Although we had high expectations, the excitement really hit us when we walked into our room. It. was. stunning.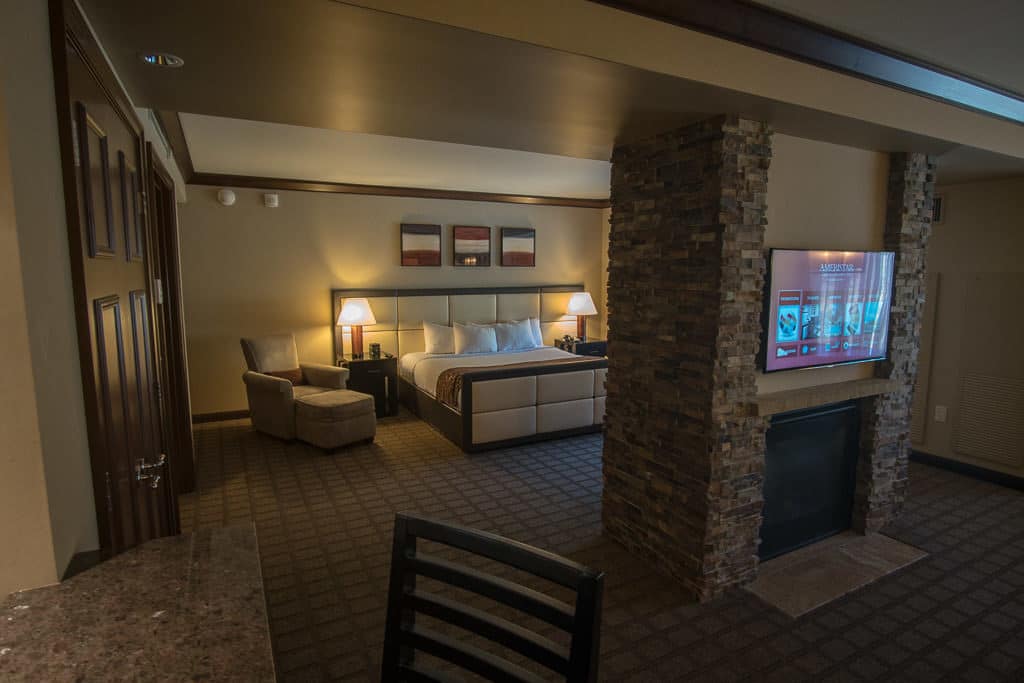 Our room at Ameristar Black Hawk had a two-sided fire place, coffee bar, fridge, multiple seating areas, a cozy king bed, and a HUGE bathroom with a crazy multi-spray system that made us never want to get out. (After living in an RV for a year, we love a good, long shower on occasion).
But, the jetted tub with mountain views really put the room over the top! We even had a morning soak before we had to check out. Because it was just too amazing not to spend as much time in as possible.
We kept saying how great it would be to just live in that room for a few weeks. It was so comfortable and easy to relax in. And that tub … I miss it already.
On-site dining & bars at Ameristar Black Hawk
One of the things we loved when looking into Ameristar Black Hawk resort was the multiple on-site dining options and bars. They even have a Starbucks! Not having to go far to find food and drinks during our stay was great.
Since we wanted to make sure we had plenty of time to soak in the multiple hot tubs and enjoy the spa, we opted for a quick bite for dinner at the Waypost Deli (which is open until 2 a.m.). They offer burgers, salads, pizza, and other fast options.
However, they also have a fine-dining steakhouse called the Timberline Grill (known for their 24k chocolate bar dessert!), as well as Fireside Kitchen which is great for breakfast and comfort food. And of course, it wouldn't be a casino without a buffet!
Bar 8042
For a yummy cocktail, the Bar 8042 is located right in the heart of the Ameristar Black Hawk casino. So, you can drop by for a refill on your way to your favorite poker table, or stay and enjoy the chill vibe. On the weekends, there is even live DJ entertainment every Friday and Saturday night from 9 p.m. to 2 a.m.
We visited on a Wednesday, so it was a little less hoppin' than a weekend night would be. But, we had fun playing the electronic poker games while we hung out at the bar. And if you are a "mychoice" card holder, you can use the points to get some perks. For example, we were there on "Wine Down Wednesday" – so after playing 30 tier points, you got a free wine flight!
And as you earn points, you move up to higher tiers. Which means even better perks! Definitely a great thing to sign up for if you plan to visit often.
Ameristar Black Hawk Roof-top Pool and Hot Tubs
When I saw the photo of the roof-top pool, I stopped looking at other options and started planning our stay at Ameristar. We are suckers for a pool and hot tub with views.
Not only is there a beautiful, covered pool and hot tub on the roof, with windows all around to enjoy the views, there is an outdoor hot tub and fire pit.
We loved getting to soak while staring up at the night sky. And no kids are allowed from 9 p.m. until the pool area closes at 11 p.m. So, we were sure to take advantage of that sweet spot for enjoying this amenity. There's even beverage service available on weekends. We loved hot tub time so much, I even dipped my feet in right before we had to check out!
Ameristar Black Hawk Day Spa & Gym
As if we weren't pampered enough with our multiple hot tub options and amazing room, there's a spa! And since it is separate for men and women, it is even clothing optional if you are feeling the need to go au naturel for a few hours.
When I checked in to get my "Splash Pass" for the day, I was offered a pair of rubber sandals to wear during my visit, as well as a robe and plenty of towels. Plus, some delicious cucumber water and hot tea. They even had towels on ice to cool down with. Love when spas think of everything you may need!
Since I got there as soon as they opened in the morning, the sauna, steam room and hot tub were all mine to enjoy by myself. What a treat! And a great way to sweat out the alcohol consumed the night before.
And for those of us that go a little overboard on vacay, the great gym on the same floor has plenty of options for burning off even more of those totally-worth-it calories.
Of course, the Ara Spa also offers a menu of services for those needing a little extra pampering.
Oh yea … there's also a whole bunch of gambling
There are so many amazing amenities at the Ameristar Black Hawk, you could go just to enjoy the relaxing options listed above. But it is a casino, after all, so there is also the added bonus of having non-stop gaming entertainment any time you want it.
With 55,000 square feet of gaming, there's something for everyone. There are 1,240 slot machines, 40 card tables, and a poker room with 22 tables. Even for a Wednesday night, there was a good amount of people there. I always love popping by the roulette table because it is usually packed and everyone is having a ton of fun!
And although we didn't hit it big in the casino, we feel like we really lucked out to be able to spend a relaxing, luxurious 24 hours in such a unique city. See you next time Black Hawk – and save some luck for us!
Other Places to Go & Things to Do in Black Hawk Colorado (or Nearby):
There are tons of outdoor activities, fun things to try, and top things to do in this area of Colorado and within a short drive. Of course, the city of Black Hawk itself is a fun place to bas your travels also!
Central City
Golden Gate Canyon State Park
Indian Hot Springs
Clear Creek Whitewater Rafting
Idaho Springs
Saint Mary's Glacier
Pearl Street Mall in Boulder
Union Station in Denver
Iconic Flatirons in Boulder for hiking and rock climbing
We always love spending time in Colorado and had a great time in Black Hawk!
Special thanks to Ameristar Black Hawk for hosting us on this great getaway. However, all opinions are our own.