Between the Great Salt Lake and Wasatch mountain range lies a unique place called Salt Lake City. When first arriving for our two-week stay for a house/pet sit, all we knew was that we'd be surrounded by mountains and Mormons. So, we were excited to dive in deeper and go exploring in this new-to-us city. Here are our favorite places in Salt Lake City, Utah, (or nearby for day trips). Plus, our honest thoughts on the city and top local recommendations for other can't-miss activities.
Favorite Places and Best Day Trips from Salt Lake City
1. Ensign Peak – Best Salt Lake City Sunset & City Views
The Ensign Peak hike is a popular local spot for sunset, and for a good reason. At only one mile round trip, it is a short (yet, uphill) trail with the reward of amazing views at the top.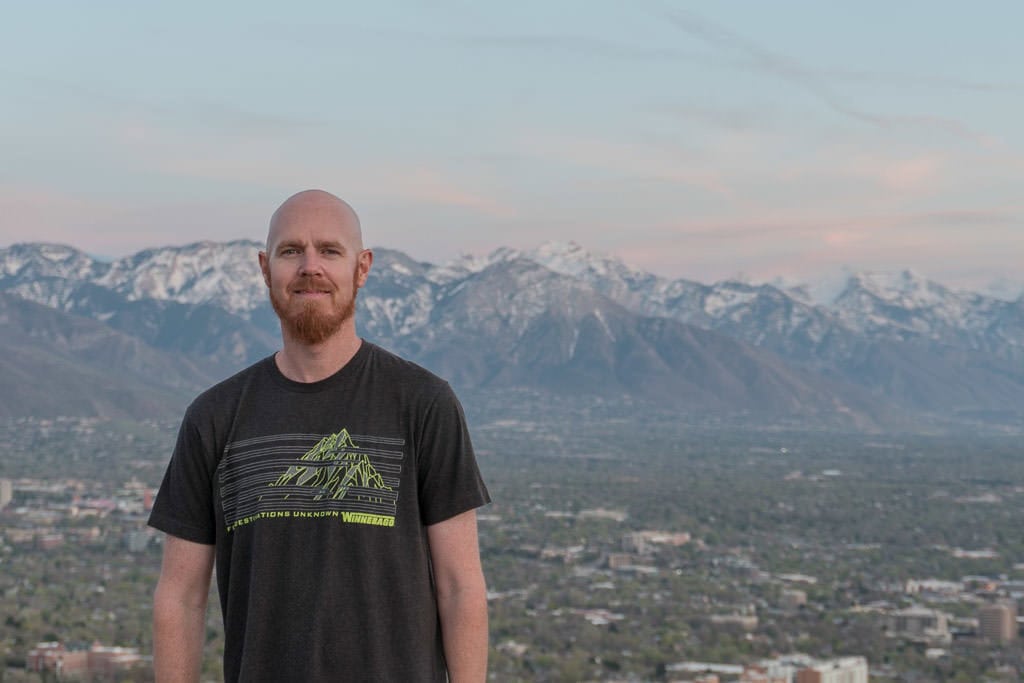 The trailhead to the Ensign Peak hike is located behind the Capitol Building in a residential area. Just park on the street (don't block any driveways) and head up the steps to the trail.
After climbing 350 feet, you are rewarded with views of Salt Lake City below and mountains all around you. Plus, the Great Salt Lake, which is where the sun hides when it sets.
Ensign Peak is actually where the early settlers of the area climbed to in order to plan out the city they wanted to build below. That planning is obvious in the beautiful lines of the city streets – surrounded by mountains! Absolutely stunning at dusk!
2. Utah Capitol Building – Most Impressive Architecture
As you drive up the hill to Utah's Capitol Building, it's quickly and obviously apparent how large and grandiose it is. No wonder this is one of the Utah's most iconic landmarks.
The Utah Capitol Building is another great sunset and people-watching spot! Especially, if you aren't in the mood for a long walk or hike. Just sit on the giant steps and enjoy!
Tours are also offered if you want to see what this magnificent building looks like inside.
3. The Great Salt Lake Shorelands Preserve – Great Mountain Views
The great walking and wildlife-viewing area of the Great Salt Lake Shorelands Preserve is located about 30 minutes from downtown Salt Lake City, along the eastern shore of the Great Salt Lake between Farmington Bay Waterfowl Management Area and the Antelope Island State Park causeway.
Going on a short stroll along the boardwalk loop at the Great Salt Lake Shorelands Preserve is a great way to start your day. You are surrounded by mountains in every direction! Plus, entry is free.
And this area is also great for bird watching. Look for the white-faced ibis, snowy plover, American avocets, black-necked stilts, and a large numbers of waterfowl. The views are even better from the large tower! With its close proximity to the city, the Great Salt Lake Shorelands Preserve makes for a great day trip from Salt Lake City.
4. Hidden Falls – Must-See Waterfall
Just a short drive into Big Cottonwood Canyon leads to a short trail (5 minutes!) to the beautiful waterfall of Hidden Falls!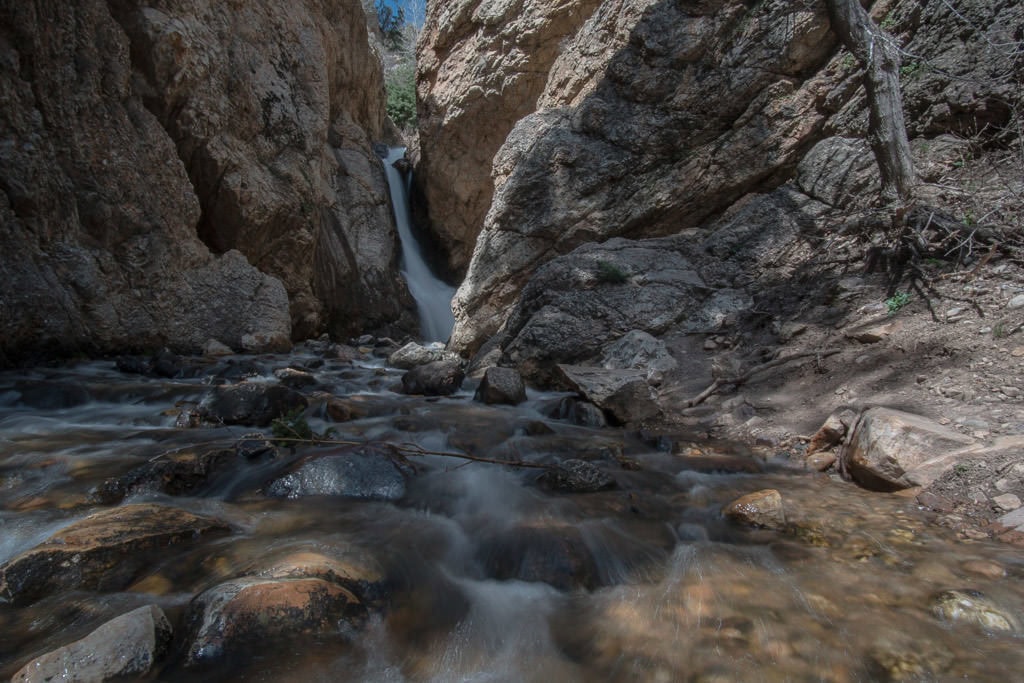 To get there, park in the small lot next to the larger one for the Mill B South Interpretive Trail. Then follow the steps up the hill and cross the street. Turn left and carefully walk over one of the logs to cross the stream. And soon you'll see the gorgeous Hidden Falls!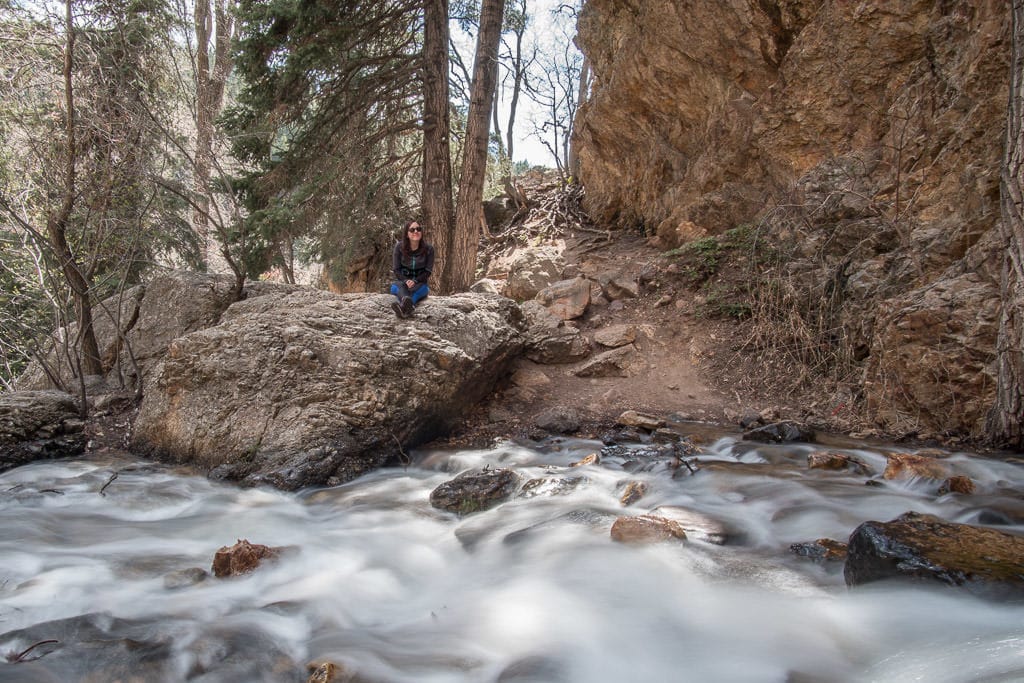 This is a great picnic spot or place to read. But, if you want a little more exercise, check out the Mill B trail or one of the many others in this area.
5. Antelope Island State Park – Awesome Wildlife Watching
Did you know a herd of bison live on an island in the Great Salt Lake? Us either. Less than an hour from SLC, the unique landscape and wildlife of Antelope Island State Park is definitely worth a visit!
Just crossing the causeway to Antelope Island State Park is an experience in itself, as the surrounding Salt Lake makes you feel like you entering a completely different world.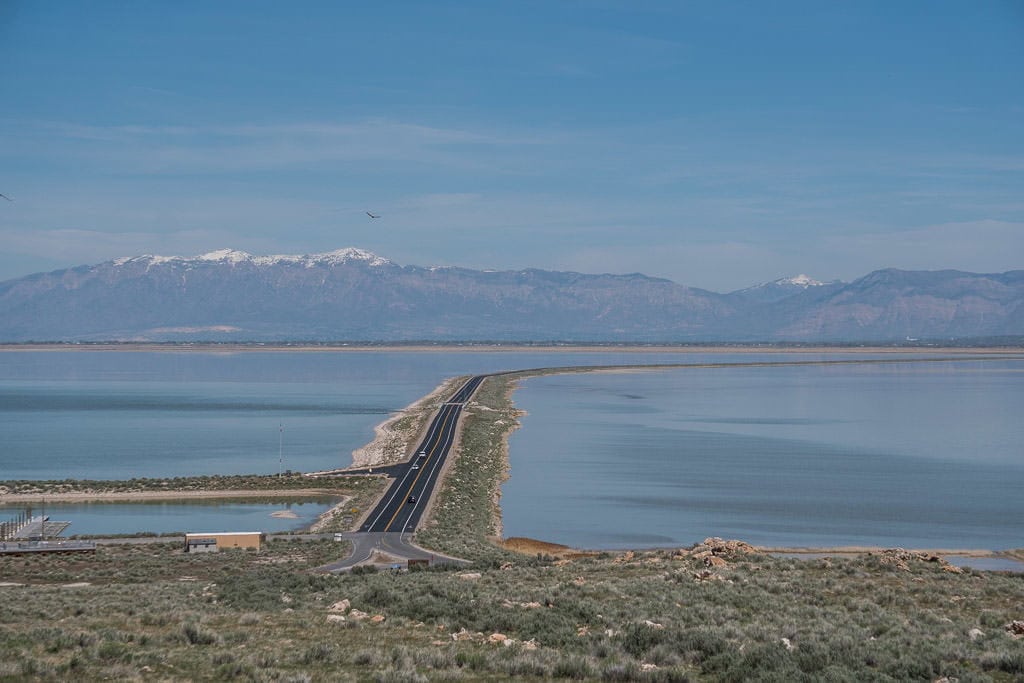 It is a beautiful place to do a driving tour, bike ride, hike or just sit and enjoy the abundant nature and wildlife. Antelope Island State Parks also has multiple campgrounds with tent and RV sites.
In addition to bison, you can also see antelope, mule deer, and bighorn sheep. As well as some more rarely-seen predators: coyotes, badgers, bobcats and numerous birds of prey.
However, if you go in the warmer months, the most common creature you will encounter is the biting gnat! Trust us, come prepared if visiting during these months. They are far more annoying than you imagine and bug spray is pretty much ineffective against them. Long pants and shirts with a mesh head net are your best bet. Yes, you'll look super goofy.
We opted to do a driving tour of Antelope Island State Park to avoid the annoying bugs, but wish we had gone during cooler weather to take advantage of the amazing hiking available. Frary Peak is supposed to have epic views!
6. Bonneville Salt Flats – Best Day Trip From Salt Lake City
Although it is about a two-hour drive from the city, we think this is one of the best activities in the area. Especially, if the weather is good enough to drive on the Salt Flats (they can't be wet!) Read more here about why we loved it.
Other Salt Lake City Activities Recommended by Locals:
Unfortunately, the weather and timing didn't work out for everything we wanted to see and experience. But, if you can, add these to your list as well:
Liberty Park: This great open space is located between 9th and 13th South and 5th and 7th East. As Utah's oldest parks, and one of the largest in Salt Lake City – this well-maintained park is a great place for a stroll and people watching. And if you go on a Sunday, you're in for a treat – it's drum circle day!
Great Salt Lake State Park: For a great scenic view over an iconic lake – the largest salt water lake in the western hemisphere.
Explore Salt Lake City: There are museums and other attractions to check out, including the Natural History Museum of Utah, Red Butte Garden, Gilgal Sculpture Garden, Clark Planetarium, and more!
Desolation Trail. Located in Mill Creek Canyon, this 3.5-mile RT trail is supposed to have great views of the city and surrounding mountains.
Donut Falls. Located in Cottonwood Canyon, this 3.5-mile RT trail leads to a beautiful waterfall falling through a hole in a rock, hence the name Donut Falls. We tried to go here. But we got lost on the snow-covered trail and never found it. When hiking in Utah, make sure to download a map even for shorter hikes. As part of the "keep Utah wild" initiative many trails are not well marked.
Mount Olympus. For those wanting more of a challenge, you can hike 3.5 miles one-way up to this nearby mountain peak. After 4,100-feet of elevation gain, you are rewarded with epic views!
Fifth Water Hot Springs. This is a fun day trip option, a little over an hour from SLC. Take a 2.5-mile trail from the Three Forks trailhead in Diamond Fork Canyon to this unique spot for a soak. Just note that it is very popular and you likely won't find parking Friday-Sunday unless you go really early.
Thoughts on Visiting Salt Lake City
Reasons We Loved Salt Lake City:
Constant mountain views. Being surrounded by peaks in every direction made us so happy. Have we ever mentioned we looovvvvveee mountains?
Lots of outdoor activities. From the surrounding mountains to the Great Salt Lake, there are tons of options no matter what season it is.
Beautiful, walkable city. The Mormon founders really made sure to lay the city out in a very pleasing way with beautiful buildings. Temple Square is definitely worth a walk, especially with all the flowers in the spring. Just try to avoid getting in any deep conversations unless you want to learn more about the Mormon belief system.
Things We Didn't Love About Salt Lake City:
Large population of people without homes. We were never really affected by this – no one we encountered was dangerous or anything. But there were so many people living on the street it was surprising and sad.
Pollution. Apparently this area is also known for heavy pollution at certain times a year. In January they have this thing called an "inversion" where the smog actually gets stuck down in the city due to the mountains and lake and … science stuff. You don't really need to understand it to know it is gross and you'll want to avoid visiting at this time. Locals are even known to wear masks it is so bad. We did also notice a lot of trash in the city, but luckily, not so much on trails.
Weird drinking laws. Unless a place is designated as a bar, you have to eat a full meal in order to be served alcohol. Breweries may or may not be classified in this way, so check before you go. And just know you won't get that long, beautiful tasting tray. Two at a time! We enjoyed the beer and people at Uinta – which is classified as a bar.
Our Thoughts on Salt Lake City:
Overall, Salt Lake City is a beautiful place that we are really glad we got the opportunity to visit through house/pet sitting. The apartment we stayed in was cute and comfortable. And we felt safe on the many walks we went on through the city. Plus, we can never complain when so close to mountains! While you may think there is a predominantly Mormon population, it is actually a big mix of cultures and beliefs (check out that Liberty Park drum circle for proof).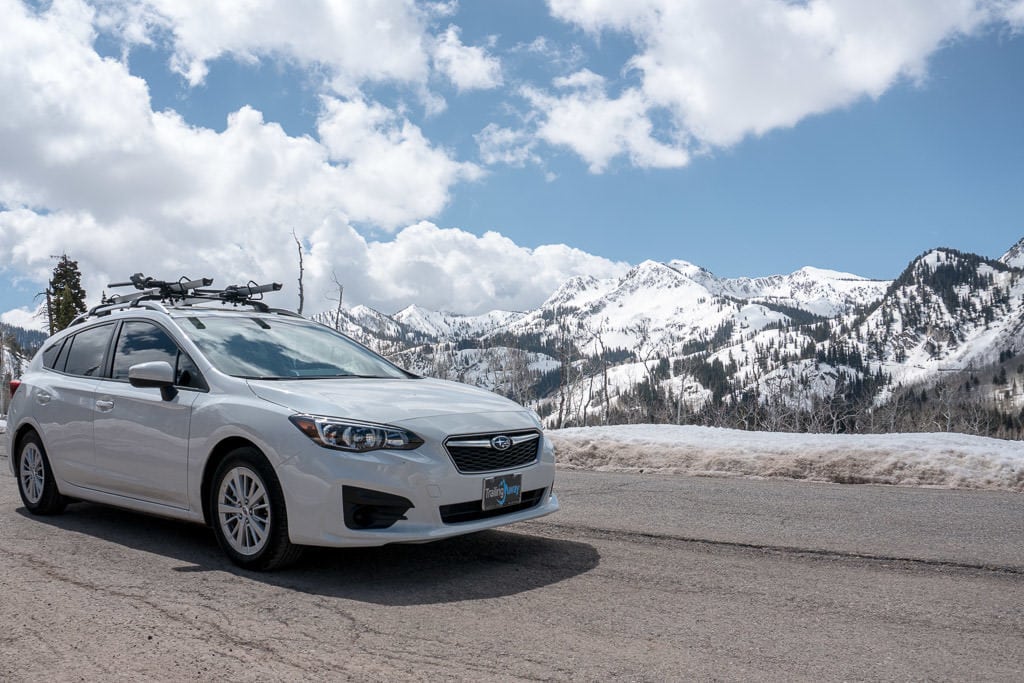 Would we settle down there? No. But so far, we haven't found a place we'd be willing to live for a full year – so take that with a grain of salt (get it?). However, SLC is for sure worth a visit!