Whether you are driving through on a road trip to Tofino or staying in one of the nearby cities of Nanaimo, Parksville or Qualicum Beach, there are so many things to do in Central Vancouver Island, near Parksville! From gorgeous hiking trails to beautiful beaches, check out these 7 can't-miss things to do.
Top Things To Do in Parksville
1. Top Bridge Park
First on the list of things to do in Parksville is a visit to Top Bridge Park. This is a great first stop as this area provides great views of the Englishman River – with options for just a short stroll over the pedestrian/cyclist suspension bridge, or a longer walk down the 5-kilometer trail.
The Top Bridge Park trail spans from Rathtrevor Beach Provincial Park to Englishman River Falls Provincial Park – allowing for a walk with both ocean and woodland vistas!
If you would just like to visit Top Bridge, park at the end of Chattell Rd. (located off Kaye Rd. which is off Hwy 19A). This will allow you to walk right up to it from the nearby parking lot. There is also parking available at Rathtrevor Beach Provincial Park and Englishman River Provincial Park, which will require longer walks to the bridge.
2. Parksville Waterfront Walkway
While you're in Parksville, you might as well take a stroll down the Parksville Waterfront Walkway. This is the perfect place for a leisurely walk along the water at any time of day – but sunrise and sunset are extra special. The 1-kilometer long wooden boardwalk is a great way to enjoy the beautiful views of the Strait of Georgia without getting your feet sandy. However, walking on the beach along the water is always nice, too!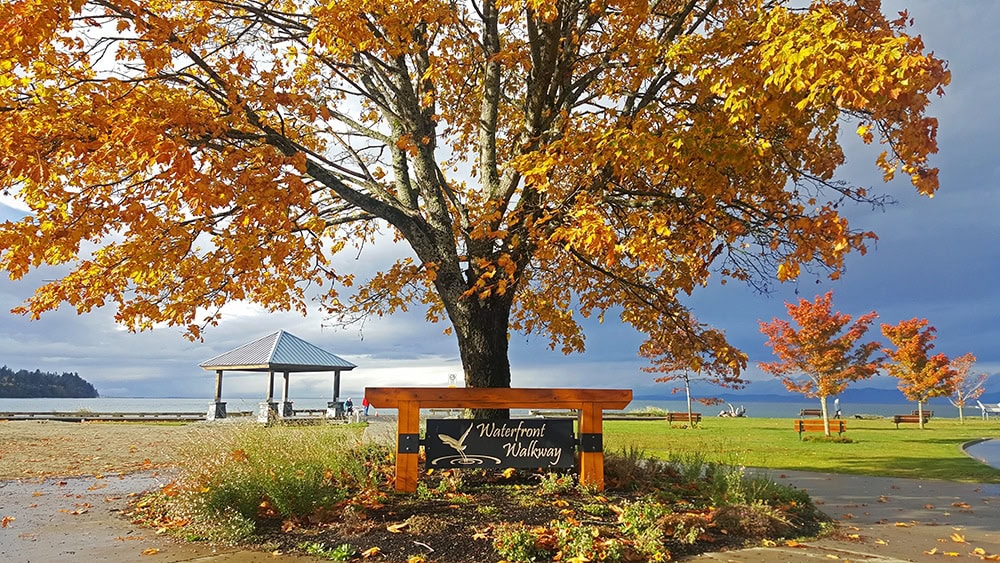 This is also a popular local hangout! We got lots of great tips for nearby activities by chatting with others who were enjoying the beautiful walkway. During our two walks here we had the pleasure of having long chats with at least 4 other couples. It is always so nice to get to know locals during a visit to a new place and the people here are extremely friendly! If the views didn't put this on the list of things to do in Parksville, the people sure would have.
The Parksville Waterfront Walkway boardwalk is conveniently located behind The Beach Club Resort, so if you happen to be staying here – you are in luck! Otherwise there is parking available near the resort at Parksville Community Park off of Beachside Drive.
Make sure to walk to the end of the boardwalk (before the private property sign for the RV park) and look out at the small patch of land for bald eagles! We saw them during both of our walks and it was amazing to see these huge birds in person. Also, scan the water for playful sea lions as you stroll!
3. Englishman River Falls
The beautiful Englishman River Falls Provincial Park is about 20 minutes from Parksville, BC, off of Errington Rd. The trail is just under 2 miles (3km) and an easy hike with a slight incline in parts. No matter the weather, getting to witness these gorgeous falls in person is a top thing to do in Parksville.
If you are really short on time, just walk down to the first bridge overlooking the massive Englishman River Falls and enjoy the mist hitting your face! But, the full loop is really worth it!
4. Goats on the Roof at Coombs Market
Nothing on our list of things to do in Parksville that doesn't include a lot of walking? Look no further than Goats on the Roof at Coombs Market! Do I really need to say more than "Goats on the Roof"? The adorable Old Country Coombs Market has everything you may need to cook dinner or gather unique souvenirs from your trip. And the roof has a layer of grass on it, making it the perfect home for a family of goats!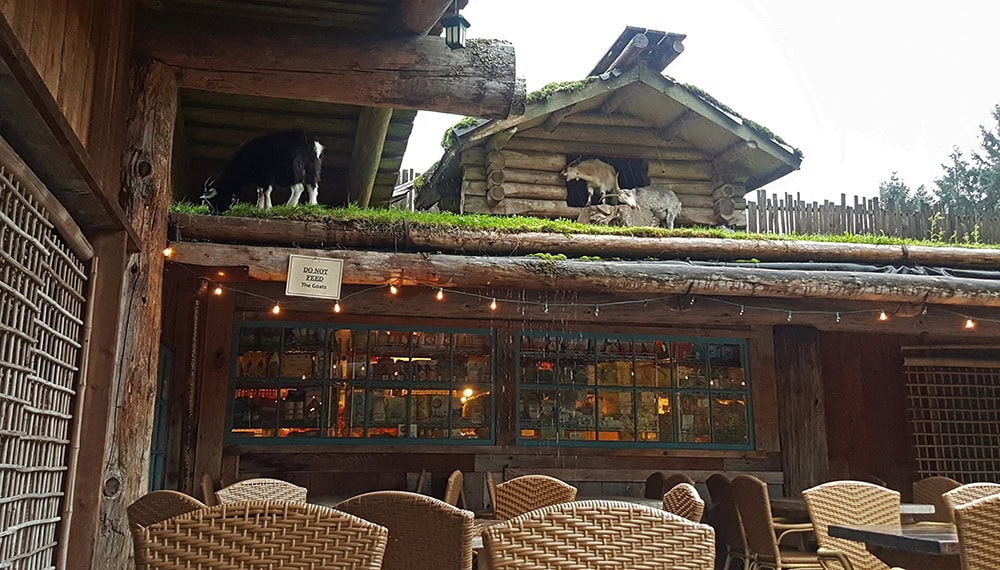 Nearby Coombs Market is a farmer's market if you are looking for more fresh produce options, plus some other boutique shops great for gifts. And, if you are looking for a place to eat, Cuckoo Trattoria & Pizzeria is amazing! This Italian restaurant has yummy dishes served with lots of bread in a beautiful dining area right by Coombs Market. Perfect for sitting by a window to enjoy a sunny day or watching the rain from inside on the gloomier days.
5. Little Qualicum Falls
Little Qualicum Falls Provincial Park is another can't-miss thing to do in Parksville with a gorgeous waterfall! The parking area is just off of Highway 4 on the way to Port Alberni from Parksville.
This trail is very similar to the Englishman River Falls hike – an easy 3km loop. But, the waterfalls, and trails, all have their own unique beauty to enjoy!
6. Cathedral Grove
Cathedral Grove is a must-see old growth forest located in MacMillan Provincial Park on the way to Port Alberni from Parksville. Being surrounded by these giant Douglas fir trees is a wonderfully unique experience you can't find in many other places. So, even if you only have a few minutes, make sure to drop in to Cathedral Grove, or add this to your itinerary.
You really gain an appreciation of the resilience of nature here – some of the trees are more than 800 years old! And there are also many that have been knocked over by strong winds, striking a beautiful balance of life and death. (Note: if winds are strong, wait until they die down a bit because hiking around the giant trees of Cathedral Grove can be very dangerous in a wind storm. You definitely don't want to get crushed by one!)
If you have time, spend a few hours exploring the trails on either side of Hwy 4. On the south side is the largest tree in the park (9+ meters in circumference).
However, the other side leads through more old growth forests and to the beautiful Cameron Lake – a great place to stop for a picnic. Definitely check out both!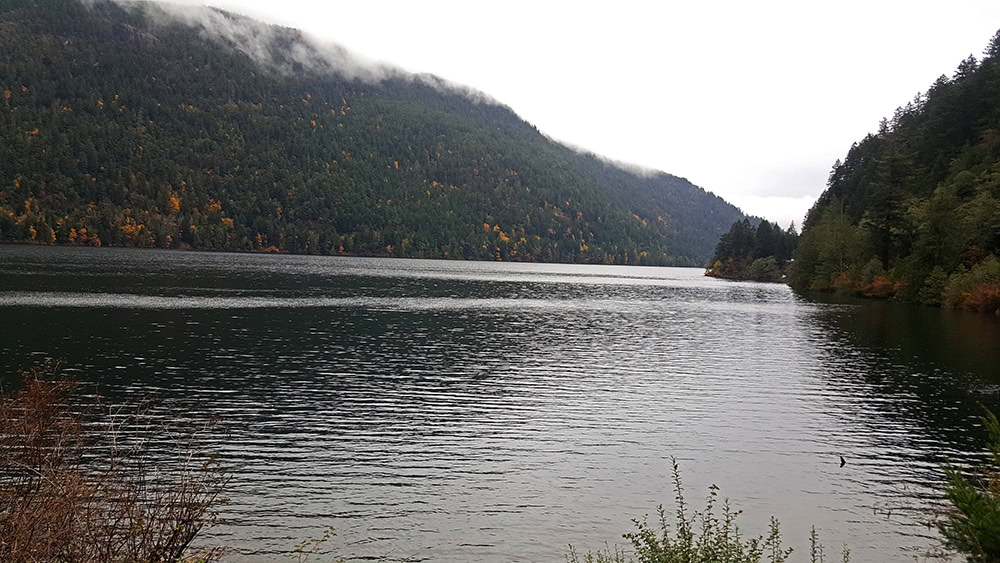 7. Rathtrevor Beach
Another of British Columbia's wonderful Provincial Parks, Rathtrevor Beach is a great place for swimming, camping, watching the sunset, or (our favorite) watching a storm roll in!
There were three big storms coming back-to-back during our visit to Rathtrevor Beach. So, logically we wanted to watch the strong wind blowing the waves around and this was the perfect spot!