Venturing to Oregon's Lower Oneonta Falls in the Columbia River Gorge isn't just a hike, it is an experience! You feel oddly connected to the other waterfall-chasers after scrambling over treacherous areas and braving the ice-cold water. And the waterfall view you are rewarded with is just as special as the journey to see it. This hike should definitely be added to you Oregon Bucket List!
Note: The trail to this waterfall is not official which means it is not kept up or recommended. There was damage due to a fire at some point after our visit, and the log jam can be treacherous. Be sure to check here for updates before planning to go do this hike. If you decide to go, it is at your own risk.
Getting to Lower Oneonta Falls
This unique hike is located on the Historic Columbia River Highway, a few miles from the famous Multnomah Falls near the Oneonta Gorge Tunnel. Although it is not an official trail, it is extremely popular and usually packed on the weekends. There are many parking areas along the road, but it may be difficult to find a spot during peak times.
However, if you are able to go on a weekday, early morning or late afternoon you may luck out with more opportunities for parking… and solitude.
Once you find parking, walk down to the creek. This is your "trail."
Climbing Over the Log Jam
At the beginning of the hike to Lower Oneonta Falls there is a big log jam with thick, broken trees you have to carefully climb over. Keep in mind your shoes will already be wet and there are sharp pieces of trees everywhere, so take it slow and be aware of your surroundings.
The hoard of people around you also makes this part of the hike extra difficult. Just keep your distance and go at your own pace. And if this is above your skill level, turn back and check out one of the hundreds of other waterfalls in the Columbia River Gorge area.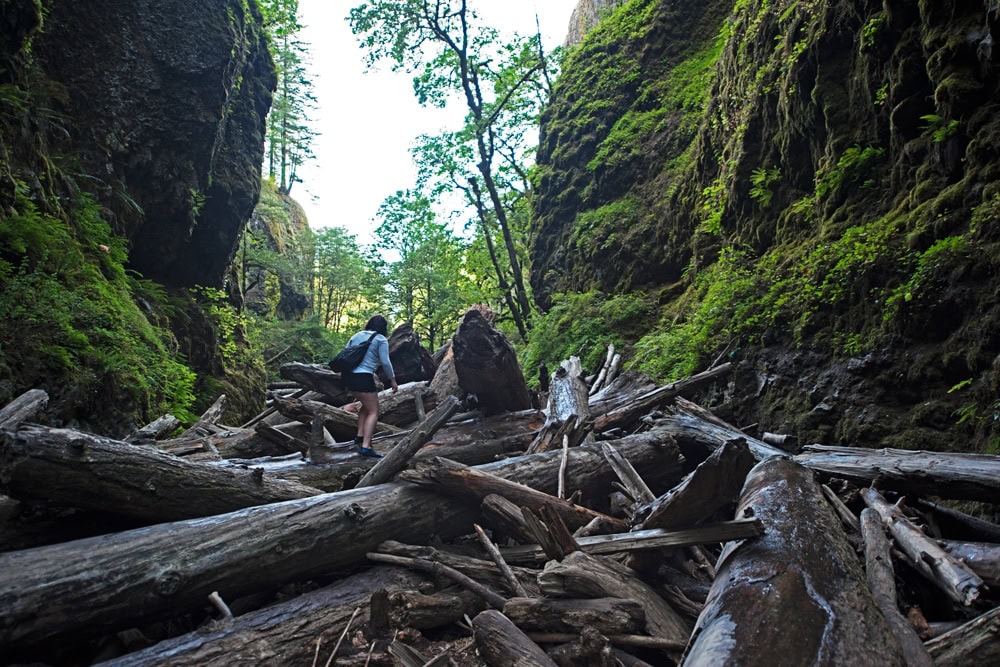 The GORGEous Views
Once you make it over the logs, look up! You are in a stunning place. From the smooth river rocks below your feet to the tall, moss-covered walls of the Oneonta Gorge, beauty is all around you.
Even the log jam looks kind of picturesque after you have scrambled over it and can view it safely from the other side.
And there is even more beauty ahead. Once you are over the logs it is only about a quarter-mile walk to the breathtaking Lower Oneonta Falls that marks the end of the gorge. However, more challenges still await you.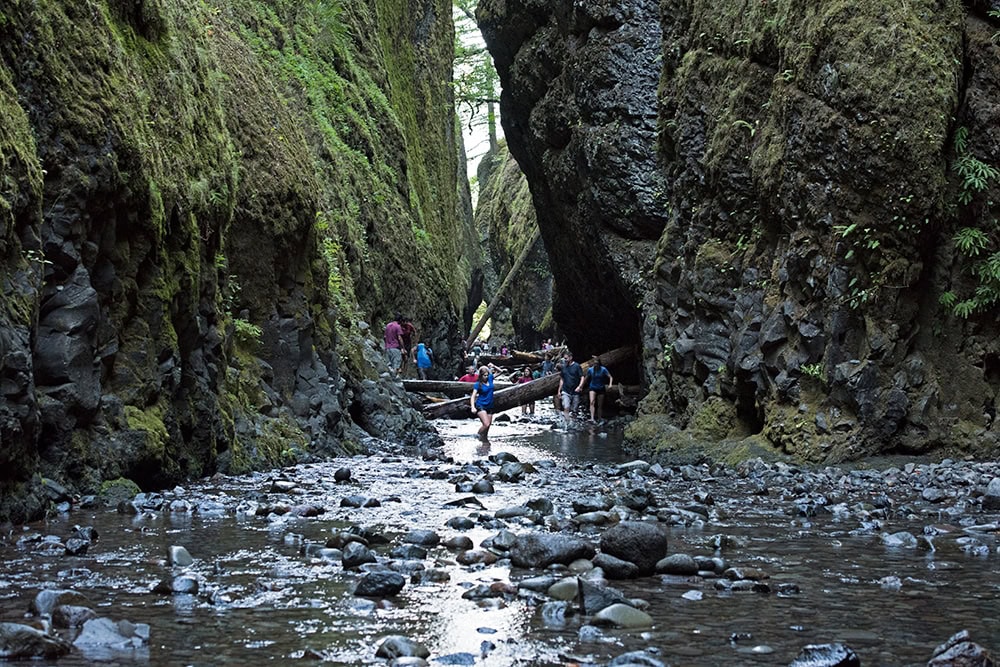 The Frigid Lower Oneonta Gorge Water
Depending on the time of year, the water levels and temperatures in the Oneonta Gorge vary, but it is unlikely that you will get away without at least going up to your knees in the frigid water.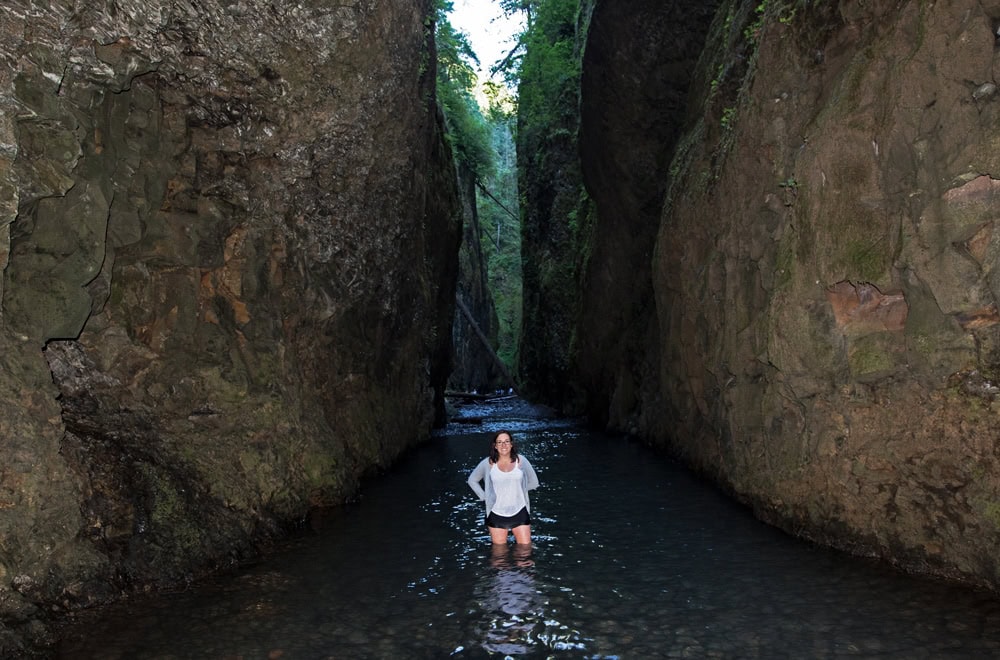 Luckily, our first pool of water wasn't too deep. It was only slightly above my knees (I'm 5'3"), but that was still enough to give me the chills – especially in the shaded creek trail.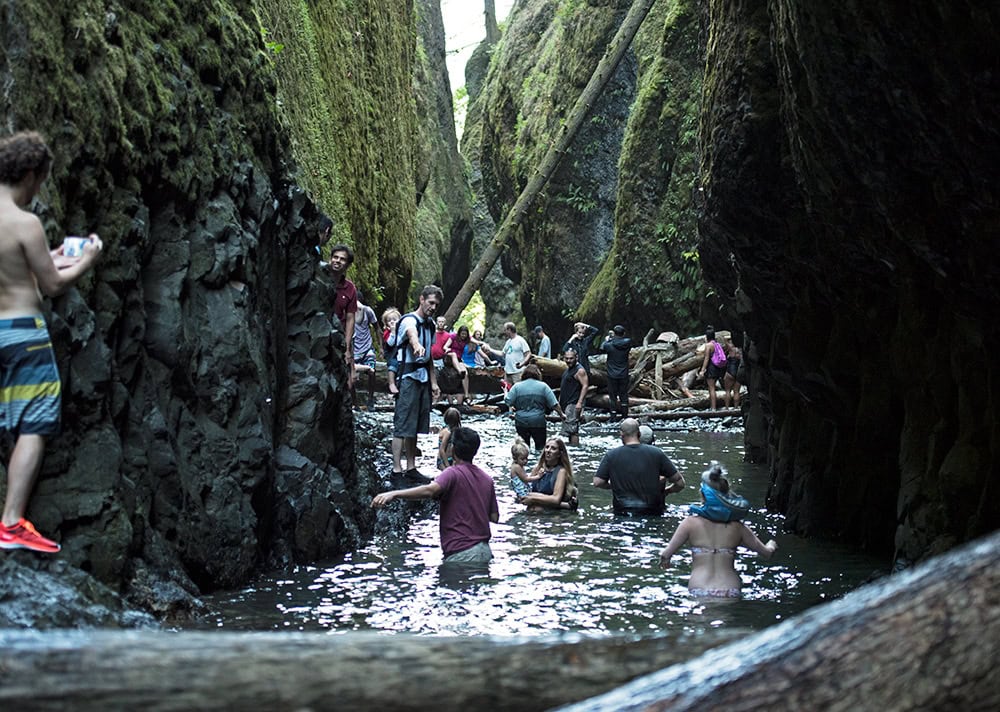 However, as we neared the next pool I realized the worst was yet to come. There were people chickening out due to how cold and deep it was. And a few kids let out shrill screams when they tried to walk through. But we had made it that far, so I stripped down to my bathing suit, held my dry clothes high above my head, and walked as fast as I could. And Buddy followed suit with a death grip on our camera far above his head.
The water wasn't that bad, until it hit my rib cage. Then I started to hyperventilate. I tripped over the rocks and sticks below me as I hustled to get out of the water as quickly as possible.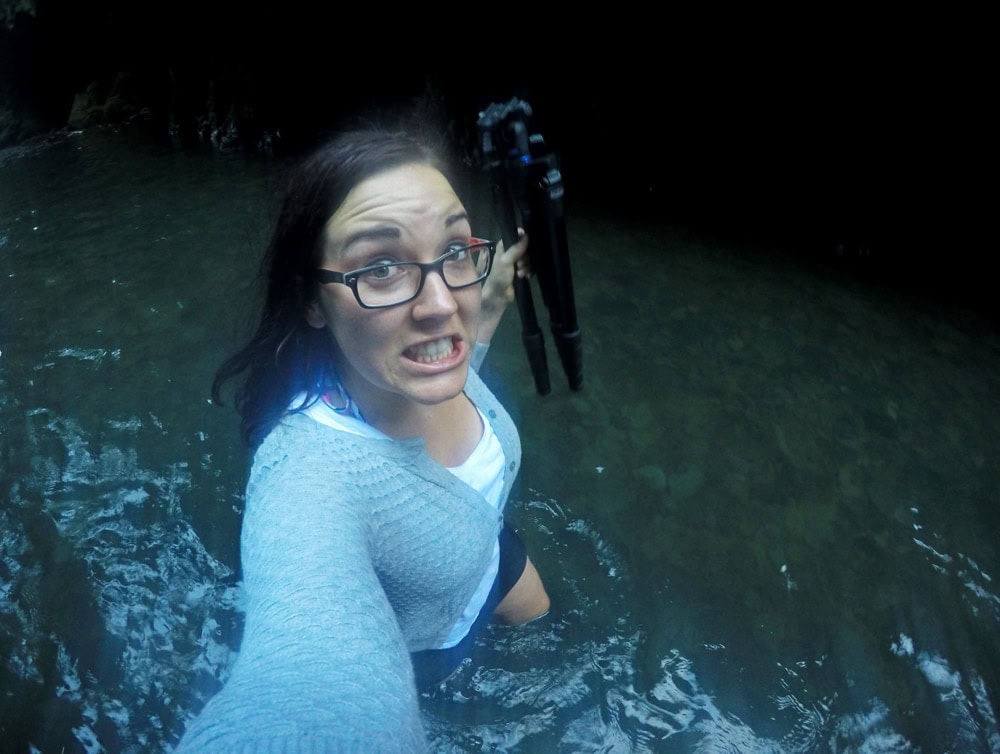 Don't get me wrong, it was COLD. I probably cursed the whole way. But, it only took about 30 seconds total. The people that stopped to tell their friends how cold it was and debate if they should turn back made it look much worse. Just GO! Go quickly and don't stop until you are finished.
Making it to Lower Oneonta Falls
Shortly after taking the chest-deep plunge, you will see your reward. A gorgeous waterfall pouring all of the ice-cold water you ventured through into the gorge.
If you are really daring, you can go dive under it for a full-body blast of frigid water. Or you can just stand back and admire it like we did (and of course take lots of photos).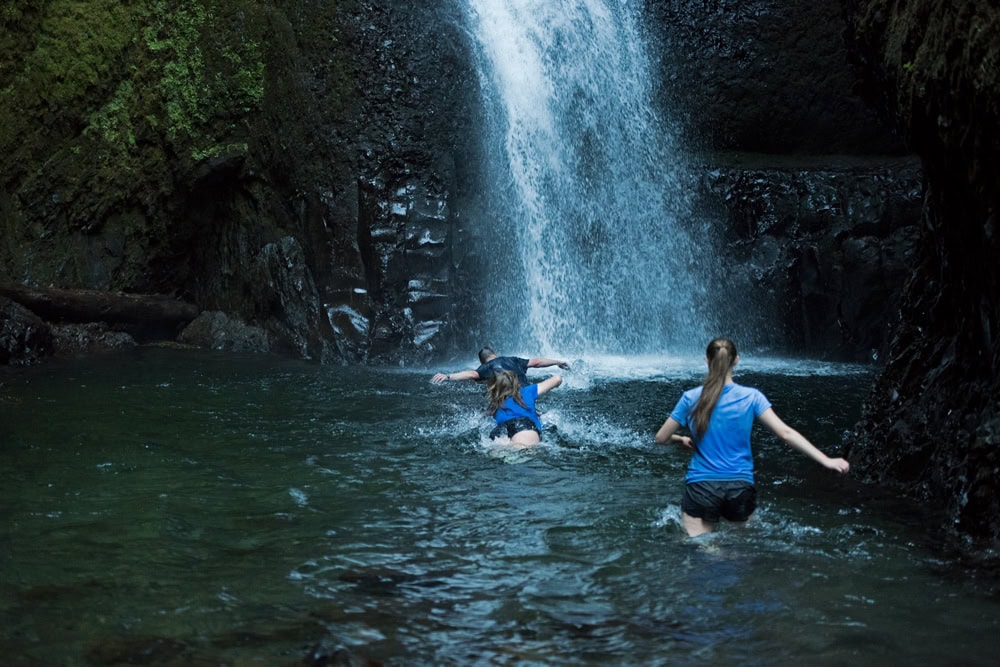 You earned this view. Enjoy it as long as you can and hold onto that special feeling before venturing back through the frigid water and over the logs to your car.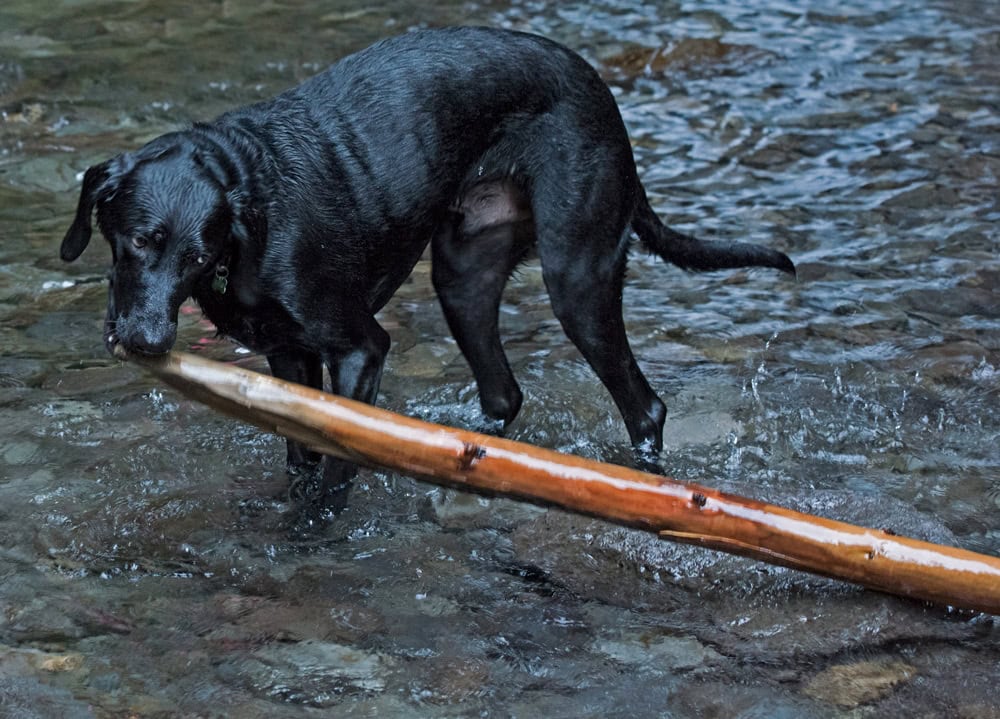 Tips for Hiking to Lower Oneonta Falls
Go early. Avoiding the crowds at this hike will definitely make it easier and will improve your overall experience. However, the collective excitement of the crowd does add to the experience in a way.
Bring water shoes. The people doing this hike in flip-flops were struggling. And going barefoot over the tiny, hard river rocks is not advised. Water shoes will help you maneuver over logs and help keep your toesies warm.
Bring a towel and change of clothes. We wore bathing suits and had dry clothes in the car, but towels would have been extra nice. Especially had we dunked under the falls.