Have you ever been in the middle of a really interesting movie and decided to just stop watching? Probably not. That's what it felt like we would be doing if we didn't get out and explore all that Terra Nova National Park had to offer.
Luckily, there are many options available for Newfoundland tours in and around Terra Nova. Only seeing the views from land wouldn't tell the whole, beautiful story of this amazing place. And we wanted to soak it all in.
Paddling in Terra Nova National Park
When we reached Terra Nova National Park, we planned to spend a few days hiking and exploring by foot, like we usually do. But, after a short stop at the Visitor Center, we knew that wouldn't be enough this time. From the boardwalk behind the main building, we could see hundreds of jellyfish, kelp and fish below the surface of the crystal-clear water. We had to go exploring!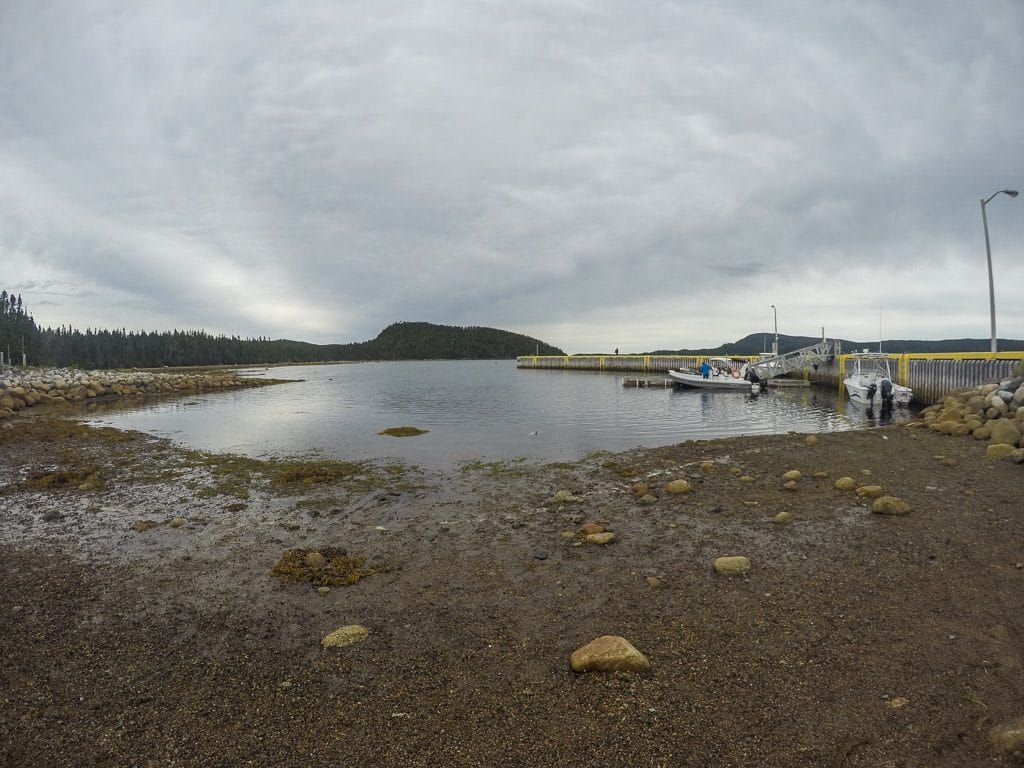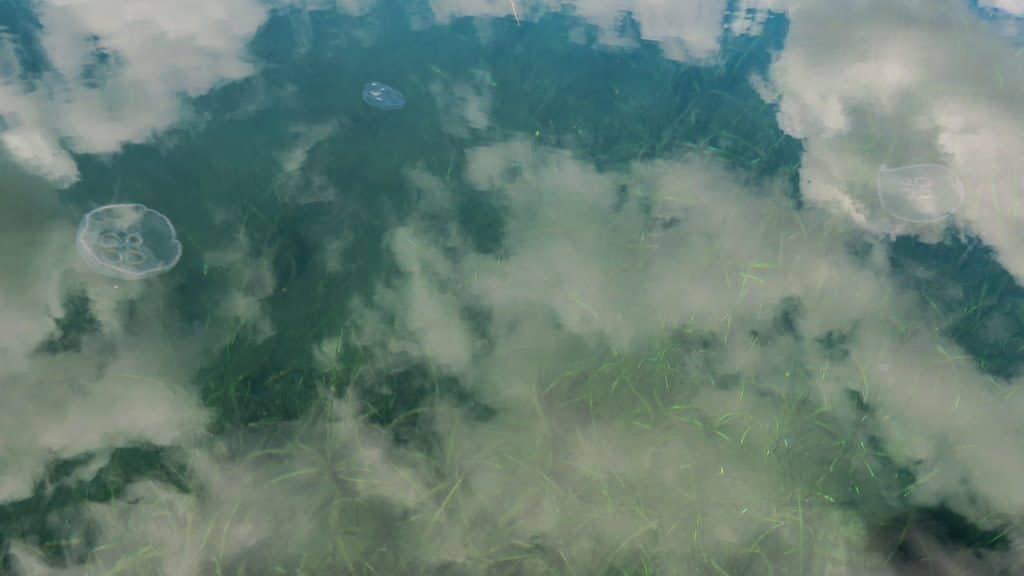 Conveniently, Happy Adventure Tour just across from the Visitor Center, offers kayak rentals, among there other Newfoundland tours. Sign us up! And why not plan a full-day of activities for the next day while we're at it? (More on that later).
Ocean Kayaking – A First for Us?
As we put on our life vests and splash skirts, we tried to remember if we'd ever actually been kayaking before. We had definitely been canoeing a few times. But I couldn't remember wearing one of those funky skirts before, so was it actually our first time? Buddy swore it wasn't. "We went that one time in Florida," he said with confidence.
I asked for a refresher before we set off, just in case. And when we were "reminded" how to navigate using peddles inside the kayak, I was 100% sure we had never had this experience before. Maybe we should have booked one of their beginner tours instead of getting a rental? Too late now.
We set off slowly, laughing hysterically while we tried to get used to this watercraft that was very much not the same as a canoe. Buddy decided to take off his flip-flops and lost one of the peddles for a good five minutes, while I somehow used my paddle to prevent us from moving forward.
Luckily, our laughter must have kept us from hearing any chuckles coming from the still-nearby shore of the Terra Nova National Park Visitor's Center.
Into the Vast, Deep Blue
It took me at least an hour before I got the hang of paddling in the ocean. (Or at least stopped slowing us down). But thankfully – once he got his feet back on the peddles – Buddy was able to navigate and power us. While I tried my hardest to figure out how to be more effective, he got a great arm workout paddling into the wind and across the fjord to another beachy area.
I loved watching the jellyfish float by as we glided along. But eventually, as the water got deeper and the sky turned a darker shade of grey, the liquid below us became more and more ominous. What other creatures lived in this mysterious ocean world below us?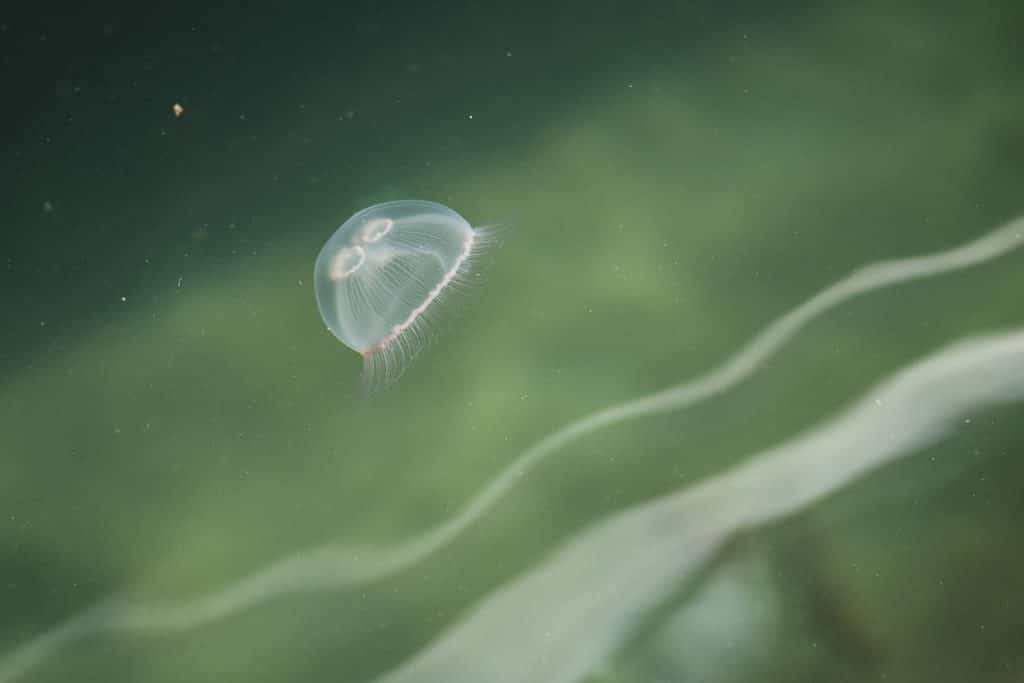 When we eventually stopped to admire the fjords and mountains around us in Terra Nova, it became immediately apparent that we were all alone. It was just us in this small sliver of plastic in the middle of a huge body of water. I felt intimidated by the vastness, but in a way, also embraced by it.
It was easy to understand why people fall so in love with kayaking. I felt like I was in the water. Yet I was able to stay mostly dry (when I wasn't accidentally splashing myself). And when I did finally figure out how to paddle semi-correctly, it felt like a type of meditation. My mind was focused only on how my paddle hit the water and the beauty that rippled out from that point.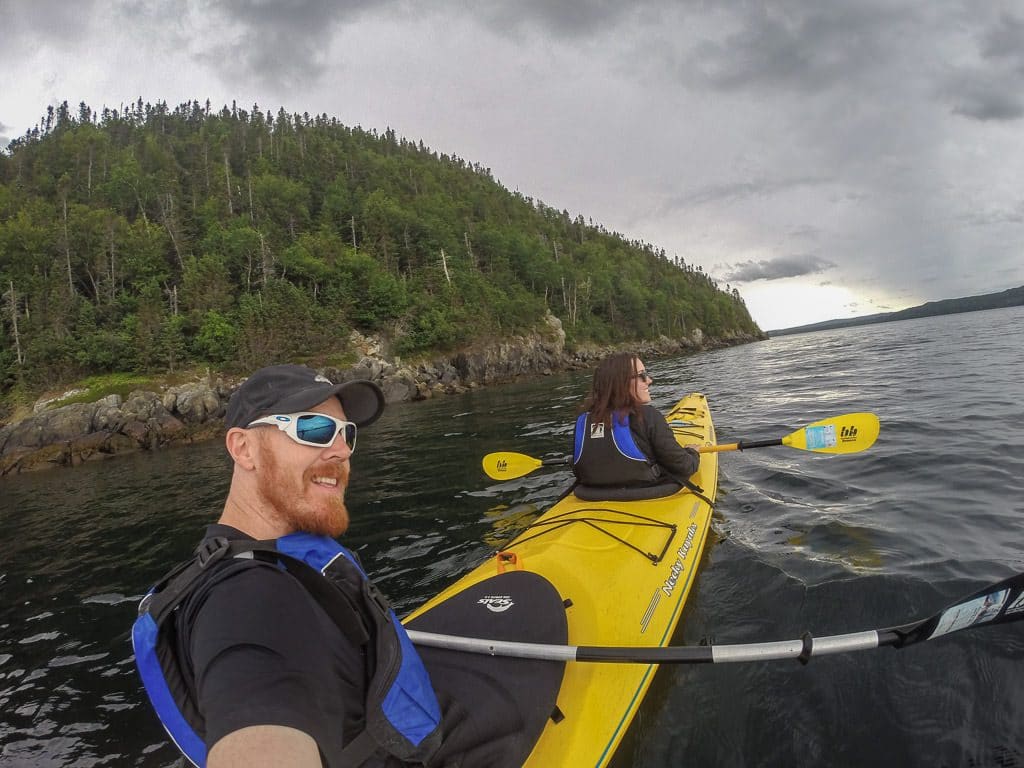 After almost two hours of teaching ourselves how to kayak, our shoulders were sore and we were ready for bed. But even more so, we were ready for the next day's adventures. We would highly recommend a kayak tour in Newfoundland if you visit Terra Nova National Park.
Check out our highlights video for more (and a few examples of my poor paddling):
Big Day Hiking in Terra Nova
Sometimes we are lazy, let's-lay-in-bed-all-day people. And other days, we are overly-ambitious, let's-exhaust-ourselves-more-than-ever-before people. On our second day in Terra Nova, we were the latter when we decided to do a few hikes.
We had scheduled a boat shuttle to and from Mt. Stamford (another great Newfoundland tour option) – which boasted the best views of Terra Nova National Park. I mean, how can you miss that? But, to hike the entire Outport Trail to the summit from our campground would have taken about 11 hours. So, we opted for the shorter route, which would still be about 9 km round-trip from where we were getting dropped off.
Not wanting to leave the cat in a hot RV all day, we decided to leave the RV plugged in at Newman Sound Campground – a beautiful, centrally-located place to base our travels – and walk over to our first activity of the day, instead of parking there. This meant we had to be out of the door by 8 a.m. to give us plenty of time to catch our boat. Quite the task for us non-morning people.
Hiking The Coastal Trail
Most of the 5 km (3.1-mile)-walk from Newman Sound Campground to the Terra Nova Visitor's Center was along the Coastal Trail – the most popular in the park. The trailhead began a few minutes from our RV site and ended at the Heritage Trail, a few minutes from the Visitor Center, Happy Adventure office, and dock where our boat shuttle would be leaving from.
Even in our sleepy state, it was clear why this trail was a must-hike for Terra Nova visitors. Around every corner was another beautiful view of Newman Sound. There were quaint beaches to take a break and watch for wildlife, and even a small waterfall.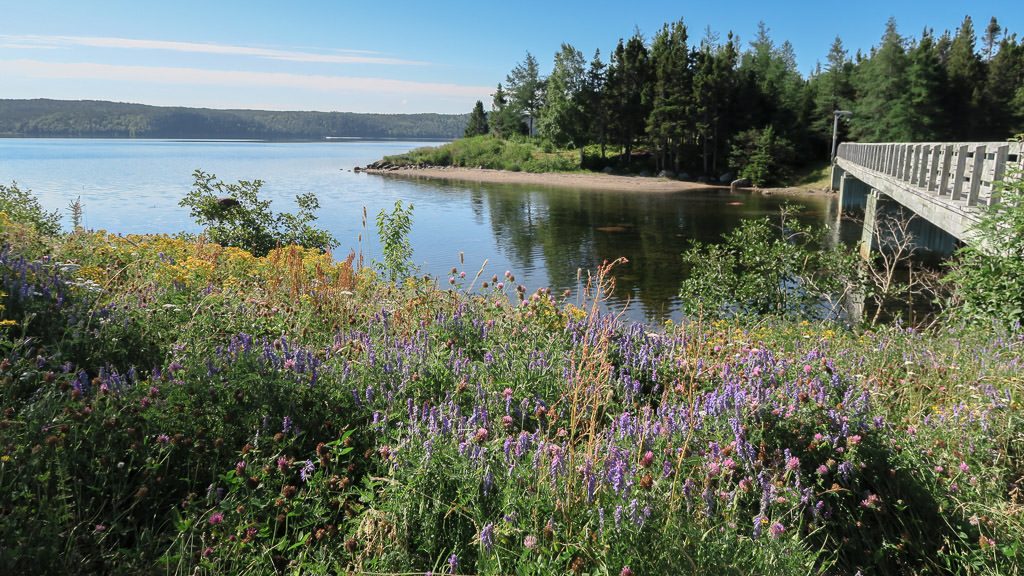 But it was hot! Unlike the day prior, the sun was shining, the clouds were nowhere to be found and we were sweating. By the time we got to the boat, saying we were "warmed up" for our main-event hike up Mount Stamford was an understatement.
Boat Ride Shortcut to Mt. Stamford Trailhead
Usually I'd bundle up for a boat ride across cool waters. But that morning I had no complaints about the wind drying my sticky, hot skin as we whizzed over to our trail.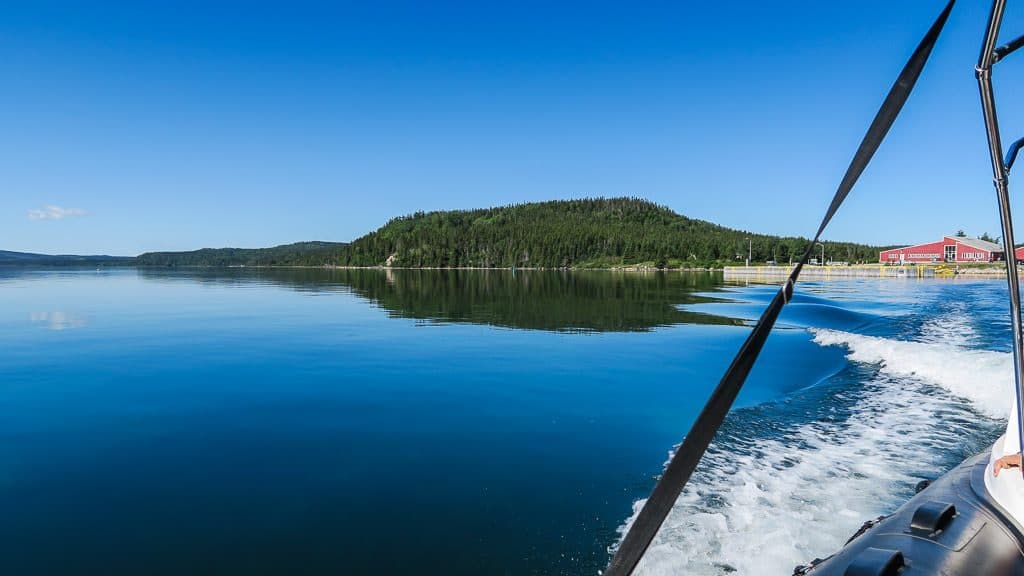 With the clear sky, we were able to see much deeper into the water and admired the dancing jellies as we flew over them. It made me even more excited about the Newfoundland whale tour we had booked for later that afternoon. It would be the perfect reward for a day bordering on too much hiking (for what we are used to, at least).
Chuck, the owner of Happy Adventure Tours and our captain for the day, was very knowledgeable and made even the short ride fun. He explained the two types of jellyfish we were seeing in the water, pointed out a bald eagle nest and shared some interesting history about the area we would be hiking in – part of which used to be the location of a mill.
Hiking to the Summit of Mount Stamford
When we reached the dock at Minchin's Cove, below the looming mountain, I was quick to remember the heat and that I had already exerted quite enough energy for a normal day. "Best views in the park," I told myself.
Chuck nicely walked us over to where our trail started, by some remnants of the historic mill he had told us about. And then we were on our way.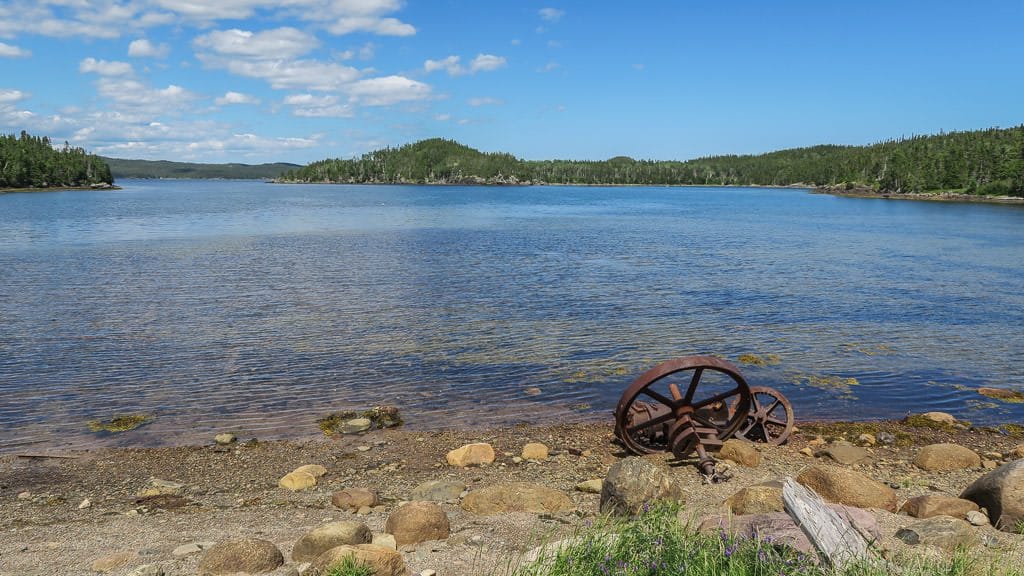 The trail from Minchin's Cove to Mount Stamford clearly wasn't one that was traveled often. It was narrow, had many puddles to hop over, and the plants seemed to reach out and grab you along the way.
But the rugged nature of this trail it is what made it so beautiful. Plus, we saw some cute wildlife along the way!
However, I'd be lying if I said the heat and bugs didn't annoy me. Rarely would something actually bite us, but those dang flies just wanted to buzz around our heads during the whole hike. I looked like King Kong swatting at planes as we walked. Eventually I resorted to my head net to stop them from getting in my hair.
Worth it for the Views
After a few hours of swatting, sweating and the occasional cursing, we reached the top to Mount Stamford. And, without a doubt, it was worth it – more so than we could have imagined.
Looking out across the Jurassic landscape, we felt like we were discovering a new land. We felt so distant from civilization. And the small inlets excited us. We could explore this place forever, if we wanted to!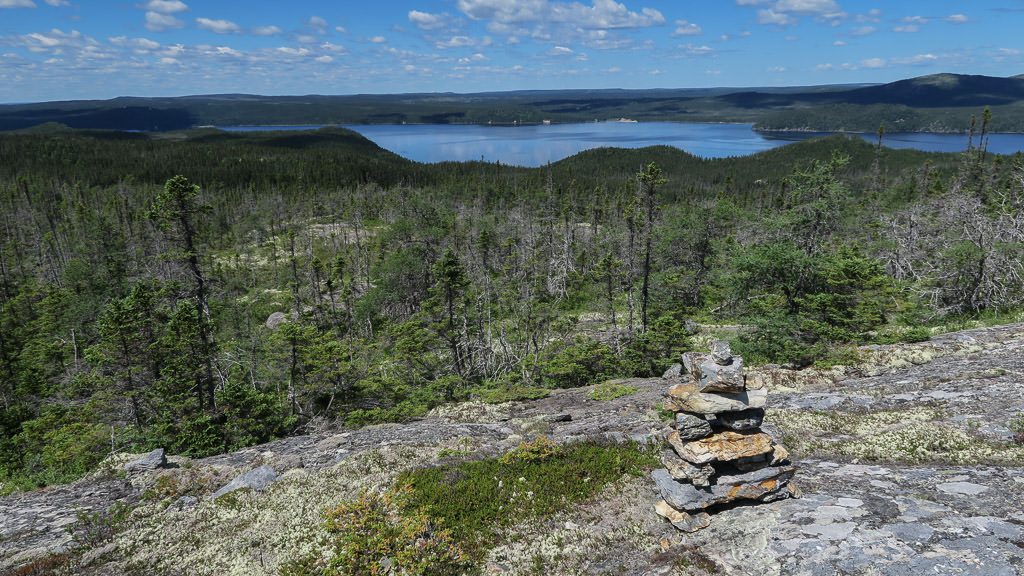 I remember (less than a year ago) sitting at my desk and staring out the window, wondering what adventures were waiting – what I could be doing if only I took that first leap. I'm not that girl anymore. Now I'm outside the window, having those amazing adventures I used to long for. And even though sometimes the trail is difficult, the views from out here are so worth it and beat sitting at a desk any day.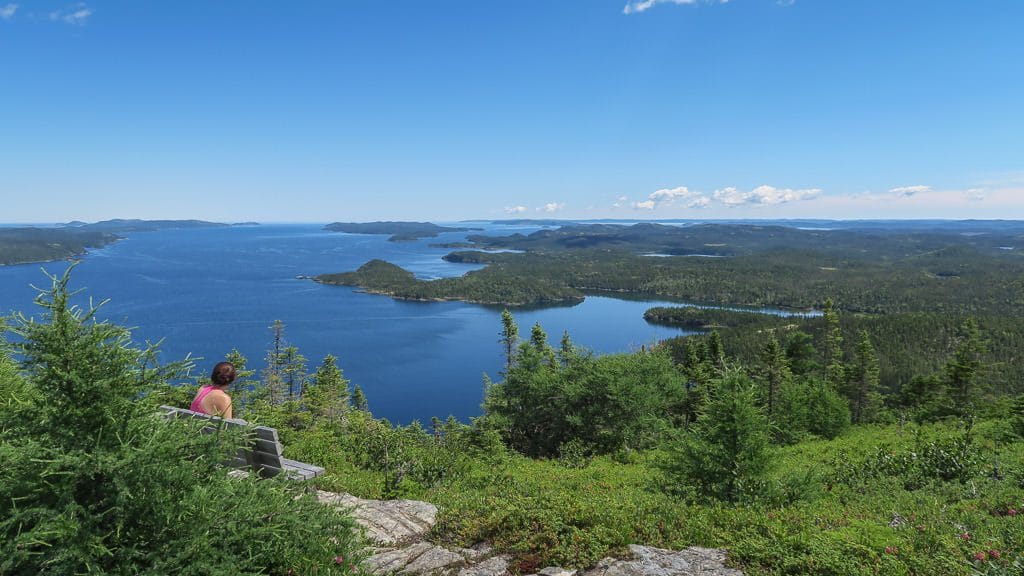 Newfoundland Whale Watching Tour
After we soaked in the scenery and feelings at the top of the mountain, we swatted our way back through the woods.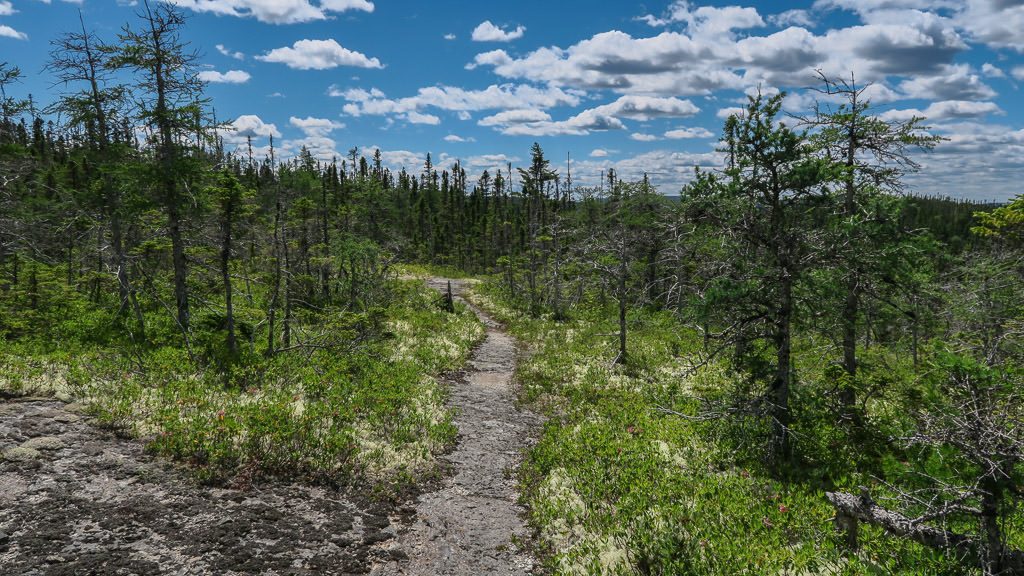 Then we lounged in the sun as we waited for our ride back to the main dock. And after a short bathroom break, we were off on our next Newfoundland Tour – this time outside of the park.
Secret Caves & Pirate Tales
We loved that there were only a few other couples on the tour with us. We love exploring beautiful places, but big tours often take away from the fun.
Our first stop on Happy Adventure's offshore tour was a cave along the coast called the Dungeon. There is actually a small beach inside, accessible by very small boat or kayak. Chuck got us right up to the entrance, so we could peer inside. It wasn't hard to imagine pirates and other explorers hiding out in there in past centuries. Especially because this area is steeped with pirate lore!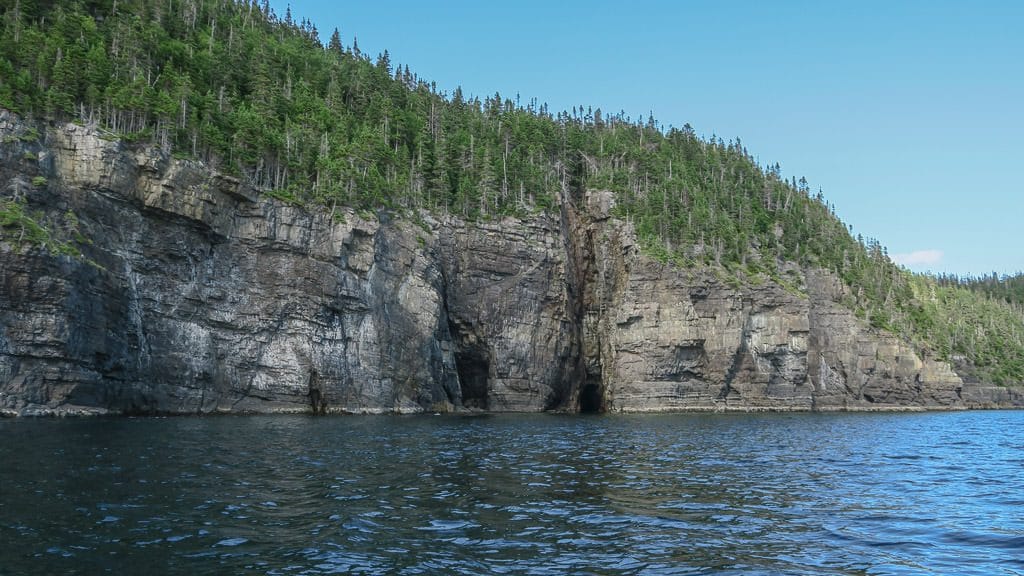 The nearby town of Happy Adventure, where Chuck also owns an inn and restaurant, was actually named by Peter Easton. This famed pirate apparently found refuge in the small harbour!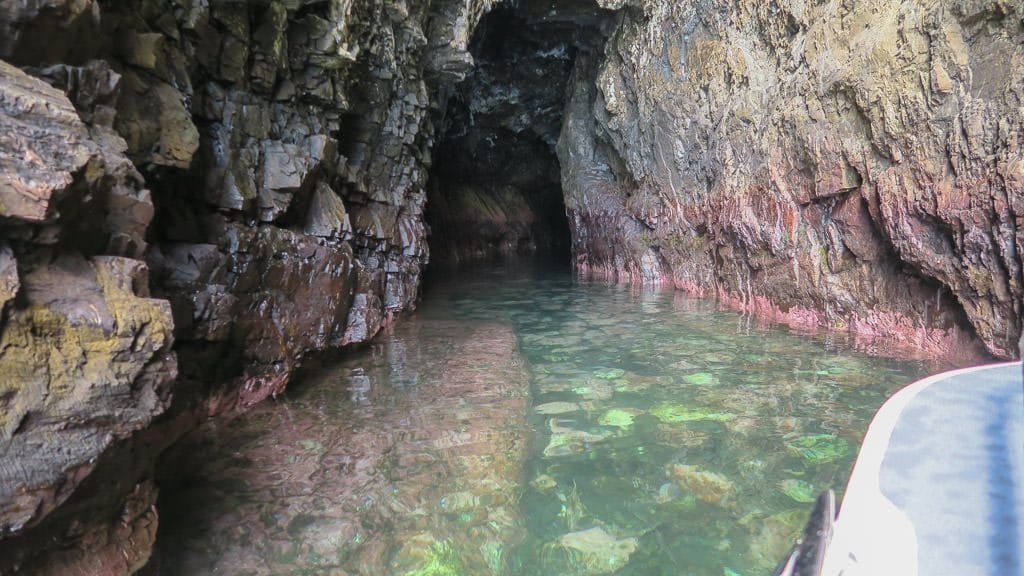 Whales Watching, Puffins & Cod Fishing
With perfect weather and even better views, we had almost forgotten the main purpose of this tour. So, when our first Humpback Whale made an appearance, it came as a bit of a surprise. Seeing this massive creature so close to us was intimidating and almost seemed imaginary.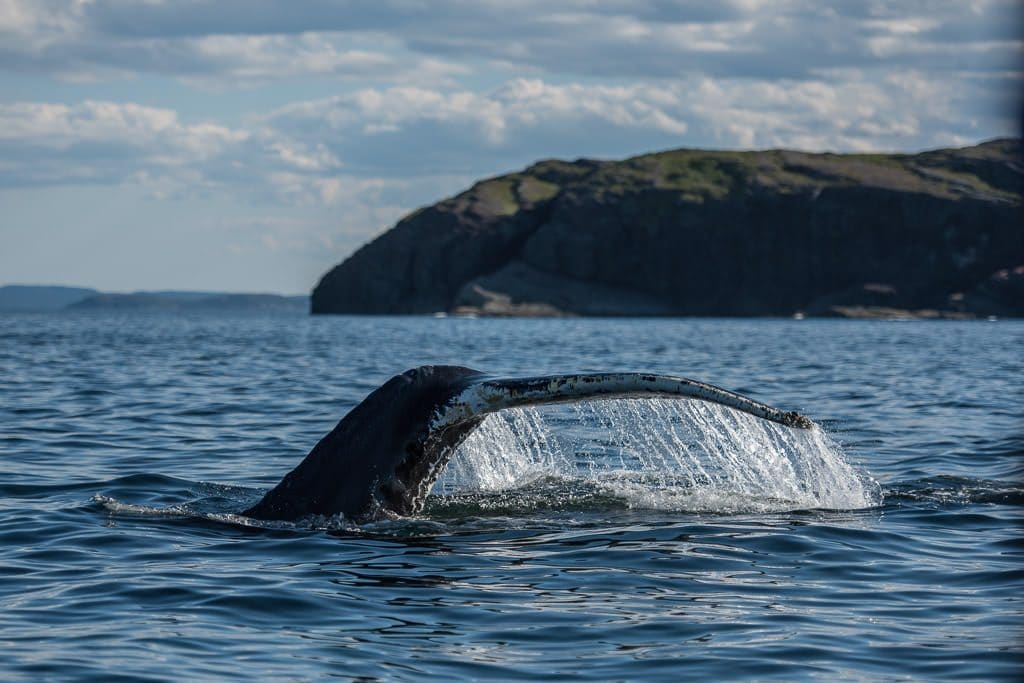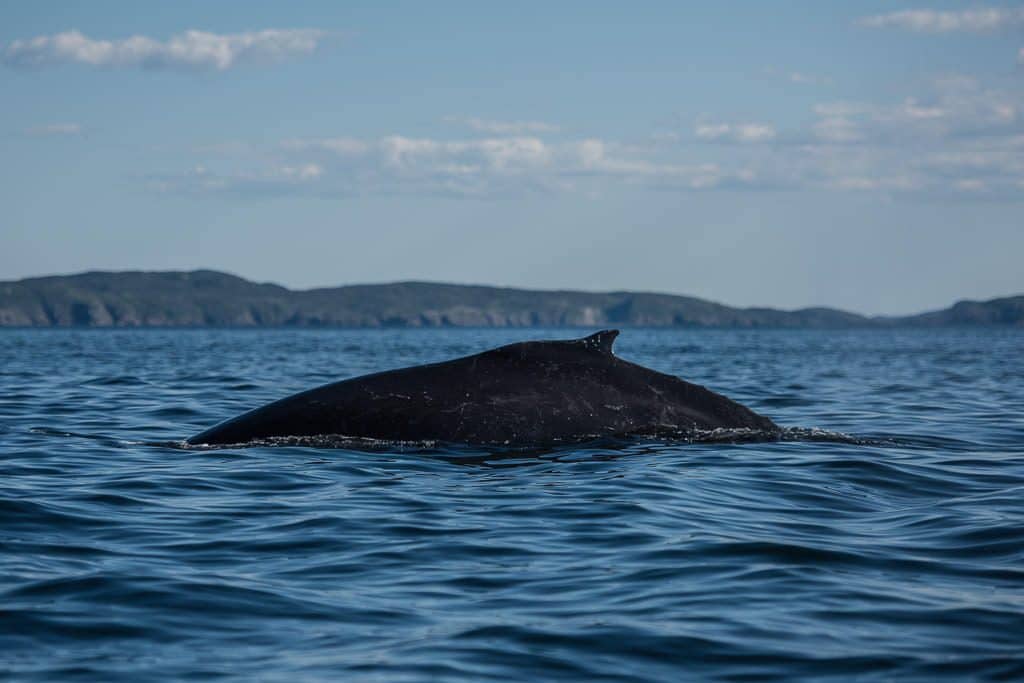 These graceful giants swam and dove and announced themselves with big blows, as we watched in awe. At one point, there were about five surrounding us.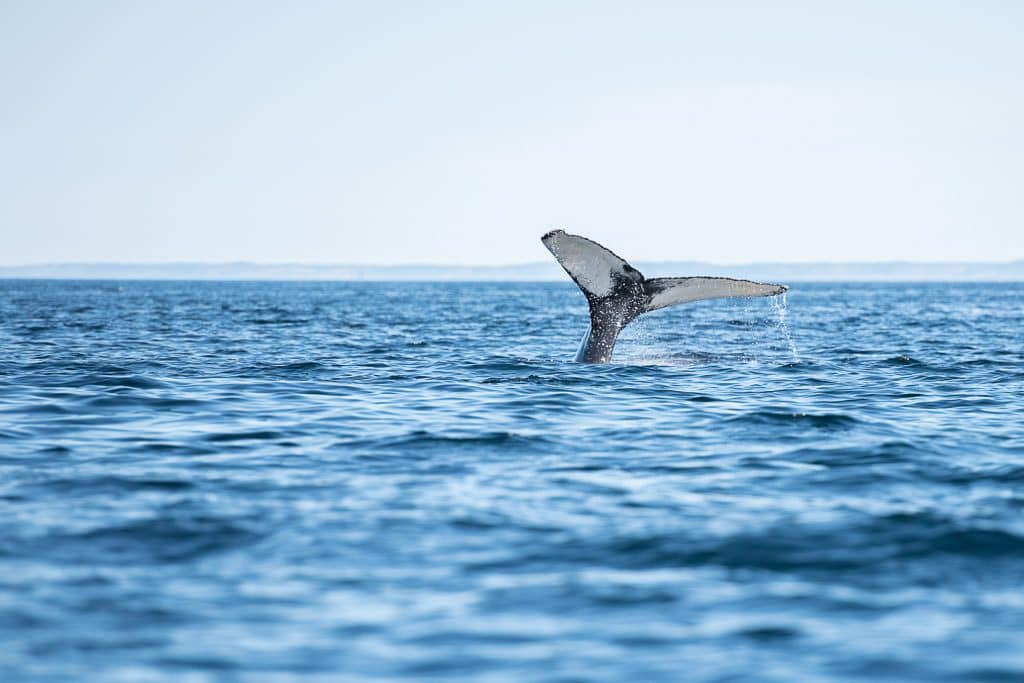 It is funny when you are so engrossed with one wonder, that you don't even notice the rest of the magic going on around you. Puffins! They were flying above us, catching their dinner below us and bobbing on the water's surface. These cuties put on their own side show, as we enjoyed the main attraction.
And, just in case the whales and puffins weren't enough entertainment, Chuck had another fun activity to surprise us with – Cod fishing. There were a ton of them under the boat, as they were feeding on the same thing the whales were, and he came prepared with a rod to show us how it is done. He even let us try to reel one in once he got it on the hook.
This was the kind of fishing I could get used to. There were hundreds of them below us and it took no time to hook them, and just a few minutes of fighting to reel them in. Nothing like the hours of waiting I was used to on the fishing trips Buddy took me on in Florida.
One Quick Tickle Before We Return
When Chuck told us we'd get the chance to experience a tickle first-hand on the return of our whale watching tour, we were overly excited. We had seen this funny word a lot on maps and signs since arriving in Newfoundland and were intrigued by its meaning.
After going through a very small fishing town, nestled along the coast, we turned the corner into what seemed to be a dead end. However, our trusty Captain knew there was a narrow and shallow area we could go through to get back to the open water. It is named a "tickle" because it tickles the bottom of the boat as you squeeze through. At the shallowest part it was only a foot or so deep. This made for a beautiful view as we glided over the rocks below.
Ships used to take advantage of these tickles as a secret escape method. They knew that if another ship found them in the cove, they could go through these small areas to get away. Now, they are just a fun challenge for boaters!
Check out our highlights video for up-close views of whales and an example of going through a tickle:
He's a Keeper
By the time we pulled up to the dock, I was almost too tired to function. Although, the last few hours of the day had been relaxing, we had been going for more than 12 hours straight on our Newfoundland tours. And the idea of walking the 5 kms back to our RV seemed impossible.
We had the most amazing day, but I was dreading ending it by dragging myself back to the RV. And Buddy knew it. Before I even had to say it out loud, he offered to run back to get the RV while Chuck got a few cod filets ready for us to bring home. Can you see why I married him?
I munched on some almonds I found in my backpack, as I chatted with Chuck – who was busy preparing the fish. As a fellow RVer, he told me all about his travels – even a few through blizzards. And I told him about our trials so far and dreams for the future. It is fun to think maybe our paths will cross again someday out on the road!
Although I was enjoying our chat, I did feel guilty for being able to relax in the breeze on the dock while Buddy hustled back to our rig. But, we both knew I'd take forever if I had to walk back. Plus, we would have had to pass up on the delicious, just-caught cod Chuck had offered us.
A Perfect Day in Terra Nova National Park
I know it must have been over an hour later, but it seemed like it wasn't long before my hero showed up with our home. We said a million thanks, then hopped in with a bag of fish and giant smiles. I couldn't wait to take a long shower and crash hard. And Buddy was even more exhausted after running an impromptu 5k. As expected, we fell asleep in no time, as memories of peaceful views and fresh ocean air filled our minds.
Before we started this life on the road, we were often exhausted by stress, by the pressures of living the way we were told to, by obligations we didn't want. Now, we are exhausted because we can't reign in our desire to soak up all the amazing moments we possibly can.
We push ourselves to take in those gorgeous scenes, go on the once-in-a-lifetime adventures and put off sleep to be more alive. Along the way, we've found that exhaustion of the body is much easier to recover from than of the mind. And, pushing our physical limits often gives us a sense of clarity – even enlightenment – which makes it all the more addicting.
Terra Nova National Park FAQ
Is Terra Nova National Park worth visiting?
Yes! Terra Nova National Park in Newfoundland is a stunning place definitely worth visiting. There is so much awaiting the nature and wildlife lover that you could easily spend a week here.
What is Terra Nova National Park known for?
Terra Nova is the furthest east of any of Canada's national parks. It offers a unique mix of ocean and land activities that outdoor enthusiasts love.
How do you get to Terra Nova National Park?
Terra Nova National Park is located between Gander and St. Johns in eastern Newfoundland. It is easy to drive to on your own, or you can take a bus or tour. Learn more on the park's website.
---
We would like to thank Parks Canada, Adventure Central Newfoundland and Happy Adventure Tours for making this amazing trip possible. As always, all opinions are our own.
For more stories and tips, check out our other Newfoundland blog posts. And for a list of where we stayed overnight during our trip, take a look at our RV Camping Reviews page.