Feeling the cold water splash us in the face as we paddle over rapids is one of our favorite sensations! So, when we saw that we could go white water rafting in Newfoundland with ONadventure Wilderness Tours, we just had to book a trip. And to our surprise, it was equal parts relaxation and fun – the perfect mix after destroying our bodies with all-day hikes in Gros Morne National Park.
Getting on the Exploits River
After multiple days in a row of sunshine, we woke up to a gloomy sky on the day we set aside for our Newfoundland rafting adventure. However, a little chill in the air wouldn't stop us from getting out on the water.
So, we bundled up and headed to Riverfront Chalets, just outside Grand Falls-Windsor, where Rafting Newfoundland is located. We even spotted a moose on our way! It was sure to be a good day for a Newfoundland tour.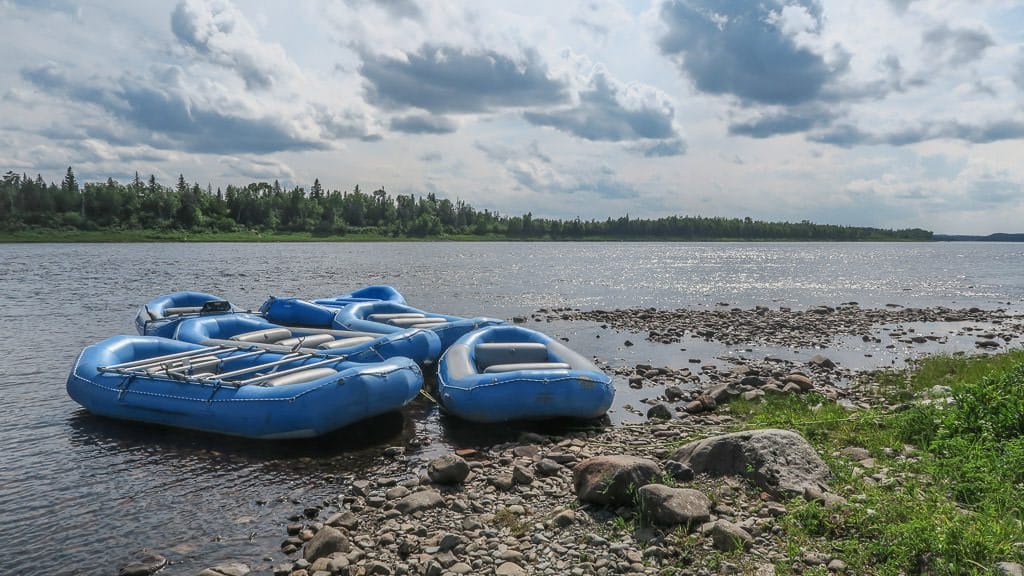 We got geared up, met our guide Lexi, and were off on the quick bus ride to the drop-in point on the Exploits River – the longest and largest in Newfoundland. Once in the water, our guide gave us the best training session we've had on a rafting trip. Because he used live demonstrations!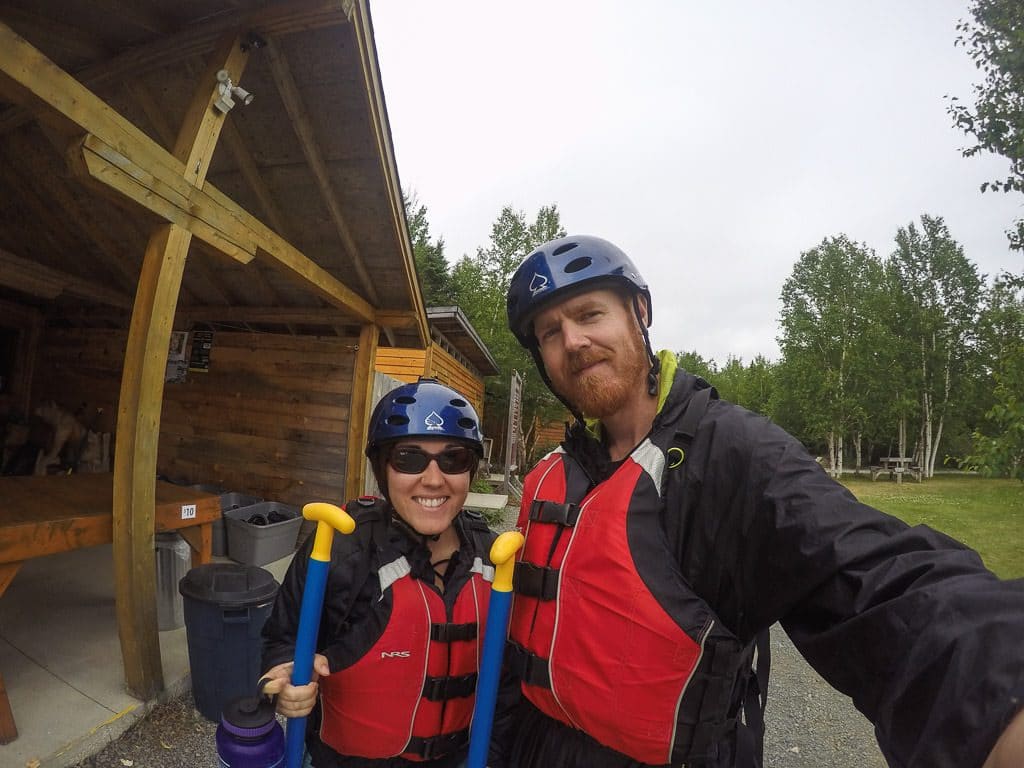 Buddy happily volunteered to jump in so Lexi could explain how to pull a raft-mate in if they go overboard. I laughed at my good sport of a husband for being silly enough to go in the Exploits River on such a chilly day.
Then I realized I'd be the one pulling him in. I grabbed him by the top of his life vest as instructed and pulled him up, directly on top of me. We were both soaked, but all smiles. A great way to start a rafting in Newfoundland trip.
Calm River Rafting Games
The beginning of the trip is on easy-to-paddle waters, which was a great way for the kids in our raft to learn how to use their paddles. Although we would have been content just enjoying the serene views around us as we drifted toward the rapids, our guide made sure no one got bored by encouraging us to play some games.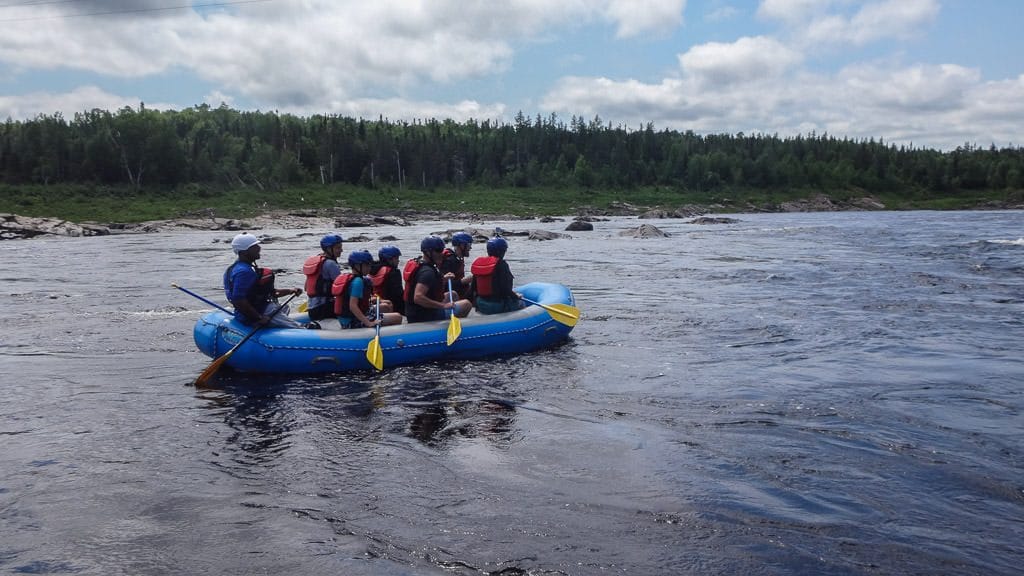 First up was a balance competition. And since we were already wet, we went first. Buddy and I stood on opposite sides of the raft, while the rest of our group paddled us in circles. Whoever fell in the water last, won! Well, I was really bad at it and fell into the raft instead, but I guess that makes Buddy the winner.
Next was a trust exercise. We had to link paddles and lean back until our head dipped in the water. We failed at this and Buddy tumbled backwards into the water when our paddles came unhooked. If he would just do more yoga like I tell him to, he could have done a backward bend over the raft much easier. But, it was hilarious to watch him flip overboard.
Shortly after game time, we were at the more powerful part of the Badger Chutes rapids that require more intense effort. The first area we went over was like paddling into ocean waves and made for a unique experience. Next, we got to go over a small drop and enjoyed a large splash in the face to cool us down.
Flipping Out
After the white water rapids, we pulled off to the side to "go for a swim." The guide explained how to safely jump into the water just passed the rapids and let the water push you out. Then we would have to swim back over to the boat, or else get looped through again.
We were all a bit nervous to jump off the small cliff into the water. All except my crazy husband, of course. He went right up to the edge, got a mischievous smile on his face and asked, "Is it okay to do a flip?" My response was, "Absolutely not." But apparently, he wasn't asking me, because before I knew it, he was somehow twisting his 6'3" body in mid-air. Show off.
Once I realized my husband's head was still in one piece and regained my breath, it was my turn. Being the more practical one, I held my nose and leaped from the edge. What a blast!
Now I just had to swim over to the raft, except that was harder than expected. It took going around in the current one more time to get over to where I needed to be. I blame my heavy jacket (what was I thinking?) and pathetic doggie-paddle stroke for my inefficient swimming. Even though this last part gave me a bit of a panic, this was the highlight of the trip for both of us!
Surfing & Snacking
Back in the raft, the whole group was sopping wet and smiling ear-to-ear. And we were even more excited about our upcoming snack break, since our bellies were beginning to rumble. But first, we'd get to surf!
Just before our mid-river picnic rock, there was an area that the guide could "surf" if we went in just right.
He took a few of us at a time since the raft had to be lighter, and stuck us directly in a rapid. Surprisingly, we just stayed there until we rocked ourselves out. What a cool rafting trick!
We sat in the sun that finally made an appearance, once our wave-catching fun was over. And we devoured fresh fruit, cheese and crackers. There was less than an hour left of river time before we would be back at the Riverfront Chalets. So, we were enjoying our views to the fullest.
Paddling Back Toward Land
Of course, what should have been an easy paddle back turned into much more of a workout when the wind changed. So, the adults burned off their snacks as the kids napped in the sunshine.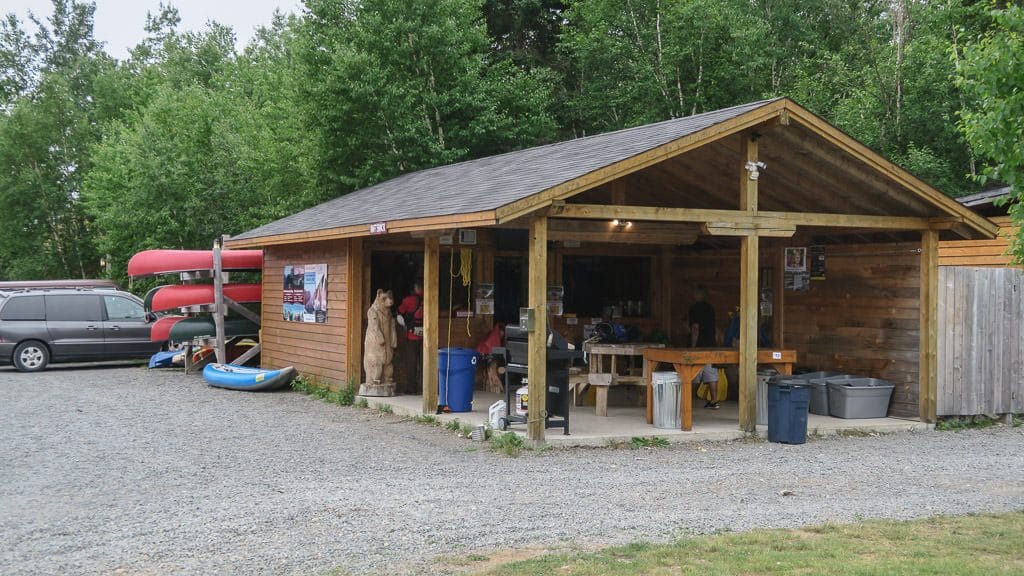 Back at the Riverfront Chalets, we changed into dry clothes in our RV before joining everyone for lunch. It was great getting to chat more with our raft-mates and the other guides after a fun day out on the water.
It wasn't the adrenaline-packed ride we had experienced in past white water rafting trips (like plunging over Husum Falls), but that's what we loved about it. There was just enough adventure, some hilarious fun, and plenty of time to soak in the beautiful scenery of central Newfoundland. Turns out, we don't always have to amp up our heart rates to have a great time!
Watch our video of our trip highlights below:
---
Rafting in Newfoundland – Know Before You Go
Location: Trips depart from Riverfront Chalets, 20 km west of Grand Falls-Windsor. There is a turn with a noticeable sign off the Trans-Canada Highway.
Length of Trip: 4 to 6 hours depending on how hard everyone is paddling and how long stops take.
Difficulty: This is a family-friendly activity. However, it is a very physical activity and will wear out your arms at times. There are also some spots where you can swim. So, make sure to know your limits. Kids over 5 are welcome, and they the really young ones will even get water guns – since they probably won't be much help with a paddle. The little guy on the boat next to us loved it!
Price: $115 for adults. Prices may vary depending on season.
Other Options: For a less physical trip, try the paddling-optional Beothuk Nature Float. For a more thrilling option, try the seasonal Canyon Run tour.
Tips for a fun Newfoundland whitewater rafting trip:
Wear Sunscreen: Even if it is cloudy! We skipped this important step and ended up getting burnt. And, we should really know better.
Eyewear: Ask for the super-fancy duct-tape wrap for your glasses. It is free and keeps them on as well as the paid version.
Clothing: Wear non-cotton items and shoes you don't mind getting wet. You can even bring a jacket and they'll put it in a dry bag for you in case you get cold. Just don't wear a jacket with down in it during the main part of the trip, like I did. If you have to swim, it will just weigh you down.
Food: Toward the end of the 5-hour trip, they break for a snack. And then they have a cookout with hotdogs and hamburgers at the very end. Let them know if you have any special dietary needs before your trip. They will be happy to accommodate you! Also, if you or your kids need more snacks than that, make sure to bring some.
---
We would like to thank ONadventure Wilderness Tours for hosting us on their wonderful Rafting Newfoundland trip and for taking some of these photos of our adventure. As always, all opinion are our own.
---
For more stories and tips, check out our other Newfoundland blog posts. And for a list of where we stayed overnight during our trip, take a look at our RV Camping Reviews page.