We had fallen in love with Newfoundland long before we ever set foot on its soil. When looking up what to do in Gros Morne National Park led to an abundance of gorgeous hiking trails and unique things to do during our trip. This played a large role in luring us to the island on our Atlantic Canada RV trip!
With its lush mountains, vast ocean, and deep fjords, this is a nature-lovers paradise. Once you've experienced it, you will always feel its pull on your heart. Definitely a far cry from what you'll find in the bustling city of St. Johns about seven hours east.
We thought a week in this hidden gem of Eastern Canada would be plenty of time to enjoy all – or at least most of – the wonders of Gros Morne National Park. But we now know we only touched the surface of what makes this UNESCO World Heritage Site so special. It would take months or more to explore it all.
However, here are our top picks – for fellow travelers who are short on time. Just don't be surprised if you feel that same desire to come back often (especially if you get "screeched in.")
What to Do in Gros Morne, Newfoundland
There are plenty of things to do in Gros Morne National Park and the surrounding area to keep you busy for weeks. Here are our top 5 hikes and top 5 activities for the amazing area of Canada.
Top 5 Hikes in Gros Morne National Park
There are dozens of well-maintained trails in Gros Morne National Park, and countless back-country options. Stop by the Visitor Center for a map and tips for hiking in the area from the very knowledgeable rangers.
1. Baker's Brook Falls Hike
Who doesn't love a good waterfall hike? At 10-km (6.2-miles), this popular trail goes through forests, bogs, and wildflower fields before reaching the huge Baker's Brook Falls.
If you are staying at the Berry Hill Campground, just wander over to the trailhead. Otherwise, there is a medium-sized parking lot as well. Since you are fully exposed to the sun for most of the hike, we suggest going early to beat the heat. Bug spray is also a must.
Don't miss out on the optional short off-shoots of the trail. One offers more gorgeous views, and the other goes to a moose exclosure for a new perspective.
The purpose of the exclosure is to see what the trail would look like without the effects of moose. Don't expect a heard of these antlered beasts to greet you there, as this is meant to keep them out.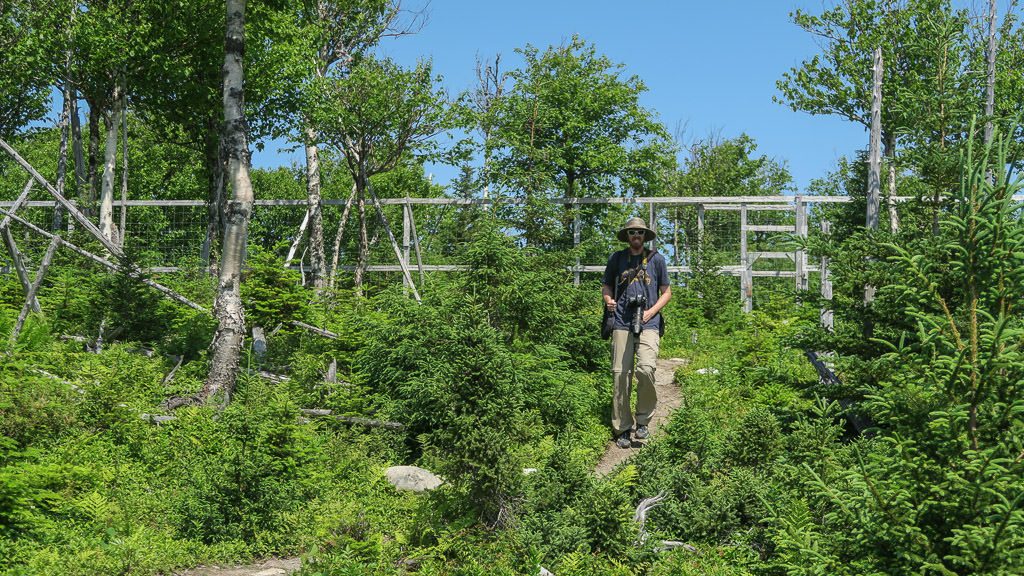 Once you reach the main event, give yourself plenty of time to admire the size, power, and beauty of Baker's Brooke Falls. It is strange that this massive waterfall can be tucked away so secretively in the woods.
P.S.- Up for another hike? Berry Hill trail leaves from the same parking lot and gives great views of the mountains. Also nearby is the easier and shorter Berry Hill Pond trail loop.
2. Gros Morne Mountain Overlook Hike
The grueling trek to the top of Gros Morne Mountain is not for everyone. But, if you want a great panoramic view of this iconic mountain and the lush areas surrounding it with a less intense hike, take the 4-km (2.5-mile) hike to the Gros Morne Mountain overlook.
Although it is not easy, it is much less of a knee-busting, exhausting venture than the climb all the way to the summit (and even worse – back down). Expect some elevation gain, stairs, and great views.
If you are up for hiking the entire 16-km (9.9-mile) trail, read our honest description of the Gros Morne hike here. (Or if you aren't up for it, feel free to admire all the pretty photos in the post without the burning leg muscles.)
3. Tablelands Hike
Entering the strange, barren landscape of the Tablelands area makes you feel like you've taken a wrong turn to an entirely different planet. The lush green mountains become rocks without much warning.
The weirdest part is seeing completely different scenery on either side of the road! Even if you aren't a hiker, this is worth at least driving through.
Why is Tablelands so barren? That's the most interesting part. This orange rock is actually an exposed portion of the Earth's mantle. There are very few places like this where you can "see the Earth naked," as the park puts it, making it a top thing to do in Newfoundland.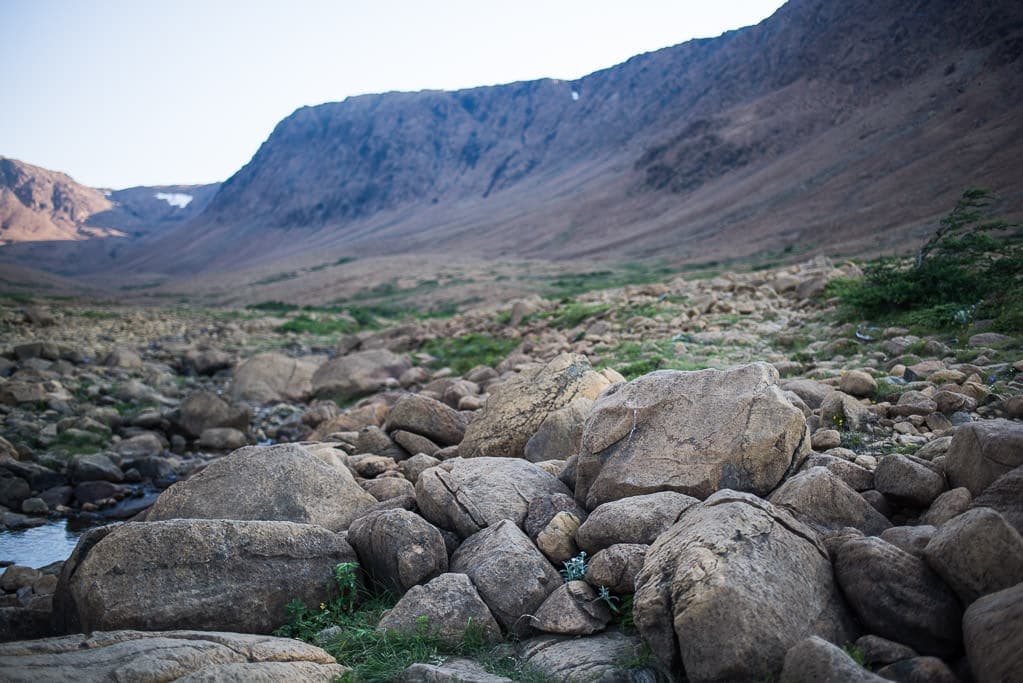 This rare occurrence is the result of a continent collision about half a million years ago. Talk about rich history! This is part of the reason Gros Morne National Park is a UNESCO World Heritage Site. The nearby Discovery Center can offer more in-depth information on this unique area.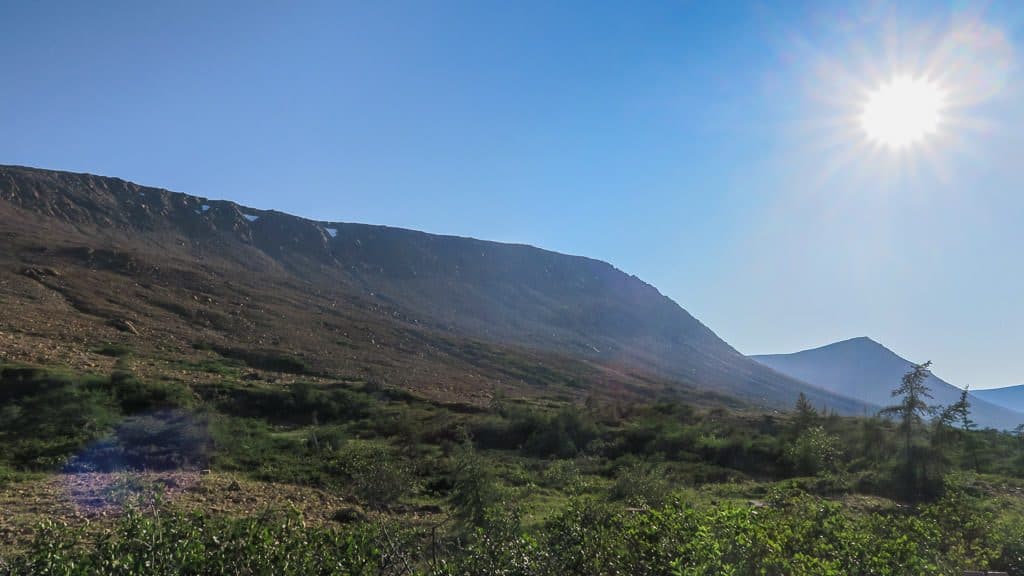 As for hiking, there is an easy 4-km (2.5-mile) hike that goes along a dusty trail to a waterfall view. We even saw snow on the mountaintops. What a wonderfully weird place!
Parks Canada also offers a free guided tour at 10 a.m. and a map of off-trail hiking options.
4. Green Gardens Trail
Oddly, the Green Gardens trail – which features lush forests and a coastal area – is directly across from the barren Tablelands.
Although it has some challenging portions (mainly lots of steep stairs), the views on this 9-km (5.6-mile) hike are well worth it.
It begins in the barren Tablelands landscape. But once you cross over the large hill, it begins to change rapidly. Soon you are walking through forests and can see the ocean off in the distance.
Eventually, you will reach the coast and the flatter portion of the trail. The high winds are evident in the slanted trees, and the sweeping views of the ocean are stunning.
The trail ends at a tall, slightly crooked wooden staircase that leads down to the beach where you can just relax or continue exploring before returning.
Once down on the beach, there is a sea cave around the corner that you can go into at low tide. But be careful not to slip on the sharp, seaweed-covered rocks.
5. Eastern Point Trail
This is a short hike, but a must if you end up in the Trout River area of Gros Morne. It is especially enjoyable after a great lunch (see more on that below).
To get there, park on the main road in town and head east to the wooden staircase. It is a steep climb, but the hardest part is over once you reach the top of the hill.
At the top, you can enjoy the views of the nearby town and surrounding ocean before completing the 2.4-km (1.5-mile) trail. We loved watching the waves crash and the fog slowly move over the town before it was blown away. We even saw a whale off in the distance!
Top 5 Activities to Do in Gros Morne
This area has so much more than just amazing hiking trails. There is rich culture, historic places, great food, and unique fun to entertain you when your legs need a break. So, below is our list of non-hiking things to do in Gros Morne National Park.
1. Visit the Insectarium
Technically this is not inside the park boundaries, but a stop at the unique "hobby gone mad" Insectarium just before the park entrance and after the Deer Lake area is a must for nature lovers.
Walk through the butterfly garden and giggle like a kid again when a beautiful winged creature lands on your shoulder – or nose. Then go upstairs to the main attraction: an exhibit housing thousands of insects from around the world. Some are alive, but most are preserved in cases. And some you can even hold!
Don't forget to check out the creepy crawlies native to Newfoundland, so you will know what is inching its way up your arm when you are out on the trail. But, no worries – nothing venomous is in the area.
2. Get "Screeched In" at the Anchor Pub
Rocky Harbour is the most touristy area of the park, but don't worry – it still maintains a lot of that great small fishing village feel. It is a great place to grab a meal, buy some souvenirs and enjoy a bit of local nightlife when you need a break from non-stop adventure.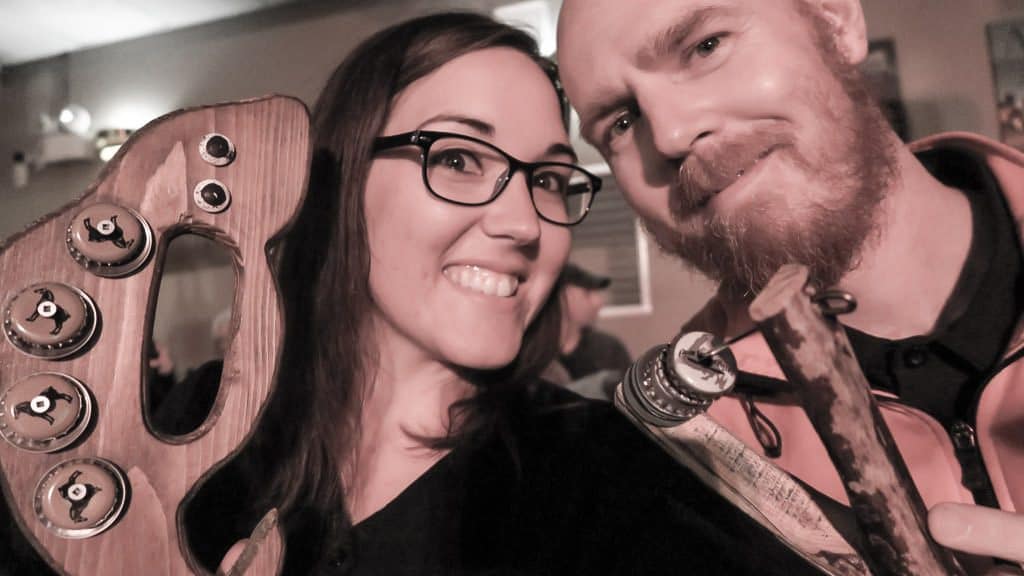 Don't miss the opportunity to get "Screeched In" by a local at the kitchen party at the Anchor Pub, inside the Ocean View Inn in the small village of Rocky Harbor. While this silly tradition varies across the island, one thing is certain, you won't become an honorary Newfie without taking a shot of Screech Rum and kissing a cod!
This is probably the top thing to do in Gros Morne National Park or Newfoundland in general. Check out the full video of our Screech In here.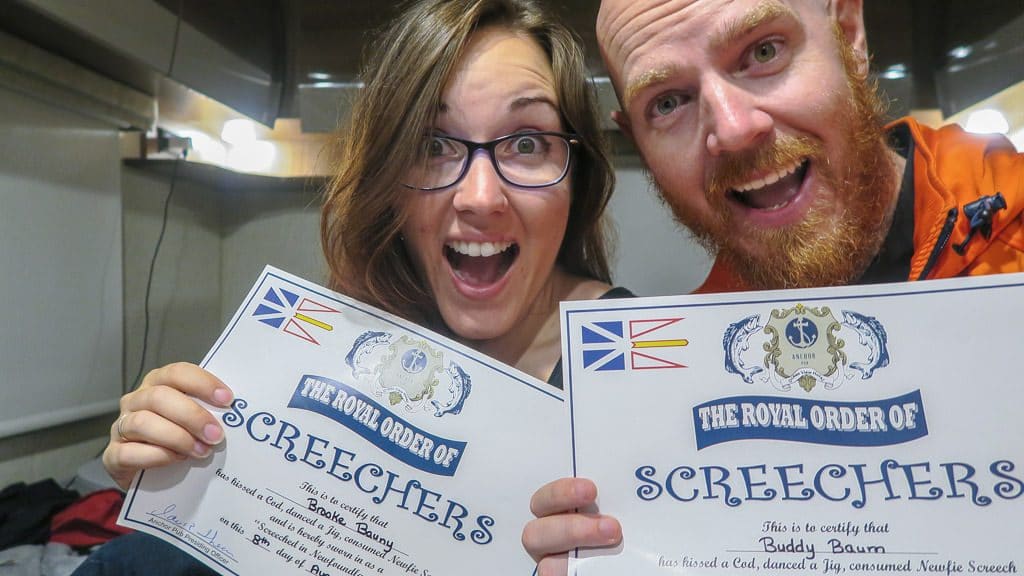 If you have time to kill before dinner, wander over to nearby Lobster Head Lighthouse, pop into a gift shop
3. Lunch at the Seaside Restaurant in Trout River
My best meal of our entire Newfoundland visit was the fish cakes at the Seaside Restaurant in Trout River. This simple, fresh dish was delicious. And the partridge berry pie I devoured after wasn't bad either.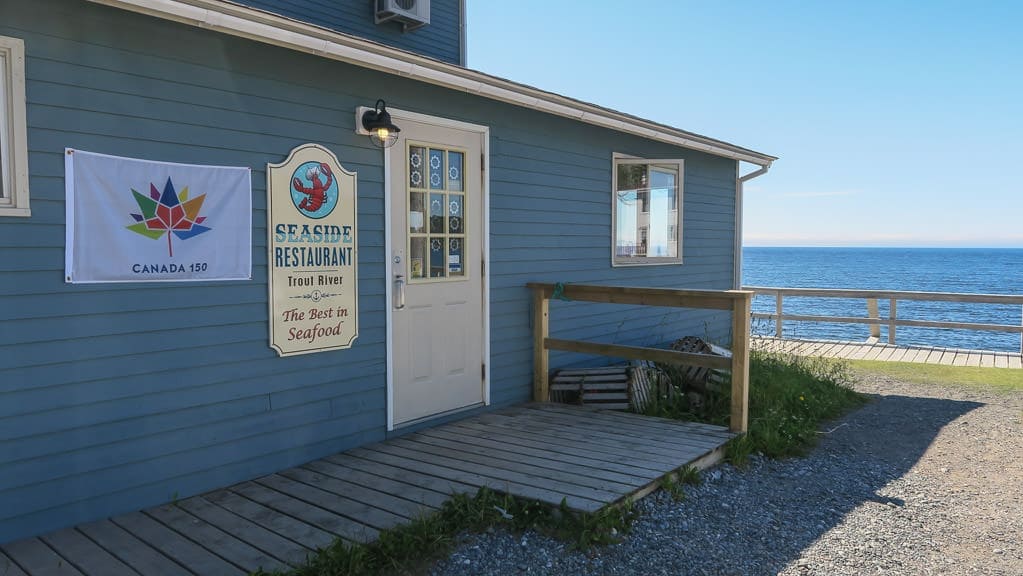 Plus, while you enjoy your meal you can look off at the rolling waves, incoming fog, or watch kids play on the beach.
Afterward, don't miss a visit to the interpretive center – one of the best we've seen. It is filled with historic artifacts from the area's interesting history. And don't forget to burn off some calories by walking along the beach or hiking to Eastern Point (mentioned above). Stopping by nearby Woody Point is also nice!
4. Lounge on the Sandy Beaches at Shallow Bay
For our last couple of days at Gros Morne National Park, we stayed at Shallow Bay Campground and got to enjoy an unexpected beach holiday!
We had no idea how wonderful it would be to have a sandy beach a few minutes away from our RV site. And since the water is shallow, it was quite warm.
This is a great last stop. You can rest your body on the warm beach after a ton of hiking and exploring. Or bundle up and watch the sun set on an amazing day in Gros Morne.
5. Enjoy Songs & Stories at the Gros Morne Theatre Festival
The small town of Cow Head is home to the can't-miss Gros Morne Theatre Festival – a summer tradition of great local entertainment. We walked into town one night during our stay at the nearby Shallow Bay Campground to catch a show by these fantastic artists. And it was a highlight of our trip!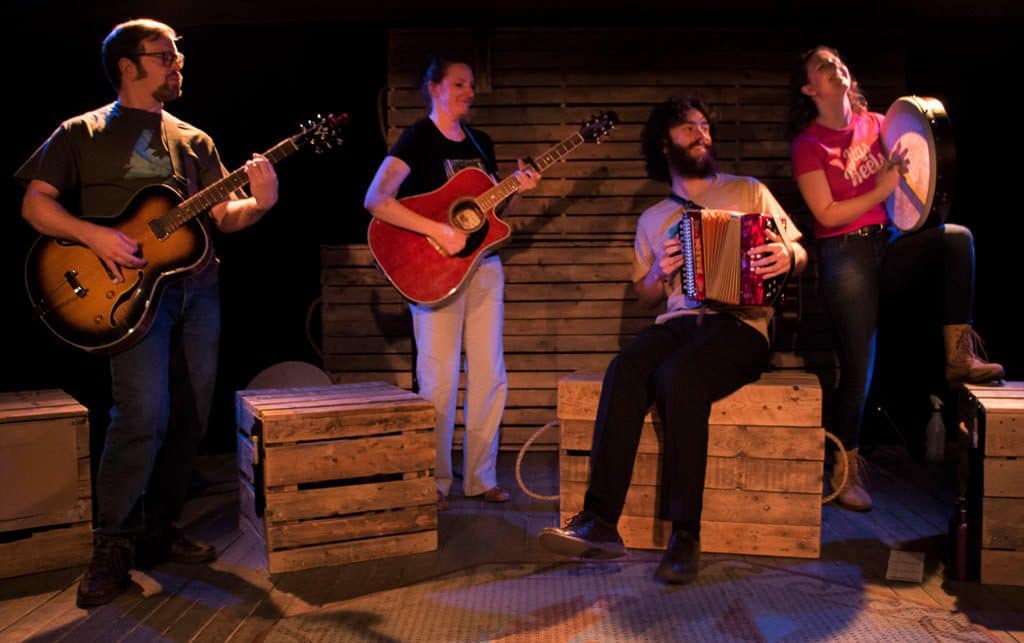 The Neddy Norris Night at the Gros Morne Theatre Festival was hilariously fun, and the four musicians putting it on were extremely talented. They were all wonderful singers, could play multiple instruments (and showed their talents by switching often), and made sure to engage with the audience regularly.
Listening to traditional songs and stories – from tongue twisters about cod to tear-jerker love ballads – made us fall even harder for the people and rich history of Newfoundland. But what we liked most about the Gros Morne Theatre Festival show, was how much fun the artists were having! They clearly love what they do and were all smiles the entire time.
Norris Point is another quaint little area to drive through or take a stroll that is south of Rocky Harbour. It
BONUS: Go on a Side-Trip to Port au Choix & L'Anse Aux Meadows
For history lovers and those who enjoy unique experiences, L'Anse Aux Meadows is a must-visit. This UNESCO World Heritage Site is a few hours north of Gros Morne National Park, but makes for a great day trip if time allows. However, two days would be best to avoid rushing.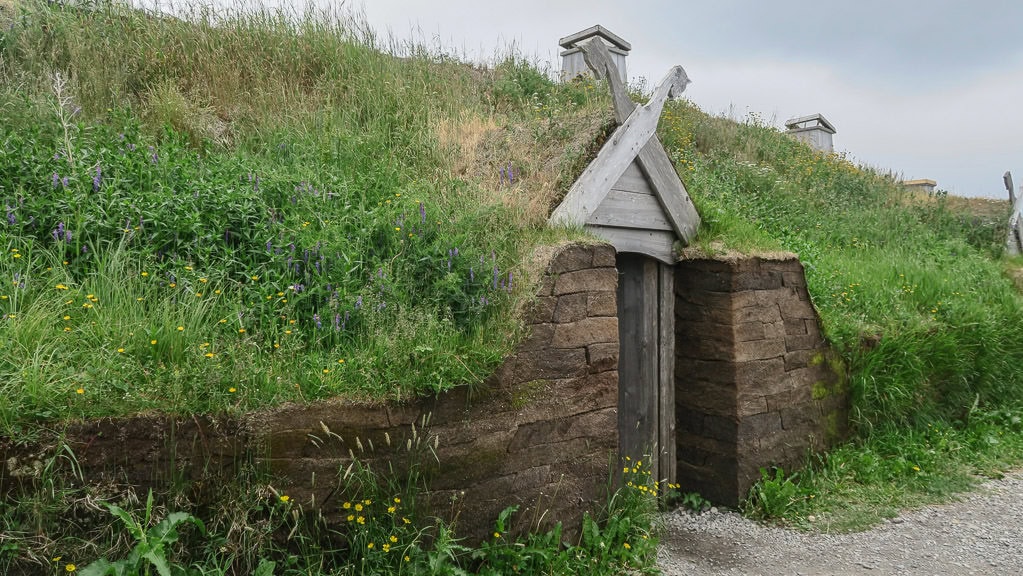 More than 1,000 years ago, the area was a Norse settlement. Now you can visit the archeological remains, tour a recreated camp and talk to costumed Viking interpreters who can give you a realistic idea of what life was like all those years ago.
On the way back, make sure to stop at Port au Choix National Historic Site for another history lesson – reaching even further into the past. Learn how important seals were to ancient people as you walk along the coastal paths.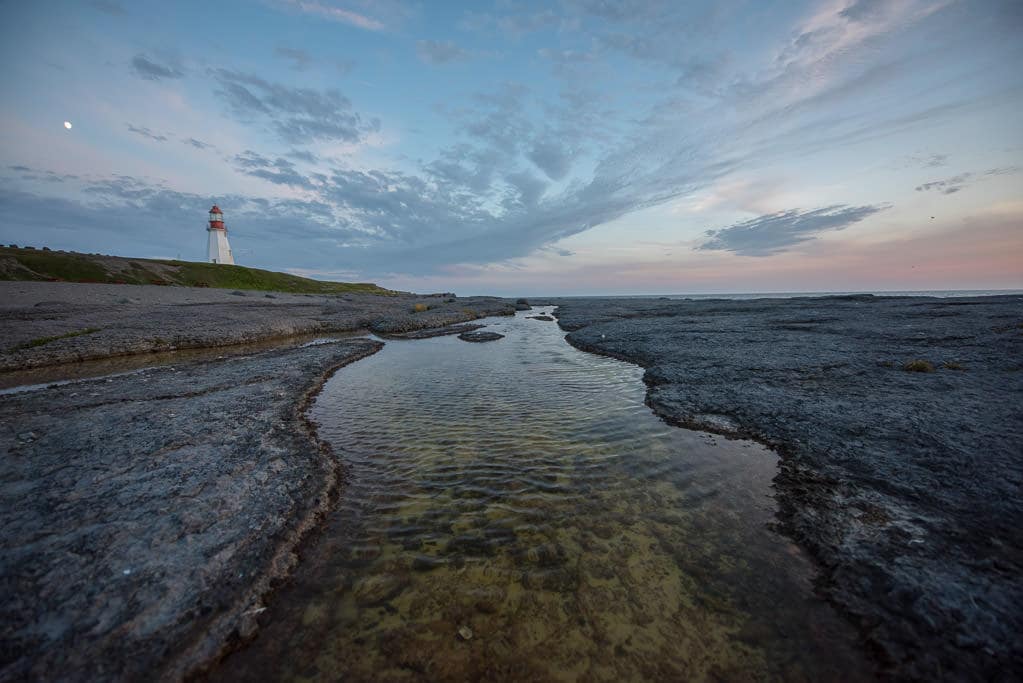 And don't miss the gorgeous Point Riche Lighthouse for the best view of the ocean in this area. Watch the waves crash against the sharp rocks, have a picnic and stay for sunset if time allows.
Another great part about the northern peninsula? Caribou! You have a great chance of wildlife viewing up in that area, so be on the lookout.
(Honorable mention: This list of things to do in Gros Morne wouldn't be complete without including the Western Brook Pond Boat Tour. Unfortunately, timing and weather weren't on our side for this activity. But, everyone we talked to raved about this experience!)
---
Where We Stayed in Gros Morne
As RVers, we were excited to split our time between three of the park's beautiful campgrounds – Berry Hill, Trout River, and Shallow Bay. However, there are also two other campgrounds run by the park: Green Point and Lomond. Of the five, Berry Hill is the only one that offers full hookups for RVs.
There are additional RV parks and other lodging located in and around the park, as well as back country camping site options. The Ocean View Inn in Rocky Harbour is one of the most popular and conveniently located hotel.
Berry Hill Campground
Berry Hill Campground is centrally located and has full-hookups (the only one in the park), a restaurant with wifi, laundry, and a small store. We loved that this was walking distance to multiple trails (Baker's Brook Falls, Berry Hill, and Berry Hill Pond). And the pond is a great stargazing spot!
We also had a blast participating in the "night walk" led by a ranger. He taught us interesting facts about bats with fun, kid-focused games. Which, of course, made the small number of adults in the groups laugh hysterically.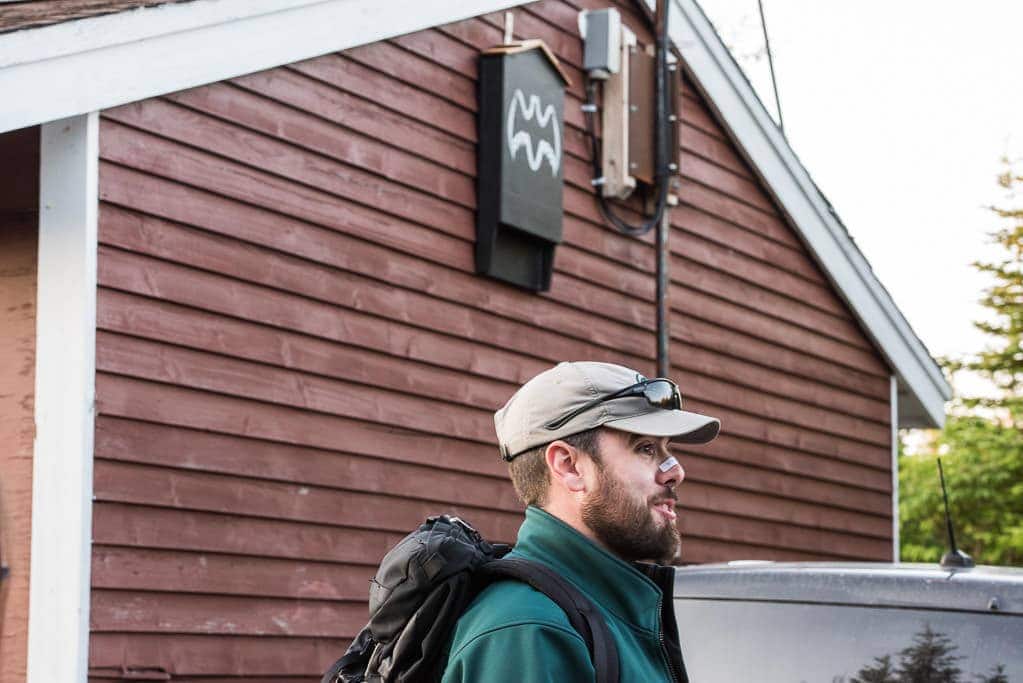 Trout River Campground
Trout River Campground is a great place to stop after a long day of exploring the Tablelands area. And it is only a short drive into town. There is also a beautiful trail that starts nearby and leads to great views of Tablelands. (Note: No hookups, but hot showers, wifi and a dump/water fill-up station are available for use).
Shallow Bay Campground
This is the perfect place to end your travels. After exhausting ourselves from hiking, we loved getting to lounge and stroll on the gorgeous beach – just minutes away from our site at Shallow Bay Campground. (Note: No hookups, but hot showers, wifi, and a dump/water fill-up station are available for use). Just a short bike ride or walk away is the town of Cow Head where we highly suggest catching a show at the Gros Morne Theatre Festival after a yummy dinner at the Shallow Bay Motel.
Helpful Tips for Visiting Gros Morne
Here are a few things to know before visiting this stunning area on Newfoundland's west coast:
Plan where to arrive: If Gros Morne is your main destination, coming into the ferry at Port aux Basque makes the most sense. There is also a small regional airport at Deer Lake which is the closest airport to Gros Morne.
Stock up. Before you set off on your epic Gros Morne adventure we suggest stopping for some groceries. There are a few small stores, restaurants and gas stations in the park, but they may not have your usual go-to items. Stop by Corner Brook or Grand Falls-Windsor on your way for more options. And make sure to fill up on gas before entering the park, since it may be a few hours before you come across another station.
Get a map. Once in the park, stop by the Visitor Center to pick up a map and look at the events calendar. Parks Canada does an amazing job at providing educational and interactive activities throughout the summer. Some may require a small fee, but most are free!
Watch the weather. While the park is beautiful regardless, some activities are not safe if there is heavy fog or rain. Hiking some areas should be done with full visibility and often tours, like the Western Brook Pond Boat Tour, will not operate if weather turns – mainly because you will miss the views you are paying for.
Time your visits right. By going to trails at off times (really early or late in the day), we were able to find a spot to fit our rig. And, aside from the road to the Point Riche lighthouse in Port au Choix – which was being worked on – most roads are paved. Plus, if you get there early or stay late, you may just steal a few perfect minutes of solitude.
What to Do in Gros Morne National Park FAQ
Is Gros Morne Worth Visiting?
Yes! Absolutely. This is one of our favorite areas in the entire world. It is worth a long, in-depth visit.
How Many Days Do You Need in Gros Morne National Park?
Just to see the main sights and take part in the hikes in Gros Morne National Park, I'd plan at least a week. If you plan to explore further out to Tablelands National Park and up north, add another week.
What Is the Best Time of Year to Visit Gros Morne?
Summer is the best time to visit Gros Morne to avoid inclimate weather. If you are worried about mosquitos and heat, plan to visit closer to early fall.
What to Do On a Rainy Day in Gros Morne?
Stop by one of the many museums, have a nice meal by the ocean, sip a drink in the bar while you chat with the friendly locals, or don a rainjacket and enjoy one of the paved trails.
Special thanks to Parks Canada and Go Western Newfoundland for providing us with support for this trip. We would also like to thank the Newfoundland Insectarium and the Gros Morne Theatre Festival for hosting us. As always, all opinions are our own.
---
For more stories and tips, check out our other Newfoundland blog posts. And for a list of where we stayed overnight during our trip, take a look at our RV Camping Reviews page.