Until you've seen a humpback whale in the wild, you have no idea how the overwhelming contrast of its power and gentleness will affect you. And once you've experienced that, it is hard not to fall in love with these majestic creatures. Plus, puffin viewing in the wild is enough to make anyone squeel with joy!
No one understands the majesty of nature more than Jeannine, the extremely knowledgeable guide for Molly Bawn's whale & puffin tour in Newfoundland. This was by far our favorite and most informative tour in Newfoundland.
Jeanine is the resident Marine Biologist on the crew and is a wealth of knowledge. But what we liked most about her is the passion and love for these animals that she is so eager to share. Which is why we chose Molly Bawn – for their smaller tour size and genuine love for wildlife.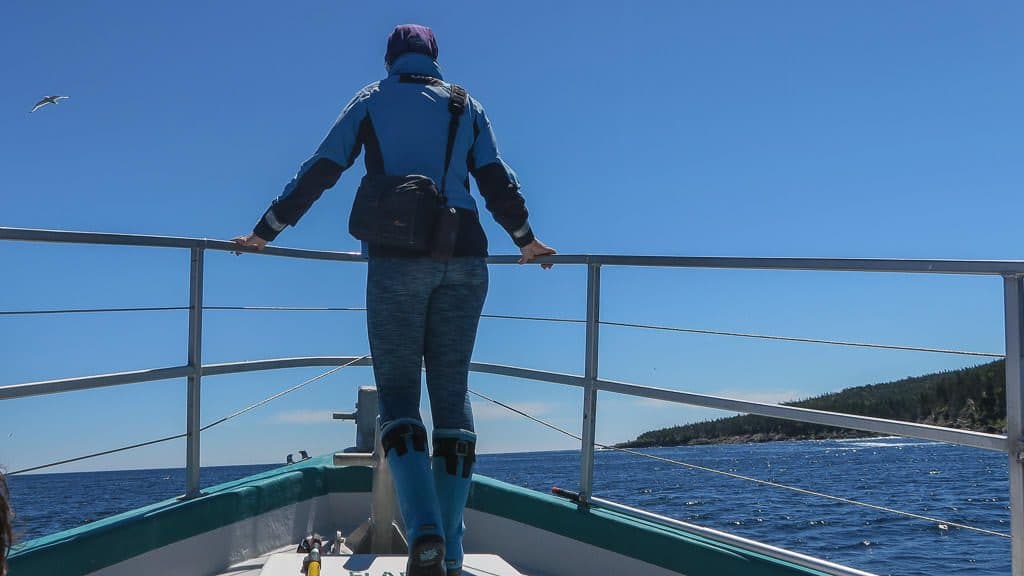 Our Tour with Molly Bawn
On the night before our tour, we were admiring the Atlantic Ocean from a nearby RV park. The waves crashed against the sharp rocks below, birds soared around an island far off in the distance, and we even saw a few whales.
As we watched, the couple next to us shared their wonderful whale and puffin-watching adventure from earlier in the day. They went on and on about how fantastic their Newfoundland tour was. And we were excited to hear it was the same whale and puffin tour we had booked. Soon we would have much closer seats to this mesmerizing show.
The next day was beautiful, but windy. I stood on the side of the boat as it rocked along with every wave. My stomach tossed and turned with each new motion, but I was too distracted to care. There were puffins above, whales below, a soft breeze and bright sunshine to warm my skin. If the ocean can't bring you peace, I don't know what will.
Puffin Viewing in Canada – Who Knew?
All around us, Newfoundland Puffins flew as fast as they could back to their cliff-side nests, beaks stuffed to the brim with dozens of fish for their chicks. Before we planned our trip, I had no idea we could see this unique birds in Newfoundland and I was so thrilled!
The puffin babies would be learning to fly and fish on their own soon. But until then, mom and dad were working double time to feed the family. The gulls made this especially difficult, diving at them in hopes they would drop a few and give them an easy snack.
Seagulls can only go a few feet into the water, while puffins can dive up to 200 feet – making them the far superior hunters. It was amazing to watch them soar down into the water, flapping their wings and kicking their webbed feet.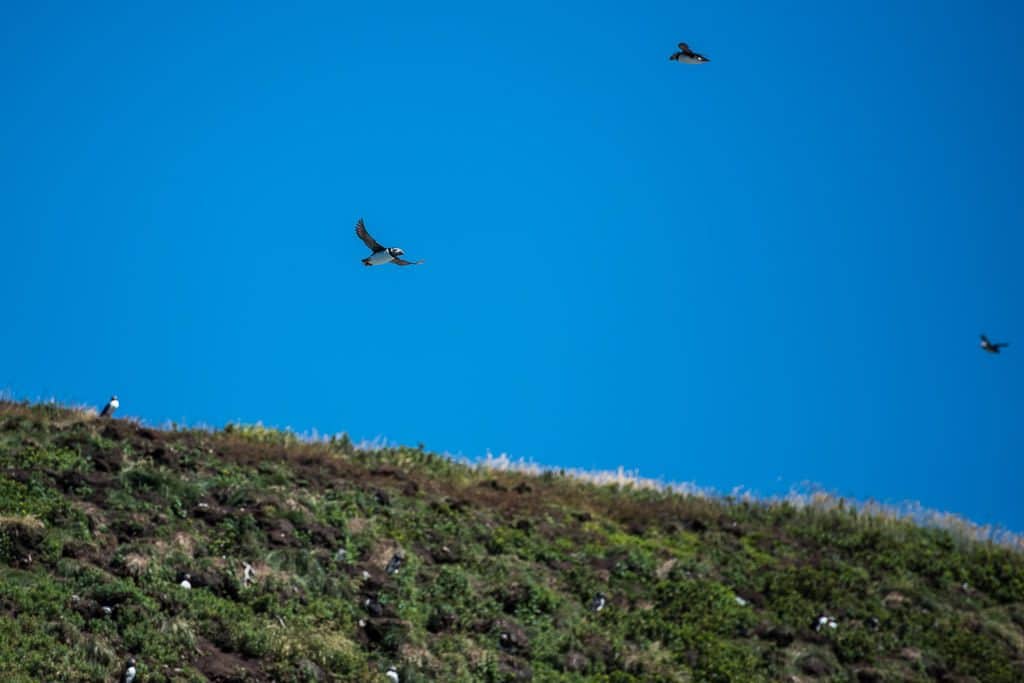 Then they came up a few seconds later with their catch and flew back home. Others bobbed along on the water or wandered around their island as they took a much-needed break from fishing.
The Newfoundland Puffin seem so at home on their little patch of earth in the Witless Bay Ecological Reserve, but this isn't their true home. Although this area is the largest Atlantic Puffin colony in North America – they only live on land while they are breeding in the spring and summer. Puffins truly belong out in the open ocean and only come back to this place to have babies.
Puffin Patrol
During fledgling season, it is common for the young puffin chicks to get confused by the city lights and end up in town. And the wonderful, nature-loving crew of Molly Bawn helps rescue them at night and safely return them in the morning. If you are lucky, you may even be able to help out with this end-of-summer activity.
The "clowns of the sea" have always been my favorite type of bird. It seems like God put them together with left-over parts: colored like a penguin, beak like a parrot, feet like a duck. But they are as nimble as they are gorgeous and are just as impressive in flight as they are underwater.
The round bodies of the Newfoundland Puffin don't seem very aerodynamic. But they can actually flap their wings hundreds of times per minute and reach speeds of up to 55 miles per hour. But mostly, they are just really entertaining to watch.
Whale Watching in Newfoundland
The only good reason to stop watching the hilarious and interesting antics of the adorable Newfoundland puffins, is to watch the awe-inspiring humpback whales dance below (and sometimes above) the water. The whale watching in Newfoundland is just amazing!
Seeing these bus-sized, 40-ton mammals glide effortlessly under and around our small boat was humbling, to say the least. At any moment, they could crush us with their massive bodies. Or send a gawking tourist flying with a flip of a fin. When we spotted our first whale, another lady on board even yelled out, "Oh no, is it going to tip us?" in a panicked way. But most of us just leaned over for a closer look, as though its beauty was magnetic. I would have welcomed taking an unexpected swim with these majestic creatures.
However, seeing these enormous mammals swim below you and dive next to you does make you feel very, very tiny. And at one point on our whale watching tour there were six or seven, all swimming, breaching and making themselves known with loud blows. They use their giant tail fin (called a fluke) to propel their bodies underwater or into the air. It is uncertain why they breach, but I like to think it is just their way of having fun.
See more of these gentle giants as they swim around us:
About the Humpbacks in Newfoundland
If you want to see a humpback, Newfoundland is certainly the place to do it. The waters of Newfoundland and Labrador boasts the largest gathering – about 35,000 every summer before migrating to the Caribbean. They are attracted to the abundant capelin, which they eat about two tons of a day. So, if you catch a whiff of fish on your tour in Newfoundland, congrats! You just experienced whale breath.
Although their size and appetite can be a bit daunting, the most amazing thing about the humpbacks, in my opinion, is the undeniable sense that they are friendly, playful and kind.
The crew at Molly Bawn told us that the whales will often play near the boat dock if the weather hasn't allowed for tours. As if to say, "Hey, we are out here!" And since they always make sure their tours are not harming or interfering with the local wildlife, the whales see them as friends instead of intruders. Which is obvious with how close the humpbacks get to the boat.
Starbuck the Humpback Whale
But my favorite story is about Starbuck – a humpback Jeannine spotted and named in 2010. She had a special connection to this whale and was ecstatic to see her flippered friend while we were out on our tour. After confirming it was him by looking at some old photos, she was kind enough to send me an email update to confirm. She said, by the last tour of the day, he was rubbing against the boat like he did years ago. Amazing!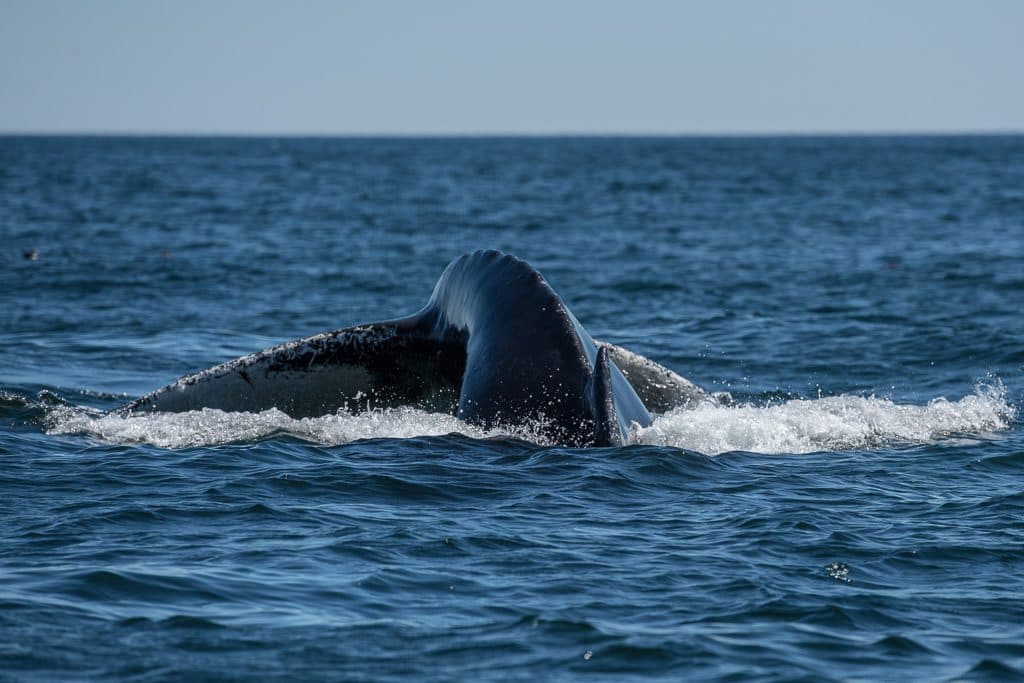 And can we all just give a collective "aww" for how sweet Molly Bawn's resident Marine Biologist is! We just adore her. And if you need an extra excuse or two, she mentioned to me that she got married in the water in a mermaid tail. And she drives a car that looks like an orca. LOVE HER!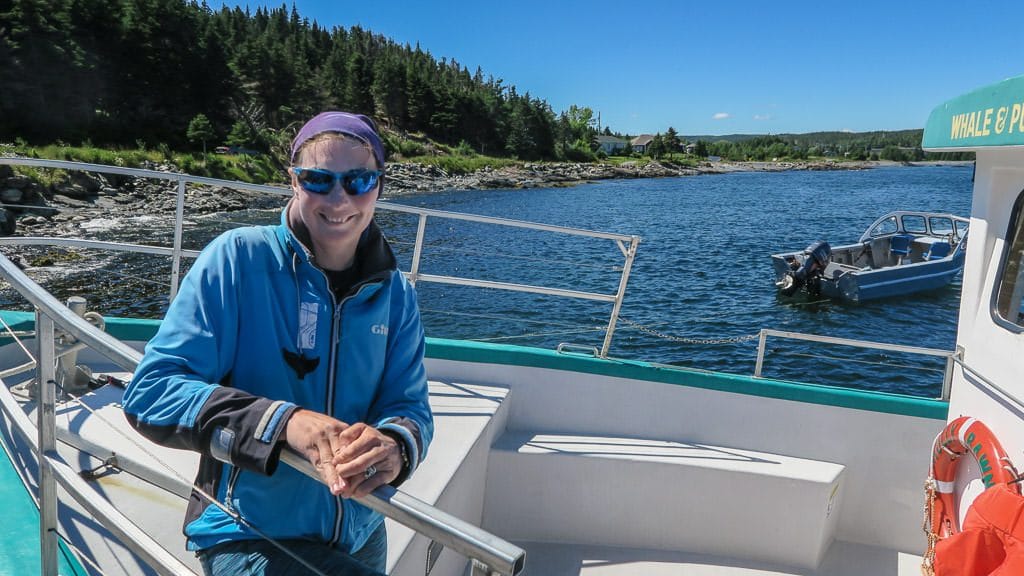 There are countless tours that promise to get you close to these unique animals. And you may even find a few locals willing to take you out. But, we didn't just want to catch a glimpse of the humpbacks and clowns of the sea.
We wanted an intimate look at these majestic creatures and to walk away with a better understanding of what makes them so special. Jeanine and Molly Bawn provided us with so much more on this fantastic puffin and whale tour in Newfoundland.
---
Know Before You Go Whale Watching & Puffin Viewing in Canada's East
Tour Location: Mobile, Newfoundland (about 40 minutes south of St. John's). Tickets can be purchased at the information booth across from Mobile High School on Route 10. The tours depart from Gus O'Reilly's Road.
Times: Each tour is about 1 hour and 15 minutes long. Tours are at 10a.m., 11:30a.m., 1p.m., 2:30p.m. and 4p.m. daily.
Price: $50 per adult. Reservations are recommended. Boats fit 12 passengers.
What you might see: Puffins, dolphins, sharks, humpback whales, otters, jellyfish, killer whales, bald eagles, and even icebergs if the season is right!
Tips for RVers: Call ahead to inquire about parking – there should be room at the nearby high school. We don't recommend taking your rig all the way to the departure point. We took our 26-ft motorhome, but had to do a 12-point turn to leave and would have been stuck had more cars come. If staying overnight, check out nearby Celctic Rendezvous by the Sea RV Park for great views of the water you had the pleasure of exploring during the day.
Special thanks to Molly Bawn Whale & Puffin Tours for hosting us on this fun ocean adventure! As always, opinions are our own.
---
For more stories and tips, check out our other Newfoundland blog posts. And for a list of where we stayed overnight during our trip, take a look at our RV Camping Reviews page.