Canada's easternmost provinces are each bucket-list-worthy destinations. There are so many amazing places and people that make up New Brunswick, Newfoundland and Labrador, Nova Scotia, and Prince Edward Island. But, we couldn't decide on just one province, so we embarked on an epic nine-week Atlantic Canada RV road trip.
It was more beautiful, exciting, rejuvenating, and life-changing than we ever could have expected!
We walked on the gooey ocean floor in New Brunswick, drove the famed Cabot Trail in Nova Scotia, were serenaded by locals in Newfoundland, and found a new perspective in Prince Edward Island. Plus, a whole lot of wonderful adventures in between.
If this isn't on your list of places to experience, it should be – regardless of if you visit in an RV or not. But, for RVers, it is particularly nice because of all the wonderful camping options and scenic drives.
We've included an overview of each province, what we loved about it, tips for what to see, and where to camp. Want an entire list of everywhere we stayed? Check out our RV Camping Reviews page.
Things to Do in New Brunswick, Canada
Our first introduction to Atlantic Canada began in the province of New Brunswick. This area is known for its high tides, beautiful wooded areas, and whale watching.
Overall, we found it relaxing and enjoyed the varying landscapes – from farmlands to beaches. When we crossed over from Maine, there was no line so the border guards happily chatted with us about best places to see. Way less stressful than we anticipated!
We also ended our Atlantic Canada trip in Northern New Brunswick, after looping around all the other provinces, and before heading on to Quebec!
Favorite Place in New Brunswick: Hopewell Rocks
We loved Hopewell Rocks from the first moment we got there because it had RV parking! Can I get an amen? But the really impressive part is the tide viewing.
You can see the famed tides of the Bay of Fundy at their highest as they cover most of the rocks below. Then go back about 6 hours later to walk on the ocean floor where the water once was. The sea levels rise between 32 and 46 feet here!
Other Top Destinations & Activities in New Brunswick
Waterfall at St. George Gorge
The waterfall at St. George Gorge was our first stop in the province. We parked at the visitor center (which doubled as a farm stand) and had a lovely stroll over. There is a bridge below the falls with a tiny viewing area (fits 1-2 people).
Fundy National Park
More views of the tides and awesome hiking options. Don't miss Dickson Falls! While the parking here was very sparse, and even more sparse for our Winnebago View, we were able to park and hike to the beautiful Dickson Falls.
Kouchibouguac National Park
Kouchibouguac National Park is a great spot for biking, hiking, nature viewing and beach chilling. They also host fun indigenous cultural events here and have a unique opportunity to ride in a canoe to visit a grey seal colony!
Best RV Camping Sites in New Brunswick
Harvest Hosts Wineries: We were surprised to find out that our Harvest Host membership would still be useful in Canada! We happily enjoyed multiple winery overnights during our visit.
South Kouchibouguac Campground: This national park campground is very chill, spacious and close to all of the fun activities the park has to offer.
The Shire Campground: This quirky, unforgettable place was a highlight of our trip. We got to enjoy great views while having a few drinks with other travelers and listening to all of their amazing stories. We wouldn't recommend taking larger than a Class C RV here though.
---
Cool Things to Do in Nova Scotia, Canada
We listened to a group playing bagpipes at the visitor center when we arrived in Nova Scotia – an accurate first impression of this culturally infused province. And as we journeyed along the Cabot Trail during our Atlantic Canada road trip, we heard more of the music that has been passed on through generations. We even took a mini fiddle-playing lesson!
In the southern portion, we learned more about the history at the many National Historic Sites – where they make learning a unique experience! That cultural infusion mixed with the insanely amazing views makes Nova Scotia a must-visit. Plus, summer is the absolute best time to visit Nova Scotia. The weather is great for hiking!
Our Favorite Place in Nova Scotia: Cape Breton Highlands National Park
Cape Breton Highlands National Park is a must-see section of the Cabot Trail with so many beautiful hikes, you will really want to plan a few weeks to check out as many trails as possible. We got in about six, but definitely wish we had more time there!
The Skyline Trail is a must, of course! But there are many other great hikes through forests, along coasts, and even through a bog.
Other Top Destinations & Activities in Nova Scotia
Celtic Music Interpretive Centre
This place hosts daily lunch ceilidhs most seasons (with live traditional music, singing, and dancing). They have delicious, fresh seafood too! And there is also a small museum/interpretive centre on site where you can learn more about the music, take a fiddle playing lesson, and learn to dance a jig!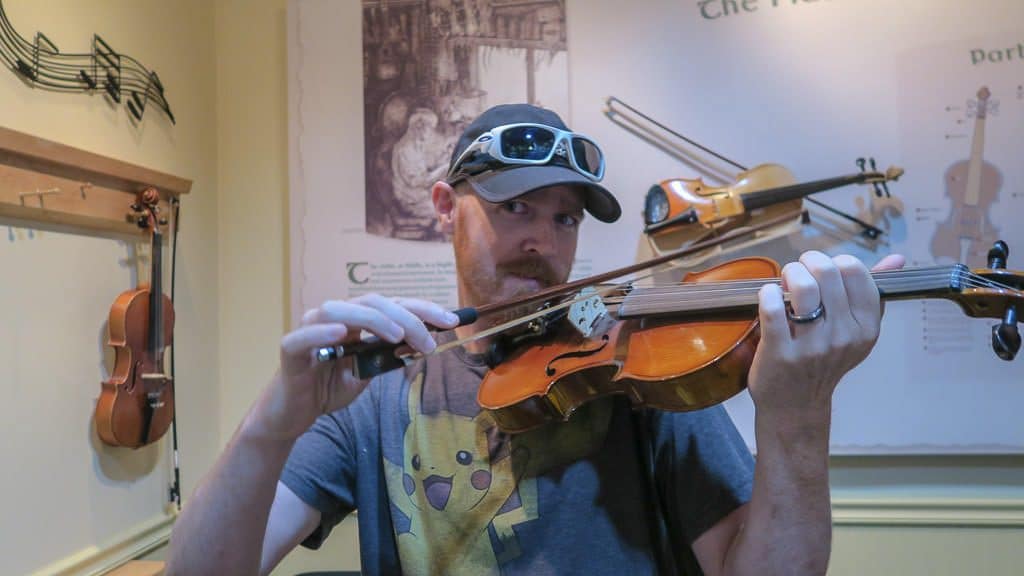 Fortress of Louisbourg
Brooke shot a cannon. Enough said! To top that off, Buddy go to play the role as Prisoner of the Day and was paraded through ton and put in the Iron Collar. But really, the Fortress of Louisbourg is a blast, and they make learning about the history of the area a ton of fun. The national parks in Nova Scotia and historic sites are a must-visit!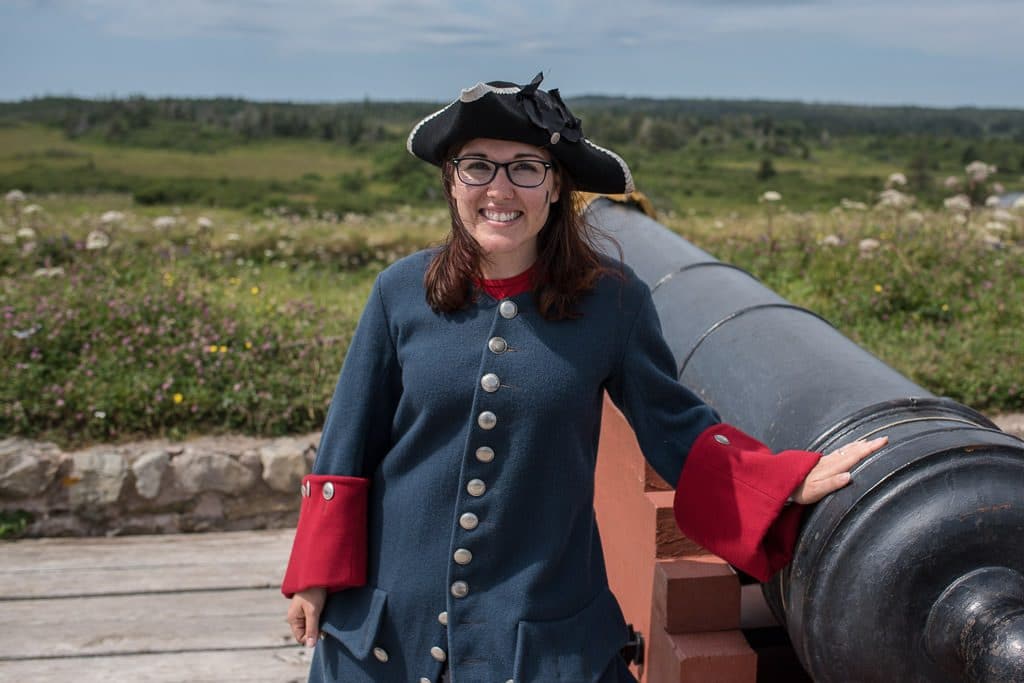 Halifax Walking Tour
This was a great walking city! We were able to park at the Citadel in our RV, then wander down to the waterfront to take in the views. Watching the craftsmen at the nearby crystal factory work their magic was mesmerizing! And on the way back, we stopped by the public gardens for a lovely stroll. It was the perfect day – there were even people lounging in the grass on the hill around the Citadel.
Peggy's Cove Lighthouse
Sunset at Peggy's Cove Lighthouse is a must. And we had no problem sleeping in the RV overnight at the nearby visitor center. Regardless if you stay all night, we'd suggest parking here to avoid the congestion closer to the lighthouse.
Kejimkujik National Park
An official dark sky preserve with lots of trails and a calm river to paddle around on, plus beaches? Perfection! Kejimkujik National Park is the perfect place for some relaxation while in Nova Scotia. This is one of the little-known Nova Scotia national parks and a great quiet getaway.
Wine Tasting in the Annapolis Valley
Nova Scotia has a wine region, who knew? Don't miss a stop at the breathtaking, newly built tasting room at Lightfoot & Wolfville Vineyards. We loved the wine and the views!
Best RV Camping in Nova Scotia
Cheticamp, Cape Breton Highlands National Park: This was a great place to base our Cabot Trail explorations on the west side with fun activities and nearby trails. However, we do suggest splitting your time between a few of the park's great camping options to avoid too much backtracking.
Jeremy's Bay Campground, Kejimkujik National Park: This wooded, quiet park was beautiful and puts you close to tons of trails and nearby beaches. Don't forget to go out at night to see the stars!
Boondocking at the Visitor Center at Peggy's Cove: Quiet, convenient, and easy to get to (much more so than the closer parking lot).
---
Things to Do in Newfoundland, Canada
It may sound overdramatic, but Newfoundland will probably be one of the great loves of our life. It was not just one thing, place, or moment that stole our hearts. The unique energy and beauty there was unlike anything we had experienced, and it made a lasting impression on us.
So, if you have time and can justify the ferry cost, then add Newfoundland to your Atlantic Canada road trip itinerary right now! The best time to visit Newfoundland is definitely in the summer to enjoy the top highlights, but shoulder season can also be nice.
Our Favorite Place in Newfoundland: Gros Morne National Park
It is no secret that we love to hike. So, Gros Morne National Park was a haven for us. We hiked up mountains, along coasts, and on the barren exposed mantle of the Tablelands area.
Plus, this area has adorable fishing villages with delicious fresh seafood, fun kitchen parties with great local talent, sandy beaches to lounge on, and lots of unique activities put on by Parks Canada. This Newfoundland national park is an absolute must!
Other Top Destinations & Activities in Newfoundland
ATVing Adventure
Check out Newfoundland like a local! We highly suggest an ATV tour with Pirate's Haven. They may even take you to their secret beach-side picnic spot if you are lucky!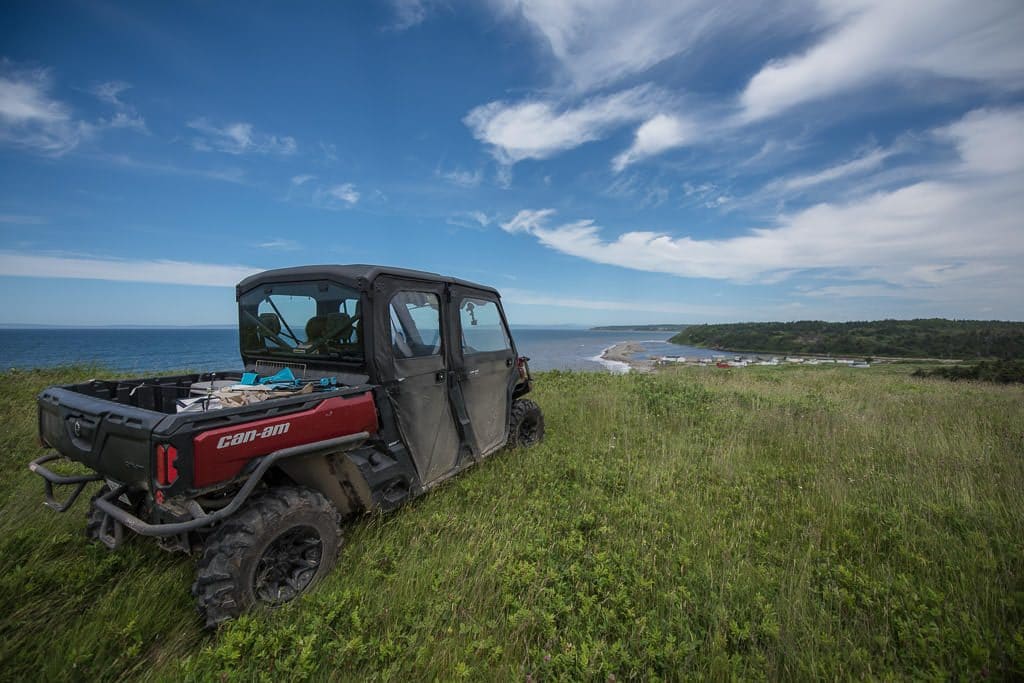 L'Anse Meadows
This Viking settlement is not just a fun reenactment, it is a UNESCO World Heritage Site where the remains of an actual Viking village were found. Go for the history, stay for the views.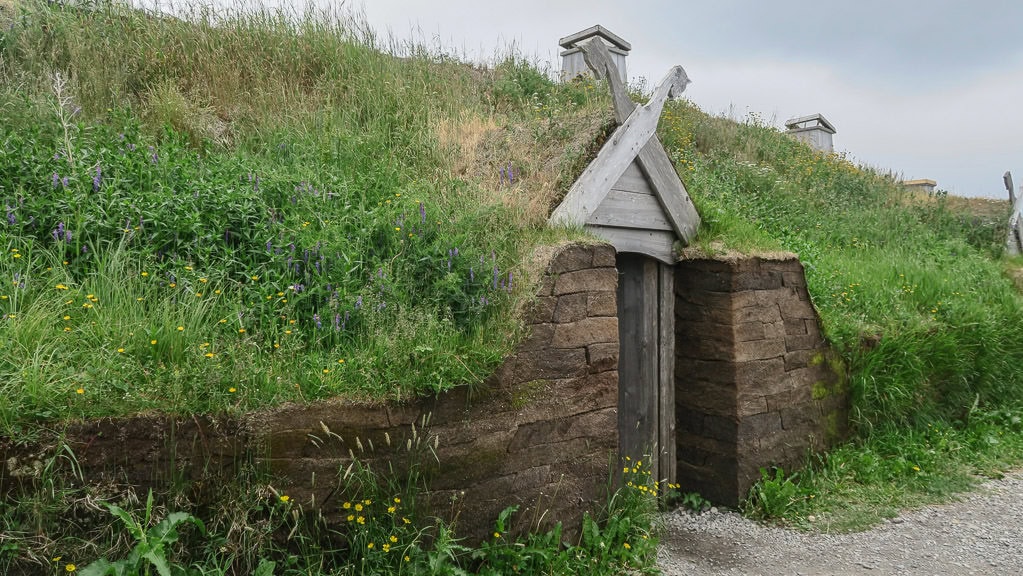 Whitewater Rafting
Whitewater Rafting on the Exploits River in Central Newfoundland offers a relaxing, fun time. Paddle, swim, and picnic your way down while admiring the beautiful views.
Twillingate
Twillingate is perfect for iceberg and whale watching! Go to Long Point Lighthouse for a wide-open view of the ocean and its many treasures. Then, stop at Auk Island Winery to taste some delicious Iceberg wine!
Elliston & Bonavista Lighthouse
If you want to see Puffins, you have to check out these places during nesting season. You can get extremely close to these adorable birds, and it is 100% free! Nesting season is mid-May through mid-September at the latest. We could really just watch these birds for hours.
Terra Nova National Park
Don't miss a trip to Terra Nova while you are in Newfoundland. There is a ton of great hiking with stunning views, but you will want to make sure to get out on the water as well.
From hiking to kayaking, and whale tours or fishing, Terra Nova National Park really has a bit of everything. We were really impressed with the national parks in Newfoundland!
Avalon Peninsula
Whale watching at St. Vincent's along the beach is a must. But if you want a closer look, take a whale and puffin watching tour at nearby Witless Bay Ecological Reserve.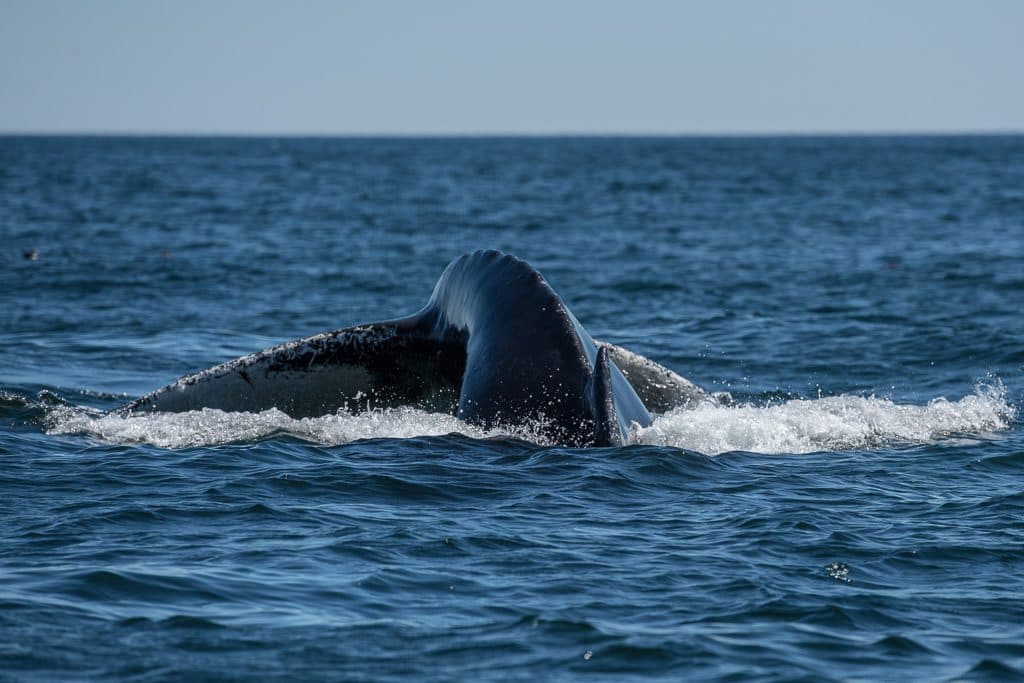 Cape Spear Lighthouse National Historic Site
Cape Spear Lighthouse is the easternmost point in North America, and the wide-open ocean views are breathtaking.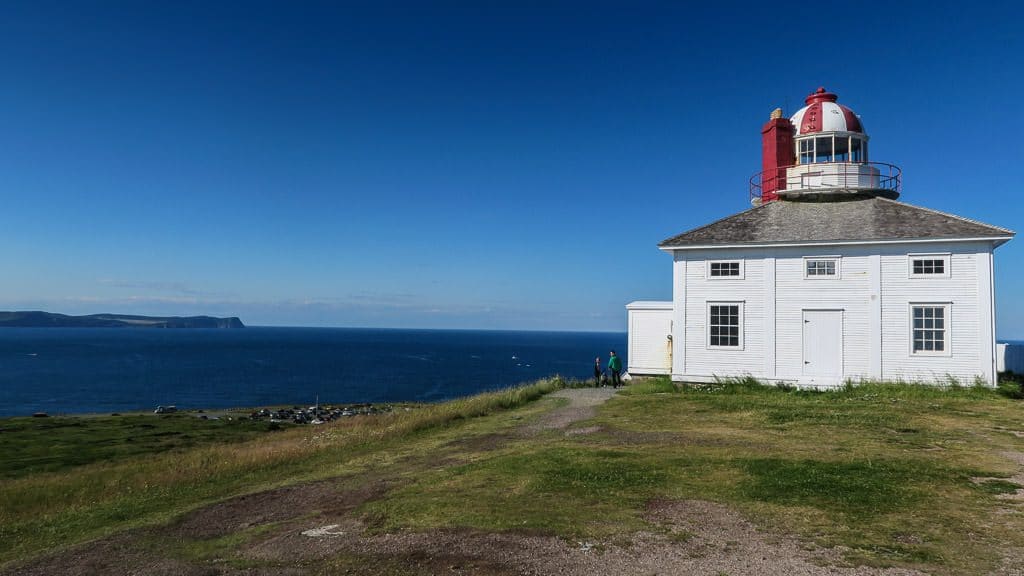 Signal Hill National Historic Site
This is the perfect place to admire the beauty of St. John's without getting stuck in the hustle and bustle of city life. There are also some great ocean views and trails at Signal Hill National Historic Site. Of course, there are many other St. John's Newfoundland things to do, but we tend to stick to the scenic areas!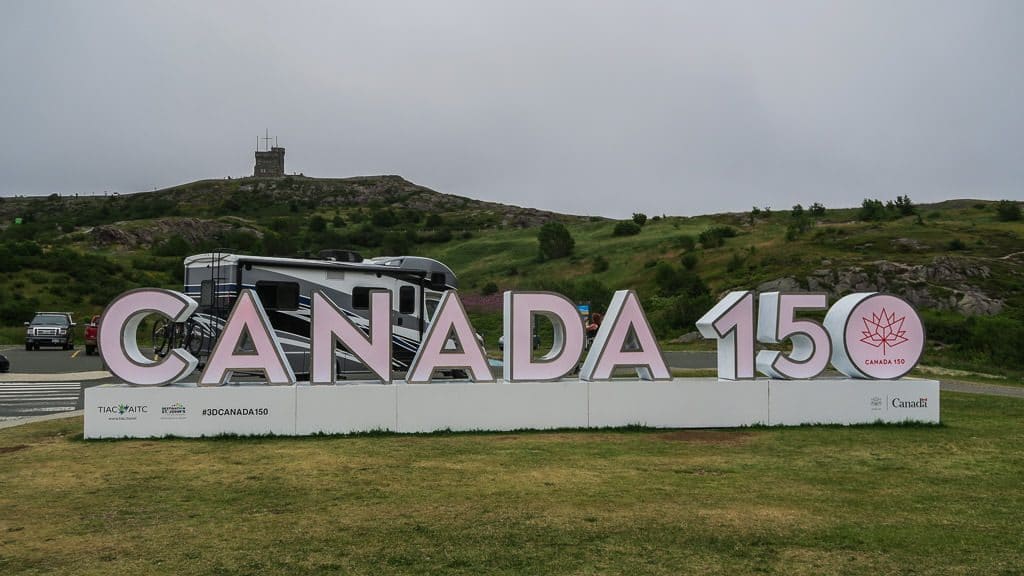 Best RV Camping Spots in Newfoundland
Pirate's Haven ATV-friendly RV Park: Great stop in Robinsons on the way to Gros Morne from the ferry terminal. Don't miss an ATV tour while you are there or a relaxing sunset walk.
Boondocking in Twillingate: Seriously amazing places to park along the coast! Just find an open side-of-the-road area with no rules against it and you should be good.
Celtic Rendezvous by the Sea RV Park: This campground in Tors Cove had perfect ocean views for whale watching and was conveniently located near awesome tour options.
Boondocking at Port au Choix: We looooved staying by this gorgeous lighthouse. Watching the waves at sunset was magical.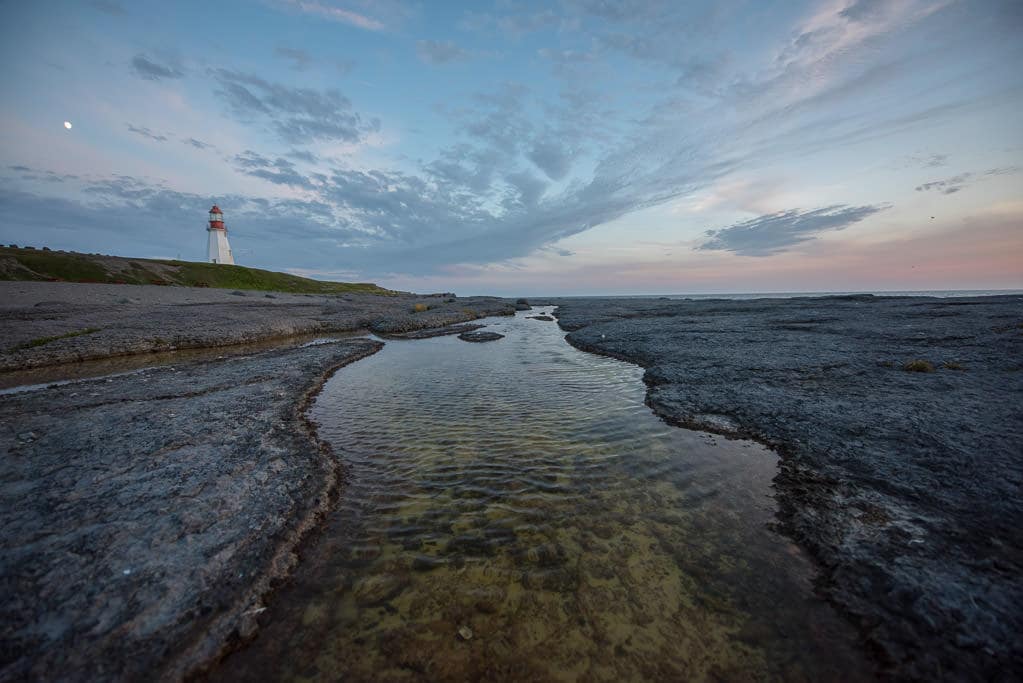 Getting To Newfoundland by RV
The only way to bring your RV to the island is via Marine Atlantic's ferry. It is about 7 hours from North Sydney, Nova Scotia, to Port aux Basques, Newfoundland. The ferry is pretty costly compared to smaller voyages, but well worth it, especially if you plan to stay in Newfoundland for an extended trip.
Plan to spend at least C$500 round trip if you are bringing your RV. You can also rent a two-bed cabin for about C$60, which we were happy to have on such a long journey. There is also a restaurant on-site with limited hours.
If traveling with a pet, you have the option to board them or leave them in your vehicle with windows cracked. For more details about the logistics of getting to Newfoundland read this blog post.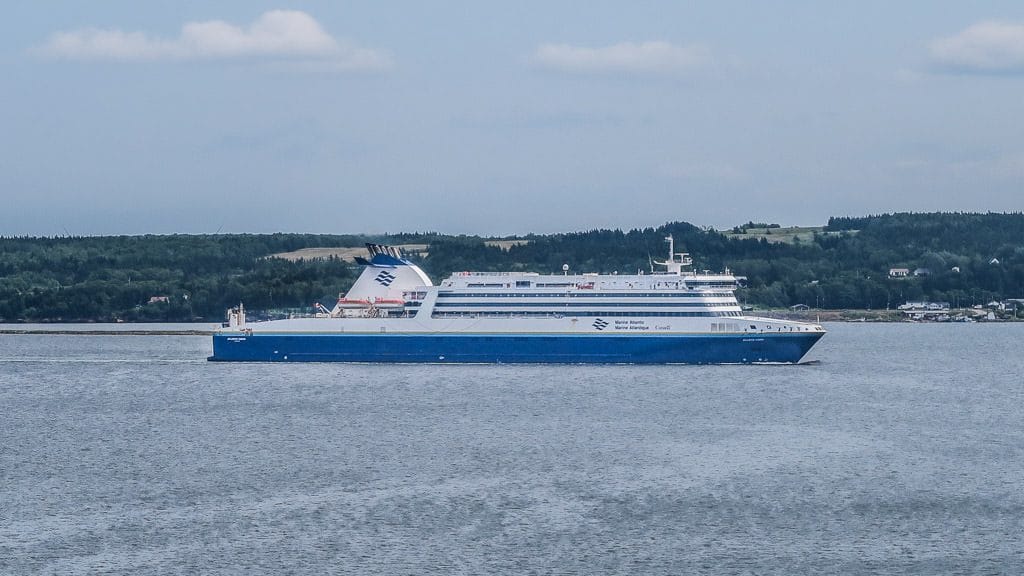 ---
Places to Visit in Prince Edward Island
We saved the beach locale of Prince Edward Island for the last stop of our Atlantic Canada RV Road Trip. We planned to use this time to rest up from all of our epic adventures, but it turned out to have some of the best activities of our trip!
I even got to check parasailing off my bucket list – something I've wanted to do since I was 5! And the bike riding was top-notch.
Our Favorite Place in Prince Edward Island: Greenwich Dunes, PEI National Park
After walking along the boardwalk, over marshes and through the majestic dunes, you reach a serene beach. How can you not fall in love? If you aren't up for a day of lounging in the sand, there are multiple other beautiful trails at Greenwich Dunes in PEI National Park – some perfect for biking as well!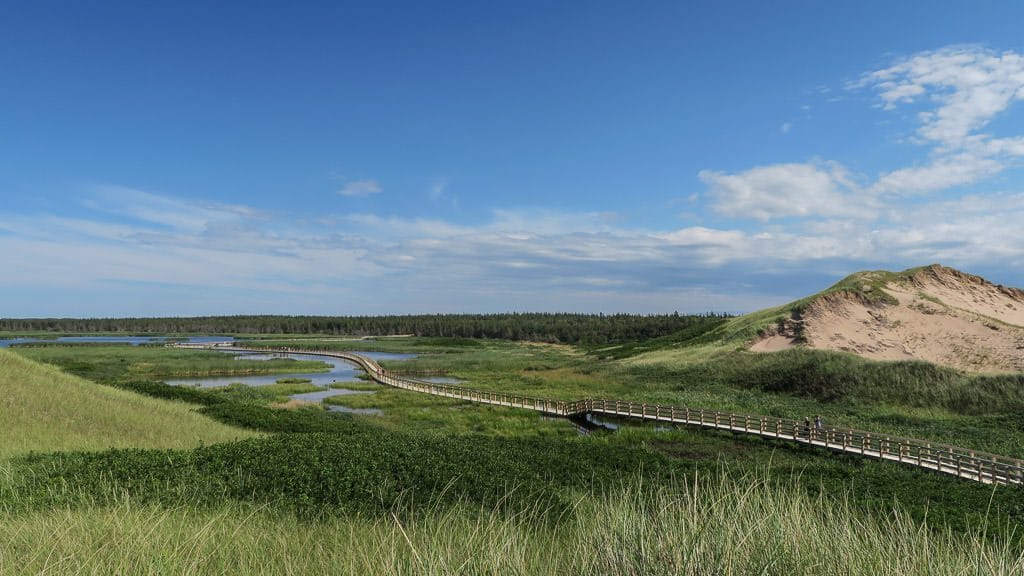 Other Top Destinations & Activities in Prince Edward Island
Prince Edward Island National Park
Miles of great biking trails, multiple beautiful beaches, perfect seaside hikes, and amazing views around every corner. Yes, please!
Eating PEI potatoes
Like anyone needs an excuse to devour French fries. Just don't leave the island without sampling its claim to fame.
Get out on the Water
Whether you go kayaking, paddleboarding, swimming, or parasailing – seeing Prince Edward Island from in, or over, the water is a must. If not in the water, enjoying the views from one of the many Prince Edward Island beaches is also really nice!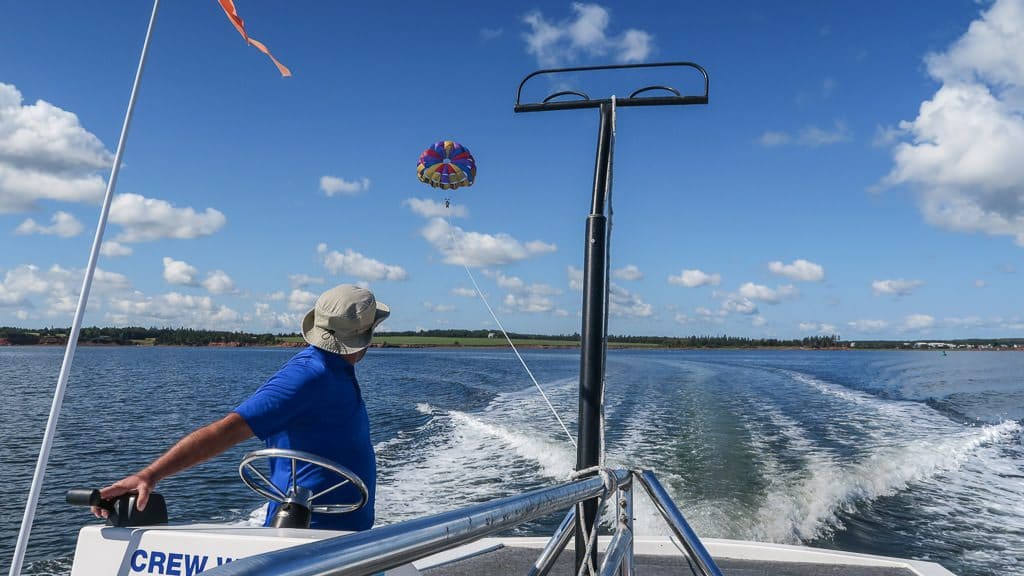 Rossignol Estate Winery
Rossignol Estate Winery is the perfect place to enjoy a glass while strolling through the gorgeous vineyard. And the wine is quite tasty, award-winning even! There are actually quite a few Prince Edward Island wineries to visit and enjoy.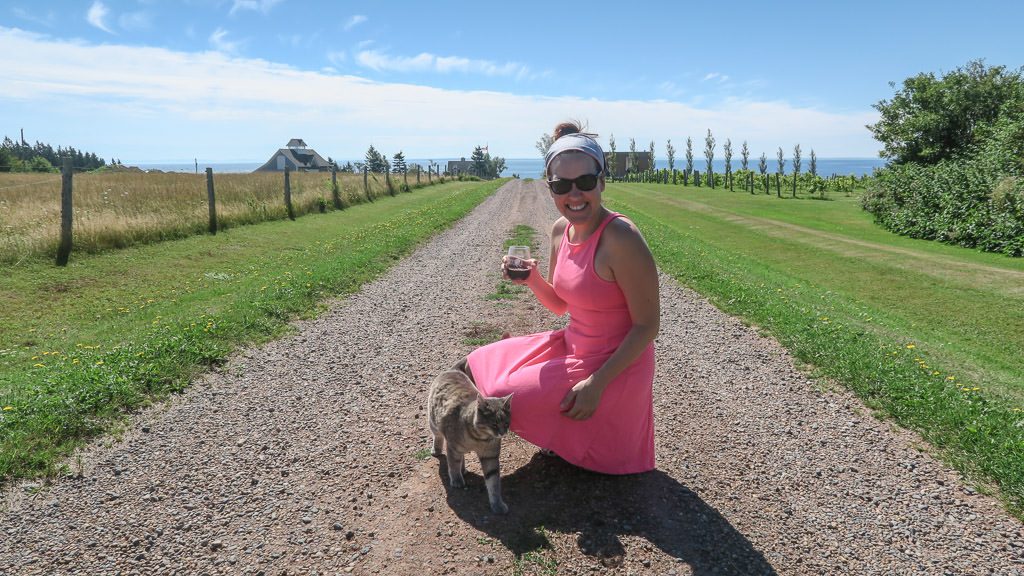 Basin Head Provincial Park
I loooove to lounge on the beach on a sunny day. And after a few days of adventures, I couldn't wait to get my toes in the soft sand. There are many gorgeous Prine Edward Island beaches, but one of the best and most beautiful was Basin Head Provincial Park. It is known for its "singing sand" which squeaks when you walk on it.
Marine Rail Park
Stop here before or after driving across the famed Confederation Bridge for some awesome photo opps. The 8-mile-long bridge is the longest in the world that crosses over ice-covered water. With its curved shape, it makes for a great photo subject!
Best RV Camping Spots in Prince Edward Island
Red Point Campground: Very close to beach access, amazing sunset views and close to some great attractions – wineries, distilleries, lighthouses and parks.
Cabot Beach Campground: Close to a large beach that was far less busy than some of the rest and superb sunset viewing! Only a short drive to PEI National Park.
How to Get to Prince Edward Island
We highly suggest driving from New Brunswick so you can experience the amazing eight-mile Confederation Bridge! There is also a relaxing ferry option from Wood Island, Nova Scotia. You only pay on your way back, but it is about $50 more to take the ferry as opposed to the bridge.
We took the ferry to the island and drove off via the bridge. Since we didn't have to pay to take the ferry on, it was a very easy and quick process. The crossing only takes about 90 minutes.
---
Suggested Itinerary for an Atlantic Canada RV Road Trip
For our trip, we spent the majority of our time in Newfoundland because we craved the remote areas and epic boondocking spots. We loved the rest of Atlantic Canada, but Newfoundland is definitely the least touristy (at least outside of the St. Johns area). Definitely adjust accordingly depending on your time and interests.
While New Brunswick and Prince Edward Island were really nice, our favorite activities were in Nova Scotia and Newfoundland. If we only had a few weeks, I'd choose to base ourselves in either province with a few days stopping at other top activities on the way.
I'd say if you don't have more than two weeks, it would be challenging to do Newfoundland and another province because it would be a lot of driving. Getting over to Newfoundland is costly and time-consuming, so it makes sense to spend a lot of your time there if you do plan to make the trip!
With all the amazing Newfoundland national parks and other activities, you certainly could stay busy for weeks.
The 9-week Atlantic Canada itinerary we followed
Week 1: St. George & Fundy National Park/Hopewell Rocks, New Brunswick
Week 2: Northern Nova Scotia/Cape Breton Highlands National Park
Week 3: Robinsons & Gros Morne National Park, Newfoundland
Week 4: Central Newfoundland (Twillingate, Terra Nova National Park, etc.)
Week 5: Avalon Peninsula & St. John's, Newfoundland
Week 6: Northern Peninsula & more Gros Morne National Park, Newfoundland
Week 7: Southern Nova Scotia (Louisbourg, Halifax, Kejimkujik)
Week 8: Prince Edward Island
Week 9: Northern New Brunswick (Kouchibouguac National Park)
If we could do it all again, we would plan a few more weeks in Newfoundland and a few more days in Northern Nova Scotia and PEI! Otherwise, we wouldn't change a thing.
Tips for RVing in Atlantic Canada
Before crossing the border for your Atlantic Canada trip, make sure you have all of the necessary paperwork and know all the rules – like no guns, fireworks, felonies etc.
Know how tall and wide your RV is in meters and how much it weighs in tons! You don't want to guess last minute.
Finding places to fill your on-board propane can be a bit of a challenge, so do some research before you get too low!
Costco only takes Mastercard, Canadian debit cards (NOT U.S.), and cash. So, you'll likely need some moolah if you want to get your bulk shopping on.
Redbox isn't a thing. Plan accordingly.
---
The support we received from Parks Canada, as well as local tourism companies was overwhelming. We would like to thank the following companies for helping make this trip so memorable and giving us so many great tips to share: Tourism Prince Edward Island, Marine Atlantic, Go Western Newfoundland, Adventure Central Newfoundland, Molly Bawn Whale & Puffin Tour, ONadventure Wilderness Tours, Happy Adventure Tours, Inn at the Pier, Outside Expeditions, and Gros Morne Theatre Company. As always, all opinions are our own.
Read more about other wonderful destinations in Canada.