Telling our friends and family that we were going to be RVing in Newfoundland over the summer led to many sideways looks and pulling up of maps.
This large island on the eastern side of Canada isn't a destination many people have been to or even think of visiting. (Although they should, especially our fellow RVers). Even the locals asked us what made us choose Newfoundland for our big RV adventure. But, if you know us at all, the fact that it is so off-the-radar only fueled our interest, not to mention the 7 hour ferry to Newfoundland.
So, Why RV to Newfoundland?
When we decided to become full-time RVers, we knew we had to plan an epic trip for the summer. And since we love remote, out-of-the-way places I searched the map to find a destination that would provide us with the rugged nature and unique experiences we craved. And, of course, it had to be somewhere we could also drive the RV to.
Since we liked the idea of finally seeing the fall leaves along the East Coast in autumn, the eastern part of Canada seemed like a great option for summer. It would be safe from the worst of the heat, offered some unique outdoor fun and would be the perfect starting point for our leaf-peeping road trip in fall.
But, as I researched the area more, the island of Newfoundland kept popping up. It seemed to have the best hikes, most epic wildlife watching and more remote areas than all of Atlantic Canada.
On a whim, I decided to see if there was a way to get the RV there. And there was, thanks to our awesome friends at Marine Atlantic. Turns out, it is actually a very popular place for RVers with lots of great boondocking spots, campgrounds and easy-to-navigate roads. Logically, I became completely obsessed and decided we had to spend an entire month there during our travels through Atlantic Canada over the summer.
Here are some of the highlights of visiting Newfoundland:
RVing to Newfoundland by Ferry
Yet, the idea of taking our new home-on-wheels on a 7-hour ferry trip to Newfoundland was a bit daunting. And the fact that the Titanic sunk around the corner did not help. (Okay, it was still pretty far away – but, same general area).
However, the photos of Gros Morne National Park, puffins, humpbacks and small fishing villages were on a permanent slideshow in my head. So, I booked our tickets and prayed for good weather and no icebergs (on the ferry crossing at least).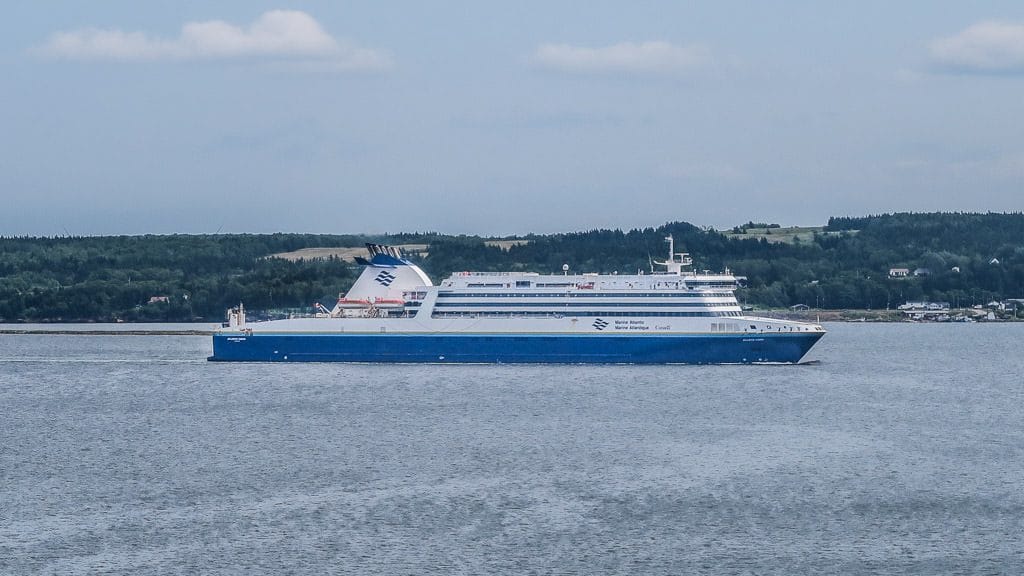 Another worry of mine was what the heck we would do with the cat. She would not be a fan of staying in her carrier during the entire ferry to Newfoundland. I was thankful to find out that she was allowed to stay in the RV and would be perfectly fine with a few cracked windows and plenty of food and water. Crisis averted – Thanks Marine Atlantic!
When our much-anticipated departure day arrived, we drove over to the North Sydney Marine Atlantic terminal from the nearby Walmart we had crashed at the night prior in Nova Scotia. And we made sure to get there more than two hours early as required, in order to get checked in with no problems.
The Marine Atlantic Ferry
All we had to do was shut off our propane tank before boarding and follow the instructions to park. Marine Atlantic employees would validate that the propane was off, and put a tag on it showing it was off for easy confirmation. I was also on try-not-to-panic duty. I had never been on a boat for that long before, and it made me very nervous. However, the perfect weather was helping lessen my stress by the minute.
And once we got on the ferry and settled into our cabin, my worries went away. Getting the private cabin was a fantastic idea and made for a really comfortable crossing. Taking some anti-nausea meds was also another one of our genius ideas.
While we were taking the ferry to Newfoundland with our RV, we still needed/wanted to bring some stuff up with us since we couldn't return to the RV. The room was a nice place to store things when we wanted to go wander around.
However, we didn't spend all of our time lounging in our room. We loved wandering around the beautiful ship and getting to chat with fellow travelers. And we spent a lot of time walking around outside enjoying the views of the ocean and ports while looking for whales.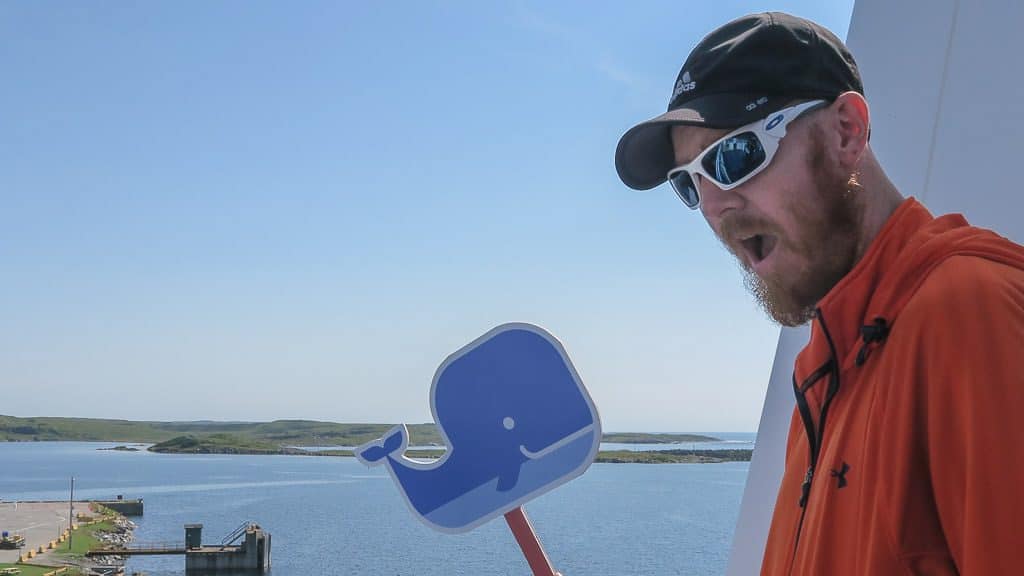 Once we got a bit chilly from the sea breeze, we were able to leave our camera gear in our room while we grabbed some food. This made the trip much more enjoyable. And the food was great!
It was such a relief that our ferry crossing to Newfoundland was so stress-free and comfortable. It gave us a great sneak-peek of the peaceful moments we would cherish in Newfoundland.
RVing in Newfoundland
Once we reached Port aux Basques, we were excited to begin our Newfoundland adventures. We had no idea how many amazing experiences the month would bring. And we were surprised how easy it was to drive our RV around the island.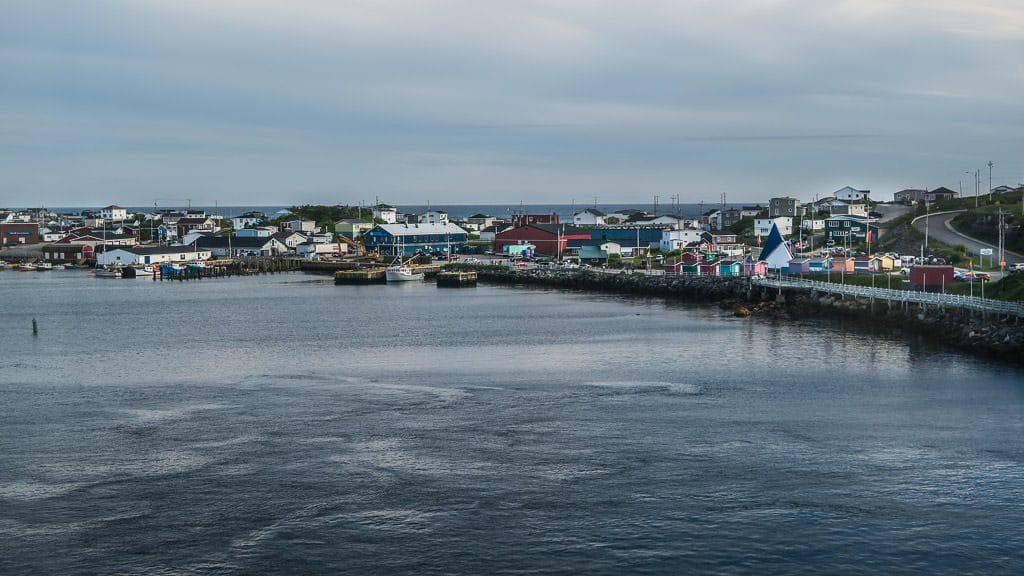 Our 26-footer handled most of the roads like a champ. (Except a logging road we accidently turned down). And we rarely had trouble finding a parking spot we could fit in – even in the national parks. We also found it funny that it wasn't nearly as busy as we thought it would be. Yes, there were other travelers – and a lot of fellow RVers. But, it wasn't as bad as the internet made it sound like it would be in the summer.
Maybe it was because we drove the famed (and insanely popular) Cabot Trail in Nova Scotia before our trip to the island, so the traffic just didn't compare. But, for the most part, we were always able to find our own little peaceful place to enjoy.
Our Favorite Overnight RV Camping in Newfoundland
We have become very fond of boondocking, but it is much more difficult on the east coast of the U.S. Luckily, that isn't the case in Eastern Canada – at least not in Newfoundland. We found tons of great overnight spots with sweeping views.
But, there are also lots of gorgeous, affordable campgrounds and RV parks. We decided to do a mix so we could be close to activities and trails some days, then out on our own when we wanted some quiet time.
Our Favorite Camping Spots in Newfoundland:
Pirate's Haven ATV-Friendly RV Park in Robinsons
Berry Hill Campground in Gros Morne National Park
Staying with a local family through our Boondockers Welcome membership
Boondocking by a trailhead near Twillingate
Town of King's Point RV Park in King's Point
Newman's Cove Campground in Terra Nova National Park
Celtic Rendezvous by the Sea RV Park in Tors Cove
Boondocking in an open gravel area off the highway. (About 30 minutes from the Port aux Basques ferry terminal).
Heading Back to the Mainland
Before leaving, we had to get "Screeched In," so we could leave as honorary Newfies! And we highly recommend this to fellow travelers.
It is also necessary to make sure you aren't bringing back anything that is against the rules. Before boarding the Marine Atlantic return ferry, your rig will be checked for potatoes, plants and soil. So, make sure you get rid of any of these things beforehand. They may spray you off if there is a lot of dirt on your rig.
And once you are back in Nova Scotia, don't fret – there are many beautiful and interesting places to see in this province as well.
Cape Breton Highlands National Park and the rest of the Cabot Trail are a bucket-list road trip for many. And don't miss the nearby Fortress of Louisbourg for some unforgettable hands-on history.
---
A Few Extra Tips for a Smooth RV Trip
Schedule plenty of time to enjoy Newfoundland, because there is so much to see! We recommend at least two weeks, but you could spend months exploring if you want. Gros Morne National Park alone is a multi-week adventure.
Fill up your propane tank before you leave for Newfoundland. There aren't many places on the island that provide this service to RVers. Luckily, the Canadian Tire next to the ferry terminal does.
Make sure to get to the ferry more than two hours early as the rules stipulate.
Remember that you will have to turn off your propane tank before boarding the ferry, so plan accordingly if your fridge runs on propane.
Before leaving any pets inside during the ferry crossing, make sure they have plenty of food and water. And don't forget to crack a few windows for ventilation.
While on the ferry, if you are planning to eat at the on-board restaurant, check the hours first. It may not be open during your entire crossing, so you may need to plan around that.
Once on the land, make sure to have cash on you for some of the smaller campgrounds and markets.
Boondocking in Newfoundland is pretty open if you aren't drawing attention to yourself. We had luck in roadside pull-offs, parking lots and Walmarts.
We enjoyed working with Marine Atlantic on this trip to provide content for both our sites. To read the shorter version of this article posted on their website, click here.
---
For more stories and tips, check out our other Newfoundland blog posts. For a list of where we stayed overnight during our trip, take a look at our RV Camping Reviews page.