Standing in a kaleidoscope forest, breathing in the freshness of the cool air and listening to the light rain slowly drip through the branches above, as we watch rust-colored leaves dance around us before delicately landing on the wet ground. Moments like this are why hundreds of people drive for days to experience the colorful adventure of a fall in Vermont road trip. And we aren't ashamed to say, we totally drank the maple-flavored Kool-Aid.
After a short visit to Niagara Falls, Ontario, we slowly made our way across New York toward Vermont. We checked color reports and weather daily, making sure we did our best to time our arrival just right.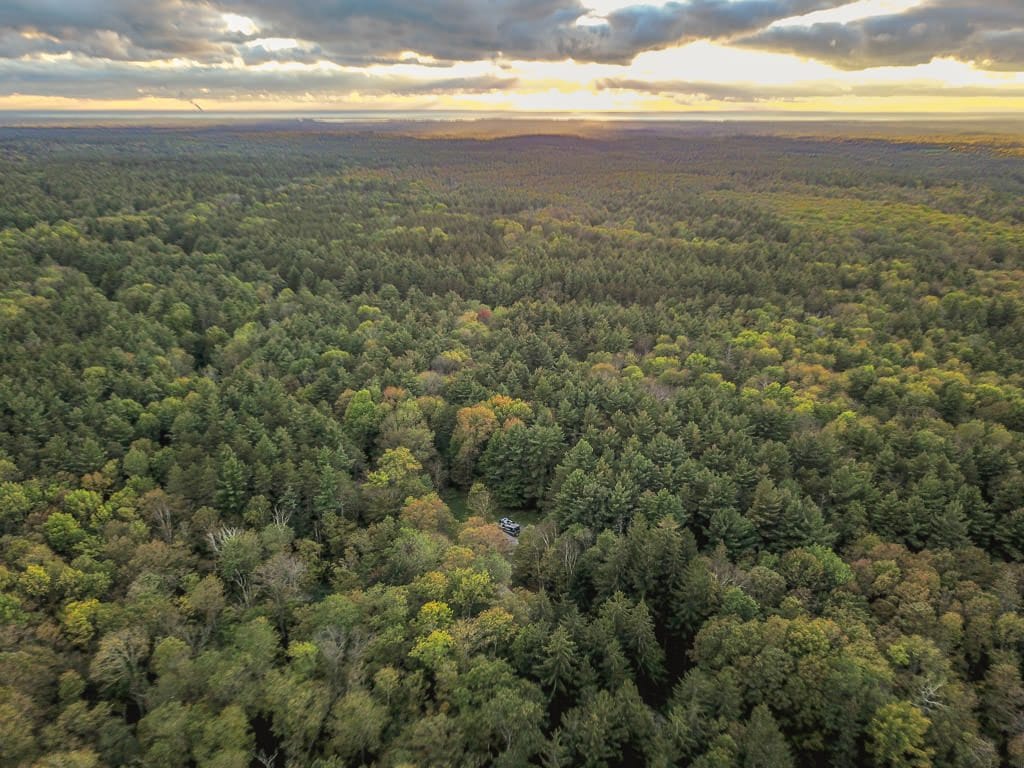 Farm Stays & Cider Sipping
When we crossed into Vermont, we were met with wide-open farm lands and quiet roads. Most of the state was only at about 70% to peak, but there were pops of color everywhere we looked. And regardless of the leaf status, fall was evidently in full swing.
As we waited for the colors to change further, we spent a few days at pumpkin farms with corn mazes, cideries and sugar houses.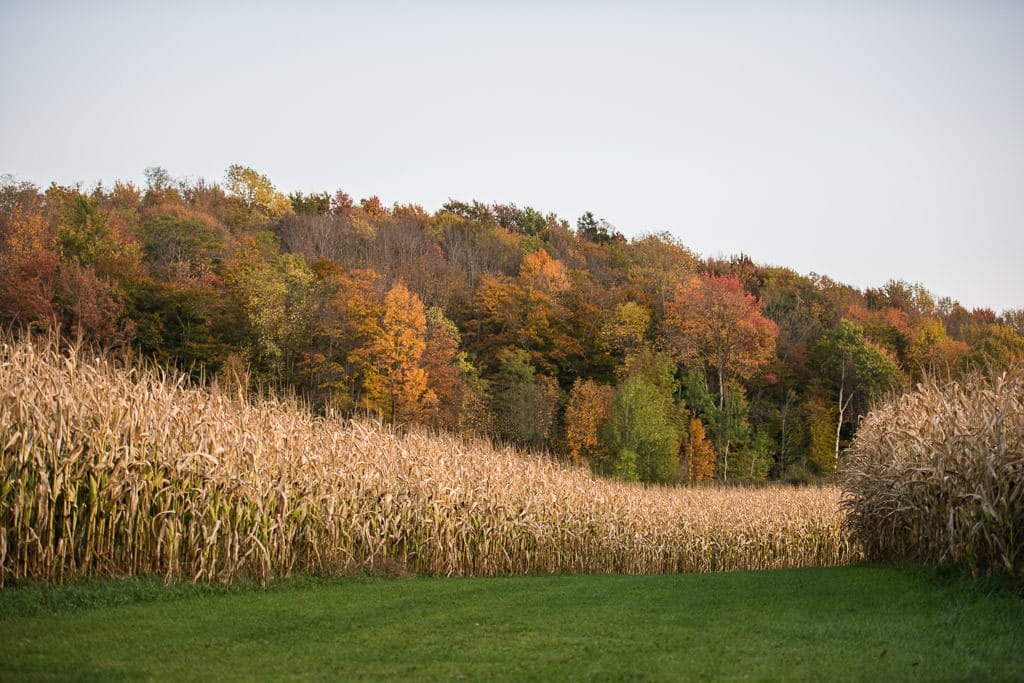 Luckily, there were plenty of RV overnight options in Vermont with our Harvest Hosts membership. There is something so special about sleeping on a farm. It is without a doubt our favorite way to camp in our RV. And being so close to fresh produce and yummy treats is never a bad thing (until you eat ALLLLL the maple-flavored popcorn in one sitting).
After a few days of too many cider donuts (Cold Hollow Cider Mill is known to have the best) and maple-flavored everything, we set out for Stowe armed with a growler of Woodchuck's delicious Fall Harvest cider and fully charged camera batteries.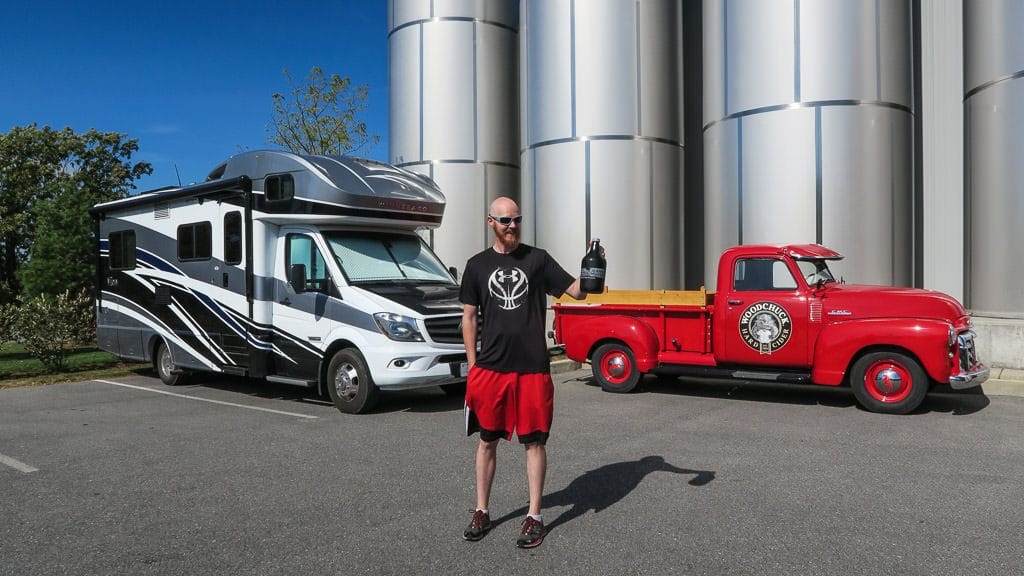 Dramatic Intro to Stowe
When we reached the Smuggler's Notch State Park area, we realized there was a strange amount of traffic for a weekday. Soon we found ourselves in a mesmerizing tree tunnel, and we realized we had officially arrived in the heart of leaf-peeping country. The few hundred fellow travelers and cars stopped every couple of feet totally gave it away.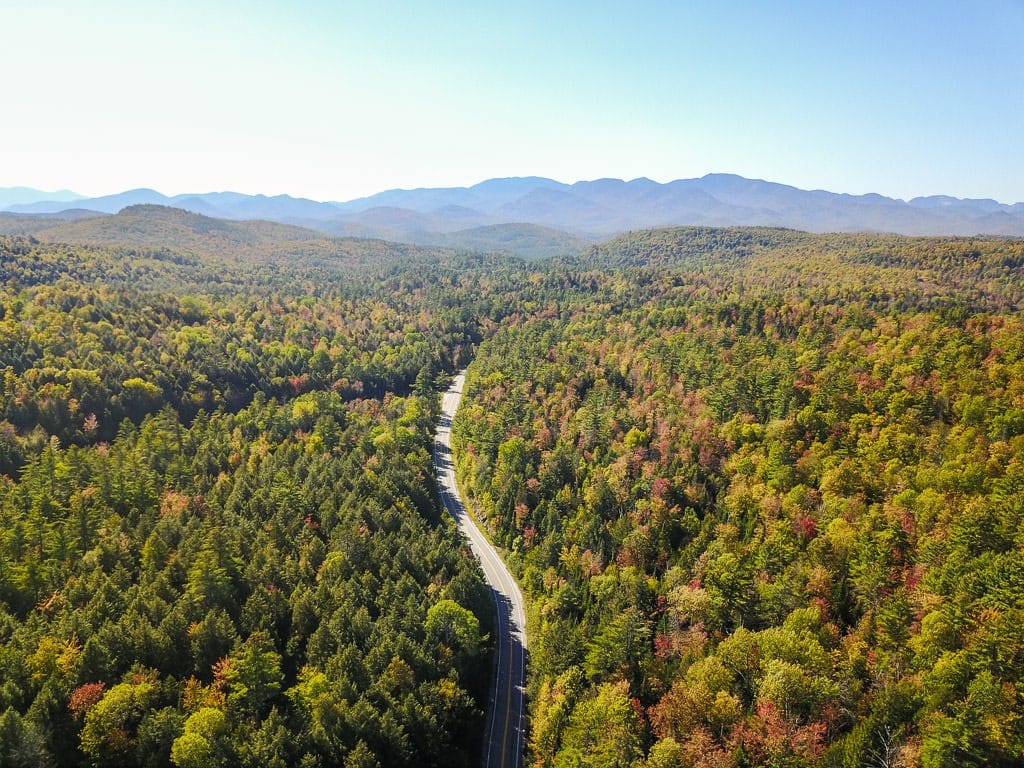 As we curved through the narrow winding roads down the mountain, we admired the varying colors as the sun shined through the leaves above us. And we held our breath with each tight curve. There was a warning that straight, two-axle vehicles longer than 46-feet shouldn't drive on the road and tractor trailers are prohibited. They aren't joking! At about 26-ft, we were cutting it very close, but made it out with no incidents.
Spontaneous Scenic Vermont Drives
Realizing just how busy this area would be now that peak season was upon us, we did a quick driving tour of Stowe and headed for the hills. Just outside of town, we came to our first covered bridge. These structures are strangely beautiful for such a simple architectural endeavor.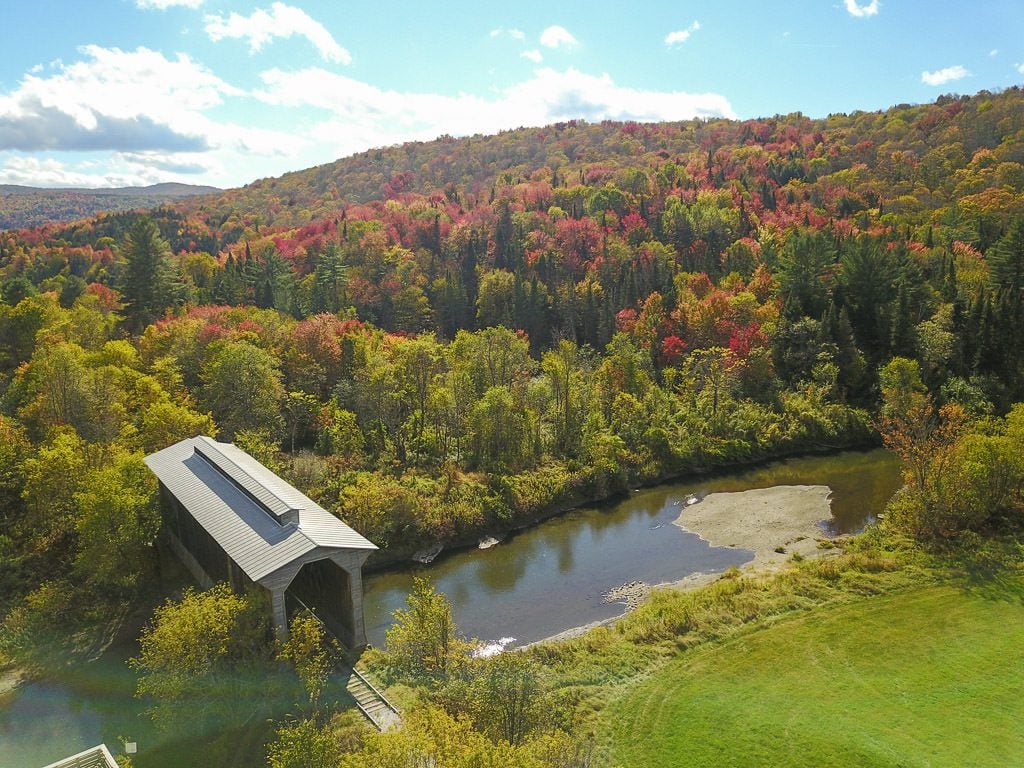 But our favorite part of our day was just driving around through the small towns and farmlands in the areas surrounding Stowe. At one point, we ventured down a dirt road, past wide-open fields, mountain views and – best of all – no other cars. It was pure bliss.
This was the type of road trip driving we had been missing. We had gotten so caught up with finding our next bucket-list stop, we forgot that sometimes the journey is the destination. I couldn't tell you where we ended up on our spontaneous Vermont drive, but it is one of my favorite places.
Groton State Forest
After a few days of perfect driving weather, we were due for some rain and decided to hunker down for the weekend at Groton State Forest.
With all other campgrounds booked solid due to peak foliage, we lucked out with finding a beautiful, enormous site at the lesser-known New Discovery State Park, which is just one of seven parks in Groton State Forest.
During the day, we dug out our rain gear and went hiking between downpours. The constant drizzle just became part of the beautiful Groton State Forest soundtrack.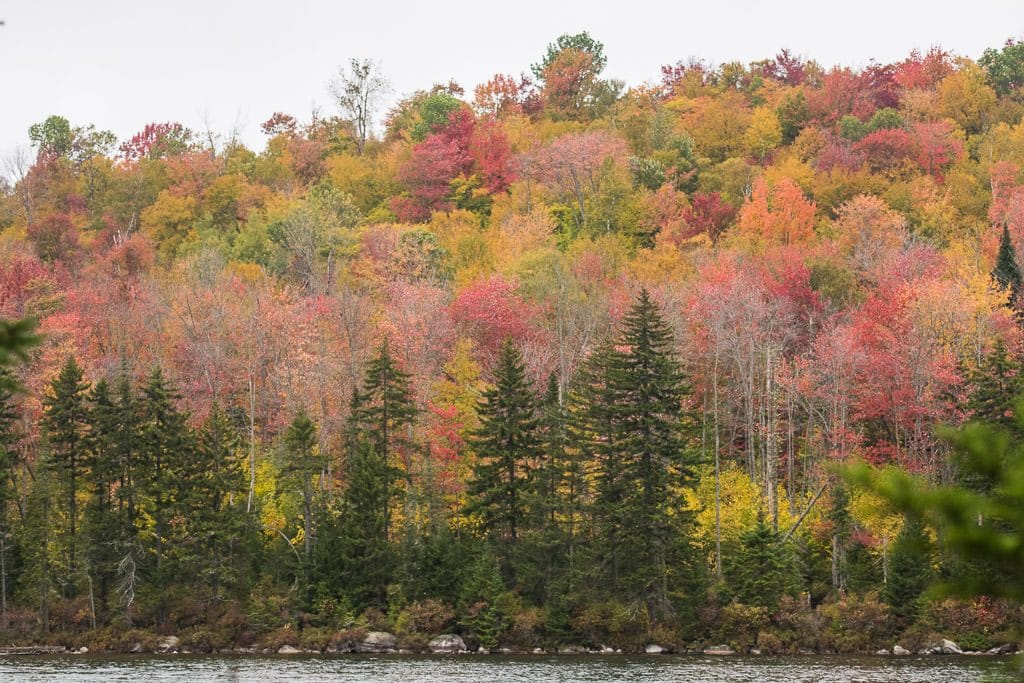 We smiled at each other as we crunched through the leaves hand-in-hand. For the first time in a long time, I was fully present – without having to work on it or remind myself to get out of my own head. I was totally immersed in our autumn paradise in Vermont.
Owl's Head Overlook
Only a few miles from our campsite at New Discovery State Park was a beautiful lookout – a must-see view of the surrounding Groton State Forest. Even with the overcast sky and gloomy weather, the views were amazing.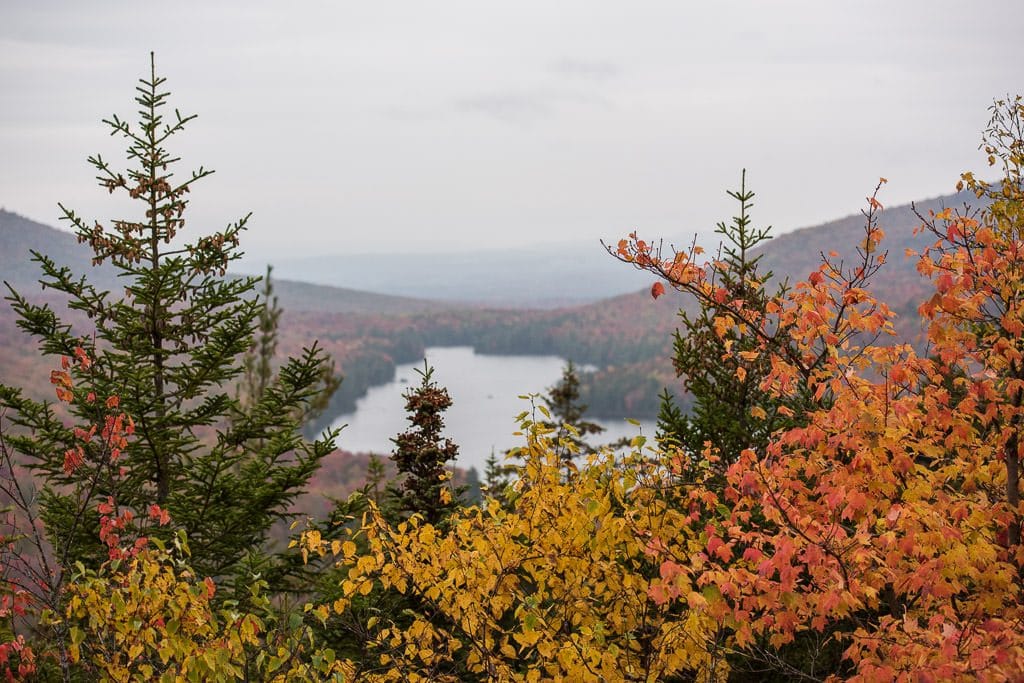 But, the walk there was truly the highlight for us. Despite the constant drizzle, the weather was perfect – a bit of a chill that quickly went away once we got warmed up on the hike. And, although the overlook was packed, we had our forest trail all to ourselves for the most part since there weren't many others doing the 3-mile round-trip hike from New Discovery State Park.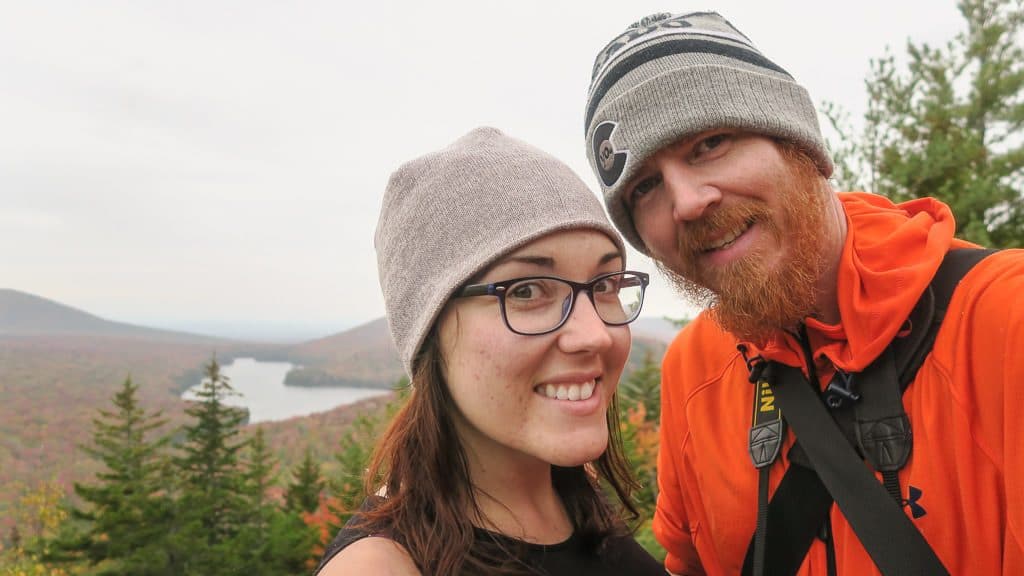 On our last night at the park, we snuggled up and sipped our yummy cider while we finished off the last of our donuts. So simple. So perfect.
Green Mountains
With a few days to spare before our next destination, we chose to keep following the color change south into Vermont's Green Mountains. We loved winding through the wet, shaded forest roads and stopping to enjoy road-side waterfalls and picnic areas.
Scenic route 100 makes for an amazingly beautiful drive in fall. And unlike the Stowe area, it really wasn't overly busy. Quite the opposite, we found it very relaxing!
A highlight of our drive was the gorgeous Moss Glenn Falls. Located right off the main road, we were pleasantly surprised by the tree-framed falls after a short walk down the boardwalk trail.
We were sad to leave this area, but were thankful for such a memorable entrance and exit to the beautiful state of Vermont during our RV road trip. And there is no doubt, this will not be our last fall in New England.