When you go to a place that is a well-known bucket list destination for people around the world, it is important to be realistic. Which is why we sought out all the best things to do on the Canadian side of Niagara Falls. Because if you can't beat them to the views and enjoy the wonder alone, you may as well join em', right?
Of course, we were excited to see the majestic Niagara Falls. But we also knew we would see hundreds of other people with cameras, kids, dripping ice cream cones, and an obvious lack of personal space. There would be dozens of shops, quirky attractions, and lines for must-snap photos. This whole area reminded us a bit like Las Vegas, with all the flashing lights and signs.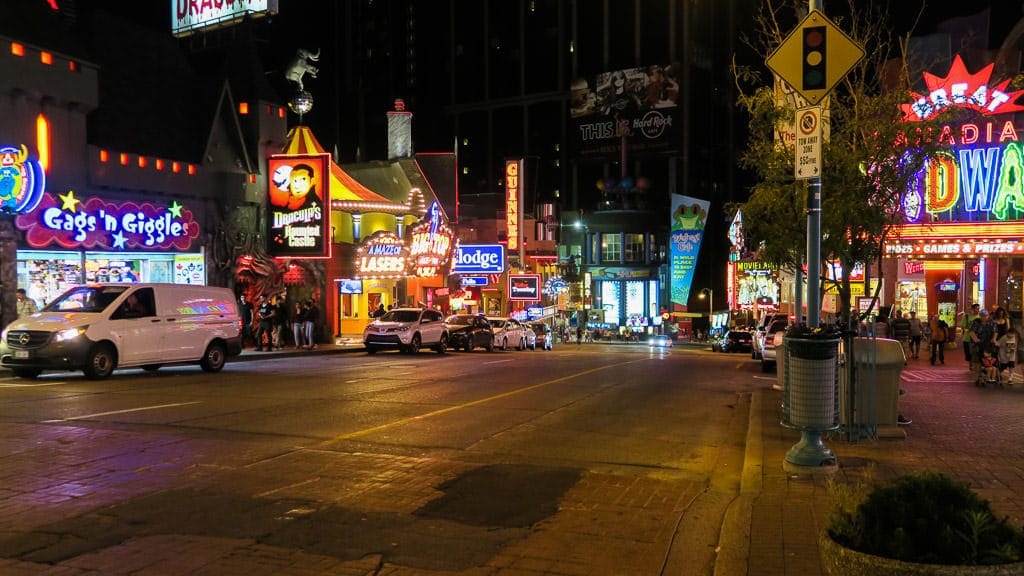 Usually, we avoid these places like the plague. But, we wanted to experience Niagara Falls, Ontario. So, we decided to experience it all and dove right in by signing up for a full day of the top most-touristy attractions and things to do in Niagara Falls. Surprisingly, they were all totally worth-while and made for a great day.
About Niagara Falls
Niagara Falls is actually made up of three waterfalls: Bridal Veil Falls, Horseshoe Falls, and the American Falls. Horseshoe Falls is also known as the Canadian Falls, even though it is actually located on the border of the United States and Canada. The waterfalls are located on the Niagara River, which connects Lake Ontario and Lake Erie (two of North America's great lakes!).
Niagara Falls State Park is located in New York and is the oldest state park in the U.S. It's free to enter the park and see the falls! It is also free to see the falls from the Canadian side. And, while visiting during the summer months is most popular, both are open year-round.
The best way to see the falls (according to millions of tourists) is by boat below the falls. While the American side of Niagara Falls is still stunning, we thought the photos from the other side of the falls looked even more impressive! This is one of the main attractions and top thing to do in the area, so we'd suggest at least doing this activity if you are pressed for time.
BEST Things to Do On the Canadian Side of Niagara Falls
1. Niagara Falls Whirlpool Jet Boat Tours
If you are like us and have a hard time waking up in the morning, this insane activity will leave you energized, sopping wet and excited for your next uniquely Niagara experience. Which is why we suggest making the 60-minute Whirlpool Jet Boat Tour your first stop of things to do in Niagara Falls.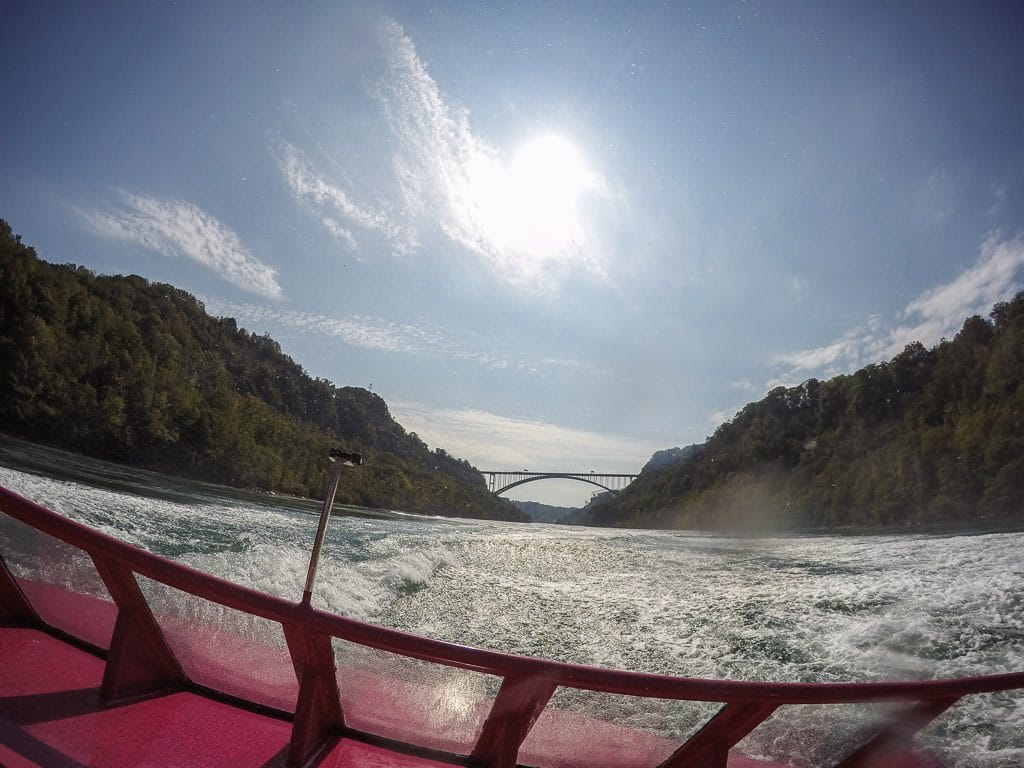 There are three locations to choose from for the Whirlpool jetboat, Niagara Falls, nearby Niagara-on-the-Lake (where we left from) or across the river in Lewiston, NY. While this tour doesn't take you to see the falls, it does give you a taste of the powerful water of the Niagara river – literally.
Getting on the Water
After locking up our non-waterproof devices and donning our jet boat gear (water shoes, a life vest and optional rain ponchos), we boarded our Niagara Falls whirlpool adventure vessel without much knowledge of what to expect. It wasn't until we started moving toward the rapids that our guide spilled the beans on what a thrilling ride it would be.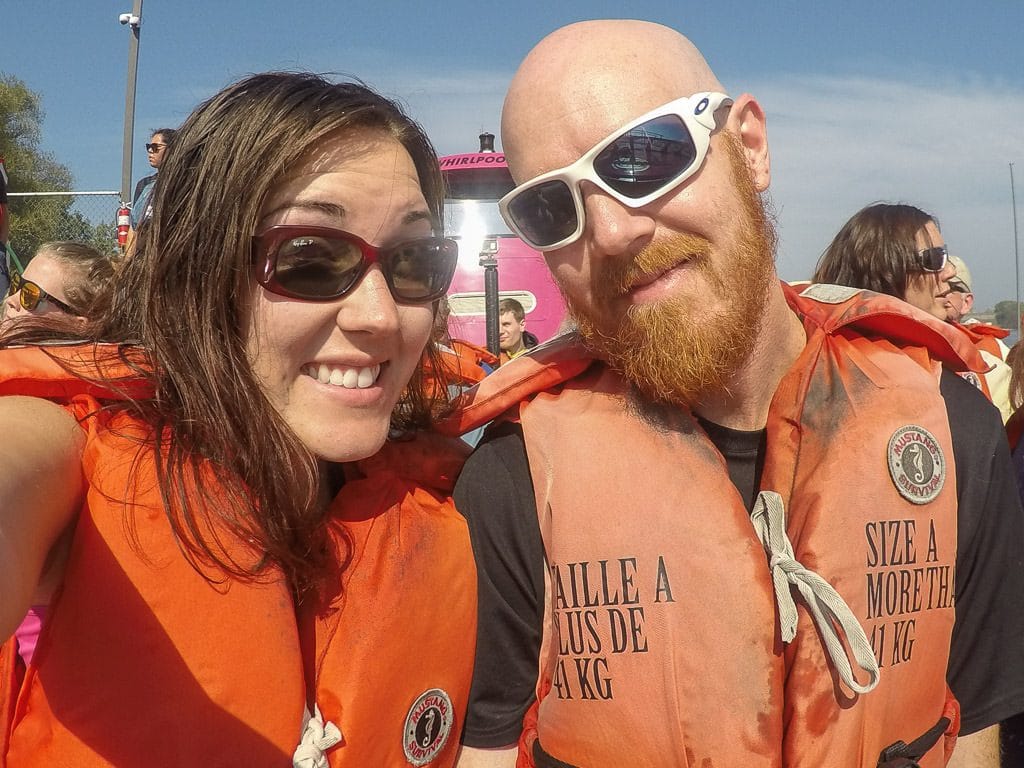 We were about to get rocked by the river. This wasn't just a fun boat ride with light waves that would splash us while we giggle like school girls. No, we would be going through intense rapids and screaming between gasps for air.
The boat is actually designed to scoop under the water, which means tons of water would be dumped on top of us. TONS. And guess who decided we should sit in the front row? Pshh… not me. That was all Buddy. Looks like we'd be the first to get clobbered with the wall of water.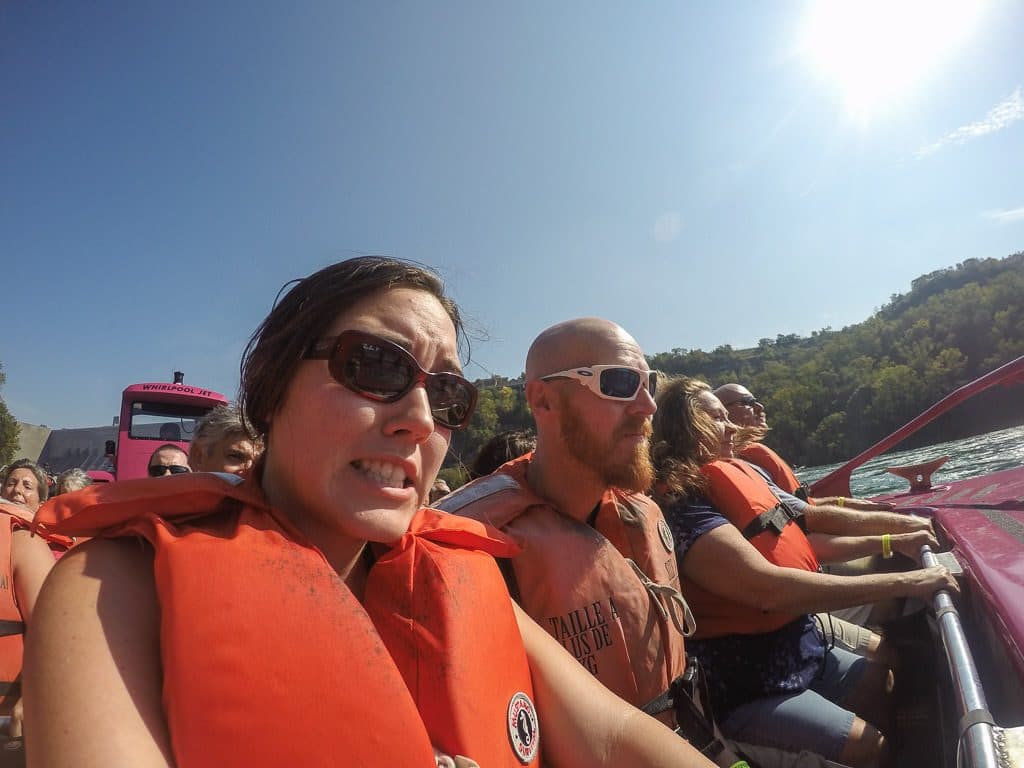 Inside Class V Rapids
As freaked out as I was, it was also exciting to be able to experience such powerful rapids in a way I had never thought to try. We love whitewater rafting, so it was no surprise that we loved whitewater jet boating!
Once the first wave smashed on top of us and I lived, I realized what an adrenaline-packed blast the experience really was. We went through the rapids again and again and again – to ensure everyone had the opportunity to get thoroughly soaked.
Before heading back to the dock, we also took a short break from rapid scooping to check out the Class VI Whirlpool Rapids. These are some of the most dangerous in the world and off limits, but it was amazing to see them churning and crashing so close.
A Few Tips for your Whirlpool Jet Boat Tour:
If you are exploring in a small RV like us, the gravel parking lot around the corner from the Niagara-on-the-Lake location should have plenty of room if you get there early.
It is also important to leave anything you don't want to lose or get wet in your car or in a locker. Buddy swore his glasses would stay on, but he lost them and many people damaged the phones they insisted on bringing. I kept mine, but had a DIY duct tape strap which I then tied up with my hair.
Sit up front. I really think this is the best place. In the front row, you get an awesome view. Plus, we think you actually end up under water for less time.
Time your breathing. The trip got way more enjoyable when I realized I could take a big breath right before the wave hit instead of gasping for air mid-splash.
Budget for the pictures if you can. We thought we got plenty of good ones on our GoPro, but realized when we finally looked at them, that theirs were far better. At the time of our trip, tickets were CAD$63 and a USB of photos with a highlight video was CAD$40.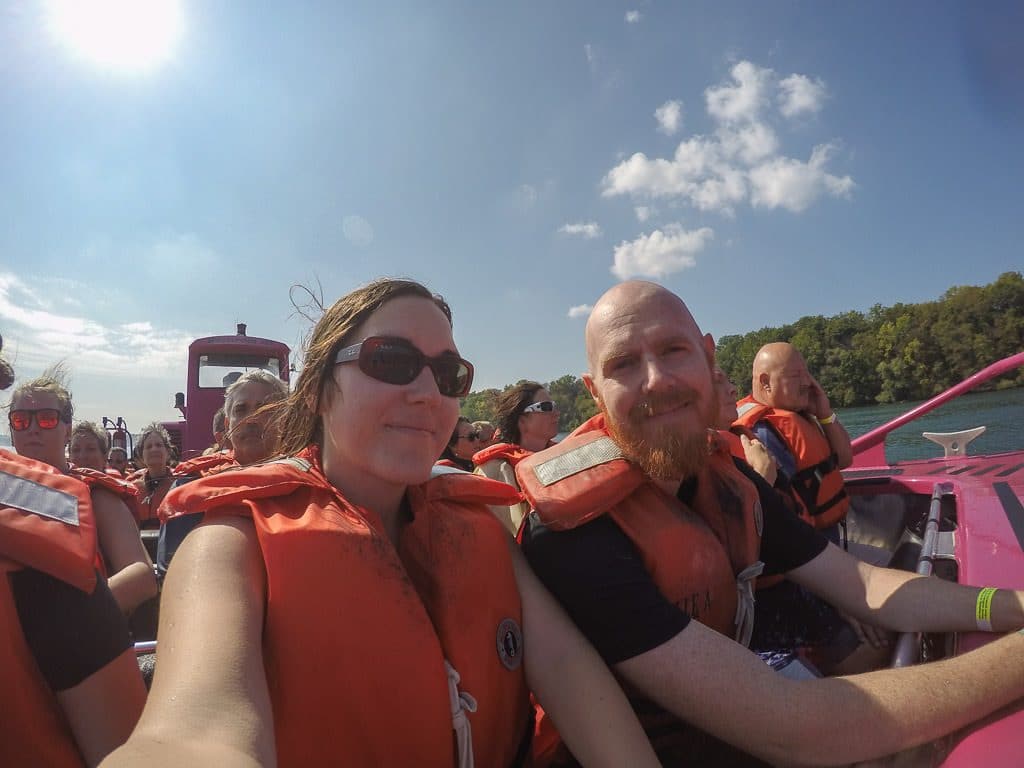 2. Hornblower Niagara Cruises
Okay, okay. Plowing through rapids in a boat is fun and all, but the real highlight is Niagara Falls. So, don't forget to add Hornblower boat tour (or Maid of the Mist on the American side) to your list of things to do in Niagara Falls.
Unless you time it just right, it will probably be really busy and take a while to actually get on board. But it is a must-experience at Niagara. And for CAD$25.95 it is well-worth the price.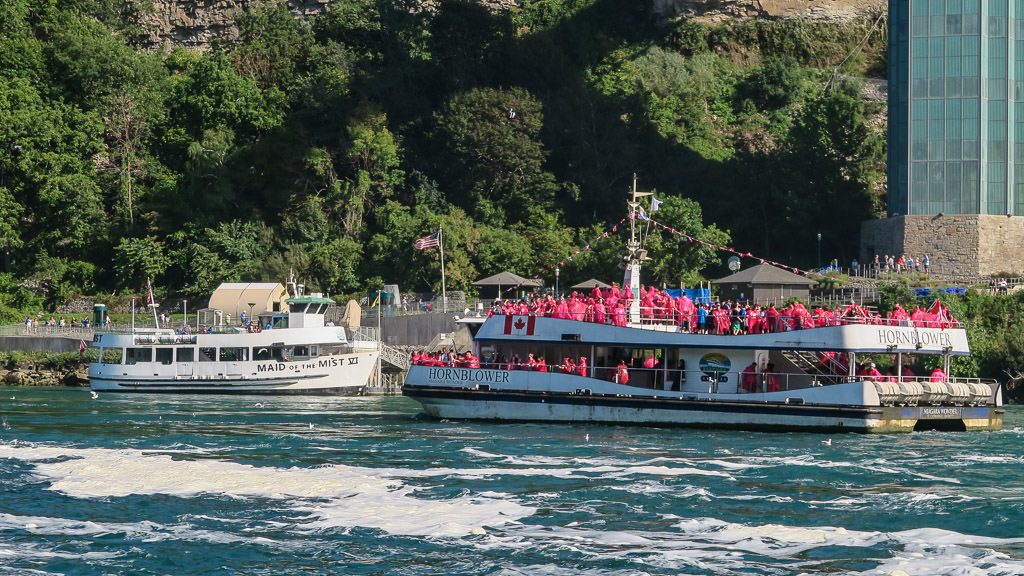 You will inch your way down a hill to an elevator (don't worry there is an elevator monitor making sure too many people don't squeeze in at once – thank God!), then down another hill, through a snack shack area (in case you get hungry or need a break from line standing), then you will zigzag through one of those Disney-style lines… BUT THEN, you will get on the boat.
And it will be worth it! Just make sure you get a spot on the side closest to the falls. And stand your ground. People will try to push their way up, but don't move. You deserve this chance for the best experience ever too.
You will feel the mist of the falls before the boat even moves. And as you get closer, the mist and wind will combine into a mini hurricane and you will get battered by it. Gloriously, magically battered.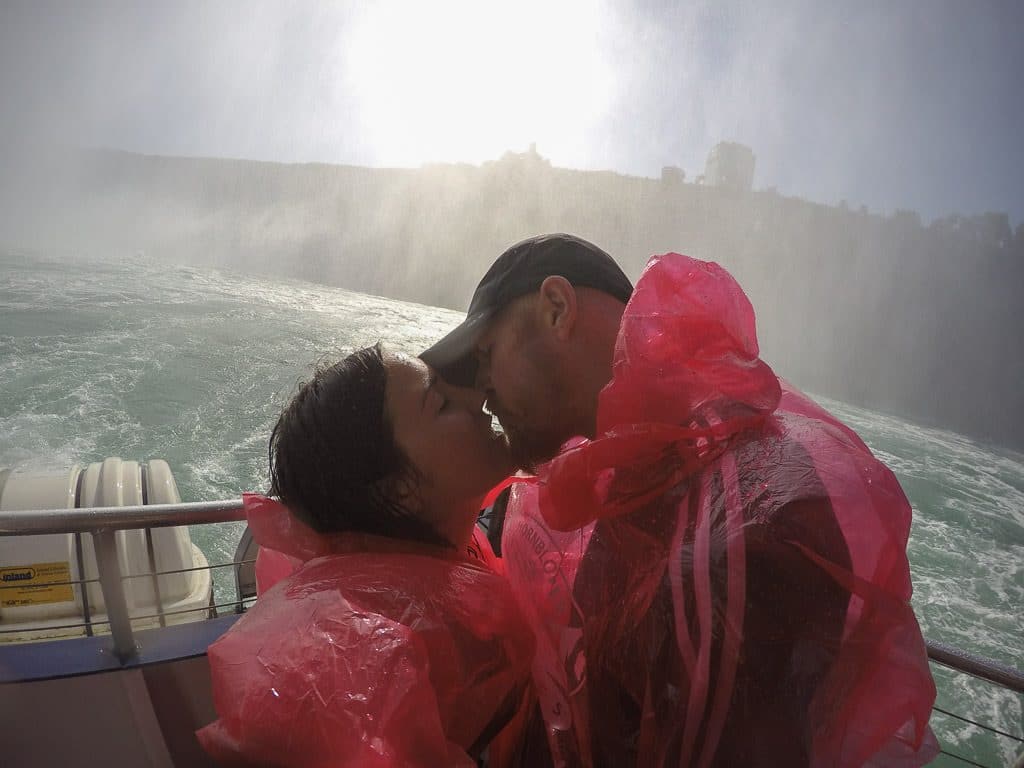 Had to go for the kiss photo (more of a dementor kiss, but whatever…)
That thin poncho they gave you will blow around and only keep about 40% of you dry. Just embrace it. You are at Niagara-freaking-Falls. This is why you came. Take some pictures and videos with your GoPro or other waterproof device if you want. But just be sure to embrace the moment!
The views from that boat are the best you will see of Niagara Falls, in our opinion anyway. And there is nothing quite like feeling its power. Other guided tour boat trip operators include Niagara City Cruises and Maid of the Mist Boat Tour.
3. Clifton Hill Fun Pass Attractions
After grabbing delicious burgers at The Works (they even had a vegan one for me!), we set off for some friendly competition using our Clifton Hill Fun Pass – which gave us access to six activities. Be sure to add the Clifton Hill Fun Pass to your list of things to do in Niagara Falls, for a bit of added fun.
First up was putt-putt. It used to be our go-to date night activity, then Netflix came along… But, we quickly remembered why we enjoyed it. And not to brag, but I am ridiculously better than Buddy. He dominates at real golf, but I am the master of hitting those brightly colored balls short distances.
There are two options to choose from with the fun pass. Since it was hot out, we opted for the indoor, glow-in-the-dark Wizard's Golf option. But the outdoor, Dinosaur Adventure Golf option looks amazing too. And it is the largest mini-golf attraction in Canada!
However, I will say, Buddy is far better at the shooting games – like the hilarious Zombie Attack "6D" adventure. And the Movieland Wax Museum made for some great laughs for both of us.
However, of the six attractions, the Niagara Skywheel was our favorite. The ferris wheel provides unique and spectacular views of the falls and is a relaxing change of pace.
It was also pretty romantic sitting in our own little air-conditioned bubble, admiring the lights of Niagara Falls at night.
After our ride, we walked over to say our goodbyes to the majestic falls and were treated to a surprise firework show. I mean, you really can't beat that.
4. Niagara-on-the-Lake Wine Tasting
Over the tourist scene? Spend a day exploring the beautiful nearby wine region. Niagara-on-the-Lake has dozens of wineries. And if you've never tried Ice Wine, make it a point to get a sip of this delicious dessert wine during your visit.
Yes, there are tour buses here too. But, it is a much more laid-back feel, it makes a great day trip, and you get wine!
Other Things to Do Near Niagara Falls, Ontario
The Niagara region is beautiful and there is so much to see and do in addition to the Niagara Falls attractions. Some are more just fun things to do and tourist attractions, but many are also more focused on the beauty of this area.
The Skylon Tower: A popular observation tower on the Canadian side of the falls. It is also a revolving dining room!
Journey Behind the Falls: Get a unique view of the falls from behind it as well as below it.
Butterfly Conservatory
White Water Walk: Take an elevator ride down to the Niagara Gorge to take a short walk next to the Class 6 rapids at the base of the gorge.
Fallsview Indoor Waterpark
Wander Queen Victoria Park
Whirlpool Aero Car: This historic antique cable car takes you above the river and across to the other side.
Botanical Gardens
WildPlay Zipline Over the Falls
Visit Historical Sites like Old Fort Erie
Other Top Attractions Near Niagara Falls, New York
Niagara River Gorge Hikes: There are multiple hiking trails in this area, located on the New York side of the falls.
Go Up the Observation Tower in Niagara Falls State Park
Cave of the Winds: This iconic location brings you to a lower observation deck on Goat Island at the base of the falls where a cave used to be.
Adventure Theater: An immersive 4D experience.
Niagara Scenic Trolley: Use this to see Niagara Falls State Park. It's inexpensive and a great way to get more historical information as well!
Old Fort Niagara and Old Fort Niagara Lighthouse
Prospect Point Observation Tower
BONUS: Helicopter Ride: For exquisite views of the falls you can't get anywhere else, check out this wonder from a bird's eye view (tours available on either side of the falls!)
Niagara Falls Know Before You Go
We paid $10 to park our RV at the Clifton Hill parking lot. It is walking distance to the waterfall, the Hornblower Cruise and all of the fun pass attractions.
Make sure to see the falls during the day and at night – and at sunset if possible. It is a new experience each time!
If you are going to get food, venture off the main strip for better options and less crowds. We walked an extra couple of minutes and were almost alone at the place we chose, compared to all the packed options nearby. And the reviews were far better!
The Clifton Hill Fun Pass is CAD$29.95 for six attractions. The Skywheel alone is about CAD$12, so if you want to do a few activities the pass is probably worth it.
If you want to see the U.S. side of the falls, you can walk over the nearby Rainbow Bridge. But, as most people will tell you, the Canada side has the best views.
Also, if you can go in off season it will be way less busy, but it will likely never be a place you will have all to yourself. Just mentally prepare for that and you will have a much better time.
---
We would like to thank Niagara Falls Tourism, Whirlpool Jet Boat Tours, Hornblower Niagara Cruises and Clifton Hill for hosting us on this trip. As always, all opinions are our own.
Read more of our tips for visiting Canada!