After an eventful 24 hours in Quebec City, we were ready to get back to nature. So, we did the only reasonable thing and headed for the mountains. It was just the beginning of fall, but we could still see the tinge of color beginning on the trees. The cool air and winding roads were beginning to bring us the peace we were seeking, yet we were still having trouble getting out of our funk. Enter Scandinave Spa in Mont-Tremblant.
Nestled in the woods, just outside of the touristy area, this little oasis isn't just a place to relax. It is a place for healing. And after pushing our bodies, minds and spirits harder than ever in the last three months, we were down for some restoration.
What is Hydrotherapy?
I'll be honest, I had no idea what we were in for when we signed up for a spa day. I knew there were various baths and a few sauna rooms in a beautiful atmosphere. What else could you need?
But upon arrival at Scandinave Spa, we were educated on the benefits of hydrotherapy and how the hot-cold-relax cycle works. We were instructed to soak in a hot pool or sit in the sauna for 10-15 minutes, then take a cold shower or dip for 10 seconds. Afterwards, we could bundle up in our robes and relax for another 10-15 minutes in one of the multiple spots on the property.
The purpose of this process is to release tension in both the body and mind. It is an ancient Finnish tradition that energizes and detoxifies the body while promoting the release of endorphins. And it has become increasingly popular with athletes in rehabilitation.
In order to keep the atmosphere as peaceful as possible and focus on healing, the entire outdoor area of the spa is a silent zone. Some people have a hard time with this, but I wish it was a rule in every beautiful outdoor place. And it made our visit that much more enjoyable.
Hydrotherapy at Scandinave Spa Step 1: Hot
After showering off and changing into our suits, we were ready for our first hydrotherapy cycle at Scandinave Spa. Warming up your skin increases blood flow and helps create a sense of calm.
There are multiple hot baths to choose from. Our favorite was the one with the waterfall. We took turns standing underneath it as the water pounded away at our tense shoulders, forcefully releasing our pent-up stress.
There is also a dry sauna and Eucalyptus steam room available for lounging in during the warm, relaxing part of your spa day.
Hydrotherapy at Scandinave Spa Step 2: Cold
Once ten minutes was up, we shuffled over to assess our cold water options at Scandinave Spa – waterfalls, plunge pools, cold shower and the nearby river. The few seconds of cold shifts blood pressure which flushes toxins and releases muscle tension.
For our first time, we chose to douse ourselves with a splash of cold water in the outdoor shower. However, we got braver when it was time for our second hydrotherapy cold dip and headed for the Diable River. What better way to relax in nature than dunking yourself in a frigid river?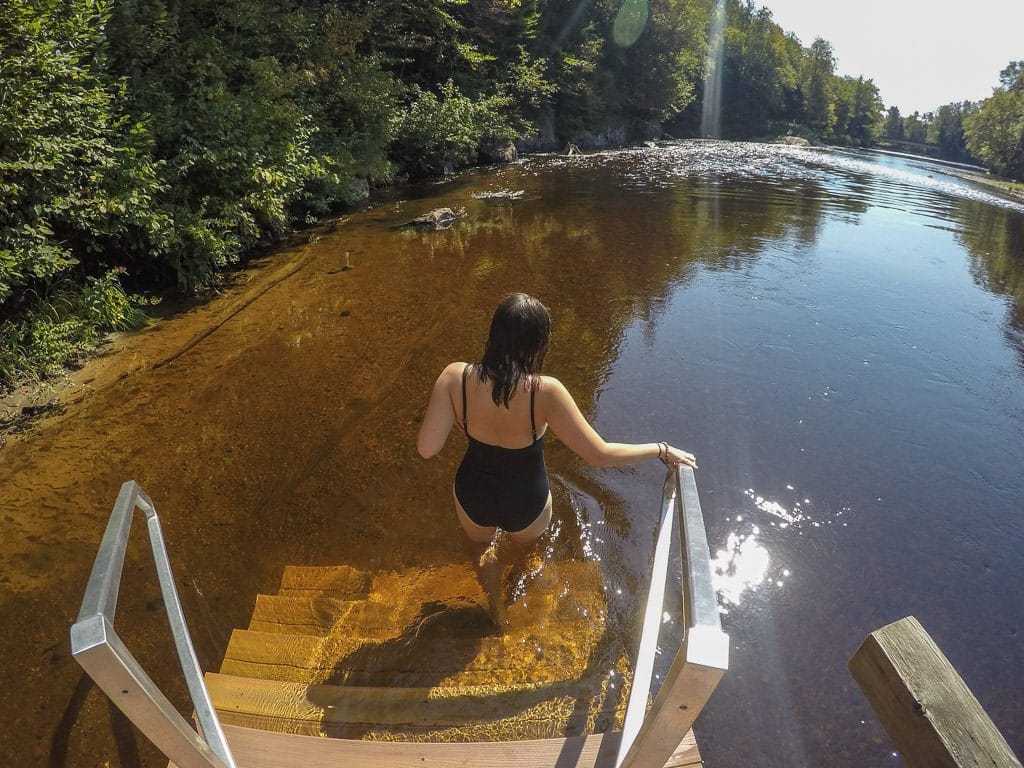 We laughed as we walked down the steps into the water, shivering as soon as our toes touched it. Then we egged each other on as we worked up the nerve to go all the way under.
Even though this was far from the most relaxing moment of our day at Scandinave Spa, this was our favorite part. Having the option to take a dip in the river between hot tub soaks made it an even more unique and hard-to-forget experience.
Hydrotherapy at Scandinave Spa Step 3: Relax
However, a close second for us was the hammock area at Scandinave Spa. Strung up next to the river in the Laurentian forest, below the shade of the lush trees, these fabric cocoons almost put us right to sleep.
We only needed to take 15-20 minutes between sessions to let our cardiovascular systems regulate. But we definitely zenned out in the hammocks for much longer. It is the perfect way to relax and let the hydrotherapy work its wonders.
There are also lounge chairs outside, a solarium, and a fireplace to spend your relaxing time outside of the water.
Final Thoughts & Every Day Applications for Hydrotherapy
We did about five hydrotherapy sessions during our visit to Scandinave Spa, because we really wanted to experience as many of the options as we could, as well as the great benefits. After about three hours there, we walked away feeling refreshed in every sense of the word.
Each time we are treated to such an amazingly restorative day, we are reminded how important it is to take care of ourselves. This is something we can do a much better job at. So, we are determined to handle stress better through meditation, exercise and forcing ourselves to breathe instead of getting riled up when things don't go our way.
And we are setting aside more time to just be together in silence in beautiful places. For some reason, those three things together can usually cure whatever we are going through.
As for the hydrotherapy, giving ourselves a short blast of cold water at the end of a warm shower seems to give our bodies a similar necessary jolt. And, although we aren't up for it every day – or for more than a few seconds, we are trying to incorporate that into our routine more often.
But ideally, we'll just figure out a way to include more spa days in our travels? Like our trip to Laugarvatn Fontana in Iceland.
---
Know Before You Go:
Price: At the time of our visit, prices were CAD$36 for weekdays and CAD$50 for weekends to access the baths. Massages are also available for an additional cost.
What's Included? Towels and a lock for your locker are given to you at check-in. You can also rent a robe for $10, but you should bring your own bathing suit and flip-flops. However, there are some available for purchase if you forget yours.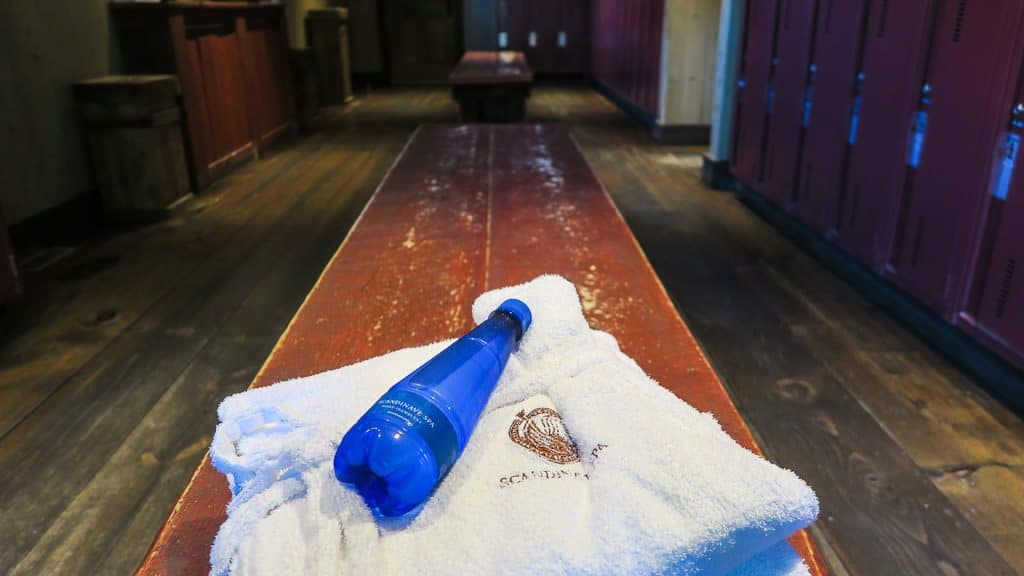 Parking: If you are traveling in an RV like us, the parking lot is a bit small – especially on a busy day. We parked at the visitor center up the road and walked (very carefully) along the side of the road. It made for much less parking drama!
Hydration: Drink lots of water. Hydrating is always important, but especially when detoxifying in this way. We suggest you bring a water bottle to refill throughout the day.
FYI: They have expanded since our visit, so be sure to check out the bigger Scandinave Spa which promises even more hydrotherapy options.
We would like to thank Scandinave Spa for hosting us for this spa day. As always, all opinions are our own.