While you've probably heard of the world-famous Blue Lagoon, did you know that there are multiple other wonderful Iceland spa experiences that have an even more memorable offering, for way less money? While some are more difficult to get to, we recently found our new favorite at Laugarvatn Fontana – conveniently located just over an hour from downtown Reykjavik in the iconic Golden Circle area.
After spending a beautiful winter day at this natural, less-busy, much-more-scenic Iceland spa, we'd actually recommend skipping the Blue Lagoon all together and choosing this more unique and less-expensive option!
It is the perfect add-on for a day exploring the Golden Circle and has so much to offer – including an unforgettable dip in the cold Lake Laugarvatn.
About Laugarvatn Fontana
While Laugarvatn Fontana was built in 2011, the community of Laugarvatn has been using the mineral-rich natural hot springs located there for relaxation, restoration, home heating, and even baking since 1929! The warm waters were even used for baptisms once Icelanders began converting to Christianity – for a more comfortable experience.
This architecturally beautiful and scenic Iceland spa offers three steam rooms (created by the natural hot spring directly below them!), a Finnish-style sauna, multiple geothermal baths of varying temperatures, access to the lake, and even a cafe as well as a unique geothermal bakery tour!
Getting to the Laugarvatn Spa
Laugarvatn Fontana Geothermal Baths is conveniently located within the middle of Iceland's Golden Circle in the quaint little village of Laugarvatn. It is just about an hour's drive from downtown Reykjavik and 35 minutes from the iconic waterfall, Gullfoss. From Thingvellir, you can take Road 365 and head straight into the village of Laugarvatn (weather depending in winter).
While a great stop any time of day, with its late closing hours, you could easily make this your final stop on a Golden Circle tour – if you want to spend your daylight hours exploring the nearby sights.
Our Rejuvenating Experience at Laugarvatn Fontana
Since we have already explored Iceland's Golden Circle multiple times, we decided to make a day of our visit to Laugarvatn Fontana and spend the limited winter daylight hours soaking up the gorgeous views while we soaked our tired bodies in the healing hot spring waters.
However, believe it or not, our visit to this Iceland spa actually started with some digging!
Geothermal Bakery
After a beautiful sunrise drive from Reykjavik, we got to Laugarvatn Fontana just as they opened at 11 a.m. Since we were early for our much-anticipated geothermal bakery tour, we spent some time wandering around the stunning property all alone. What a difference getting out of the more touristy areas can make!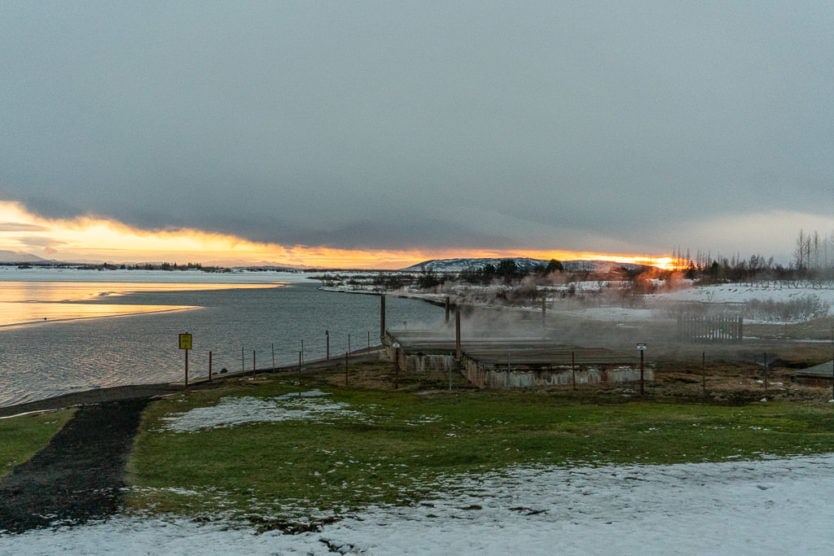 When it was time for the tour, our cheerful guide had us follow her for the short walk to the outdoor bakery. While carrying a shovel and ceramic dish filled with rye bread dough, she explained all about the local history of using the hot, bubbling sand by the lake to bake in. You can see in the photos that due to the warm ground, there is no snow in this area, but instead green grass – even in late December!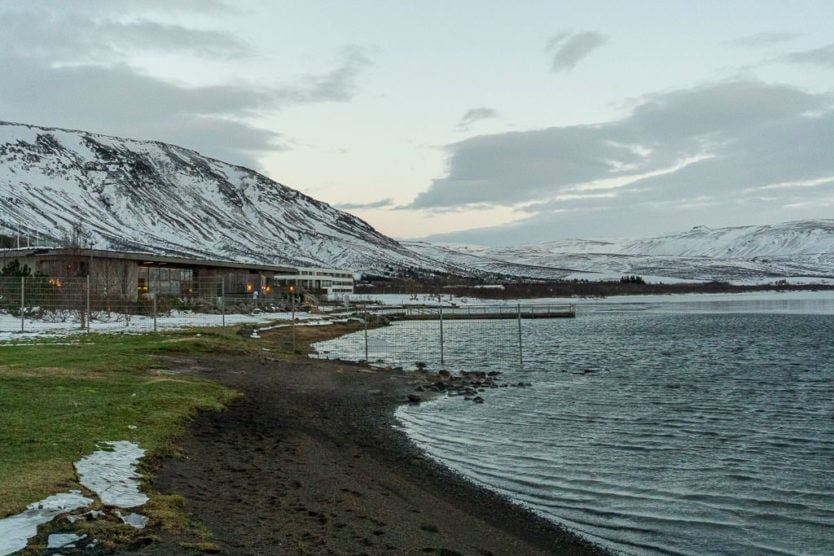 Since the bread takes about 24 hours to fully bake, we dug up the rye bread that had been baked the day before then buried the freshly made dough. It isn't a complicated recipe or process, which just makes it even more special. Locals also still use the area to bake and it was such a joy to get to partake in such a uniquely Icelandic tradition.
Of course, we got to taste the delicious rye bread as well! As the bread was being sliced, we tried our best not to drool while admiring the delicious-smelling, steaming bread. Then, we slathered on the thick butter served with it and used all our self-control to only have two pieces.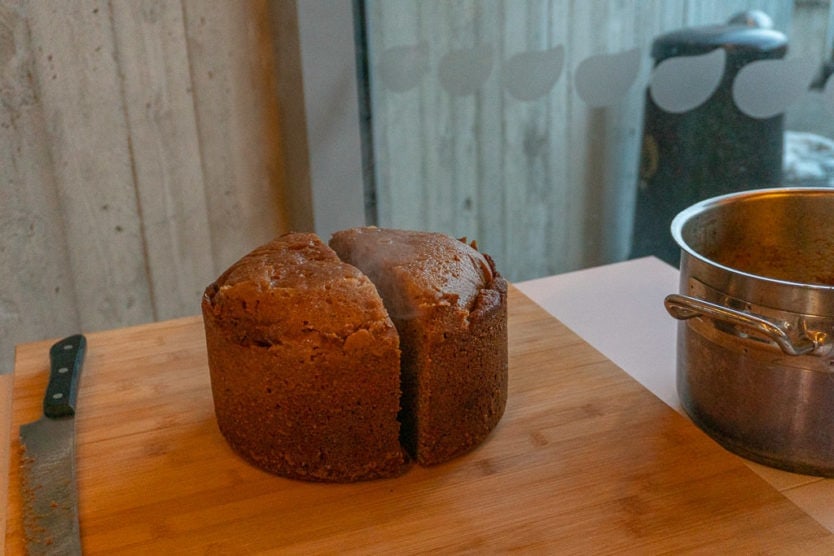 The tour only takes about 30 minutes, but it is such a memorable experience and gives you so much appreciation for the Icelanders' wonderful relationship with their natural environment.
The Laugarvatn Spa Experience
With happy hearts and bellies, we headed to the locker rooms to get ready for a relaxing couple of hours. If you've read about or experienced any spas in Iceland – or many European spas in general, you already know it is required that you shower naked before getting into the pools.
They do have an area with a shower curtain for anyone not comfortable being nude in front of others. But, we always just go for it. This idea that we have to be ashamed of our naked bodies is just silly – but that's worthy of an entirely different article. Just please don't skip this step, since it is to ensure the water stays clean!
Also, if you happen to forget a towel or bathing suit, you can rent one. They also have robe rentals and drinks available while enjoying the spa. The keys to the lockers are also attached to a waterproof bracelet. Genius!
Laugarvatn Fontana Geothermal Baths
Lauga, Sæla, and Viska are the names of the connected outdoor mineral baths that vary in depth, size, and temperature. The pools and hot tub feature stone artwork by Icelandic artist Erla Thorarinsdottir.
Viska, the hot tub, is built at a slightly higher level to better enjoy the panoramic view of the beautiful surroundings. In the all-day-golden-hour winter lighting, the views were extra stunning.
Visiting on a windy winter day meant we spent most of our time in the warmer baths. However, it is nice that there are multiple options since it was necessary to work our way up from the very cold outdoor air to very warm water. Plus, in the summer, cooler water is likely preferred.
We thoroughly enjoyed our time taking in the views from these perfect little baths. Such beautiful solitude compared to the other places in Reykjavik and the Golen Circle we've been lately.
A Cold Dip in Lake Laugarvatn
While we never felt "too hot" soaking in the baths, taking a cold plunge in a natural body of water is such a rush. We just couldn't resist an invigorating dip in Lake Laugarvatn.
We first experienced hydrotherapy during a visit to Mont Tremblant, Canada and loved it. Taking a cold dip between hot water soaks is believed to be very beneficial in improving blood circulation and assisting with muscle soreness. Plus, it just gives you this great jolt of alertness while making you feel like a total badass.
At Laugarvatn Fontana, there is a warm black sand beach as well as a beautiful pier with stairs leading down to the chilly waters. Taking a dip in the cool lake (about 3°C / 37°F in December) takes a little mental preparation – especially once your toes first hit the water. But it really is worth it once you step out and feel so extremely refreshed.
If you really want to embody Iceland's Viking history, you could also go for a swim. My daring hubby decided he needed to get an up-close look at the frozen portion of the lake, so swam the couple minutes to take a selfie with the thick ice as I laughed from a warm pool.
However, unless you've been practicing the Wim Hof method, don't expect to swim for too long in the lake as that cold will get to you quickly.
Geothermal Steam Baths
The natural steam baths at Laugarvatn Fontana are some of the most unique steam baths we have ever experienced – and we love to try out different spas as we travel.
The geothermal steam baths actually use the steam from the natural hot springs just beneath them, as they have been doing since 1929. This means that the temperature in the rooms can not be controlled, as it varies based on the steam coming through the grids of the flooring.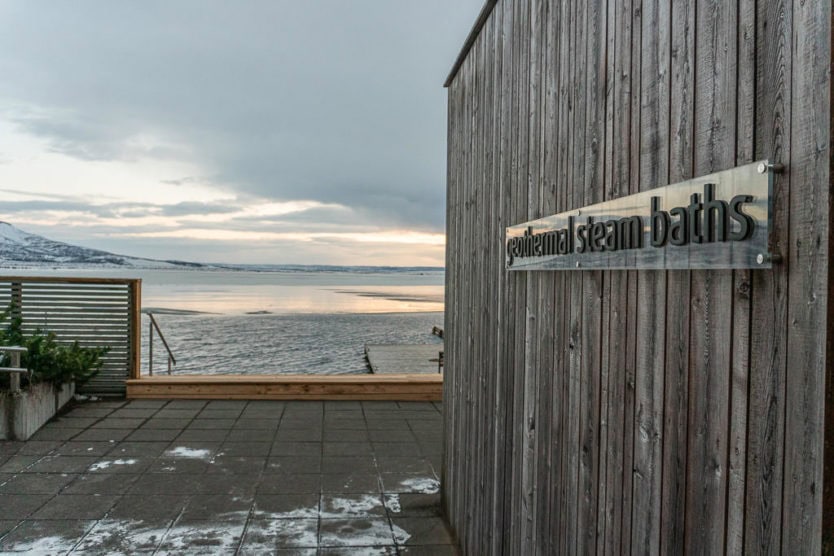 During our visit, we saw the temperatures of the rooms fluctuate a lot, but that just adds to the experience. When we first arrived, two rooms were around 33-36°C and the third was just at 10°C. But when we hopped in the rooms half an hour later, there was one at 55°C while the other two were 20°C.
The hottest one was actually too warm for us and we had to go cool back down quickly!
Finnish-Style Sauna
The Finnish Sauna is a newer addition to the Laugarvatn Fontana Geothermal Baths and one of our favorite parts of this Iceland spa. We fell in love with Finnish saunas after we took a day trip to Helsinki, Finland.
Ylur, the name of the sauna, generally has a temperature between 80°C (176°F) and 90°C (194°F), but with a much lower humidity than the geothermal steam baths.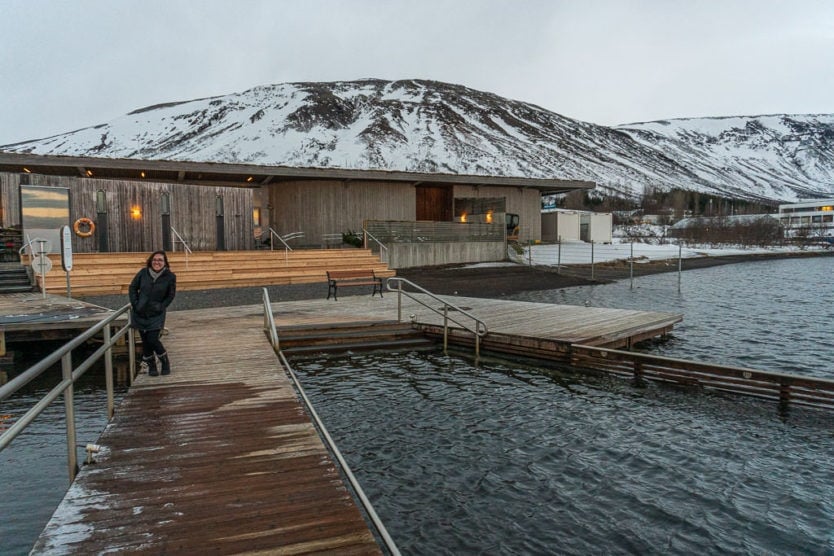 The lack of steam makes them much more bearable, and you have more control over the steam and heat in the room. Plus, it has a beautiful view of the lake as well as the brave souls taking a dip in it. So, it made for a scenic and entertaining place to relax!
As we sat in the sauna all alone, looking out over a gorgeous frozen lake we had the pleasure of experiencing, we were kicking ourselves for not visiting Laugarvatn Fontana on our first trip to Iceland. The level of serenity and oneness with nature available there is unlike anything we've found at any other Iceland spa experience – or anywhere else.
We can't imagine ever going back to the Blue Lagoon now that we know this beautiful, scenic gem of a spa exists! A definite highlight of our winter Iceland trip.
Cafe, Kitchen & Buffet
While we had our hearts set on cheesecake from nearby Friðheimar Greenhouse (a slight addiction we've developed on this trip), we were very tempted by the awesome soup offering at Laugarvatn Fontana. According to another visitor, it is the best soup he has ever had! For 1.450ISK, with free refills and bread, it is a budget win as well.
It is really lovely that this Iceland spa is set up for enjoying it all day. They even have lunch and dinner buffets with healthy and locally produced foods and drinks. The cafe also offers a large selection of drinks (including alcoholic), as well as snacks.
Lunch Buffet – 12 p.m. – 2 p.m.
| | |
| --- | --- |
| Adults, 13 and over | 2.900 ISK (~US$24) |
| Youth, 7 – 12 years old | 1.450 ISK (~US$12) |
| Children 0 – 6 years old (with adult) | FREE |
Dinner Buffet – 6 p.m. – 9 p.m.
| | |
| --- | --- |
| Adults, 13 and over | 3.900 ISK (~US$32) |
| Youth, 7 – 12 years old | 1.950 ISK (~US$16) |
| Children 0 – 6 years old (with adult) | FREE |
Hours and Pricing
Laugarvatn Fontana Hours
Laugarvatn Fontana Geothermal Baths are open year-round. However, hours vary depending on the season. Although we loved visiting during the morning to enjoy the views, a night visit may be worth it for the chance to see aurora while you soak.
June 1 – August 31 (Summer)
September 1 – May 31 (Winter)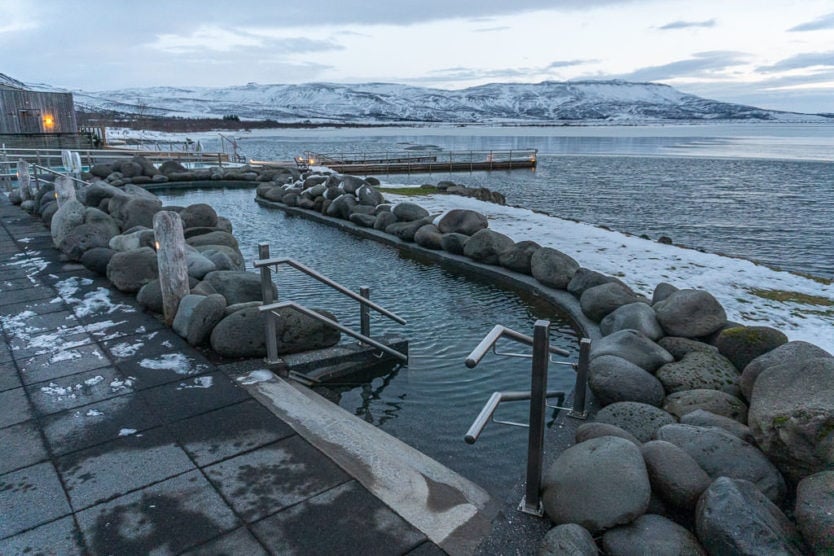 Holiday Hours
| | |
| --- | --- |
| December 24 | 11 a.m. – 4 p.m. |
| December 25 | 11 a.m. – 10 p.m. |
| December 26 | 11 a.m. – 10 p.m. |
| December 31 | 11 a.m. – 4 p.m. |
| January 1 | 11 a.m. – 10 p.m. |
Prices for Laugarvatn Fontana
Access to the Geothermal Pools, Steam Rooms & Sauna
| | |
| --- | --- |
| Adults, 17 – 66 years old, on-site | 4990 ISK (~US$35) |
| Youth, 10 – 16 years old | 2990 ISK (~US$21) |
| Children 0 – 9 years old (with adult) | FREE with adults (max 2) |
| Senior Citizen (67+) | 2990 ISK (~US$21) |
Extras & Rentals
| | |
| --- | --- |
| Bathrobe | 1500 ISK (~US$11) |
| Towel | 1000 ISK (~US$7) |
| Swimsuit | 1000 ISK (~US$7) |
Geothermal Bakery Tour Price
Tours run daily at 11.30 a.m. and 2.30 p.m
| | |
| --- | --- |
| Adults, 17 and over | 2990 ISK (~US$21) |
| Youth, 13 – 16 years old | 2990 ISK (~US$21) |
| Children 0 – 12 years old (with adult) | FREE |
Overall, we found the Laugarvatn Fontana geothermal baths extremely relaxing and convenient to get to. Plus, we loved the option for a cold dip in the lake and the geothermal bakery experience. If you are planning a trip to Iceland, we would say this is a must!
Special thanks to Laugarvatn Fontana for hosting us on this wonderful Iceland spa day! As always, all opinions are our own. This Iceland spa is genuinely, 100% our favorite!